For general live performance, a compact mixing console is probably the simplest option for getting your band all plugged into the same PA and ready to roll. There is, however, stiff competition - almost every recognizable brand you can think of offers very similar competitive models.
If you are a 4-6 piece band, and you want to mic up drums, you will probably want to look at a ten channel option that allows for a little wiggle room. The Yamaha MG10XU is precisely that, making for a good-quality, affordable option. It's lightweight, with sensible dimensions for traveling to gigs with.
It takes its inspiration from Yamaha's sought-after, high-end touring consoles, with great components in one convenient, compact package. It has a range of input options, making it pretty versatile, and harbors a decent range of built-in effects to help tailor your sound the way you want it.
The MG10XU has a rugged build perfect for the road, and a layout that's easy to navigate, even though it packs a lot into a small space. Notably, the power supply connection is of professional quality, relieving a hook-up that screws into the chassis. Everything is color-coded and well-labeled to keep things simple.
In terms of inputs, you have four microphone and instrument channels. These D-Pre preamps offer a whopping amount of gain with low impedance. They have combo-style XLR/ ¼-inch jack connectors and are transparent, giving a purer sound.
Each channel has 3-band EQ on hand and signal matching (25db pad) and a high-pass filter (80Hz). Channels 1 and 2 also have compression dials, and there is optional phantom power for channels 1-4, available for condensers.
Some similarly priced compact mixers typically only provide two phantom capable channels, but the MG10XU gives you double. You could have a couple of singers and still hook-up a couple of overheads for your drummer, or even mic up a guitar cab if you fancied it.
The other channels are stereo inputs for line-level stereo output instruments, such as keyboards. They can also be used for iPods to play music between your sets without faffing around unprofessionally.
Channels 5/6 and 7/8 have both ¼ -inch and RCA connections so you could even use a turntable. They have low and high EQ controls of their own. Inputs at 9/10 can be used as a stereo line-level, or with a USB 2.0 cable by engaging the USB button. The Sampling rate is 192kHz with a 24-bit depth.
The input section is marked to help with navigation for those who are less familiar with live mixing. You can pan all ten channels left and right, and each can have effects applied to them.
There are 24 built-in Yamaha SPX effects to choose from. There are some lovely hall and room reverbs chorus effects and even an auto-wah. A phaser, flanger, delays, and distortion are all onboard for you to send to the channel of your choosing.
The Yamaha MG10XU also has an FX send so you can add external effects if you want to. There's also a foot pedal connection for easy live FX switching as well.
There are balanced XLR outputs for your PA and ¼ -inch jacks for monitoring, in addition to a headphone output. Outputs are, once again, clearly marked to simplify live use. It comes with mounting attachments that let you screw it to a standard mic stand.
Yamaha Mg10Xu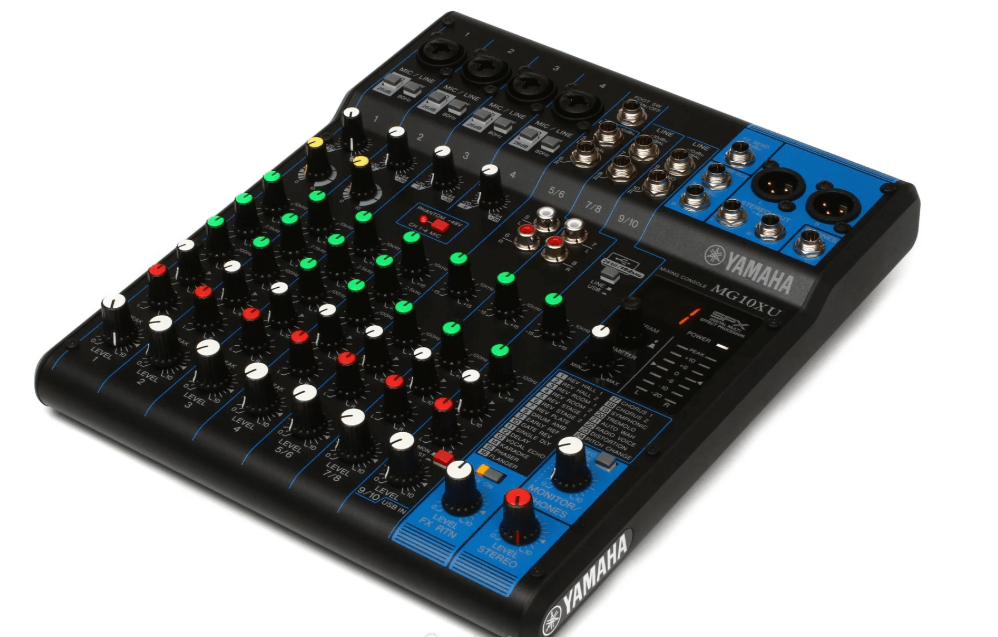 Summary
The Yamaha MG10XU is a well-thought-out little mixer. It features four high gain, low impedance combo channels with phantom power, and high pass filtering, making it versatile. The first two channels have compression as well. You have a generous amount of line-level inputs; all can accommodate stereo inputs, and two can handle RCA.
The MG10XU is solidly constructed, has a rugged strain relief power cable, and has some neat features that a few competitive models don't match in this price range. The built-in effects give great scope to help tailor your sound. It's idyllic for live performance.
Pros
+ Compact size.
+ 10 channels.
+ 2/10 with compression.
+ 4/10 with phantom powering and high filter pass.
+ Versatile I/O.
+ User-friendly.
+ Quality components.
+ 24 built-in FX.
+ FX send.
+ Footswitch connection.
+ Affordably priced.
Cons
- Although this mixer has USB out and DAW compatible, and the digital connection supports a standard sampling rate of 192kHz and 24-bit depth, we would still say this is better suited to live-mixing rather than recording as an AI.
- The mic-stand mounting system doesn't detach without unscrewing. So while the principle is quite cool, you could waste a lot of time screwing and unscrewing, or worse - lose your screws in transit. This makes it a little impractical and a bit of an oversight in our minds
Why We Like It
The Yamaha MG10XU is easy-to-use and compact, perfect for live use. It features ten channels to use. It has a durable build, and excellent engineering borrowed from the top of the line consoles Yamaha is better-known for.
If you liked the article, please leave your feedback.