In the world of smaller guitars, you can't go wrong with a good parlor model. Many small-scale acoustics can be cheap, which, along with their size, is one of their main appeals - however, they can also be poorly made. In this article, we will review 5 of the best parlor guitars in 2023.
As many guitarists know, the notes higher up the neck can often be a little less perfect when it comes to intonation, as the fret spacing is tighter. This is especially prevalent in smaller-scale models. Parlor guitars, however, tend to be a little more reliable.
We're going to take you through some of the best options and give you the down low in our buyer's guide.
At a glance:

Our top 3 picks
Our team's top 3 recommendations
Best Overall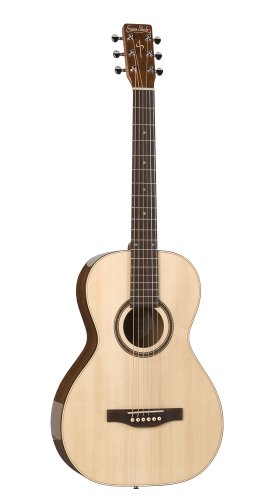 Simon & Patrick Woodland Pro Parlor Acoustic Guitar

Quality-construction.
Great tones.
Great hardware.
Premium Quality

Washburn WP11SNS Parlor Series Acoustic Guitar

Quality-construction.
Great tones.
Great hardware.
Great value

Fender CP-60S Right Handed Acoustic Guitar

Quality-construction.
Great tones.
Great hardware.
View The Best Parlor Guitars Below
1. Simon & Patrick Woodland Pro Parlor Acoustic Guitar
For our first choice, we have selected a beautiful example from Simon & Patrick. This is a very well-constructed Godin Pro model with natural tones.
It has the iconic figure-of-eight body with strong internal bracing, meaning it'll be built to last. With 19 frets, it's a little longer than a vintage parlor guitar.
The North-American Mahogany materials are complemented by a nice, resonant solid spruce top, which gives it a decent sounding board and helps the notes ring into existence.
The neck is made with precision, featuring a traditional rosewood fingerboard, idyllic for ease of movement.
The rectangular shape of the headstock, and rounded edges, harbors strong tuning mechanisms to keep the tension impeccable. Furthermore, the instrument has a great balance.
Pros:
+ Quality-construction.
+ Great tones.
+ Great hardware.
Why We Liked It - We loved the craftsmanship of this guitar; it is beautifully sanded and the frets are very well placed. The machine heads are high-quality. It plays very sweetly.
Versatility - Parlor guitars can be great for both beginners and experienced players. These guitars are easy to play but don't compromise too much on sound quality, so they're great for anyone who's struggling with a full-body guitar. In addition, these can also be great introductory instruments for kids who may have less technical range than adults.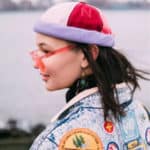 2. Washburn WP11SNS Parlor Series Acoustic Guitar
This Washburn model actually borrows its blueprints from genuine vintage Washburn parlor guitars from around a century ago.
It's exceedingly well-crafted, featuring a Mahogany neck, back, and sides. The solid-spruce has perfect properties for giving the instrument resoundingly good tones. The top of the guitar is supported by strong Sitka bracing, giving it durability, allowing the sound to resonate within better.
It's priced more accessible than the gorgeous Godin we opened with. If you have a little more cash you can splash, then Washburn makes a higher-end version.
The 24.75 scale means that this is essentially a full-length guitar, packing a parlor shaped body as opposed to a dreadnought.
The tuning hardware is top-notch. The whole thing has an excellent intonation neck to bridge, and it's equipped with a 2-way truss rod to adjust to your preferred playability.
Pros:
+ Vintage Blueprint.
+ Well-made.
+ Adjustable 2-way truss.
Why We Liked It - It's a great alternative, retailing around a hundred bucks cheaper, and still brings good quality manufacturing, material, and parts to the table.
3. Fender CP-60S Right Handed Acoustic Guitar
The Fender giants are often better known for their electric guitar models, but their Acoustic range has a few surprising beauts in the bunch. We love this sweet pear-shaped acoustic parlor model; it plays like a dream.
This guitar has excellent balance despite the bottom-heavy body. The back and sides are mahogany, and the top is crafted from solid spruce, seated on scalloped x bracing, which allows it just enough flexibility for impressive acoustics.
14 of the 21 featured frets are fully-accessible, giving you good scope for chords. The fretboard itself benefits from a rolled edging, which makes it easier to play.
The tension is good, and tuning and has a pretty arched acoustic headstock.
Pros:
+ Petite body.
+ Easy on the fingers.
+ 21 frets to play with.
Why We Liked It - This is a full-sized guitar with a parlor body that gives it better portability and comfort.
Tonality - While parlor guitars don't necessarily sacrifice on sound quality, it's important to note that their smaller size does affect tone. These guitars are slightly brighter, with a mid-range tone. That being said, these can be great instruments for instrumentalists who have full-bodied guitars since they have a distinct sound.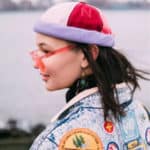 4. Yamaha CSF-TA Parlor Transacoustic Guitar
Another high-quality option comes from Yamaha's fantastic CSF Transacoustic series, which we have stopped to admire before.
It's seamlessly crafted with a mahogany back and sides. It features a strong Nato hardwood neck that gives it impeccable intonation and great balance. It sports a rosewood fingerboard and accurate fretting.
The parlor sized body shows off understated curves and the solid Sitka spruce top makes for great tonality.
But the best quality this model has to boast about comes from the series trans-acoustic nature. It harbors Yamaha's groundbreaking integrated actuator within to capture the vibration of your strings and provide a natural acoustic reverberating ambiance without amplification.
The trans-acoustic tech gives it a chorus-like vibe, which can be controlled like regular electronic equalization, giving this parlor guitar an edge over the competition.
Pros:
+ Well-crafted.
+ Accurate manufacturing.
+ Chorus and reverb.
Why We Liked It - This guitar is in a league of its own. It provides a richer and more diverse set of tones in a side by side comparison.
5. Ibanez PN15 Parlor Size Acoustic Guitar
This Ibanez model steals our ultimate spot. It is, again, a very-well built modern parlor model which has traditional bracing, and plays with great tonality and intonation.
This is one of the cheapest options we've included, but its cost-effective design doesn't make for any shortcomings.
Its beautiful bulbous body is formed from spruce, and it again relies on mahogany for its neck, back, and sides. It has strong chrome die-cast tuners. One of its greatest appeals is its Ibanez advantage bridge pins, which typically don't feature on a cheaper choice.
Pros:
+ Durably made.
+ Good intonation.
+ Budget-friendly.
Why We Liked It - It's an affordably priced option which provides a lovely acoustic guitar with great tones in a parlor package.
Parlor Guitar Buyers Guide
What Is A Parlor Guitar?
The newly popular parlor guitar has a fair amount of history to it. Now it's back to do the rounds in a new form.
Original parlor models date back to the mid-18th century, though the relics didn't peak in popularity until the late 1800s.
Traditionally speaking, their body shape is one of their more notable features, which gives them a lovely vintage essence that many fall in love with. They sit comfortably and are elegantly appealing to look at.
Their smaller size is one of the main appeals. They have a notably cinched middle in comparison to their modern counterparts. The width is far smaller, and the lower body is generally elongated, whereas a dreadnought, for example, is more ample and rotund.
That said, the actual shape can and does, vary from pear-like to a stretched figure-of-eight style with everything in between.
The point at which the sound-hole is placed, however, is where the body is usually the narrowest. This is where its differences are most noticeable.
Their smaller stature makes them better for a petite player. This opened doors and meant that women quite often favored them over early guitars and the lutes of the era.
The smaller body has a few drawbacks in terms of volume mainly. When they were created initially, they were a compact solution ideal for entertaining in wealthy homes.
Authentic parlor guitars had a neck-to-body junction and only sported twelve frets. However, their modern incarnations are much more, benefitting from stronger neck connections, giving a few extra frets like a typical acoustic guitar.
What to Look for in a Parlor Guitar?
You should look for a hardwood neck that is reputably manufactured, to ensure it has been well selected. A neck needs to be very straight for the best results.
As mentioned, the body style will change ever so slightly model to model, but if you are after a parlor inspired model, then seek a guitar with its iconic proportions.
The woods chosen should be excellent tonewoods, and ideally, you want a solid body top for better sound and projection.
The frets should be laid accurately and raised enough to play intuitively, but not so much that they become detrimental to smooth fingering.
You should opt for an adjustable truss rod where available so that you can adjust the action to suit your playing.
The tuning machinery is critical; the strings need their tension kept, though they will stretch over time, and the neck wood will warm and cool, so they may need the occasional adjustment. You want tuners with gears that feature fine increments so that you can tune more accurately.
Metal gears help hold the string more tightly and ensure that the string is held firmly in place. Once they have settled in, a good set of tuning heads should keep pretty strict pitch and hopefully don't get knocked about changing dramatically without quite a bit of effort.
As with any instrument, it boils down to the manufacturing quality itself, the quality of the materials used, and the budget you have in mind.
Conclusion
There are some beautiful parlor guitar models on the market and some which don't break the bank. So now you can own a little piece of history to play on. While the smaller stature might mean it isn't as punchy as its dreadnought usurper, you will enjoy subtler dynamics.
Modern models are a little more capable than their predecessors with better knowledge of tonewoods and access to importing them. The revival parlor models are proving popular.
We highlighted an impressive handful today and hope that, along with our guide, will give you a nudge in the right direction.
Expert Tip
If cash is a concern, you might want to check out the parlor models from Recordking. They have both left and right-handed options, and they are priced comfortably around the $150 mark. If, on the other hand, money is no option, there are some truly spectacular Sapelle bodied parlor guitars out there to be had in excess of three thousand!
Did you Know
A parlor (or parlour) guitar earned itself its name because of the fact it was often the parlor of the house in which it was used to entertain intimate gatherings of guests typically played by women.
If you've enjoyed this review by Music Critic, please leave a positive rating:
[vc_separator