For any lover of rock, the SG model is an iconic guitar. Modeled after the Gibson SG, the Epiphone version is a clone of its forefather in style and performance. It delivers a fast and convincing tone that both rock and metal lovers will revel in.
This model was sported by the likes of Angus Young, Tony Iommi, and Jimmy Page in his famous Stairway To Heaven performance. This is a guitar that holds nothing back and thrusts the power of rock through the pickups and into the eardrums of music lovers everywhere.
Epiphone SG-400 Pro SG - Cherry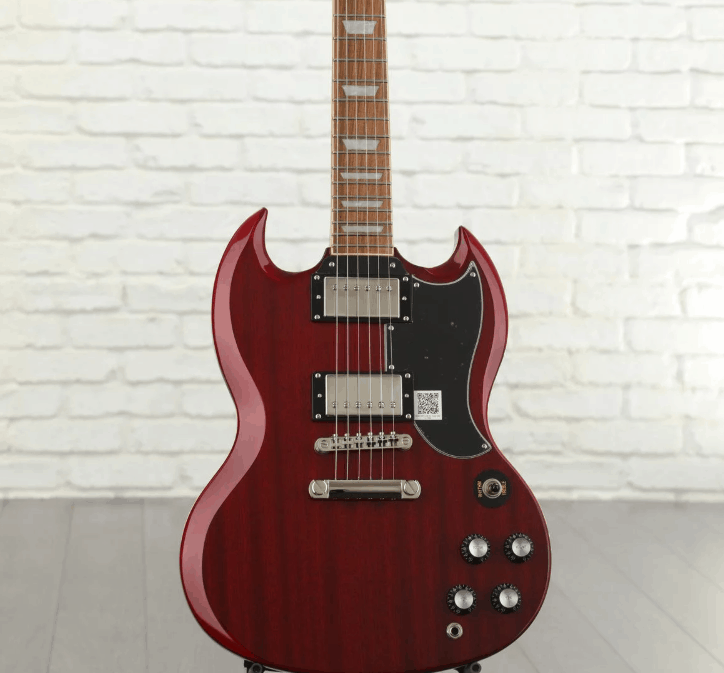 Summary
The Epiphone SG-400 Pro SG is part of a long lineage of classic electric guitars. The SG was put into production in the 1960s when Gibson had decided to discontinue the Les Paul model, for some reason. The new SG initially adopted the name of its famous predecessor, much to the chagrin of its innovator, Les Paul himself.
However, eventually, Gibson decided that Les Paul would be put back into production, and it would take its name with it, leaving the SG to be renamed. Gibson agreed that they would call this guitar, which had been quite popular so far, the SG. SG stands for Solid Guitar. Exactly what it has been known to be ever since this transitional period.
The SG now stands on its own as a guitar that is revered by amateurs and pros alike. It has graced many stages in memorable rock videos such as Thunderstruck by AC DC and is a staple in many music shops around the world.
The Epiphone G-400 Pro SG lives up to the expectations that Gibson and Epiphone have set for guitarists. It is a lightweight electric guitar compared to the Les Paul model. It employs a mahogany body as well as a mahogany neck with a SlimTaper design for smooth playability and comfort. Coupled with a rosewood fingerboard, the G-400 SG boasts one of the fastest and slimmest necks available on a standard sized guitar.
The sound offered by the G-400 Pro SG is warm and sophisticated. It is not at all thinned out, and you can play lead lines as well as a rhythm with pure confidence. The SG uses Alnico Classic Pro Humbuckers on the neck as well as the bridge to offer players a short spectrum level of versatility.
With two master volumes for both the bridge and neck pickups, as well as a combination of both, you can crank up for leads and hang back on the rhythm when necessary.
The Cherry finish on the top adds to the aesthetic. It is a design that is articulate and sleek, standing out among the crowd as a guitar that is loved and cherished by its wielder.
The Epiphone G-400 Pro SG is also quite affordable. It is well within the range of a new guitar player just starting if they were to want a guitar that can hang with the big dogs. It is also an instrument that will not disappoint as your playing matures. It offers the type of tone you want, while also being playful enough to make you want to pick it up time and time again.
Pros
+ Cherry wood top
+ Warm mid-range complex tone
+ Lightweight
+ SlimTaper neck
+ Mahogany body, rosewood fingerboard
Cons
- Limited tonal versatility
- Slightly head heavy
Why We Like It
If you're getting into guitar playing and you're attracted to the SG design, then nobody would blame you. It is a badass looking guitar that packs a ton of punch into the tone. The Cherry top is gorgeous while not being too insistent upon itself, allowing you to take center stage with confidence and humility.
For intermediate guitar players, it is merely a fun ax to play. Anyone would be lucky and excited to have this guitar in their arsenal. It is a solid rock guitar that can keep u on lead lines as well as rhythm sections. It is perfect for jamming with friends, playing small gigs, or practicing in the living room.
The Epiphone G-400 Pro SG is affordable enough to be played by first-time players but reliable sufficient to be kept in the guitar room for decades. For anyone who wants to have the tone and durability that Gibson is known for, but doesn't feel like paying the high-ticket prices, it is a winner.
It plays smooth and is lightweight enough that it doesn't drag you down during an extended jam session. You can move quickly around the stage and look like an absolute rockstar in the process. It has the classic design that all Epiphones and Gibsons come with. It is merely an excellent go-to guitar that will get the job done session after session, and should not be overlooked by guitar players who are new to the game, or who have been rocking for years.
If you liked the article, please leave your feedback.