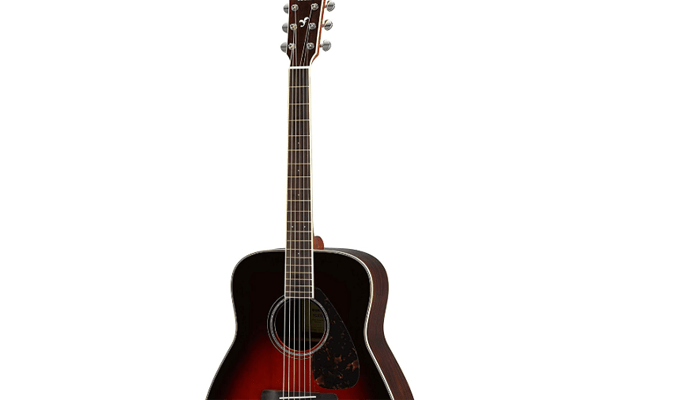 [[TOP3 OFF]]
Yamaha has been producing the FG series since the 1960s. Their original motivation behind creating the series was because they wanted to prove that a good quality acoustic guitar didn't need to break the bank. It was an inspired idea because since the first FG came out in 1966, this series has become the most popular and well-loved when it comes to acoustic guitars.
The FG830 is part of the FG800 series. The guitars that are part of this series are renowned for having a much more powerful and forceful sound, especially in the middle and low ranges. This is because the engineers in Yamaha's research and development department, have spent a lot of time analyzing the best bracing design, and created the one-of-a-kind scallop bracing pattern.
This guitar appeals to beginners and experts alike, because it comes at such an affordable price, but also is a dream to play. Yamaha prides themselves on their high standards when it comes to building quality, and the FG830 doesn't disappoint. It has a solid Sitka spruce top, and the twenty-fret fingerboard, bridge, back, and sides are all made from rosewood.
The rosewood really enhances the sustain, something that is often missing on other guitars in the same price range. The sound is rich and seems as if it comes from a much more expensive guitar. You can be assured of vibrant projection, while overtones are also there in abundance.
There is a good reason why the FG series has stood the test of time. Yamaha has lived-up to their earlier promise of creating excellent acoustic guitars at affordable prices.
Key Features
The Yamaha FG830 is an excellent entry-level guitar that offers a beautiful tone. It is evident that a lot of thought and care have gone into its design. Here are the key features that it offers:
Sitka spruce top: It is rare to find a spruce top on an entry-level guitar, but the FG830 offers a dynamic and expressive range because of it.
Rosewood Fretboard: This lends itself to playability, while also feeling strong and durable.
Rosewood Back and Sides: These offer a vastly improved sustain compared to other, cheaper materials.
Dreadnought Shape: This shape has become a classic because almost all players will find it comfortable.
Diecast Tuners: These tuners are easy to string.
Adjustable Truss Rod: If the neck becomes bowed then it can be easily adjusted.
Scalloped Bracing: This really beefs up the sound, making it louder than other entry-level guitars. It also makes for richer and more harmonic overtones.
Abalone Inlay Around Sound Hole: This gives the guitar a handsome, eye-pleasing look.
Pros
+ It is an excellent guitar that plays well, sounds good, and looks good, all for a low price.
+ It is versatile and will suit players of acoustic rock, blues, funk, and folk, as well as many other genres.
+ It is solidly built from quality materials, like spruce and rosewood.
+ The slim neck allows for quick, easy playability.
Cons
- Requires a set-up, but this is common for entry-level acoustics.
- The saddle, nut, and bridge pins are all made from plastic. They can, however, be easily replaced, which will enhance the sound for only a few dollars.
Who Is It Suitable For?
No other acoustic guitar has been sold to as many people as the Yamaha FG series. Yes, it is primarily aimed at players of a beginner or intermediate level, but the quality of this guitar, combined with the affordable price, means that it has a broad appeal.
If you are a beginner, though, and you are looking for an excellent entry-level guitar that will last a long time, then the Yamaha FG830 will be perfect for you. Seasoned players will also enjoy this guitar, as it plays well, regardless of your skill level.
Why We Like It
The scalloped bracing pattern is a stroke of genius from the engineers at Yamaha. It means that this guitar has a powerful, full-bodied sound with very good sustain. Yamaha hasn't scrimped on materials either. It feels like a luxury acoustic guitar, even though the price is very reasonable for an entry-level guitar. It's a bestseller for a reason. It is a dream to play, and it sounds great too.
Other related product
Yamaha FG800
If you liked the article, please leave your feedback.