View the best acoustic guitars of 2023. From rock bands to orchestras, when it comes to creating true music, musicians won't compromise. You either need perfect sound quality, amazing tuning, fabulous durability, or nothing at all! Don't let the perfectionist in you back down. The same is true if you're a guitarist.
Whether you're a beginner or have been in the industry for a long time, we understand exactly how important it is for you to choose the best guitar. You need one that not only suits all your needs but is also the perfect match for your wallet. If you're looking for a louder guitar, check out our top 10 list of acoustics for under 500 dollars. Or see the top acoustic electrics for under 1000!
For those of you starting out, we recommend looking into metronomes to make sure you learn to keep in time. We've formulated a top 10 list of our favorite metronomes here.
Acoustic guitars are a personal favorite of most musicians, singers, and performers. That's why we're bringing you a few select guitars we believe are some of the best on the market.
Not only are they the top guitars recommended by professionals, but they also encourage first-timers to follow their dreams without them having to break their banks. Playing the guitar doesn't have to be expensive. You will find a large range of combinations included in the list below, from efficient playability to luxurious and classic designs, and cutting-edge perfection. Whether you're looking for an entry-level guitar or something more professional, we've crafted this list to suit the needs of every guitarist.
At a glance:

Our top 3 picks
Our team's top 3 recommendations
Best Overall
Yamaha FG800 Solid Top Acoustic Guitar

Comfortable to play
Sound offers clarity and punch
Made from materials found in higher-end products
Great price
Premium Quality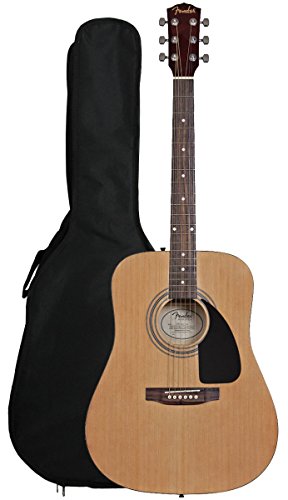 Fender FA-100 Dreadnought Acoustic Guitar

Comfortable to play
Sound offers clarity and punch
Made from materials found in higher-end products
Great price
Great value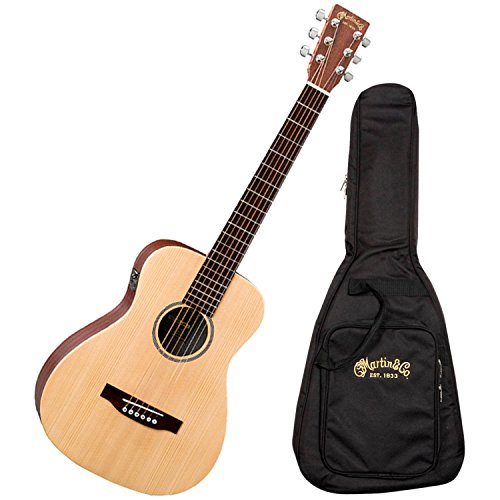 LX1E Little Martin Travel Guitar

Comfortable to play
Sound offers clarity and punch
Made from materials found in higher-end products
Great price
The Best Acoustic Guitars of 2023
1. Yamaha FG800 Solid Top Acoustic Guitar
There's a reason why everyone loves Yamaha so much, and it has everything to do with how high-quality their instruments are. The FG800 is no exception. With a Sitka spruce top, eastern mahogany nato back and sides, and a rosewood fingerboard, this beautiful instrument will stand the test of time.
It's designed with the player's comfort in mind. The dreadnought top fits comfortably around your body, and the guitar features a slim neck with rounded fingerboard edges to keep your hands as comfortable as possible.
But that's not all. The scalloped bracing makes the body style even fatter, contributing to an even better projection of sound, no matter which venue you're playing at. This guitar's tone is full of warmth and offers a dynamic range of sound, so you can rest assured that anything you play will sound great.
The included Player Port App makes this model perfect for beginners. It has FAQs, tips, a built-in tuner, and more - that's everything you need to get started! It's available for both Android and iOS.
Pros:
+ Comfortable to play
+ Sound offers clarity and punch
+ Made from materials found in higher-end products
+ Great price
Why We Liked It - There's no doubt as to why Yamaha is one of the most popular guitar manufacturers; it's because they know their instruments. Comfortable, stunning, and great-sounding, this beginner instrument is a perfect choice. And we love that it comes with an app.
Other options -Acoustic electric guitars are excellent options that provide ample flexibility whether you're performing to crowds or close friends and family members. However, even if your guitar of choice doesn't have a built-in system, keep in mind that you can always pick up an external electric pickup. While these pickups aren't always as accurate as the embedded pickups, they can give you that versatility in a pinch.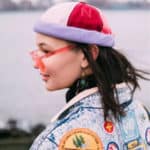 2. Fender FA-100 Dreadnought Acoustic Guitar
Looking for the best choice guitar as a beginner? Look no further! Choosing a guitar when you're a beginner is always tricky, but Fender has created their best option yet. How about a smooth and attractive design paired with a protective glossy finish at an amazingly affordable price? Is that all that Fender has to offer? Nope! It just keeps getting better and better! The Fender FA-100 comes packed with outstanding features like a quarter Swan X-bracing, laminated spruce top, and, to top it all off, a perfectly compensated saddle.
Weighing in at only 10 pounds with a dimension of 43x7 and luxurious laminated wood, a guitar like this is sure to shine in the spotlight. Enjoy the light bronze strings that make tuning a breeze. The classic look and fine-edged design offer a comfortable holding position and ensure you have a great time playing your favorite tunes. It makes this guitar one of the best for genre musicians.
The special strap provided by Fender lets you relax into the perfect position and reduces stress while playing. Besides its natural glossy rosewood top, its time-tested quarter Swan X-bracing enables you to play distinct rhythms with full stability, which is a characteristic particular to the FA 100. The acoustic guitar strap also comes with the special hex adjustable truss rod located near the neck. This will help you adjust string tensions from the 12-52 gauges of Fender Duratone strings.
The FA 100 is a full-size dreadnought guitar specifically designed for beginners. The strings are close to the fret, making it easier to play. It is also available with plenty of accessories, including an electric tuner, strings, and extra picks - not to mention its amazing strap. Do you still expect more? Here comes the crescendo; the FA100 comes with a lifetime warranty and Fender's original black nylon gig bag.
Pros:
+ Affordable, making it a great choice for beginners.
+ Dreadnought (full size).
+ Accessories such as gig bag plucks etc. as freebies.
Why We Liked It - If a thick top is not an issue for you, you can go for this amazing guitar.
3. LX1E Little Martin Travel Guitar
When you are passionate about music, all you need is a guitar that produces a good sound. It should be well-balanced and easily portable for all your concerts, sessions, and classes. This acoustic guitar is one of the best budget guitars on the market with all these features and much more. It's a small guitar but has a big tone, feel, sound quality, and blend of overtones.
It is a versatile and top-notch guitar that never compromises on sound quality, convenience, or durability, making it great for any price point. This acoustic-electric guitar comes with a Sitka spruce top, high-pressure laminate mahogany back and sides, a mahogany neck, and a warm satin finish.
The satin finish enriches the appearance and allows optimal sound and easy playability. It produces a more natural sound and resonance against the wood. This model has sustainably certified wood parts guaranteeing its durability and efficiency. It offers great action for little fingers and allows easy playability and convenience. Most people prefer it for its size.
Guitarists can travel with this guitar anywhere and everywhere. It comes with a gig bag that keeps it protected and secure, and it also fits in the overhead bins of airplanes. The guitar has a unique sound. The padded gig bag gives more protection so you can carry it anywhere, making it the best acoustic guitar for the money.
If you prefer the sound of Fishman pickups and like an onboard tuner, this is the guitar you should go for. It guarantees a tight, rich tone. You can make your performance way more flexible as Fishman Ion T-electronics electrifies the sound. It has a Stratabond modified low-oval neck, Tenon neck joint, and Gotoh nickel tuners.
Pros:
+ Easy to carry around.
+ Rich tone and resonance for a great performance.
+ Big gig bag that allows protection.
Why We Liked It - If you're someone who is looking for an acoustic electric guitar that provides a magnifying performance in spite of its small size and portable quality, this is it. It's great for all budgets.
For beginners - If you're a beginner, try not to default to the most expensive acoustic guitar you can afford. Sometimes, it's best to start with something a little more replaceable in order for you to iron out the basics. Once you've built a solid foundation and know what type of sound you're going for, it may be time to reevaluate for an upgrade.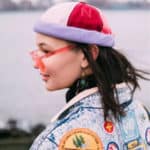 4. 38" Black Acoustic Guitar Starter Package
This is one of the best budget acoustic guitars around. It's ideal for beginner guitarists. This guitar starter kit contains a guitar pick, pitch pipe, a shoulder strap, and an extra set of strings. This is a right-handed guitar furnished with a smooth, black finish that adds to its beauty. This acoustic-electric guitar also comes with a nylon carrying case, perfect for storage and portability. The nylon case keeps the guitar safe and sound while also making it easier to take it on the go.
The guitar dimensions are 38"(L) x 14"(W) x 3.25"(H) and are ideal for any beginner guitarist. This is also one of the cheaper acoustic guitars available on the market. It features a comfortable and convenient string height that is easy on the finger and reduces hand fatigue, helping beginners build up hand strength.
The tuning pegs provided with this acoustic guitar are easy to adjust. The guitar has a sturdy wood top with smooth curves and edges that ensure convenience and comfort while playing. It's great for every genre of music, especially rock and folk.
Pros:
+ Excellent polished finish for a great look.
+ Convenient string height.
+ Strong wood top.
+ Comfortable shoulder strap comes in handy when you have to carry it around.
Why We Liked It - If you're beginning your musical journey, this is one of the most reasonably priced acoustic guitars you could get. It produces a full-bodied sound.
5. Jasmine S35 Acoustic Guitar
This is one of the most reasonably priced acoustic guitars that's perfect no matter your playing experience. It's great for either beginners or seasoned guitarists who obsess over creating good music. This finely crafted guitar comes with a limited lifetime guarantee. It's one of the top-selling acoustic-electric guitars available for either seasoned pros or beginners.
This is a dreadnought guitar with a great look and a resounding, bold sound. It's one of the best guitars for its price tag because it has more features than many popular guitars. The S35 is a well-built guitar that's easy to play. It comes with a spruce top and a nato back and sides, which add to its beauty. It is a versatile, convenient, and durable musical tool that you can use for extended periods of time.
The satin neck finish not only looks great but also maximizes resonance for optimal sound quality and easy playability. Its bridge and fingerboards are made of rosewood, and so are its chrome tuners and body binding.
This acoustic guitar has phosphor bronze light gauge strings that are easy to play and make a great sound. It has a rosewood fretboard, laminated nato back and sides, and a satin finish. This acoustic guitar comes with steel strings (click here for our full intuitive guide). The satin finish gives more natural acoustic sounds than most other glossy finished guitars.
Pros:
+ Very affordable, perfect for a beginner.
+ Natural sound production and resonance.
+ 20 close frets that make it playing easy.
+ Sturdy and stable and therefore lasts a long time.
Why We Liked It - If you're looking for a guitar that produces natural sound and resonance and allows for easy playability, your search ends here.
6. Epiphone DR-100 Acoustic Guitar
This fantastic guitar has charm. It features a mahogany body that makes it sturdy and also increases the quality of sound and resonance that the guitar produces. It is notable for producing a more natural resonance and optimum sound quality.
The DR-100 has a select spruce top and a 25.5 scale. It has the look, sound, and build quality that first-time players, as well as professionals, prefer in their musical instruments. Not to mention, the dreadnought shape is great for bluegrass, folk, rock, country, and all the music genres in between. If you didn't know, dreadnoughts allow for a well-balanced sound system in which you can either lessen or increase the volume of your playing. This model comes from one of America's most respected instrument makers, Epiphone.
The bridge is made of rosewood. Rosewood is known to be a long-lasting and equivalent companion to the spruce top. There's also a classic black vintage-style pickguard. The neck has a slim-taper shape with 14 frets. It also has a rosewood fingerboard that comes with dot markers, making playing easier.
The sound this guitar produces is bold, full-bodied, and room-filling. This sets a new standard for low-cost acoustic guitars available on the market for beginners and experts alike. This model comes with a tone and feel you'll never want to give up! It has a neck profile that is not too thick or too small, allowing for a variety of playing styles. It has easy playability and optimized sound quality.
Pros:
+ Dot markers that make playing more convenient.
+ Consistent performance.
+ Durable and convenient to carry around.
Why We Liked It - If you're looking for a guitar that only plays better with time but is affordable as well, you won't do better than this classic by Epiphone.
7. Seagull S6 "The Original" Acoustic Guitar
The Seagull S6 "The Original" Acoustic Guitar is one of the best mid-range acoustic guitars available. Playing this instrument is a joy, thanks to its rich, beautiful tone and depth. It'll suit any voice. A Canadian product, it's made of hardwood which gives its design a sturdy look. This classic Seagull product is made of Canadian wild cherry and silver-colored maple. Its fretboard is rosewood.
Compared to most other guitars, it has a better tone, a great midrange, lovely richness, and a more stylish look. Not to mention, it's easier to play than other models. This is the best acoustic guitar in Seagull's product line. Beginners love it as it's easy to use and is available at a low price. Basically, it's a must-have if you're just starting out. You can also carry this acoustic guitar to your live performances - it stays tuned for a long time.
Pros:
+ Reliable for live performances.
+ Easy and comfortable to use, especially for beginners.
Why We Liked It - This classic Seagull S6 Acoustic Guitar is one of those rare products that never comes with complaints. It's great value for money and is definitely a must-have for beginners.
8. Taylor 224ce Deluxe Koa Grand Auditorium
The Taylor 224ce Deluxe Koa Grand Auditorium is an amazing deal if you're looking for an affordable acoustic-electric guitar. The game-changers for this product are its beautiful Venetian cutaway structure and the sound of the koa body. It is a high-quality, premium product. The guitar's back and side are made of laminated rosewood.
Its top is made of Sitka spruce which is not too dark, giving it an attractive look. If you compare it with other Taylor models, it has all the major characteristics - amazing and refined sound and a gorgeous look. And yet, the price for this guitar is half of what the other models cost.
The sound is warm and inviting, and it has a great bass response. If you plug it in, this guitar plays wonderfully due to its three-section pickup that you'll find behind the saddle. This provides a remarkable sound quality that is both clear and accurate. In addition to the amazing volume control, it also has a pair of tone controls that let the user tweak highs and lows. This will enable you to get the exact sound you need. It's also easy to adjust the guitar's intonation.
If you want something smaller and more travel friendly, why not check out the Taylor GS Mini?
Pros:
+ Versatility in its use.
+ Strong volume control for better performance.
+ Clear and accurate sound.
Why We Liked It - This is an appealing instrument, whose quality koa wood will age beautifully. It is not only a versatile guitar, but it also performs well whether you're strumming, fingerpicking or playing power cords. It will definitely ensure a good performance at a very reasonable cost.
9. Martin Road Series DRS1 Dreadnought Acoustic
The Martin Road Series DRS1 Dreadnought Acoustic is a well-built guitar which weighs around 21.6 pounds. This instrument has been ranked 19th overall out of all acoustic-electric guitars.
Being one of the gems in the Martin collection, this acoustic-electric guitar has an amazing sound and tone quality, making it the preferred choice for many people. It's also Martin's most affordable guitar and is made of solid wood, giving it that true Martin tone. It has a strong neck with a simple lamination, and its beauty lies in its simplicity. The sound will open up and continue to improve significantly with frequent use.
The sound projection of this instrument is amazing and it comes at an affordable price. The genius craftsmanship ensures that it stays in tune for a long time without adjusting, and it has a rich sound. Though the Fishman Sonitone system does not do justice to this system, it is still an incredible choice at an affordable price.
If you are a working, traveling guitarist, this is the guitar for you. It comes at a low price and is durable while not compromising on the quality or the accuracy of the sound. It is one of those guitars that can be played for years and yet won't require a frequent battery change. It's fun to play and has a nice feel. With its rich sound, it is perfect for a performer in professional setups. These are just some of the reasons why you should choose this model.
Pros:
+ Clear sound.
+ Stays tuned in for a long period of tie.
+ Stylish design.
+ Strong, reliable, and durable.
Why We Liked It - If price isn't an issue, you can definitely go for this guitar. Use it during jams, long practice sessions, and when traveling.
10. Fender Sonoran SCE Dreadnought Cutaway
The Fender Sonoran SCE Dreadnought cutaway guitar is one of the best acoustic guitars you can pick up for under 500 dollars. Whether you're a professional player or just beginning, this acoustic guitar has everything you need. With a rich candy apple red color, the guitar is a real stunner. The three-ply pickguard is a very useful feature as it helps to protect the guitar against scratches.
It has a dreadnought cutaway body shape. Most of the time, choosing a guitar for a beginner is a tough call. The guitar's construction is important, but without much knowledge, you may end up choosing the wrong body shape. The dreadnought body shape is a good choice for people with longer arms.
The Fender Sonoran SCE comes with a scalloped X bracing and a solid spruce top. Moreover, the back and the side of the guitar are laminated and made of mahogany. The maple neck guitar has 20 frets and a rosewood fingerboard.
The quality of the guitar is amazing. You will be addicted from the first time you play it. The maple neck of the guitar has a vintage C shape and is rosewood with a compensated bone saddle.
This is one of the best acoustic guitars for the money because the manufacturer has included a connected Fishman Isys III system with an active onboard preamp and tuner. The Fishman Isys III system provides maximum value in a small package. It helps in shaping the tone and volume of the acoustics guitar. In addition, the guitar has a Stratocaster headstock shape which is unique to all the Fender acoustic guitars.
The lightweight body of the guitar will make you feel like it's a part of your own body. The shape and size make it very easy to carry from one place to another.
Pros:
+ Stratocaster headstock shape for a great performance.
+ Fishman Isys III system with pre-amplifier and tuner.
+ 20 frets and rosewood fingerboard.
Why We Liked It - If you are willing to invest a little more money, you can get this very classy California vibe acoustic guitar. It even comes with a warranty.
Protecting Your Guitar -Acoustic guitars can be more delicate and volatile than their electric counterparts. As a basic rule of thumb, you'll want to keep these guitars out of direct sunlight, in a fairly temperature-controlled environment that's not too hot or too cold. You can also look into getting a humidifier for your guitar to help preserve the wood.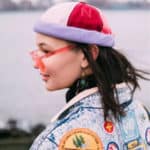 Buyers Guide Questions
How Much Does it Cost to Buy an Acoustic Guitar?
So you have finally decided to invest in your perfect guitar. Playing the solo of 'Hotel California' or 'Stairway to Heaven' might be your dream, and you are currently in the process of making your dream into reality. From fast-paced classical music to sing-along chords, an acoustic guitar is a versatile instrument cherished by all ages and used to play a variety of music.
Now, the price range of an acoustic guitar depends on your requirements, your age group, and the type of guitar you intend to purchase. Our handy product guide above has gone through it all, but if you're looking for more information, or are a beginner who's getting confused by all the different guitar terms, read on.
There are various types of guitars, such as concert, auditorium, dreadnought, cutaways, travel, and mini-acoustic, to name a few.
Concert: A concert guitar starts around $100-$400 and will go up to $500-$3000 for better quality models.
Auditorium: An auditorium guitar starts around $100-$300, with better quality models reaching up to $500-$1500.
Dreadnought: A decent dreadnought starts around $80-$250 for beginner models and will go up to $250-$900 for better quality ones.
Parlor: Parlor guitars are compact and a little smaller than concert models. A good quality one will start around $100. If you're someone who likes something a bit smaller, they're a great choice.
Travel and Mini-Acoustics: These guitars start around $50-$200 for a basic beginner model. They're great if you don't have a lot of space. But do make sure that you don't end up buying a toy one online!
Cutaways: These guitars cost about $100-$500 for basic beginner models, but high-quality acoustic ones could cost as much as $2000-$3000.
You can also get jumbo guitars. As the name suggests, jumbos will be bigger than your average guitar.
While these are average costs, a few other things can add to the overall cost. For example, a softshell guitar case is about $20-$80, whereas hard-shell cases are $60-$300. Guitar picks range from $2-$4, and a guitar strap usually costs about $15-$100). These all may be included as additional costs. Additionally, Nylon strings may cost about $7-$10, whereas steel strings can be somewhere around $9-$12. Always check the product specs and details to see exactly what your model comes with.
The material of your guitar can also dramatically change the cost and feel of your guitar. For example, maple guitars are likely to be cheaper than Koa, and lighter to the touch. Other guitar materials and tonewoods include walnut, richlite, ebony and rosewood. Most guitars use a mix of woods; for example, a model may have a sitka spruce back but a rosewood fretboard. Different woods will give off different types of sound.
What is the Difference Between an Acoustic Guitar and an Electric Guitar?
The major difference between an acoustic guitar and an electric guitar is its functionality. The style of music played on these guitars is also different. An acoustic guitar is normally associated with mellow music such as folk and country, and are great for showing off your vocals. The electric guitar is used mainly for creating high decibel, modern-day rock, and metal music.
There are also a few more aspects of both guitars that differentiate them. Here are some features that can help in understanding the difference between these two types of guitars:
Composition:
An acoustic guitar consists of a hollow body with a soundhole right beneath the strings. The wooden side is called the soundboard, which is made of wood like spruce or red cedar. When the strings of an acoustic guitar are strung, the vibrations are transmitted to the soundboard. The energy of the vibrations is then transferred within the guitar body, which amplifies the sound.
Interested in an electric guitar to learn to play with? Click here. Some great electric guitars include the Jackson Concept series or Heritage.
On the other hand, an electric guitar has a thinner yet stronger body without a soundhole. Instead of the hollow body, the electric guitar uses transducers that convert string vibrations into an electric signal. This is then sent to the speakers to amplify the sound we hear.
Quality of sound:
An acoustic guitar generally has electric pickups that are usually stuck to the inner side of the guitar body and are very faint. As a result, they don't produce the best sound quality.
On the other hand, an electric guitar uses high output electromagnetic pickups that capture even the slightest of variations in the magnetic field. These are highly sensitive, which guarantees better sound quality – a lot better than acoustic guitars.
Additional setup
An acoustic guitar does not require additional equipment such as amplifiers or powers, as it produces sound solely with its hollow design. An electric guitar requires amplifiers to produce a number of sound effects. It loses some of its sound quality due to the transfer of energy taking place. Additionally, it has many buttons, knobs, and switches that may be a little too much to comprehend if you are a beginner. You may want to look into a good guitar course to get the hang of it!
Cost:
An acoustic guitar is generally a bit more cost-effective than an electric one because of its composition and the lack of equipment required.
Easier to learn:
Because of its big body and heavier strings, the acoustic guitar is usually harder to play than the electric one.
Although it is easy to learn for beginners, the buttons and knobs of the electric guitar can take time to learn. So, as a beginner, it's up to your personal preference as to which route you'd rather take.
Maintenance:
Both acoustic and electric guitars need similar maintenance, such as keeping them away from extreme conditions (both hot and cold), protecting them against sharp objects, and cleaning them, to name a few. You can put your guitar in a protective case to keep it safe. You also need to replace old guitar strings and clean the fretboard at regular intervals to ensure that the guitar continues to sound good.
Read Also: 9 Best Guitar and Instrument Cables
The only difference between the two types is that electric guitars need additional maintenance, such as adjusting the pickups with the help of a screwdriver, adjusting the amplifier and so on. Acoustic guitars require slightly less maintenance as they come with humidifiers between the strings. This prevents the wood from drying up.
What is a Semi-acoustic Guitar?
Out of all instruments, guitars are among the most popular. Today, much to the delight of music lovers and all those who dream of playing, there are many different kinds of guitars available to buy. Semi-acoustic guitars are one such category. They fall under the electric guitar category and are preferred in jazz and pop.
You may also be looking to create a slightly different sound. If so, click here for the top looper pedals money can buy. These pedals will help you adjust tones and play with effects, such as level, attack, and more.
A semi-acoustic guitar is also known as a hollow-body electric guitar. Parts of the body are electric, while others are hollow like a traditional acoustic guitar. It has a sound box and one to several electric pick-ups. Electric pickups convert the picked mechanical sound into an electric sound which is then further amplified using the instrument amplifier. A great guitar pickup brand to check out is lR Baggs.
Manufactured for the sole reason of enhancing the overall volume of the guitar, semi-acoustics are very popular. Widely accepted as the hybrid of electric and acoustic, you can play semi-acoustic guitars unplugged as well as plugged-in.
Great Read: Top 17 Stands for Guitars of This Year
Marked as revolutionary in the history of guitars, semi-acoustics are largely manufactured by popular brands like Gibson, Rickenbacker, and Gretsch. These brands continually improve on their designs with each new release.
What is the Best Guitar Brand?
Regardless of whether you're a beginner or a seasoned pro, the brand of guitar you buy is important. Buying from a well-respected brand with a great reputation will ensure you're getting a high-quality instrument that you can enjoy for years to come.
There are several high-quality brand names, but Martin & Co. has established itself as one of the most trusted and celebrated guitar manufacturing brands in the world. This U.S.-based company has been making the finest instruments for over 183 years. You can't go wrong with the classics.
Martin & Co. are best known for their acoustic and electric guitars. Many of their series' have become best sellers of their time. For example, the Martin D-28, Martin CEO-7, etc are some of the greatest guitars around. The Martin D-28 is among the most loved guitars of all time, and the latter is also the winner of Player's Choice Best Guitar.
Every single product is made with great care, and the brand pays attention to every minute detail. Martin & Co. is the preferred choice of artists and musicians worldwide, from professionals down to beginners. Many celebrity musicians swear by the Martin name. Other great brands include Fender, Taylor, and Guild.
Best Value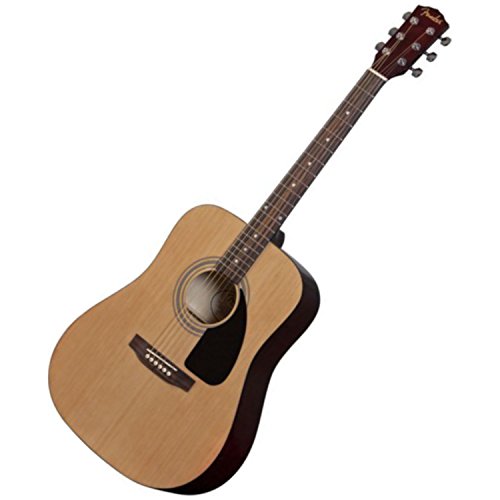 The Fender FA-100 dreadnought acoustic guitar is the perfect guitar for beginner strummers. It comes with a protective nylon gig bag to keep your guitar in. Not all guitars come with gag bags, so this addition makes it a great value choice. You don't have to waste money buying a guitar case or a separate gig bag. In addition, the guitar is very beautiful with its natural color and style.
The time-tested quarter sawn X bracing and the laminated spruce top gives it the upper hand over other acoustic guitars. The guitar's body and neck are made from laminated wood. It doesn't matter if you're right or left-handed; this guitar is ambidextrous. It has a great sound response. With all these features, the guitar leads the category of best acoustic guitar under 300 dollars.
Great All-Rounder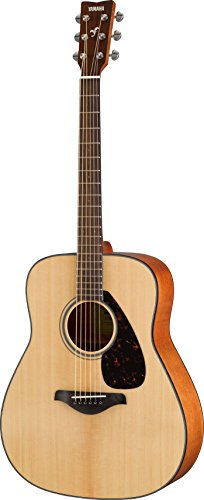 The Yamaha FG800 Solid top acoustic guitar proves that you don't need to spend a lot to make great music. It has a fantastic musical tone and an outstanding build with a lightweight body. Its balance makes it a fantastic all-rounder.
This guitar is a classic and comes in many great colors: mahogany, autumn burst, natural, black, brown sunburst, sunset blue, turquoise, ruby red, flamed maple, tobacco sunburst, and dusk sun red. This acoustic guitar has the best quality at such an exceptional price; you'll be itching to pick one up for yourself. It's the best Yamaha Acoustic guitar.
The most beautiful design of guitar is a natural one. This one features a simple yet alluring rosewood fingerboard, and a rosewood bridge. Unlike other guitars, this one does not have a normal bracing. To maintain its durability and structure, it has a new advanced scalloped bracing.
Top Quality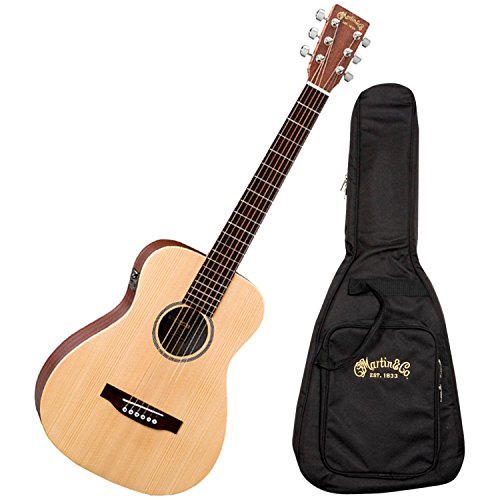 In our opinion (which is an opinion shared by many guitarists worldwide), the best acoustic guitar is the LX1E Little Martin Travel Guitar. This guitar is a perfect choice if you travel often; you can easily strap it around your shoulder and go. Whether you're going out on a camping trip, picnic, or just finding somewhere comfortable for your jamming sessions, the guitar works wonderfully in all situations. It has a modified low oval neck shape and white Corian nut to hit any notes you play.
It's ideal for live performances, giving a phenomenal sound compared to other traveling guitars. To rock the stage at live concerts or performances, you can always rely on the quality of this guitar. You won't ever be disappointed.
If you liked this review, please leave a positive rating:
[vc_separator