We are living in an unrestricted wireless age, with cables becoming a thing of the past for many electronic products. In the last decade, the range of wireless guitar systems has drastically improved. If you are new to wireless technology it can be daunting to know which is the best wireless guitar system to go for. Playing on grand stages, larger venue or outdoor festivals requires longer cables which as most seasoned guitarists know has a detrimental effect on the sound quality. Going wireless can not only help combat sound issues associated with cable extension but they also enable complete freedom of movement.
Wireless guitar systems have come a long way since Schaffer first improved the existing technology, unimpressed with its limitations and interference whilst he toured as an engineer with The Rolling Stones. Today's top companies inspired by the Schaffer-Vega Diversity System (SVDS) have been fine-tuning wireless development ever since. Consequently, there are plenty for sale which enhances and liberate guitarists. Here is a review of the 10 best instrument wireless systems for better performances.
At a glance:

Our top 3 picks
Our team's top 3 recommendations
Best Overall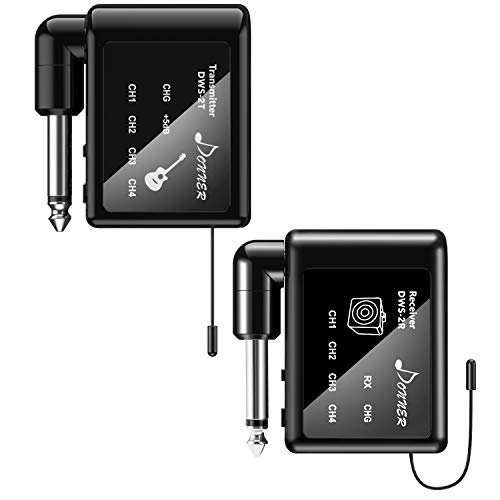 Donner DWS-2

Includes rechargeable battery, 2.5 hours of battery life.
USB cable charging.
180° head.
Premium Quality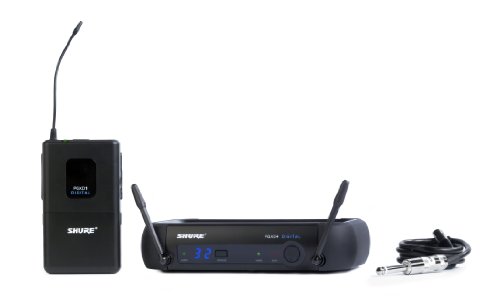 Shure PGXD14

Includes rechargeable battery, 2.5 hours of battery life.
USB cable charging.
180° head.
Great value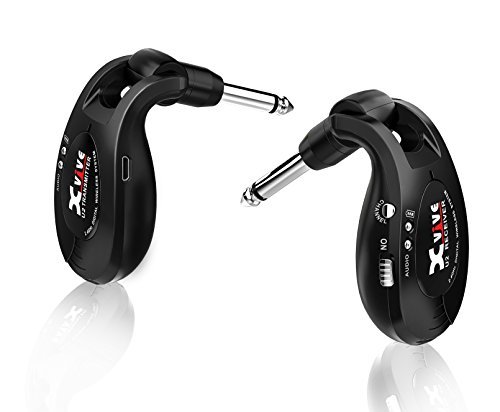 Xvive U2 Rechargeable

Includes rechargeable battery, 2.5 hours of battery life.
USB cable charging.
180° head.
View The Best Wireless Guitar System For The Money
This Donner DWS-2 is an affordable digital wireless system enabling uncompressed sound transition up to 200 feet within it's line of sight. It is of a compact well-made design; it contains 4 separate channels which can be supported. They can be used for separate instruments transmitted and simultaneously received or instead one transmission can be picked up by multi receivers. The Donner DWS-2 provides a reliable high-quality tone for a variety of instrument/ audio inputs and has a low latency, at less than 2.5ms - the digital delay is practically undetectable.
The Donner DWS-2 digital system is relatively simple to use and once they are initially paired they remember for future connections and will find each other automatically when switched on. The initial boot instructions are included with the product and are easy to follow. This newly perfected model is just $85.00 and gives musicians the opportunity to utilize spaces and perform cable-free without compromising on a full-unadulterated audio quality.
Pros:
+ Includes rechargeable battery, 2.5 hours of battery life.
+ USB cable charging.
+ 180° head.
Why We Liked It - This Donner DWS-2 simple system offers a good operating range at an ideal price tag for those on a lower budget.
Quality of the tone - Quality comes with the price, and professionals should not hesitate to get the best on the market. If you can afford it, always go for the leading brands in the industry, such as Shure. Choose your device that is likely to last longer, and don't sacrifice good performance with cheaper versions.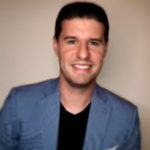 The Shure PGXD14 Bodypack Wireless System is part of the Guitar/Bass wireless systems family. This basic wireless guitar system has been expertly designed by Shure, one of the leading brands in music wireless systems, so you can guarantee it has been well made to high industry standard. A diverse device such as this better provides reliable signal and frequency agility. It delivers a pristine radio frequency signal. The durable Shure PGXD14 body-pack transmitter clips onto belts or guitar strap with ease and provides you with a 20Hz - 20kHz frequency range. This Shure PGXD14 system features a power mute and battery status LED's. The gain can be adjusted by 26 decibels with a handy dial allowing for volume control and helps elude feedback issues. The audio interface is lockable to avoid settings being changed accidentally. It requires 2 AA batteries to run for up to 10 hours of continuous use. The Shure PGXD14 receiver puts out a 24-bit/48kHz accurate high-quality sound. This is a great wireless system for guitars or electric bass guitars, which offers real value for money.
Pros:
+ Auto frequency selection.
+ Includes a 1/4" instrument cable for guitar and bass applications.
+ Wireless receiver fits perfectly on a guitar effects pedal board.
Why We Liked It - It is an affordable high quality product developed by a trusted brand.
This Nifty Xvive U2 Rechargeable wireless system has a simple compact design the transmitter and receiver are roughly egg sized and the jack adjusts to multiple angles allowing it to effortless fit into any guitar or bass without protruding. The Xvive U2 Rechargeable system operates at over 70 feet line of site, suitable for outdoor use. Delivering an uncompressed signal which stays authentic to the guitars cable tone but is not fit for use with active guitar pick-ups.
The Xvive U2 wireless system for guitars offers four-channel choices at 2.4Hz for license-free use but should be operated at a recommended distance of 3 meters from surrounding WiFi signals to ensure minimal interference and absolute clarity. The U2 wireless system has a stylish design also comes in a range of colors. Also included is a useful Y cable which can be plugged into a USB cable outlet or power supplies for fast and simple recharging. It has a lot to offer for $154.90.
Pros:
+ Less than 6ms Latency.
+ Rechargeable Lithium-ion batteries providing 4-5 hours of battery life.
+ Pocket-sized and fold-able.
Why We Liked It - The tiny Xvive U2 digital wireless system broadcasts in a bandwidth which avoids interference caused by TV stations, public safety broadcasts, and cell phone towers.
Frequency and interference - The wireless system must have the ability to switch between different frequencies because it reduces the chances of getting disconnected or delayed. If the frequency might get too busy at one point, it can lead to your sound gets less quality. It is good to get wireless systems that can scan the frequencies and use ones with the least interference.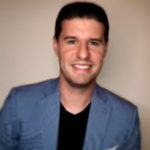 This BLX14 guitar wireless system from Shure offers unprecedented receiver sound quality indistinguishable from instrument cable alternative. It has quite a few system features that are inspired by some of Shures higher-end ULX series. The BLX line focuses on customization ability, with multiple mics and transmitters that can be added and integrated into the systems.
This wireless system for guitars benefits from highly durable construction and world-class designs. Set-up includes a guitar lead, 1 x BLX4 wireless receiver, and 1 x BLX1 body-pack transmitter which has an adjustable gain for user control on stage. The transmitter only needs 2 stand AA batteries to operate providing up to 14 hours of continuous use. Whilst advertised a guitar system it is also suitable for use as a wireless bass guitar system also, dealing well with lower frequency audio signals. At $299.00 it allows for tangle free touring for modern-day musicians that move to their music.
Pros:
+ Power and battery status LED's
+ Frequency matching extra feature
+ Informative user guide.
+ Batteries included.
Why We Liked It - It provides seamless wireless signaling around a reasonable price tag and is a great starting point for building a professional level customized wireless system.
The Get aria wireless system is a perfect example of a decent cheap wireless guitar system.
This is a digital wireless system sending audio uncompressed at 2.4GHz (license-free frequency.) It has a 48K sample rate high-quality cable tone and an ultra-short delay making the signal crisp with no noticeable lag. The line of sight is about 30 meters. It supports 1 to 1 transmission for electric guitars and acoustic guitars pick up. Easy to connect devices together once previously paired will auto connect from memory making the process even faster. Battery-operated so be sure to check power levels. A steal of a deal at just $45.99!
Pros:
+ Uses AAA batteries which are easy to replace.
+ User friendly set-up, plug and play.
+ Low signal-to-noise ratio.
Why We Liked It - The line of sight is much further than other models offer and 30 meters for under fifty bucks is inarguable value.
Line 6 have been manufacturing guitar wireless systems for more than 20 years. Their relay series is next-gen technology, featuring wide frequency response with dynamic range. Designed to be compact and as simple as plugging in the cables it endeavors to replace. The Relay G10 system operates on a frequency band which eliminates TV broadcasts radio and white space devices to help ensure a clean signal.
The Line 6 Relay G10 employs advanced Digital Channel Lock technology (DCL) encodes the audio signals sent via its transmitter making it uniquely identifiable from other signals including WiFi which might interfere. Let's break it down this Relay G10 is a 2.4 GHz Digital Guitar Wireless System with Rechargeable Transmitter, with automatic frequency channel set up. There is no "pop" when you plug in as it only broadcasts once properly connected and receiving a sound signal which makes performing with multiple guitars as a lot of guitarists do in a live setting you can switch easily.
Pros:
+ The transmitter recharges when docked on the receiver.
+ Fully FCC compliant and operates license-free worldwide.
+ Up to 8 hours playing time and 200 hours in sleep mode to save battery life.
+ Rechargeable battery
+ Automatic frequency
Why We Liked It - This Relay G10 is a great wireless system that incorporates some pretty well thought out design details, it eliminates the need to carry batteries by opting for an inbuilt one and recharges simply.
The Nady DKW-3 GT VHF wireless system operates as the name suggests, on a single separate, very high frequency It is a great system for live performances and ideal for those starting out. The Nady DKW-3 GT uses a 9-volt battery to operate and the transmitter has gain controls. It consists of a body-pack style receiver and transmitter with advanced processing circuitry eliminating background hiss. The Nady DKW-GT typically operates between a 150 and 300-foot line of sight. Nady Systems has been manufacturing wireless microphones since 1976 and has sold millions of high performing systems worldwide. Competitively priced.
Pros:
+ User friendly controls for simple use.
+ Perfect for entry level users.
+ Collapsible antennas.
+ Body-pack style receiver and transmitter
Why We Liked It - This The Nady DKW-GT body-pack transmitter is a budget wireless guitar system from a prestigious Emmy award winning company who have helped pioneer wireless technology. Check out the Nady U1100 GT for an alternative.
The JOYO JW-01 Rechargeable 2.4Ghz Audio Wireless Digital Guitar system is a Bluetooth transmitter for guitar. It is capable of connecting to multiple amps with its synchronization feature. It operates simply and consists of 2 pocket-sized devices and a mini USB style charger. It broadcasts over ultra-high frequencies providing a quality, clear sound faithful to the instruments projected tone without interference and has a 5-10 meter line of sight. Suitably priced.
Pros:
+ Adequate frequency response.
+ Operates on UHF frequency
+ Blue Tooth digital technology.
Why We Liked It - It is hard to distinguish from a guitar cable and is a low cost wireless guitar system.
In essence this is a newer version of the first product in our wireless review. It delivers a high-quality tone which stays true to the input of the instrument for dynamic performances. It has a latency below 2.5ms and the same rotating head to allow for compatibility on a range of bass guitars and electric guitars. It supports 4 devices working in unison. It provides up to 6 hours of live playing time and takes around 2 hours to recharge. It is super simple to set up and establish links and once primarily paired will auto-match by memory. At $105.00 it is a little pricier than the previous model but had been refined.
Pros:
+ Over 100 feet transmission distance.
+ Rechargeable lithium batteries which take only 2hrs to recharge.
+ Also performs well for studio use.
Why We Liked It - It provides professional level wireless system performance at a reasonable cost and is ideal for outdoor events The audio quality is identical in comparison to guitar cables and it performs well in blind-fold testing.
10. Ammoon Wireless Audio Transmitter
This low budget wireless guitar system boasts clear transmission distances of up to 30 meters which is phenomenal for its retail price tag. Ideal for outdoor performances and larger stages. It is an effective portable wireless audio transmitter and receiver, about 50m effective transmission range. It operates on a VHF bandwidth of 200-271MHz. It has built in anti-jamming technology so can accurately manage up to 6 sets working simultaneously. Its circuitry adopts digital Surface Mounted Technology (SMT) techniques.
Pros:
+ Comes with a 6.35mm to 3.5mm adapter for connecting with different audio devices.
+ Antennas screw on and off making it convenient to pack and carry.
+ Suitable for electric guitar, bass, electric violin and other electric - acoustic guitars and instruments
Why We Liked It - This portable audio receiver and transmitter is ideal for a range of electric instruments and incorporates stat of the art Digital wireless technology for a low price tag making it one of the cheapest wireless system in our review.
Range - Analog systems have more range, and that means that they can move further from the receiver. Still, digital ones offer more than enough to cover big stages. If you are going to perform in smaller places, you don't need a wide range of the wireless system. On the other hand, it's better to play safe and get as much range as possible.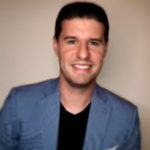 Wireless Guitar System Buying Guide
Modern guitarists shouldn't need to worry about unplugging themselves or other players accidentally nor the risk of tripping over wires as they entertain a crowd. They should be free to 'move like Jagger' as they feel. Utilizing wireless guitar systems is a sure-fire way to achieve absolute freedom of movement and prevention of hazards on stage.
What Makes a Good Wireless System?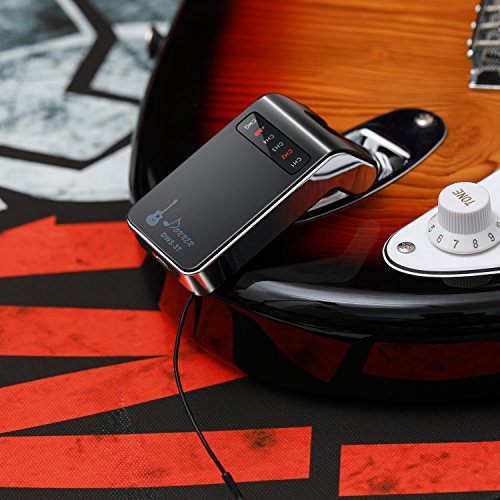 Like with any modern high-tech device there are a number of key form factors to consider before you part with your hard earned cash.
One vital feature to look for when purchasing a great wireless guitar system is the devices innate ability to detect interference within the surroundings and differentiate between them and the sound waves being sent intentionally to it. This is commonly referred to as the devices frequency agility. The better the agility the better the quality of the sound precision during live performances.
It becomes exponentially critical as the number of musicians connected to the wireless system increases.
The frequency agility also helps with inter-modulation issues bigger bands may encounter. Some of the better systems have built-in frequency scanning capabilities, allowing receivers to automatically detect and choose frequencies providing better audio clarity as your band moves around. Other things to think about when choosing a wireless system include the battery life and make-up, lithium-ion batteries being preferable as they are long lasting and the construction of the device which will affect its durability against potential impacts. Another aspect which is also worth considering is the operation range If you won't move around a very large stage without experiencing signal losses you will obviously want something that transmits from further afield.
Digital Wireless Guitar System Vs Analog Wireless Systems
Wireless guitar systems are categorized as being either analog or digital systems. With an analog wireless system, audio data is first compressed by the transmitter and converted into a frequency modulation signal. It then has to be expanded again before the receiver allows it to travel through the amp. This compression/expansion is known as 'companding' a trademark typical of analog wireless systems. When we reduce signal-to-noise ratios we compand them. Old models were notorious for a micro time delays. Analog systems run on VHF (Very High Frequencies) which fall within a frequency range of 30 to 300 megahertz. They are used by the majority of radio and television broadcasts. Other Analog systems run on UHF (Ultra High Frequency), this frequency range extends from 300 megahertz to around 3 gigahertz. VHF frequencies are more susceptible to audio interference and quality loss than UHF frequencies.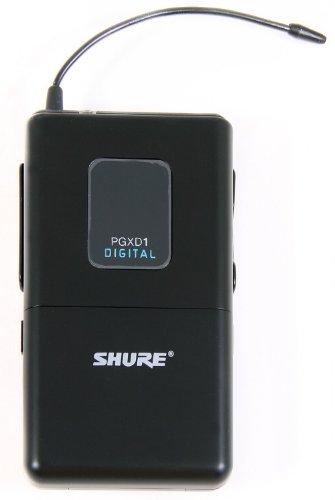 Digital wireless guitar systems wipe out the signal compression step entirely. Instead, they transmit sound by converting and encoding the audio signal from the instrument then the encoded signal is securely sent on around 2.4GHertz frequency band higher frequencies similar to those our WiFi routers use. Digitally encoding the signal minimizes the quality degradation during travel. It also ensures less interference as the receiver knows what encoded signal it is looking for and can mask out the signal which doesn't match. The level of capability at distinguishing between the signals differs by brand and budget. Digital systems are definitely more technologically advanced than analog and an industry standard. They better retain the quality from the original audio input.
What Does a Wireless Guitar System Do?
A wireless guitar system eliminates the need for guitar cables rendering them completely obsolete. Essentially they work as a high-tech replacement, overriding the cables role, changing the way your signal is sent and received. When you play your guitar, the transmitter sends out a signal of the sound waves created from it which is then received by the transmitter connected to your amp/guitar effect pedal chain. The system broadcasts your guitar signal from your guitar, to your amp on a chosen frequency without the need for a physical connection either in a digital or analog manner. There are tonnes of different brands with different options employing different types of wireless technology.
How To Use A Wireless Guitar System?
Each system can occasionally differ slightly from the next but in essence, all you need to do is connect each transmitter simply to the instruments and the receiver device to your amps. Next, get the level correct as you would at any sound-check and rock on. You may or may not have to manually select the frequency desired. Typically the receiver performs a frequency scan automatically setting the bandwidth to the clearest available group and channel.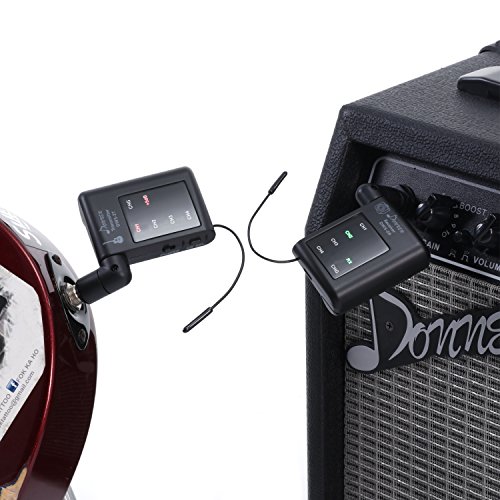 All you have to do is tune your transmitter to the same group and channel that are displayed on the receiver but usually in this day and age it will automatically link once initially set. Then you can feel free to strut your funky stuff all over the stadium as the equipment works sending your sound through modern wonder of wireless technology. Wireless guitar systems battery-operated so needless to say it is crucial to check battery levels are sufficient pre-gig, maintain them well to ensure a long life.
Many systems are designed with rechargeable batteries or even built-in batteries as standard to help keep the inconvenience to a minimum.
Best Budget Wireless Guitar System?
The type of budget you have is a very significant factor when searching for the best budget wireless guitar system for your individual use. There are some fairly decent set-ups for under $100 mark but if you are serious about packing larger venues with an audience you might want shell out more for optimal signal quality, access to alternative frequencies and advanced technological fail-safes, which protect against interference.
To make a well-informed choice about whether your budget is low, mid or high primarily you need to consider venue size and expected audiences, as well as the number of instruments, would like involved to decide how many channels you need. With a myriad of cheap wireless systems to choose from and the helpful reviews listed it should be relatively easy to find the best budget wireless guitar system for you.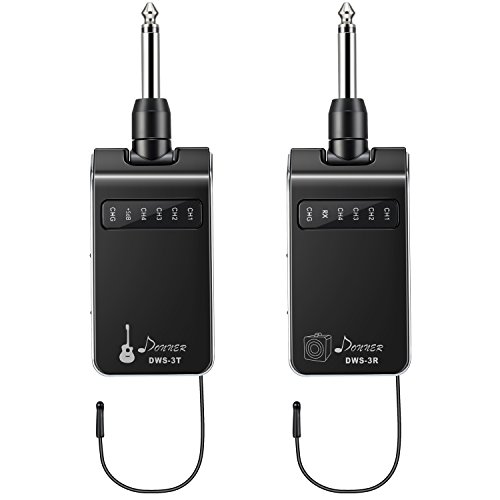 Conclusion
One of the most noticeable differences between legendary professional guitarists and you are their all-important stage presence. The bigger the stage, the bigger the presence required. Elvis Presley had his hips, Chick Berry did the duck walk. If you are partial to a knee slide or scissor-kick or fancy showing off your shadows shuffle you are certainly going to need a great wireless guitar system to perform like a star on stage without the potentially hazardous restriction of instrument cables. Buying a wireless system is a big step out of the amateur into the professional realm. The different model options and confounding jargon can be a little bewildering for some.
With a bit of luck, our wireless guitar review and buying guide have helped to break down the key aspects you need to consider about what you require from a Wireless guitar system. Giving you the tools and information you need to make the all-important decision as to which is the best wireless guitar system for your needs.
Expert Tip
Before taking a leap and investing in your new wireless system, it might be wise to do a little research regarding licenses in your country. Some frequencies are completely free to use but others do require a paid license. The Federal Communications Commission has announced a transition away from wireless microphones that operate in the 600MHz band. 617-652 MHz and 663-698 MHz over the next 2 years.
Did You Know
Generally speaking, we don't often associate playing guitar with any major danger but freak accidents can occur on occasion. Lead guitarist of the band Kiss Ace Frehley learned the hard way after suffering a near-fatal shock, thought to be due to a ground fault between his wired guitar and metal staging. He was knocked unconscious and The band quickly converted to a wireless system.
If you've enjoyed this review by Music Critic, please leave a positive rating:
[vc_separator