With the many benefits they provide true wireless earbud sets are quickly becoming a popular go-to audio solution, we have previously looked at several impressive sets some of which may have been a little too rich for some.
So today for those on a lower budget we have rounded up the 10 best true wireless earbuds under $50 in 2023.
Now it is fair to say that when they first crept on to the market the audio capabilities of these tiny transducers was a little lack-luster but with modern engineering, the audio capabilities are getting better as driver methods evolve.
Wireless is a must-have for those with busy, modern lives, so let's have a look at what you can get your mitts on in the market.
Related; True Wireless Headphones Under $100.
At a glance:

Our top 3 picks
Our team's top 3 recommendations
Best Overall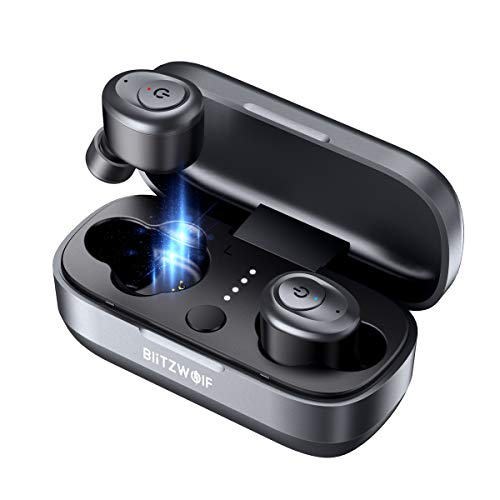 Blitz Wolf Wireless Earbuds

Well-made.
Great drivers.
Binaural/monaural pairing.
Bluetooth 5.0.
up to 20 hours of battery life total.
Premium Quality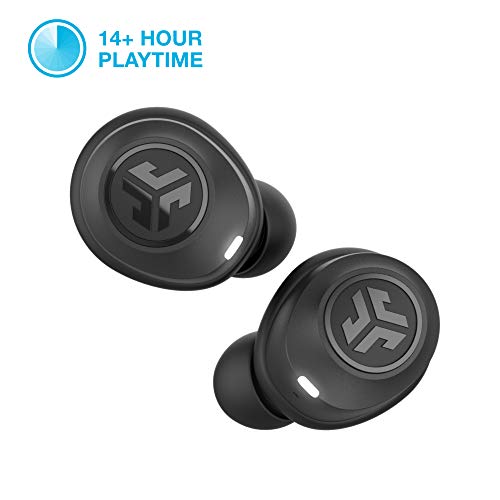 JLab Audio JBuds Air

Well-made.
Great drivers.
Binaural/monaural pairing.
Bluetooth 5.0.
up to 20 hours of battery life total.
Great value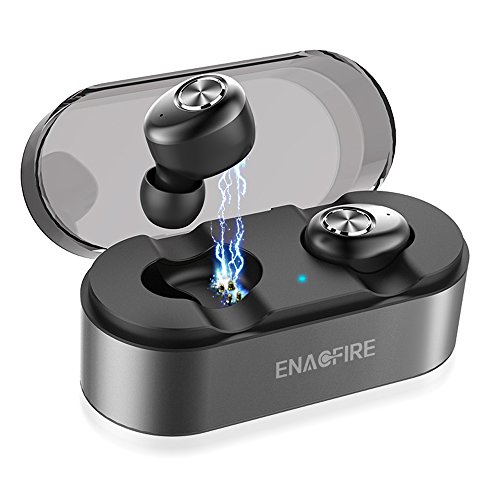 Enacfire E18 Wireless Earbuds

Well-made.
Great drivers.
Binaural/monaural pairing.
Bluetooth 5.0.
up to 20 hours of battery life total.
View The Best True Wireless Earbuds Under $50 Below
1. Blitz Wolf Wireless Earbuds
Our first selection is this fantastically adept set from Blitz which sits at the upper end of today's monetary cap.
They instantaneously pair in one simple step and benefit from an up-to-date Bluetooth 5.0 connection which is very compatible and interference free.
They are equipped with independent sound chambers and feature10mm titanium film drivers which work exceptionally well, producing a clear and accurate response. The mid-range frequencies are very well-defined making vocals far easier to hear. They also have tailored processing to provide powerful lows.
They are well-manufacture and their design is ergonomic. The tips are formed from a flexible skin-friendly material which sits comfortably in your ears and the buds are very lightweight so will not slip from their positioning. A range of tip sizes is provided to allow the wearer to choose their perfect fit.
They can work in a binaural mode playing a stereo mix from each individual bud allowing you to share with a friend, or you can pick the monaural pairing for stereo left and right for personal listening.
They can be controlled via a tapping method. They harbor a capable microphone for hands-free operation and their battery is capable of 4.5 hours listening. The storage case is robust and provides spare charges which extend the life of the set to around 20 hours max.
Pros:
+ Well-made.
+ Great drivers.
+ Binaural/monaural pairing.
+ Bluetooth 5.0.
+ up to 20 hours of battery life total.
Why We Liked It - They are a very capable set of true wireless earbuds they present some great features and provide a range of tips for comfort.
Got more budget? Try these headphones under $100.
Connection Range - Don't forget to consider the connection range of your wireless earbuds. If you plan on exercising with this set, this factor is key to ensure that you can jam out without having to suffer through a poor connection. Remember that there are different levels of Bluetooth connection, so be sure to shop with that factor in mind as well.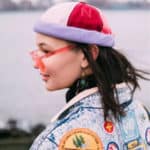 A pair which are priced at the same mark as the set above are the JBuds Air model from the award-winning audio designers at JLab which provide, the same truly wireless experience.
They are once again a suitably lightweight option with ergonomically angled tips that help keep the buds in place whilst you are on the go.
They too have an integrated microphone and Bluetooth 5.0 connectivity and offer up a very stable line to receive transmissions from a distance of around 33 feet. It automatically connects saving you the frustration of a complicated pairing process. They are again controlled with an intuitive tapping system.
They are beautifully made and have very comfortable gel-tips, which come in a range of sized to cater to bigger and smaller ears. They also have 'cush-fins' which are once again made with the same silicone-based gel, they make the earbud more comfortable against your ear.
They have been optimized to provide equalization adjustments which the user can control and shape to their preferences without the need for App assistance, the 3 presets are JLab signature sounds, Balanced and Bass Boost.
They carry an IPX rating of 5 which makes them pretty sweat-proof. The storage case is very robust and pocket-sized for travel it holds sufficient power to give the buds around 14 hours total use and has an Led light on the exterior to indicate power levels. They last around 3-4 hours between charges without their case.
Pros:
+ Durably made.
+ Cush fins and gel tips.
+ Bluetooth 5.0 connection.
+ Signature sound, with preset EQ modes.
+ IPX-5 rating.
Why We Liked It
- They are a well-engineered pair, the built-in equalization capabilities are a lovely touch and the gel tips and cush-fins are very comfortable./vc_column_text]
3. Enacfire E18 Wireless Earbuds
Another well-made pair of true wireless earbuds with a low price-tag are the E18 set from Enacfire. They rely once again on an ergonomic design which features lightweight buds and comfortable tips which come in 3 independent sizes to provide a better fit. They are molded to sit securely in place and allow for a lot of motion, despite not being a sports model.
They have very well-engineered drivers, which produce audio with fine dynamic distinction.
They operate wirelessly with current Bluetooth (version 5.0) making them widely compatible and stable. They benefit from easy to set-up one step pairing.
They run for approximately 3.5 hours and their storage case carries a spare 12 bringing the maximum power up to around 15 hours total.
Pros:
+ Durable model.
+ Good audio definition.
+ Low priced true wireless.
+ 15-hour battery life.
Why We Liked It - They have great dynamics and a good amount of headroom. They outperform the majority of similarly priced sets.
Charging Your Earbuds - Keep in mind that wireless earbuds will require a regular charge, so you'll need to get in the habit of docking your earbuds at the end of every evening. In addition, it's probably wise to have a mobile charger on hand just so you're not caught without music. It's also worth comparing charge time and battery life of your potential earbud picks.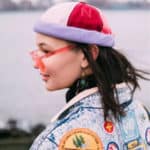 Another previously highlighted affordable model is the F10 mini which makes for a discreet option, though it is for a solitary earbud so you will need to purchase 2 and pair them together if you want a left and right earbud. Having one earbud which provides a stereo audio blend, is ideal for hands-free operations and those who have to conference on the go. It also keeps users aware of their surroundings and is a safe audio option in built-up areas.
It utilizes magnetic induction charging which keeps the buds in place within the case and allows the dock to clip and charge from any USB connection.
They provide a very secure fit with tips formulated to sit within the ear ergonomically. It harbors some good quality components with hardworking drivers that reproduce full-range audio. The internal electronics are housed in a plastic shell which is what keeps the price tag so appealing.
It provides an average of 6 hours of seamless streaming over a stable, easy to pair Bluetooth 5.0 connection. It has an integrated microphone which has zero interference and good signal isolation.
Pros:
+ Single earbud.
+ Tiny size.
+ Great drivers.
Why We Liked It - They provide stereo audio allowing users to keep one ear free at all times, they are low priced and buying a pair still comes in under today's $50 budget cap so they are great value for money.
5. Kahe True Wireless Earbuds
This next set from Kahe are also equipped with Bluetooth version 5.0, they are supported by a high sensitivity antenna that keeps transmissions interference free.
They one-step pair, and remember all devices you have previously synced for absolute ease.
They once again have ergonomic tips which are designed with comfort in mind and a small, medium and the large-sized tip is provided to give customers a tailored fit.
They have efficient drivers and the bass has a fair amount of room before it breaks up, though we wouldn't value these as distortion free they are fairly well-balanced with great depth and the audio genuinely pumps.
The battery is quite capable they last between 3 to 4 hours with every single full-charge. The case stores enough energy to provide them around 15 hours of total playtime.
The left bud functions as a master ear-phone answering calls and allowing users to be aware of their environment and the right one is a paired subsidiary, which plays audio in stereo, though they can be worn with a stereo mix from the master bud in Single-mode. This also allows you to split an earbud with a friend and share your musical tastes.
These budget headphones have active noise canceling which is something not all of the products we have looked at are equipped with.
Pros:
+ Well-made.
+ Single mode.
+ ANC.
+ Clearer voice calls.
Why We Liked It - They are a well-made option with ANC on-board and a decent Bluetooth receiver the audio isn't the best of the bunch but it is more than adequate for the average listener, the hands-free capabilities are this sets real strong suit.
6. Otium Wireless Earbuds
We have looked at Otium headphones in the past and have been impressed with some of their over-ear hook sets. The Soar model from their True Wireless line is very beautifully manufactured.
We like their decision to opt for a circular storage case a sit sits far more comfortably within your palm and slides into any pocket with ease.
The buds are safely stowed-away inside a sliding compartment and the case itself provides enough juice for 10 hours run-time. Whilst this is less than many, the compromise is well worth it, they are equipped with high definition rendering technology which helps provide loss-less audio over the wireless signal processing.
The built-in Bluetooth is version 5.0 and they one step pair as well as auto- engage switching on and off when placed within or removed from their case.
They have an ergonomic design which is aimed at those with a more active lifestyle. The buds are lightweight and compact for comfort with tapered tips available in a range of sizes.
They also, incorporate an inner-ear hook which fits comfortably in the inner auricle of the user's ear and helps keep it in place allowing for much more freedom of movement.
Pros:
+ Capable driver.
+ Deep dynamic audio.
+ Loss-less signal.
Why We Liked It - We like that they have adopted their own unique storage case design it is easier to tell them apart from the crowd and you know the manufacturing wasn't done in the same factory under a multitude of brand names.
Next up we have an upgraded model from TBI which serve-up a more premium audio experience and has a sports-centered design concept, like the Otium set above.
They too feature inner-ear hooks to help keep the buds from slipping from your ears during motion. They are lightweight and fit very snugly, they come with 2 different sized foam tips and 2 premium memory foam tips to choose from.
They are constructed entirely from materials with water-resistant properties. This grants them an IPX certification of 7 and means you don't have to worry about working up a little sweat or traveling in the rain.
They have an updated Qualcomm CSR 64110 sound chip which gives cutting-edge high fidelity audio, with a fantastic treble response and bass clarity.
The battery has an impressive capacity and provides up to 24 hours of audio or 12 hours of call time whilst running its active noise cancellation and around 80 hours if it is left on standby. This is because of the case carries 4-5 charges instead of your average 2-3.
The Bluetooth is current and pairs in one step remembering previous devices for a hassle-free solution.
Pros:
+ Sports model with flexible auricle fins.
+ Up-to-date chip.
+ Incredible battery life
Why We Liked It - It ticks a heck of a lot of boxes and the battery time gives you an entire day of audio not that we would recommend listening for 24 hours straight!
Our next option actually retails a little higher than today's budget allocation but often fluctuates below. So if you keep your eyes peeled you can get yourself a steal.
We have chosen to include it regardless of its slightly heftier price tag because it gives our readers a good idea of what is available for not a lot more.
It is similar in appearance to many other models on the market but its internal components are a cut above the rest.
The advanced array is driven by beryllium magnets which are a premium component, it responds far more accurately and efficiently which is important with a miniature sized driver array.
The audio, therefore, has much better fidelity, delivering an output which is true to input. The circuitry is far more refined recognizing more incremental differences within the frequency spectrum. The audio produced is Hi-Fi quality with a more natural sounding balance. The dynamics are pretty epic and the bass capabilities superior.
They are ergonomically designed and once again incorporate inner auricle fins (X-Drop Super-Secure Fit) to keep them in place and allow for much more motion.
Bluetooth is only 4.2 but still widely compatible and stable. They provide 5-6 hours battery life with an additional 2 hours stored-charge but to be fair they are operating cutting edge noise isolation and cancellation technology and high-performance drivers.
Pros:
+ Beryllium driven audio.
+ Superb balance
+ Secure fit.
+ Noise isolation and cancellation.
Why We Liked It - They have impeccable drivers and offer top-quality audio, the Bluetooth is a little older but they present a premium sound for a bargain.
In the penultimate place we have picked the T8 model from TOZO which we have previously reviewed for its highly capable ring drivers. They produce a very well-rounded audio mix with exceptional cross-spectrum balance but still have emphasized dynamic response, to give the audio great detail with peaks and troughs.
The ear-caps utilize a comfortable silicone-based gel which conforms to the shape of the individual's ear. It is safe and has far more flexibility than a general silicone tip. The manufacturers once-again provide a range of tip sizes to choose from but notably, the largest sized tip has decibel reduction properties and enhances the listeners bass experience.
Aided by their storage case capacity, they serve up around 8 hours total power on the go, the case itself only takes 2 hours to fully charge. It is very durably made and whilst 8 hours may seem a little less than some, the drivers are very hardworking and the sound has high-fidelity which ought to be taken into consideration.
Pros:
+ Silicone gel ear caps.
+ Capable ring drivers.
+ Dynamically detailed audio.
Why We Liked It - They provide hassle-free listening and we are very impressed with the mid-range detail with these guys spoken word comes through with absolute clarity.
10. NENRENT S570+ Bluetooth
Our final contender is the S570+ model from NENRENT. It is ergonomically designed to fit comfortably within the ear. It is one of the smallest available sets on the market and comes in a range of pastel shades so you are in luck if you had your heart set on a pair of pink true wireless earbuds.
The Bluetooth is a little older (V4.1) but the buds support Multipoint technology allowing for 2 devices to be simultaneously synced.
It provides a very clearly isolated signal for voice calls and the drivers are very hardworking. The audio has good balance, dynamic nuances, and capable bass handling.
They provide around 6 hours of power and the charging dock-come-carry-case stores 3 extra full charges.
Pros:
+ Super-compact.
+ Capable drivers.
+ Trendy colors.
Why We Liked It - They are one of our lowest priced pairs in today's round-up, they have better audio than similarly priced sets but the Bluetooth version is sacrificed.
Use Case - Remember to identify your predicted use case for your earbuds before purchasing them. Keep in mind that wireless earbuds probably aren't the best fit for producing or mixing sessions, since they inherently have a bit of latency which could cause timing issues in your mix. However, these can be amazing tools for casual listening or jamming out while exercising.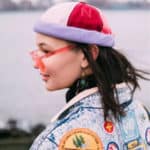 True Wireless Earbuds Under $50 Buyers Guide
Aside from their smaller statures and wireless connectivity, a true set of wireless ear-buds offer they have one very distinct property which makes them beneficial for anyone who likes to listen on the go.
Their storage cases are designed to double up as a charging dock, stowing away extra-power for a spare charge. This allows users to spend much more time away from power outlets and they are typically able to charge your mobiles as well which in this day and age is really a quintessential capability.
Carrying a spare charge which is accessible between use in the comfort and convenience of your own pocket really is a modern feat.
When it comes for what to look for in a cheaper true wireless set of headphones you should keep it simple.
Within the lower priced regions they essentially all function the same way and offer very similar capabilities on par with one another.
What To Look For When Buying True Wireless Earbuds Under $50?
Your first point of call, which probably doesn't need addressing too heavily, is the onboard Bluetooth version. You are going to want an up to date connection for better compatibility and stability as well.
Typically as convenience is the key attribute True Wireless models are advocating, you will find they offer one-step facile pairing and remember previously paired devices connecting automatically when they are available. This is pretty desirable but when shopping on a lower budget shouldn't be held too importantly.
Just how much battery life is on offer, is far more of a critical characteristic. The battery life should be judged inclusive of the extra hours the storage case can muster up and how quickly the power transfers, A, from outlet to case and B, from case to earbuds. It is hardly a convenience if the wait between is prolonged in either case.
A quick charge feature is highly desirable but of course, you may not always get this with the lower priced pairs without sacrificing something else somewhere along the line.
It is true, that the companies have to slash costs a little here and there to provide Bluetooth buds with such convenient characteristics and you as the consumer will have to weigh up the pros and cons to decide which you are happy to compromise. There are, however, some things which must take precedence.
Comfort is vital, many are ergonomically designed with innovative forms to help keep them in place. If they don't sit in the ear properly they can cause damage over prolonged use.
Of course, the audio quality should be just as important driver development has advanced a lot in recent years but with true wireless earbuds being relatively new to the industry the advanced components aren't all that cost effective yet.
This, unfortunately, means that to offer up all of their shiny mod-cons to the masses at an affordable price sometimes the audio reproduction is a little less luxurious.
Conclusion
Given their many notable attributes which help them slide right into our busy modern lives, and the production of cheaper chips there has never been a better time to go wireless.
If you are going wireless then why not go the whole hog and pick a truly wireless pair. They take portability to the max and provide a very stable wireless connection whilst allowing you to be away from home for longer periods.
The audio can be lower-quality in the lower priced regions but hopefully, today's reviews and buyers guide will have demonstrated that there are some capable models on the market which are priced accessibly.
Expert Tip
If you have a little more to spend head over to our 10 best wireless earbuds article for a few options which might be a little more impressive.
Did You Know
If you are particularly active there are some great sports headphones out there some which can actually keep track of calories lap-times, speeds, distances and a whole lot more thanks to its app assistance.
If you've enjoyed this review by Music Critic, please leave a positive rating:
[vc_separator