If you're a gamer, you know that a good pair of wireless gaming headphones can make all the difference. The technology available today is outstanding compared to what we had in years past. With engaging surround sound, comfortable designs, super clear mics, and strong connectivity, playing games with headphones on is really a treat.
A wireless gamer headset is great for a few reasons. Your roommates or family will be glad they don't need to listen to your game sounds, Headphones bring the action right upfront - you can blot out unwanted distractions. Not everyone loves the sound of gaming, so it's great to have an option that keeps the sound inside when necessary. That way, they'll be happy, and you can enjoy worry-free gaming.
When you're listening to the audio on speakers, the audio isn't quite as immersive. Headphones let you get up close and personal with the action and allow you to feel like you're really a part of it. Being distraction-free can be really enjoyable if you're playing games where you need to pay attention to sounds all around you.
So if you're going to pick up a wireless gaming headset, you want to make sure that you're getting the right one for you. There are many options available, all containing various outstanding features. Do you want to get the highest quality Bluetooth connection? Do you have trouble finding a wireless gaming headset that fits your comfort needs? Is the design imperative for your decision? Whatever your preferences are, we've got you covered. Here's a list of the 10 best wireless gaming headsets in 2023.
At a glance:

Our top 3 picks
Our team's top 3 recommendations
Best Overall
CORSAIR Void

40ft range
16-hour battery life
7.1 surround sound
Comfortable design
Strong Bluetooth connection
Premium Quality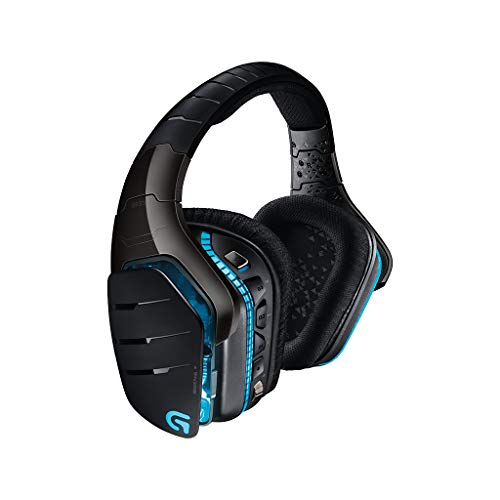 Logitech G933

40ft range
16-hour battery life
7.1 surround sound
Comfortable design
Strong Bluetooth connection
Great value
VersionTECH

40ft range
16-hour battery life
7.1 surround sound
Comfortable design
Strong Bluetooth connection
View The Best Wireless Gaming Headphones Below
Exceptional comfort, impeccable surround sound, and durability. This is what you get with the Corsair Void gaming headset. It features immersive Dolby 7.1 surround sound. You'll be able to hear everything that's happening around you in the most realistic way. You get memory foam mesh fabric on the earpads, which is an extremely comfortable feel on your ears. The headband is adjustable as well, to fit whatever size melon you're working with.
The sound is super accurate and detailed. It comes through two 50mm neodymium drivers. The response is 100Hz to 10kHz. The Bluetooth connection is strong enough to reach up to 40ft/12m from your receiver.
You also get 12 hours of battery life so you can play for an extended period of time without needing to charge the battery life. Just don't forget to eat.
The mic is great. It's a clear, unidirectional signal transmitter, which has an LED indicator when it's in mute mode. This headset is compatible with PCs and all of the latest Windows versions. Just check to make sure it will work with your XBox or PS4 consoles before buying.
Pros:
+ 40ft range
+ 16-hour battery life
+ 7.1 surround sound
+ Comfortable design
+ Strong Bluetooth connection
Why We Liked It - This is a great wireless gaming headset if you're a PC gamer. The audio, comfort, and design are all you can really ask for. It definitely ticks the boxes as far as a good wireless headset goes.
The Logitech G933 gaming headset has a very detailed frequency response. The range is 20Hz-20KHz. You'll hear the deepest of lows and the shriekiest of highs with this headset. The design is really modern and comfortable. Memory foam earpads will conform to the shape of your ears and after a few wears, you won't even notice them anymore. Dolby 7.1 surround sound will allow you to fully immerse in the games that you're playing. Gunshots, crickets, and monsters will all come through clearly, no matter where they are coming from.
Multi-platform compatibility is a huge plus with this headset. If you're playing on an Xbox, PlayStation, PC, and any powered TV, you will get the great audio this wireless TV headset gives you. The battery will last you for 12 hours if you don't turn on the customizable lights, and it will last 8 hours if you do want to give your gaming experience a little more flair. To add to the convenience factor, you can connect up to three devices to the surround sound headphones as well. Play games, listen to music, and make calls all with a few touches of a button.
Pros:
+ 12-hour Battery
+ Strong connection
+ Dolby 7.1 surround sound
+ Highly compatible
+ Detailed audio response
Why We Liked It - The sound is really clear and engaging on this headset. It's really nice that you can play on a variety of consoles, as well. If you want to switch between consoles or go to a friends' house to play, it's really nice to be able to do so.
This is another amazingly compatible gaming headset. Whether you're playing on a PS4, Xbox One, PC, NINTENDO, or any other device, this headset will work for you and offer you amazing gaming experience. The LED lights on the headset are designed to accent your gaming, as well as lighting up and dimming during games play. The sound comes in stereo format and blasts through highly precise 50mm drivers. You will get the deepest bass and the clearest highs with this wireless gaming headset.
The best wireless gaming headsets will be gentle against your ears. The earcups are extremely soft and feature memory protein pads for an exceptionally comfortable feel. Since they wrap tightly to your ears, you also get a good amount of noise-isolation. It isn't as strong as ANC (active noise-cancellation), but will still block out a lot of outside noise from getting in. The microphone is great. It's clear and rotates 120-degrees when you need it to get out of the way. Everyone you're playing with will be able to hear you perfectly with no misunderstandings.
Not only that, but this is one of the cheapest gaming headsets on our list. Budget wireless headphones can be hard to find. If you're looking for something a little bit cheaper but still with excellent quality, this one of the best budget wireless headsets.
Pros:
+ Highly compatible with PS4, XBox One and more
+ Precise sound
+ Comfortable
+ Durable
+ LED light-up experience
+ Best budget wireless set
Why We Liked It - This is a wonderfully immersive headset. The audio is really great and they are really comfortable, even though they're quite large. You'll enjoy listening to these headphones on for hours on end. They're also compatible with lots of different gaming platforms, from PS4 to XBox One. If you have more than one gaming console, and you're looking for the best budget set, this could be the best wireless gaming headset for you.
Not to be mistaken with the Logitech G933's, the 533's offer an amazing experience as well. They have the patented Pro G drivers which are ahead of the curve in terms of their sound quality. They have been outfitted with a malleable screen to emit the sound instead of plastic. You get no distortion or crackling with the Pro G drivers. The audio is about as clear and pleasing as you will ever experience. These wireless gaming headsets are compatible with platforms running on Windows 7 or later. So if you play on PC, this could be the best wireless gaming headset for you. And, with Logitech, you can customize your sound profiles to fit your preferences.
The connection you receive is quite impressive. At 15m/43ft, you can get as far away from the console as you need to be. Getting up to grab a quick refreshment won't be a problem, and you can stay connected to the action. The wireless headset itself is really durable but lightweight for optimal comfort and performance. You also get 15 hours of battery life to keep you going as long as you need to.
Pros:
+ 15-hour Battery life
+ 15m wireless range
+ Pro G sound drivers
+ Immersive surround sound
+ Comfortable and durable
Why We Liked It -The audio on this wireless headset is about as good as it gets. The Pro G drivers are really a cut above the rest. No distortion or crackling. Along with superior comfort and durability, this is one of the best wireless gaming headsets and should not be overlooked. Fancy a smaller set? Check out these gaming earbuds.
SteelSeries Arctis has been recognized widely as the best wireless gaming headset when it comes to the microphone. It doesn't stick out like most gaming mics and sits subtly on the front of the earphones. It has an incredibly clear transmission and noise-canceling technology that will please you in every way. The comfort level of the SteelSeries Arctis is right up there too. It has been designed to be super lightweight and unnoticeable on your head. You can wear this wireless headset for hours on end.
The audio experience comes at you in 3D with the DTS headphones, which are super powerful and accurate. You also have 7.1 surround sound and wide compatibility with a variety of consoles. Aire-weave performance fabric on the ear cushions keeps you comfortable as long as you need to be. You can't go wrong with this wireless headset.
Pros:
+ Air weave ear cushions
+ Best mic in gaming
+ 7.1 surround sound
+ Incredible comfort
+ High compatibility
Why We Liked It - The SteelSeries Arctis wireless gaming headset pretty much has everything you could ask for. It's comfortable, offers amazing sound, a good connection, and a clear mic. Need we say more?
All of the wireless gaming headsets we feature are above average, and this one is no exception. Its padding, sound, and microphone will do the trick. The mic works great and is detachable from the rest of the headset. Sometimes you don't need a microphone, right? If you're not using one, it might just get in the way. Corsair has its own software that allows you to customize the sound profile coming out of the wireless headset. The sound is really bassy and strong, which offers you fantastic listening experience.
You can't connect the headset to your console using a cable, so unless you're going to be playing for more than 15 hours at a time, you may not enjoy that option. But the battery life does last long enough to satisfy most gaming sessions. The sound will keep up with everything you need and has low-latency, so you won't miss out or be misdirected.
Pros:
+ 15-hour battery
+ Great sound
+ Comfortable
+ Detachable Mic
+ Custom sound profiles
Why We Liked It - This is a wireless gaming headset with pretty much everything you need. Great sound quality, a good comfort level, and a detachable mic. There's a lot of sound isolation on it, but that shouldn't matter too much with the rest of the features. This is the best gaming headset if you'd like to be able to detach the mic from time to time.
If you're looking for a wireless gaming headset with noise-canceling technology that will make you dead to the world, this is the one. It's got a pretty minimalist but stylish design too. Most gamers wouldn't mind being seen with these atop their head. If you're a PC gamer who likes to play on the move, these might be the best wireless gaming headsets for you. Even when on planes, trains, and automobiles, you won't be able to hear a thing going on around you. The large 45mm aperture drivers deliver a robust listening experience.
The ear cushions are really soft and fit right over the top of your ears for exceptional comfort. Unless you're part of an elvish breed, you won't have to worry about the ear cups sitting on top of your ears and causing discomfort on the delicate ear bones. The mic is also high-quality for seamless communications, and the battery will last you up to 30 hours. That is obviously quite exceptional.
Pros:
+ 30-hour battery life
+ Proprietary 45 mm drivers
+ Exceptional comfort
+ Active Noise-cancelation
+ Stylish design
Why We Liked It -You will be pleasantly surprised when these headphones show up. They have a really great audio, exceptional comfort and block out all outside noise for the most immersive experience in gaming.
This is HyperX Cloud's first wireless gaming headset attempt. And they kind of knock it out of the park. This company is regarded for having world-class comfort levels on their wireless gaming headsets. They do not disappoint with this great wireless gaming headset. The audio is also super strong and immersive. If you're looking for excellent audio, you'll be pleased with the quality you get out of this HyperX Clous wireless gaming headset. You will get compatibility with PlayStation and PC devices. And you also have a long enough battery life to keep you playing for an extended period of time.
The design of the HyperX Cloud is really nice. It's fairly minimalist and cuts to the chase. It's lightweight and comfortable as well. If LED lights are your forte, you get some customizable lighting on the side too. The microphone on these headphones will give you the clearest of communications, and a really strong Bluetooth signal won't cut out even when you're a fair distance from the console you're playing on. This is the best wireless gaming headset for someone who likes to game in style.
Pros:
+ Long battery life
+ Great audio
+ Comfortable
+ Stylish design
+ Clear mic
Why We Liked It - As far as a wireless gaming headset goes, you've got a great one here. This company is wonderful at providing wired headsets, and the HyperX Cloud one hits the mark as well. Sound quality, comfort, durability, and design. Checks all the boxes.
For the times when you want a louder, stronger listening experience, try out Turtle Beach. These wireless gaming headsets come with bass boost and enhanced audio power that delivers an extra boost of power in the earphones. The crystal clear audio comes through 40mm drivers. The audio is super accurate and so is the mic. Everyone you are gaming with will be able to make out exactly what you are saying.
The best wireless gaming headsets will be comfortable to wear. This one is super lightweight and has comfortably padded ear cushions. On top of that, it has been reinforced with metal to keep the durability level as high as possible. Wear this headset for hours without needing to take it off. If you're looking for the extra power that a bass boost can give you, look no further.
With wireless connectivity for XBox One, this is a great choice.
Pros:
+ Bass boost
+ Amplified audio
+ Lightweight
+ Reinforced headband
+ Long battery life
+ Compatible with XBox One
Why We Liked It - Having that extra boost in your ears is really pleasing. The bass boost really makes this headset stand out from the pack. As long as you play on an Xbox One, you can fully immerse yourself in the gaming experience and enjoy the engaging audio to the fullest.
10. SteelSeries Arctis Pro
We've already discussed the SteelSeries Arctis. In terms of gaming headphones, this brand is one of the best. This is the beefed up, professional version: the SteelSeries Arctis Pro Wireless. Everything is finely tuned to offer the highest level of performance and comfort. It contains 2.4G lossless Bluetooth connection for fewer drops and a strong signal. The speaker drivers are highly capable and offer a sound that ropes you in from the get-go. You never have to plug the Arctis Pro into an outlet to charge up the battery. You get two separate batteries so you can charge one while you are enjoying the other.
There's a reason why this set has more of a high-end price than the others on this list. The ear cushions have been designed with athletic comfort in mind. The SteelSeries Arctis Pro Wireless air weave ear cushions are one of the most comfortable designs for gaming headsets you will find. Along with that, you get a transmitter station that is separate and offers you the seamless connectivity that you want and need.
Pros:
+ Dual Battery
+ Incredible audio
+ Lossless connection
+ Air weave ear cushions
Why We Liked It - The SteelSeries Arctis Pro Wireless is one of the most advanced and best gaming headsets available. This is a more high end set, but you get what you pay for here. And you pay for quality. If you're looking for a headset that ticks all the boxes, there's not a single negative thing to be said about this gaming headset.
Wireless Gaming Headphones Buyers Guide
What to look for in a wireless gaming Headset
When it comes to the best headsets, gaming ones need a whole host of features you might not have even considered. With so many amazing options available, picking out a winner could be tough. What you want to spend on your headset will largely determine your selection. If you're looking for the best budget wireless headsets, there are price-friendly headsets under $100, but if you're willing to spend a little more, you will get a little more too. Here is a short buyers guide to walk through some of the things you need to pay attention to when you're shopping for a wireless gaming headset.
Sound
Sound is king when it comes to headsets for gaming. It will give you that amazing experience you're looking for, or could just leave you listening but not truly experiencing. When you go with a headset that contains Dolby 7.1 surround sound, you can get yourself right in the middle of the action. Most great wireless gaming headsets come with surround sound - this is highly recommended.
You get a competitive advantage with detailed surround sound. Also, going for a headset with a bass boost or amplified audio can make all the difference. Bigger drivers don't necessarily mean better sound. The technology inside is what makes the audio stand out. Read through all of the specs and reviews of your headset before finally pulling the trigger. If you want the best audio imaginable, look for something a little high end.
Design
Design can mean many different things. It can apply to the look, comfort, and durability. There are a lot of gaming headsets that look as if they belong in the actual game. There are others that you can take outside with you, without fearing that it'll look like you're transmitting radio signals to outer space. You should look for a design that is pleasing to your personal style while still giving you a substantial level of comfort.
Comfort will allow you to play for hours without needing to take a rest because of your headsets. Try to go with cushion materials that are not leather, as leather can cause sweating, and nobody wants that. The Airwave ear cushions do a great job of keeping things comfortable and breezy for an extended period. All this will make for a great gamers' headset.
Battery
If you're going for a wireless gaming headset, good battery life is essential. Get yourself a longer battery life, and you won't be interrupted as much, especially if you can charge your battery while you play. We don't always remember to charge up the battery before every wireless gaming session. It sucks when you're halfway through a game, and you suddenly need to go and charge up your headphones, stopping you from playing. A wireless gaming headset with a long battery life will allow you to skip that whole rig moral.
Connection
The strength of your connection is just as important as your battery life. The best wireless gaming headsets won't cut out due to a poor connection. If you're experiencing latency and drops while you are playing, you will be distracted. The whole point is to immerse yourself in the gaming experience. A strong connection can allow you to do that. Make sure you are getting a recent enough version of Bluetooth to ensure that your connection is good and strong. Most Bluetooth capable headsets these days will be strong enough, so you shouldn't have to worry too much.
This may seem obvious, but make sure your wireless gaming headset is compatible with whatever console you're playing on. Some will only be compatible with PC, others with the PS4 and some with the Xbox One. It would be devastating to buy the wireless gaming headset of your dreams, to find out that it only connects to the Xbox One. The best wireless gaming headset will be able to connect to all of these.
Conclusion
Hopefully, we have been clear enough. If you're able to get a wireless gaming headset with immersive audio, reliable connection, lasting battery life, and durability, you'll come out on top.
There are a few options we didn't mention here. If you're still not sure on what headphone to go for, check out the Razer Nari Ultimate. This headset also has wireless connectivity. The Razer Nari Ultimate is lightweight and adjustable for comfort, like most of the options on this list. The Razer Nari Ultimate also immerses you completely, giving you a great wireless gaming experience. However, note that the Razer Nari is a bit more high end, and will cost a little more.
Remember, some of the wireless, budget-friendly options will do just fine. You don't necessarily need to sell your car to finance your gaming habit. And, once you step up that experience with a higher quality wireless gaming headset, you may never be able to go back.
If you've enjoyed this review by Music Critic, please leave a positive rating:
[vc_separator