Many questions might arise when deciding which are the best wireless headphones for you. When wireless headphones first came onto the market, there were only a few options available. Now, thanks to technological innovation, we have many options to choose from. You'll want to make sure you get the right ones for your lifestyle.
There are a number of factors you should always take into account when buying new headphones, such as the quality of sound, size, range, speed, battery life, compatibility. Since there are so many options, it should be easy to find the Bluetooth earbuds for you. We no longer live in a world where we have to fumble with pesky tangled chords. These days, we can listen to music and talk on the phone with ease and comfort.
Now, let's take a look at the 10 best in-ear Bluetooth headphones in 2023. You're sure to find wireless headphones that are perfect for what you need.
At a glance:

Our top 3 picks
Our team's top 3 recommendations
Best Overall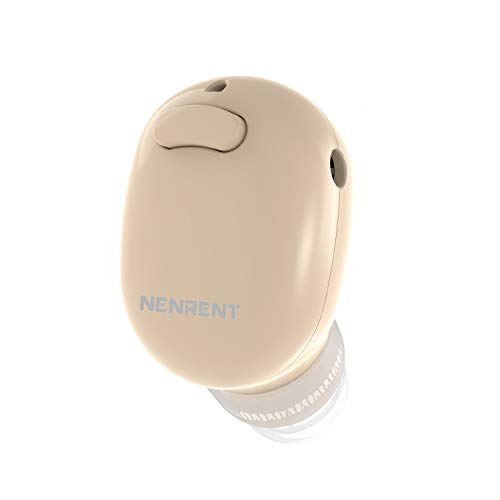 NENRENT S570 Bluetooth Earbud

Tiny and discreet
Impressive battery life
Multi-point pairing technology
Sound Clarity
Premium Quality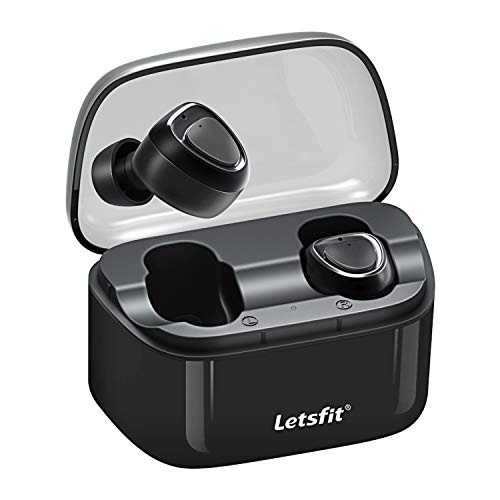 Letsfit True Wireless in-Ear Headphones

Tiny and discreet
Impressive battery life
Multi-point pairing technology
Sound Clarity
Great value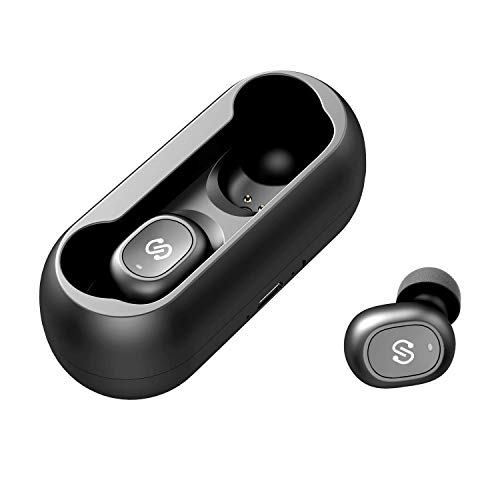 SoundPEATS Bluetooth Headphones

Tiny and discreet
Impressive battery life
Multi-point pairing technology
Sound Clarity
View The Best In-Ear Bluetooth Headphones Below
1. NENRENT S570 Bluetooth Earbud
The NENRENT S570 Bluetooth earbuds boast wonderful clarity in a conveniently compact size. These wireless in-ear headphones are discreet and designed to stay in place no matter what. The NENRENT earbuds stay in your ear better than many of their competitors. The small size of these earbuds is one of the standout features. The rechargeable Lithium-poly 60mAh battery is long lasting.
Whether you're talking on the phone or listening to music, you can expect 5-6 hours of battery life at 50-60% volume. The earbuds are designed to fit in either ear and are super simple to pair. The wireless headphones have issc V4.1 Bluetooth. You can connect to two different points in a 10-meter range. If you're looking for an affordable pair of earbuds, The NENRENT S570 may be the choice for you.
Pros:
+ Tiny and discreet
+ Impressive battery life
+ Multi-point pairing technology
+ Sound Clarity
Why We Liked It - We liked the NENRENT S570 wireless earbuds because of the compatibility, the strong battery life and the clarity of sound. They are so discreet that nobody can tell they are in your ear. You can lay down on your side without any discomfort.
2. Letsfit True Wireless in-Ear Headphones
These in-ear Bluetooth headphones from Letsfit have ergonomically designed earbuds so that you get a secure, comfortable fit. And there's no need to take them out for at least 4.5 hours, as that's the playtime you get from a single charge. You can boost the playtime with the charging case that will give you an extra 22.5 hours.
You can operate the headphones with the controls that are built into them, allowing you to skip tracks, as well as answer calls or end them. You can use the in-built, high-quality microphone for the calls. And if you want in-ear Bluetooth headphones for exercise, then the sweat and splash resistance will keep them safe.
Pros:
+ In-built mic
+ 4.5 hours playtime
+ Easy to use controls
+ Sweat and splash resistance
+ Ergonomic fit
Why We Liked It - The ergonomic fit combined with the lengthy playtime from a single charge makes these some of the best in-ear Bluetooth headphones around.
3. SoundPEATS Bluetooth Headphones
SoundPEATS Bluetooth wireless headphones come equipped with aptx codec and CSR8645 Bluetooth chipset. This gives the wireless earbuds powerful bass and mid-range frequencies. These wireless headphones are super comfortable and sweat resistant. They have multiple sized silicone tips to fit a variety of ear sizes. The battery life is approximately 8 hours after a 2 hour charge.
SoundPEATS has handsfree navigation as well with their inline button and volume control. Noise canceling allows you to immerse yourself more in what you are listening to. With the magnetic necklace attached to the earbuds, you won't have to worry about losing or dropping them. It is convenient if you need to take out the earbuds for a moment to let them dangle around your neck. SoundPEATS is also praised for its excellent customer service.
Pros:
+ High-quality sound
+ Sweat resistant
+ Customizable accessories for different sizes
+ Superior customer service
Why We Liked It - The sound quality of these earbuds is fantastic and they are very comfortable. You almost don't even know they are there. These are the perfect in-ear headphones to drown out excess noise and enjoy the superior sound.
4. MPOW Flame Bluetooth Headphones
The MPOW Flame Bluetooth headphones sound great, have a stylish look and are comfortable. The MPOW IPX7 nano-coating protects the wireless earbuds from sweat or water. A snug and comfortable ear hook will help keep these headphones in place. They are blissfully comfortable with a variety of sized memory foam tips and will stay in place for any high-movement activity. Thanks to the tuned driver, CSR chip and Bluetooth 4.1, the sound is exceptionally bassy and round. With more clarity on the lower end, these headphones will keep you motivated. The lithium polymer battery only takes 1.5 hours to charge and will last for up to 9 hours of playback. Pair the MPOW Flame Headphones and slide them on easily before any workout. They are designed with sport in mind and deliver on that promise.
Pros:
+ Robust bass sound
+ Comfortable and easy to keep in place
+ Stylish and slick
+ Sweatproof nano-coating
5. Bose Soundsport Bluetooth Earbuds
Bose is known worldwide for its exceptional sound quality. The StayHear + Sport tip design is great for high-performance activities. These headphones have an IPX4 sweat resistant rating and 6 hours of battery life. They are uniquely accompanied by the Bose wireless app for easy connectivity.
An in-line volume and button control allows for easy navigation. You will find it difficult to knock these wireless earbuds out of your ears. They are comfortable and stay right where you need them. Even for those of us who sweat more than usual, these headphones will face up to the challenge.
Pros:
+ Exceptional Bose sound
+ Comfortable
+ Reliable sweat resistance
Why We Liked It - The Bose Soundsport headphones have sport in mind. We love the fact that you can go out for a workout using these headphones and not worry about ruining them by sweating too much. They will not fall out no matter how hard you try. The sound is exceptional with deep round bass and clear treble. Perfect for any active music lover.
6. MPOW Flame Waterproof IPX7 Wireless Headphones
With an IPX7 sweatproof rating, you can hit the gym hard with great sound quality. MPOW Flame earbuds have an impressive sound range. You get booming bass and enchanting treble thanks to the tuned driver, CSR chip and Bluetooth 4.1. They are great for activities like running, hiking, yoga, biking. Designed with comfort and usability in mind. The ear hooks hold your earbuds in place while you're breaking a sweat. Included in the package are three different sized memory foam tips. A 1.5-hour quick-charge will allow you 7-9 hours of playtime. You'll be able to spend an entire workday with these headphones in. Listen to music, podcasts, or make phone calls without needing to charge them. The noise canceling capabilities are impressive. You can be in a noisy room and still be able to lose yourself in your favorite tunes.
Pros:
+ IPX7 Sweatproof rating
+ Thumping bass, clear treble
+ 7-9 hours battery life
+ Noise canceling
Why We Liked It - We enjoy wearing these super comfortable wireless headphones for their superb sound. They are great for a workout and will not disappoint.
7. Enacfire Future Bluetooth 5.0 Wireless
Enacfire holds amazing noise canceling technology in these wireless headphones. The sound quality is fantastic and keeps you grooving to the bass while following the harmonies. With the portable charging cabin, you can take your headphones on a longer trip. The battery life is exceptional. One charge will last up to 18 hours of playback time. The Bluetooth 5.0 gives you stellar sound up to 50ft of range. They are small and fit perfectly into your ear. They are not bulky and stay right in place. One-step link technology makes pairing simple. Once you turn your headphones on, they are available for pairing. No need to mess around with frustrating pairing options. You'll be able to be confident in an IPX5 waterproof rating. You'll be able to work as hard as ever and these headphones will still exude exceptional sound.
Pros:
+ Exceptional battery life
+ One-step pairing
+ Noise canceling technology
+ Discreet design
Why We Liked It - Enacfire has made a convenient pair of headphones with fantastic sound. Being able to take them away for a day or two without charging is blissful. They look fantastic and sound great.
8. Samsung Level U Bluetooth Wireless In-ear Headphones
The main focus of these wireless headphones is to be comfortable for long-term wear. They come with a flexible urethane joint which fits snuggly around your neck. Wearing them will be comfortable with stabilizing wing ear gels. You'll be pleased with the sound that comes out of the 12mm speaker. A magnetic component keeps your earbuds neatly together when not in use.
The battery is impressive, allowing you to listen or talk for up to 11 hours on one charge. With 500 hours of standby time, you can leave them alone for a while and listen without needing to recharge. The dual mic noise reduction technology is impressive. You'll be able to ignore unwanted outside noise and focus on what you need to. Multi-pairing is easy with Samsung. You can pair 2 different devices to avoid pairing before every use.
Pros:
+ Comfortable for long term
+ Long battery life
+ Impressive noise cancelation
+ 500 hours of standby time
Why We Liked It - These headphones are exceptionally comfortable. You can keep them in-ear, or around your neck for hours without discomfort. It's great that you can talk or listen to music for 11 hours without a recharge.
9. Samsung Gear IconX Fitness Earbuds
Samsung has designed the IconX Fitness earbuds with that in mind. Fitness. They are small, cordless and beautiful. You can store up to 4GB of songs right in the earbuds (approximately 1000 songs). You won't even need to have your phone swinging around in your pocket when you go for a run.
You can stream right from the earbuds on the go for 5 hours. The play time is 7 hours for MP3's and 4 hours of talk. Comes with multiple sizes of wing tips in the box. With a charger cabin, you can enjoy 4 charges without plugging into an outlet. Seamlessly easy to use, you can skip songs, answer calls or turn on ambient sound by tapping the earbuds. You can also speak commands using Bixby or Google Voice to control settings and playback. The music automatically stops playing when you take them out of your ears.
Pros:
+ 4 GB of onboard storage
+ Small carry cabin
+ Voice commands
+ Automatic music pause
Why We Liked It - One of the coolest features of the IconX fitness earbuds is their ability to store music in the earbuds. It's incredibly convenient to be able to turn on your music and head out for a jog without needing your phone. They are super small and fit great in the ear. On top of that, the sound is great and will keep you in the groove.
10. SoundPEATS True Wireless Bluetooth Earbuds
SoundPEATS True Wireless Bluetooth Headphones have fantastic quality and convenience. With 5.0 Bluetooth, 15 hours of playing time and stereo capability, you'll get a clean, crisp transmission. The range is impressive despite the lower price of these true wireless earbuds, and allows you the freedom to move freely.
They come in a compact and convenient case which also acts as a charging port. The headphones are held in place by a magnet so they won't fall out in a backpack or pocket. The earbuds have a 3.5-hour playtime on one charge. The case is capable of holding 4-5 full headphone charges, which translates to 15 hours of playback time in the earbuds.
Pros:
+ Highest quality sound and range with the 5.0 Bluetooth.
+ A convenient, compact and durable 28g case
+ Sweatproof
+ 3.5 hours of playback time per charge and 4-5 charges from the charger case
Why We Liked It - For the price point, they will rival the quality and convenience of any pair of headphones in the $100 range. Ease of use, versatility, durability, and quality are at the top of the range with SoundPEATS. These headphones will exceed your expectations while saving you some money.
In-ear Bluetooth Headphones Buyers Guide
You may have some questions when you are looking for your new pair of in-ear headphones. It can be a little tough to sift through all of the different variants and decide what exactly you are looking for. So what do you need to pay attention to when searching for in-ear headphones. We have outlined some of the key factors that will play a role in your buying decision.
Sound Quality
How much does sound quality mean to you? Music and movies lovers alike tend to post high-quality sound as one of the most important aspects of a solid pair of headphones. When you are working out you're going to want the best sound possible. The more you can lose yourself in the music, the more satisfied you will be in your activities.
Not all headphones are created the same. Some companies focus mostly on the quality and features involved with sound and some focus on things like comfort or style. No matter what you are doing, pay attention to what type of sound quality you want and pick out the pair that is going to suit your needs.
Comfort
Comfort is unquestionably one of the most important qualities that you'll need in a set of headphones. Comfort will make all the difference in your listening experience. If you've got exceptional sound quality and great style but you don't have the comfort, you will be hesitant to pick up the headphones. With a higher level of comfort, you almost forget a good pair of in-ear headphones are on your ears.
That allows you to be more focused on the task at hand. Whatever that may be for you. Different headphones are designed for different activities. Sports headphones will have more staying power, while an everyday set will be a little less clamped on. If you only need a pair around the house, the high-end sports headphones may not be necessary. If you are climbing mountains, then get sports designed headphones.
Style
The style is what will allow you to feel good about your look while you're wearing your in-ears. If you want to have your headphones out in public and show off the great look, the style will be more important to you. The style also plays a part in the comfort level. If they are designed to fit multiple sized ears then they are much more convenient and comfortable.
For a less active listener, style may be a little less important to have around the house. Ask yourself how important it is to have the exact look you want. If its an important factor to you, then take the headphones style more heavily into account.
Battery Life
The battery life you get will make a difference in terms of how easy it is to use your headphones. The last thing you want is to be in the middle of a workout and have your headphone battery die. If you pick a pair of in-ear headphones with superb battery life, you can forget to charge them and you'll still have them available when you need them.
If you are only using them around the house and you always remember to plug them in, then longer battery life may not be the most important thing. Ask yourself how much convenience you believe is necessary. There are a wide variety of battery lives available. You can range from 5 hours to 17 hours. How much battery life do you need?
Durability
Sometimes your headphones will take a little bit of a beating. You need a little bit of durability. You want the peace of mind that comes along with being able to put your headphones through a little bit of work without the hassle of needing to replace them. All of the picks on our list have a good degree of durability, otherwise, they wouldn't be on the list.
Pay attention to things like the sweat-proof rating, type of materials they are made from, and even warranty. Even the most durable of headphones may be protected under a warranty if something goes wrong. That'll also help with avoiding any extra headaches when it comes to keeping a working pair of headphones in your arsenal.
Warranty
The warranty will be an important piece of the puzzle as a fail-safe for you. A good warranty can protect you from many unexpected events that may occur. Headphones these days are made with strength, but every once in a while something can happen and you want to make sure you're protected. Ensure receiving a potential replacement for your new headphones will be seamless and easy.
Conclusion
With wireless headphones, you get extra convenience and style when you remove the cord. The technology you get with the latest versions of wireless headphones give you amazing sound quality, strong Bluetooth signals, good battery life, and stylish looks. We hope that the guide we have provided will help you make the right decision for you. Keep in mind all the factors that we have outlined and we hope you enjoy listening to your favorite music in your new favorite headphones.
Expert Tip
Make sure to use charging cables that are specifically designed for your headphones. Make sure to get accessories and cables from the manufacturer. They will always be more compatible and safer to use.
Did you know?
These days, 95% of devices are Bluetooth capable. When you compare that to 2008, when only 5% of devices were Bluetooth compatible, you realize how quickly things can change.
If you've enjoyed this review by Music Critic, please leave a positive rating:
[vc_separator