Are you looking for the ten best headphones under $50 in 2023? There are some excellent headphones available on a budget, but there are also some poorly built, shoddy headphones that are sold for under $50 too. It's important that you spend your dollars on a good pair that will offer high-quality sound, and even have a few added extras that will make your listening experience a pleasure.
To make sure you don't spend your money on a poor pair that could easily break or ruin your favorite songs when you listen to them, consult this list of the ten best headphones under $50 in 2023:
At a glance:

Our top 3 picks
Our team's top 3 recommendations
Best Overall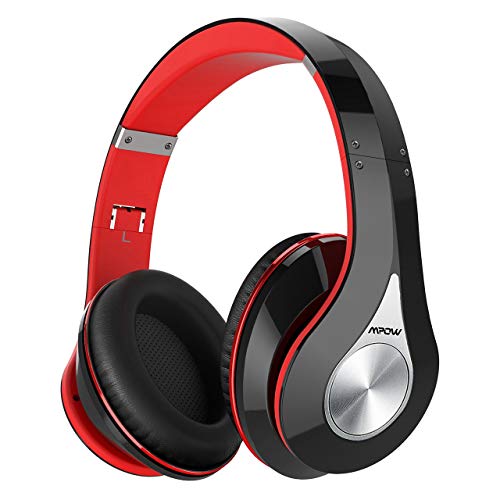 Mpow 059 Bluetooth Headphones

Portable and foldable
Powerful sound
Built-in microphone
Comfy earpads
Excellent quality for a low price
Premium Quality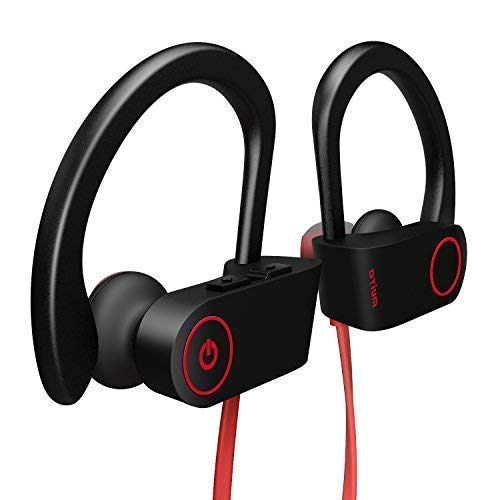 Otium Bluetooth Headphones

Portable and foldable
Powerful sound
Built-in microphone
Comfy earpads
Excellent quality for a low price
Great value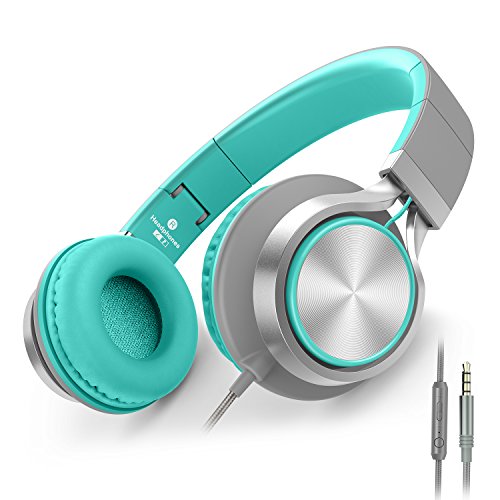 AILIHEN C8 Headphones with Microphone

Portable and foldable
Powerful sound
Built-in microphone
Comfy earpads
Excellent quality for a low price
View The Best Headphones Under $50 Below
1. Mpow 059 Bluetooth Headphones
These are a great pair of wireless headphones that won't empty your wallet or purse. The sound quality is perfectly balanced but powerful at the same time. That's because they feature 40 mm dual aperture drivers. You'll get 20 hours of wireless playtime, and they have Bluetooth 4.1 technology, so they'll easily connect to all your devices.
Unlike a lot of budget headphones, the design makes this pair is very comfortable to wear. They have memory-protein earpads that are very soft, so you won't need to take them off when listening to audio because your ears hurt.
Pros:
+ Portable and foldable
+ Powerful sound
+ Built-in microphone
+ Comfy earpads
+ Excellent quality for a low price
Why We Liked It - If you're looking for the best budget Bluetooth headphones under $50, then you can't go wrong with these from Mpow. They feature great extras, like a microphone, and they offer clear sound while the design means they remain comfortable to wear.
You might also like: Best Headphones Under $30.
2. Otium Bluetooth Headphones
If you're looking for a pair of headphones under $50 that offer high-fidelity sound, then this pair from Otium might be for you. The design means they are especially well-suited for people who like to exercise while listening to music. They are completely waterproof, which means sweatproof too. They have a built-in microphone that offers voice prompts.
They provide high definition sound with rich bass. A single charge will give you eight hours of continuous talk or playtime. The seal around the earbuds will isolate the sound of your music, acting as noise cancelling technology, so you can hear it better when you're running outside.
Pros:
+ Perfect for exercise
+ Noise isolation earbuds
+ Voice prompt technology
+ Waterproof
+ Good audio - deep, booming bass
Why We Liked It - These are perfect for anyone who is looking for a pair of headphones for under $50 that will give great sound, keep a good Bluetooth connection. The design means they won't get ruined by sweat when you're exercising or playing sport. They're the best option for someone with an active lifestyle who's looking for something with a low price.
3. AILIHEN C8 Headphones with Microphone
These lightweight, easily collapsible headphones offer super, powerful bass. While they aren't wireless, the reinforced, braided cord includes a high-definition microphone that promises excellent quality when making calls. Everything can be controlled on the headphones too, as they have an ability to adjust volume, as well as answer calls, or skip and pause songs.
The earpad design offers noise isolation so that you can enjoy the music without the intrusion of external noises. The premium quality ear cups are also as soft as a pillow, which makes them ideal for gamers who wear headphones for an extended period.
Pros:
+ Very soft earpads
+ Good noise isolation
+ Strong, braided nylon cord
+ HD microphone
+ Designed for gamers
Why We Liked It - They have a very practical design. They're light, with comfortable ear cups, and can be folded easily. Besides their portability, they offer excellent sound, and the bass is impressive too. As they're not wireless, you don't need to worry about battery life.
Want sets at an even cheaper price? We have also reviewed the best headphones under 20 bucks.
4. Mpow Flame Bluetooth Headphones
These wireless earphones offer up to nine hours of playtime. They also feature enriched bass that will offer great audio and motivation when you're exercising. The Nano coating design gives reliable proofing against water or sweat. They also have a noise-cancelling microphone, so you can make calls when you're out jogging or working up a sweat on the stair machine.
They hook over your ears. There is a wire clamp for extra security so that you can tighten them and achieve a close fit. As with most Mpow earphones, they have HD sound and powerful bass. With Bluetooth 5.0 technology, you can even leave your phone in your gym bag when you listen, as they offer an impressive wireless range of 33 feet. All of this for such a decent price.
Pros:
+ Sweatproof and waterproof
+ Decent, high-definition audio
+ Excellent, tight fit
+ Memory foam earbuds
+ Noise-cancelling in-built microphone
Why We Liked It - If you're looking for headphones under $50 that can do justice to your most inspirational exercise audio without distracting you, then these are your ideal pair. This wireless pair is perfect for any gym fan's price range.
5. Sony MDRZX110NC Noise Cancelling Headphones
Sony are one of the most trustworthy brands when it comes to electronics. This over-ear, noise-isolating headset offers pristine, crisp sound quality. The audio frequency range is also startling for a price that's under $50. They offer a 12-22,000 Hz frequency response, creating a balanced sound, and putting them in the same category as the best, high-end headsets and earphones. The audio quality is outstanding, and their design is comfortable on the ear.
With ambient noise reduction of 95%, then you can just focus on the music, which is what you want from your headset. These Sony brand headphones fold easily, so that makes them portable, too. You also get an impressive 80 hours of battery life out of them.
Pros:
+ Excellent noise cancellation
+ Huge audio frequency range
+ Portable
+ Long-lasting battery
+ 3.94-foot cord
Why We Liked It - These cheap noise-cancelling headphones are a perfect example of the quality that Sony is renowned for. Sony includes features found on high-end models but for half the price. The battery life is excellent. This headset is best for music fans who want to be able to focus on the music rather than getting distracted by external noises.
6. OneOdio Adapter-Free Closed Back Over-Ear
These closed-backed headphones for under $50 include 50mm speaker unit drivers, which means hi-fi quality sound and audio quality. They're best for DJs, as they offer the ability to run and hear two different sources of audio at the same time. DJs will also like the 9.8-foot cord, but if you're looking for a pair of headphones that reaches from the sofa to the TV, you'll like the length too. The flexible headband design and the swiveling, padded ear cups are comfortable, even if you want to move your head a lot while wearing them.
Pros:
+ Perfect for DJs
+ Decent high-fidelity sound and audio
+ Closed back for good quality at a low price
+ Very long cord
+ Swiveling earcups
Why We Liked It - If you're looking to get your first pair of closed back DJ headphones for a decent price, then these are a great place to start. You get high-quality sound and audio, and they are comfy to wear too.
7. Panasonic ErgoFit In-Ear Earbud
These wired, in-ear headphones feature Panasonic's ErgoFit technology so that the earbuds fit perfectly inside each ear, giving off amazing audio. They offer an incredible frequency response of 5 – 24,000 Hz. They also have a cord that is a decent length of 3.6 feet.
It's not all about the audio. They even come in a wide range of 15 colors. If you like to listen in style, you'll want to find a pair that will suit you. You won't be bothered by external noises when you listen to your audio. The audio will sound crisp and dynamic through these earphones under $50. They are also portable and can be worn during exercise, making them good if you want to lead an active lifestyle.
Pros:
+ Very affordable
+ Wide range of colors
+ 5 – 24,000 Hz frequency response
+ Comfortable, ergonomic fitting earbuds
+ Decent sound isolation
Why We Liked It - These are a basic pair of earphones available at a budget price. Despite that low price, they also offer excellent sound quality and are easy to store when you're not wearing them.
8. iJoy Matte Finish Premium Rechargeable
These iJoy headphones offer a lot of extras that you don't find on other over-ear headphones under $50. For example, they have an in-built radio receiver, and they also have a micro SD card plug-in. If you're looking for hands-free calling, then it's got an in-built microphone that is easily controlled on the headphones themselves.
The memory-protein earmuffs will isolate music and cancel bothersome noises while giving you accurate, robust bass, and crisp middle sounds. They are wireless too, which means they use Bluetooth technology. You'll get up to 10 hours of battery life from a single charge. The adjustable headband allows for a snug, comfortable fit.
Pros:
+ In-built radio receiver
+ Noise cancelation
+ Comfy, memory-protein earmuffs
+ Quality microphone
+ 10 hours wireless playtime
Why We Liked It - iJoy have produced an excellent pair of budget earphones that feel and sound like they are far more expensive. The extras, like the radio receiver, are a nice touch too. If you want good headphones for cheap prices, with Bluetooth and a great battery life, the iJoys are a perfect choice.
9. PANASONIC ErgoFit Earbud Headphones with Microphone
Just like the previous Panasonic headphones on the list, this pair feature ErgoFit earbuds that will comfortably fit inside your ears. This pair of earbuds differ to the previous pair because they include a microphone. The cord also includes a control button that can be used when ending calls. They have a very well balanced sound for a cheap price.
The crisp stereo sound will make your favorite songs sound great. They have an impressive frequency response of 10Hz – 24Hz, which is excellent for budget headphones under $50. They are compatible with iPhone, Blackberry, and Android too.
Pros:
+ Integrated microphone with call control button
+ Wide frequency response
+ Crisp stereo sound
+ Comfy to wear
+ Perfect for exercise
Why We Liked It - These earphones are affordable, offer high-quality audio, fit nicely in each ear, and feature an in-built microphone, which makes them an excellent choice for your next pair of earbuds.
10. Edifier H840 Audiophile Over-The-Ear Headphones
Audiophiles will love the 40mm aperture driver units that produce high-fidelity sound. They are both lightweight and robust, which is an ideal combination for headphones under $50. The leather-lined headband and the leather earmuffs offer supreme comfort, so you won't get distracted from the high-quality sound you're listening to.
The audio is true to life because the earphones have been engineered to include an electro-acoustic unit. They connect through a 3.5mm gold-plated audio plug that will require an adapter if you wish to plug them into an iPhone or similar device.
Pros:
+ Good entry-level monitor headphones
+ Ergonomic, comfy design
+ High-fidelity, pure sound
+ Durable
+ Suitable for audiophiles
Why We Liked It - The superb sound quality that these Edifier audiophile headphones offer is so good that even the most snobbish audiophile would be impressed.
Headphones Under $50 Buyers Guide
When searching for the perfect headphone, cheap options can often be unreliable unless you know where to look. If you want to get a pair of headphones for under $50, then you have a variety of options. The key to choosing the right pair is to consider what you will need the headphones for, and what you will be doing while you listen to them.
A pair of headphones that are waterproof and fit in the ear will be perfect for exercise, but they won't offer the same comfort or sound quality a budding DJ might want. Here are the features offered by pairs under $50. Look out for them when choosing a headphone for cheap prices.
Wireless or Wired
The biggest difference you will find in this price range is between wired and headphones without wires. Wired headphones will connect to your device or monitor through a cord, which will vary in thickness, quality, and strength, depending on the type of headset or earphones. Bluetooth or wireless options, however, will connect through Bluetooth to your device.
Obviously, being wireless gives you a lot more freedom, as there isn't a cord to get in the way. Then again, the wireless technology might push up the price. You'll also have to consider battery life, as a wireless pair will require charging. Battery life isn't a problem with wires. Furthermore, if the quality of the audio is more important, then you may want to consider choosing a corded pair that offers pristine sound.
In-built microphone
Not every pair under $50 will include an in-built microphone. If making calls is important to you, you must make sure a microphone is included in your future purchase. Besides the microphone itself, you should check how user-friendly the controls for the microphone are. These will either be on the cord or on the side of the headphones themselves. The quality of the microphone will also vary. Finding one that includes noise isolation will make your voice sound much clearer to the person you are speaking to.
Earbuds or Over-ear
Earbuds slip inside your ear, whereas over-ear options will cover your ears. The two main differences between these headphone types are comfort and sound quality. Over-ear headsets will often give you a much clearer and powerful sound, as they can contain much bigger drivers, such as 50mm aperture drivers. But they are also much bigger and often feature earmuffs that can cause you to overheat.
That makes them impractical for a lot of physical activity. Earbuds, though, just slip inside the ear, so they won't cause any overheating. There is also more chance that the earbuds will be waterproof, making them much better suited to exercise or sport. Make sure you get a pair with an ear friendly design that will hook over the ear, so the buds don't fall out.
Portability
Another difference between earbuds and over-ear headphones is their portability. Earbuds are extremely convenient to store and carry around, as they will fit in your pocket. Depending on the type of over-ear headphones, though, they might be bulky and offer no option to be folded. That's fine if you only use them at home, but if you plan to take your headphones out with you, then you must get a pair that are foldable and portable, as this will be better for you.
Noise Cancelation
Even the best cheap headphone under $50 is unlikely to offer Active Noise Cancelation technology like the famed Bose headphones. They might, however, offer passive noise cancelation through the type of earmuffs. Some earbuds will form a seal once they're in your ear. This will not only isolate the sound of the music but block out a lot of outside noises, a bit like ear plugs.
What types of headphones are best for exercise?
If you're looking for the best, cheap headphones under $50 for exercise, then you may want to consider choosing a pair that combine earbuds with soft hooks that go over the ear. This offers a better and more secure fit. Another important element of headphones for exercise is whether they are both waterproof and sweatproof. All these features will give you a better experience.
The last thing you need when exercising is for your earphones to break because of your sweat. Wireless earphones will give you more freedom than wired a wired option can. It's important to find a balance between comfort, sound quality, and a secure fit because it can be very annoying if your earbuds keep popping out when you're on the treadmill.
How much playtime should a good pair of wireless headphones have?
If you're looking for a headset or earbuds under $50, then you will find that the playtime is somewhat limited compared to more expensive headphones. But you will still be able to find some good wireless headphones that offer over 10 hours of playtime from a single charge. This is more than enough for a long journey or a day at the office. As long as you're able to charge your devices regularly, than anything around 10 hours should be enough.
Do headphones under $50 come with a warranty?
It depends. If a respectable manufacturer has produced them and they cost somewhere on the higher end of that price range, then you will find that a 6-month or a 12-month warranty could be available. The risk with a pair under $50 is that they will break, so finding a pair that offers a warranty will give you some protection.
How do I know if the sound will be good?
Besides checking reviews, two specifications will hint at the quality of sound you will receive. The first is the frequency response range. Anything that offers 25Hz – 25,000Hz should offer a good range, but for more subtle sounds, then look for something that gives 5Hz – 25,000 Hz.
Another indicator of sound quality is the size and type of drivers. A 50mm aperture driver will give you enormous power, but for budget earphones, even something closer to 20mm should give you enough power.
Expert Tip
Make sure you choose a pair that suits your needs. If you're only looking for a basic pair of earbuds that you can wear while going for your morning jog, then you don't need to spend your hard-earned dollars on something packed with fancy features that you'll never use.
Then again, if you want a headset for gaming or for making calls, then you need to make sure that you choose one with an in-built microphone that's also high-definition and noise-isolating. This will be better for you in the long run.
Did you know?
The first set of headphones were invented by Nathaniel Baldwin almost 110 years ago. They weren't designed for listening to house music while running on a treadmill, though, as they were used for radio communication. Baldwin didn't patent his invention, but he did sell it to the US Navy.
It wasn't until 1958 when the first stereo options were created. These were invented by a jazz musician named John C. Koss. As an audiophile, he knew the huge potential of headphones, and he would be impressed by the excellent quality headphones that are now on the market.
Conclusion
When looking at the best headphones under $50, you will see that there is a huge range in the style available. There is everything from small earbuds to large, over-ear headphones that are suitable to DJs or musicians. The key to finding the right pair for you is simply to decide what you want your headphones for.
Then you can select a pair that feature the right components and extras. Wireless headphones give you a lot more freedom than wired versions. But if you plan to plug them into the television, then as long as the cord is long enough, you don't actually need the Bluetooth function, as the audio quality will be more important.
A pair of headphones for exercise, though, should be secure and waterproof, otherwise, your sweat could get in and break them, or they'll keep falling out of your ears or off your head. There's no doubt that there are some excellent headphones on the market under $50 that prove you don't need to empty your bank account to get high-fidelity sound and deep, robust bass.
If you've enjoyed this review by Music Critic, please leave a positive rating:
[vc_separator