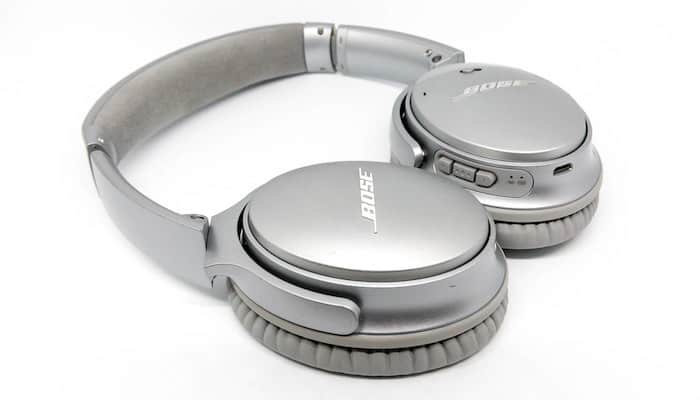 If you're looking for the best quality headphones, then you know that outstanding sound quality, as well as comfort, are two of the most important things in a good pair of headphones. You'll also know that choosing the right pair of headphones will enhance your listening experience, and make your favorite songs sound even better.
To make sure that you make the right choice and invest your money in the best quality headphones for you, then consider this list and buyer's guide.
View The Best Quality Headphones Below
1. Bose QuietComfort 35 (Series II)
The QuietComfort 35 Headphones by Bose is the very definition of best quality headphones. They include an acoustic noise cancellation system that has three levels which can be easily adjusted via the action button. This button can also be used to operate your voice recognition software, such as Siri or Alexa.
The materials they have been constructed out of are very high quality, with the ear cushions made from a very soft, synthetic protein leather and the headband has been wrapped in Alcantara – a soft suede – so that you get enhanced comfort.
Pros:
+ Adjustable, acoustic noise cancellation
+ Super soft ear cushions
+ Durable, hard-wearing construction
+ Works well with voice recognition technology
+ 20-hour battery life
Why We Liked It - Bose knows how to create quality products, and these headphones are a perfect example of what best quality headphones should look, feel, and sound like.
2. Beats Studio3 Wireless
Every celebrity seems to wear Beats headphones these days. Why? Because they want to wear the best quality headphones that offer amazing sound, as well as looking stylish too. These wireless headphones have an adaptive, pure noise cancellation system so that no irritating noises will harm your listening experience.
In fact, there is nothing at all about these headphones that will make you want to take them off, and the ventilated, soft ear cushions ensure you won't overheat, and the ergonomic design offers you outstanding comfort too. The controls on the headphones are easy to use too.
Pros:
+ They look great
+ Very big bass
+ Comfy to wear
+ Ventilated ear cushions
+ Excellent noise cancellation technology
Why We Liked It - The best quality headphones combine looks, comfort, and usability while offering jaw-dropping sound, and the Beats Studio3 have all these good characteristics in abundance.
3. Powerbeats3 Wireless Earphones
If you're looking for the best quality headphones to wear while you're on-the-go or exercising, then the Powerbeats3 could be ideal for you. Besides offering the well-renowned Beats' quality sound, they also include an excellent charging feature, which means that you only need a five-minute charge to get an hour of wireless playback.
Because these headphones have been designed for exercise, then they are sweat and water-resistant, which means you can listen to your favorite tunes, getting that famous Beats' bass, while on the treadmill, and you don't have to worry about your sweat shorting the battery.
Pros:
+ Sweat and water resistant
+ Fast charge
+ Great quality sound
+ Different ear tips so you can find one to suit your ear size
+ In-built microphone
Why We Liked It - They offer you great sound while remaining light and stable, so they're the best quality headphones to wear for exercise.
4. Beats EP On-Ear Headphones
The best quality headphones don't necessarily need to be wireless, and the Beats EP is a perfect example of why. These corded headphones offer outstanding sound quality and as they are corded, then there's no need to charge the battery because there isn't one.
The cable includes RemoteTalk technology, which means that you can control your music and answer calls all on the cable itself. They have been constructed to be very durable and sturdy, and Beats promise that they are well-suited to everyday wear. And considering how great the sound is, then you'll want to wear them every single day too.
Pros:
+ Cabled
+ Excellent sound quality
+ No battery
+ Easy-to-use controls
+ Lightweight
Why We Liked It - If you buy Beats, then you're always ensured great sound with a lot of bass, and these headphones will certainly do justice to your favorite tunes.
Quality Headphones Buyers Guide
To make sure that you buy the very best quality headphones, then consider this buyer's guide first, as it will help you make the right choice.
Sound Quality
This is the number one feature of all the best quality headphones. The quality of the sound will vary from each pair to the next, with some offering more powerful bass, and others being more balanced, giving you better mid and high tones.
If a particular genre of music is important to you, then choose headphones that suit this music, for example, headphones that emphasize bass will be ideal for hip-hop fans.
Noise Cancelation
The best quality headphones will usually offer you some form of noise cancellation technology. This will either be passive noise cancellation, which is created through the design of the headphones, and the material and style of ear cushions will be important here.
Or they will have active noise cancellation, which requires power to be operated, and is the best way of blocking out all unwanted sounds. Active noise cancellation will use up your battery quickly, though.
Wireless or Corded
Wireless headphones are convenient, but they come with some drawbacks too. You need to charge them. And many audiophiles believe that the sound quality is inferior to corded headphones. You have to choose the right type for your needs.
Do on-ear headphones give better sound than in-ear headphones?
Generally, yes. On-ear headphones offer better sound because they generally have a bigger driver in them, which also allows for more range of frequency. When it comes to sound quality, though, it tends to depend more on the headphones themselves, as opposed to the style.
For example, high-quality earbuds will be better than low-quality headphones, but the absolute best quality headphones will give you much better sound than the best quality earbuds.
Expert Tip
To make sure that you choose the right headphones for you, do some research into what elements are enhanced by the particular pair of headphones and then check that this is suitable to your favorite style of music.
It would be a mistake to purchase a pair of excellent headphones that offer very powerful bass when you are a classical music fan who really needs a pair of quality headphones that offer outstanding clarity, precision, and balance when it comes to sound.
Did you know?
The most expensive headphones in the world are made by a jeweler named Tournaire and they cost a remarkable $120,000. The 18-carat gold and 6-carat diamonds that the headphones are made from explaining the price tag.
Conclusion
There are some really good headphones on the market. The best quality headphones will be comfortable to wear, offer you great sound quality, have noise cancellation technology integrated into them, and will be well-suited to the style of music you like to listen to.
If you've enjoyed this review by Music Critic, please leave a positive rating: