From time to time we like to do a brand based overview review article and today is that day so join as we talk you through the 5 best Audio Technica Headphones in 2023 for a browse of their best-sellers.
With decades of experience under their belts and some master engineers under their wings, the Tokyo based company know a thing or two about audio. They are responsible for some innovative, game-changing audio electronic products and their ranges are extensive and packed with products aimed to cover a wide demographic of users.
They produce some great affordable quality headphones and some impressive premium models to boot.
For this reason, we are actually going to comparatively look at one entire series (the Monitoring series) to determine who they are most suitable for and what use. We are also providing one option from an alternative range to give the M series an identity.
At a glance:

Our top 3 picks
Our team's top 3 recommendations
Best Overall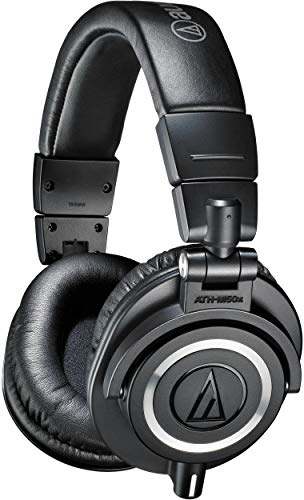 Audio-Technica ATH-M50x

Studio monitoring quality.
Large-aperture drivers.
Deep accurate bass response.
Extended frequencies for live monitoring.
Well engineered.
Collapsible pair.
Choice of cords.
Premium Quality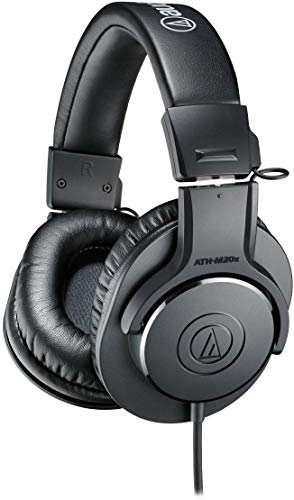 Audio-Technica ATH-M20x

Studio monitoring quality.
Large-aperture drivers.
Deep accurate bass response.
Extended frequencies for live monitoring.
Well engineered.
Collapsible pair.
Choice of cords.
Great value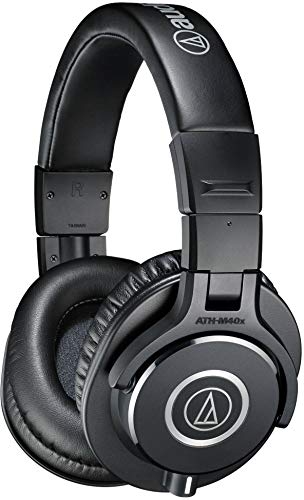 Audio-Technica ATH-M40x

Studio monitoring quality.
Large-aperture drivers.
Deep accurate bass response.
Extended frequencies for live monitoring.
Well engineered.
Collapsible pair.
Choice of cords.
View The Best Audio Technica Heaphones Below
1. Audio-Technica ATH-M50x
We are opening with the M50x model because it is the paradigm of the series seated just below the top of the range and offering fab quality and raising the industry standard bar.
They are competitively priced but will set you back a fair amount. They are a good set for those who like their audio fully immersive and have a fair amount of power on hand.
They are a critically acclaimed set of overhead over-ear (circumaural) headphones, which are capable of serving up a professional listening experience with balanced full-range audio. They are ideal for home-studio monitoring.
They are a closed-back set, with comfortably cushioned ear-cups that are free to rotate 90 degrees. The professional-grade padding is generous, and they are covered in a sweat-resistant fabric. This makes them conducive to longer listening periods, perfect for those who have to spend hours editing in their DAWs.
The swivel cups make them more convenient to slip on and off and lessen wear and tear making them the perfect workhorse. The swivel mounts are robustly attached to a strong folding arm, which enables them to be packed more compactly for storage when not in use and a storage case is also provided.
They feature larger than average 45mm drivers which have an extra surface area. This extends their frequency response, especially in the low-frequency spectrum, to provide more accurate bass frequencies. The extra cone area allows the bass the space to reverberate without distorting.
The large-aperture cones are driven by neodymium magnets and are very well engineered. They are constructed, with premium materials and harbor the companies prodigious oversized voice coils which have been clad with copper, to optimize their performance.
They deliver exceptional audio with natural balance and accurate dynamics. The bass is impressive, the mids are exceptionally clear, the trebles are distinctively bright, allowing the nuances to shine through in the mix.
They have a detachable cord system, which allows them to provide both a straight and a coiled option. Coiled is better for studio use as it is less prone to tangling whilst you work.
Pros:
+ Studio monitoring quality.
+ Large-aperture drivers.
+ Deep accurate bass response.
+ Extended frequencies for live monitoring.
+ Well engineered.
+ Collapsible pair.
+ Choice of cords.
Why We Liked It - The accuracy is astounding, they outperform many sets providing premium audio and the collapsible design is very durably executed.
Headphone Volume - Don't forget to consider whether or not you'll need multiple headphones for studio clients or other musicians. In which case, you may be able to get by with a cheaper pair of Audio Technica headphones for temporary use with other musicians. Then again, higher quality headphones may set you up for a better session overall.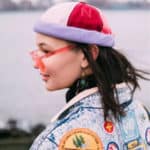 2. Audio-Technica ATH-M20x
We are jumping straight back to the entry-level model of the series for a look at what the budget end of the spectrum can get you.
This budget headphone set is aimed at those with less cash to investors who still want the signature Audio Technica sound and the benefits of their expert engineering. Of course, some cuts have to be made somewhere and it is fair to say the drivers have a much lower output than the models in the top of the range.
You shouldn't let their bare bones nature cloud your opinion however as they still serve up a very competitive quality sound. Their frequency response is within the industry standard parameters and whilst it is not as refined as the studio monitoring set they have good accuracy and the 40mm drivers performs very well.
They are once again constructed to a high degree, doing the Audio Technica brand justice. They rely on the same high-grade neodymium rare earth magnets and proprietary oversized voice-coils. They cope adequately with a dynamic workload.
They have a single-sided straight wire instead of a detachable one and do not have the folding capabilities of the other sets we have selected, but they make for a fantastic everyday use headphone set. They deliver full-range audio with good clarity perfect for enjoying your playlists in a relaxed and casual manner. The sound is effectively balanced courtesy of their technically tailored crossover.
They like the other sets in the series are amply cushioned with impact resistant padding to keep them comfortable to wear.
Pros:
+ Durable manufacturing.
+ Quality components.
+ Comfortable to wear.
+ Essential everyday set.
+ Low priced option.
Why We Liked It - They bring all the advantages of the Audio Technica brand to the average user, serving up quality on a more attainable level.
3. Audio-Technica ATH-M40x
The MX40x model is not really much of a step down from the 50x we began today's review section with they feature the ranges best attributes and are a capable set of overhead of studio monitoring headphones.
Their diaphragms are 5mm smaller than the M50x model but still serve up the same broad range audio with sufficient accuracy for critical listening. They are driven by neodymium like the other sets in the range and have great performance.
They are a high-output option with lower impedance than the cheaper headphones under $100, which have been excellently engineered. They feature fine quality components and have the same copper cladding for optimal signal response.
They were developed with DJing use in mind, which is why they have been flat tuned to better recognize a cross spectrum of input frequencies.
They also feature a detachable cable design like the M50x with both a straight or coiled cable provided to choose between for different applications.
They have the same durable folding parts as the superior set and compactly store away between use.
Pros:
+ Well-made.
+ High output.
+ Low impedance
+ Flat tuned
+ Fold away design.
Why We Liked It - They are a big upgrade from the m20/30x models but are a little less pricey than their larger version, making them a good happy medium for those with less cash to splash. They are flat tuned and provide wide spectrum detailed audio, for monitoring use.
Ear Fatigue - Comfort is key when it comes to settling down in front of the computer for hours on end. While many Audio Technica headphones are pretty comparable sonically, I tend to find that the higher end models are much comfier and reduce ear fatigue. They also have replaceable ear cups in the event that your set wears down over time.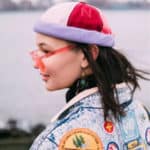 4. Audio-Technica ATH-M30x
The M30x model is the initial step up from the original model and features a collapsible design which lends them better portability making them more compact and therefore more suitable for traveling.
Their 40mm drivers have a slightly higher capacity and they are lower impedance than the starter model.
They feature a single-sided straight wire like the m20x set the detachable cables will, unfortunately, cost you a little more.
`
The key step up they provide from the model below is namely their folding design, the cups swivel roughly 15 degrees rather than the full 90 but they still collapse into a pretty compact size for storage and transit.
They are still cushioned with the same high-grade padding and are as beautifully manufactured as their better sets.
The audio produced is full-range and has great dynamics; they are more than adequate for tracking and mixing and provide immersive personal listening.
Pros:
+ Higher powered.
+ Lower impedance.
+ Folding design.
+ Great audio.
+ Attainable price region.
Why We Liked It - They make for a good step up from the bare-bones model, the signals have greater fidelity and they have a little more power behind them as well.
5. Audio-Technica ATH-AD700X
Now for a quick glance at one of Audio Technicas separate series; For a better understanding of how the M series has been characteristically tailored for better monitoring, and some evidence of how reliable the quality and performance is throughout their products in general.
This model is from their Open Air range which aims to cater to the audiophiles out there. They are a reasonably priced pair of headphones which sit comfortably under the one hundred dollar mark. They are based on one of the companies first-ever models developed almost fifty years ago, though thankfully it has seen a lot of modernization.
They are very different from the M series they feature as the name suggests an open-backed design, this means the audio is less intensely directed to the ears. This allows for a good degree of background ambiance to come through with the audio to your ears and the result is far more natural sounding audio.
Open-backed headphones let in the ambiance and are less immersive than a closed back design which passively noise cancels the environment.
This allows users to focus on the audio without getting lost in it as you an stay aware of other elements. It is a useful tool and good practice to switch between the different types for critical listening as closed-back headphones give a direct reproduction but it isn't always a realistic reflection of how a track will sound through speakers.
They have a lightweight, honeycomb casing made from aluminum which eliminates ear pressure completely and keeps the components cool as well.
They feature cutting edge drivers which measure a whopping 53mm and their newly developed bobbin-wound, copper-clad voice coils. They respond exceptionally well and deliver atmospheric, spacious sound with epic dynamics.
They are very well built and have a strong design which features three-dimensional wing supports which are self-adjusting for convenience. They are another single-sided cord option, the wires have an elastic TPE sheath to help prevent tangling and the connections are gold plated for better signal fidelity.
Pros:
+ Open-back set of headphones.
+ High-quality manufacturing.
+ Extra-large drivers.
+ Natural audio.
+ Dimensional vibe.
+ Tangle-proof cord.
Why We Liked It - The sound waves are granted a dimensional quality, which allows the wearer to hear how it sounds within a space.
Audio Technica Headphones Buyers Guide
We are kick-starting our buyers guide this week with a brief history of Audio Technica as a company and how they have gotten to where they are today.
As you can see from our reviews the brand has a well established customer-oriented approach to product development and they cater to a range of needs. Audio-Technica is actually a worldwide group of companies (conglomerate) with dedicated engineers who center their developmental strategies around problem-solving. This is why they cater so widely within each of their renown series to provide tangible solutions.
The company itself was initially Established in 1962 when they rose to fame for their at the time state-of-the-art phonograph cartridges.
One of their first successful products which propelled their careers was the Mister Disk which famously sold in the US. For those who don't remember; it was a battery operated portable record payer and one of the most popular models at the time.
In their fifty-plus years of trading, they have earned themselves a fantastic reputation and are held in high esteem, having won many industry awards for their contributions to the sector and outstanding products.
The first of which was from the Agency of Industrial Science and Technology in 1965 just one year after start-up for their AT1001 tone arm package which was more balanced and refined than anything which was already available on the market. It was designed out of frustration to better support the cartridges they had already been producing, but it accidentally revolutionized the way in which tone arms functioned from then on.
After the notoriety of their AT-1001 tonearm became common knowledge the company went from localized to worldwide shipping of their phono cartridges in just four short years. Incidentally, it was also around this time (1969) that they created their first ever micro-cassette recorder, invented by Olympus a company within their conglomerate.
The micro-cassette recorder made history, as it changed the way in which journalists could work. It was the start of the modern Dictaphone and the beginning of the micro- revolution. There was nowhere in the world that it was more apparent than in Japan.
From then on many other companies put a huge amount of time and effort into research and development within their engineering departments to make their products smaller.
These efforts changed the way the industry thought and have led to the tiny computerized parts we are capable of making today.
It is fair to say that Audio Technica certainly made some waves in their first decade. The brand has since moved away from vintage photographs and gone on to create a plethora of products.
Just ten years after their start-up they produced their first set of headphones launching the AT-700 series, which the final set we reviewed is actually inspired by. Of course, technology has been refined to reflect the modern advancements which have long since been made, highlighting the companies evolution since they created their first pair of headphones.
Today they are known for their high-performance microphones which have received numerous awards, advanced mixers which are used professionally worldwide and of course, headphones like we are reviewing here today and are now one of the worlds most sought after electronic product manufacturers for home and professional use.
They were one of the earliest companies to produce a headset, headphone for stage use, integrating headphones and microphones together was uncharted territory and in the early 1990s, they had the majority of the market providing headsets for some of the worlds largest events. They have actually provided the majority of equipment for the Grammy Awards for almost 2 decades and their products are so reputable they are a go-to solution for most studio filmed and large live broadcast events.
They have had a hand in Big Brother, Deal or no deal and the Rock and Roll Hall of Fame inductions but most notably are favored within high profile sports broadcasting sector. The catered to the audio electronic needs of the Olympics. They were also responsible for the set-up for the World Cup, the Super Bowl, and the Commonwealth Games, the Summer Games in London, Beijing, Athens, Sydney, and Atlanta, and the Winter Games in Sochi, Vancouver, Turin, and Salt Lake City.
Some of there more recent awards include "best microphone of 1991" at the Audio Engineering Society convention and the CES Innovation Honoree Award for their Trigence Dnote Technology used in their Audio-Technica Pure Digital Drive Wireless Headphone ATH-DSR9BT model.
With such a list of professional achievements under their belts, you can rest assured that their consumer products serve-up some of the best a fistful of dollars can get you no matter your budget limitations.
What to Look for when Buying Audio Technica Headphones?
What to look for before you purchase a pair of Audio Technica headphones really boils down to 2 essential factors, given that the quality of the products is at the top of its relative retailing levels.
Firstly is your intended use as some models have more bells and whistles than others, better catering for specific needs. We have done our best to highlight the unique selling points that give them idyllic functionality for certain tasks within our reviews.
To determine exactly what you need you to need to analyze what you want to find a set with the right capabilities. Then, unfortunately, you have adjusted and offset this against what you can afford some of Audio Technica's best headphone sets can be a little pricey due to their premium nature and top performance.
If you don't have too many demands or are tight for cash then their entry-level models provide a balance of quality audio in an affordable package.
The materials used are less costly to the manufacturer and sometimes the luxury is slashed a little which means they might not be as comfortable for example as a high-end pair. Those we have looked at today are all essentially fabricated with the same materials as far as exteriors are concerned, and each is comfortable.
One thing that Audio Technica goes out of their way to avoid is sacrificing the internal component quality so that the buyer gets the best audio reproduction possible from the array itself.
The biggest difference as you jump from the budget to the boutique is the methods in place for signal fidelity, the circuitry refinements and the accuracy of processing technology itself. To be honest only a real audiophile will notice the nominal differences between the audio of the m50x and m70x models.
The models at the bottom of the ladder all benefit from the trickle-down technology of their boutique sets and outperform the majority of similarly priced solutions. They feature the same material choices for the components and function in the same manner, though each is a little more finely tuned than the last.
If you are going to wear your headphones for everyday use and you often listen to your music whilst you walk to work, then you might want to consider a collapsible set, they cost a little more but give the product the all-important added portability.
Overhead headphones are notoriously better in terms of the audio produced, but they are typically considered far more cumbersome to wear and aren't as easy to take on your travels. An earbud set, in comparison, will slip inside of a pocket. Audio Technica does make some impressive earbud models which are well worth a look at but the audio in their over-ear sets is incomparable.
The collapsible sets within the M range we have looked at are designed and built impeccably well, they have held up during rigorous stress testing during developmental stages and are highly durable as a result. This means they can outlast many competitive folding headphone sets.
Conclusion
If you are looking for a professional set for musical pursuits you will need to be looking at the higher end of their range. Audio Technica has many sets which are tailored for studio use we are certain that for hobbyists and at-home production even the less-capable of those we have rounded up will suffice.
They really do have superior sound. If you are setting your sights a little higher we recommend you take a little step up to their M70x set which is a higher resolution.
As Audio Technica was one of the first companies to create a paired mic and headphone headsets, their modern headset style models are some of the best in the world they make for awesome gaming headphones. We suggest the ATH-ADG1X Open Air which has an incredibly strong goose-neck mounted microphone design and a super-cardioid element which keeps signals clear.
Expert Tip
If you want the signature Audio Technica sound and require a Bluetooth option we highly recommend the Bluetooth endowed version of the M50X the ATH-M50xBT which deliver impeccable, critically acclaimed audio over a stable wireless transmission.
Did You Know
Audio Technicas products are so impressive they have previously made the shortlist in our best headphones, best over-ear headphones, and best headphones for music articles to name but a few.
If you've enjoyed this review by Music Critic, please leave a positive rating:
[vc_separator