There are actually two different types of noise cancelling earbuds! It's important to understand what the differences are, and what this terminology means. The two main types of earbuds are noise isolating and noise canceling earbuds. Depending on what your needs are, either option can be an excellent solution.
Noise isolating earbuds work by fitting snugly in the ear canal, and creating a tight seal, preventing outside noises from coming in. The better they'll be at isolating sounds and preventing any disturbances from getting in. For those on a budget, there are some noise cancelling over the ear headphones for under $100.
Noise-canceling earbuds block out ambient background noise by using "digital signal processing" (DSP for short). This technology uses a microphone and internal processor within the device to cancel out and block the sound around you. This will leave you content with a quiet listening experience.
With those important, key differences in mind, read on for our picks for the top 10 best options out in the market today:
At a glance:

Our top 3 picks
Our team's top 3 recommendations
Best Overall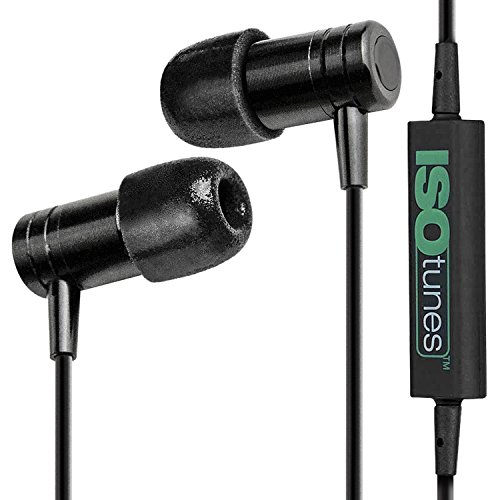 ISOtunes Noise Isolating Bluetooth Earbuds

Heat-activated Comply memory foam ear tips mold to your ears providing the perfect seal
Industrial lab tested
ANSI Certified Noise Reduction Rating of 26db
Premium Quality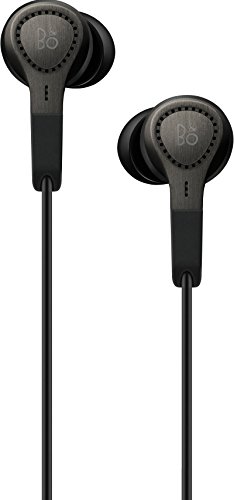 B&O PLAY by BANG & OLUFSEN Noise Cancelling Earbuds

Heat-activated Comply memory foam ear tips mold to your ears providing the perfect seal
Industrial lab tested
ANSI Certified Noise Reduction Rating of 26db
Great value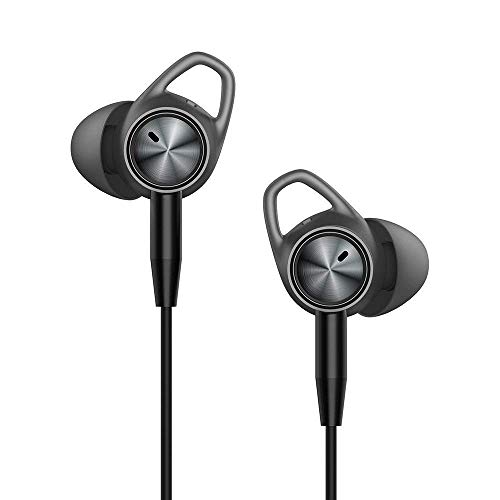 TaoTronics Active Noise Cancelling Headphones

Heat-activated Comply memory foam ear tips mold to your ears providing the perfect seal
Industrial lab tested
ANSI Certified Noise Reduction Rating of 26db
Best Noise Cancelling Earbuds for 2023
1. ISOtunes Noise Isolating Bluetooth Earbuds
These are a noise isolating set of bass earbuds but don't confuse them with any old typical pair. They're the world's first proven pair of noise isolating Bluetooth earbuds and they can compete with many in the noise blocking category. They've been industrial lab tested and are ANSI certified with a noise reduction rating of 26db, and also include ISOtunes signature SafeSound technology to prevent any hearing damage.
The ear tips are designed with heat-activated Comply memory which means they'll form to the unique shape of your ears, creating the perfect seal to maximize noise isolation, and provide quality comfort and fit.
Not only do they deliver outstanding noise reduction performance, but the sound quality is also on point as well. Equipped with Bluetooth 4.1 and 8 mm drivers, these earbuds create a life-like music experience with deep, soothing bass and rich tenor.
The fact that no wire is needed means you can easily work out, do yard work, and other labor-intensive tasks without getting wrapped up or worrying about wires getting caught. Note that the estimated battery life is four hours, which may not be as long as some of the others, but realistically should be more than sufficient for working out, mowing your lawn, etc. Click here for our review of the best Bluetooth headphones for under $100 this year.
High-quality
Pros:
+ Heat-activated Comply memory foam ear tips mold to your ears providing the perfect seal
+ Industrial lab tested
+ ANSI Certified Noise Reduction Rating of 26db
Why We Liked It - They're IPX3 water and sweat resistant which makes them perfect for outdoor use and exercise. With the manufacturer's 1 year guarantee, even if you do damage them due to sweat they'll replace them. Finally, they have a sleek brushed steel finish and come in a jet black. Overall, a great pick for high-quality sound, comfort, and noise reduction performance.
Water and Sweat Resistance - If you're an athlete, runner, or biker investing in a new pair of earbuds in order to listen to music or podcasts during your outdoor activity, you'll want to confirm that your ideal pair of earbuds is highly water and sweat resistant, which will lengthen the lifespan of your headphones.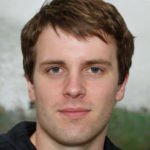 2. B&O PLAY by BANG & OLUFSEN Noise Cancelling Earbuds
If you're looking for a set of top of the line, high-quality noise canceling earbuds, stop your search here. The B&O Play provides the Bang & Olufsen signature sound in a lightweight stylish package. These earbuds can credit their lightweight body to the fact that they're crafted from a solid block of aluminum.
But, don't be fooled by their lightweight feel, as their sound quality and overall performance hit hard. The aluminum body is scratch-resistant, and weighs in at just 40 grams, making them ultra-portable and functional.
These earbuds deliver a rich, sound performance that captures all the intricate details of your favorite tunes and lets you fully experience your music as it should be heard. By leveraging Active Noise Cancellation (ANC) technology, the in-ear noise-canceling headphones completely cancel out noisy backgrounds and provide a best-in-class acoustic experience.
Another great feature is the fact that the ANC will last up to 20 hours, and still remains functional even if the battery dies. The ANC is rechargeable, which means you can maintain control over the noise canceling power and should have plenty of battery power to cancel noisy areas all day long.
The design is modern and sleek and does not sacrifice on style for function. These noise-canceling earbuds are available in a range of stylish, industrial colors including champagne, black, or gunmetal gray.
The earbuds themselves provide a comfortable, air-tight fit due to memory foam tips. Additionally, because everyone is different, these noise canceling earbuds come with four, different silicone exchangeable ear tips to ensure the perfect match for your ears.
Pros:
+ Active Noise Cancellation technology completely blocks out noise
+ Rechargeable ANC with battery life up to 20 hours
+ Lightweight, aluminum body in sleek color choices
Why We Liked It - Overall, these in-ear headphones provide outstanding sound quality and performance in a tight, light body. You'll get the best of both worlds by having a high performing set of ear buds that are equally stylish.
3. TaoTronics Active Noise Cancelling Headphones
Not only do these active noise-canceling headphones from TaoTronics provide you with the ability to cut out unwanted noise, but with a press of a button, you can turn off the ANC technology and hear what's going on around you again thanks to 'Awareness Mode'.
They have a MEMS noise-canceling microphone too, which allows for crystal clear phone calls, even if you're in a windy environment. The active noise canceling technology will function for 15 hours after every full charge, making them equally as ideal for everyday wear or for traveling. They come with a carry pouch and an airline adapter.
Pros:
+ Awareness mode
+ MEMS noise-canceling microphone
+ 15-hours of ANC from a single charge
+ Includes a carry pouch
+ Inline controls
Why We Liked It - The affordable price, combined with the high-quality technology and excellent microphone put these firmly in the category of the best noise-canceling earbuds on the market.
Bluetooth - Bluetooth is a key feature of many earbuds, but some still prefer the classic wired model, as the sound quality is often stronger, and the bass focus is more refined. If your priority is the on-the-go utility of earbuds, though, you might want to prioritize Bluetooth above the best sound quality.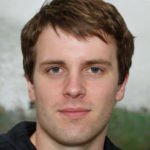 4. Deific Design IXP7 Waterproof Noise Cancelling Bluetooth Headphones
The Deific Design IXP7 headphones feature Bluetooth connectivity and are another great choice for providing a wireless listening experience. These noise canceling headphones deliver crystal clear sound and the best, natural sounding, a deep bass quality you can imagine.
Thanks to their noise-canceling properties, they will allow you to immerse yourself fully in your work and to follow the beat of your own drum. Whether you're running, hitting the gym, or hard at work, these headphones are a perfect option to block out ambient noise. Apart from the fact that they can be connected wirelessly via Bluetooth to almost all mobile phone devices, these incredible earbuds also have the equipped Voice Prompt feature that will immediately notify you of any incoming call. This means you'll never have to worry about missing an important phone call because you have your headphones on.
They're highly portable, featuring an ergonomic design, that's compact and extremely comfortable to wear, there's no place in the world that these headphones won't go; the gym, running, jogging, hiking, cycling, trekking, impact and watersports, and much more!
The sky's the limit when it comes to where and for what activities you can wear these earbuds. These high-quality sports earphones are sweatproof and waterproof so that they can accompany you all the time, regardless of weather conditions. The proprietary soft silicone over-the-ear hooks make sure that they will stay in place no matter what you're doing.
Pros:
+ Exceptional sound quality
+ Wireless Bluetooth design
+ Sweat and waterproof - perfect for active lifestyles
+ Available in two classic color options: black and white
Why We Liked It - Finally, you can buy with confidence as the IXP7 sports earbuds come with a one-year money back guarantee if you're not 100% satisfied with the purchase. An all around great deal.
5. SENSO Noise Cancelling Bluetooth Headphones
These are another of the more affordable options on the top 10 best list, and there's good reason why we've included them. First off, they provide a truly high definition, high fidelity sound experience. They use the latest Bluetooth 4.1 CSR technology and state of the art acoustic components in order to produce incredible sound quality with deep bass and crystal clear treble.
The Bluetooth technology allows you to connect seamlessly with all Bluetooth enabled devices up to 30 feet away, so you can freely move around for quite a distance without interruption or losing a connection. Just think, you're out doing some lawn work and have to head to run inside to grab something. You don't have to worry about skipping a beat as long as your device is within 30 feet.
Their noise suppression technology allows wearers to focus on their favorite music and answer calls without skips or missed words, which means you'll be fully engaged no matter what else is going on. You'll easily find yourself getting into the zone with the combination of unparalleled rock-solid bass and ultra crisp treble.
Their comfortable and secure fit is due to their smart, practical design. These noise-canceling earbuds feature flexible ear hooks and gel flex silicone earbuds. This ergonomic design ensures a nice, tight fit and secure placement that's guaranteed to prevent fatigued or sore ears from relying on the earbud alone. The fact that you don't have to deal with the hassle of any wires is a huge bonus so that you can focus exactly on the task at hand. No more tangles, no more pulled cords, no disconnection.
Pros:
+ Bluetooth 4.1 CSR technology
+ Connection up to 30 feet away
+ Unparalleled rock-solid bass and ultra crisp treble
+ Up to 8 hours of music enjoyment
+ Rechargeable battery
Why We Liked It - That's not all, the new and improved lithium polymer battery allows seamless enjoyment of music for up to 8 hours and 240 hours stand-by with a quick charge of only 1.5 hours.
6. Sennheiser IE800S in-Ear Headphones
Big things can come in small packages. That's exactly what the Audiophile In-Ear Headphones prove.  For anyone looking for an affordable set of noise reducing headphones that still provide a clear, natural sound these are a great option to consider.
These in-ear headphones feature an avant-garde, stylish appearance and come in hip color combinations such as black and red, and black and gold. They have a simple, smooth curve and an overall modern shape, with the earbuds fitting securely and tightly to provide a world-class listening experience.
Their 120° oblique in-ear shapes and high-flexibility, medical-grade silicone provide some of the best noise isolation available in this style of headphone. To ensure the perfect fit for your unique ears, you'll receive 6 sets of exchangeable earbud tips to find the proper size for you. Without having to worry about the earbuds falling out, you'll be free to enjoy your music and take your calls freely.
These headphones utilize powerful dual dynamic drivers to pump out the deepest bass lines, soaring trebles and pumping mids. Their technology enhances the superb sound with high definition and exclusive triband tuning technology, which suppresses high-frequency glitches and droning background noises. You can easily adjust the volume with the audio cable, as well as a variety of other features such as skipping or pausing songs, or declining calls if you can't take one.
Pros:
+ Medical-grade, flexible earbud tips
+ Outstanding noise isolating performance
+ Quickly control of multi-functions at your fingertips
+ Stylish color combinations and sleek shape
Why We Liked It - Smoothly and seamlessly switch between music and phone calls so you can work hands-free and on the go. These headphones are designed for a wide variety of devices including Apple and Android products.
7. TREBLAB XR500 Bluetooth Sound Cancelling Earbuds
These passive noise canceling headphones come with unique expandable foam ear-tips that block all outside noise and let you focus on exactly and exclusively on what you're doing. The noise isolating feature will also save your eardrums as you'll be able to hear all the smallest details of your music without blasting the volume on your wireless earphones. Your fellow commuters will thank you as well, since there won't be any blaring needed to hear your music, making these a top choice for city commuters.
These wireless, Bluetooth in-ear headphones are also one of the very best sports options. They utilize Bluetooth 4.1 CSR technology with cutting edge components to produce rich, CD-like sound quality. Enjoy stunningly crisp treble and strong bass in the gym or on the go and feel the added motivation and reap improved results. Similar to other sports options on this list, these also feature a secure ear-hook design, as well as sweat-proof and waterproof coating so you can really get your workout to the next level.
If you're looking for the perfect pair for hitting the gym or running around the track, these will be one of your best bets. Feel the burn and take your workouts to the next level, without worry of getting tangled in any wires or your earbuds falling out just as you're picking up the pace.
Looking for a set of studio quality headphones? Read our review here.
Isn't it so irritating when your connection breaks in the middle of the perfect breakdown, or right as you're hitting your stride to the beat, or just talking on the phone? With the TREBLAB XR500, you don't have to worry about having a strong and consistent connection to your smartphone, tablet, TV, or computer. Pair wireless earbuds to an iPhone, Ipad or Android device easily in literally 5 seconds.
Pros:
+ Extra quick pairing, multi-device connectivity, automatic reconnection
+ Wireless design featuring Bluetooth
+ 9 straight hours without a recharge
+ Amazing sound quality and noise isolating capabilities
Why We Liked It - Finally, keep on running with music or talking on the phone without a recharge for up to 9 hours straight!
8. Audio-Technica ATH-ANC23
ATH-ANC23 QuietPoint Active Noise-Cancelling (ANC) in-ear Headphones reduce distracting background noise by up to 90% while offering the superior sound quality. The ANC technology creates a noise-cancelling wave that is 180 out of phase with ambient noise-waves, which acts virtually like a noise eraser. Loud daily commute? No worries here.
Talkative chatty co-workers taking your attention away from the job at hand? Or worse, spilling the details on last night's new release? Not anymore. The use of the noise-cancelling waves produces one of the highest quality noise canceling experiences and is why Audio-Technica is one of the world-leaders in the area of professional audio equipment.
If you find yourself traveling frequently, or working in areas with high ambient noise, these noise canceling earbuds are a perfect solution for your needs. They are engineered to create a comfortable and quiet listening environment, no matter what noises are going on around you. You'll no longer find yourself distracted and cranking up the volume on your own device. Instead, you'll be listening to your music as close as it can be to its original recording.
One of the unique features of these headphones is that the noise canceling unit is actually attached to the headphones themselves. This puts you in control of when you need to activate the ANC technology, and when you don't need it on. Talk about versatility! This is a huge benefit since not all situations will lend themselves to canceling out all noise, but you still want to use your headphones. With this pair, you don't have to choose between something to block out the noise and something for everyday wear - use the ANC when you need it.
Pros:
+ ANC technology with a microphone in earpiece
+ QuietPoint switch to control ANC pick up
+ Includes airline plug adapter, carry bag, and ear tip options
Why We Liked It - They also come with a sleek carry bag and several ear tip options to make sure you have the best fit to block out outside noise.
9. Panasonic Noise Cancelling In-Ear Ear-Bud Headphones
Looking for something stylish and professional? The Panasonic noise canceling in-ear headphones are an excellent choice for anyone needing something that looks as good as they perform. These are a super sleek set of in-ear, noise canceling earbud headphones. They feature a slender, pen-style design that clips easily to clothing and lets you quickly control volume or turn on noise cancellation all with a single touch.
This provides a professional, yet ultra convenient, look and performance. For busy professionals who are on the go, who need to look sharp and have clear audio access, these headphones are an excellent option at a price point that is under $100 and tough to beat.
When you're a hard-working professional, you can't be missing out on any of the critical details of important client calls and business meetings. With this noise canceling headphone option, no matter where you are or what's going on around you, whether it's a busy office, a crowded train, or a packed park during your lunch hour, the advanced noise cancelling technology cuts through 92% of ambient noise. This gives you clear, focused, and precise sound so you can stay on topic and exactly on point. The smart sensor technology detects and counteracts ambient noise for a clearer, more serene listening experience.
Pros:
+ Slender noise cancelling headphones clip easily to clothing.Includes travel pouch and S/M/L earpads for a perfect fit
+ Pen-style design is ideal for on-the-go use with smartphone or tablet
+ Advanced noise cancelling technology cuts ambient noise by 92%
+ Get up to 40 hours operation with one AAA alkaline battery
Why We Liked It - You'll no doubt enjoy high-quality sound without any distracting disturbance from the outside world with Panasonic's RP-HC56-K Noise-Cancelling Headphones.
10. Bose QuietComfort 20 Acoustic Noise Cancelling Headphones
No top 10 list for headphones would be complete with a Bose option. One of the most well-known brands available in the audio space, you just cannot go wrong with one of their products. The QuietComfort 20 Acoustic Noise Cancelling Headphones are the first from Bose.
These are a premium product and they do not disappoint in what they deliver. You can shut out the world and lose yourself in your music, or let the world in. It's completely up to you. They're specifically designed for the Samsung Galaxy and other select Samsung and Android devices. With the simple touch of a button, it's up to you when you activate the Acoustic Noise Cancelling technology.
This lets you enjoy better sound every day, everywhere your path takes you. When you want to, just turn on the noise canceling features to reduce any surrounding distractions and focus on your music.
When you need to, use the Aware mode button to hear what's happening around you, while still having exceptional sound quality. The proprietary StayHear+ tips provide a soft, secure fit, providing maximum comfort for all your activities. The inline microphone and remote let you switch easily between calls and music on your Samsung Galaxy and select Android smartphones. Some phones may require you to hold the answer/end button for a few seconds to perform these functions, but that is not the case with the Bose.
Pros:
+ Bose noise canceling technology reduces noise so you can focus on your music
+ Aware mode lets you hear what's around you at the press of a button
+ Deep, clear sound from Active EQ and TriPort technology
+ Control your music and calls on Samsung devices with inline mic/remote
+ StayHear+ tips provide a comfortable, secure fit for hours and hours
Why We Liked It - With Bose, it pretty much goes without saying you're going to have one of the best sound experiences you can have. The exclusive TriPort technology and Active EQ help deliver lifelike, digital-quality audio. Rich bass, crisp treble, and an overall robust music listening experience are everything you'll experience with this high-quality set of noise-canceling earbuds.
Tips - Many earbuds are unnecessarily uncomfortable due to the tips being a poor fit for your ears. Everyone's fit is slightly different and earbuds sit in everyone's ear in a slightly different place, so a comfortable silicone tip for your earbud should be a necessity if comfort is a priority for you.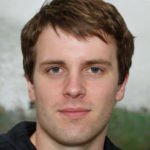 Noise Canceling Earbuds Buyers Guide
Music Critic's Top Pick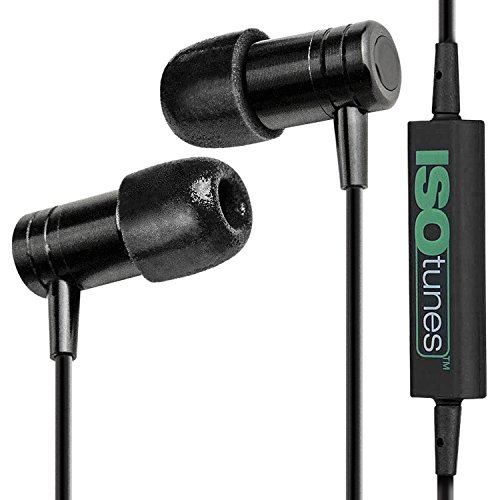 Our best, overall top overall pick is the ISOtunes Noise Isolating Bluetooth Earbuds. They provide a stellar combination of design, performance, sound quality, and price. For all of what these in-ear Bluetooth earbuds provide, at their listed price point, is simply phenomenal. We selected them for best overall use because of the wide range of activities they can be used for.
From sports to relaxation, to workplace use (they're 100% OSHA compliant for use in the workplace,) these headphones are a great option for a wide number of people, and anyone who finds themselves engaging in a number of activities in their day to day life. You'll love the tight fit that these provide, leading to an overall reduced noise environment.  We also loved the fact that they're the world's first proven noise isolating Bluetooth earbuds, which means they deliver on what they claim when it comes to reducing background noise. They've been industrial lab tested and ANSI certified with a Noise Reduction Rating of 26 dB.
ISOtunes are Bluetooth equipped, so no worry about tangling up in wires or pulling out your audio cable while engaged in your favorite activities. The bottom line is that these hearing protection headphones provide passive noise cancellation for use in loud, noisy environments and are a fantastic option for their overall combination of benefits and features.
Premium Choice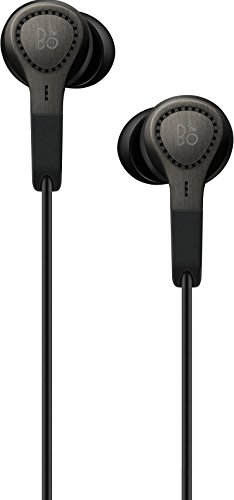 If you're able to splurge, then you will not be disappointed with the B&O Play. You'll absolutely be receiving your money's worth with this option as they deliver wonderful, rich acoustics that is second to none due to the Bang and Olufsen signature sound. They offer a premium experience in both design and performance.
They are crafted from a lightweight aluminum and are scratch resistant and highly portable. They are also available in a number of elegant colors, so there are options for all tastes. These noise cancelling headphones deliver a dynamic, full tone and sound by integrating a custom-designed 10.8 mm driver.
They'll provide up to 20 hours of uninterrupted sound experience, which means you can focus on the task at hand, not on whether or not your charge is about to expire. They don't sacrifice size for performance at all, and even though they are lightweight, the provide a heavy dose of high-quality listening experience. If you're looking for an exceptional product, you will not be let down by the overall craftsmanship and functionality that these top of the line noise canceling earbuds provide.
Great Value
The SimpTech Sports Headphones are an outstanding set of earbuds at a very affordable price. They provide an exceptional value for the price and are a solid choice if you're not ready to splurge on the above two options.
Don't be fooled by the cost, however, as there is no sacrifice in performance at this price point. The sound quality is smooth, robust, and powerful. These noise isolating earbuds fit snugly into the ear and provide a tight seal, which is key, to reduce noise from the outside coming in. They're sweat-proof and are a wonderful option for running, walking, hiking, and any other high energy activity.
Working out without music can be like torture, and with these earbuds, you never have to worry about staying focused. Listen to your favorite tunes to pump you up, help you relax, or unwind after a long day. These earbuds are designed for endurance and built with a tensile twisted cord, so they'll last you quite a while as well - providing, even more, value as time goes one. It's so disappointing when a pair of earbuds break or rip, and with this design, you don't have to worry about wearing them out.
So there you have it - the list of the top 10 best noise canceling earbuds. There are options for everyone on this list, but you really can't go wrong with any of these choices. It's all about preference and there's something for everyone on here.
Whether you decide to go with the premium option, or something more practical, all these headphones deliver big on reducing and/or blocking out background noises completely. There is a mix of noise isolating earbuds, for those that don't need to completely block out sounds but still want to reduce background noise, as well as noise canceling earbuds for those times when you need to block out anything from the outside.
Noise canceling earbuds can be a true lifesaver to commuters and frequent flyers, who rely on those periods of time to rest or to prep for the day ahead. Listen to music to get you pumped or take in a podcast or audiobook while you travel from point A to B.
After all, we often feel like we have less time in the day, so why not put your commute to good use? Each set of headphones on this list provides a superior sound experience, and don't sacrifice on performance. You'll hear your music exactly as it was designed to be heard: crisp, clear, with feeling - deep bass headphone tones that move your bones and get you pumped for whatever lies ahead for you. For more reviews of the top headphones, click here.
If you liked this review, please leave a positive rating:
[vc_separator