For most of us active people, listening to music when working out is an absolute must. The right kind of music is usually enough motivation to get you moving.
The best sports earbuds will be good for a wide variety of activities. Whether you're running, kayaking, working out at the gym, or doing yoga, you'll want a pair of earbuds that'll not only stay in place, but also give you the kind of sound you want.
Different earbuds will be better for different sports. To help you decipher which way you should go, we're going to outline the 9 best sports earbuds in 2023.
At a glance:

Our top 3 picks
Our team's top 3 recommendations
Best Overall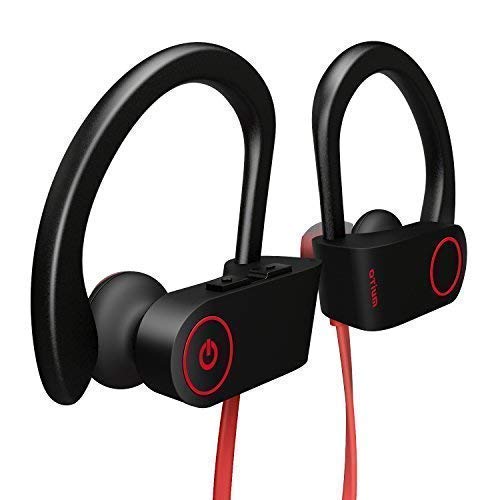 Otium Bluetooth Headphones

Waterproof
Ear-clip
Superb sound quality
Strong Bluetooth signal
Premium Quality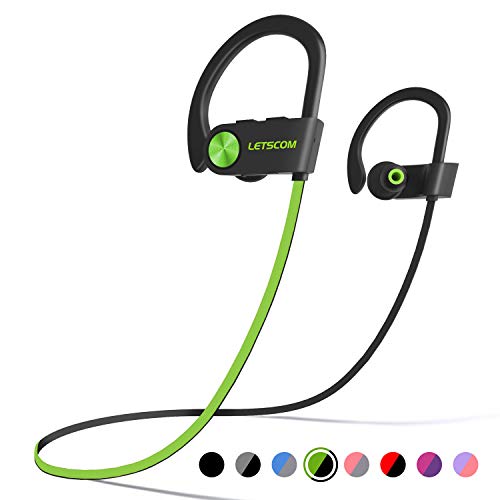 LETSCOM Bluetooth Headphones

Waterproof
Ear-clip
Superb sound quality
Strong Bluetooth signal
Great value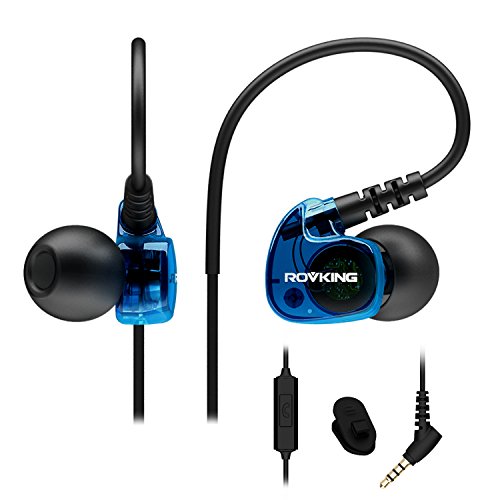 ROVKING Wired Sweatproof

Waterproof
Ear-clip
Superb sound quality
Strong Bluetooth signal
View The Best Sports Earbuds Below
1. Otium Bluetooth Headphones
Otium Bluetooth headphones are well designed for all kinds of sports. They have noise-canceling technology which will help you immerse in your activity but are possibly not the best for running if you live in a busy city. They have an ear clip that will force them to stay where you want them to. No more falling out and readjusting all the time.
An IPX7 waterproof rating is pretty impressive and should allow you to get a sufficient amount of sweat on the headphones without causing them damage. That can also make them suitable for watersports where you are not submerging.
Bluetooth v4 and 1+EDR technology give these headphones amazing sound quality with heavy bass and clear highs. The battery is designed to last up to 8 hours and it charges pretty quickly as well. With a built-in microphone on the cable, you can take calls or give voice commands, and easily switch songs and change the volume without pulling out your phone.
Pros:
+ Waterproof
+ Ear-clip
+ Superb sound quality
+ Strong Bluetooth signal
Why We Liked It - A good all-around pair of workout headphones which stay in place. The sound quality is good and they don't move around too much on your ears. Just be careful when you're in the city because the noise-canceling technology keeps you fully immersed.
2. LETSCOM Bluetooth Headphones
High fidelity sound is the main focus with the LETSCOM headphones. An 11mm vibrating diaphragm and a CSR chip contribute to the stellar sound that the speakers emit. CVC noise-cancellation pulls you right into the moment and doesn't allow outside distractions to take away your motivation when working out.
An internal nano-coating and an IPX7 waterproof rating will protect the headphones from light rain and excessive sweat. They can not be submerged but will handle basic levels of moisture without quitting. A clear mic with easy-to-use controls on the cable makes calling people and navigating your favorite music a breeze.
The headphones have a strong Bluetooth signal and a good battery life. With 2-hours of charge, you will get 8 hours of talk and listening time before you have to recharge. An ear clip will keep them securely on your ears and behind the neck, cable design helps you keep dangling wires from getting caught on anything.
Pros:
+ IPX7 waterproof
+ Strong Bluetooth signal
+ Lightweight ergonomic design
+ High-fidelity sound
+ Clear mic transmission
Why We Liked It - The sound on the LETSCOM headphones is great. Noise-cancellation technology lets you stay focused on the task at hand. They stay where you want them to and can handle a good amount of moisture.
3. ROVKING Wired Sweatproof
An over-ear design on the ROVKING headphones allows them to stay right on top of your ears securely. The speaker reaches deep into the ear canal so you can get some really clear sound coming through without turning them up too loud.
They are also sweatproof so you don't have to worry about ruining them by pushing a little bit harder than usual. Since they use a cabled hook-up instead of Bluetooth, the signal is always strong and you don't need to worry about it cutting out. You also don't need to worry about charging the headphones before you use them.
Noise-isolation technology will smother outside sounds while still allowing you to hear a bit of what is going on. This makes the ROVKING headphones a little better for running in a busy area that full-on noise-canceling headphones. They have an armband clip to help them stay in a more convenient place and to cut down on snags where your headphones would get pulled out of your ears.
Pros:
+ Lightweight and comfortable
+ Stay in place well
+ Good sound
+ Included armband
+ Noise-isolating
Why We Liked It - In terms of workout headphones, these are as good as any other. They are affordable and good for the gym. They are good at staying right where you want them to without moving around too much. If comfort and convenience is your main concern, then ROVKING could solve those issues.
MPOW Flame Bluetooth headphones have been outfitted with the technology to offer high-quality deep bass and clear sound on a comfortable and ergonomic shell. They have soft earbuds and a comfortable clip which keeps them securely on your ears when you're in motion. The richer bass sound gets the beats pumping and can add a lot to your workout. A strong Bluetooth signal will ensure that you don't lose connection when you are in the middle of your sets.
A nano-coating along with an IPX7 waterproof rating makes them suitable for strenuous sports where you are sweating a lot. With a quick charge of 10 minutes, the headphones will last an hour, and with a 2-hour charge, they will stay alive for 7-9 hours depending on volume level. All around, they are quite good and will give you the reliable high-quality sound you want in a pair of Bluetooth sports earbuds.
Pros:
+ Ergonomic comfortable design
+ High-quality sound
+ IPX7 waterproof
+ Lightweight
+ Good battery life
Why We Liked It - Overall, these sports earbuds are great. They stay in place, are comfortable, offer excellent sound, and are durable. They do not have too much to mention in the drawbacks category.
5. TREBLAB XR500 Bluetooth
The TREBLAB headphones are great in the gym. They fit well on the ears and help to block out unwanted noise from your environment. The sound is well rounded and offers good bass and treble. They are comparable in sound quality to headphones that are in a slightly higher price category.
They stay in place pretty well so you don't need to spend a ton of time adjusting them when you're in high mobility mode. They have a pretty good battery life, and the sweat protection gives you a little bit of added peace of mind. The Bluetooth signal is strong and doesn't cut out, unlike many other Bluetooth headphones.
They are comfortable and have foam tips to cut down on any discomfort or moving around in your ears. With the ear clip on the headphones, they will stay secure so you can keep on moving.
Pros:
+ Sweatproof
+ Lightweight and comfortable
+ Great sound
+ Durable
+ Good battery life
Why We Liked It - For the gym, these headphones are everything you need them to be They are comfortable, give good sound, and stay in place. They are affordable as well when compared to other headphones in the same quality range.
6. Pasonomi Bluetooth Earbuds Wireless
If you're looking for a really small, compact pair of sports earbuds, then the Panasomi Bluetooth wireless headphones may be what you are looking for. They come in a small carrying case which also acts as a battery charger while you're on your way to the gym.
Bluetooth 5.0 technology ensures one of the strongest signals you will find on a pair of wireless headphones. On top of that, the sound quality is fantastic with smooth deep bass and clear treble.
They pair to your phone quickly and easily by simply pulling them out of the case. They automatically sync to your pre-paired devices so you don't always have to pair them. The battery life is only about 3-4 hours with 60 hours of standby time.
This isn't the biggest deal since you are usually just putting them back in the charging case when you're not using them. They have an IPX7 waterproof rating to protect them from sweat and moisture as well.
Pros:
+ IPX7 waterproof
+ Compact size
+ Lightweight and comfortable
+ Come with charging case
+ Fast pairing
Why We Liked It - These headphones are super compact and comfortable. They sit in your ears with no wires to pull them out. They also have one of the strongest Bluetooth signals you will find on a pair of earbuds.
Using the natural acoustic sounds produced by real wood, the Symphonized NGR 3.0 headphones offer a well-tuned sound quality that gives you a pleasing and natural sound. Custom silicone in-ear tips help the headphones to sit comfortably in the canal and provide the level of comfort you want when you're in action.
This also helps to cut down on ambient noise around you so you can fully immerse in your workout. Call functions and voice controls work well on the cables headphones and you can easily maneuver between songs so you can pick the right one for every moment.
6 different color options are available for whatever fits your style, and they are constructed using tough, durable materials to ensure they will last a long time. You don't need to worry about battery life or a Bluetooth signal as the wire will always give you a complete connection so there are no cutouts.
Pros:
+ Wired design
+ Natural wood acoustics
+ Well tuned sound
+ Lightweight and comfortable
+ Durable materials
Why We Liked It - These headphones are unique in design with their wood casings. The sound is quite good and natural and they are comfortable enough to wear in most situations.
8. TREBLAB XR100 Bluetooth
The TREBLAB XR100 Bluetooth headphones are comparable to the XR500's in the sense that they can do pretty much everything that the XR500's can, except they are a little more affordable. They are designed to fasten solidly to your ears and not move around so you can work out without worrying about having them fall out on you.
Expandable foam ear tips give you passive noise-isolation so you can focus on the music instead of the sounds going on around you. They have an IPX4 waterproof rating which is enough to protect the insides from sweat and light moisture. The sound is well rounded with deep bass and clear highs.
The battery will last eight hours after a short charge and the Bluetooth connection is quite strong. They have been designed to fit ergonomically and are hardly noticeable on your ears so you can wear them for extended periods without getting uncomfortable or tired of them.
Pros:
+ Stay where you want them
+ Good sound
+ Long battery life
+ Quick pairing
+ Comfortable
Why We Liked It - These headphones are a comfortable and reliable pair that are quite affordable. The main focus of them is to stay in pace with the ear hooks and tips, but they provide a good quality of sound at the same time.
9. TREBLAB XR800 - Premium
The TREBLAB XR800's are the deluxe version of the previous TREBLAB headphones featured. They are like the big brother that come packed with impressive features. They are still pretty affordable for headphones that are at this level of quality. The sound is true HD quality and the Bluetooth signal is extremely strong and reliable.
Passive noise-cancellation with the design of the headphones allows you to focus fully on your workout and not the other people grunting. The expandable memory foam tips help these headphones to seal tightly to your ears and give you a comfortable fit.
They are water-resistant and sweatproof and have a 9-hour battery life with a quick charge of fewer than 2 hours. A carrying case makes them all the more convenient as you don't have to worry about damaging them in your bag or your pocket when you're on your way to your workout.
Pros:
+ comfortable
+ Excellent sound
+ Lightweight
+ Durable
+ Attractive design
Why We Liked It - These are probably the highest quality headphones on our list the sound quality, Bluetooth signal, and comfort is unparalleled. They match up against other headphones that are even more expensive.
Sports Earbuds Buyers Guide
What to look for in the Best Sports Earbuds
Buying online can be a little trickier than buying in person when you can't test things out. So, to help you find the right earbuds for you, we are going to break down the factors that you should pay attention to when you're picking out your sports earbuds.
Wired or Unwired?
With wired headphones, you don't have to worry about battery life. Also, the connection will always be perfect as long as there are no wiring issues. This can result in better sound quality and overall more reliability in a pair of earbuds. However, you do have to deal with a wire hanging from your ears.
If instead, you decide to go with a set of wireless earbuds, you gain the convenience of having them totally wire-free, but they will not have the rock-solid reliability of wired headphones.
The nice thing about modern technology in headphones is that wireless headphones generally have no issues as far as connectivity goes. If you buy a pair of headphones that don't connect properly, it is likely a manufacturer's defect. So you can pretty much choose based on whatever your preference is.
Sound
Many things are going to affect the sound coming out of your headphones. The quality of the hardware, the components, the way they fit, the Bluetooth signal, and more. The most important thing to pay attention to is the quality of the sound components.
The best earbuds will have neodymium drivers and CSR chips. CSR chips were created as a low-cost version of high-quality sound so you can get the best possible audio while still being able to afford the headphones.
The way that the headphones fit will be a contributing factor because if they can seal within your ears tightly, then you won't have a lot of outside noise and the music can get straight into your ears.
You want to have good sound quality because the level of bass and the clarity of trebles will allow you to hear things the way they were intended to. With resounding bass, you can get into the music and focus on pushing yourself and get into the flow state so you can enjoy the workout fully.
Durability
Your headphones need to be durable enough to handle the activities you're going to be doing. Whether it's running, biking, hiking, kayaking, yoga, or any high-intensity activity, your headphones will need to be built of strong enough materials to handle the pressure.
If you are going to be sweating a lot, then consider getting headphones that have at least an IPX4 waterproof rating. This will make sure that they can handle the moisture that is coming their way.
If your headphones are cheaply made then when you snag the cable, or if they are dropped, they are not going to last a long time. Especially when you're working out, you need to have a little bit of added durability so they don't stop working whenever something happens.
Comfort
Comfort is what is going to give you the ability to wear your headphones for hours on wend without taking them out of your ears. Memory foam tips and ear clips help you feel more comfortable when you are wearing your earbuds.
Memory foam is one of the most comfortable types of padding for the inside of your ears as it allows the headphones to fully conform to the shape of your ear canal. Also, silicone tips can work well.
They tend to be a little bit more slippery though, so ensure if you're going with silicone that they have the ear clips to keep them in place. If you get a pair of headphones with multiple sized tips, you can pick and choose which ones are most comfortable for you as not all people's ears are the same.
Battery Life
Battery life is slightly less important unless you're planning to be using your headphones for more than just sports. If you are primarily using your headphones for working out, then it is easy enough to charge them up and use them whenever you know you are going to work out.
If however, you are looking for a pair of headphones that you can listen to for extended periods day after day, you may benefit from having a pair of wired headphones instead of wireless so you don't have to worry about the earbuds dying.
Bluetooth Signal
Ensure that your Bluetooth signal is at least 4.0 or higher. The best Bluetooth signals will be 5.0 or higher, but it also comes with an added cost. Bluetooth 4.0 is still fairly impressive and strong so you can enjoy a good enough signal without paying the extra money that a higher-end version requires. However, if you're looking for the cream of the crop, then paying the extra money could be worth it for you in the long run.
Conclusion
We hope the information provided will give you the confidence you need to pick out the best sports earbuds for you. We love to listen to music in the most immersive way possible during a workout as well. You can't go wrong with any of our 10 best earbuds in 2023.
If you've enjoyed this review by Music Critic, please leave a positive rating:
[vc_separator