In this article, we are going to be having a good nose at one of the most often overlooked essentials in the music industry as we review the 10 best earplugs for musicians in 2023.
Crucial for preventing long-term damage to your hearing, and sometimes the subject of scorn among the naive, a decent set of earplugs can be the difference between practicing your art as a musician for the rest of your life and spending long sleepless nights just wishing the tinnitus would give it a rest.
Any seasoned musician will probably respect their importance readily, and for those of you not as convinced, it could be that you need to try a high fidelity attenuated set to see the merits outweigh the disadvantages. So listen closely as we take you through our top ten choices in no particular order.
At a glance:

Our top 3 picks
Our team's top 3 recommendations
Best Overall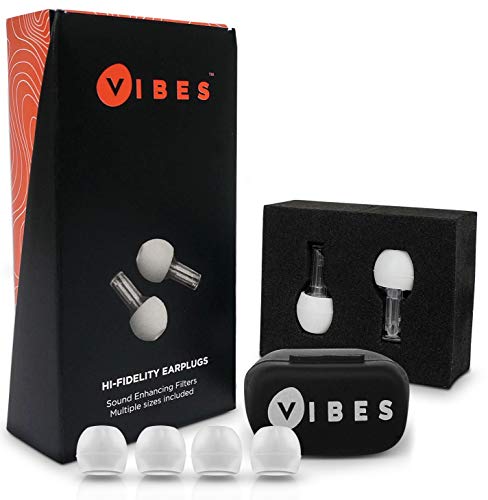 Vibes High Fidelity Concert Earplug

High fidelity filtering.
Different sized tips.
Discreet.
Premium Quality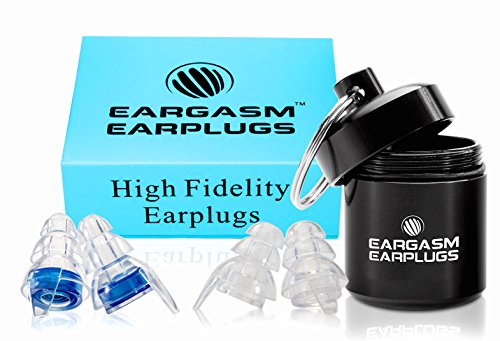 Eargasm High Fidelity Earplug

High fidelity filtering.
Different sized tips.
Discreet.
Great value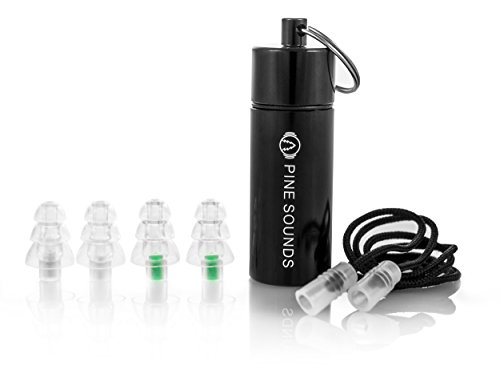 Reverbs High Fidelity Ear Plugs

High fidelity filtering.
Different sized tips.
Discreet.
View The Best Earplugs For Musicians Below
1. Vibes High Fidelity Concert Earplug
First up we have a great acoustic filtering set of earplugs which provide a high fidelity solution, ideal for musicians who can't afford to miss out on the musical cues.
They very effectively lower the volume by up to 22 decibels without sacrificing the overall sound as they reduce noise, rather than blocking the sound entirely.
They are exceptionally comfortable and formed from hypoallergenic materials. They come with 3 different sized tips to choose from.
The tips rest perfectly in place within the canal, the outer tubular handles are transparent and low profile. Having them clear makes them much more discreet to wear than other products on the market.
Pros:
+ High fidelity filtering.
+ Different sized tips.
+ Discreet.
Why We Liked It - They are a great solution, they are comfortable to wear, they utilize a patented filtering mechanism hidden within which still allows for immersive sound.
Ear Protection - Think of protecting your ears as a long term investment. You should be wearing ear protection every time you're on stage or in proximity to speaker systems as a rule of thumb. This way, your hearing will last for longer, and will be more precise when it truly counts. Ear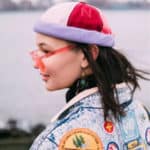 2. Eargasm High Fidelity Earplug
Another high fidelity solution which reduces noise proportionally by up to 21 decibels is this Eargasm set. They are made with a soft clear silicone exterior which is almost invisible when placed within the ear. They come with a choice of 2 sizes to pick the best fit for your ears.
Harbored within the silicone confines is a smart attenuation filter which works to limit the levels of what comes through, this means you will never miss a beat.
They feature a waterproofed rubber seal which keeps them protected from moisture and giving them added durability.
The silicone is non-toxic, sufficiently flexible for a better fit, hypoallergenic and sweat proof.
Pros:
+ Competitively priced.
+ High fidelity.
+ Attenuation filter.
Why We Liked It - They are another professional option which attenuates the filtering to the level, and frequencies within your environment.
3. Reverbs High Fidelity Ear Plugs
An equally impressive choice would be these reusable high fidelity Reverb model plugs from Pine Sounds, which boast a range of modern applications.
They also provide premium level hearing protection and once again contain a proprietary precision filter which reduces background noise, eliminating the possibility of dangerous levels entirely all the while preserving vocal and audio clarity.
They sell as a duo of protection, one pair a little less regimented than the other to provide 2 different levels of protection.
The green filter set has an average noise cancellation of around 20 decibels but listening to those in close proximity is uninhibited. The other set with the white filter set provides a reduction of up to 28 making it an ideal option for loud live concerts and people who play heavier instruments such as drums.
Both sets are formed from hypoallergenic high-grade natural silicone like the others we have reviewed.
Pros:
+ 2 sets with different dB reduction.
+ Hypoallergenic comfort tips.
+ Premium level protection.
Why We Liked It - We like that the company provides two solutions in one box, one more casual and one a bit more heavy duty.
Ear Plug Uses - Ear plugs aren't just for jamming out. These earplugs will also work well if you're using them to sleep, or keep out noise while on a long flight. However, note that foam earplugs have a fairly short life cycle, so you'll want to toss them out after an intense show or whenever they are showing signs of wear.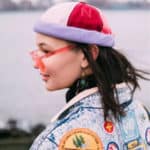 4. HEAROS High Fidelity Musician Ear Plugs
An alternative brand to consider is HEAROS they make awesome high fidelity ear plugs that function via a triple flange design that safely filters out around 12 decibels making them a good choice for concert goers and the average sensible audience member.
They deliver clever, flat-attenuation so listeners can still here every detail without being subjected to harmful volume levels.
They are constructed to a high degree of quality out of top-grade silicone they are reusable and sit comfortably inside the ear canal.
They are once again transparent making them less obvious to those around you, and they come with a travel carry case for storage purposes.
Pros:
+ Top grade silicone.
+ Well manufactured.
+ Flat attenuation.
+ 12 decibel reduction.
Why We Liked It - They are another great pair which offer a lower decibel reduction better for smaller events.
5. Eargasm Smaller Ears Earplugs
We won't go into too much detail here, as this set are pretty self explanatory. They offer up the same great level of protection and are made with skin-friendly silicone, like the other Eargasm model we looked at but are, as the name suggests, intended for smaller ears.
The design has been streamlined ergonomically to be suitable for littler ear canals, and are designed to slip inside without causing any discomfort to the user.
They feature the companies innovative attenuation technique and are inconspicuous. The plush silicone is comfortable and the come with 2 different sized 'Smaller' tips, the smallest of which is suitable for some younger users.
Pros:
+ Top-quality silicone.
+ Innovative attenuation tech.
+ Suitable for smaller ears.
Why We Liked It - They are a thoughtful set, as many live music lovers go to their first concerts at younger ages these days.
6. Etymotic High Fidelity Earplugs
One of the problems with the transparent sets is they are tough to locate if you put them down, this pair from Etymotic solve the issue with blue triple flange ear tips. Their noise attenuation filter and rim are still completely see-through so they are imperceptible when worn but easy to spot when not.
They are once again high-grade softened silicone, ergonomically shaped and comfy. They come with a carry case and an optional neck cord to keep them about your person if you so wish.
They replicate the manner your ears hear naturally just at a greater distance which helps them reduce decibel levels by up to 20 decibels if worn correctly.
Pros:
+ Visible tips.
+ 20 decibel reduction.
+ Softened silicone.
Why We Liked It - They attenuate very well the diminishing tunnel chambers withing make the sound travel further and safely reduce volume whilst keeping audio high fidelity.
7. Rave High Fidelity Ear Plugs: HiFi
Another versatile set to consider is this duo pack from Rave, which provide two alternate sets each with a different decibel reduction level.
They are a silicone based construction which attenuates well. They feature color-coded tips one short-stemmed one long, the coloring keeps them visible if they are placed down somewhere as well as helping you discern which set is which.
The filters are interchangeable so can be mix and match with your preferred tip style. The clear filter reduces by 19 dB, and the white filter by 25 dB, they are soundly fabricated and come with a small storage pouch.
Pros:
+ 2 different decibel filters.
+ 2 different stem sizes.
+ Harder to misplace.
Why We Liked It - They are an ideal option if you are looking for some versatility, top choice if you both play and attend live gigs.
8. LiveMus!c HearSafe Ear Plugs
Another superb offering is this double-bubble product from LiveMus!c, which again serves up a choice of decibel reduction. They are a little higher level than the previous set with the stronger attenuating white filter capable of shaving off up to 29 decibels.
The green filter has a lower noise reduction ratio of around 23 which makes this set one of the safest we have looked at so far and ideal for gigging musicians who are selling out larger venues.
They are made with high-quality silicone, they are once again ergonomically designed allowing for longer periods of use and optimal comfort.
Pros:
+ Heavy duty protection.
+ High fidelity attenuation.
+ Versatile choice.
Why We Liked It - They would be a good choice for drummers who play heavier genres.
9. EarDial Ear Plugs - Invisible Earplugs
This next set of invisible earplugs from EarDial are built extremely well, once again relying on silicons idyllic properties. The are flexible and comfortable to wear for extensive periods.
They are extremely low profile with zero extrusion from the ear itself and this along with their transparency makes them very convincingly concealed.
They come with a compact, capsule-shaped, aluminum clip-on case. They also offer access to a smart iOS App which helps to warn you of dangerous decibel levels in your environment.
Pros:
+ High quality.
+ Completely invisible.
+ Smart app.
Why We Liked It - They are a high quality set which are reasonably priced with a very smart attenuation filter that keep speech clear and sound authentic, the app is also a nice touch.
10. Eargasm Activewear Series Earplugs
We are ending todays reviews with one last set from Eargasms range, this time an active-wear set aimed at dancers who perform at large loud venues, or just party goers who like to really let loose on the dance-floor.
They feature the same innovative attenuation filtering as Eargasms other sets and are made from great quality materials.
The flange on this set is a little more flared to help keep them in place in motion they also come with an optional neck-cord to help keep them about your person should they slip somehow, though if inserted correctly they should not budge.
They come with the tiniest carry capsule of the bunch which is robustly made.
Pros:
+ Innovative attenuation.
+ Soft silicone.
+ Extra flare.
Why We Liked It - They are very well designed to stay put during motion and we like their key-chain case.
Maintenance - With reusable earplugs, you'll want to clean them ever so often to prevent infection. You can use a solution of cold water and hydrogen peroxide to clean off your plugs quickly. If applicable, remove the ear tips themselves instead of the entire ear plug.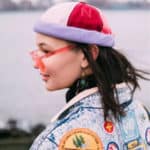 Earplugs For Musicians Buyers Guide
What To Look For When Buying Earplugs For Musicians?
Essentially a range of tip sizes, so you can get a set that fit, is number one, you can get cheap foam sets but these are quite often of a throwaway nature and low fidelity making hearing what you need to hear problematic.
If you are a serious musician you should ideally be looking for a reusable, high-fidelity set, which attenuates well with a certified Noise Reduction Ratio (NRR) most of which will be made from silicone.
If discretion is important to look for a low profile or transparent set.
Are Earplugs Necessary For Musicians?
Yes, for anyone performing live in a larger setting than their bedroom. Only a fool with little to no experience would dare tell you otherwise. The frequencies which the human ear can hear begin to decline at either end of the spectrum from the moment we are born.
Our ears pick up sound waves with sensitive hairs (stereocilia) which are each tuned, if you will, to pick up on different frequency ranges, as we are exposed to frequencies the hairs become degenerated until sadly one day we no longer hear that particular sound ever again.
Overexposure to loud frequencies above 85 dB are harmful and only hurry the process along. Loud volumes such as the levels required for concerts (120 dB) and festivals (125+ dB) can be all the more dangerous spectators and musicians really ought to think about protecting their ears. Being at the front close to large PA rigs with higher sound pressure levels can have devastating long-term effects and the damage is completely irreversible.
If you are lucky enough to be working in the music industry and not suffering from hearing related issues having never worn earplugs then you are extremely lucky, but you may find it hits you like a tonne of bricks later in life.
Best Earplugs For Drummers
For drummers, we suggest something a bit more heavy duty geared towards higher dB reduction. It is also advisable to go for something with an over-ear hook or cord if possible so if they come loose, they can't get too far.
It is actually possible to buy earplugs which actually have an inbuilt metronome to play to.
Conclusion
Many people foolishly ignore the wealth of information readily available regarding hearing protection and it is often ignored despite being taught in educational settings to those studying musical pursuits.
For some, the idea is just too uncool many deem it unnecessary, but for most of those who have lived it, hindsight is a simply a kick in the head.
Professional level earplugs shouldn't block out all sound, they really do work to just lower the overall level they really don't cost too much, especially given that the value of your hearing is priceless. So why not invest in a few sets and see which ones you like.
Expert Tip
Whilst the majority here are reusable, it is important to note that over time the silicone tips will stretch so you will need to by replacement tips every 3-6 months depending on how frequently your gig.
Did you Know
The commonly stated range of human hearing is 20 Hz to 20 kHz. Though some can hear sound as low as 12 Hz or as high as 28 kHz. This range begins to shrink before we are 10 years old.
If you've enjoyed this review by Music Critic, please leave a positive rating:
[vc_separator