Sennheiser HD 650 are around-ear, open-back headphones containing dynamic drivers and aluminum voice coils, which combine to produce studio-quality, natural sound. They have memory foam ear cushions, covered in fuzzy felt.
Sennheiser HD 650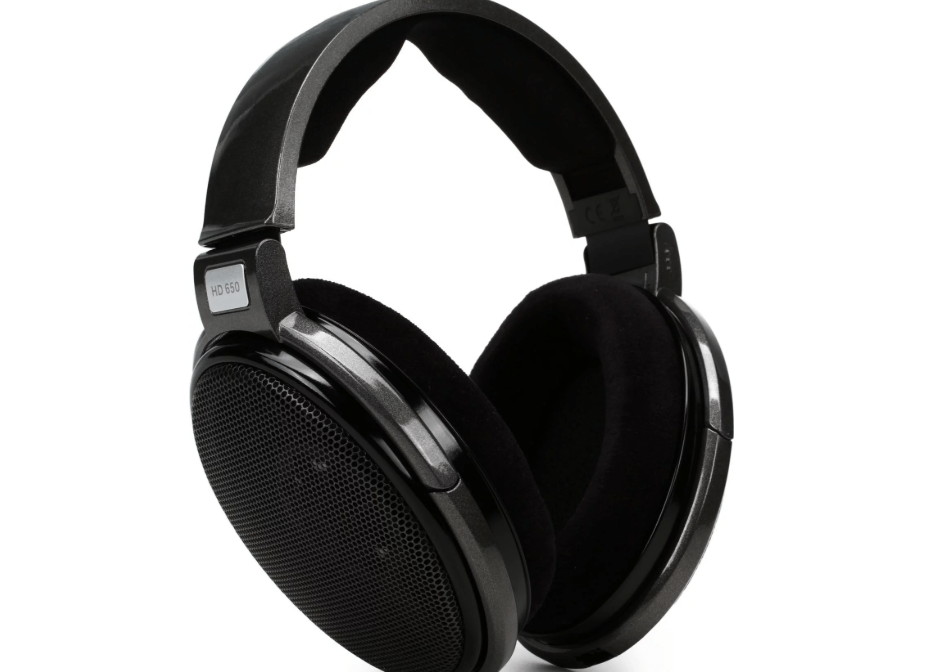 Summary
Sennheiser is part of an elite group of audio equipment manufacturers whose reputation for quality is undeniable. Like Bose, and Bang & Olufsen, Sennheiser's name is synonymous with exceptionalism. It has been this way for the last 75 years since Sennheiser was founded. The Sennheiser HD 650 headphones are an excellent example of why the company is so well-regarded by audiophiles and music enthusiasts around the world.
Sennheiser HD 650 headphones are a new and improved version of the HD 600 Sennheiser headphones, which have won many industry awards for quality. Sennheiser HD 650 offers an improvement on the Sennheiser HD 600 when it comes to audio quality, as well as the comfort that they provide when worn.
Sennheiser HD 650 headphones are made for music. They've been specially engineered to offer a natural sound image, making them an excellent choice for audio engineers, producers, or anyone with a home studio who is looking for top-quality studio monitoring headphones.
This is thanks to the neodymium ferrous magnets and lightweight aluminum voice coils, which combine perfectly to offer an accurate, distortion-free response. You also get a wide 10-39, 500Hz frequency range from these Sennheiser headphones.
These open-back headphones are created to be used by both audiophiles and audio professionals, meaning everything about them is premium quality. The silver titanium finish both enhances the looks of the headphones, as well as contributes to their durability. When it comes to luxury, however, it is the ear cushions where this is most evident.
The earpads are made from exceedingly soft memory foam, covered in a velour-like material that offers supreme comfort for prolonged periods. Not only are the ear cushions comfortable, but they are also breathable, which means they won't contribute to over-heating in the studio - the open-back design instead contributes to how cool they are to wear.
With any pair of audiophile headphones, the most important feature is the audio. The sound offered by the Sennheiser HD 650 is in a league of its own. No matter what genre of music you listen to, you will find that these headphones provide you with the sound quality you want.
Even the subtlest audio will be discernible. The natural sound is balanced, so you will hear each recording exactly as the musicians intended it to be heard. Unlike with cheaper headphones, they haven't been tuned to boost low-end notes, so you won't get a heavy, unnatural sounding bass when listening through them. Overall, Sennheiser HD 650 headphones are versatile, well-rounded, and ideal for music lovers, as well as studio engineers.
Pros
+ They have been tuned to offer natural sound, which is why they are perfect for studio engineers, or audiophiles who want their music to be honestly reproduced, without the artificial boosting of specific tones.
+ They offer supreme comfort. The memory foam ear cushions have been covered in velour, and sit comfortably around your ears.
+ Considering just how good the Sennheiser HD 650 headphones are, the price is very reasonable, as audiophile headphones of the same standard can cost you a lot more.
Cons
- The open-back design is a feature that some headphone wearers won't like, as it allows for sound to bleed in. Then again, all audiophile headphones will feature an open-back design, as it allows for more natural, higher-quality sound. And, as long as you're wearing them in a quiet environment – such as in a recording studio or at home – then you will have no issue of the sound bleeding into them. They're not made to be worn for a daily commute. But they are made to offer incredible sound quality, which is what they deliver.
Why We Like It
Sennheiser HD 650 headphones offer a marked improvement on Sennheiser 600 headphones, which won countless awards for quality. The reason why the Sennheiser HD 650 is an improvement on their predecessor is because of the incredible sound quality and wide frequency response. This is produced from the neodymium ferrous magnet system and the lightweight aluminum voice coils, as well as the uniform acoustic silk damping.
Of course, every component featured in these headphones has been hand-picked by an experienced, innovative design team. Within moments of listening to a song through these headphones, you know you're wearing something special, something that all audiophiles will adore.
If you liked the article, please leave your feedback.