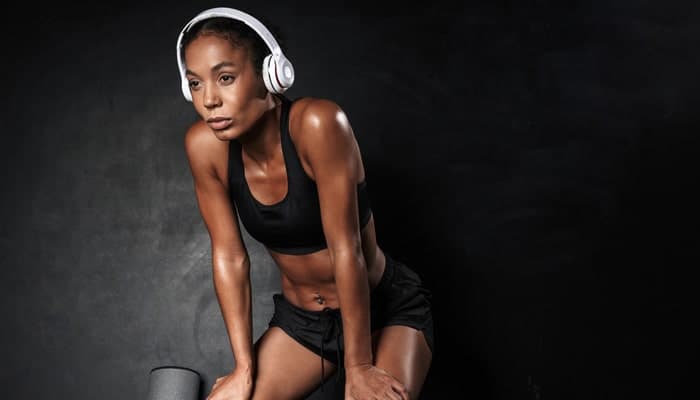 There's nothing better than listening to your favorite tunes when you're working up a sweat at the gym, out on the open road, or even in the swimming pool. You've got to make sure that you've got the best headphones so you get the best quality of sound while your heart is pumping.
Choosing the best set of sports headphones doesn't have to be difficult. You've just got to make sure that they deliver exceptional sound quality and are comfortable. They should also be durable, hard-wearing, and have lots of great features, such as sweat and water resistance. Long battery life and a high-quality, noise-canceling microphone are great features too.
To make sure that you choose the best headphones for sport on the market, then consider this list of the top ten, as well as the buying guide that follows it:
At a glance: Our top 3 picks
Your shortcut to our team's top 3 recommendations
View The Best Bluetooth Fitness Headphones
The Mpow Flame headphones are a superb option for anyone who exercises. They've come with 11mm dynamic drivers inside each bud, and this delivers impressive sound quality that performs especially well at the low end, so if you're a bass-head, then you'll like these a lot. They also offer a substantial amount of playtime; a single charge gives you between seven and nine hours of battery life.
You don't need to worry about sweat causing them to short or stop functioning, as they have an IPX7 waterproof rating. This means you can jog in the rain with them and not worry about the water breaking them. They also include a CVC 6.0 mic, meaning you can make good quality phone calls when you're running in a blustery environment.
Pros:
+ Up to nine hours playtime
+ IPX7 water resistance
+ Noise-canceling microphone
+ Big bass
+ Top sound quality
Why We Liked It - The Mpow Flame is low-priced sports headphones that deliver exceptional sound quality, especially in terms of bass. They have comfortable, soft ear hooks too.
Anker is a fantastic brand. It always delivers outstanding audio equipment at affordable prices. The Anker SoundBuds are a perfect example of this value-for-money. They feature 10mm composite, bio-cellulose, dome drivers that produce well-balanced, excellent sound. But it's bass where they come into their own.
That's because they include BASSUP technology that strengthens the low-end, making the bass 43% bigger than headphones in the same price range. The battery life is impressive, too; you'll get approximately 18 hours from a single charge, as long as the volume is at 80%. But even if you have them turned up louder than that, they'll outlast a marathon run. Anker SoundBuds Curve also includes IPX7 water resistance so that they'll keep working, regardless of sweat or rain.
Pros:
+ IPX7 water resistance
+ 18 hours playtime
+ BASSUP technology
+ Great value for money
+ Secure fit
Why We Liked It - These are a superb choice for anyone who loves bass. Audiophiles will adore the well-balanced sound, as it allows you to hear subtle details in your favorite motivational music.
The SENSO Activbuds S-250 delivers quality across the board, but the best feature is the accurately detailed high-definition sound. Vocals are crisp and clear. They don't just sound good, but they're comfortable to wear too. The secure fit is thanks to an ergonomic design.
The ear tips and the ear hooks are made from soft silicone, which is why the fit is so secure and comfortable. A tangle-resistant cord connects them, and there's a microphone integrated into them too.
You can pair up with your smartphone or music player through Bluetooth 4.1 technology, meaning that the Bluetooth connection will be stable and secure too. The wireless range is a substantial 30ft. You can get up to eight hours of playtime from a single charge - not just that; it only takes 1.5 hours for a full charge.
Pros:
+ Ergonomic fit
+ 8 hours playtime from a single charge
+ Stable connection
+ Soft ear hooks and tips
+ HD sound
Why We Liked It - There's a lot to like about them. The audio quality is hard to beat, and they're comfortable too. An excellent all-round choice.
4. Anker Soundcore Spirit X
This is another superb product from Anker. These headphones deliver a high-octane sound that perfectly complements exercise. Their BASSUP technology creates a pumping bassline to get your heart pounding while you're on the treadmill. The 10mm dynamic drivers also give you excellent audio quality across the whole soundscape.
The battery will last approximately 12 hours from a full charge, which is more than most sportspeople will need. There's the choice of multiple sizes of buds to ensure that you get a secure fit. They are extremely comfortable to wear. The ear hooks are also made from very soft silicone. Another of the many excellent features of this Bluetooth headphone is the SweatGuard technology that ensures they'll function perfectly, even when you sweat onto them.
Pros:
+ SweatGuard technology
+ BASSUP technology
+ Superb audio quality
+ Multiple buds to choose from
+ 12-hour playtime
Why We Liked It - The Anker Soundcore Spirit X ticks a lot of boxes. Of all the amazing features they provide, it's the high-octane sound that makes them such a great choice. They're perfect for anyone looking for music to get them going when working up a sweat.
These headphones by Phaiser offer a perfect combination of durability and lightness, meaning they can be worn for sport without any fear of them breaking or causing obstruction to your freedom of movement. The audio quality is excellent, too. That's because the Phaiser BHS-530s have been tuned by Swiss audio engineers to deliver extreme accuracy.
In fact, the sound quality is comparable with that offered by Bose SoundSport wireless headphones. They have memory-foam tips too that adapt to your ear shape, allowing for a secure, comfortable fit that will also help to block out unwanted ambient sound.
Pros:
+ High-quality audio quality
+ Secure, comfy fit
+ Bluetooth 4.2 technology
+ Liquipel Watersafe Technology
+ 11 hours of battery life
Why We Liked It - The audio quality is the best feature of the Phaiser BHS-530s. It's easy to see that they've been tuned by professional Swiss audio engineers, as the amount of detail is breathtaking.
These wireless earphones from Otium are an excellent budget option. Despite the low price, they have all the superb features that you'd hope for. The memory foam buds will not only adapt to your ear canal but also create a tight seal, meaning noise will find it harder to get through the sound.
That means you can focus on the top-grade audio quality. You only need to charge them for a short amount of time to get the eight hours of battery life. They offer a substantial wireless range of 30ft when connected via the Bluetooth 4.1 technology. There's also a noise-canceling microphone integrated into them for high-quality phone calls while you're exercising.
Pros:
+ Memory foam buds
+ Comfortable fit
+ 30ft wireless range
+ 8 hours battery life
+ Excellent sound
Why We Liked It - Otium offers a huge amount of quality for a relatively low price tag, making them a safe investment for anyone who wants to grab a bargain.
There's no need to worry about poor audio quality with these LETSCOM Bluetooth headphones. They have 11mm vibrating diaphragms inside them, which is the key to the well-balanced sound that performs very well on the low-end. They've also received a nano-coating, which means that they give you IPX7 water resistance.
There's no need to worry about a particularly sweaty workout causing them to short. You can also make phone calls without noise intruding ruining the quality of the calls, as they also have a CVC 6.0 mic inside them. The gel ear tips provide comfort and also give you a secure, safe fit. You can wear them for running without any fear of them falling out.
Pros:
+ IPX7 waterproof
+ Noise-canceling microphone
+ Secure, comfy fit
+ Superb audio quality
+ Long playtime
Why We Liked It - There's a lot of positives for these sports headphones, but it's the effective CVC microphone that's one of their best features, as it allows you to make clear phone calls without any background noise, even if you're somewhere loud.
If you like the idea of true wireless earbuds, then the POP-BTIP7X is a good choice for you. They don't have the huge price tag of Jaybird x4 earphones or Beats PowerBeats Pro, but they do offer you the sensational audio quality that rivals these much more expensive options.
They have True Bass Technology to give you a full, rich sound that delivers even on the low end, something that the JBL True Wireless Flash earbuds do not achieve. They are super lightweight, making them very unobtrusive when you're exercising, too. They have an ergonomic design for a secure fit, meaning they won't fall out, regardless of how vigorous you might be running.
Pros:
+ Lightweight
+ Ergonomic fit
+ CVC 6.0 microphone for canceling ambient noise
+ Quick charge option
+ IPX7 waterproof
Why We Liked It - These true wireless earphones cost a fraction of the price of more famous versions - such as Beats PowerBeats Pro - but manage to provide a similar audio quality as more expensive versions.
9. SoundPEATS SP-Q30-BK-US
The SoundPEATS SP-Q30-BK-US sports headphones are reminiscent of Sennheiser CX Sport earphones, but there's a huge discrepancy in price between the two of them. These are much more affordable than the Sennheiser earphones, but the quality of the audio is comparable.
They have powerful 10mm drivers, as well as a high-end chipset, and an advanced codec, which all combines to create the high-fidelity sound that will do justice to your favorite running music.
As they're designed for sport, they include an IPX6 water resistance rating to ensure that sweat or water doesn't break them. Other features include 13 hours playtime, an in-line mic, an in-line remote for volume control, and multiple buds to find the right size for your ears.
Pros:
+ Powerful 10mm drivers
+ Superb audio quality
+ 13 hours playtime
+ In-line mic
+ Built-in magnets to connect buds when not in use
Why We Liked It - These are all-round Bluetooth headphones that offer high-fidelity sound, a lot of comfort, and are reasonably priced too, unlike more expensive options that offer a similar level of quality, such as Plantronics BackBeat Fit.
These are another excellent set of Bluetooth headphones from Phaiser. They include Bluetooth 4.1 technology, so you get a secure, stable connection. It also helps to ensure that you get the best quality sound, which is truly sensational through these wireless earphones. Their hydrophobic nano-coating means they're resistant to water, which is ideal if you like to go running in the rain.
They feature comfortable ear hooks too so that you get a secure fit, no matter how vigorous your exercise is. Another of the top features of these headphones is the fact that they're magnetic - when you're not using them, the buds can link be worn as a necklace, meaning that you don't need any pockets on your exercise gear.
Pros:
+ Magnetic buds
+ High-fidelity sound
+ Sweatproof
+ Memory foam tips
+ Bluetooth 4.1 technology
Why We Liked It - They might not be the very best headphones on the market, but they are very good, performing well across the board. When the price is considered, then they could be the best value-for-money wireless earphones for sport around.
Bluetooth Sport Headphones Buyers Guide
When it comes to buying wireless sport earphones, there are some key features that you have to look out for so that you can invest your money in the very best product. As long as you focus on the following areas, then you can be assured the very best wireless headphone for your needs.
Sound Quality
The quality of sound should be your primary concern. The last thing you want is for your workout to be ruined by a weak, insipid sound that doesn't do justice to your motivational music. To ensure that the headphones give the best quality sound, then you should check out their drivers. Ideally, you want to make sure that they feature dynamic drivers with neodymium magnets.
If they do, then you should also check the size. The larger the drivers, the bigger the sound. Another element that will contribute to audio quality is the tuning of the earphones. For example, some will feature a form of bass boost technology, which is an important consideration if you require a driving bassline as your soundtrack when you're running.
Secure and Comfortable Fit
Ergonomic design is one of the most important features when it comes to ensuring a secure, comfy fit, but you should also consider what form of headphones to go for. On-ear headphones are not a good option for exercise, as they will be large, heavy, and will cause you to overheat.
A much better option than on-ear headphones is simple wireless earphones, which will include soft silicone buds and ear hooks, or ear fins, as they're sometimes called. You could also go for truly wireless earbuds, which are also extremely lightweight and offer a very sure, comfy fit. The most famous true wireless earbuds for exercise are PowerBeats Pro, but there are many good, affordable alternatives on the market.
Water Resistance
Water-resistance is a must. The most basic level of water resistance is IPX4. This will keep the earphones safe if they're splashed with water. Ideally, you'll require a higher level. IPX6 will protect your headphones if they get a sweat on them, whereas IPX7 is full waterproofing, and this should definitely be considered if you like to run in the rain or are a heavy sweater.
Battery Life
A wireless headphone will need to be charged, as it won't be connected to your device via a cable. That means you'll need to consider the extent of battery life, as well as how long it takes for the headphone to charge fully. There's a huge range of battery life out there, and you should pick headphones that offer you enough for however long you usually exercise at one time.
Noise-Canceling Microphone
It's important to have a CVC 6.0 microphone if you plan to use the headphones for phone calls. This microphone will isolate your voice, cutting out all ambient sound, for example, the noise of a crowd or a bluster of wind. This will allow you to be heard perfectly by the person at the other end of the line.
What is the best Bluetooth running earphones?
The best Bluetooth running headphones will include all the features that have previously been mentioned. There are some excellent ones to choose from on the market. True wireless is definitely a good option. The POP-BTLP7X are great earphones for running, as they're light, comfortable, include an excellent mic, and provide you with a well-balanced sound. If you'd prefer more conventional Bluetooth headphones, then the MPOW Flame buds are a good way to go.
What are the best headphones for sweating?
The simple answer is any headphones that offer a minimum amount of IPX6 rated water resistance. Ideally, however, you should go for a set that offers IPX7 water resistance.
What are the best wireless earbuds for working out?
Any that supply you with a comfortable fit, are lightweight, offer well-balanced sound, are water-resistant, and give you a substantial amount of playtime. If you're sensitive to noise or workout in a noisy gym, then choose earbuds with soft silicone buds to fit tightly inside your ear. The buds will form a seal, silencing or reducing external noise.
Expert Tip
Don't get distracted by offers of big bass. Although this is an important feature, you should always look at the earphones as a whole, making sure that they offer comfort, water resistance, durability, good playtime, and deliver quality on the low end. This way, you can get pumped while listening to a beefy bassline.
Did you know?
There are many sports where it's okay to listen to music while taking part in them, but golf is not one. If you try to take your new wireless buds to the links, then you'll be in trouble, as you'll be violating rule number 14.3, and you could receive a penalty for doing so.
Conclusion
To make sure that you spend your money wisely, keep in mind all the key features we've explained in this buyer's guide. It's imperative, of course, that sound quality is considered, but you should also consider comfort, battery playtime, water resistance, and that they offer a secure fit too.
You should also make sure that you keep an eye on the price. Yes, JBL True Wireless Flash, Plantronics BackBeat Fit, and Jaybird X4 are fantastic options, but they'll cost you a huge amount of money. You can get the same quality from affordable options too, so always keep an eye out for a bargain.
If you've enjoyed this review by Music Critic, please leave a positive rating: