The fast-paced electronics industry moves in leaps and bounds, this leads to trickle down technology that we can all take advantage of so let's look at the 10 best Bluetooth headphones under $50 in 2023 together.
Given the fact that fifty bucks is a pretty snug budget, you would be forgiven for thinking that it won't stretch very far, but we reckon you will be pretty stoked with the sets we have selected to review.
Now it is sensible to keep your expectation reasonable as we are only going to find entry-level models retailing below such a modest amount but you can get your hands on a real Bluetooth boasting bargain if you know what you are looking for.
To help you spot the better specimens we have sifted through some of your suggested models to evaluate them objectively and provided a buyers guide full of comparative info.
Got a smaller budget? Try these headphones under $30.
At a glance:

Our top 3 picks
Our team's top 3 recommendations
Best Overall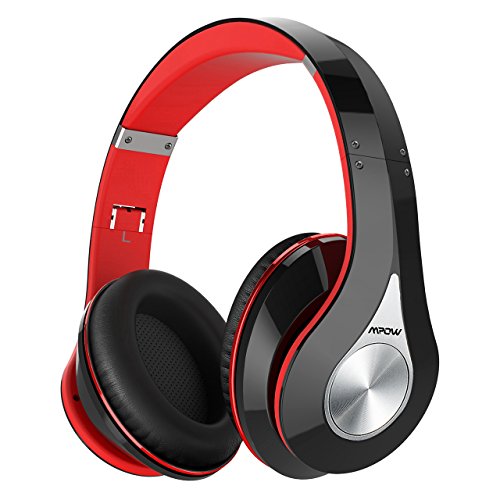 Mpow 059 Bluetooth Headphones Over Ear

Folding compact design.
Closed back.
Overhead option.
Skin-friendly.
Scratch resistant.
Premium Quality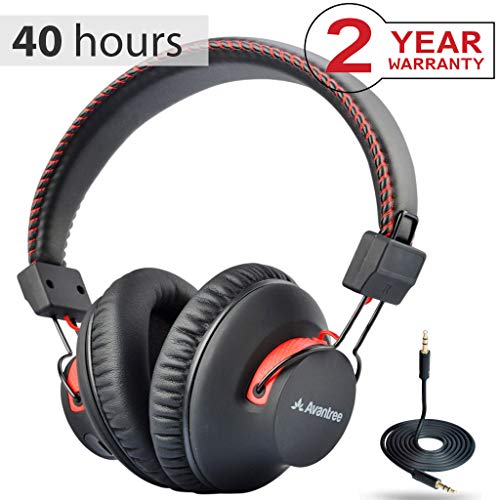 Avantree 40 hr Wireless Wired Bluetooth

Folding compact design.
Closed back.
Overhead option.
Skin-friendly.
Scratch resistant.
Great value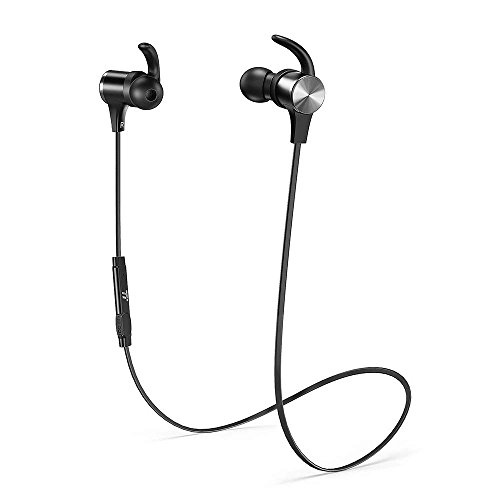 Bluetooth Headphones TaoTronics Wireless

Folding compact design.
Closed back.
Overhead option.
Skin-friendly.
Scratch resistant.
View The Best Bluetooth Headphones Under $50 Below
1. Mpow 059 Bluetooth Headphones Over Ear
First on our radar is this older edition folding over-ear bluetooth headphone set by Mpow, they are very well built the folding mechanics seem very durable and put together well. They retail in at around 2/3rds of the allocated budget and provide pretty great sound over a clean transmission which works at a fair distance too.
They feature and over-head design and the band is made with stainless steel sliders for its space-saving folding abilities and has an underside foam cushion for comfort which is formed from the same memory air-foam which the ear cups are cushioned with. The cups are then topped with soft skin-friendly memory-protein leather which prevents sweating issues.
The ear cups are closed back and feature onboard easy-reach controls. They are on-ear cups, not around-ear cups, this again makes them more compact than some overhead designs, but can be a little slight for some, though they do adjust a reasonable amount. They can actually be plugged into devices directly as they feature a terminal and removable cable, or be paired using its up-to-date built-in Bluetooth.
The bass has been optimized on this set in comparison to other sets in the Mpow affordable series.
They feature a 40mm neodymium driver and CSR chip for deep bass with dynamic detail.
They are not a noise-canceling focused set but they are closed back does submerge the listener sufficiently. Not focusing on noise cancellation saves a lot of energy and gives the battery an easier time, these guys can go for around 20 hours.
Pros:
+ Folding compact design.
+ Closed back.
+ Overhead option.
+ Skin-friendly.
+ Scratch resistant.
Why We Liked It - We like their design concept they seem very well thought out and executed, they come in a range of trendy colors and they are cheaper than before because Mpow released a next-gen edition so you get better value for money.
Use Case - When picking out the right headphones for your needs, be sure to consider what you plan on using them for. For example, using your headphones for exercise rather than casual listening will require a whole other set of considerations. For fitness or outdoor use, make sure your bluetooth headphones are waterproof or water resistant.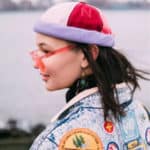 2. Avantree 40 hr Wireless Wired Bluetooth
Another great overhead example we have found which can also switch between wireless headphones and wired ones, giving you the best of both worlds, is this set from Avantree.
They are priced a little higher than the first pair and are feature a more traditional design, they are fully adjustable and provide a comfortable customized fit. They are another closed back set which let you shut out the world and listen with more immersion.
The cups are well-cushioned for comfort amid longer listening sessions, which are also catered to by its super-long life rechargeable battery which is capable of providing a whopping 40 hours of power.
It once again harbors a 40mm dynamic balance driver, kitted out with neodymium magnets and of course a CSR chip. They provide rich audio, with ever-present bass and high definition. They have onboard controls and a built-in mic although this is only accessible when Bluetooth mode is in use. The Bluetooth has a good range and can be simultaneously paired to 2 devices.
Pros:
+ Overhead option.
+ Closed back.
+ Incredible battery life.
+ Bluetooth headset capabilities (mic).
+ Dual modes.
Why We Liked It - They are an ace model, super-lightweight for an over ear-option but well-built the battery is very impressive and again they have dual modes of use, making them a versatile choice.
3. Bluetooth Headphones TaoTronics Wireless
Next up we have an in-ear wireless solution the earbuds are ergonomically designed to fit within the mouth of your ear canal. They come with 3 different earbud tip types to cover a range of needs and they feature hooks again of varying degrees to help keep the earbud in place more effectively. This makes them an ideal setting for those out and about and on-the-go.
These earbuds under $50 are joined together with a cord which sits around the back of your neck when in use and when you aren't listening to the Bluetooth earbuds snap together magnetically so it hangs like a necklace for added convenience, and of course security.
They provide premium audio considering their price-tag which has been carefully optimized by engineers for music as well as voice calls thanks to is Apt-X support and noise cancellation properties.
They feature trusted in-line controls which are a little fiddly for larger hands but conveniently located and very responsive. They are cross-platform ready and their battery life will be displayed alongside your typical battery display on most iOS devices.
Pros:
+ Super-portable.
+ 3 different earbuds.
+ Optimized audio.
+ Voice call microphone.
+ Noise canceling.
Why We Liked It - They are a great set, we like their magnetic clip-on portability, they have been nicely designed for traveling about with, serve up some great audio and are competitively priced at around 30 bucks.
Battery Life - One of the most important factors to consider with bluetooth devices is the battery life and charging time. If you plan on using these headphones daily, you'll most likely need to make a habit of charging them in the evening. It might also be wise to have a portable charger available so that you can still jam out in a pinch.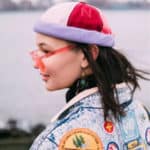 4. iJoy Matte Finish Premium Rechargeable
This next set from iJoy is another set which benefits from a similar fold-away method as the first set we highlighted. They don't have as much cushioning in the headband department as the more expensive pair, but it does offer up some rather awesome features given its low price.
They are equipped with Bluetooth 4.1 connectivity and also harbor a micro SD card reader to play directly from stored tracks. They feature a built-in mic for voice commands and calls and are priced below 1/3rd of today's review budget limitations which is great.
They once again can be used in a wired or wireless fashion. They provide adequately balanced audio with a great range. The drivers feature the same top components and neodymium drivers.
They have extended bass frequency response, an easy access control panel located on the closed cup and can pick up tuned radio frequencies as well.
Pros:
+ Fold-away design.
+ Wired/wireless modes.
+ Extended bass response.
+ Built-in micro SD card reader.
+ Low price option.
Why We Liked It - Their connectivity and extended bass response is incredibly valuable and their price is essentially unbeatable for the number of mod-cons they provide.
5. Mpow Jaws Gen-3 Bluetooth Headphones
Mpow also makes a range of earbud options in addition to the overhead option we opened with, like this 3rd gen in-ear pair. They are carefully designed with function in mind, they are a very compact option which is attached via a flexi-fit collar support which helps keep them in place as well as catch them for ease of removal. They also clip back into the neckband "shark mouth" magnetic design feature.
The miniature onboard controls are divvied up between the left and right sides of the neck piece which makes them awkward to use. The durable neck-band is primarily made of silicone and is incredibly lightweight. The listing we have provided is for a set with a handy carry case included as part of the price which by the way sits comfortably at the halfway point of our fifty dollar cap.
They provide pretty impressive high definition, well-balanced broad range sound with no distortion, comfortable volume levels, the buds fit snugly and have an ear seal to ensure they stay in place. The bass on this set isn't boosted like the overhead set but that is pretty dangerous territory in an in-ear model.
They can be used for hands-free voice calling, they are noise canceling when the mic is in use and their rechargeable battery life allows for around 13 hours playtime which is more than enough.
Pros:
+ In-ear option.
+ User friendly controls.
+ High-def audio and voice calls.
+ Accessible price.
+ Free carry case.
Why We Liked It - They are extremely lightweight and comfortable to wear, they slip effortlessly in and out you don't have to worry about putting them away between listening.
6. Mpow Jaws V4.1 Bluetooth Headphones
Whilst the above set is fresh in your head, we are showing you the previous model the Jaws V4.1 2nd generation because for many of you shopping with a lower budget in mind, every dollar saved can be a pivotal part of making a purchase.
The previous incarnation really isn't much of step down, it offers the majority of the same onboard features. It retails below $20 and the only thing you will find you are really missing out on is the complimentary carry case. Of course, it is important to note it has 4.2 Bluetooth connectivity rather than Bluetooth 4.2, but this really is neither here nor there if you are on the hunt for a budget deal.
It still features the shark magnet closing system and serves up the same 13 ample hours of listening with its long-lasting rechargeable batteries. It too has noise cancellation technology for clearer calls and though the new gen has had a bit of circuitry refinement you will find yourselves satisfied with the value for money on this set.
Pros:
+ Neckband earbuds.
+ Shark magnet system.
+ 13 hours battery life.
+ Noise cancellation.
+ Value for money.
Why We Liked It - They are a perfectly adequate set of earphones, we love the shark magnets on the Jaws models and this product hasn't been updated too heavily in more recent incarnations, so it is still up to date enough to grab yourself a steal.
7. Mpow Flame Bluetooth Headphones
We recently got a good look at this pair in our 10 best waterproof headphones in 2023 article and they were actually rated one of the best in the bunch, given that they hold one of the highest certifications for waterproofing.
They are another recently upgraded model from Mpows Bluetooth capable lines. They have a much a snugger fit thanks to their new and improved adjustable over-ear hooks. They are made from a non-slip sweat resistant composite material which allows for prolonged use, a better range of motion and also helps keep the sound directional.
They provide rich HD sound, the driver array design has been extensively researched to optimal levels the bass has a lot of depth and great presence without being overbearing
They have IPX7 certification which safeguards them really well against the rain and even accidental partial submersion to an extent. Another lovely upgrade is their high-quality set of memory foam tips which provide next level comfort.
Pros:
+ IPX certified.
+ New memory foam tips.
+ Non-slip nature and hooks to help keep them in place.
+ High definition sound.
+ Very competitively priced.
Why We Liked It - The driver circuitry updates give these guys some great capabilities, they stay in pace really well during physical activities and are super-waterproof making them an ideal option if you like outdoor jogging to your jams.
8. SENSO Bluetooth Headphones
Now for a very similar set which is a little more premium than the ones above, but this, of course, is reflected in their price-tag. These SENSO headphones feature an over-ear hook design which keeps the earbuds in the prime listening position and gives users much more freedom of movement when they are listening.
They match most of the specs of the cheaper set and are also built using components which are entirely encased In a nano-coating and laid in layers which deem its engineering IPX7 certified on par with some of the higher end models on the market.
The miniature driver array serves up sonic bliss in terms of balance, definition, and clarity. They are lightweight and easy to store and their flexible composite nature makes them very comfortable to wear.
They have anti-slip earbuds with a ridge-seal that also ensure they stay in the ear canal. Whilst their battery life between charges is somewhat shorter than the others we have selected (at 8hrs max) they do have sophisticated noise canceling abilities and their drivers are higher performance so we will let that one slide.
Pros:
+ High performance.
+ High fidelity.
+ IPX 7 level waterproofing.
+ Ergonomic earbuds.
+ Secure over ear hooks.
+ Noise canceling.
Why We Liked It - They are among some of the best waterproof Bluetooth headphone models on the market and are an Amazon best-seller.
9. Bluetooth Headphones TaoTronics Wireless
Just we advised about the previous Jaws model from Mpow we have time for a quick nose at the preceding TaoTronics set because as previously stated sometimes an older model can help save a bit of cash.
For a quick reminder, they are a great outdoor traveling ear-bud option which you can sling about your neck, they magnetically lip together into a necklace so you can rest assured they won't get lost or tangled in a pocket. They feature the same tiny in-line controls and are noise canceling.
They provide well-defined audio, benefiting from the recent Apt-X processing addition to its circuitry tech. The bass frequencies are not as extensively responsive as the newer rendition but they pretty much serve up exactly what you need in a decent traveling Bluetooth ready set of headphones and come in at a lower retail price.
They are equipped with Bluetooth 4.2 connectivity which works within a radius of 10 meters and has a stable transmission and once again you can monitor battery levels via your iOS device.
Pros:
+ Easy to wear and carry on your person.
+ Cheaper model.
+ Dynamically balanced audio.
+ CVC in-call noise cancellation.
+ Up-to-date Bluetooth version.
Why We Liked It - They are a well designed set of earbuds they are modern and stylish we like that they can be worn as a necklace and sometimes going for a previous generation model can be the best option if you have a lower budget to play with.
10. Letscom True Wireless Earbuds, Bluetooth
We draw our reviews to a close with the most compact entry of all. They are another set we have previously had our eye on in our best waterproof headphones article.
They are literally a pair of true wireless earbuds without a headband, neckband ear-hook or cord in sight. The tiny twosome adheres magnetically to a miniature USB charging dock which they can also be stored in when they are not in use. They can charge on the go in your pocket which is pretty sweet, though their average maximum time between charges is just 4 hours.
They come with 3 interchangeable, different sized, ergonomically designed comfy earbud tips for a more tailored fit. They have 2 modes, stereo for single person use, and mono mode which allows you to spit your buds and share with a friend.
They serve up high fidelity audio and are splash/sweat proof making them a superb choice for the more athletically inclined.
They are affordably priced fitted with up to date stable Bluetooth connectivity which works within a 10-meter radius of the paired device.
Pros:
+ Mini-twin model.
+ Pocket sized charging dock.
+ Split mono/stereo mode.
+ Competitively priced.
+ Unique design concept.
Why We Liked It - They are a very capable little combo they have some unique abilities and are also fairly waterproof which is a bonus.
Personal Use - You'll want to mainly use these headphones for personal use rather than professional. This is because bluetooth headphones have a bit of latency by nature, which could easily reflect poorly in a mix. You may find yourself developing timing issues or worse if you mix or produce with these headphones.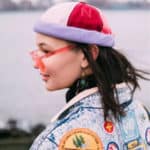 Bluetooth Headphones Under $50 Buyers Guide
In-ear models:
Some people find in-ear models uncomfortable or ind that the buds don't fit their ear canals correctly, luckily some manufacturers understand this and they provide a set of different sized tips to help you find one suitable for you.
Some people find they don't stay in place whilst they are mobile this has lead to models with partial or full over ear hooks, neck bands, and straps to help them maintain their position.
Over-Head/Over-ear models:
Whilst for most this style is arguably more comfortable as the manufacturers usually put a lot of energy into the cushioning and textile components of the sets, some find them cumbersome because of their larger size.
They do have more range for a scope on how the array of drivers is put together because of their additional space. This means that the bass capabilities are normally better and because the sound is a little further away from your ear-drum they can be listened to at slightly higher volumes.
They can be closed back, open-backed or semi-open in design, each providing a different listening experience. Which is best is arguable and if you are interested we go into in more detail in our 10 best Beyerdynamic headphones buyers guide.
Are low budget Bluetooth headphones any good?
Bluetooth abilities once came with a hefty investment, but in today's economic market it is more accessible than ever.
The demand for cheaper electrical products drives the market to compete at both ends of the spectrum. When higher end models get a technical leg up alongside a new face-lift the resulting trickle-down technology is astounding.
Which type of Bluetooth headphone is best?
The major differences between the variety of types of headphones is actually individual comfort and therefore the choice between is typically down to preference.
What to look for in Bluetooth headphones under $50?
At this price level, they don't differ too much from one another as long as it has current Bluetooth connection and has reasonable build quality, with decent drivers and generous battery life between charges you are looking at a great deal.
If you require a mic for voice calls you would be wise to look for one with noise cancellation to keep lines crystal clear and avoid miscommunication.
If you plan to use them on-the-go a rainproof set would be a good investment, likewise, if you are going to take them running or to the gym as a rigorous workout is going to subject them to perspiration which can be damaging.
Conclusion
Finding a commendable and affordable pair of Bluetooth headphones in the lower budget regions is not an impossibility, as our reviews today will have shown you.
Choosing the best set for you is really only down to preference and the kind of lifestyle you lead. We have reviewed a good selection of over-head, and over-ear and in-ear ear-bud models which are all at the top of their game but won't break the bank.
We hope today's article and buyers guide will prove useful to potential shoppers.
Expert Tip
If you are looking for a Bluetooth headphone specifically suited to sports, stay tuned as we are currently selecting the cream of the crop for our next review, in the meantime, you could head over to our Waterproof headphones article which includes some great athletic models.
Did you Know
The innovative CSR chip creation, radicalized the industry and reduced Bluetooth integrated production costs to such a point that higher quality really does come in a cheaper package.
If you've enjoyed this review by Music Critic, please leave a positive rating:
[vc_separator