If you value your audio quality, or can't get on an in-ear wireless headphone set, then an over-ear set is the sole selection for you, join us as we review and recommend the ten best over-ear Bluetooth headphones in 2023.
Having an over-ear headphone set that is capable of wireless connectivity is a modern convenience that allows users to improve the audio of their mobile devices tenfold.
Those we have rounded up today are excellent representatives of their price brackets, and they each provide their own merits. We have compiled jam-packed buyers guide to give you the down low on everything over-ear and help you make your next purchase an informed one.
At a glance:

Our top 3 picks
Our team's top 3 recommendations
Best Overall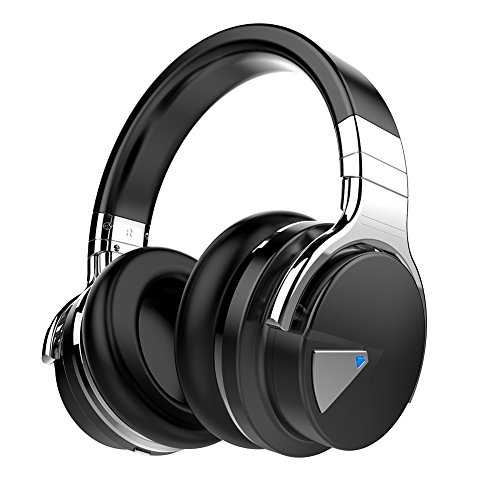 COWIN E7 Active Noise Canceling Headphones

Comfortable and compact.
ANC.
30 hours battery.
Premium Quality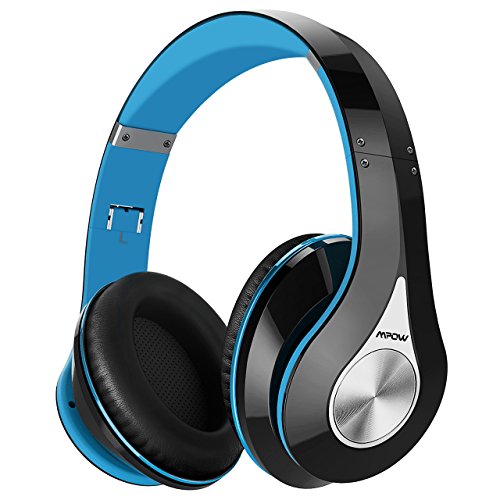 Mpow 059 Bluetooth Headphones Over Ear

Comfortable and compact.
ANC.
30 hours battery.
Great value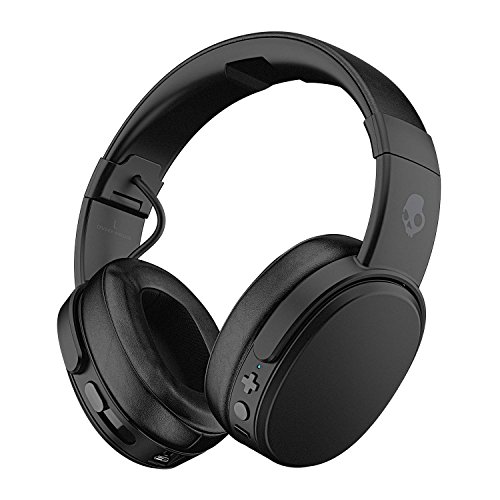 Skullcandy Crusher Bluetooth Wireless Over-Ear Headphone with Microphone

Comfortable and compact.
ANC.
30 hours battery.
View The Best Over Ear Bluetooth Headphones Below
1. COWIN E7 Active Noise Canceling Headphones
We begin today's comparative reviews with a respectable affordably priced closed back over-head option from Cowin. They are a collapsible model which helps make them a little more portable than traditional overhead models so that they can store for transit more easily.
They have a very flexible headband, and ear cups are swivel-mounted which is what helps them to reduce in size. They utilize a memory foam, and protein covered cushioning to keep them comfortable for long periods.
The drivers measure 45mm which is roomy enough to provide better bass performance, giving the overall mix much more depth. They have a good response and produce clear audio with crisp highs.
They have onboard active noise cancellation technology to help keep signals clearer during hands-free calls, which are of course handled by their integrated microphone.
The battery capably lasts for up to 30 hours between charges.
Pros:
+ Comfortable and compact.
+ ANC.
+ 30 hours battery.
Why We Liked It - They are pretty well-built, they feature a comfortable overhead design and have a friendly price-tag, which won't sting when the bank statement arrives.
2. Mpow 059 Bluetooth Headphones Over Ear
Another bestseller headphone set which has created a real buzz is the 059 over-ear set from Mpow. They are another more compact choice which incorporates a folding design concept.
They are very well-made all moving parts seem more durable than many other low-priced folding models.
The headband has robust sliders which are made from reinforced steel; it is cushioned with a foam that is topped with a memory protein fabric like the pair we have reviewed above. The ear cups also feature the same cushioning but are far plusher. The protein leather is skin-friendly and stops ears from sweating.
They feature large diaphragms, and the drivers have been optimized to deliver better bass, the audio is well-balanced and full of details.
They have easy access controls which are mounted on the ear-cup, the Bluetooth is easy to pair, and they feature an optional cable for versatile use. The headphones work wired for up to 20 hours, and they passively cancel noise thanks to their closed back.
Pros:
+ Robust folding design.
+ Skin-friendly materials.
+ Bass optimization.
Why We Liked It - The audio quality is on par with more expensive sets, so they present a good value for money situation, their only shortcomings are that they are not actively noise canceling, and the Bluetooth is a little older. See more cheap over ear headphones.
3. Skullcandy Crusher Bluetooth Wireless Over-Ear Headphone with Microphone
We have previously reviewed several Skullcandy bluetooth earbud models; here we have an excellent over-ear design from the company which has some notable capabilities to bring to the table.
The Crusher model features full range audio drivers which measure 40mm and are custom tuned to deliver rich, refined acoustics. They also harbor additional subwoofer drivers which provide powerful bass. This dual mix provides impressive audio with a live feel.
The bass on board is adjustable enabling the listener to fine tune their preferences and find their ideal balance.
These wireless over-ear headphones are once again a closed back model blocking out outside distractions for fully immersive listening; they are durably made and the memory foam covered ear cups are attached to folding arm mounts allowing them to curl up into a more compact size for travel and storage.
They have an integrated microphone and user-friendly on-ear controls. The headphones provide a stable Bluetooth connection for up to 40 hours, and they are capable of a rapid charge function, providing 3 hours of listening from just a 10-minute charge. They fully charge in only 2.5 hours total.
Pros:
+ Sub-woofer incorporation.
+ Haptic bass adjustment.
+ Comfortable robust design.
+ Quick charge function.
Why We Liked It - They are very well designed and have a few perks over some of the competition.
4. COWIN E7 PRO [2018 Upgraded] Active Noise Canceling Headphone
We opened with the E7 Cowin model, and here we have the pro version which serves up a fair few treats. They have had a Bluetooth upgrade to a more current 5.0 version and the materials utilized are a little more premium in terms of quality. The cushioning is far more luxurious lending them the characteristics for more extended listening.
They weigh far less than the entry-level set but are still very durably made. They are closed back which is far more immersive, passively noise canceling the background ambiance and directing the audio privately to the listener.
The cups are mounted freely to rotate with a large degree of flexibility so much so that they can collapse into a more compact form, ideal for traveling around with.
They harbor dynamic combination drivers who work efficiently to produce balanced stereo sound with rich depth, excellent overall dynamics and the treble end impeccably clear.
The microphone is also new and improved, and they have onboard up to date active noise cancellation technology to assist with all hands-free functions.
They in five different colors and the battery serves up a generous 30 hours of listening when fully charged.
Pros:
+ Upgraded pro model.
+ Noise canceling.
+ 30 hours battery life.
+ Bluetooth 5.0 connection.
Why We Liked It -They are well made, comfortable to wear; the drivers have excellent performance provide pretty decent battery life too.
5. Avantree 40 hr Wireless Bluetooth 4.1 Over-The-Ear Foldable Headphones
Next up a set with remarkable battery life, an excellent overhead model from the engineering team at Avantree.
Their bass drivers perform well, and the component used within are excellent quality. They feature premium pulp speaker cones which respond more accurately and have a longer shelf life to boot, as they are little more rigid. They serve-up clear audio with crisp vocals and punchy bass.
They are once again a closed back set which provides better audio immersion for the listener. They have a fully adjustable headband, and the cups are cushioned for comfort.
They too provide the versatility of both wired and wireless use with a robust detachable cord, and their super-long life battery grants them around 40 hours of use.
Pros:
+ Comfortable.
+ Closed back immersive set.
+ Staggering 40 hour battery life.
Why We Liked It - They are well-manufactured, the Bluetooth is stable and pairs easily with simultaneous connectivity and battery life is remarkable.
6. Bose SoundLink Around-Ear Wireless Headphones
This next set from Bose's SoundLink series should be familiar if you are following any of our other articles they are expertly engineered and provide some of the most accurate input to output signal reproduction on the current market.
They feature current Bluetooth which provides broad compatibility and a reliable connection which can be synced to 2 devices at a time. It pairs with ease and works with a good range.
They are endowed with some advanced processing capabilities to assist their dynamic drivers, such as their on-board TriPort technology. They also balance the audio in real-time, automatically adjusting the mix via their active equalization processing. The sound produced is super-clear and rich with natural dynamics. They have active noise canceling abilities, isolating the signal very effectively.
They are durably made and feature a robust headband with lush, lightweight, foam-topped ear cups. The foam is impact-resistant and unbelievably comfy to wear.
Pros:
+ Upgraded model.
+ Active equalization.
+ Impact resistant foam padding.
Why We Liked It - They feature some fab improvements the electronics have been well engineered, and they are decidedly comfortable as well.
7. TaoTronics Active Noise Canceling Headphones
This TaoTronics set also make use of an innovative fold-away design to combat their larger size and render them more feasible for portable use. They have a sturdy but comfortable headband and padded swivel-mounted ear cups lined with a skin-friendly fabric.
They are a well-manufactured, lightweight over headset which is durably built and feature some fab engineering decisions which set them apart from their closest competition.
They are equipped with responsive 40mm diaphragms, driven by rare earth magnets. The drivers are tuned to an advanced waveguide processing codec which enhances their accuracy and ultimately provides better audio as they capably define between driven bass, rich mid-ranges, and brighter highs.
They actively cancel noise and can function for up to 30 hours of use; they also come with a handy storage case specially tailored for transit.
Pros:
+ Durable folding set.
+ Great bass presence in the mix.
+ 30-hour battery life.
Why We Liked It - The folding mechanism seems sturdy they serve-up good audio and provide an ample battery life.
8. Mpow H7 Wireless Headphones Rechargeable
Next, we have this wireless over headset from Mpow another company making waves within the headphone manufacturing industry.
They are donned with competent large-aperture drivers; they have a great response and recognize a broad, accurate spectrum. They provide natural sounding immersive audio with excellent dynamics and high definition.
They are durably made and feature an adjustable metal slider on a soft headband and swiveling earmuffs which can rotate until they lay flat. This allows them to fold-up for storing, and they come with a case to stow them away in.
They operate wired or wirelessly either via a heavy duty cord or with their current Bluetooth and NFC capabilities. They are simple to pair, receiving transmissions from a reasonable distance and can connect to 2 devices simultaneously.
They are equipped with an integrated microphone which is assisted by the onboard CVC 6.0 noise canceling for more transparent hands-free communication hey work for around 18 hours between charges.
Pros:
+ Large aperture drivers.
+ Wired/wireless functionality.
+ Durable model.
+ ANC.
Why We Liked It - They are a high definition upgrade from the Mpow 059 model we have praised in the past, the folding design has a strong concept and is well-executed with robust fabrication.
9. Sennheiser HD 4.40 Around-Ear Bluetooth Wireless Headphones
For our selection number nine for a nose at, we have chosen this superb set from the skilled manufactures at Sennheiser. They are very-well made retail for an attainable price because they are an older edition with Bluetooth version 4.4 connectivity.
This older tech sacrifice gives you access to a premium model for less cash investment and presents a good value for the money situation.
The feature Sennheiser world-class audio components within their proprietary drivers. They have excellence response and work hard to produce that signature Sennheiser sound which is well-balanced, lavishly detailed audio with fab dynamics and impressive bass performance. They are supported by AptX technology processing to deliver high quality.
They have a comfortable ergonomic design made from high-quality materials. The ear cups are generously cushioned and covered with a soft leatherette. They feature easy-reach mounted controls. The cups are free to rotate, and the robust headband has a solid folding design which reduces their footprint considerably, making them easier to travel with.
The integrated microphone outperforms most stock options, and they provide up to 25 hours of use which is more than adequate.
Pros:
+ Premium build.
+ World class components.
+ Signature sound.
+ Durable folding design.
Why We Liked It - They encompass the integrity of the brand and deliver exceptional performance. The audio is impressively balanced and highly defined.
10. Bluedio T2s Bluetooth Headphones On-Ear with Mic
Our final piece of food for thought is this low-priced set from Bluedio. The Turbine Shooting Brake model has a fresh aesthetic appeal and serve-up surprising quality audio for an appealingly priced pair.
These headphones feature the right quality materials and are finely fabricated, and are a closed back set with an ergonomically angled cup positioning. This angled cup feature optimizes the directional audio and seats the headband far more comfortably reducing cranial pressure. These headphones are also sufficiently padded.
The cups are rotationally mounted, and they spin 195 degrees to store more compactly.
They are equipped with extra-large 57mm drivers which deliver great audio with sufficient dynamic detail.
They work wired or wirelessly and provide up to 40 hours of use between charges. They are equipped with Bluetooth 4.1 and pair only.
Pros:
+ Great audio.
+ 195 degree rotational cups.
+ Strong design.
+ Low price.
Why We Liked It -They are another well-conceived design, the drivers are very large, and they deliver high dynamics.
Over Ear Bluetooth Headphone Buyers Guide
What to Look for When Buying over-ear Bluetooth headphones?
The products don't differ too much from one another the sizes are typically from 40-50mms, and within each region, we have done our best to select some of the best in their class. Many of the models we have looked at can fold because one of the most significant drawbacks to an over-ear set is they are more meaningful to carry around when not in use.
Over-ear headphones are a sensible option for those who want an immersive listening experience, they also provide audio quality that is genuinely better on-average than an earbud model priced within a similar region.
This is primarily due to their larger size, having a circumaural speaker which sits over your ears and providing a space for the sound to expand within before it hits your ear thanks to the cup shape and thick padding.
They are less intense than an in-ear option and can be less damaging to your ears if they are used sensibly, some of the products are capable of running for an extensive amount of time, but it is essential to take breaks.
In-ear Bluetooth headphones can be uncomfortable for some, though many designs in modern times are far more ergonomic, introducing an object within the mouth of your ear canal can be a foreign concept which some can't get to grips with.
The larger space provided by an over-ear model allows for more significant drivers and when it comes to audio bigger is better. It allows for more significant drivers, giving them a full magnetic field for the electrical signals to disturb.
They harbor diaphragms with a more significant surface area which means they respond more accurately to the signals and they create more kinetic energy from the response. This displaces more air which is how the audio is designed to listen to.
They are generally capable of higher outputs, and the audio is, therefore, more powerful as well. They have better low-frequency handling and can provide better bass with less risk of distortion.w
This is why for an audio lover they are a preferable style of headphone to go for. When it comes to musical pursuits, professional or critical listening for mixing mastering and engineering purposes, they are an essential option.
They come in several sub-categorical styles which present a lot to think about.
Open Or Closed Back Designs?
Closed back headphones are completely sealed around the back. They direct the audio straight to the listener, and they passively counter the outside environment, blocking out the background noise. They also keep the audio within the ear cup space which makes the listening a more private experience too, better for personal playlists.
Having the audio pumped solely to you gives the listener a more immersive audio experience. For professional listening, the sound can be less authentic when listened to without the ambiance of the room itself. Many professionals deem it synthetic sounding as your brain processes the music less naturally.
The alternative, of course, is an open back model, which have to open at the back of the ear-cups and allow the environment to seep in as you listen. This allows the listener to hear how the audio sounds within a larger space than the cups provide themselves. Looking in this way gives natural variations; for example, they allow you to hear as though it were being performed.
They better highlight panning efforts in the audio production, and you experience it in a more multi-dimensional sense.
Not having the audio funneled solely to the listener can mean that some of the power is lost, and for some, the sound is airier, and the bass has less punch, but for mastering purposes, they are a useful tool.
Having an opening at the back also keeps the headphones cool so over-heating won't be an issue for your ears or the drivers. The driver of your headphone rapidly moves air to produce sound, the higher the pitch of the music the faster the parts have to move. The kinetic energy produces the sound waves for your audio, but it also generates a lot of heat at the same time.
If you have ever read any of speaker articles, you will probably know by now that the better performing speaker enclosure designs are the ones which incorporate a vent or port of some kind to provide a fresh air flow countering over-heating issues.
They are a little safer than a closed back set of headphones for 2 reasons. Firstly they enable the wearer to have more awareness of their surroundings, which Is better for those out and about as it can be dangerous to get lost in the music in a busy urban area with cars and other hazards you might not hear coming. They also have a lower sound pressure level as the air isn't continually thumping against your eardrums.
Having an open back does mean that those within your proximity can also hear what you are listening to as well which can be deterring for some.
There are also semi-open sets available which can provide more spacious audio like an open back model, though they are a bit more focused directionally like a closed back design.
As we are specifically examining Bluetooth models in today's article, it is also essential to make sure the model has up to date Bluetooth at least version 4.0 or higher. However, newer versions will have better stability, compatibility, and performance. If money is tight, it is worth considering an older version for the sake of a better quality product that will have a longer shelf life and provide better comfort.
Conclusion
Which type of set to settle on depends on your listening manner and their intended use. Typically a wireless model is for everyday casual listening and not for studio reference work.
This means portability and comfort are critical factors as you don't want something cumbersome as you walk to work. Consider your lifestyle your routine, and you should narrow down what you need. For home use, they can be more substantial, and the comfortableness should be your focus.
We have highlighted a good cross-section today, and our buyer's guide has been reasonably thorough. We hope this article will have served its purpose and wish you luck finding the perfect pair for you.
Expert Tip
Studio reference headphones are designed to handle higher outputs, bigger spectrum workloads and handle more wear and tear; typically they are not wireless for a better signal.
Did You Know
Beyerdynamic produces a vast range of headphones with many beautifully engineered over-ear sets we recently reviewed our top ten in this article. They are priced from a very conservative $10, but their premium products shine.
If you've enjoyed this review by Music Critic, please leave a positive rating:
[vc_separator