Going wireless with your headphones can be one of the most freeing music listening decisions you make. Without a wire there to get snagged on things and keep you tethered to your phone, you get a level of convenience that wired headphones can't offer.
Bluetooth headphones haven't always been as popular as they are now. Thanks to aptx and advancing technology in Bluetooth capability, going wireless has almost no drawbacks. You can have your cake and eat it, too.
There are many fabulous wireless Bluetooth headphones available. There are wireless headphones for sports, relaxing and immersing in your music, and some have active noise cancellation technology, meaning you can cancel out any outside sound. Let's take a look at some of the best Bluetooth headphone options available in 2023.
At a glance:

Our top 3 picks
Our team's top 3 recommendations
Best Overall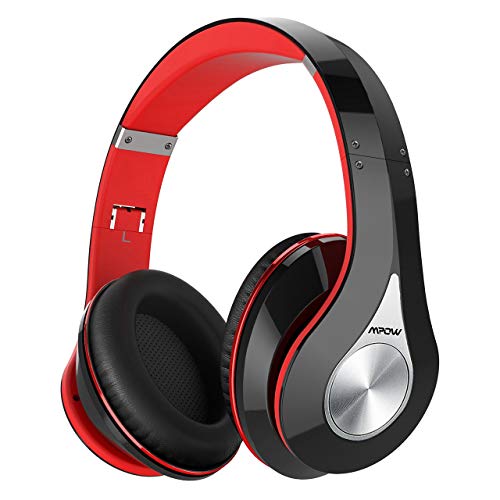 MPOW 059

20-hour battery life
Comfortable ear cushions
Excellent sound
Foldable and compact
Passive noise-isolation
Premium Quality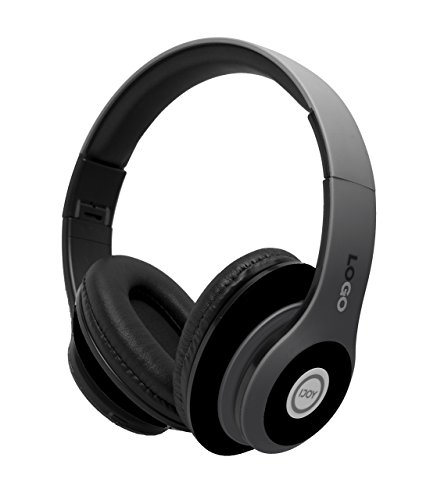 iJoy

20-hour battery life
Comfortable ear cushions
Excellent sound
Foldable and compact
Passive noise-isolation
Great value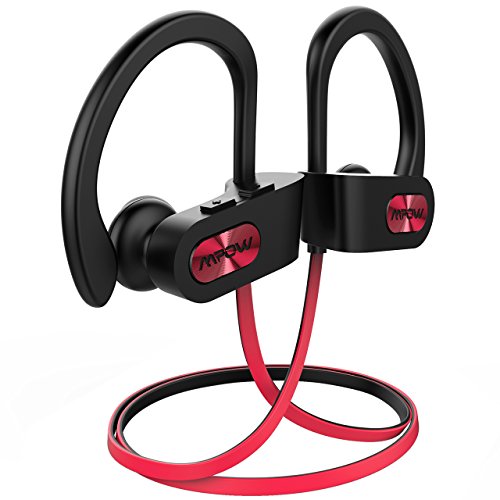 Mpow Flame

20-hour battery life
Comfortable ear cushions
Excellent sound
Foldable and compact
Passive noise-isolation
View The Best Wireless Bluetooth Headphones Below
MPOW quickly became a trusted and respected name in the headphone community. When they're putting out products like the 059 over-ear headphones, it's no wonder. These headphones have a comfortable ear covering cushion, 40mm neodymium drivers, and a CSR chip to deliver excellent sound.
The design provides passive noise-isolation instead of noise cancellation. You will still be aware of things around you without becoming too distracted. Noise-isolation can be useful for commuting on the bus or walking to and from work along busy streets.
With an included cable, you can wire these headphones, so you don't have to think about the battery dying. However, a 20-hour battery life is relatively convenient when in Bluetooth mode.
With only a 10-minute charge, you can get up to two hours of continuous playback time. Memory protein ear cushions are comfortable on your ears. The headband is adjustable and foldable, so it won't take up too much space when not in use.
Pros:
+ 20-hour battery life
+ Comfortable ear cushions
+ Excellent sound
+ Foldable and compact
+ Passive noise-isolation
Why We Liked It - These headphones have superior sound and comfort. That's what you get with the 059's from MPOW. Reliable battery life is a bonus — these are a pretty good set of headphones for everyday use.
iJoy has provided a pair of wireless headphones that are super affordable and don't come up short in terms of quality. They have a crisp, clear sound that rivals some more expensive headphones. They are built out of plastic and have a matte finish, but are still relatively stable and robust when compared to other headphones around the same price-point.
They have a snug fit around your ears with memory protein cushions, and an adjustable over-head design offers customizable comfort. The over-ear design provides noise-isolation. The charge is quick, and the battery life can last for a while and has a pretty impressive range.
It also has a radio receiver, so you can switch from Bluetooth mode to listening to the radio straight into your headphones. That's a feature that not many other Bluetooth headphones can offer.
Pros:
+ Comfortable cushions
+ Affordable
+ Good crisp sound
+ Radio receiver included
+ Quick charging
Why We Liked It - They are one of the most affordable pairs of headphones you will find. The sound is excellent, and the design is comfortable. It's hard to find fault with a high-quality and low priced pair of headphones.
The MPOW Flame earphones are a massive seller and have a ton of positive feedback. That is because they deliver on sound quality, comfort, versatility, and durability. And, not to mention, they fall into the affordability category quite well. They're not true wireless as they have a wire that wraps around the back of your neck. But they do stay right where you need them to with ear clips that hold them tightly in place.
They are best for sports as their design has high maneuverability in mind. Also, an IPX7 waterproof rating will protect them from sweat and rain. The battery will last for 7-9 hours continuously, if you're listening to music or an audiobook, without cutting out. You can navigate calls and music right on the side of your earphones. The microphone has noise cancellation technology, so anyone you're talking to can enjoy unhindered clarity on the call.
Pros:
+ Crystal clear calling abilities
+ Fantastic sound
+ Built for sport
+ IPX7 waterproof
+ Comfortable ear clips and buds
Why We Liked It - For headphones that are good to get you moving, MPOW Flame is at the top of the game. Especially since they are also affordable, they may be one of the best pairs of sports earbuds you will find.
4. Hussar Magicbuds Wireless Headphones
The Hussar Magicbuds are another excellent pair of wireless headphones for a highly active life. With silicone ear hooks, they attach firmly to your ears and don't go anywhere. Aptx and CVC 6.0 technology give these wireless headphones a formidable sound. The bass is deep, the treble is clear, and they works well with any style of music. Active noise cancelling features allow you to block out outside noise so you can focus on your favorite music or podcasts.
The wireless headset pairs up pretty quickly with a wide variety of devices, and Bluetooth 4.1 provides a reliable and robust signal. 9-hour battery life should be enough to get you through a workout, and they charge up pretty quickly for some added convenience. Just like with any of the best Bluetooth headphones, they have a clear microphone and navigation right on your ear.
Pros:
+ Silicone ear hooks
+ IPX7 Waterproof
+ Excellent sound
+ Bluetooth 4.1
+ 9-hour battery life
Why We Liked It - The Magicbuds are great for sports. The sound is big enough to give you the motivation you need during a workout, and the noise-reduction you will experience is centering and immersive.
5. iKanzi Wireless Earbuds
iKanzi earbuds come packed with innovative technology. If you're looking for a wireless headset that has all the bells and whistles, they may be the best way to go. They have a built-in high-quality chip, which helps deliver some stellar sound. The carrying case also acts as a charger, which holds up to 18 charges. The battery on the earbuds will stay active for about 4 hours on one single charge.
Another cool feature the carrying case has is that it works as a USB charger for your devices if you need it. Bluetooth 5.0 is one of the most reliable signals you can get. They are highly compatible with many new phones and music players, and they pair quickly as soon as you take them out of the case. Also, an IPX7 waterproof rating will allow you to wear them while you're working out or on a rainy day without malfunction.
Pros:
+ 18 charges in charging case
+ Excellent sound
+ IPX7 waterproof
+ True wireless
+ Easy to pair and highly compatible
Why We Liked It - The Ikanzi headphones have all of the technology you need. Tons of battery charges in the case, good sound, and a high waterproof rating make these some of the best wireless headphones out there right now.
The Otium headphones are another superb option for an affordable set of sports earbuds. They have ear hooks to help them stay in place, and a wire that links behind your neck for added stability. The Bluetooth signal is V4, so it's not the strongest one out there, but it is still pretty reliable. It does, however, have a 30ft range, which is reasonably standard for Bluetooth devices.
The battery is designed to last up to eight hours on a single 1.5-hour charge, and the battery life is displayed on your phone screen when synced. The buttons on the side of the earbuds allow you to skip songs and take calls easily. An IPX7 waterproof rating will keep them safe and secure when you're sweating it out or walking on a wet day.
Pros:
+ IPX7 waterproof
+ Long battery life
+ Ear hooks keep them in place
+ Good sound quality
Why We Liked It - They are affordable, stay where you want them to, and have a high-quality sound. If you're looking for a reliable and straightforward pair of sports earbuds, they may be the right ones for you.
With the LETSCOM headphones, sound quality is the main focal point. They have a built-in CSR chip with 11mm diaphragms and Bluetooth 4.1 technology, all pairing together to provide an exceptional listening experience. With the advanced technology used in the microphone the calls are clear and stable. CVC noise cancelling technology lets you get right into the music without any outside distractions, as well.
These sports earbuds have an IPX7 waterproof rating and hooks that go around your ears to keep them in place. With a wire that loops behind your neck, you get added stability and connection between the two earphones. A two-hour charge will give you eight hours of battery life, and they pair up quickly with whichever device you are using. They are also pretty reasonable on the affordability scale.
Pros:
+ 8-hour battery life
+ IPX7 waterproof
+ Good for active living
+ Stay-in-place ear clips
+ Great sound
Why We Liked It - The sound and the connection are genuinely exceptional with these affordable headphones. They are lightweight and comfortable, making them suitable for a sporty lifestyle.
If you're looking for a pair of headphones that are well suited for everyday life, the COWIN E7 fits well for listening around the house, commuting to work, or hanging out at the library. Active noise cancellation keeps all distractions out and allows you to enjoy your music or audiobook fully. If you're someone who flies a lot, they will keep out airplane cabin noise well and will enable you to relax.
The sound comes through 40mm aperture drivers, and the earcups - made of memory protein material - are super comfortable and sit over the top of your ears. NFC technology allows you to pair your headphones quickly with any of the devices you're streaming from, and a clear microphone gives you unhindered calls. The battery lasts for up to 30 hours, which is convenient and impressive. They are one of the better everyday life headphones you will find today.
Pros:
+ Over-ear design
+ Excellent sound quality
+ Noise cancellation
+ 30-hour battery
+ Comfortable ear cushions
Why We Liked It - The sound that you get from the COWIN E7 is fantastic. It's deep and clear, and you don't have to turn it up too loud, given that they are noise cancelling headphones and can cancel outside noise. Great for everyday use.
For anyone who needs a good headphone pair with a focus on answering calls all day, the MPOW Jaws V4.1 headset is a great option. They come with a comfortable neckband which sits on the crest of your shoulders. The earbuds are small and cozy and have a magnet which brings them together to decrease the likelihood of them getting caught when not in use.
The headset has CVC noise cancelling technology, which filters background noise and allows you to focus. The microphone is pretty clear, and calls are uninterrupted. The 13-hours of continuous talking or listening time make them convenient for all-day use, and they have 350 hours of standby time before needing to be charged. They are best for stationary use, where you're not doing a lot of moving around and need a reliable headset.
Pros:
+ Comfortable neckband
+ 13-hour battery life
+ Comfy earbuds
+ Noise-cancelling technology
+ Clear microphone for calls
Why We Liked It - If you need to be on the phone a lot, then the Jaws headset is a great option. They are bright, comfortable, and last a long time, so you don't need to charge them up multiple times a day.
The SENSO Bluetooth headset, another affordable pair of sports headphones, has everything you need. They're comparable to many of the other best Bluetooth headphones on the market in terms of sound quality, style, comfort, and price.
They will last for up to nine-hours on a single charge and have 240-hours of standby time. An IPX7 waterproof rating will give you peace of mind when you're sweating it out or when it's wet outside.
Noise-reduction technology helps to filter out unwanted background noise and allows you to concentrate on what you want. The sound quality is excellent with deep bass, shimmering treble, and controlled mids. The gel tips make the earbuds comfortable, and the ear clips keep them in place. They're a great set of headphones for any activity you enjoy.
Pros:
+ IPX7 waterproof
+ Affordable
+ Comfortable
+ Great sound
+ 9-hour battery life
Why We Liked It - They are a reliable option for anyone looking for a good pair of sports headphones. Waterproof, long battery life, and great sound at an affordable price.
Wireless Bluetooth Headphones Buyers Guide
What to look for when buying wireless Bluetooth headphones
Fit/Design
How would you like your headphones to fit? There's a stark difference between in-ear headphones and over-ears. In-ears are built to be lightweight and maneuverable, while over-ear headphones offer a better sound quality with slightly less agility.
That isn't to say that over-ear headphones aren't comfortable - many of them still are. It depends on the situations in which you are using your headphones. Over-ears are great for everyday listening where you're not super active, whereas in-ears are best for sports and active living.
Battery Life
Long battery life can make your life a little bit easier. Of course, if you're only using your headphones sparingly throughout the week, then a long battery life won't be super important. However, if you're listening to music every day on the way to work, or you need to use your headphones all day, then a reliable battery life will make all the difference.
If you've ever had a pair of headphones die right when you need them most, you know how annoying it can be. It will save you time and headaches by not forcing you to change them every few hours.
Sound Quality
Music lovers everywhere know how important sound quality is in a pair of Bluetooth wireless headphones. Music is recorded and mixed in a certain way, and if you don't have a high-quality speaker playing, you will be missing out. Over-ear headphones arguably have the best sound quality you will find in a headset.
They have more significant drivers and speakers, as well as the capability to cancel outside noise. If you're looking for an immersive, listening experience, then over-ear headphones may be the best way to go for you. However, in-ear headphones can still pack a pretty impressive punch.
Depending on the way they're designed, in-ears can also sometimes provide noise-isolation naturally. Again, in-ear headphones are best when you need to move around. If you need to have a maneuverable set of earbuds, then ensure they have a CSR chip and a reliable Bluetooth signal.
Bluetooth Version
The best Bluetooth technology available today is V5.0. This version is incredibly stable and reliable, and cuts down on dropped calls or skips, helping to provide more accurate sound quality. Still, many of the best wireless headsets are equipped with V4.0 or 4.1.
These are still strong signals, and you shouldn't notice much of a difference. A newer version may cost a little bit more, and it's worth the money. But, if you're looking to save a little bit of change, then settling for a slightly lower version is acceptable.
Durability
You'll need your headphones to be able to handle the lifestyle you live. A pair of sturdy headphones will allow you to enjoy their technology and listening experience for a longer lifespan. Headphones that are made cheaply, and without substantial durability, will not be able to handle being knocked.
If you're looking for a pair of sports headphones, ensure that they have a waterproof rating that's at least IPX7 or higher. A high waterproof rating will ensure that your sweat will not damage the speakers. Also, having a carrying case will help protect your headphones when you're in transit.
Especially for over-ear headphones, you want to have a sturdy case that can protect them from being broken or damaged when you're moving around. You can check durability on the headphones online by reading multiple reviews from other buyers. Doing so will help you determine pretty quickly if a pair of headphones is going to last long enough in your hands.
Noise Cancellation
Noise cancellation may or may not be something that matters a lot to you. It depends on the level of immersion you want and the environment in which you generally listen to music. Noise cancelling can be a beautiful thing, but it's not always practical.
If you're looking for a pair of headphones to listen to music or watch movies around the house with no distractions, then a couple of noise-canceling headphones can be significant. However, if you're using your headphones out in public and need to be aware of your surroundings, then a noise cancelling option may not be the best option for you.
Instead of noise cancelling, you can go with a pair of headphones that have noise-isolation instead. Noise-isolation will muffle some outside sounds while still allowing you to be aware of what is going on around you for your safety.
Warranty
A good warranty will help protect you against any malfunctions or manufacturer defects. With a good warranty, you have the peace of mind of knowing that you'll be covered if anything goes unnecessarily wrong with your headphones.
Having a rock-solid guarantee will save you time and money and should be considered as a relatively important part of the buying process. Many of the best wireless headphone manufacturers are able to back up their products 100% so you should have no problems finding peace of mind.
Conclusion
Are you ready to start listening to music in a brand new way? With these options for the best Bluetooth wireless headphones, you really can't go wrong. You should be able to listen to you your music in an immersive and enjoyable fashion.
If you've enjoyed this review by Music Critic, please leave a positive rating:
[vc_separator