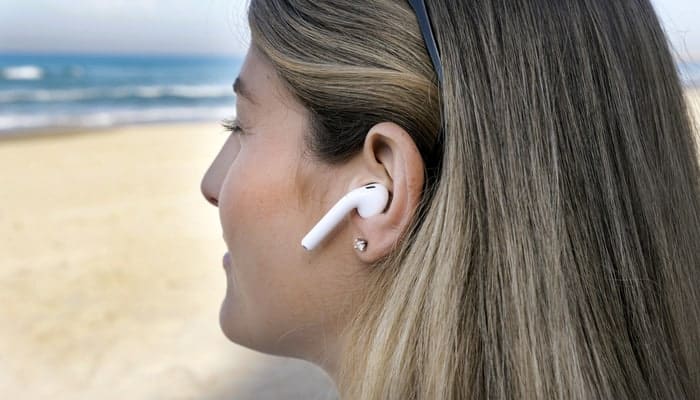 Listening to music while on the go usually requires a pair of reliable headphones, and if exercise is part of your daily routine - in-ear headphones are what you need. Not just any pair will do, though, and you need a product that will live up to your expectations both when it comes to sound, durability and special functions.
We have listed the top 10 wireless headphones to make your decision-making process easier, along with some tips and tricks needed to find the product that is right for you, to save you some trouble in your search.
View The Best Bluetooth In Ear Headphones
1. iKanzi Wireless Earbuds iPX7
If you want your headphones wireless, battery time becomes highly relevant. The charging case that comes with these can charge the earphones up to 18 times, which means you get a total battery time of 72 hours!
They are waterproofed to withstand sweat and rain - essential when you want to be able to go running no matter the weather, they have automatic pairing and you don't have to click any buttons to turn them on and off after charging.
The built-in high-quality audio chip creates an audio experience that places you right in the middle of the music you are listening to and the Bluetooth 5.0 makes sure you are provided with uninterrupted sound.
Pros:
+ Built-in high-quality audio chip
+ With highly compatible Bluetooth 5.0
+ IPX7 waterproof against sweat and rain
+ Automatic pairing and power on
Why We Liked It - You don't have to worry about pushing any buttons to turn your top wireless headphones on and off, as they activate automatically whenever put in- or taken out of the charging case.
2. SoundPEATS Bluetooth Headphones
Each charge gives you 3.5 hours of uninterrupted listening, and HiFi stereo sound both for phone calls and when you listen to music. You can use only one of the headphones, or both, and get that same impeccable sound experience you are looking for.
If you want the best-sounding wireless headphones that you can use for all your daily activities - these have the sound quality, the ease of use and a warranty that you can use for 12 months, and the charging box will charge them for you within a couple of hours. You will no longer have to deal with cables tangling when you are trying to listen to your music, and the easy pairing is another great feature.
Pros:
+ Music and phonecall HiFi stereo sound
+ For single and couple use
+ Stable and tangle-free transmission
+ 12-month reliable warranty
Why We Liked It - You get impressive HiFi stereo sound both when you are making calls and when you are listening to music, which sets these top-rated Bluetooth headphones apart from other products as well as previous versions.
3. Mpow Flame Bluetooth Headphones
These top-rated wireless headphones go inside the ear, where they will sit comfortably also when you are out running or exercising, and the noise cancellation technology makes sure you can hear your music and your phone calls also in noisy environments.
There is a special cable included for charging, to give you the exact right voltage to protect both these wireless headphone reviews' favorites and the cable itself. It takes only 2 hours to charge them, and with that little charging time, you get a total of 7-9 hours of listening time.
The function known as Bluetooth dual point connection enables you to use two different devices - effortlessly switching between the two so that you can focus fully on your workout.
Pros:
+ Dual-point connection Bluetooth
+ 7-9 hours of uninterrupted playtime
+ Charging cable included
+ Interior Nano-coating waterproof technology
Why We Liked It - The seven to nine hours of playtime offered by this product makes them some of the best wireless headphones currently available.
4. Bose SoundSport Wireless Headphones
NFC pairing and Bluetooth, along with voice prompts and 6 hours of battery life, makes these a set of the best wireless headphones you can find. Bose is a brand that has been delivering quality electronics for decades, and it shows in the clever construction of the best in-ear wireless headphones they have produced in years, where focus lies on portability, function, and durability.
The StayHear+ sports earbuds are uniquely designed to fit right into any ear, and to stay put for as long as you need them. You can almost hear and feel that they are authentic Bose earphones, and it is no wonder they are considered one of the best wireless headsets.
Pros:
+ Rain and sweat resistant
+ Six hours of battery life
+ Stays in place when working out
+ Nicely balanced sound
Why We Liked It - For those who want the best Bluetooth headphones for working out - these won't disappoint with their long battery life and stay-on design.
5. SoundPEATS Bluetooth Earphones
The sound quality of the best wireless headphone needs to live up to certain standards, and here you get sound quality that resembles the crystal clear audio of a CD, thanks to the APTX codec with CSR8645 Bluetooth chips. One to two hours of charging gives you a total of 8 hours of listening time, allowing you to always be ready to listen to your favorite music or take that important business call.
You can get it in black, white or red, depending on what your preferences are, and you get an in-line mic with button control, along with five differently sized ear tips to better accommodate the unique shape of your inner ears.
Pros:
+ Five ear tip sizes included
+ High fidelity sound quality
+ Button control and in-line mic
+ Available in red, black and white
Why We Liked It - Everyone's ears look different, and this product comes with five different ear tip sizes, making them a set Bluetooth headphones reviews rave about.
6. TOZO T8 True Wireless Stereo
The authenticity of the sound comes from a balanced bass, clear midrange and treble performance, creating a unique audio experience that you rarely expect to get out of such tiny headphones. Bluetooth headphone reviews constantly rave about them, due to their superb audio quality, automatic pairing, and comfortable and ergonomic design.
The perfectly fitted earbud caps help reduce ambient noise, setting you up for crystal clear sound, and the earphones pair automatically both with one another and with your cellphone. There are no cords to worry about, as it is a fully wireless experience, contributing to them becoming some of the best wireless Bluetooth headphones for sports and traveling.
Pros:
+ Ergonomic and comfortable design
+ Balanced bass and clear midrange
+ Ambient noise reduction
+ Easy and quick pairing
Why We Liked It - For a product to qualify as the best wireless earphones, they need great sound, and they need to be comfortable to wear, and this wireless headphone pair has both!
7. ACIL Bluetooth Headphones
Both earbuds are magnetic so that you can hang them around your neck and click them together safely and securely when not using them. Rich bass, dynamic drivers, clear treble, and buttons to play and pause music, take calls and change the volume, plus 11 hours of playtime and comfortable ear tips all come together to make a set of top Bluetooth headphones.
The magnetic clasp design allows you to place them effortlessly around your neck to avoid losing them or having to store them somewhere, and they are highly runner-friendly thanks to the waterproof materials. This means you won't have to worry about sweating a little more than usual, or about it starting to rain when you least expect it.
Pros:
+ Liquid highly flexible silicone
+ IPX5 waterproof & magnetic clasp
+ 11 hours of uninterrupted playtime
+ Dynamic 8mm drivers
Why We Liked It - These are not just good wireless headphones - they are some of the best affordable wireless headphones available, and they are lightweight and comfortable to wear.
8. Sony Extra Bass Bluetooth Headphones
Despite this list being all about in-ear Sony headphones, we are still going to bring forward these high-quality over-ear headphones, for those who would want to compare the best rated wireless headphones that go over the ear with those that go in the ear.
These have apt-X support and AAC for Bluetooth audio streaming, 44mm drivers to aid with wider frequency response, a built-in microphone to take calls with crystal clear audio quality, up to 20 hours of music with the rechargeable battery and connectivity technology.
To provide a superb and superior listening experience for those who prefer the best on-ear wireless headphones. They sit surprisingly well on your head making them perfect for long commutes, bus- and train rides.
Pros:
+ Wide frequency response
+ Apt-X and AAC support
+ Detachable audio cable included
+ With electronic bass boost circuitry
Why We Liked It - These are without a doubt the most comfortable wireless headphones you can get, especially if you struggle to wear in-ear headphones, and it is a good option if you for example plan to travel with them.
9. Phaiser BHS-530 Bluetooth
These were some of the best wireless earbuds 2017, and the best earbuds 2018, and better yet - they still remain as one of the top in-ear products! The Bluetooth 4.1 combined with powerful 8mm speakers provides an impressive audio experience - unique and surprising - and the ear tips have memory foam to fit perfectly into any ear.
This is ideal for wearing them for hours at a time, without experiencing discomfort, and for noise reduction. Liquipel Nano coating protects the headphones from getting damaged if it rains or when you sweat, you get a lifetime sweatproof warranty and you can safely wear them around your neck for instant access wherever you are.
Pros:
+ Bluetooth 4.1 and 8mm speakers
+ Multi-size memory foam EarTips
+ Easy to wear around your neck
+ Lifetime sweatproof guarantee
Why We Liked It - You won't have to worry about sweating heavily with these earphones, as they can even be accidentally dropped in water without malfunctioning!
10. Anker SoundBuds Curve Wireless Headphones
When you use these headphones at 80% volume, you get an impressive 18 hours of uninterrupted playtime, which is enough for when you go on a long trip or when you have little time to charge them up in between runs. You will no longer have to find yourself unable to listen to your favorite songs, or unable to take that important business call you had been expecting.
BassUp technology improves the sound of the bass with 43%, it has a quick-charging mode and - surprisingly - is so waterproof that you can rinse it with water without damaging the electronics. The flexible bio-cellulose dome sits comfortably around the ear, and it stays on also when doing high-energy type of exercise - making it one of the best wireless headsets for enthusiastic workout fanatics.
Pros:
+ Safe to rinse with water
+ Up to 18 hours of listening time
+ 43% improved the bass sound
+ With the quick-charge mode
Why We Liked It - When you are in a hurry, it is enough to charge these for 10 minutes, as it will give you a total of 3 hours of extra listening time.
Wireless In-Ear Headphones Buyers Guide
There are so many different things you can use a set of headphones for; you can use them to listen to music when walking and exercising, to take calls while needing your hands for something else, to watch funny videos on social media in public and much more, but it isn't just about what you want to use your headphones for - it matters what kinds of headphones you decide to go with! Not getting the ones that are right for you can mean that you will be uncomfortable wearing them or that they won't stay in your ears while you move around.
Looking through a wireless headphones review/Bluetooth headphones review is a great way to find quality products, but you also need to know what to look for to find what is right for you. Whether you are looking for the best Bluetooth over-ear headphones or the best wireless in-ear headphones - there is a perfect product out there for you, and this is a guide to help you find a pair of good Bluetooth headphones that fits your needs.
This Is An In-Ear Headphone
To find the best in-ear Bluetooth headphones, you first need to know what in-ear headphones are, and what makes them different from the best wireless over-ear headphones. In-ear headphones, also known as earbuds, are the kinds of listening devices that go inside your ear, instead of over them.
They are the classic kind that has been used for decades, but lately, it is also becoming increasingly common for headphones to be wireless. By making the best headphones wireless you get the opportunity to venture outside without getting tangled up in your cables, which allows for free movement especially when exercising.
Perfect Fit
Wireless headphones reviews can tell you which products are good and which aren't, but you also need to think about how a headphone will fit your ear, and how well it will work for the activities you have in mind.
If you tend to struggle to find earphones that feel comfortable when worn for extended periods of time, you should consider purchasing a product that comes with multiple tips in different sizes. This is usually the issue when an in-ear headphone isn't comfortable to wear, as everyone's ears are shaped differently.
Noise Reduction
A great thing about in-ear headphones is that they tend to be noise-reducing, for the simple reason that they go inside your ear. Some shut out more ambient noise than others, which you will often find specified in the product description.
This will allow you to listen to your music and hear your phone calls also while you are walking or running along a busy street, or riding on a noisy bus. If noise reduction is important to you, look for a product that fits you right (memory foam is a great material for in-ear headphones).
There is another reason, too, for why it is important to find a pair of earphones that fit and that cancel out exterior noise, and this is to protect your ears. Headphones that don't fit right also won't be properly noise canceling, which means you are likely to turn up the volume to hear your music and your phone calls when out in busy environments, something that could damage your ears permanently.
What are the best budget wireless headphones?
Great headphones aren't necessarily expensive, and it is possible to find in-ear headphones with great audio, at a price you can afford. Pay attention to the product specifications, to find what is right for you. Consider the SoundPEATS Bluetooth Headphones.
Do I have to wear in-ear headphones when working out?
You can wear over-the-ear headphones when exercising and doing sports but chances are they won't stay on your head when you move. An in-ear headphone stays in place, provided you have chosen the right size and model and is, therefore, a better choice for exercising.
Conclusion
It can sound confusing at first with all the different technical terms related to in-ear headphones, and for the inexperienced shopper - it can seem like an impossible task to get it right. This is why we have put together a list of products that meet our high standards, to save you the trouble of having to weed out products that won't be living up to your expectations.
You don't need to be an expert to find a set of headphones that you'll be happy with, and all you need to do is to consider what you will be using them for, what your budget is and what model you think will be the most comfortable for you to wear.
If features like great bass are something that matters a lot to you, then it becomes additionally important to read the product specs, but other than that it does not have to be rocket science to find the best in-ear headphones.
Expert Tip
If you are going to use the earphones for exercise, you will want to make sure that you get a product that is water- and sweatproof.
Did You Know
Turning up the volume too much can cause serious ear damage, and this is why noise-canceling headphones are recommended, as they require less volume in noisy environments.
If you've enjoyed this review by Music Critic, please leave a positive rating: