If you love to work up a sweat to the soundtrack of your favorite tunes, then you're going to need the best wireless headphones for working out. In this article, we'll show you ten awesome products that are perfect for listening to music while exercising.
Music can be the best motivation to make you go that extra mile when you're on a treadmill or out jogging. It can also push you to lift more weight. You may also find music to be a distraction while you're going through repetitive drills at the gym. Regardless of how you work out, you'll want your headphones to deliver superb sound quality, a comfortable, snug fit, and if they look good too, then that's no bad thing.
In the past, an average set of headphones would often slip out of your ears during exercise. Sweat would also damage their performance, causing a limited lifespan. Fortunately, thanks to cutting-edge waterproofing technology, that's not an issue anymore. Manufacturers can integrate lots of innovative design features into modern headphones, which ensure a secure fit and long-lasting quality.
Let's have a look at our top picks, as well as the buyer's guide at the end of the article, which will answer all the important questions you might have so you can make a wise investment.
At a glance:

Our top 3 picks
Our team's top 3 recommendations
Best Overall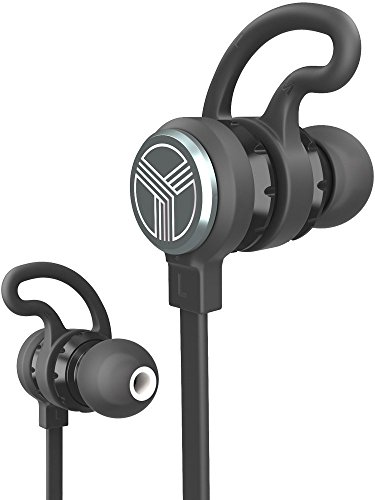 TREBLAB J1 - Bluetooth Earbuds w/Apt-X

Competitively priced
Highly portable
IPX6 water resistance
8 hours battery life
Premium Quality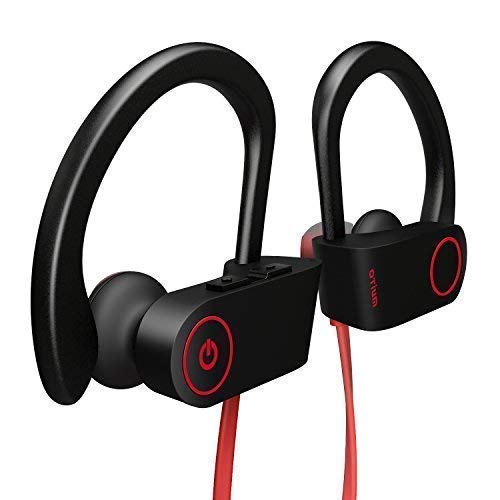 Otium Audio Bluetooth Headphones

Competitively priced
Highly portable
IPX6 water resistance
8 hours battery life
Great value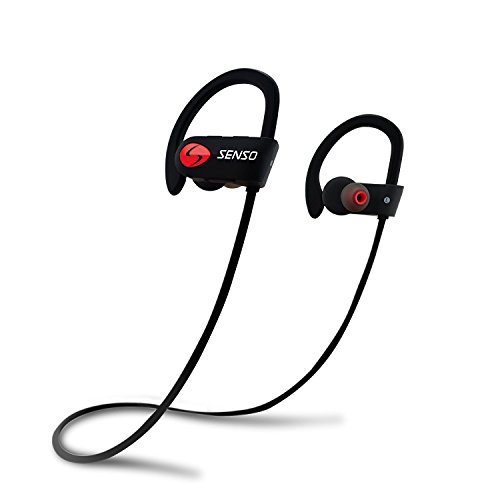 SENSO Bluetooth Headphones, Best Wireless Sports

Competitively priced
Highly portable
IPX6 water resistance
8 hours battery life
View The Best Wireless Headphones for Working Out Below
1. TREBLAB J1 - Bluetooth Earbuds w/Apt-X
We begin our reviews with a tremendous product from TREBLAB. They are very compact wireless earbuds. They feature ergonomically designed grips, which are miniature fin-shaped flexible curves. These grips help them stay inside the ears and can also be clipped together via a complimentary neck–cord. The cord features in-built controls and a mic for hands-free calling. There's also no need to worry about your gym's sound system ruining your listening experience, as they include noise-canceling technology that blocks out unwanted, external noise.
This is a high-grade product that's been built and designed with a lot of attention to detail. It's also extremely compact and portable, allowing you to store them in a small carry case when not in use. As they're wireless, then you don't need to spend ages untangling a cable when you arrive at the gym. The lack of a wire also means your arms can move freely when you jog, cycle, or dance, without any fear of snagging the cable. If you work up a sweat, then that won't cause this excellent product any problems too, as they feature IPX6 water resistance.
These buds feature high-quality, beryllium drivers which provide well-balanced audio from their tiny 10mm composite cones. In other words, they sound great! They are equipped with Apt-X technology, which gives the frequency response more balance. This also provides high definition, stereo sound quality. If you're an audiophile, then we think you'll like just how detailed and crisp the sound is.
They are equipped with Bluetooth 4.1 connectivity, making for secure pairing with your smartphone. You get eight hours of battery life from around two hours charge. They come with a handy carry case. They're also available in a range of different styles with interchangeable tips.
Pros:
+ Competitively priced
+ Highly portable
+ IPX6 water resistance
+ 8 hours battery life
Why We Liked It - These earbuds have it all. They're compact, portable, and offer a secure fit. The sound quality is top-notch too, meaning that it will please the most discerning of audiophiles. There's nothing we can think of to fault these flawless earbuds. A quality choice, in our opinion.
2. Otium Audio Bluetooth Headphones
Next on our list is also the cheapest wireless headphone option, retailing at just under the $20 mark.
They offer a huge amount of bang for the buck, making them a quality budget choice. Despite the low price, they include cutting-edge technology, such as Bluetooth 4.1, which ensures a stable connection. They're also a breeze to pair with your smartphone or music player thanks to the Bluetooth 4.1 tech. Above all else, however, it is the sound quality that makes these earbuds outperform others in the same price range.
They feature optimized circuitry that ensures they perform particularly well with low-end frequencies. If you're a fan of booming basslines, then we think you'll love the sound delivered by this product. They also feature tiny composite diaphragms that help to give an even bigger bass boost. The sound overall is rich, but it is with the low frequencies that they stand out from the crowd, especially when compared to other budget models.
They've got antiperspirant, non-slip hooks that ensure a secure fit. There's no need to worry about them slipping out, even during a vigorous workout. They come with a selection of ear tips, so you can find one that offers the snuggest fit.
Pros:
+ IPX7 water resistance
+ Excellent bass performance
+ Low price
Why We Liked It - They offer outstanding value for money, making the one of the best budget choices around. We were blown away by their low-end performance, which will appeal to anyone who loves a booming bassline when they're working out. A superb, low-risk, low-price pick.
3. SENSO Bluetooth Headphones, Best Wireless Sports
Next up is this awesome product from SENSO which is perfect for a workout. They're wireless, so you can have complete freedom of movement, and they also feature ear hooks that ensure a secure fit, even if you're running at a quick pace.
The hooks are made from a flexible rubber composite, which means that they are comfortable to wear. They're lightweight too, so you don't need to worry about fatigue when wearing them for long stretches. The ear tips are designed to form a seal when placed inside the canal which ensures a stable fit and also helps to isolate the sound.
They feature high-performance drivers that produce a dynamic sound quality that's very well balanced. The electronics inside them are high-grade and feature innovative engineering, which both enhances the sound quality that they produce. They've also been given a nano-coating that offers water resistance. They've got an IPX7 certification, so sweat won't cause them to short.
You get eight hours of playtime from a single charge, which should be more than enough for even a long-distance jog. They've got an in-built, noise-canceling microphone too, which ensures crystal clear voice calls.
Pros:
+ Secure over-ear hooks
+ Noise-canceling mic
+ High performance
+ 8 hours battery life
Why We Liked It - These wireless earbuds are great for sports and workouts, as they feature water resistance, a secure fit, and offer excellent sound quality. SENSO products are always built to a very high level, and this product is no exception.
4. All-New 2023 Bluetooth Headphones
These cutting-edge earbuds have got over-ear hooks to provide a stable fit that's perfect for when you're working out. They also feature the latest Bluetooth technology, so that you have a fast, secure connection at all times. The sound quality is crystal clear thanks to this technology, with no dropouts or interference. This product features a thoughtful design that means it ticks all the essential boxes in terms of sound, comfort, and performance.
To ensure that the mini drivers and circuitry are optimized for perfectly balanced audio with detailed sound, these earbuds feature Apt-X technology. It's an essential piece of tech for wireless earbuds as it means that you get comparable quality without wires as you would with them. Not only do they deliver exceptional sound quality, but they also offer ten hours of playtime from a single charge.
They include essential water resistance capabilities too. They've got an IPX7 certification, which means not only is sweat not an issue but if you're caught in the rain during a jog then that also won't cause them any performance issues. For crystal clear phone calls, they've got a CVC 6.0 noise-canceling microphone. They also come with an excellent carry case to store them inside when they're not in use.
Pros:
+ Apt-X technology
+ Full over-ear hooks
+ IPX7 water resistant
+ Noise canceling mic
+ Competitive price
Why We Liked It - A combination of cutting-edge technology, exceptional sound quality, and an affordable price makes these earphones a great choice. We were particularly impressed by how durable they were, thanks to the IPX7 water resistance and rugged design.
5. Soundwhiz Wireless Earphones
These low-price earbuds from Soundwhizz feature 10mm drivers and Apt-X technology which combine perfectly to deliver a high-fidelity sound that's well-balanced and very detailed.
Despite their tiny size, they are rugged and durable. They're also incredibly lightweight, which makes them comfortable to wear. They feature intuitive onboard controls that are conveniently located on one of the earbuds, making them easy to control even while you're working out. They've got an in-built mic for phone calls and voice commands. Another big plus is their noise-canceling capabilities, which we found to be highly effective. For a stable, secure connection with your smartphone, they've also got Bluetooth 4.1 technology. The battery life of eight hours is another advantage of this affordable product.
They come with a range of ear tips with different bass flanges, so you can choose one that offers you the best fit. They are created with a composite that is non-slip and very flexible. This means they can be comfortably worn with sunglasses, caps, hats, and sweatbands. They've also got IPX7 water resistance, so rain won't cause them any problems too.
You can purchase these earphones in a range of colors, including bright pink, red, black, and gunmetal. If you're an exerciser who loves to look stylish at the gym, then we think you should check out this chic product.
Pros:
+ Very reasonable price
+ IPX7 water resistance
+ Flexible materials
+ Long battery life
Why We Liked It - This stylish product delivers awesome sound quality, as well as a comfortable fit. The eight hour battery life is another big plus. When the price is taken into account, then we think they're a superb bargain.
6. TREBLAB XR800 Bluetooth Headphones
If you liked our opening model from TREBLAB but weren't sold on the in-ear hooks, then you might find this product with over-ear hooks a better option. It's one of the bestselling models on the market, and the quality that it delivers explains why it's so popular.
These earphones have lots of the same great features as the ones that topped our list. They've got up-to-date Bluetooth technology, Apt-X codecs, dynamic balance, high-performance beryllium drivers, and also offer water resistance. The only distinguishing feature between this model and the one at the top of the list is the ear hooks.
They provide high-output, high-definition sound, have built-in noise-canceling capabilities, around eight hours of battery life, and come with a range of interchangeable ear tips. They've pretty much got it all!
Pros:
+ High fidelity audio
+ Over-ear hooks to maintain a secure fit
+ Reasonable price
+ Noise cancellation technology
+ Long lasting battery life
Why We Liked It - They're built to a high level, offer exceptional sound quality, and are very reasonably priced. We can recommend them to anyone who prefers over-ear hooks to in-ear hooks. TREBLAB is a company that can be trusted for reliable performance, so they're a safe long-term investment.
It's no secret that Beats is one of the best audio equipment manufacturers in the business, and the Beats Powerbeats Pro just reinforces that fact. If you're looking for a pair of sweat-resistant, durable buds that sound great, then these are an excellent choice.
This pair of headphones is true wireless. That means that they don't have any connecting wires at all. True wireless headphones are perfect for running, as they're incredibly lightweight. This pair uses an Apple H1 chip for excellent sound quality. They can be used with both iOS and Android. All you have to do is download the Beats app.
In terms of battery life, the Beats Powerbeats Pro offers nine hours of playtime from a single charge. In a rush and don't have time to charge your headphones? Don't worry. Just five minutes of charging will provide 1.5 hours of battery life. They also come with a charging case, which provides a total battery life of 24 hours. This is another advantage of the true wireless design. You never need to worry about a flat battery ruining your workout.
There's always the fear that even the best true wireless headphones will fall out of your ears mid-workout. But these buds have adjustable ear hooks that ensure they will stay in place. So whether you're kickboxing, running, dancing, or playing a game of tennis, your headphones will stay safe and secure. They also come with different-sized ear tips, so you can get a comfortable fit, no matter the shape and size of your ear.
They also feature intuitive controls on the earbuds. You can pause, play, and skip music, all without your device, and all at the touch of a fingertip. The Bluetooth connectivity is Class 1, so you can be sure that the connection is strong and secure. If you never want to lose sound when you're working out, this product could be the best for you.
Pros:
+ Secure and comfortable fit
+ 9-hour battery life
+ Apple H1 chip
+ Effortless controls
Why We Liked It - They're true wireless earbuds that are made by Beats. Need we say more? The sound quality is typical of Beats, which makes this product perfect for audiophiles. The extended battery life and secure fit are two other big advantages of this product too.
These Bose headphones are designed specifically for working out. They're both sweat- and water-resistant, which is ideal for outdoor joggers who might get caught in the rain. The Sport Tips that they come with ensure a secure fit at all times, no matter how intense your workout gets.
Do you often lose your buds? That's a common fear, especially if they've got a true wireless design. There's no need to worry about losing this product, though. They're compatible with the Bose Connect app, which helps you to locate your buds if you ever lose them. Not only that, but the app makes switching between devices effortless too.
The top feature of this product is sound quality, as it always is with Bose audio equipment. It's well balanced, thanks to the active EQ that's integrated into the headphones. The depth and richness of the sound have to be heard to be appreciated.
They deliver six hours of playtime from a single charge, which is more than enough for a long workout. Even if you exercise for the whole six hours, then the time will fly by thanks to the exceptional sound quality, in our opinion.
Pros:
+ Comfortable and secure ear tips
+ Great audio quality
+ Durable build
+ Bose Connect app compatibility
Why We Liked It - They deliver exceptional sound quality that's typical of Bose. We also like the fact that they're compatible with the Bose Connect app, as it means you'll never lose them. Overall, they're flawless and worth paying extra for, we think.
9. Back Bay - Runner Wireless Bluetooth Earbuds
This awesome set of headphones for running and working out is designed with two core goals in mind. The first is that they're perfect for running. The second goal is to give the user a lot of control over the sound.
The over-ear hook design has been designed for premium comfort. They can be linked with a cord and come with three different ear tips, ensuring a snug fit. They also come with a carry case and a cord clip.
The drivers are of superb quality due to advanced engineering. Their performance is up there with the best products on our list. The multi-crossover design means that they come with five different EQ presets. Each preset has been carefully selected and fine-tuned at the manufacturer's Boston headquarters. The five presets give the user five different listening modes, each suited to different needs, from a bass boost sound setting for motivational music to one that's perfect for listening to a voice, such as for podcasts or audiobooks.
They feature quick charging technology, which gives you an hour and a half of uninterrupted listening for just fifteen minutes of charging time. These in-ear headphones have Bluetooth connectivity. They've also got an IPX7 water resistance certification, making them rain and sweat-proof.
Pros:
+ 5 different EQ modes
+ IPX7 water resistance
+ Quick charge feature
Why We Liked It - The five EQ presets allow for an omptimal listening experience regardless of if you workout to music or podcasts. They've got dynamic drivers that produce sensational sound quality. The price is very reasonable too. This is a high-performance product that ticks all the key boxes.
10. Jabra Elite 75t Earbuds
These true wireless earbuds are perfect for a workout session. They are compact and lightweight. You hardly feel them when they're in your ears. The fit is secure for every size and shape of ear canal, so you don't have to worry about them falling out when you're in the middle of an intense workout too.
The wireless Bluetooth connection is strong and secure. They won't skip or lose connection when you're listening to music or taking an important call.
The battery life on the Jabra Elite lasts up to 7.5 hours from a single charge. This product also comes with a charging case, which gives you an overall total of 28 hours of battery life. You'll never get caught out by a flat battery with this product.
They also come with the Jabra Sound+ app. It allows you to customize and change your settings. You can also use it to select your voice assistant and access widgets.
If you're impressed by this product, you could also check out the Jabra Elite Active. Jabra is known for making excellent sport headphones, and the Jabra Elite Active is no exception. Both these products are a cheaper alternative to the Apple Airpods without skimping on quality.
Pros:
+ High-definition sound
+ Lightweight and compact design
+ Comes with a carry case
+ 28 hours of total battery life
+ Comes with the Jabra Sound+ app
Why We Liked It - If you're looking for something light and compact, that won't irritate you during an intense session, then these headphones are a superb choice. They're a great alternative to Apple Airpods. Also, check out the Jabra Elite Active for another great set of workout headphones.
Wireless Headphones for Working Out Buyers Guide
Music and movement go hand in hand. That's why many manufacturers design audio equipment that's perfect for exercise. There truly is an abundance of fantastic products out there that are ideal for using to listen to music or podcasts while you're working out.
Gone are the days when you would find your arms catching a headphone cable while you're pumping your arms during a run. Nowadays, thanks to CSR chips, it's possible for manufacturers to create affordable wireless headphones that liberate your body so you can move freely without worrying about a cable. CSR chips allow for Bluetooth connectivity to be built into compact products, such as an earbud, which is why they've revolutionized the listening experience for many exercisers around the world.
To choose the perfect audio equipment for your workout, then there are a few important - yet simple - factors that you need to keep your eye out for, so that you can then invest your hard-earned dollars wisely.
Firstly, you want to choose earbuds that have an up-to-date form of Bluetooth technology built into them. This ensures an easy pairing and a secure connection without any dropouts or lagging.
It's also handy for them to include an in-built microphone. Preferably, this will be a CVC 6.0 mic, as this will cancel external noise so that your voice is isolated and can be heard clearly by the person you're speaking to. You can also use the mic to operate your voice assistant, whether that's Siri or Alexa.
Of course, they'll need to be sweat-resistant too. But if you have a particularly rigorous routine or are often outdoors, you'll need them to be more than just sweat resistant. They need to be water-resistant too. You would be wise to go for a high waterproof certification. Sweat can actually be more damaging to unprotected components than water. If your buds are sweatproof, they will slip around a lot less, which will make for a much more comfortable workout.
For many gym enthusiasts or long-distance runners, there's no alternative to in-ear headphones. An over-head or over-ear set will be much too bulky. They'll also cause you to overheat. That's why we have stuck to earbud options in today's reviews. Earbuds are lightweight, comfortable, and are capable of delivering excellent sound quality too.
The only drawback to earbuds is that there is the risk of them falling out of your ears, especially when you're in the middle of an intense workout. The products in our list all feature designs that ensure that this doesn't happen. You have ear hooks that go over the ear, some that have hooks that go inside your ear. In the end, it's a question of preference as to what type you go for.
Battery life is another key feature to focus on. You certainly won't want to settle for less than eight hours if you plan to use the earbuds for your commute to work and back, as well as for your workout at the gym. True wireless earbuds often come with a charging case, which can provide you with a huge boost to playtime. Some earbuds can also offer you a prolonged playtime of more than ten hours from a single charge. So, only settle for a product that offers you the amount of playtime that you need.
The budget should always be at the forefront of any consumer's mind. You should decide what it is that you want to spend in advance so that you can then focus your energy on products that are within your price range.
If you want better bass performance, then search for a set that has been optimized to provide just what you're looking for. The Back Bay headphones on our list have built-in EQ options, which is a useful tool, in our opinion. It's these unique features that can make a product stand out from the crowd. So, make sure to keep an eye out for the special features that each set of earbuds offer.
Conclusion
Now that we've looked at our top ten picks, as well as advised you on how to pick the best earbuds for working out, we're going to tell you what our top choices are in various categories.
Our top pick in terms of value for money is the Otium Audio model. It's very reasonably priced while delivering a huge amount of quality despite that budget price. For anyone on a tight budget, then this is your ideal product.
The best over-ear wireless headphones for working out, in our opinion, are the SENSO set. The sound quality is simply stunning. They also stay securely in place during an intense workout, and they are sufficiently sweat-resistant and water-resistant too.
The best in-ear wireless headphones for working out are the TREBLAB set. They stay in the ear even upside down, making them perfect for Yoga and even acrobatics.
If you're wondering about the best headphones for bass out of today's choices, we would have to recommend the Back Bay set. The multiple EQ settings are an amazing feature. They are competitively priced and deliver the most impressive sound quality on our list, thanks to the optimized fine-tuned superior settings.
We hope that you're now in a great position to choose your next earbuds.
Expert Tip
If you're an audiophile and you're willing to spend the big bucks for a set of earphones, then you can find some exceptional products on the market. Not only will they be well-suited to a workout, but you can also use them to listen to your favorite music in stunning detail when you're relaxing at home after a big gym session or a long jog.
Did you Know
Some of the best headphones carry high-level certifications to classify their water-resistance. This makes them ideal for exercise. But did you know some are designed so that you can even swim while wearing them? Check out our waterproof headphones reviews!
If you've enjoyed this review by Music Critic, please leave a positive rating:
[vc_separator