When we buy our technology, are we not always testing the sound, to see if we like the quality? With that said, I know that many of you are on a hunt for the most perfect, over-ear headphones, to make your listening experience exactly how you want it!
Over-ear headphones also go by the name "around-ear" headphones, they are a simple design. Having rather large ear cups that fit all around the ears, instead, of just on top of the ear!
At a glance:

Our top 3 picks
Our team's top 3 recommendations
Best Overall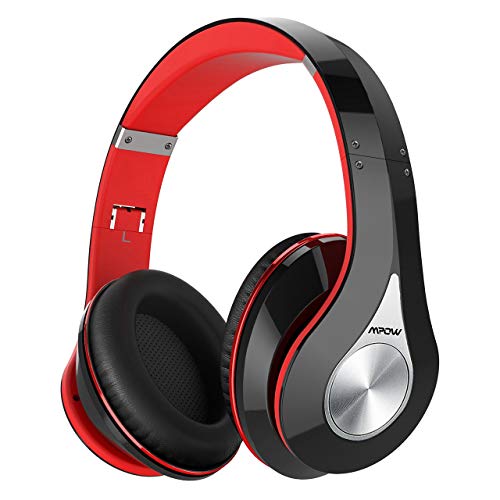 Mpow 059 Bluetooth Headphones

Perfect weight for traveling light
Ease-of-use for sporting
HD sound is natural
15 to 20 hours of usage
Wireless
Premium Quality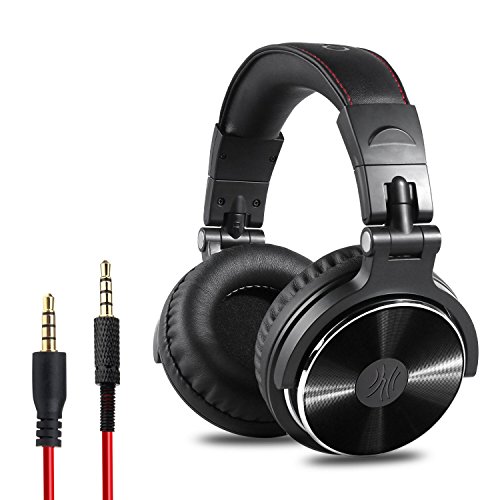 OneOdio Adapter-Free Closed-Back Over-Ear Headphones

Perfect weight for traveling light
Ease-of-use for sporting
HD sound is natural
15 to 20 hours of usage
Wireless
Great value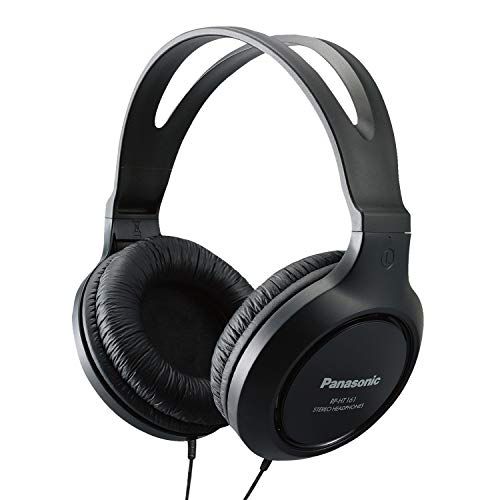 Panasonic Headphones RP-HT161-K

Perfect weight for traveling light
Ease-of-use for sporting
HD sound is natural
15 to 20 hours of usage
Wireless
View The Best Over Ear Headphones Under $50 Below
1. Mpow 059 Bluetooth Headphones
Let's make some noise for the Mpow H1 Bluetooth Headphones! Giving us 15-20 hours of playback time in wireless mode and supports infinite cable time play mode. Thus, you'll travel without fear regarding power issues.
This option fits nicely and snuggly, yet, it doesn't feel heavy or cumbersome around your head. Especially if you are using the sets for a reasonable amount of time. The Mpow 059 model is very lightweight but constructed with robust materials that are 10%to 30% lighter than most of the other editions of this headphone.
Pros:
+ Perfect weight for traveling light
+ Ease-of-use for sporting
+ HD sound is natural
+ 15 to 20 hours of usage
+ Wireless
Why We Liked It - The playback time is a must have, because wireless time is 15 to 20 hours! It's not cumbersome to carry around. You can utilize the Bluetooth feature to connect to various devices making this a very versatile and helpful set of Bluetooth headphones on a budget.
Over The Ear Benefits - Over the ear headphones are great for sound lovers who are seeking total sound isolation while listening to music. The tradeoff is that they may be less breathable than other headphone types, so they might not be the best pick for music lovers who are easily overheated.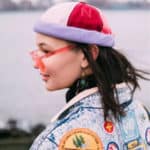 2. OneOdio Adapter-Free Closed-Back Over-Ear Headphones
Appreciate the superior sound quality! Get pleasure from the supreme comfort with the Oneida Studio monitor closed-back headphones. Large, 50 mm loudspeaker drivers combined with strong metal magnets providing stereo Hifi level sound; powerful bass, clear vocal, and crisp high tones type good balanced sound.
Enjoy the 90° swiveling earcups for the single-ear feature! It's self-adjustable and versatile band delivers a fatigue-free, vibrant listening time, that may last for hours. Lastly, it is suitable for professional mixing and mastering sessions!
Pros:
+ DJ earpiece that has dynamic bass sound.
+ 50mm metal driver reproduces all of your music's dynamics
+ Comfy and soft earpiece
+ Ear-cups are often rotated each left and right
+ Adapter-free earpiece
Why We Liked It - These cheap over-ear headphones have musicians, DJs and Studio Engineers in mind, as well as everyday users. The versatility is excellent, being able to use it for professional reasons, and then it to use it in your own personal leisure time.
3. Panasonic Headphones RP-HT161-K
This Panasonic headphone option is a perfectly sleek look. If you have been looking for an affordable, yet, classic set of headphones this is a great option. It is also very lightweight, and it has a long cord that you can plug in and relax anywhere around the house.
It comes powered by the dual 30 mm neodymium driver with a maximum power input of 1000 MW. So, it compliments an excellent frequency response for all types of music, while keeping balanced the levels of bass sounds and other mid-range tones.
Pros:
+Lightweight classic-style
+ Easily handle up to 10 power
+ Plush-padded earpads
+ Extra-long, 6.5-Ft.
+ Plug's into various entertainment devices
Why We Liked It - The simplicity and functionality is something to be appreciated. Also, it is affordable, but the quality is not taken for granted. It supports the sound clarity of various music types, and it's also perfect for leisurely entertainment.
Wants and Needs - Before picking out your over the ear headphones of choice, it's important to consider all your headphone "wants" and "must-haves". Make a list of which factors you'd like to have and which are non-negotiables. This will help you instantly narrow down your search, saving you valuable time and money.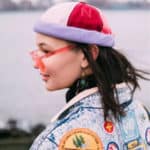 4. AUSDOM Over-Ear Headphones
This was designed for a perfect listening experience! From the inside out, this model was made to create an immersive sound experience. The look of this design is urban, trendy, and stylish.
The powerful driver is 44 mm, economical, and top quality, in all of its internal functioning. To make it simple, it has a superior audio sound consisting of a well-balanced bass and clear middle-range tones. If you are looking for the right sound, this pair of headphones, support your desires!
Pros:
+ Ergonomic design
+ Supports a wide range of mobile devices
+ Built-in Mic
+ Conveniently long cord
+ Full size adjustable, padded headband
Why We Liked It - The price is, and it's compatible with so many devices. You can experience a great sound while using your iPhone, iPad MacBook MP3 players, and pretty much whatever other devices you want to try. It is a perfect addition to Everyday Life.
5. Audio-Technica ATH-M20x Professional Studio Monitor Headphones
This is an excellent option for music professionals or studio engineers; as it is designed to complement the duties of tracking and mixing music. It has an exquisite modern design, that is made with high-quality materials while sitting comfortably and securely on your head. Not to mention, it feels very well made.
The sound quality is made to perfection, hosting warm tones with an overall very balanced sound. These studio monitor headphones also come with an adapter, so, that you can use them for many different purposes. They fit snugly around the ears for added sound isolation.
Pros:
+ Advanced Sound Engineering
+ Sound isolation design
+ Great low-frequency performance
+ Quality materials
+ Designed for professional use
Why We Liked It - Sometimes, you just need a solid option for studio work and this is it! Developed on a studio professional level, but will not leave your pocketbook crying for help! They are made with high-quality material. So, it is meant to last and fully support all studio engineering functions.
6. Mpow H1 Bluetooth Headphones Over-Ear
This wireless over-ear headphone set has comfort written all over it. It is made with memory protein materials on the earmuffs, for a gentle and soft "skin," appeal. It is adjustable to suit any particular size that you need. Made for long time wear, so, you can be comfortable while you listen to your favorite jams!
It is designed with an excellent high-frequency sound. Accompanied by a 40 mm driver and CSR 8635 chip, that gives you the type of clarity that is remarkable and powerful. You can use it on both wireless and wired mode. This option is also great for hands-free phone calls, while you multitask.
Pros:
+ Built for travel
+ Easy long-time wear
+ Professional natural HD sound
+ Hands-free calling
+ 20 hours of wireless listening
Why We Liked It - It's durable and lightweight at the same time. Easy to use in everyday life and also take on travels. The sound is at a professional level and allows you to have a clear and quality listening experience.
7. TaoTronics Active Noise Cancelling Bluetooth Headphones
TaoTronics active noise-canceling Bluetooth headphones have their sound canceling features down to a science. They have made it their aim, and their focus to have a top-notch product, that is geared towards optimal noise cancellation.
It is comfortable, and the earcups swivel to make you have a more relaxed fit over your ears. The longer the comfort, the longer you can listen to your music.
Speaking of a long-time listening session, you can use these headphones for 30 hours straight, without having to charge it! You can travel long distances, to and fro before you would ever even need to charge the headphones again.
Pros:
+ 30 hours of playtime
+ Blur out noise from the outer world
+ 40 mm driver headphones for a well-rounded balanced sound
+ USB cable
+ Built-in microphone and clear calls.
+ Carrying case
Why We Liked It - This is an excellent option for those of you who are really looking for a brand, which focuses on noise cancellation. This is really their specialty, and they do it well. We also love the multi-use that you can get out of this brand. You can use the microphone for calls. You can make a phone call and jump back into listening to your music or playing a game. It is a beautiful and versatile headphone option.
8. Riwbox XBT-80 Folding Stereo Wireless Bluetooth Headphones Over Ear
This is both stylish and uniquely built. It's sleek and made with a memory protein, ear cushion that actually simulates the human skin texture. So, for long where it doesn't feel like you're wearing some material that bothers you, it feels like something natural.
You can use this headphone wired or wireless, as it has a built-in battery and provides a 13 to 15 our music or talking time. And of course, you can keep it wired up and plugged in and have it ready for you set all times, you never have to turn it off
Pros:
+ Built-in microphone
+ Can use to make calls
+ Wide frequency ranges
+ High Clarity sound
+ Softly padded headband
Why We Liked It - It looks like it cost a pretty penny, but it doesn't. It's made with comfort and a variety of uses in mind. The built-in microphone is a fabulous feature are you're able to make crystal clear calls with it.
9. Edifier H840 Audiophile Over-The-Ear Headphones
The Edifier has a sophisticated style and fit but does not compromise on the sound. You can be sure to experience boasting acoustics sounds; which are combined with an ergonomic design. Perfectly designed to wear out in public places or the comfort of your own home.
The calibration of these audiophile headphones is quite natural and real with a stable balance between the treble and the bass it makes for a crystal-clear sound. It was developed with an electro-acoustic formation that creates a very open Sound.
Pros:
+ Professional sound
+ Comfortable design
+ Natural acoustic sound
+ Built for durability
+ Ergonomic design
Why We Liked It - It has a natural and comfortable feel to it. The ear cups are made with soft leather to match the smoothness of natural acoustic sound, between the treble and the bass. The price is impeccably affordable for its look and functionality.
10. iJoy Matte Finish Premium Rechargeable Wireless Headphones
This smooth option is perfect for any pocketbook, as the price is right! The quality and the price alone will bring you much "joy," no pun intended. Enjoy this high-end looking option to listen to your music, watch your favorite movies, and play your favorite games.
The crystal-clear sound is impressive, as you enjoy the feel of the memory protein earmuffs. It comes with an expandable band that fits perfectly and comfortably. Enjoy the convenience of the various control buttons, including answer, pause, play, and hang up. Not to mention, you can also turn the volume up and down on this particular model.
Pros:
+ Built-in radio receiver
+ Hands-free calling
+ Portable design for travel
+ Sound isolation
+ USB cord
Why We Liked It - The price can't be beat. The design is, and it feels comfortable. There's no compromising on the sound, and it can be used for various day-to-day purposes, like making a phone call.
Frequency Boosts - Note that many of these more affordable options usually have some sort of frequency boost, typically in the low-end to help improve sound quality. While this is great for casual listening, it's not ideal for producing or mixing since you're not getting a true reflection of the audio on its own. When in doubt, consult the frequency response graph provided by the manufacturer.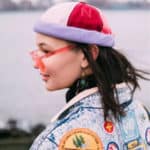 Over Ear Hedphones Under $50 Buyers Guide
Finding exactly what you want can take so much time because we have so much of every type of thing we could ever want. That is no different when looking for over-ear headphones. There are so many brands. So many options within a given brand, what to do!
There are so many options and preferences of your own, how in the world do you choose a pair of over-ear headphones? Well, I am more than happy to break down the overall blueprint, for finding a set of over-ear headphones that will make your day!
Feel free to use this buyers guide as a checklist, to determine what it is that you really want, in a set of over-ear headphones. Sometimes, we don't know what we really want or like, till someone spells out all the details!
Premium Noise Cancellation
Generally speaking, headphones are pointless unless they can really block out sound from the outer world. Having over-ear headphones allows there to be a more secure sound. It's almost like it creates a new world around your ears, with nothing to interrupt what is coming through those earcups!
On a more technical note, what a lot of over-ear headphones can do, is that they have a feature within the microphones, that can detect all types of ambient sounds.
Then those microphones create a noise canceling signal, to the rest of the earpiece, that allows it to shut away ambient sound naturally. How cool is that?!
This is perfect for being in an environment where you need to focus, but there is just enough ambient noise to be a distraction to you! However, you can block all of that out and zone in on some tunes that will really help you focus and get your work done!
A More Secure Fit
Nothing can be more annoying, than trying to listen to your favorite music or earbuds and your headphones are not sized right! Maybe they're too big, or, perhaps they are too small, but when it comes to over-the-ear headphones you can make it adjustable to the size that brings you the most comfort!
The band over your head makes for a more customizable fit. Also, the closed headphones allow it to hug your ear more securely. So, you are not fighting for the right fit while listening to your music.
A Sound Quality That Can't Be Understated
Earphones are great. Most headsets create a somewhat decent sound. However, if you are looking for a sound quality that allows you to hear things with superb clarity and the nuances of production, then over-ear headphones are a much better way to go. The frequency response will have more bass creating a more balanced sound within your ears.
This also requires some rather thick padding and cushioning around the ears. Often, the more cushioning, the more it helps with the isolating and amplifying the sound. And, went it's cold in those winter months, at least you will be warm!
Hygiene Is Key
Have you ever let someone borrow your earbuds, and then they come back dirty? Or have you let them out and realize that maybe it's been a while since you cleaned your earbuds out and you hope that there's no ear wax in them? Earbuds are kinda gross that way! And, I personally would never want to share earbuds for that matter.
However, when it comes to your over ear head headphones, they are a lot cleaner. The hygiene is a lot better because nothing is going into the inner ears. So, you don't have to worry about your headphones being soiled the way your earbuds could be if you happen to let someone borrow them.
An Easy Clean
Speaking of hygiene, everything does get dirty. Everything does need some sort of washing from time to time. Over-ear headphones are really no different! It is an easy clean, though. All you have to do is take a wet wipe (or antibacterial wipe) and clean the surface of the padding; and voila! Crystal clean.
Portable Options
Headphones today are definitely not the same, as the ones that have gone by. Over-ear studio type of headphones used to only come in the biggest and bulky form that was really only used for studio purposes. There was no way to really comfortably transport them into other settings.
Thank goodness for the updates in technology, right? Today, there are so many different designs for over-ear headphones that allow greater portability. You are more able to collapse them and slip them into a music bag, backpack, or a tote without too much struggle.
Plug Into Your Games Console
Games are pretty fun without any extra bells and whistles! But, just for kicks, can you imagine what it would be like to plug it into your game console? Maybe it won't be like virtual reality. However, it will come close, with that sound that brings into the world of your game.
For even more freedom, for games that require a bit more physical movement, you could also try a cordless, Bluetooth option, to play as hard as you want to play!
Extended Cord For Extended Relaxation
Many makes and models come with a rather long cord. This could take your relaxation game to a whole new level, as you can plug it in to pretty much any type of entertainment center. Then, kick back on your couch or bed and enjoy your entertainment of choice!
Do They Have Sound Control?
Most do not come with sound control, as it is best to control the sound from the device that you are plugged into.
Are They Compatible With SmartPhones and Laptops?
Yes! A lot of them are(which is really great news)! Brands and manufacturers have YOU in mind and all the possible uses for even wanting over-ear headphones. So, many companies make them compliment your Kindle, iPhone, laptop, and pretty much any other device under the sun!
Most of them work across multiple generations of each product line. However, just to be on the safe side, be sure to investigate that on your own, for each brand you are considering!
Are They Good For Kids?
Well, that really depends on their age! The headbands of the headphones tend to be pretty big. So, I would say it is better for kids who are at least 8-10 years old. Even at that age, it depends on the activity they are doing.
If they are sitting still, it should be no problem at all. The problem that could come about is when they are playing an active game that requires them to move around. In that case, you will want to check and make sure it is not wobbling around on their head! Otherwise, it might best to be on the lookout for kid-friendly options!
Conclusion
Phew! Isn't it amazing that there are so many different options to choose from? Reading this guide was probably much like walking into a candy store! So much to see. It can be a challenge to decide on which option to go with. All you have to discover is what you really want or what you really need.
There's something for everyone reading this guide. So, whether you wish clear sound for listening to your favorite music, or, you need something as professional as studio headphones you've got all the options you need!
As you are shopping, feel free to even have this guide with you to help you remember what the features and benefits are of each option. Who knows? Maybe you will also purchase two or three to decide which one works best for you! Either way, use this guy to your benefit to help you determine what is best for you. Happy shopping!
If you've enjoyed this review by Music Critic, please leave a positive rating:
[vc_separator