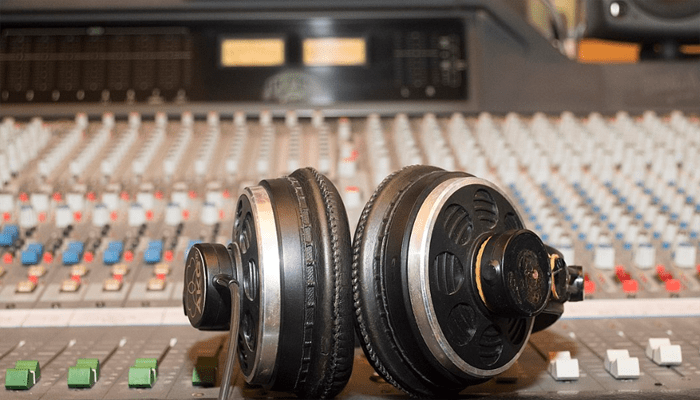 When you're working in the studio, reliability is key. You need your mixes to be 100% accurate and authentic. In order to accomplish this, you need to have the right equipment at your disposal. Headphones that are specifically designed for mixing will be a huge aid to you in the refinement process. If you live in a place where blasting through the studio monitors isn't always an option, mixing headphones can provide preserved sanity for everyone you live with.
Mixing headphones can also be beneficial by allowing you to have an extra frame of reference. Most people listen to music using headphones today. Therefore, you're going to need your music to sound as good on headphones as it does on speakers. Sometimes a mix will come through differently on monitors than it will in headphones, so it is important to know how your work is coming across.
Since you want to get the best bang for your buck on your mixing headphones, we have decided to concoct a list of the 10 best mixing headphones in 2020. As you read on, you will see our buyers guide which helps knock out a few factors that are important when making your purchase decision.
At a glance: Our top 3 picks
Your shortcut to our team's top 3 recommendations
View The Best Mixing Headphones Below
Designed with the studio in mind, OneOdio has created these closed-back headphones to deliver a supremely accurate sound. Your powerful bass, clear mid, and shimmering highs are going to come through 50mm drivers, delivering Hifi sound quality. When you're mixing, you need to be able to wear them for hours on end without a break. They are extra comfortable with soft ear cushions and will feel like a cloud on your ears.
With shareport technology, you can hook up two different sets of headphones so your co-engineer or the musician can listen to the playback at the same time. They are foldable for easy storage and the earcups rotate 90 degrees if you are wanting to have single-ear listening for isolated sounds.
Pros:
+ Exceptional comfort
+ 50mm drivers
+ Hifi sound
+ Foldable
Why We Liked It - These are a great set of reliable, high-quality headphones. They will sound as good as you would need them to in order to produce the best sound possible. With all-day comfort, you will be happy to have them on for an entire session.
These closed-back headphones will deliver high-quality sound along with versatility. They are designed to be at top performance whether you're in a quiet studio room or in a loud live venue. 45mm neodymium drivers offer the most balanced and complex sound you can expect from studio-ready headphones. With leather earpads, a padded headband mounted on an adjustable stainless steel shell, your headphones will be comfortable for all the hours you need them to.
The ear cups rotate a full 180 degrees for maximum comfort while doing single ear mixing. They are really durable and will stand up to studio use, venue use, and all the journeys in between. They are designed with a no-nonsense approach to delivering the most accurate sound to engineers without breaking the bank.
Pros:
+ Straight-forward design
+ High-quality sound
+ Comfortable and durable
+ Designed for live venues
Why We Liked It - The LyxPro HAS-10's are as simple as they are mean. You get everything you want without the hassle of extra non-essentials. They are comfortable, durable and sound great with a small price tag. How can you go wrong?
3. Audio-Technica ATH- M20x
If you're looking for stellar sound-quality mixed with attractive designs, look no further. The Audio-Technica ATH M20x model brings you excellent sound through 40mm drivers with rare earth neodymium magnets and copper-clad aluminum wire voice coils. They are tuned specifically to deliver a more deluxe low-frequency experience.
The ear cushions are designed especially to foster greater sound isolation for better concentration into your ears. They are equipped with a convenient single side cable exit as well as 1/8" inputs with an included 1/4" jack for larger hardware pieces. The comfort is notable as they are perfectly padded with the extra padding on top to allow them to rest on your rest just a little more smoothly.
Pros:
+ Superior comfort
+ Low-frequency enhancement
+ Multiple jack sizes
+ Unique driver design
Why We Liked It - They are one of the most comfortable pairs of mixing headphones that you can find with some great sound isolation. It's really easy to lose yourself in the music with them on and focus on what's most important.
4. Audio-Technica ATH-M30x
These are like the younger brother of the previous pick on our list. They are very similar in their design and makeup. They have the same 40mm drivers with the rare earth neodymium magnets and copper-clad aluminum wire voice coils. However, they differ in the sense that the focus is more on the mid-range frequencies over the lower end.
They contain the single exit cable, foldable design and enhanced earcup closeness for extra sound-isolation. They also have an extra 600mW of input power to speak of over their relative. Extremely durable, they are well suited for at the studio or in the live venue when you need to hear things clearly.
Pros:
+ Superior comfort
+ Enhanced mid-range
+ Foldable
+ Extra watt input power
+ Sound-isolation
Why We Liked It - The extra power really tickles the midranges just a little bit better. They have all around crystal clear sound and are great for making out individual instruments. The fact that they are foldable may give them a slight edge over the other Audio-Technica designs. They are really comfortable and cool looking.
These closed-back studio headphones will deliver an almost unbelievable sound for mixing headphones in this price range. You'll get an incredibly balanced sound which accentuates the bass while allowing the treble to flow seamlessly like a river. You won't be left feeling like you're lacking anything when you are listening to these headphones.
The cushioned earpads and headband offer as much comfort as the speakers do pristine sound. Both earcups rotate 90 degrees which are essential when trying to mix single sided for better instrument isolation. They are compact and portable as they fold up. They also look great, adding to the intrigue behind these mixing headphones that sound like they cost hundreds of dollars more. Although they are designed for studio use to bring out the best work possible, they are also suitable for everyday use.
Pros:
+ Comfortable
+ Well-balanced sound
+ Durable
+ Foldable
+ Well-priced
Why We Liked It - A great pair of all-around headphones that are great for mixing and for living through every day listening. They offer some of the best sound available in a set of mixing headphones in this range.
Behringer has a fantastic reputation among musicians. They have been providing high-quality gear in the music industry for many years, and they continue to do so with these headphones. They have an ultra-dynamic range which offers the deepest of lows matched with the clarity of shimmering highs.
They feature high-efficiency cobalt capsules which give a really highly defined experience to the listener. The rotating, reversible earcups are great for single-ear listening and these headphones are also perfectly comfortable for any user. The tangle-free cord will offer more convenience when you don't have to untangle it every time you use them.
Pros:
+ Ultra-dynamic sound range
+ High-efficiency cobalt capsules
+ Comfortable
+ Rotating ear cups
+ Tangle-free cord
Why We Liked It - Compared to mixing headphones at a much higher price point, they stand up really nicely. They are designed with DJ's in mind and deliver the most captivating, dynamic sound imaginable. You will be satisfied listening to them while mixing your tracks or putting together playlists alike.
Bose is known for delivering some of the best sound products on the market. They have revolutionized the way that sound is distributed throughout the home. Now they try to accomplish the same feat in the studio. As one of the more advanced pair of headphones on our list, they are equipped with active noise-cancellation, voice commands, and Bluetooth pairing. As they are wireless, you get a little more convenience and ease.
The QuietComfort headphones totally block outside noise where it is meant to be and allow you to focus on the task at hand. Bose offers an amazingly balanced and robust sound that will leave your mixes sounding irreproachable after completion. These headphones are also extremely versatile. They are not solely meant for mixing, but also for everyday use. The sound quality is simply remarkable and will have you wanting to listen to everything through them.
Pros:
+ Bose Quality sound
+ Exceptional comfort
+ Bluetooth connectivity
+ Voice-commands
+ Versatile usage
Why We Liked It - With this set of headphones, you simply get one of the best in the business. You will get the best of noise-cancellation and comfort with an incredibly slick design. You could wear them all day while mixing or simply listening and you would never get tired of the quality that exudes from the speakers.
AKG has created these mixing headphones with the mindset of having a pair set aside especially for the studio. They are dubbed professional studio headphones for a reason. The semi-open design offers a little extra breathability for the sound and for your eardrums when they are in place. They are equipped with a dynamic transducer to offer a better balanced open-air sound quality.
The frequency range is from 15 Hz to 25,000 Hz to give you the widest dynamic range of sound you can imagine. They are durably built for the studio and comfort levels will have you wearing them until the wee hours of the morning. An adjustable headband and cushioned earpads make them supremely comfortable. AKG has patented the varimotion diaphragm which delivers a more accurate sound-response at every listening frequency.
Pros:
+ Studio-quality sound
+ Extra comfortable
+ Uniquely patented design
+ Stylish look
+ Open-ear design
Why We Liked It - These headphones are designed fully for the studio and offer an interesting sound with the open-air design. That allows more ambient noise to creep in. Not everybody's forte but for some, it is an added feature. You will get the sound you need with these headphones and they will make mixing an absolute treat.
If you're looking for a pair of mixing headphones for a smaller home studio, these guys will likely do the trick for you. They aren't loaded up with the bells and whistles you may find with some of the other headphones on our list. They are designed simply and that is their draw. They are ergonomically designed for premium comfort and an impressive level of noise-isolation.
You can fold them up into a compact size if you're looking to take them on the road with you. Good for long time wear with a genuine protein earmuff. They are exceptionally comfortable. You can use them in the studio and out as they are designed for both purposes. Also comes with a built-in mic to provide high-quality audio to people you're on the phone with.
Pros:
+ Simple design
+ Foldable
+ Multi-use
+ Good sound quality
+ Notable comfort
Why We Liked It - Without spending much money at all, you've got a good, reliable set of headphones here. They sound as good as they need to and will last through a little bit of abuse. For anyone mixing on headphones at a smaller home studio, they would be a great pick.
You obviously know what Sony does. They have been making some of our favorite consoles and accessories since before we can remember. They take their expertise into the studio with the MDRV6 mixing headphones. They come with studio monitor quality sound and superior comfort. They offer a no-nonsense design that is meant solely to get the job done. You can plug them into a regular Aux jack or connect the 1/4" adapter for larger consoles.
The over-ear design is great at providing the utmost comfort and noise-isolation for when you need to keep the excess noise out. the 5Hz to 30KHz frequency range will give you the varied experience of the most natural sound intricacies available. You won't miss a beat or a harmony while mixing with these headphones. The comfortable portable design folds up perfectly so you can take them anywhere you need to go. You can wear them for hours without getting uncomfortable with softened ear cushions and adjustable headband.
Pros:
+ Studio quality
+ Minimalist design
+ Superior comfort
+ Foldable
+ Extra durability
Why We Liked It - As far as a good pair of mixing headphones go, they are one of the best, They look and sound like they belong in a fully professional studio, which very well may be your basement. The sound is so clear and wide and you really hear all of the nuances you need to in order to make informed decisions about the music quality.
Mixing Headphones Buyers Guide
What to look for when buying mixing headphones
If you're using your headphones in the studio for mixing, you're going to need to ensure you have some of the best possible aspects assigned to headphones. If your sound quality is not clear, you won't be able to make an accurate mix. If the headphones are uncomfortable, you will need to take them off after an hour or two. You need your headphones to last all day without interruptions so you can fully immerse yourself into the recording. Proper music mixing requires undivided attention and focus.
Here is a short guide based around things you should consider when picking out a pair of mixing headphones. We want to make sure you make the right choice for your purposes.
Sound Quality
You are absolutely going to need proper sound quality with mixing headphones. It is the single most important aspect of the design for you. Your musicians and clients are counting on you being able to produce the highest quality mixes for them. Whether you're mixing solely on headphones to avoid driving others crazy or just to have a more enclosed approach, the sound should be well balanced with booming bass and shimmering treble.
A lot of engineers will use mixing headphones to help balance the sound compared to studio monitors. When you listen to music on the monitors, it will undoubtedly be different than it will in the headphones. However, most people listen to music using speakers and headphones alike. It will be really important to make sure that the sound is accurate on both types of outputs. If you have a good set of studio monitors, you also need to make sure that your mix is similar to the same level of sound quality.
Comfort
You're going to need your headphones to be outfitted with the highest level of comfort. Mixers need to wear headphones for hours at a time. Sometimes you get so lost in the music that you forget the world is still turning around you. That's what you should aim for. You need the type of comfort that allows you to do this. Be sure that the materials used are of high quality and will not wear out after a short time. Then you can mix for hours problem free.
Design
Do you need open-air or closed back design headphones? With closed back design, you get more of an inside feel to the sound without any outside noise bleeding. With open-air headphones, more ambient noise is allowed in, turning the sound into a different kind of monster. Most commonly, you will be able to find closed-back designs, as they are more popular. Being able to block out unwanted noise is a necessary luxury when creating the best possible tracks.
Style
Are you concerned with how your headphones look while you're tuning your masterpiece, or is it more of an afterthought? If you're planning to use your headphones solely for the studio, the design could be straight forward without any extra dazzle. If you're interested in taking your headphones out into the world, you may want to consider how they'll go with your particular style.
Durability
Since you're looking for a pair of headphones that are going to be in a high movement environment, you need to make sure they are going to be durable. Musical instruments and accessories are built to last because they go through a lot of abuse. It is likely that with all the commotion going on around you during a recording session, things will get knocked over plenty of times. If you want your headphones to last a long time, pay attention to the way they are built.
Do they feature cheap plastic or stainless steel? What are the ear cushions made of? Can they withstand sweat from your ears while cultivating your genius? The more durable your headphones, the fewer headaches you have to deal with and the more deadlines you'll hit.
Warranty
Make sure the headphones you are picking up have a solid warranty. If you've got the peace of mind of a good warranty, it will allow you to make a more confident decision. You won't have to worry about whether or not the headphones are going to show up with manufacturer defects or any other unforeseen issues. The warranty will help you out of unwanted jams so you can get back to the mix.
Conclusion
So now you're ready to walk into any studio, lay down some tracks and mix the song to perfection. With any of the best mixing headphones on our list, you'll surely be able to stun your colleagues. Get ready to experience the exceptional sound quality that only the best mixing headphones can offer.
Expert Tip
You should expect the mix to be different from your headphones than the studio monitors. Its always recommended that when mixing any type of audio, you are cross-referencing the sound with both types of outputs.
Did you know?
In March of 2008, a particular song was unearthed dating back to the year 1860. The song was called Clair de la Lune and was recorded by audio historians in France at the time. It is considered the first recording ever as far as what has been discovered.
If you've enjoyed this review by Music Critic, please leave a positive rating: