Are you looking for the best headphones under $20? With advances in technology over the last decade, it means that you can purchase quality headphones without needing to shell out an enormous amount of cash. Great headphones do justice to your favorite songs, as well as being ideal for listening to audiobooks or podcasts too.
They easily sync up with your smartphone or media player as well. Not only is the sound great on the best headphones under $20, but they will also have some excellent extra features, such as an in-built microphone, and they might be wireless too, which makes them much more user-friendly when you're exercising.
To ensure that you choose the best headphones under $20 for your needs, then consider this list of the best available, and then the buyers guide too, which will let you know what features you should be looking for.
At a glance:

Our top 3 picks
Our team's top 3 recommendations
Best Overall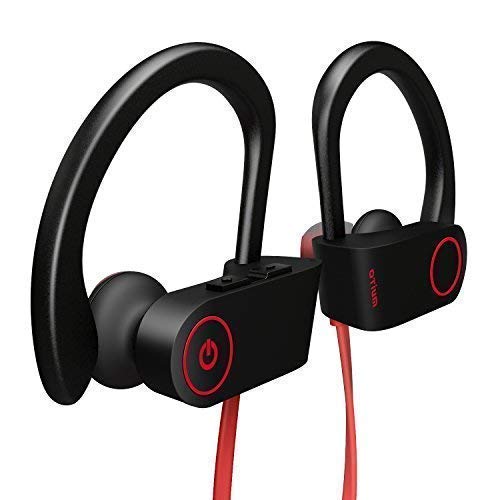 Otium Bluetooth Headphones

Waterproof
Wireless
Rich bass
Secure fit
Hands-free calling
Premium Quality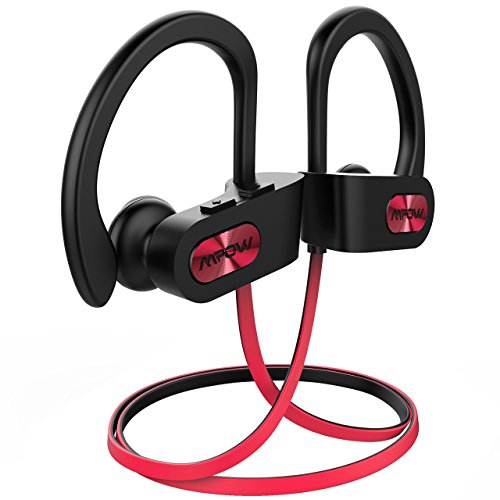 Mpow Flame Bluetooth Headphones

Waterproof
Wireless
Rich bass
Secure fit
Hands-free calling
Great value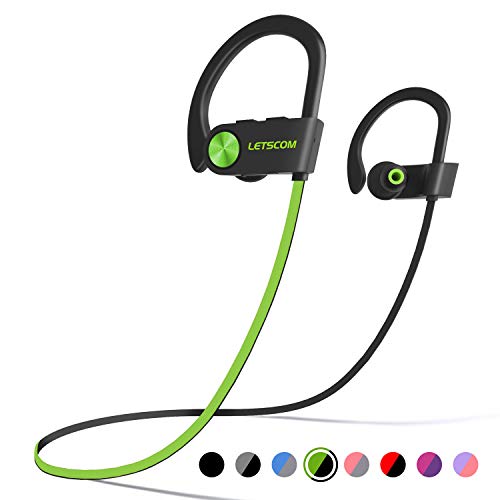 LETSCOM Bluetooth Headphones IPX7

Waterproof
Wireless
Rich bass
Secure fit
Hands-free calling
View The Best Headphones Under $20 Below
1. Otium Bluetooth Headphones
These multifunctional budget bluetooth headphones from Otium have all the features you want. They offer an outstanding high-definition sound that features richer bass technology, which is ideal for lovers of bass heavy music.
They are also wireless, which makes them perfect for exercise, and Otium is aware of this, which is why they have IPX7 waterproof technology to keep them working even when it's raining while you jog or if your sweat gets on them. They offer a very secure fit thanks to the soft hooks that go around your ears, as well as the memory foam ear tips that will fit snugly inside all ear sizes.
Pros:
+ Waterproof
+ Wireless
+ Rich bass
+ Secure fit
+ Hands-free calling
Why We Liked It - These are one of the best headphones under $20 simply because they combine outstanding sound quality with all the extras that you need, including a microphone and waterproofing.
2. Mpow Flame Bluetooth Headphones
With between seven and nine hours of wireless playtime from a single charge, these headphones are perfect for music lovers who are often on-the-go. They have a nano-coating to ensure you are proofed against both water and sweat. The HD sound quality means that even the most snobbish audiophiles will love listening to music on them.
They come with four different sized ear tips, allowing you to choose the right fit for your ears. The microphone is also high-end, as it includes noise-cancellation technology, so the person you're speaking with will hear you loud and clear.
Pros:
+ In-built microphone with noise-cancellation technology
+ Up to 9 hours playtime from one charge
+ Enabled for use with Siri
+ Comfy fit
+ Waterproof and sweatproof
Why We Liked It -The clarity of sound that you receive is matched by the clarity of sound that you give out when speaking through the in-built microphone, meaning they are up there with the very best headphones under $20.
3. LETSCOM Bluetooth Headphones IPX7
There is nothing complicated when it comes to operating these headphones. You're able to simply control everything with a touch of the button on the headphones themselves. They are wireless, and you get a whopping eight hours of playtime or talk time from a single two-hour charge.
Besides being extremely comfortable to wear, while also remaining lightweight too, they offer you high-fidelity sound, thanks to the 11mm vibrating diaphragm. They have an internal nano-coating, which features the IPX7 waterproof technology, making them usable in all sorts of bad weather, as well as while you sweat during exercise.
Pros:
+ High-fidelity sound
+ Eight hours playtime
+ Waterproof
+ Stylish design
+ Lightweight
Why We Liked It - These headphones look as good as they sound, and they are incredibly easy to use, which means you can answer calls or change songs while you're busy exercising without needing to get your device out.
4. TaoTronics Bluetooth Headphones
At only 0.53 ounces, these headphones are so light that you might forget you're wearing them. TaoTronics always produce headphones that offer quality sound, and these headphones also include cVc 6.0 noise cancellation technology, so that no external, irritating noises will hamper your enjoyment of the music.
A great feature of these headphones is that they have magnets inside the buds so that they can connect together when not in use, and then hang around your neck like a necklace. The microphone is one of the best around too. And from a two-hour charge, you get nine hours of playtime.
Pros:
+ Clear Voice Chat technology
+ Magnetic headphones
+ Extremely light
+ Ergonomic earbuds
+ IPX6 Splash proofing
Why We Liked It - The magnetic earbuds are an excellent feature, which makes these the best headphones under $20 for people who are often taking the earbuds out and putting them in again, as they can then hang around your neck without needing to find somewhere to store them.
5. ESTAVEL Bluetooth Headphones
Featuring Bluetooth 4.1 technology, these wireless headphones can be easily paired in a matter of seconds with two different devices at the same time. You're also able to get up to 65 feet from your device and still keep connected, which is perfect if you like to leave your phone in one place while you're moving around machines in the gym.
They have a CSR chip installed in them, which offers you outstanding sound quality, and the bass is incredibly deep and rich, but this doesn't deter from crisp mid and high tones too.
Pros:
+ 65-foot wireless range
+ CSR chip for high-quality sound
+ Can be paired with two devices
+ Lightweight
+ Includes a storage bag
Why We Liked It - Even the best headphones under $20 can sometimes offer a restrictive distance in wireless range, but these headphones from ESTAVEL are an exception, as the 65-foot range is unbeatable.
6. Hussar Magicbuds Bluetooth Headphones
The waterproofing of these budget Bluetooth headphones is so effective that if you accidentally leave them in your pocket during and put them in the washing machine, they will still work just as well afterward. Which is important, because they offer you such excellent, high-fidelity sound that you won't want to live without them.
If you get a call while listening to music, then you will get a voice prompt to alert you to it. And the built-in microphone will have you sounding very clear to the other person once you've answered the call with a button on the headphones.
Pros:
+ Very loud volume
+ High-quality sound
+ Voice prompts
+ Excellent waterproofing
+ 9 hours playtime
Why We Liked It - If you like to listen to your music loud, then these are the best headphones under $20 for you.
Headphones Under $20 Buyers Guide
Not all of the best headphones under $20 are the same. Some will prioritize certain features over others, so to make sure that you choose the best headphones for you, then consider this buyers guide and breakdown, as then you'll know what the most important features to look out for are.
Bluetooth Connectivity
Gone are the days when all headphones had an irritating cable that you had to spend ten minutes trying to untangle every time you got them out of your pocket or bag. Nowadays it is possible to purchase headphones with Bluetooth technology, which makes your headphones wireless. There are countless benefits of this, but it is extremely important for anyone looking for the best headphones under $20 for exercising to choose a pair that have Bluetooth technology.
Just having Bluetooth is one thing, and the range that is offered is another. Having a small range is fine if you plan to keep your device close to the headphones at all times, but if you plan to use the headphones for gaming or watching the television, then make sure that you check what the wireless range is. Anything over 40 feet will ensure you continue to get great sound even if you stray from the device you're paired with.
Waterproof and Sweatproof
Lots of the best headphones under $20 will feature a form of waterproofing. The most common form is due to nano-coating over the headphones. IPX7 is the best form of waterproofing you'll find on the best headphones under $20.
If you're planning to wear your headphones when exercising then it is imperative you choose headphones that are waterproofed, otherwise, you could find your sweat shorting the headphones and therefore ruining them.
Playtime
If you're choosing headphones that are wireless, then you'll have to charge them, otherwise, they won't work. There are two things to consider when it comes to battery playtime. The first is simply how long you get from a single charge. Usually for the best headphones under $20 then this will range from six hours to nine hours.
But you should also check how long that they must be charged to gain the full playtime. Having nine hours of playtime is great, but not if you have to charge the headphones for four or five hours to achieve it. Some headphones will also have a quick charge option, where you can get an hour or two of playtime from a short charge.
Ergonomic Design
Comfort is important when it comes to headphones, especially if they are being worn for exercise. The best headphones under $20 will feature an ergonomic design, which means that they will have soft hooks that will wrap around your ears and won't agitate you. They will also have adaptive earbuds that go inside the ear canal.
As with everything, our ear canals come in different sizes, so choosing headphones that come with a choice of bud sizes is a good idea, as is choosing buds that are made from a memory foam type material.
Other Important Features
An in-built microphone allows you to make calls through your headphones, and preferably the best headphones under $20 will include a form of noise cancellation technology that means your voice will be clear and easy to hear to the person you are speaking to.
A microphone can also be used to operate your smartphone's voice command technology, such as Siri. If this is something that appeals, then make sure the headphones are enabled for this function.
Do all headphones under $20 come with a carry case?
A carry case is always a great thing to have to keep your headphones safe and also makes it easier for you to stow them in your bag. It isn't standard, however, for all headphones under $20 to come with a carry case. It is recommended, though, to choose headphones that do come with a carry case, and preferably one that has a hard shell to absolutely ensure the headphones are protected.
Expert Tip
If you plan to use your headphones for exercise, then make sure they are waterproof, offer a stable and secure fit, and also that they are wireless and can be operated via controls on the headphones themselves. With all of these attributes, then you can listen to your music without any worry of the headphones breaking or coming off.
Did you know?
Only 8% of people asked in a survey admitted to cleaning their headphones once a week. If you aren't one of them, then you should consider cleaning them more regularly to protect against infections.
Conclusion
The best headphones under $20 might not cost a lot of money, but they can certainly offer you high-fidelity sound that will provide you with motivation while exercising, which you can do safely because the best headphones under $20 will also be waterproof and sweatproof too, and will stay secure in your ears during vigorous movement.
If you've enjoyed this review by Music Critic, please leave a positive rating:
[vc_separator