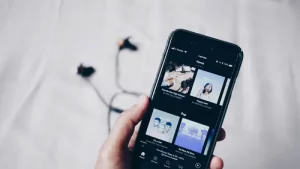 Imagine curating the ultimate Spotify playlist, perfect for every mood and season. Whether you've handpicked every song for that evening chill-out session or created a power-packed workout list, it's a great feeling. Now, wouldn't it be even more gratifying if you could share it with the world? If you've ever wondered how to make a Spotify playlist public, this guide is here to help.
Dive Into the World of Spotify Playlists
Spotify playlists have become a go-to for millions of music lovers. Whether it's for discovering new tracks, following artist compilations, or curating personal mixes, Spotify users appreciate the freedom and flexibility the platform offers. With this freedom, many of us often oscillate between wanting to keep some playlists personal and wanting to share others. Here's where understanding how to make your Spotify playlist private and public comes into play.

Making Your Playlist Public on the Mobile Platform
The Spotify mobile app is user-friendly and makes it a breeze for users to modify their playlist settings. Let's delve into the step-by-step process:
Start by opening the Spotify app on your mobile device.
Navigate to the playlist you wish to share.
Look for the three horizontal dots situated next to the playlist name. Tap on them.
An array of options will pop up; select "Make Public."
Voila! Your playlist is now accessible to other Spotify users. These steps are the same across both your iPhone or Android device.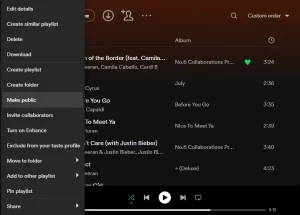 Transitioning to a Public Playlist on Desktop
The process is equally straightforward on the desktop app:
Launch the Spotify desktop app on your computer.
Identify and click on the desired playlist.
Right-click on your chosen playlist. A context menu will emerge.
From the provided options, select "Make Public."
The days of limiting your top music picks to your ears are over. Making your Spotify playlist public ensures your immaculately curated tracks are out there for everyone to appreciate.
When Second Thoughts Kick In: Making Your Playlist Private Again
Would rather have a private playlist? It's natural to have second thoughts. Perhaps you've had a change of heart and would like to keep that playlist to yourself once more. No worries. Just follow the same steps mentioned above, but this time, choose the "Make Private" option. Keep in mind if you've marked your playlist as a collaborative playlist or you're not the original creator, there might be restrictions in adjusting its visibility.
Quick tip:
If you want to keep your playlist public but don't want your Spotify friends and followers to see your listening activity, you can always opt for a private listening session. You'll find this option in your settings on mobile or in the top right corner for desktop.
Optimal Experience: Test Your Playlists with the Best Equipment
While curating and sharing playlists is a joy, experiencing them in their full glory requires quality equipment. For the avid Spotify users: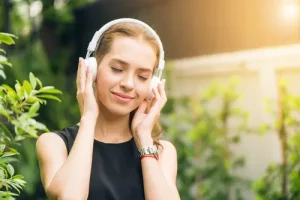 Why Share Your Spotify Playlists Publicly?
In today's digital age, the way we connect with music is ever-evolving. With platforms like Spotify leading the charge, playlists have become more than just a personal music collection; they are a medium of self-expression, a way to communicate, and even a means to influence. So, why should you consider sharing your Spotify playlists publicly?
Gaining Followers and Building an Audience
Sharing a Spotify playlist publicly is akin to a writer publishing a book or an artist exhibiting their work. The more people access your playlist, the more followers you might gain. Over time, consistent curation can help you build a loyal audience, turning you into an influencer in the musical realm. For those aspiring to make a mark in the music industry or simply looking to share their passion, Spotify public playlists pave the way. There are many public Spotify playlists out there with thousands of likes and listens.
Sharing Unique Music Tastes and Discoveries
Each individual's musical journey is unique, filled with obscure finds, nostalgic tracks, and innovative soundscapes. By sharing your playlists, you offer a piece of your world to others. Perhaps you've stumbled upon an underrated band from the 80s, or you've discovered a budding artist with just a few hundred streams. Making your Spotify playlist public is an opportunity to spotlight these gems, giving them the recognition they deserve and introducing them to a broader audience.
Engaging with Friends and the Spotify Community
Music has always been a social experience, from ancient tribes gathering around fires to modern-day festival-goers uniting under a single beat. Sharing playlists on Spotify amplifies this experience. Friends can discover what you're jamming to, leading to discussions, recommendations, and even friendly debates. Moreover, the wider Spotify community can comment, share, and collaborate on your playlists, leading to enriching interactions and connections.
Wrapping It Up: Playlists, Public or Private?
Spotify playlists empower us with the choice to share or remain private. By understanding how to make a Spotify playlist private or public, you have control over your music domain. Whether you want to share with other Spotify users or maintain your solitude, the decision is yours. With the power of the Spotify app, managing your public playlist or collaborative playlist is just a few clicks away. To all the playlist curators out there: Happy listening and sharing!