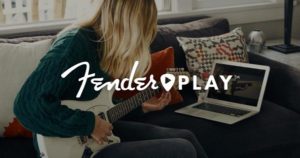 Review of Fender Play: Fender's Online Learning Platform
Few guitar manufacturers can compete with Fender when it comes to name recognition. This global brand has made some of the most legendary axes around, including its Stratocaster and Telecaster models. It appeals to guitarists of all levels, with its Squier series being popular with newbies, and its premium guitars being used by the likes of Keith Richards and Eric Clapton.
In 2017, Fender entered the crowded market of online learning resources for guitarists by introducing Fender Play. It's a learning tool that can be accessed via a web browser or through an app that's available for Apple devices and Androids. Just like its guitars, there's something for everyone with Fender Play, meaning that novices can get to grips with their new instrument via the lessons and more advanced guitarists can learn new skills or recreate their favorite tunes. It makes a change from the more conventional ways of learning guitar, i.e. using a guitar book.
Signing Up
Once you've signed up to Fender Play, you can choose what instrument it is that you want to learn. You can select acoustic or electric guitar, bass guitar, or ukulele. Then, you'll choose the genre that appeals to you most or the genre that you're already specialized in if you're not a complete beginner. The genres that are available include rock, pop, funk, blues, and country. Having selected the instrument and the genre, Fender Play will then provide you with a customized learning plan, which is an integral feature of this program. The aim is to provide you with learning resources that you'll find useful. The more that the lessons appeal to you, the more chance that you'll spend time on them, and this will then lead to you being more motivated when it comes to learning.
Instructors
One of the most impressive elements of Fender Play is the quality of the instructors. They are personable, eloquent, and engaging. This means that you genuinely listen to their instructions. It might sound like a basic requirement for a tutor to be able to speak clearly and interestingly, but it's remarkable how rare this can be with online tuition. Fender has selected its instructors carefully and it shows. It's also clear that the lessons have been thoughtfully considered, prepared in advance, and re-recorded so that you're given videos that are free from unnecessary or confusing comments. There is no fluff. The lessons provide you with all the information you require without any tedious diversions, which ensures that you're always engaged and able to focus on the material.
Learning Material
The material itself is also impressive. Beginners can acquaint themselves with the fundamentals of the instrument. There are lessons on everything from how to hold a guitar properly to how to play basic chords. The lessons plan has been thoughtfully created. You'll move forward step-by-step, improving your skills and knowledge as you go along. Each time you finish a lesson, you'll mark it as complete, so that you can then see your progression and can also avoid returning to a lesson you've already done. There's also the option to mark a lesson as interesting if it's something you enjoyed doing and might wish to revisit.
Software
This software is certainly targeted more at beginners, although there are plenty of resources that intermediate or more advanced guitarists will also find useful. Perhaps the most notable of these resources are the 700+ songs that you can learn. Once again, the tuition is dealt with very effectively and in a user-friendly manner. You will learn the correct techniques, as well as the scales and chords, that can then be applied to learning specific songs. The song library will also appeal to fans of a range of musical styles, with there being tracks by everyone from Pink Floyd to Taylor Swift.
Resources
As we've mentioned, Fender Play has a huge range of resources to make use of. There is, for example, a metronome that can be used for ensuring you have a perfect tempo when practicing scales or songs. You can prepare for band practices by using the provided backing tracks too. This means that you can perfect songs as they should be played with accompaniment from other instruments. You can also plug your instrument into your device and take advantage of the preset tones that emulate the original guitar tone of the track that you're learning or practicing.
Motivational Tools
Fender has also incorporated lots of motivational devices. You will get reminders that will encourage you to practice. You can decide when you want these reminders to come through so they're at an optimal time for you to make use of the software. What use is a reminder while you're asleep or at work or school, after all? If you practice regularly and for at least seven minutes, then Fender Play will reward you with a 'streak'. These little extras can go a long way to keeping you on track with your learning.
These features that we've just mentioned will give a gaming sense to the app. And another feature that can be fun but also educational at the same time is the 'Chord Challenge' mode. You'll be scored on your ability to transition from one chord to another, as well as the speed with which you transition. You can then keep challenging yourself to better your high score, which also will motivate you. The chords that you'll practice can be from your favorite songs too. It can feel like you're playing but you're also learning at the same time while improving the dexterity of your fingers too.
Costs Involved
Fender Play isn't a free service, although it does offer a trial period, and this period is often extended depending on the promotions that Fender is offering at the time. Once you've made use of your trial, you'll then have the choice of a monthly or an annual plan. Both are very affordable and are comparable with other online guitar tuition websites and apps. If you're a resident of the UK or USA then you will also be provided with a 10% discount for Fender gear, which is another plus for novices who will be purchasing many accessories during the first few months of playing. You can, of course, use the discount for a new Fender guitar too.
Summary
Overall, Fender Play is an excellent option for beginner or intermediate guitarists, bass guitarists, and ukulele players. It's ideal for introducing you to the fundamentals of your chosen instrument through effective, engaging lessons with informative, friendly tutors. There is a huge range of resources that you can take advantage of that will provide you with a grounding in technique and theory. The ability to learn more than 700 songs is a big plus too, especially as you can play along with backing tracks or take advantage of the tone emulator. It's a fun app to learn with, as there are challenges that can keep you motivated while improving your skills. If you're looking for a good value-for-money guitar tuition app that's been created thoughtfully then Fender Play should certainly be considered. We also recommend for you to check out Guitar Tricks which we have also reviewed.
Fender Play is an online learning resource that offers tuition for guitarists, bassists, and ukulele players. It is available through a web browser or as an app for Apple devices and Androids. Lessons are provided in short, effective videos by friendly, engaging tutors. The learning process is customized to your needs, not only focusing on the instrument that you want to master but also the musical genres that interest you. Fans of rock, pop, folk, country, and blues will find lesson plans that can help you perfect your chosen style.
Song Library
You can learn more than 700 songs with Fender Play. When learning the song, you'll be introduced to the techniques, chords, and scales that are used. Beyond the standard lessons and song lessons, there are lots of helpful extras that can be used to improve your skills. There is a practice mode, which includes a metronome, as well as a chord challenge mode that's fun and motivational at the same time. Other features that Fender Play includes are a backing track mode and tone presets. You'll be reminded when to practice, and if you use the resources for more than seven minutes on three occasions during a week then you'll be rewarded with a streak. 
Trial Period
Fender Play comes with a risk-free trial period that doesn't require any credit card details. Once you're ready to sign up, then you can either pay for a monthly or annual subscription plan. Fender also offers you a 10% discount on its products once you have a paid subscription. The discount is only available to residents of the UK and the USA.
Pros
+ Quality lessons delivered by engaging, informative teachers
+ Lessons plans that are well-suited to novices and intermediates
+ Library of more than 700 songs, including David Bowie, Taylor Swift, and Billie Eilish
+ Intuitive design that's simple to use
+ Practice reminders
+ Affordable subscription plans and a free trial
+ You can play along with backing tracks while learning songs
+ Lots of features to keep you motivated, including 'Chord Challenge' mode, which is lots of fun
Cons
- Fender Play is lacking in resources for more advanced guitarists, but the song library should still offer you something
Conclusion
Fender has excelled itself with this learning program for aspiring guitarists, bassists, and ukulele players. It's effective, engaging, and easy to use. The best feature has to be its wonderful instructors. You are treated to informative lessons that are simple to follow and entertaining. If you're a beginner or intermediate, then Fender Play is the perfect software to improve your skills. Considering the price too, it offers very good value for money.
If you liked the article, please leave your feedback.