If you dream of becoming the next Israel Kamakawiwo'ole or George Formby, then you're going to need to know what the ten best ukulele brands are. You've come to the right place to find out. In this article, you'll be introduced to ten excellent products, as well as learn everything you need to know about this instrument.
Ever since its creation at the end of the 19th Century in Hawaii, the ukulele has been an instrument that's captured the imagination of people. It has a distinctive, pleasing sound that is unlike any other stringed instrument. Over the years, everyone from Elvis Presley to Eddie Vedder has released songs that feature the ukulele. It's a versatile instrument that can be used for a variety of musical genres, which is also a relaxing instrument to play with friends, perhaps by a campfire.
To ensure that you spend your money wisely, you'll want to purchase a product that has been built by a reliable brand from high-grade materials. You'll need to pick one that's suited to your skill level too. And you shouldn't pay any more than you need to, as value-for-money will be crucial.
Remember, timing is always important, and to ensure you're in time, then you might need a metronome - click here for a full guide.
In this comprehensive guide, we cover everything from the different elements of the instrument itself to what makes it so special. We'll also tell you about its history, as well as providing you with the key information so that you can make a wise investment.
Why not get yourself a set of quality ukulele strings to get the most out of your new instrument?
Without any further delay, it's time to move onto our top ten list.
At a glance:

Our top 3 picks
Our team's top 3 recommendations
Best Overall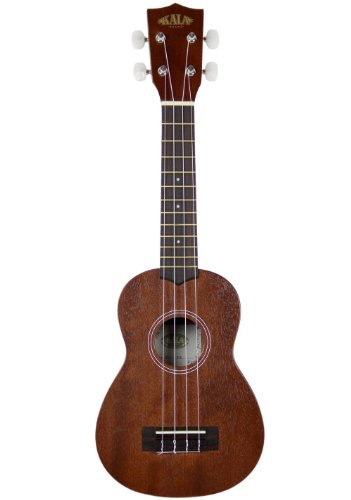 Kala KA-15S Mahogany Soprano

Outstanding build quality, which has never been seen in an affordable ukulele before.
Aquila nylgut strings offer a warm, sweet, and harp-like tone.
Rosewood fingerboard and bridge.
Premium Quality
Kmise Soprano

Outstanding build quality, which has never been seen in an affordable ukulele before.
Aquila nylgut strings offer a warm, sweet, and harp-like tone.
Rosewood fingerboard and bridge.
Great value
Flight Elise Ecklund Sunset Travel

Outstanding build quality, which has never been seen in an affordable ukulele before.
Aquila nylgut strings offer a warm, sweet, and harp-like tone.
Rosewood fingerboard and bridge.
What are the Top Ukulele Brands for Beginners, Intermediates, & Professionals in 2023?
1. Kala KA-15S Mahogany Soprano
Kala has been at the forefront of the ukulele game for more than a decade now. It offers exceptional instruments that are designed for beginners and intermediates. With humble beginnings, this company has grown from selling a single product to now crafting dozens of models that will suit a wide range of musicians' needs.
Depending on your budget, you can find a quality model from Kala. It sells high-end models that will cost a pretty penny but could be the only ukulele you'll ever need to buy. It also sells low-price products that will allow you to experiment with this gorgeous instrument without needing to shell out half your savings.
It's easy to see why Kala has become one of the fastest-growing musical instrument companies in the world. It's enthusiastic about what it does. You sense the love that its craftsmen have for the ukulele with every product it puts out. Kala is where innovation meets tradition, passion, and - most importantly - quality.
Now we know about the company, let's move onto the featured instrument. The KA-15S is one of the most popular low-price ukuleles currently on the market. Why? It sounds good, looks amazing, and features a user-friendly design that perfect for beginners.
Although KA-15S is targeted at beginners who want to get their hands on a good quality entry-level ukulele, a seasoned player should also consider it as an affordable option. It's the sort of instrument that is easy to fall in love with once you've had a brief play of it.
As mentioned above, Kala has gained an excellent reputation over the years for building the best ukuleles at an affordable price. The KA-15S proves that with its tight, clean, and solid feel. The KA-15S was designed as a budget ukulele, but Kala's craftsmen are incapable of producing anything less than a premium product, which is what this one is, despite the low price.
Most entry-level ukuleles are integrated with strings that are raised too high from the fingerboard, and this makes it harder to play. Also known as a "high action", it can cause notes to bend out of tune resulting in poor sound. Thanks to Kala, the KA-15S doesn't have this issue at all, and it is ready to play straight out the box. Without a high action and zero buzzing, it is an absolute dream to play.
The KA-15S is all about that sweet and warm tone. Additionally, these ukuleles deliver a good amount of volume, bass, and resonance. How is this achieved? It's down to a light build, a minimal finish, and high-quality Aquila strings.
The KA-15S offers a beautiful natural look too, thanks to its light, matte finish, and smooth textured wood. Similarly, the light finish allows this ukulele to resonate more freely resulting in a better tone. Body, neck, and headstock are given a light sunburst finish to give this ukulele a unique and unforgettable character.
Strings will always impact the sound offered by a ukulele. And that's why Kala has included Aquila nylgut strings on this one. They offer a warm, sweet, and harp-like sound that will please the most demanding ukulele players.
If you didn't know the price, you'd certainly think this was a top-end, premium instrument, which is why it finds itself at the top of our list.
Pros:
+ Outstanding build quality, which has never been seen in an affordable ukulele before.
+ Aquila nylgut strings offer a warm, sweet, and harp-like tone.
+ Rosewood fingerboard and bridge.
Why We Liked It - Beginners can't go wrong with this affordable, great-sounding product. It's got a mahogany neck and body, as well as premium Aquila nylgut strings, a satin finish, and delivers a gorgeous warm, harp-like tone. A safe investment, in our opinion.
Looking for an electric model? See these electric Ukulele options.
Tone - Figure out which ukulele is best for you ahead of time. In general, tenor and baritone ukuleles have a darker, richer tone than soprano and concert ukuleles. Soprano ukuleles are the brightest and arguable the most common. These ukuleles are also the most portable making them great for musicians on the go.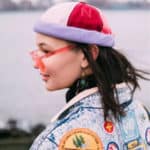 This ukulele from Kmise is a superb choice for a beginner who wants a budget soprano uke that comes with all the necessary accessories to get you started. Kmise is a reliable brand when it comes to beginner instruments, and it's clear to see why when looking at this product.
It features a well-crafted, mahogany body, as well as a walnut fretboard. These high-grade materials contribute to long-term durability and offer a rich tone. The ukulele is 21 inches long, which is standard for a soprano. It has an 18:1 gear tuner, which ensures that it stays in tune for long periods without readjustment.
The extras that it comes with include a strap, tuner, gig bag, sandpaper, and nylon strings. Another handy accessory for beginners is the instruction booklet that can teach you all the basics.
Pros:
+ Lots of Accessories
+ Ideal for Beginners
+ Soprano
+ Stays in Tune
+ High-Grade Materials
Why We Liked It - It's an ideal beginner ukulele that won't break the bank. We think that it offers a superb tone, and the accessories all match the quality of the uke. A solid investment, in our opinion.
3. Flight Elise Ecklund Sunset Travel
Elise Ecklund has become associated with the growing popularity of the ukulele amongst youngsters thanks to her popular YouTube videos. If you're a fan of Elise, then you'll likely love this ukulele too, as it has been designed with her help and comes with lots of Elise goodies too.
The most striking aspect of this product is its looks. It's not your run-of-the-mill ukulele. It features a unique, sunburst color scheme that makes it stand out from the crowd. It's very much inspired by Elise Ecklund's style.
It's a travel soprano ukulele, which makes it perfect for taking on trips or for impromptu practice sessions just about anywhere you want.
It comes with a songbook that Elise has written, showing you how to play some of her most popular songs. It also comes with a strap and capo that feature Elise's signature.
Pros:
+ Elise Ecklund's Signature Ukulele
+ Includes Elise Ecklund Songbook
+ Travel Size
+ Lots of Accessories, Including a Strap and Capo
+ Colorful, Unique Looks
Why We Liked It - If you've been inspired to pick up the ukulele because of Elise Ecklund or are simply a fan of hers, then this product is a must-have.
Guitar to Ukulele - If you're already a guitarist, transitioning to a ukulele should be fairly easy. However, keep in mind that the standard tuning of ukuleles is different, though you can experiment with various tunings. Ukuleles are also great starter instruments for anyone who's hoping to learn guitar or other string instruments in the future.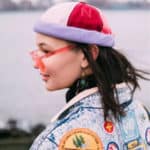 Known for crafting beautiful instruments, Luna Guitars is a company that we adore. Yvonne de Villiers, the co-founder of Luna Guitars, created this brand with a desire to appeal to musicians of all levels and budgets.
Diversity, commitment, passion, and love for guitars have made Luna Guitars amongst the top manufacturers today. It's a brand that can be trusted to always deliver quality, regardless of if you buy a budget or a high-end model. Its desire to place musicians' needs above all else has made it such a popular brand.
Today we present you a concert ukulele that belongs to Luna's premium series called "High Tides". Inspired by the moon's pull on the tides, it is an instrument that's perfect for those late-night, campfire ukulele sessions in the summer.
Unlike a standard ukulele that will be completely acoustic, this one features a preamp that allows you to connect to external speakers, which means it can be amplified for a live performance.
The materials that an instrument is made from are always key for influencing the sound that it produces. This beautiful, innovative ukulele has a body that's crafted from deep koa wood, which translates into a deep, full tone.
Accessing higher frets can sometimes be difficult depending on the style of the ukulele's cutaway. This product's cutaway is carefully designed so that you can easily access the higher frets with utmost comfort.
The neck, bridge, and fretboard also have an immense effect upon the shape of the sound. A mahogany and nato neck, as well as a rosewood bridge and fretboard, make sure that your tone is clear with this ukulele. It also offers plenty of sustain.
Tuning your ukulele can be frustrating when tuners aren't engineered properly. To keep things working properly, this ukulele features open-style tuners so that you can precisely control the tuning of the instrument.
When it comes to visual beauty, this ukulele ticks the right boxes too. A satin finish and rosewood binding combine to offer eye-catching yet understated looks.
Nobody wants a ukulele that weighs a ton as it makes playing it far more difficult. Weighing just 2lbs, this ukulele from Luna Guitars can be used for long periods without any fear of fatigue.
It's clear from this ukulele that Luna Guitars has achieved what it set out to do, which is to offer exceptional instruments that have been designed with love and passion.
Pros:
+ Body made from koa wood for providing soulful sound and look.
+ Onboard preamp makes acoustic guitar amplification easy.
+ Open-style tuners for precise tuning.
Why We Liked It - With open style tuners, an onboard preamp and a koa body this ukulele has got it all. We were particularly impressed by its eye-catching looks. For anyone wanting to perform live with an amp, then this is a great choice.
From guitars to drums, Sawtooth provides some great value musical instruments for a wide range of needs. Over many years, the company has constantly strived to improve, and now those years of experience are paying off.
Sawtooth offers such a huge range of instruments, it's no surprise to discover that it also manufactures high-grade ukuleles too.
This one is a mahogany ukulele by Sawtooth that specially targets beginners. This mahogany ukulele offers the same value-for-money that Sawtooth is known for with its other instruments.
It has been noted by many users of this ukulele that the sound is surprisingly impressive considering the low price. It offers a warm, balanced tone that you'd expect from a much more expensive product.
The strings are the most important element of any ukulele as they are key for the sound that the instrument offers. This product features Aquila strings that produce a warm, sweet yet balanced tone. They're also known for their long-term durability, so you don't need to worry about breakages.
The build quality - as well as the materials used for the construction - will also have an impact on the sound. Mahogany is the key material when it comes to this instrument, and it's known for its distinctive sound. The top, back, sides, and all the essentials are made from pure mahogany.
For the most precise tuning, this ukulele has geared tuning keys. They are easy to rotate, and they stay in the correct position too, so there's no need for constantly having to tweak them.
A beautiful, laser-etched rosette and a natural satin finish create eye-catching looks that also suggest this is a pricier instrument than it is. You'll easily fall in love with this product when you look at it.
For the price, it's a serviceable ukulele that will satisfy a novice, especially when the low price is taken into account.
Pros:
+ Top, back, sides, and neck are made from high-grade mahogany.
+ Aquila Strings offer a warm, sweet, and balanced tone.
+ Geared tuning keys provide precise tuning.
Why We Liked It - With Aquila strings, geared tuning keys and natural satin finish this ukulele is a superb choice for novices on a budget. It might not please a professional, but it's certainly one of the best options for a beginner, in our opinion.
As we have already discovered, Kala is a brand that is trusted by many ukulele players around the world. Ever since it was founded in 2005, it has been offering everyone from beginners to professionals exceptional instruments that deliver long-term quality.
Did you know that Kala is the brand of choice for lots of famous recording artists? Twenty-One Pilots and Vance Joy are just two ukulele legends that use Kala instruments. With such a good reputation, then it's a brand that you can rely on for quality every time.
The reason why Kala delivers that quality is down to its attention to detail. It will always ensure that every product has been manufactured to a flawless level. That way, when you spend your bucks on a Kala, then you know what you're going to get.
As a beginner, there's no need to spend the big bucks on a ukulele that's designed for a professional. You simply need a solid instrument that's designed with playability in mind. Having the right accessories is important too. This 'Learn to Play' kit from Kala offers you everything you need to start playing. It offers you this at an affordable price too.
The package includes the high-quality mahogany soprano ukulele itself. It comes with Aquila strings, open-gear tuners, and graph tech, bone nut, and saddle. You also get a sixteen-page starter booklet with all the tips you need to begin practicing and improving your skills.
Unlike many beginner ukuleles, this one doesn't feature nylon strings, which can offer a low-quality tone. Aquila super nylgut strings are featured in this Kala starter ukulele. They are made in Italy. These strings are soft and smooth, making them kind to your fingertips, which is ideal before you have callouses.
The tuning gear is designed for stability, which is a big plus for beginners too. There's no need to constantly tweak it so that you're in tune.
Kala is known for high-quality ukuleles that have an amazing appearance and tone. To further enhance this product's looks, it is crafted from mahogany with a beautiful satin. Not only does it look good but sounds good too.
There's no need to purchase an old-fashioned, chromatic tuner for this instrument. Kala's tuner app helps you to easily tune your ukulele no matter where you are. Whether you're chilling on the beach or lying on your bed, you simply need to open the app and you can tune your ukulele.
If you want to improve your skills, you can simply log into Kala's website for online lessons, which will also save you paying for a tutor. From the basics, to learning songs the free online lessons will help you become a better musician in no time at all.
Pros:
+ Free online lessons and tuning app.
+ Aquila super nylgut strings.
+ Quick starter guide booklet included with ukulele.
Why We Liked It - With Aquila nylgut strings, a tuning app and access to free online lessons this is the perfect package for a beginner. It's also offered by one of the most trustworthy brands around.
7. M Y Fly Young Meideal MUH-2
This soprano ukulele by M Y Fly Young is perfect for musicians of all levels. No matter who you are - a beginner or a professional - this product would be a superb investment.
Golden to darkish brown Sapele wood has been used for the back and sides. Sapele wood interlocks grain and has a fine, uniform texture with good natural laster that promises a premium feel.
The body and fingerboard are both made from rosewood. The color of this material can vary from golden brown to deep purplish-brown. With this ukulele, it is golden brown rosewood that's been used. As rosewood is very durable and resistant to rotting, then this instrument is a safe long-term investment.
Most budget ukuleles include nylon strings. Although nylon strings can sound okay, they can't match the quality of Aquila nylgut strings. This ukulele features Aquila nylgut strings to deliver a warm, sweet yet balanced tone. It's a top feature, in our opinion, that this product includes such excellent strings.
The neck is another key part of any ukulele. Why? Because it ensures that the strings are in the optimal position for the best quality sound. This product features an Okoume neck that helps to enhance the warmth of the tone. Okoume grain is straight to wavy, which also improves the clarity of the instrument. The Okoume used for this product is light brown, which differs from the pale pink variety that you might have previously encountered.
To protect this beautiful ukulele from getting damaged during transit then it is delivered unassembled. It comes with easy-to-follow instructions. You don't need to be an expert to put it together, but you need to be aware that it will have to be assembled.
Of course, once you've assembled it, you'll need to tune it up. You can use the T83GW tuner that comes along with the package to do this. It is also very easy to use and can have you playing your new instrument in a matter of minutes.
Pros:
+ Back and side made from Sapele wood.
+ Aquila strings offer warm, clean, and balanced tones.
+ With the ukulele, you get a tuner, black gig bag, and capo (click for review).
Why We Liked It - It's a portable ukulele that's built to last. It comes with handy accessories that will aid you improving your skills. And the price is certainly hard to argue with too.
8. Concert Size From Lohanu (LU-C)
To any Hawaiian, the word 'Lohanu' has a lot of meaning. It is used for love, family, and unity. This sincere word was chosen for this brand for a reason. Its products are designed with love so that you can play them surrounded by those who are the closest to you.
Lohanu produces instruments that are competitively priced. It's for that reason that Lohanu ukuleles have often been chosen by beginners. Fortunately, the low price is matched by the quality of the products. Lohanu instruments have 97% positive reviews on Amazon. Also, you always get a lifetime warranty with Lohanu ukuleles because the company believes in its products so much.
This product is a concert ukulele that comes with all the important accessories you need as a beginner. The quality, however, is up there with the best around, so you could also consider a Lohanu ukulele even if you're an advanced musician.
The gorgeous looks that it offers are down to the Sapele and mahogany that's used to create it. Apart from the rosewood fingerboard, every other component is a mixture of Sapele or mahogany.
Unlike many budget products, this Lohanu ukulele delivers exceptional sound quality. There is no fret buzz. It is also a breeze to tune. And the design allows you to reach the high frets with ease. If we were to describe the sound, then we would say it was big, clear, warm, and bright. That means it's the whole package, performing well for a wide range of musical genres.
As a beginner, it can be a risk purchasing your first ukulele. You can't be sure of the quality or durability of the instrument. You might also worry that accessories bundled in with the product might also easily break. That's not a problem with this product. Why? Because it comes with a lifetime warranty. It's truly a risk-free purchase.
Another great feature that's part of this product is that it comes with free online video lessons. It's ideal for complete novices or even more advanced musicians. You can practice scales or learn Hawaiian songs with these video lessons. Make sure you follow them properly and you'll find your skills improving in no time.
Let's have a look at the strings. With a product as appealing as this one, then you'd surely expect that the strings are good too. Right? Yes! This ukulele comes with Aquila nylgut strings as standard. They are handmade and feature ABS binding. As you'll have already learned by now, these are the best strings on the market.
The bundle also increases the value-for-money that this product offers. You get a strap, a tuner, a soft case, and a set of Aquila strings, as well as much, much more.
For beginners who want a comprehensive bundle with a concert ukulele at the heart of it, then you can't go wrong with this product.
Pros:
+ Unconditional lifetime warranty for the ukulele and all the accessories.
+ Two strap buttons installed.
+ Free online video tutorials
Why We Liked It - This concert ukulele is a no-risk choice for beginners because it comes with a lifetime warranty, which also covers the huge range of accessories that it comes with. A superb choice for a novice, we think.
Cordoba was founded in 1997 with an aim of revolutionizing nylon-stringed guitars. It wanted to blend traditional craftsmanship with cutting-edge innovations, which is exactly what it has achieved.
The key to Cordoba guitars is its Spanish heritage. That means that all its instruments share beautiful appearances with soulful sounds. Each instrument will be lightweight, responsive, and designed with usability in mind.
It might surprise some to discover that this company - famed for its Spanish guitars - is also one of the most important ukulele manufacturers around. This product, which is a 15cm ukulele, is a unique instrument that will look just as good on your lap as you play it, as it will do pride of place in the corner of your living room (click here for guitar stand reviews).
This concert 15cm ukulele by Cordoba is made by hand with premium quartersawn mahogany. This material helps to ensure a balanced, warm tone. It's a ukulele that needs to be heard. But if you've ever played a Cordoba guitar before, then you'll have some idea of the crispness of tone it offers.
As a concert model, then it sits in the middle of a small soprano and a large tenor. That means that you get a lot of power without the cost of clarity. It's also got a longer neck than these other models, which allows for more string tension so that it remains in tune without any issues.
To increase playability, it has larger frets. This means that you can maneuver the fretboard with more ease. The fretboard is made from a mixture of mahogany and rosewood, which doesn't just look nice but also enhances the durability of the instrument.
It features Aquila nylgut 7U strings. You get a soothing and balanced tone from these exceptional strings, which are a common feature on high-end models.
Some of the other key features of this ukulele include an abalone rosette, an ivory body, and fingerboard binding.
It might cost the same as a standard entry-level ukulele but it looks and feels like a professional instrument, which is what you'd expect from Cordoba. We loved the bright, full, and rich tone that it offers. A wonderful instrument.
Pros:
+ Beautiful looks thanks to the satin finish.
+ Ivory body and fingerboard binding.
+ Aquila Nylgut 7U Strings
Why We Liked It - It's a typically high-grade instrument from Cordoba. And, just as you'd except from Cordoba, it sounds amazing, looks beautiful, and is affordably priced too.
10. Flight DUS 322 Designer Series
Flight is a brand that aims to provide consumers with the best value-for-money products on the market. It's a company that's known for budget instruments. And not just any budget instruments, but instruments that sound and look good.
Ever since it was founded in 1993, Flight has constantly attempted to innovate, introducing new models of its instruments onto the market every year. That's true for its ukuleles too, which have received countless plaudits over the past two decades.
Flight's D Series includes cutting-edge ukuleles that have been made with the finest materials. This one is the DUS 322 soprano model that includes a zebrawood top, back, and sides, as well as an Okoume neck, a rosewood fingerboard and bridge, sealed die-cast tuners, and a laser-etched rosette.
As you'll have noticed, many parts of this ukulele are made from zebrawood. This material features an exotic wood pattern that looks great and is complemented by the unique soundhole design that this ukulele features. Zebrawood is found in West Africa. It is light brown with dark brown stripes, which is why it got its name. A coarse texture, open pores, and wavy grain make this wood special.
To ensure an accurate tone and easy playability, this product has an African Okoume fretboard and neck. It helps to deliver a pristine, clear tone that we love. It also looks great too! To enhance the looks, Flight has hand-drawn all of the rosettes, which are then engraved into the instrument thanks to a laser.
Another high-grade feature of this product is the nut and saddle. Unlike many budget ukuleles, bone is used for these components instead of the lower quality plastic that's often used. This material also ensures that the strings are kept in place at all times.
To make sure a guitar stays in tune, then you look at the tuners, and it's the same with a ukulele. This one has geared tuners, which work effectively.
Pros:
+ Top, back, and sides are made from zebrawood.
+ Fingerboard and bridge crafted with rosewood material.
+ Laser etched rosette.
Why We Liked It - It's the quality materials that make this product stand out from the crowd. We love the combination of zebrawood and Okoume. We're also big fans of the laser-etched rosette that looks great.
Ukulele Type - If you plan on performing with your ukulele, you might want to go with a concert or tenor ukulele over a soprano ukulele. These ukuleles have larger sound holes and builds, increasing their projection power. You can also purchase ukulele pickups to disperse sound over an amp or to an interface directly.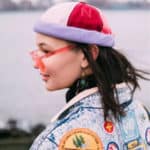 Ukulele Buyer's Guide
The ukulele is a wonderful instrument that never goes out of fashion. It's known for being fairly easy to learn how to play, especially compared to full-sized guitar. The sound is distinctive too, and it can liven up a campfire, party, or gathering.
With so many to choose from, it's important to know what it is that you want. There are lots of different features to look out for, and we hope that by the end of this guide, you'll be in a great position to pick one that suits your needs.
We're going to outline all the information you might require to know about this instrument, including everything from its history to the accessories you need to play it.
To give you a quick introduction, you might be interested in the basics. This instrument belongs to the lute family. It will be equipped with either nylon or nylgut strings. It was first created in the 19th Century when Portuguese immigrants brought a similar instrument to the Hawaiian Islands.
It has gained much more popularity over the past century thanks to its use in pop music and feature films.
Let's begin with our highest-rated ukuleles before we then move onto the essential background information.
1- Top Pick

Our Top Pick is made by Kala, one of our favorite manufacturers. Why do we love it so much? It's down to the company's desire to mix tradition with innovation and with an attention to detail that makes each of its instruments built to last.
The KA-15S is a product that will appeal to bargain hunters. This ukulele looks great, sounds perfect, and is available for a shockingly low price.
The low price means that it doesn't offer the same quality as a premium model. But advanced features and expensive models are only suited to advanced players. For beginners to intermediates, this product doesn't disappoint.
The KA-15S has a low action that makes it easy to play and eliminates any fret buzz, which is a problem that you often find with budget models. The sweet, warm, and balanced tone is a great feature and one that will keep you practicing.
The KA-15S is a superb crowd-pleaser that offers a huge amount of bang for the buck. We can highly recommend it, especially if you're a newbie.
2- Premium Choice

Since 1946, Fender has been a key player in the music industry thanks to its innovative products. From beginners to professionals, Fender has an instrument to suit your needs.
The Tenor ukulele by Fender is made from Koa wood. That means that it looks great and gives the impression of professionalism. For an authentic-sounding ukulele, then Koa is essential. That's because Koa wood comes directly from Hawaii. It has a beautiful coloring of gold and reddish-brown.
The tone is superb, as one can expect from an all-koa body ukulele. "Very clean" and "balanced" are two descriptions that satisfied users have suggested for this premium instrument.
It delivers a pristine, clean tone that's not ruined by fret buzz too. Of course, if sound quality is important to you, then you'll want to choose a reliable brand, which is why a Fender instrument is always a good pick.
With koa wood, a gloss polyurethane finish, and die-cast tuners this is a premium product that's made by an exceptional brand and it's well worth the money, in our opinion.
3- Great Value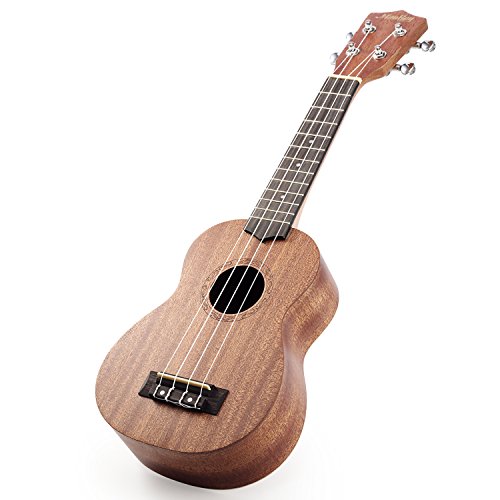 This ukulele package offers a huge amount of value. Moukey might not be the most famous brand, it still delivers a quality instrument.
This Sapele ukulele is crafted from high-grade materials. Not only does this mean that the instrument is robust, but it sounds good too. A lot of attention to detail has gone into this product.
High-quality nylon strings offer a crisp, clear tone, and make for easier playability. They're also designed to last, so you won't need to deal with breakages.
From a gig bag to an electronic tuner you get all the crucial accessories for getting started with this product.
Moukey offers the perfect bundle for beginners (click here for our beginner electric guitar guide) to get started with their ukulele career. With many accessories, nylon strings (read our electric guitar strings guide here), and a solid design, this package is ideal for novices who want the whole package.
Now it's time to move onto the questions that prospective first-time buyers will ask about this instrument. We've tried to be as comprehensive as possible, answering just about any question you might have. If you have a unique one, then you can always contact us for our expert advice and opinions.
So, without any further ado, let's get down to business…
Types of Ukulele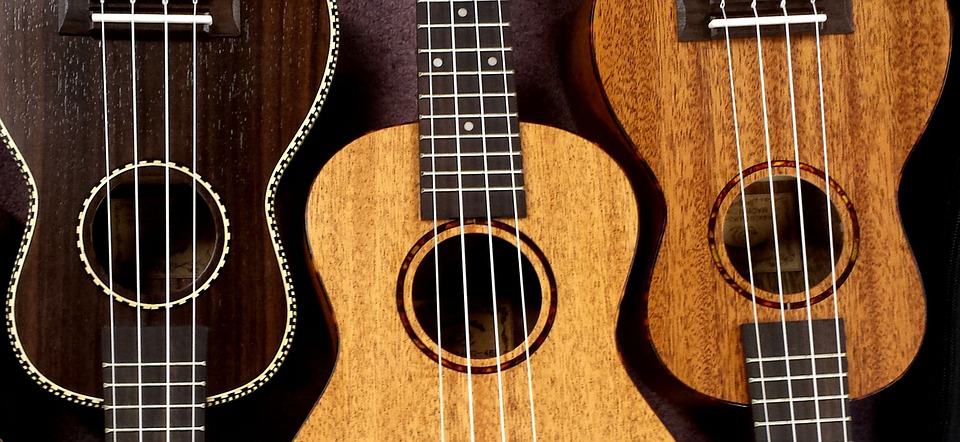 There are seven types of ukulele but you'll likely come across only four of them. Each has its own characteristics and style of play. Before getting your hands on a ukulele you must know which type suits you the best.
A problem that beginners often have is knowing what type to choose. Usually, they will think they're all the same, and then simply pick at random. That's a mistake. Read about each type carefully so that you can make a wise purchase.
Pocket
A pocket ukulele - also known as a piccolo - will have a maximum length of 41cm and a scale length of 28cm. This means that it only has between ten and twelve frets, which is more than enough for a beginner. It offers a range of G4 to E6 with a common tuning of D5-G4-B4-E5. Pocket ukuleles aren't particularly common, though, and this isn't one of the major four types that beginners will usually purchase.
Soprano
Soprano ukuleles are the most commonly used models. They're also quite small, with a typical length of 53cm and a scale length of 33cm. They're the perfect size for a newbie, in our opinion, and should be top of your list if you're a beginner. They offer a range between C4 and A5. And they also feature the common tuning of G4-C4-E4-A4.
Concert
Next up, we have concert ukuleles, which are the next size up from soprano ukuleles. They have a length of 58cm and a scale length of 38cm, which produces a deeper and louder sound than sopranos. This ukulele has 15 to 20 frets.
Tenor
Also known as 'lili'u' or 'taro patch', this ukulele has an overall length of 66cm and a scale length of 43cm. Tenors deliver a classic sound and have more than 16 frets with a range of G3 to D6.
Baritone
Bari, Bari uke, or baritone - whatever you might call this ukulele (click to find out where the name originates from) - promise deep and resonant sound, which is all thanks to the 74cm full length and a scale length of 48cm. You get 18-21 frets on this ukulele with a range of D3-A#5.
Bass
Although bass ukuleles aren't hugely popular, some musicians are fans of the big low-end punch that they offer. With a typical length of 76cm and a scale length of 51cm, this ukulele offers a seriously warm tone. A bass ukulele holds a range between E2 and B4 with a common tuning of E2-A2-D3-G3.
Contrabass
Also known as U-Bass or Rumbler ukuleles, contrabasses have a length of 81cm and a 53cm scale length. Offering a range of E1 to B3 with a common tuning of E1-A1-D2-G2 this ukulele is very rare.
Now we've introduced you to the seven types of ukuleles that are available, it's time to move onto the available different shapes.
Different Shapes of Ukuleles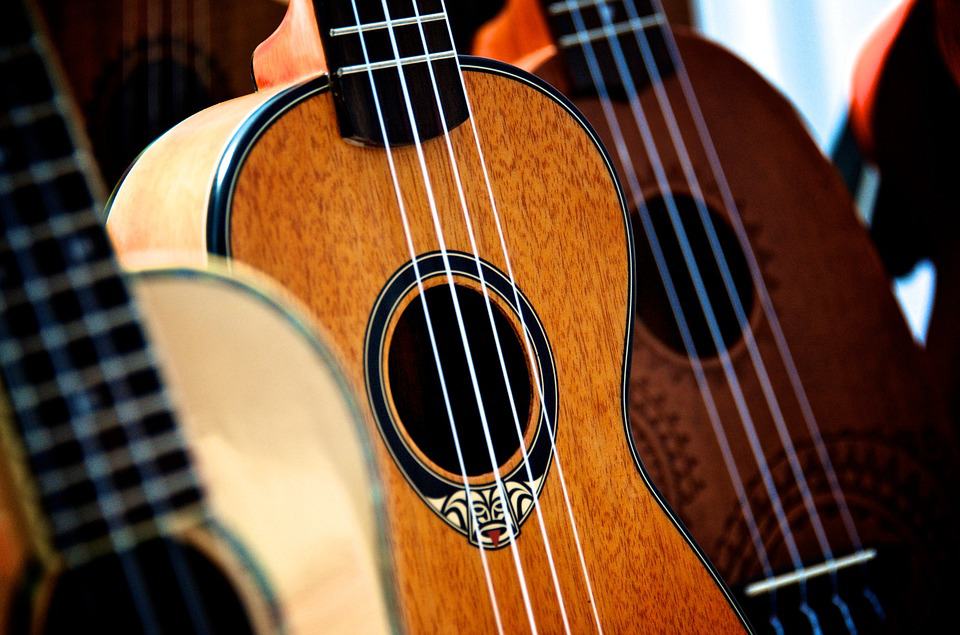 The shape of a ukulele won't alter the price of the instrument. It will, however, make an impact on the sound that you will get out of it. Let's now have a look at the most common shapes.
Pineapple
The pineapple body shape was a Hawaiian innovation that was used for instruments made by the Kamaka ukulele company.
This shape gives a typical Hawaiian look to your ukulele.
Guitar
Like a standard acoustic guitar, this shape is very common among ukuleles. This shape has a curved portion of the upper body - referred to as the upper bout - which is smaller than the lower bout. Modern designs have cutaways in the upper bout that allows easy access to the upper frets.
Boat paddle
Of the three shapes, the boat paddle is the rarest, as this design takes a lot of effort to create but doesn't perform that well, especially if you're a beginner.
So which shape do you prefer?
The Construction Method of Ukuleles
As with all musical instruments, how a ukulele has been constructed - as well as the materials that have been used - will have a major impact on the sound quality. It will also impact its durability and long-term usability, as poor construction methods and lower-quality materials will be more likely to lead to breakages.
Let's have a look at the three major construction methods for a ukulele.
Plastic
A plastic ukulele is the cheapest and lowest-quality version of this instrument. It will be made through injection molding. In short, a plastic model is nothing more than a toy. It is fine as a gift for a small child who wants to pretend to play the instrument. But it should not be considered by anyone who has a desire to learn how to play the ukulele.
We've included plastic on this list just so that we can warn you to avoid purchasing this material. It is not a serviceable instrument. Only purchase such ukuleles as toys for kids.
Laminated Wood
A laminated wood ukulele is constructed from several thin layers of wood glued on top of each other. This translates into an affordable instrument that may appeal to beginners. The lamination and layered construction offer you a certain amount of strength and durability. The problem, however, is that laminated wood is prone to cracking.
For beginners, ukuleles that have been constructed from laminated wood are a cheap, low-risk option that can be used until you're more comfortable with the instrument. You shouldn't expect a huge amount from the sound quality. But to get yourself to grips with the ukulele, then a laminated wood product is fine.
Solid Wood
Ukuleles that are constructed from solid wood are the most expensive and best quality. The type of wood that is used will impact the sound and price, but even a cheap solid wood ukulele will be superior to a layered wood version. Solid wood translates into better resonance, as well as a richer tone and a deeper sound.
These ukuleles are best suited to intermediate to advanced players. We can also recommend them to beginners who want to pay a bit extra for an instrument that will last you several years.
Summary
Plastic ukuleles can be ignored by anyone who wants a musical instrument rather than a cheap toy for kids.
For anyone unsure if this instrument is for you, then buying a laminated wood ukulele is a low-risk option. You can get a laminated wood model for a very reasonable price. It won't last you a lifetime, and you'll likely grow out of it after your skills improve, but to experiment with the instrument, then this type of ukulele will be fine.
If you're serious about this instrument, then you'll want to invest in a solid wood model. The sound quality, durability, and playability of solid wood versions are all better with this type when compared to the previous two.
The right wood must be used for a solid-wood ukulele to be a quality instrument. We'll now introduce you to the most common woods that are used, as well as explain the advantages and disadvantages of each of them.
Most Common Types of Wood Used for a Ukulele
Mahogany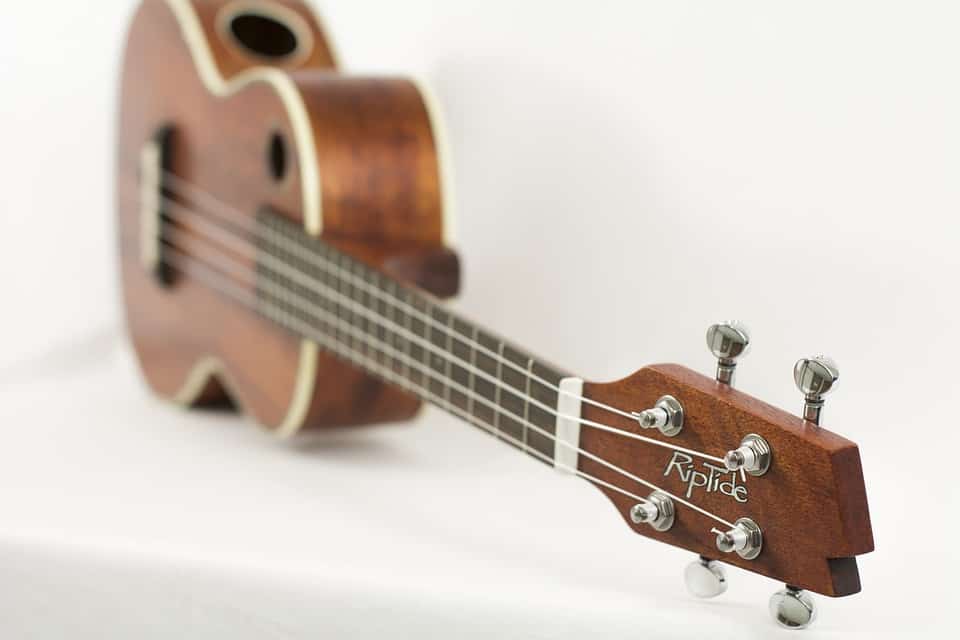 This tonewood is very popular with mid-price to premium products. It's a hardwood that produces warm, rich, and dark tones. Cheaper alternatives to mahogany include Sapele and nato.
Koa
Straight from the jungles of Hawaii, this dense tropical wood is a popular choice for ukulele manufacturers. Wit beautiful grain patterns, a wide range of colors, and a balanced tone make this a wonderful material to use. A very similar wood to Koa is acacia, which is slightly cheaper but tends to sound and look very similar.
Rosewood
This wood is known for being hard and dense. It is commonly used for fretboards and bodies. Its rich color and rot-resistant nature make it an excellent material to select.
Cedar
Cedar is often used for tenor and baritone ukuleles. That's because this softwood lends itself better to low notes. The tone that it offers is mellow and round. An alternative to cedar wood that's also used for ukuleles is spruce.
Let's now look at the main components of this instrument.
Parts of a Typical Ukulele
A ukulele will always be composed of the same main elements. The following are the names of each part, as well as a brief explanation as to what they are.
Headstock
At the top of your ukulele, you'll find the headstock. This part of a ukulele is where the tuners are. It's an important part of the instrument because it ensures that the strings remain tense. Often, it will be made from a block of solid wood, even if the rest of the instrument is made from laminated wood.
Tuning machines
These rotatable knobs hold the strings in place. You turn the knobs to be able to tune the strings. They will usually be made from metal. Most ukuleles have four strings, which is why there will be four tuning pegs too.
Fretboard
This is the long piece of wood that's attached to the neck of the ukulele and is beneath the strings. You will press down the strings onto the fretboard, which is also known as a fingerboard. The frets will be delineated via metal dividers. There will also be marker dots on the fifth, seventh, tenth, and twelfth frets.
Bridge
The bridge is at the bottom of the ukulele. Its job is to hold the tail end of the strings. On most ukuleles, it will be glued to the body of the instrument.
Sound Hole
This part is self-explanatory. It's simply the hole in the body of the instrument, which is between the fingerboard and bridge. Without this hole, then your ukulele wouldn't be able to create any sound.
Body
This is the main part of the ukulele. It is composed of the front, sides, and back. This component will be crucial for the sound of the instrument. It's important to check what materials are used for the body before purchasing a ukulele. The higher quality the wood used for the body, the better sounding the ukulele will be. There are a wide variety of shapes and cutaways used for the body. We looked at these earlier in the article.
Strings
The type of strings that you'll find on a ukulele will depend on what type of uke it is. For example, a concert or soprano ukulele will feature either nylon or nylgut strings. On larger ukuleles, like a baritone, a combination of nylon/nylgut and steel will be favored.
Common Tunings on a Ukulele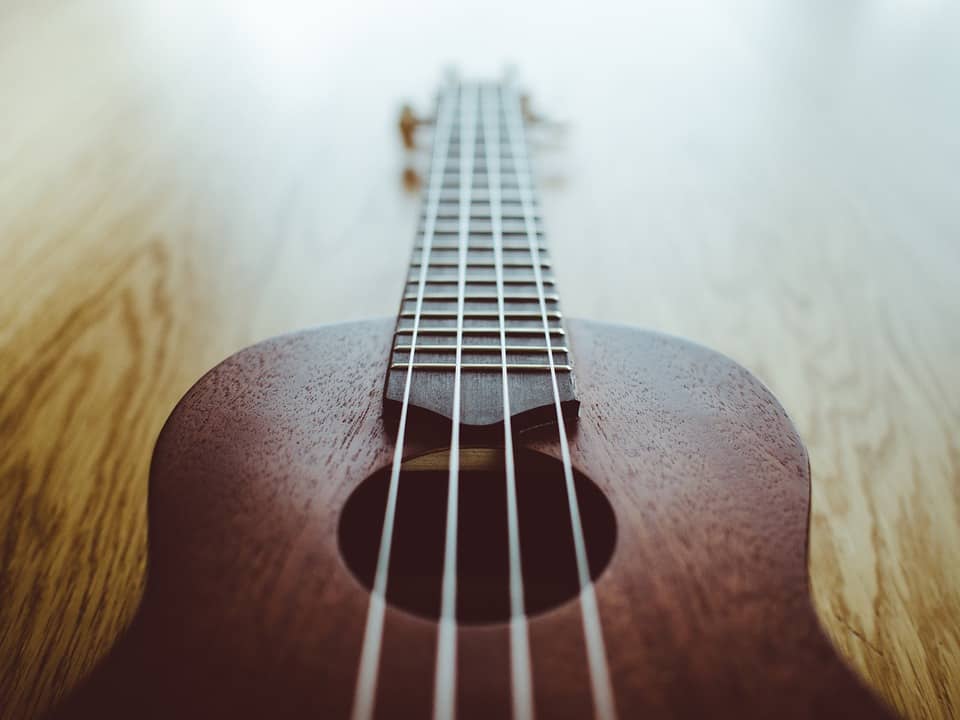 As with all stringed instruments, the ukulele can be tuned in a variety of pitches. Let's have a look at some of the most common tunings now.
C6 Tuning
The C6 (G4-C4-E4-A4) is the most popular and common tuning. To turn up the close-harmony chording, the G string is tuned an octave higher. Similarly to lower the effect, the G string is tuned an octave lower.
D6 Tuning
Also known as 'higher string tension', the D6 tuning (A4-D4-F#4-B4) is one step higher than the C6 tuning. This tuning is popular in Hawaii. A variation on this tuning that's common in Canada involves lowering the A string by an octave.
Tuning into a Dotara
A Dotara is a stringed instrument that's used in parts of India and Bangladesh. You can tune a ukulele so that it sounds similar to a Dotara. To do this, you want to tune the strings to E-B-E-A.
Ukulele Accessories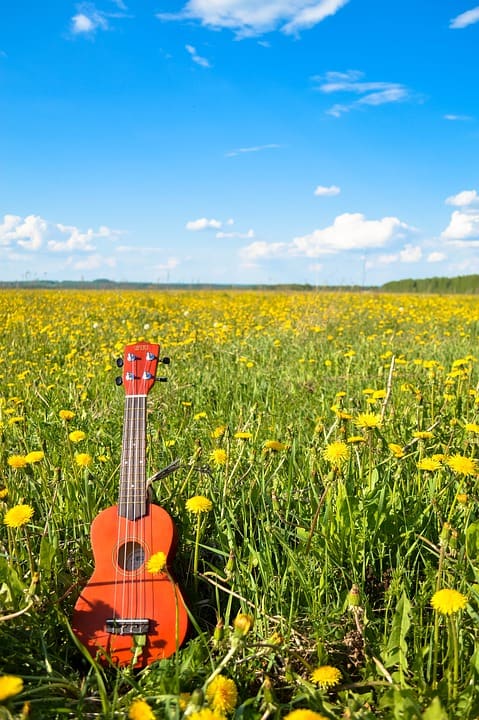 There's more to a musical instrument than the instrument itself. You need to rely upon several accessories to get the most out of them. That's true for a ukulele too! We're now going to have a look at the essential accessories that you'll need for your new uke.
Electronic Tuner
For beginners, you'll want to invest in an electric tuner. These handy devices can be used to tune the instrument until you're at a level where you can tune by ear. Just turn on the tuner, play the strings and adjust the ukulele's tuner pegs according to the signals displayed on it. They're simple to use, and they can also be purchased for a couple of bucks.
Picks
Picks - also known as plectrums - are crucial for beginners. It takes time to build up the skills to strum and pick with your fingers. It's far easier to use a plastic pick. You can get this little piece of equipment for a very low price.
Strings
The stock strings that come with a new ukulele may not be the best quality. We recommend investing in Aquila nylgut strings, which are undoubtedly the most impressive strings on the market. It's worth purchasing a couple of packs, as you may encounter breakages during your early days with the instrument.
What is the History of the Ukulele?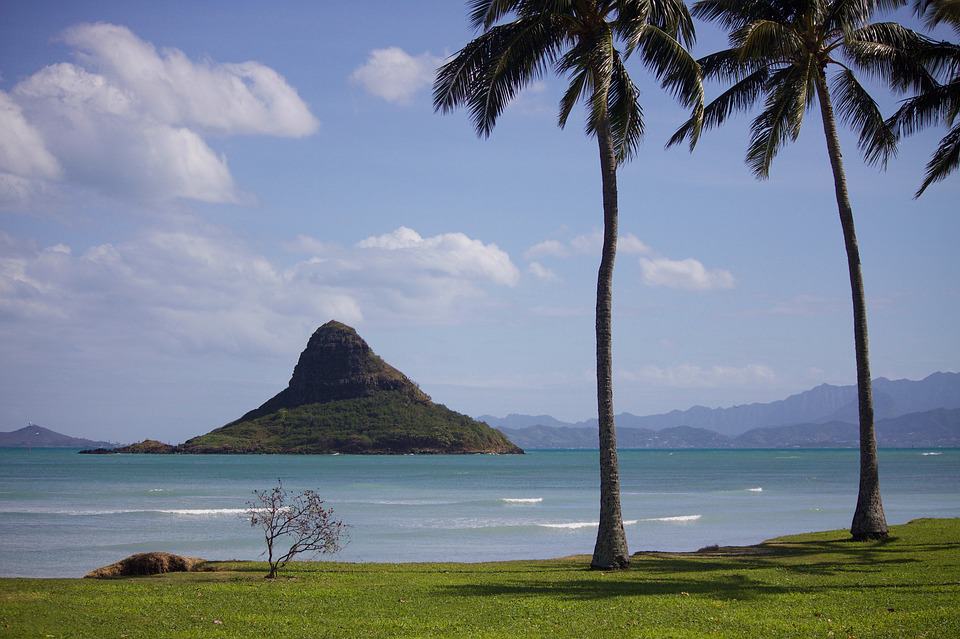 The ukelele was first developed in Hawaii in the 1880s (read the study). It is based on a Portuguese instrument that is called a 'machete', which was brought to the islands of Hawaii by immigrants who arrived from the Portuguese island of Madeira at the end of the 19th Century.
In the early days, King Kalakaua was important in increasing the popularity of the nascent instrument. He requested for it to be played at his courts, and he was known to play it himself. The championing of the instrument by Hawaiian royalty and the cultural elite caused it to become increasingly popular over the following decades. By 1910, 600 ukuleles were being manufactured every month in Hawaii.
Inevitably, the popularity of this instrument led it to be exported to mainland USA, where it also caught the imagination of the public. The instrument was seen to be representative of Hawaiian culture, as well as the ethos of the Hawaiians. Hula girls were often seen dancing to ukulele music when it was performed on stage in the first half of the 20th Century.
As soon as the instrument had captured the hearts of the Americans, it started to be used in popular music. Over the last hundred years, the ukulele has gone through several periods of popularity, interspersed with periods where it was not so popular.
Let's now move onto some of the most famous songs that this instrument has featured in, as well as the artists who have played it.
Famous Ukulele Songs and Musicians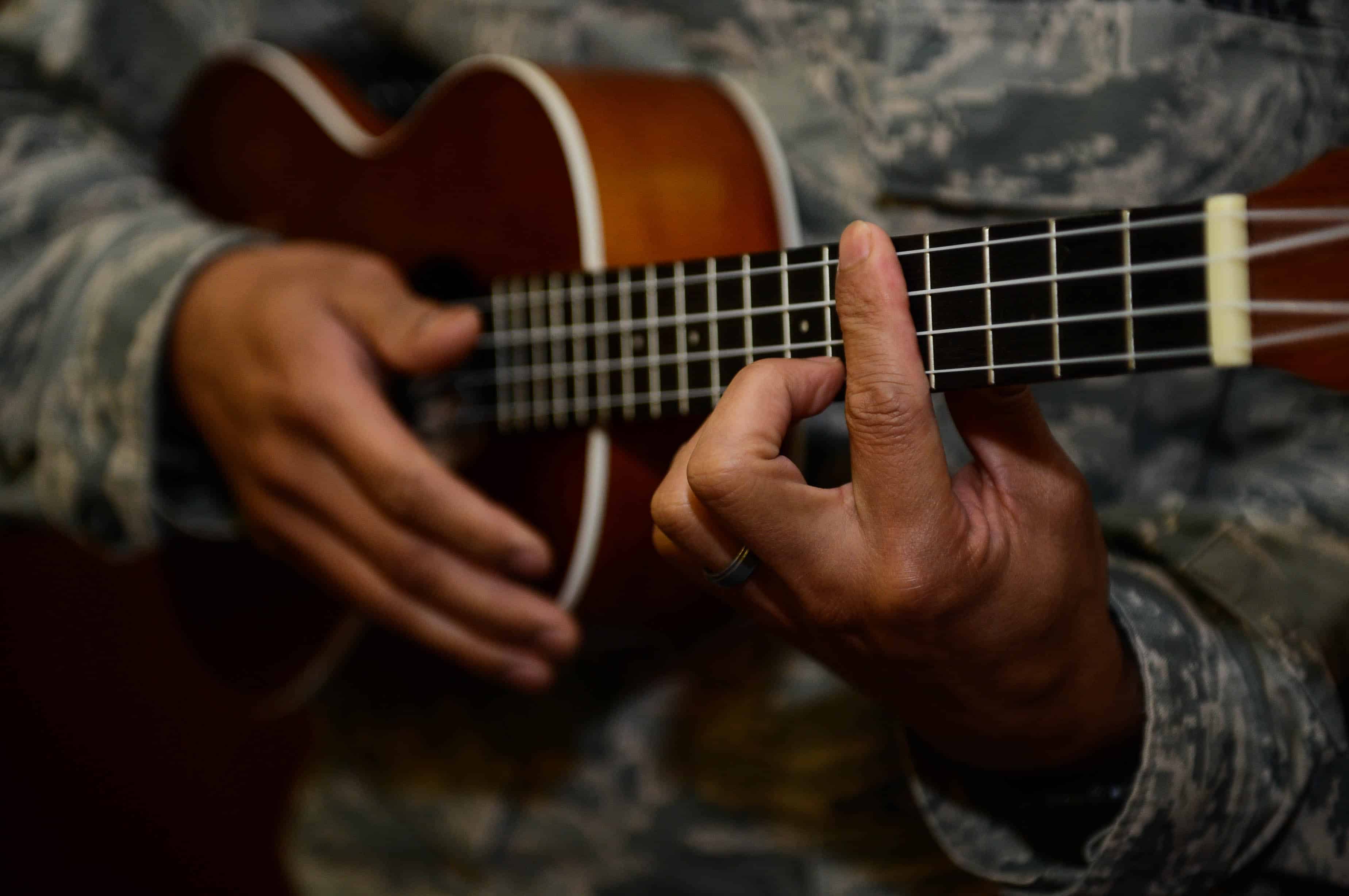 When the ukulele first became popular in the USA, young Americans started to experiment with it, and some of the biggest names during the early successful period of the ukulele include Wendall Hall, May Singhi Breen, and Roy Smeck.
Ukulele Ike
A big hit during the 1930s was called 'I'm a Bear In a Ladies' Boudoir'. This song was performed and written by Cliff Edwards, who also went by the name Ukulele Ike.
George Formby
Perhaps the most famous ukulele player of all time is not a Hawaiian or an American but a working-class British man by the name of George Formby Jr. He was known not just for his music but also for his acting and comedy. 'When I'm Cleaning Windows' is his most famous song, and it was originally featured in his film, The Window Cleaner. The song was controversial at the time because of its suggestive lyrics, and it was even banned by the BBC.
Elvis Presley
Elvis Presley was another proponent of the ukulele. His film, Blue Hawaii, featured The King playing the instrument. The soundtrack for the album sold extremely well and the ukulele was used in several of the big hits from this album, which also went on to win a Grammy award. The most famous song on this album to feature the ukulele was 'Can't Help Falling in Love With You'.
Tiny Tim
At the end of the 1960s, the ukulele was back in the charts. This time it was the unique Tiny Tim who was responsible. His cover version of 'Tiptoeing Through the Tulips' was premiered during a performance on the popular TV show, Rowan and Martin's Laugh-In. Tiny Tim played the ukulele on countless recordings through his long career, although he never quite regained the same popularity as he has achieved for his first hit.
Israel Kamakawiwo'ole
This Hawaiian - who sadly passed away at the age of 38 - was one of the most popular ukulele players at the end of the 20th Century. His most famous hit was a medley of two covers. 'Somewhere Over the Rainbow' and 'What a Wonderful World' were played back-to-back by Kamakawiwo'ole on his bestselling album, Facing Future. His popularity has endured following his death with 'Somewhere Over the Rainbow' receiving up to now more than one billion views on YouTube.
Eddie Vedder
The lead singer of a grunge band might seem like an unlikely champion for the ukulele but Eddie Vedder is such an original that it makes sense to us. Pearl Jam's frontman released a double-sided album in 2011 called Ukulele Songs, which was - as you might have guessed - a series of songs played on the ukulele. The album was very popular, reading Number 4 on the Billboard 200, as well as reaching Number 1 in Australia.
Jake Shimabukuro
Now we move into more recent history. Jake Shimabukuro became an early viral sensation when he recorded himself playing a unique arrangement of The Beatles' song 'While My Guitar Gently Weeps'. Over the last fifteen years since that early success, he has toured the world performing his own arrangments of popular hits, including 'Bohemian Rhapsody'.
How do I Choose a Ukelele?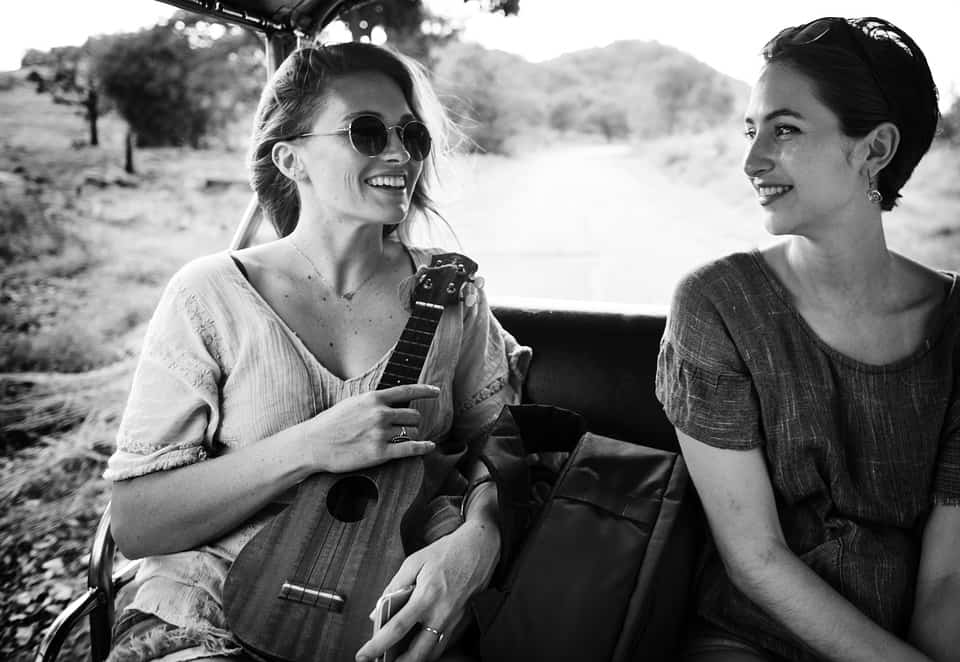 As with any musical instrument purchase, it will depend on your requirements, as well as your budget. There is a wide range of ukuleles on the market, some will appeal to beginners and others to more advanced players.
The best way to narrow down your choice is to firstly set yourself a budget. Once you have established how much you are willing to spend, then you can start by looking at ukuleles that match your budget. Of course, the more money you invest, the better quality you'll get. That doesn't mean there aren't some excellent cheap ukuleles around. You'll find many affordable models on our list. They will appeal to beginners. Ideally, you should pick a model that is made from solid wood, as this will provide you with better sound and durability than a laminated wood model.
A soprano ukulele is well-suited to beginners, but if you're willing to spend a bit extra, then you might want to consider a concert model. For novices, we recommend that you don't choose a ukulele that's got a scale length larger than 21 inches. It will be harder to learn if you buy a ukulele that's too big.
Research is always a good choice for anyone new to an instrument. Spend time learning about the different models, brands, and materials of ukuleles. The more knowledge you have, the more informed your purchase will be.
So, in a nutshell – which ukelele to choose would entirely depend upon your requirement combined with some research and knowledge about the ukuleles.
What is the Best Ukelele for Beginners?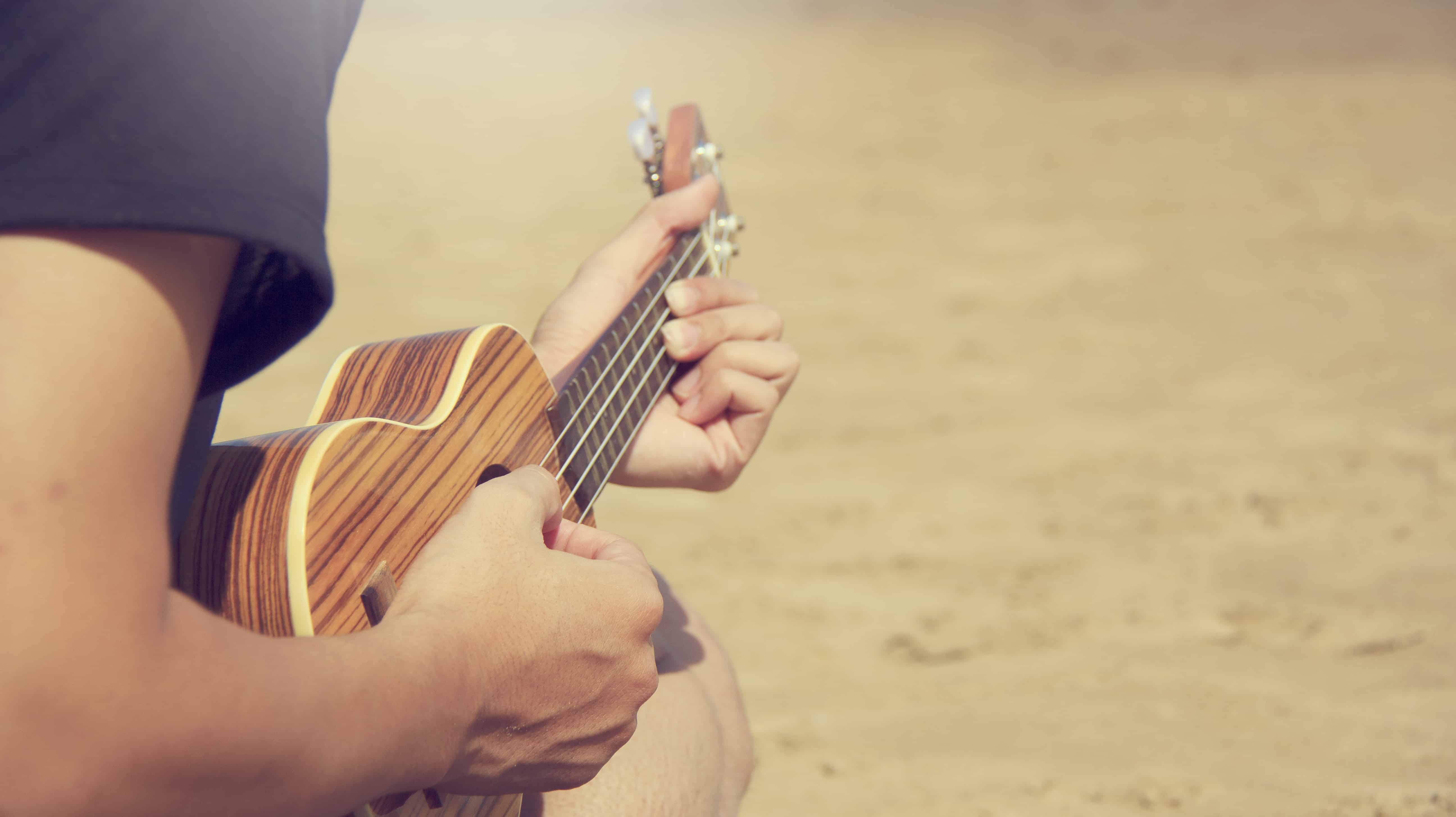 It might sound churlish, but any ukulele is the best ukulele for a beginner. The most important step for any novice is taking the plunge and buying the first instrument. You need to get the instrument in your hands and start learning, as soon as possible, and while you still have the required enthusiasm. If you spend too long worrying about what one to pick, then you may never get around to buying one.
That being said, after countless hours of research, our team has identified one ukulele that we think is ideal for beginners. The Cordoba Concert ukulele has everything a beginner could need. It's got an affordable price tag. It's designed with usability in mind. It also sounds fantastic. We're big fans of Cordoba as a manufacturer, and we think it can always be relied on for a quality instrument, which is why it is our choice for beginners.
If you want to save money and instead invest in a budget ukulele, then you can't go wrong with the KA-15S by Kala. This low-price product delivers enough quality for a complete novice to get to grips with the instrument. Constructed from high-grade materials and with a user-friendly design, the KA-15S is a great first ukulele, in our opinion.
How Much Should I Spend on a Ukelele?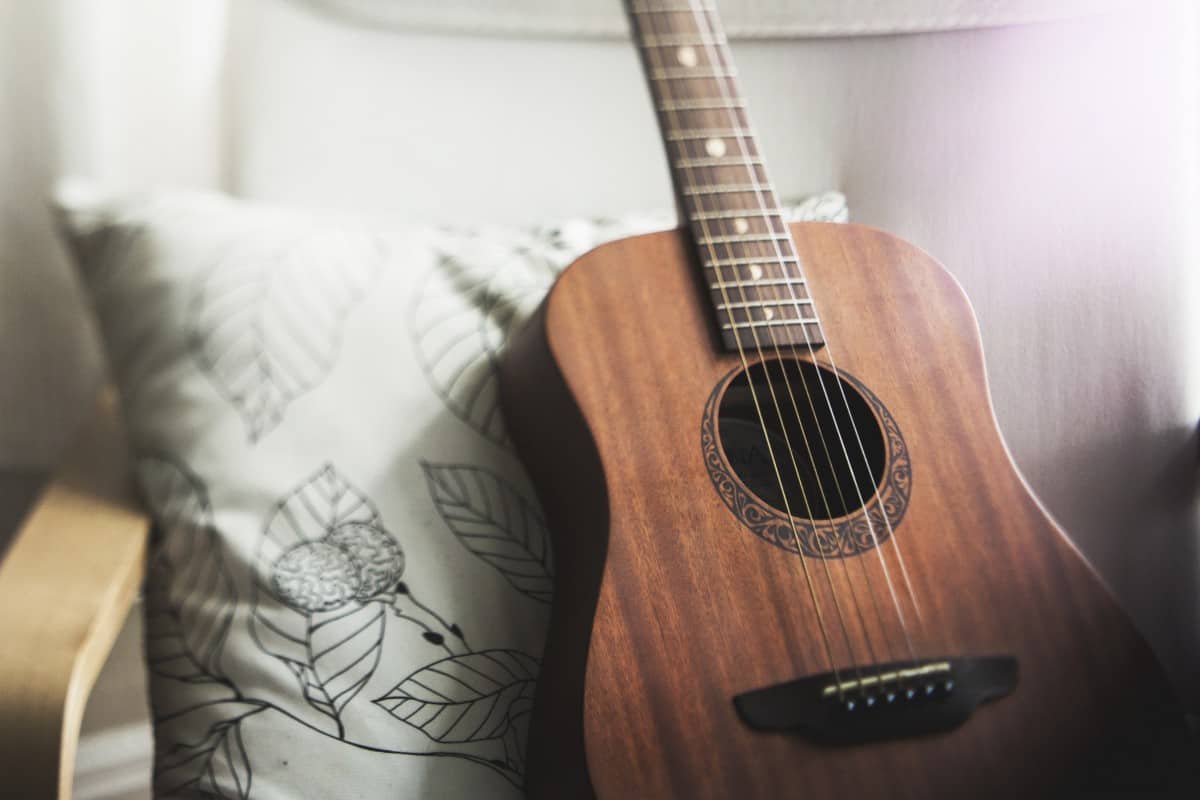 This is not an easy question to answer. It will entirely depend on how much you are willing to spend. You can purchase ukuleles for less than a hundred bucks, or you can buy one that will cost you thousands of dollars.
The key is getting good value for the amount of money that you spend. You want to choose a product that has been manufactured to a high degree from top-quality materials, such as mahogany.
No one can tell you how much to spend. If we were forced to, though, then we would suggest that a complete novice can get a good quality ukulele for around $100. The KA-15S is one such ukulele. More advanced players who want a solid-wood ukulele that will last a lifetime should consider spending a considerable more amount of money.
How Long Does it Take to Learn How to Play the Ukulele?
It all depends on how much time you spend practicing. It cannot be understated just how important regular practice sessions are for improving with any instrument.
That being said, if you put the time in, you can learn to play the ukulele relatively quickly. Of course, it is much smaller than a guitar and has two fewer strings, which means that it is easier to pick up the basics.
We think that a motivated and enthusiastic novice can be playing songs after three or four months. By the time that you're a year in, you'll be at least an intermediate, or you could even be a more advanced player after this time.
Never get downhearted if you struggle to learn a scale, chord, or song. We all have to begin somewhere. It always takes time. Just keep on practicing, and within no time you'll be wowing your friends by playing ukulele hits.
Expert Tip
If you're serious about this instrument, then we recommend paying a bit extra on a solid wood model. The sound quality is superior to a laminated wood model. It will also last you a much longer time without it needing to be replaced. Make sure that you go for a ukulele that's been made from quality tonewood too.
Did You Know?
The word 'ukulele' is Hawaiian for 'jumping flea'. It isn't clear why it was given this name, but many suggest that it's because of the movements that a ukulele player's fingertips will make when playing the instrument.
Conclusion
We've now finished our comprehensive article that's introduced you to ten fantastic ukuleles, as well as provided you with all the information you might want to know about this instrument.
Each of the products on our list will deliver you the quality you require from a ukulele, regardless of if you're a beginner or an advanced player.
We recommend that you pick a product that's been made from solid wood. Ideally, the materials should be high-grade, such as mahogany or Sapele. As long as you pick a product that's been made by a reputable brand, then you'll be assured good quality and long-term reliability.
One of the most important decisions you'll need to make is what type of ukulele you get. From a soprano model to a concert version, you have lots of choices. Familiarize yourself with the features of each type so that you can then pick one that is ideal for you.
We hope that you've found this guide helpful. Good luck on your new journey with this gorgeous instrument!
If you liked this review by Music Critic, please leave a positive rating:
[vc_separator