The world of neckband headphones is filled with numerous models boasting various features. This review has been meticulously crafted to guide you through the top neckband headphones of 2023, delivering a breakdown based on their performance, features, and design. By reading this, you'll learn:
The unique features that set apart these top-rated neckband headphones
How these headphones perform in real-life scenarios based on their technical specifications
Which headphones are best suited for different types of users, from audiophiles to active individuals
This list will help you find out what is best for you and your sound. We will include the best for quality, the best all-rounder and the best value to give you all the options.
What are the Best Neckband Headphones in 2023?
The best neckband headphones of 2023 are those that combine superior sound, innovative features, and comfortable design. These top five models have managed to do just that: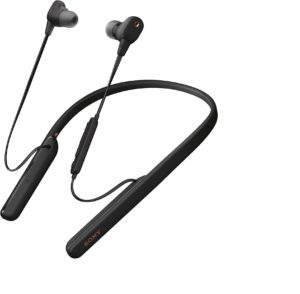 Elite Noise Cancelling Marvel
The Sony WI-1000XM2 are industry-leading neckband headphones that offer state-of-the-art noise cancellation technology, ensuring an unparalleled audio experience. Meticulously engineered with a hybrid driver unit, these headphones guarantee a high-resolution audio experience that takes you right into the heart of the music.
Why someone should buy: With industry-leading noise cancellation and superior audio quality, these headphones deliver an exceptional listening experience. They are also extremely comfortable and lightweight, making them perfect for extended use.
Why We Love It:
Excellent noise cancellation technology
High-resolution audio
Long battery life
Technical Features:
Hybrid driver unit
Stereo Mini inputs
3 Hz-40,000 Hz frequency response
1m cord length
Dual microphones
Review:
These wireless neckband earphones impress with their industry-leading noise isolation and sound, blocking out pesky background noise. From the atmospheric pressure optimization for flights to the high-resolution audio with DSEE HX™ and LDAC, Sony has left no stone unturned. It also has excellent microphone quality for making calls.
It's safe to say these earbuds provide a premium listening experience. Comfort is also a major plus, with the light and comfortable silicon neckband providing a snug fit for music listening on the go.
Verdict:
The Sony WI-1000XM2 is a stellar choice for anyone seeking a neckband headphone with top-notch sound. Its superior features and comfortable design make these Bluetooth headphones a standout product.
These Headphones Are Perfect For:
Anyone looking for an immersive, high-resolution audio experience
Frequent travelers who would benefit from the superior noise cancelling technology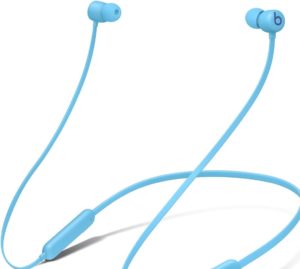 Dynamic, Personalised Experience
Beats Flex neckband headphones come equipped with proprietary acoustic platform that offers a robust bass and a balanced sound profile across the frequency curve. Their Class 1 Bluetooth® and innovative auto-play/pause feature make these headphones a standout product in the market.
Why someone should buy: Beats Flex offers a fantastic sound experience and an impressive all-day comfort. The ability to wirelessly share audio with another set of Beats headphones also enhances its appeal.
Why We Love It:
Proprietary Acoustic Platform
Flex-Form Cable for All-Day Comfort
Wireless Audio Sharing
Technical Features:
In-ear earphone Design
Magnetic earbuds
Auto-play/pause
Class 1 Bluetooth®
Up to 12 hours of listening time
Fast fuel charging
Review:
Beats Flex impresses with its rich, clear sound and the comfortable Flex-Form cable. The magnetic earbuds with auto-play/pause is a handy feature, and the quick charging ability adds to the user experience. And with a whopping 12 hours of listening time, these are some of the best neckband Bluetooth headphones for commuters and those on the go. Make use of their lightweight design wherever life takes you.
The only slight downside is that the bass might seem a bit overpowered for some. But if you like lots of bass in your music tracks, you'll appreciate everything these wireless earbuds have to offer.
Verdict:
Beats Flex is a great option for those seeking quality sound and comfort at a reasonable price. Its unique features and overall performance make it a worthy contender in this category.
These Headphones Are Perfect For:
Those who appreciate a robust bass output and want a personalised, comfortable listening experience.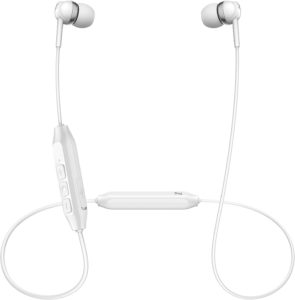 Compact Powerhouse
The Sennheiser CX 150BT neckband headphones promise a combination of stellar sound and an ergonomically comfortable fit. Designed with the latest Bluetooth 5.0 technology and multi-connectivity, these wireless earbuds will keep you hooked on your favorite tracks for hours on end.
Why someone should buy: These headphones provide great sound with an impressive noise isolation capability. Furthermore, the sleek design and comfortable fit make them suitable for all-day use.
Why We Love It:
Fantastic sound quality
Long battery life
Sleek, comfortable design
Technical Features:
Bluetooth 5.0 technology
Multi-connectivity
Quick USB-C charging
Review:
The Sennheiser CX 150BT is a delight for audiophiles, delivering crystal clear sound with excellent noise isolation. The sleek design and comfortable fit ensure they can be worn for extended periods without discomfort. The 10-hour battery life and fast USB-C charging also deserve praise, ensuring that you never run out of juice during those long listening sessions.
Verdict:
For those seeking a blend of performance, comfort, and long battery life, the Sennheiser CX 150BT is some of the best neckband earbuds on the market. They deliver in all aspects and stand as a testament to Sennheiser's prowess in creating quality audio products.
These Headphones Are Perfect For:
Audiophiles who crave excellent sound quality and a comfortable fit for prolonged use.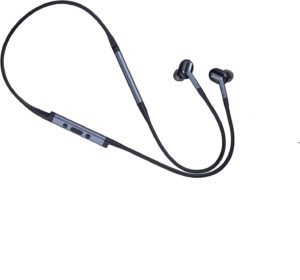 Immersive Noise Cancellation
The Libratone Track+ 2 neckband headphones offer a unique noise cancelling feature with 20 levels of adjustable ANC. Add to this a dust, sweat, and splash-proof design, and you have a pair of in-ear headphones that can easily accompany you through all your daily activities.
Why someone should buy: If you're after headphones that can provide customizable noise cancellation levels while being able to withstand the rigors of daily use, the Libratone Track+ 2 is your go-to choice.
Why We Love It:
Adjustable Noise Cancellation Levels
Dust, Sweat, and Splash Proof
Multi-Device Connectivity
Technical Features:
Smart noise cancelling CityMix® (ANC)
20 levels of ANC
Dust, sweat, and splash proof up to IP54
Review:
If you need headphones with noise cancellation, you'll want to check out these. The Libratone Track+ 2 excels in providing personalized ANC, allowing users to tailor the sound to their surroundings. The headphones' rugged design ensures that they are suitable for use in a variety of environments, and the multi-device connectivity feature adds to the convenience. The battery life could be better, but the overall performance compensates for it.
Verdict:
These wireless neckband headphones offer a unique listening experience with adjustable ANC levels and a rugged design, making it perfect for those who are always on the move.
These Headphones Are Perfect For:
Active individuals who need a pair of headphones that can keep up with their busy lifestyle while delivering top-tier sound quality.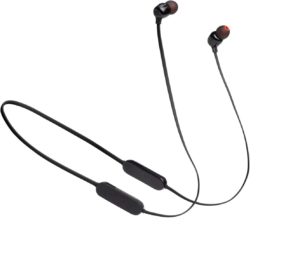 Stylish and Reliable
The JBL Tune 125 are designed to deliver deep, powerful bass with the trusted quality of the JBL brand. With a battery life of 16 hours and quick recharge capabilities, these lightweight neckband headphones ensure that the music never stops.
Why someone should buy: If you love deep bass, the JBL Tune 125 is designed just for you. Its long battery life and quick recharge feature make sure you can keep listening to your favourite tracks uninterrupted.
Why We Love It:
Deep, powerful bass
Impressive battery life
Quick recharge feature
Technical Features:
Bluetooth 5.0 for lossless quality
16-hour battery life
Quick recharge in 2 hours
Review:
The JBL Tune 125 delivers what it promises: a deep, powerful bass and long battery life. Its stylish design and quick recharge feature make it a convenient choice for music lovers. The sound quality is commendable, with a slight bias towards bass, which is typical of JBL products. The flexible neckband is lightweight and comfortable. The Bluetooth connectivity is strong, ensuring the music never stops. Overall, it offers a solid performance that will satisfy most users.
Verdict:
The JBL Tune 125 is a great pick for bass lovers looking for a reliable pair of decent headphones. Its impressive battery life and the brand's reputation for quality make it a safe bet for a great listening experience.
These Headphones Are Perfect For:
Bass enthusiasts who appreciate a stylish design and require long battery life for uninterrupted listening.
Buyers Guide: Choosing the Best Neckband Headphones of 2023
When buying neckband headphones, there are a myriad of factors to consider. We'll delve into the technicalities that can impact your purchase decision, from sound to comfort and connectivity.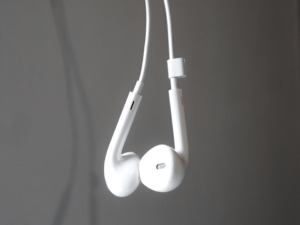 Sound Quality
Sound quality is the cornerstone of any audio device. It is not just about the volume; the richness, clarity, and depth of the sound are equally essential. Here's an in-depth look at the factors contributing to exceptional audio quality in neckband headphones:
Driver Unit: The driver unit is essentially the heart of the headphones, as it's the part that converts electrical signals into sound. The larger the driver unit, the better the overall sound, especially for bass notes. However, this is not a hard and fast rule. The quality of the driver materials and the tuning of the driver also significantly impact the sound. For instance, the Sony WI-1000XM2 features a hybrid driver system that provides deep bass and clear mids, making it an excellent choice for well-rounded sound.
Frequency Response: This is the range of sounds that the headphones can produce. Most headphones cover the audible frequency range, approximately 20 Hz to 20,000 Hz, providing a balanced sound profile. Some high-quality headphones offer an even broader range (3 Hz to 40,000 Hz), which might appeal to audiophiles seeking a more extensive sonic palette.
Noise Cancellation: Active noise cancellation technology is a game-changer for many users. It uses microphones and special processing to create a counter-sound to ambient noise, effectively canceling it out. This feature is essential for listeners who want to isolate their music from external noise. The Sony WI-1000XM2, for example, is known for its exceptional ANC capability, including a dedicated processor and atmospheric pressure optimizing for flights.
Sound Signature: The sound signature of headphones refers to the way they represent different frequency ranges. Some may have a flat sound signature, aiming to reproduce all sounds equally. Others may emphasize certain frequency ranges; for example. Understanding the sound signature can help you choose headphones that will enhance your favorite music genres.
High-Resolution Audio: Some headphones support high-resolution audio, which can reproduce the full range of sound from recordings that have been mastered from better-than-CD quality music sources. This is a significant feature for audiophiles who want to listen to music at the highest possible quality.
Design and Comfort
When it comes to neckband headphones, design and comfort are crucial. Here's a more in-depth exploration of the factors that contribute to a comfortable and efficient design in neckband headphones:
Materials: The materials used in the construction of the headphones can significantly affect both their durability and comfort. Neckbands made of flexible materials such as silicone are typically light and can comfortably rest on your neck for long periods.
Ear Tips: The best neckband headphones offer a variety of ear tip sizes to ensure a perfect fit for everyone. The right size ear tip can dramatically improve comfort, sound, and noise isolation. For example, Sennheiser CX 150BT comes with four different sizes of ear tips, making it possible for users to find their perfect fit.
Weight: The weight of the headphones can greatly impact comfort, especially during long listening sessions. In general, neckband earphones will be much lighter than over ear headphones. Lighter models are generally more comfortable to wear for extended periods. It's important to check the product's specifications for its weight before purchase.
Ergonomics: The design of the headphones should also consider the shape and size of the user's ears and neck for a secure and comfortable fit. For instance, headphones with an angled earphone design can provide a snug, stable fit.
Ease of Use: The layout of controls on the neckband headphones plays a crucial role in usability. Buttons for volume control, track skipping, play/pause, and answering calls should be easily accessible and intuitive to use.
Aesthetics: While not directly related to comfort, the aesthetic design of the headphones may be an essential factor for some users. Neckband headphones come in a variety of styles and colors, allowing users to choose one that fits their personal style.
Battery Life and Charging
Nothing disrupts a good music session like running out of battery. Consider these aspects:
Battery Life: Look for neckband earphones with long battery life for uninterrupted listening. For instance, Libratone Track+ 2 offers up to 14 hours of active use.
Charging Speed: Some headphones offer quick charging features, and some may even give 1 hour of playback with a 15-minute charge.
Charging Type: USB-C charging and Libratone Track+ 2, is increasingly standard and allows for fast charging. This is unlike true wireless earbuds, which usually need a charging case.
Connectivity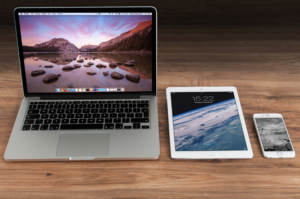 Good connectivity ensures seamless and hassle-free listening. Look for:
Bluetooth Version: Bluetooth 5.0, found in most of the neckband earbuds in our review, offers better range and a more stable connection. This means your music will always go interuppted.
Multi-Connectivity: Some headphones can connect to multiple devices simultaneously, like the Sennheiser CX 150BT.
Extra Features
Modern neckband headphones come with a variety of extra features that can enhance your listening experience:
Voice Assistant Integration: Headphones like Sony WI-1000XM2 and Beats Flex integrate with voice assistants for hands-free control. They have an integrated microphone built into their design.
App Control: Some brands offer dedicated apps, like Sennheiser's Smart Control App and Libratone App, for easy control and customization. Sony offers the "Headphones Connect App."
Durability: Features like dust and splash resistance can add longevity to your headphones.
Understanding these aspects can make it easier to choose the best neckband headphones to match your listening preferences and lifestyle.
Q&A: Best Neckband Headphones of 2023
Which brand is best for neckband headphones?
The best brand for neckband headphones tends to be subjective and can depend on individual preferences. However, in our review, Sony's WI-1000XM2 stands out for its industry-leading noise isolating technology and better sound quality. It's a testament to Sony's long-standing reputation for creating some of the best audio devices on the market.
Which neckband headphone is best for noise cancellation?
The Sony WI-1000XM2 emerges as a clear winner. It features industry-leading noise cancellation powered by HD Noise Canceling Processor QN1 and Atmospheric Pressure Optimising, making it the best choice for those seeking a quiet and immersive listening experience.
Which neckband headphone has the best mic quality?
The Sony WI-1000XM2 boasts of a clear hands-free calling experience with its built-in microphone, making it the top contender for best mic quality among the neckband headphones we reviewed.
Is a neckband headphone better than earphones?
Neckband headphones and earphones each have their unique advantages. Neckband headphones are typically more comfortable for long-term wear and have larger drivers that can provide superior sound quality. Additionally, they can pack in more features, like active noise cancellation, which might not be possible in smaller earphone designs. However, earphones can be more portable and discrete. Ultimately, it comes down to personal preference and specific use cases.
Conclusion
Choosing the best neckband headphones can be a complex task, given the multitude of options available on the market. From industry titans like Sony and Sennheiser to emerging brands like Libratone, each brings unique offerings to the table.
In this article, we've provided an in-depth review of the best neckband headphones available in 2023, covering everything from their technical specifications to their audio quality, design, and comfort. We've also addressed common questions related to neckband headphones, and provided a comprehensive buyer's guide with expert-level topics to help you make an informed purchase.
Ultimately, the best neckband headphones for you depend on your specific needs and preferences. Whether you're an audiophile seeking high-resolution sound, a frequent traveler requiring advanced noise cancellation, or a fitness enthusiast needing a sweat-resistant and comfortable pair, there's something for everyone in our top five picks.
Remember to always consider sound quality, design and comfort, battery life, connectivity, and special features while choosing your ideal pair. We hope this article aids you in your journey to find the best neckband headphones, enhancing your musical experiences like never before.
If you've enjoyed this review by Music Critic, please leave a positive rating:
[vc_separator