Today we are taking a gander at the top contenders for the 10 best wireless TV headphones in 2023.
With many of us listening at home after-hours and not all of us with forgiving neighbors or roomies, having a decent set of headphones to listen to the television with is an obvious fix.
The wires were in the past quick reason to dismiss them as an option but with the modern convenience of reliable Bluetooth and cheaper chipsets being produced, a wireless set of TV headphones can really be a viable private TV listening option.
There are a tone of models which could function with your television so long as it supports Bluetooth but there are some on the market which cater to this application more specifically and we have tried to round up the top-dogs for you to examine.
At a glance:

Our top 3 picks
Our team's top 3 recommendations
Best Overall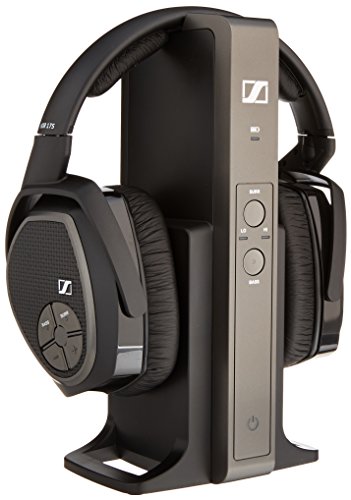 Sennheiser RS 175 RF Wireless

Innovative design.
Premium quality parts.
Bass boost function.
Virtual surround sound mode.
Reasonable price.
Premium Quality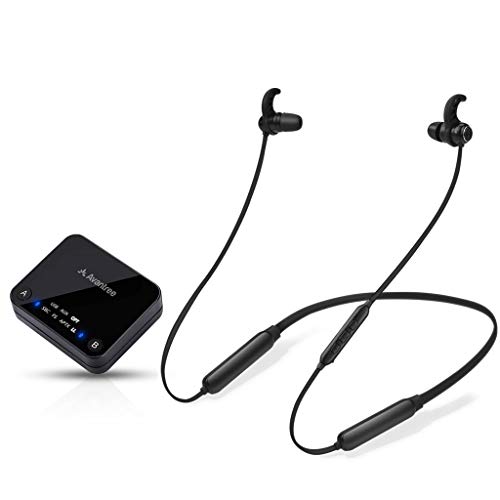 Avantree HT4186 Wireless

Innovative design.
Premium quality parts.
Bass boost function.
Virtual surround sound mode.
Reasonable price.
Great value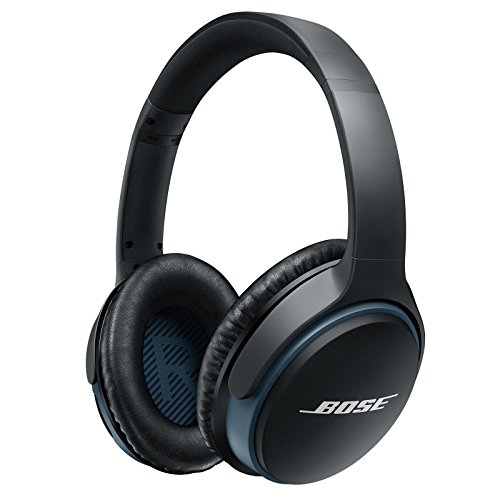 Bose SoundLink around

Innovative design.
Premium quality parts.
Bass boost function.
Virtual surround sound mode.
Reasonable price.
View The Best Wireless TV Headphones Below
1. Sennheiser RS 175 RF Wireless
We are opening our top ten reviews with a stunning wireless headphone system from the professionals at Sennheiser. The RS 175 package provides a brilliant home entertainment solution.
They do of course function wirelessly over a clear transmission. They are cleverly designed to deliver a user-friendly system with facile set-up and operation. The controls are mounted on the headphones themselves for laid back use.
The headphones are very well designed and feature a premium industrial appearance which renders them not only durable but very ergonomically suited as well.
The closed back cups are comfortably cushioned as is the headband itself which helps to alleviate cranial pressure.
They feature a bass boost function which increases the bass response when activated and a surround sound option which gives users access to 2 different virtual surround sound settings for more diverse spatial sound.
Pros:
+ Innovative design.
+ Premium quality parts.
+ Bass boost function.
+ Virtual surround sound mode.
+ Reasonable price.
Why We Liked It - They are very durably constructed and the headband has great ergonomics we like the shape of the ear-cups too and the stand gives them somewhere safe to store when not in use and ensures that they won't get lost.
2. Avantree HT4186 Wireless
If you would prefer to listen to your TV with headphones but just can't get along with an over-ear design then this next set of earbuds from Avantree may surprise you.
They are a plug and play Bluetooth set of in-ear headphones which feature comfortable ergonomic tips and flexible wings to help keep them in your ears allowing for more freedom of movement.
They come with a self-contained Audikast optical support transmitter which allows them to be applied to a far more diverse range of uses and makes them a perfect solution for watching TV. This also means they are a good option for use as a hearing assistance alternative.
They need to be set to the correct settings, Dolby/DTS is only supported on the PCM transmission, though they are pretty simple to use once you know what you are doing, so be sure to give the user guide a quick flick through.
They connect to their proprietary transmitter without pairing and provide a clear signal with zero lag thanks to their Qualcomm chipset. They feature dual-link support so you can watch with other people if you invest in the second set of FastStream codec ready ear-buds.
Pros:
+ Ergonomic earbud option.
+ Well-engineered.
+ FastStream codec.
Why We Liked It -They are a sweet alternative and the lag-free listening is vital for movie enjoyment, it is hard to take the story seriously if the actor's lips are so badly out of sync it feels like it's been over-dubbed.
Next up for suggestion is a firm favorite here at Music Critic The wireless SoundLink model from the team at Bose Sound.
They are an around-ear (circumaural) set with closed back comfort-cushioned ear-cups. They are well-designed and beautifully made inside and out. They harbor some advanced engineering for an affordably priced pair as well.
They benefit from the companies TriPort technology and of course, utilize their highly popular Active EQ circuitry which incrementally controls the equalization of the input signal as you listen to ensure a smooth listening experience.
It keeps sound pressure levels safe and optimizes the low, mid and high balance without detracting from the dynamics.
The wireless signal is stable and reliable they pair incredibly easy to devices within range and make for a very comfortable wireless TV binge night option.
Pros:
+ Very comfortable.
+ Stable transmission.
+ Great audio fidelity.
+ TriPort tech.
+ Active EQ.
Why We Liked It - The sound is bar-raising, they are impeccably clear the active EQ is a hugely desirable bonus and ensure that jump scares don't damage the eardrums and that a character whispering can be heard with absolute clarity.
Back over to Sennheiser for a cheaper option if the RS 175 set is a little too over your budget. The RS 120 RF set is a radio frequency set of headphones which are equipped with a great receiver which operate over 3 channels for interference-free listening.
They connect to analog input sources like TV sound systems and provide a well-balanced audio blend which is instantly recognizable as classic clear Sennheiser sound.
They have a great bass response and are built with a comfy padded headband which is ergonomically angled to ensure they are comfortable for the duration of an epic movie.
The cups feature Sennheiser's well-received Open-Aire design which gives the sound spatially surrounding dynamics.
They come with an easy to use recharging station which is also a good place to keep them when they are not in use.
They have an automatic on/off circuit connecting in an instant when the audio source is active and switching off to conserve battery when it's not. The headphones feature built-in remote controls for simple operation.
Multiple RF headphones can be added together (up to 100!) which allows you to have silent movie nights in full-sound with all your friends.
Pros:
+ Open-Aire design.
+ Easy operation.
+ Ergonomic angled headband.
Why We Liked It - We like the Open-Aire designs from Sennheiser, the sound is less intense and has a dimensional quality, they are well manufactured and comfy to wear and they are under half the asking price of the Sennheiser set we opened today's article with.
5. Bose QuietComfort 35 (Series II)
Next-up a set you might have seen before, a newly upgraded version of the QuietComfort series 35 model.
They are well-engineered, closed-back set of wireless headphones designed to help prevent outside interference. They benefit from a triple level noise canceling process which delivers real-world deprivation and helps to fully immerse the users like never before, for a life-like listening experience.
They have a fantastically balanced driver array which outperforms similarly priced competition. They feature premium quality components and are sturdily constructed as well as comfortably cushioned with high-grade luxury padding.
They provide a lag-less stream and work for up to 30 hours.
Pros:
+ Award-winning headset.
+ High-end components.
+ Completely lag free.
Why We Liked It - They are incredibly comfortable and the noise rejection mic is very well-engineered. The audio has great quality dynamics with exceptional balance.
6. Mpow 059 Bluetooth Headphones
Another familiar budget set of headphones which have made several appearances in our top ten rankings are the Mpow 059 set.
They are pretty durable especially given their low price-tag. They are constructed with a sturdy headband and reinforced sliders that can compactly fold away for storage.
They are set of closed back over-ear headphones with good wireless capabilities. The ear-cups are suitably cushioned as is the headband itself. The memory foam is covered with a breathable memory protein leather which helps to prevent sweating.
They can be used wired via their thoughtful, optional cable which helps extend battery life.
They harbor optimized drivers which handle bass very well thanks to their large diaphragms. They have a good frequency response and are powerfully deceptive.
Pros:
+ Fold-away design.
+ Optimized bass.
+ Budget choice.
Why We Liked It - The sliders are stronger than some folding mechanisms employed in other compact models.
7. Avantree 40 hr Wireless Bluetooth
This next set are a top-rated set of Bluetooth headphones, we have included them in several past reviews because their specs have a lot to offer. They have secured themselves a spot in this TV headphone article because they are essentially lag-free.
Having zero lag is critical to an enjoyable TV streaming experience as it keeps the audio in sync with the images better. They work with any AptX low-latency supported transmitter, though they recommend their own transmitters (Audikast, Oasis, or Priva III) for the lowest audio delay.
In the past we have handpicked this set for their great fidelity to signal, they run using AptX technology which keeps the stream high quality, enhancing the audio experience because of the better clarity achieved. They also feature a built-in bass boost feature for cinematic lows.
The battery provides up to 40 hours of wireless run-time. It has an optional cable for other applications making it a versatile solution and you can effortlessly switch between the two different functionality choices.
They are yet again an over-ear set which features a closed-back, private listening design. Their ear-cups have soft padding and the headband is easy to adjust which helps keep them comfy for watching a long movie.
Pros:
+ Comfortable over ear set.
+ Apt-X assisted streaming.
+ Lag-free.
Why We Liked It - They seem very durably made and reasonably priced as well, the audio has a stable transmission the delay is just 32-40ms which is actually non-detectable by the human ear.
8. COWIN E7 Pro Active Noise
The E7 Pro model is another low-priced set we have reviewed in the past. They are a nicely upgraded model which features dynamic combination drivers that do a great job of serving up well-balanced audio with good definition.
They are very light weighted giving them not only better comfort but increased overall portability. They are another closed back circumaural model this passive noise cancels from the surrounding environment.
They also have effective active noise cancellation which works to a professional level reducing noise within your vicinity. It works utilizing signal isolation and a noise rejection microphone.
Speaking of mics, the built-in mic functions over a far clearer line thanks to the isolation and wave cancellation processing.
They have a high capacity battery which means that they can run for around 30 hours whilst actively canceling their environment.
Pros:
+ Comfy to wear.
+ Great ANC.
+ Ample battery life.
Why We Liked It - The transmission is free of interference they reject background noise very successfully which is ideal if you want to watch a movie in a mega-busy household.
9. Mpow H5 Bluetooth Headphones Active Noise
Back to Mpow for another option to explore that won't set you back too much cash; the recently upgraded H5 set.
With cheap choices, durability can often be a number one concern as some fabricators cut costs in the materials department.
This set features a comfortable flexible headband that has been tested and certified by a 10,000+ bending machine.
They one again have closed-back cups which is perfect for private listening. Each cup is cushioned with a super-soft, memory-protein and they are mounted to swivel freely for better comfort as well.
The onboard active noise cancellation chip helps ensure that communication lines are clear, but most importantly, it filters out background noise which is ideal if you want to focus on your TV in a loud environment.
They are easy to pair and they maintain stable transmission and they can function for up to 30 hours if the ANC isn't constantly leeching.
Pros:
+ Active Noise Cancellation.
+ Durable designed.
+ Good battery life.
Why We Liked It - They are a strongly built pair which are very appealingly priced. They have been recently redesigned, having undergone some exceptionally rigorous testing.
10. TaoTronics Active Noise Canceling Bluetooth
We are leaving you with another fold-away set of headphones which could be a good choice for Hotel/Motel TV's late at night. They even come with their own storage case designed for safely protected transit.
They, fortunately, have a very strong folding design concept which appears far more durable than many of the other fold-up models on the market.
The headband is solid but flexible and allows for a good degree of adjustment to be made. They have swivel mounted ear-cups that are well-padded to ensure they are comfortable to wear.
They have good quality drivers which respond to a broad frequency spectrum. Their audio performance is great it has good mid-range definition which helps to follow the dialogue.
The noise cancels both passively and actively (in real-time) which is another reason they make a great wireless TV solution. Their battery is impressively capable of keeping them running for up to 30 hours.
Pros:
+ Strong folding concept.
+ Great audio definition.
+ 30-hour battery life.
Why We Liked It - The audio is a bit more refined than some similarly priced models and the moving parts seem robust.
Wireless TV Headphones Buyers Guide
What To Look For When Buying Wireless TV Headphones?
Technically speaking you ought to be looking for a set radio frequency technology (RF) headphones for watching television.
Despite being a far older technology it provides a lower latency signal transmission which is obviously better for watching TV.
With Bluetooth there tends to be more of a lag though we have as you will have noticed included some good low-latency Bluetooth models because a set of RF headphones for watching television that is suitably comfortable to lounge around it doesn't come cheap.
The latency is a really important issue because otherwise your pictures and audio are going to quickly become very out of sync with one another.
If money is tight then a Bluetooth set shouldn't be overlooked as an option as many do a pretty good job.
Comfort is your next thing to consider, the majority we have highlighted today are over-ear options with the exception of the in-ear choice. This is because the ear-cups on an over-ear model serve as a good physical barrier from your surroundings passively blocking out unwanted noise around you.
If you have to battle particularly loud environments it would be wise to find a set which actively noises cancel as well. They employ extra integrated microphones which actually record external sound and then cancel out any waves by playing the same sound signatures out of sync with each other.
No matter what style you choose comfort levels should be important to you as you want to be able to watch TV in a relaxed manner.
If you find an in-ear set make sure they are ergonomically designed to fit comfortably within your ears.
Over-ear models should be sufficiently cushioned and the headband needs to be flexible with a range of adjustment options or you may find they are too tight to wear for even one of your favorite episodes.
If the ear-cups are covered with a skin-friendly fabric that can be a welcomed bonus as it means that the ears can breathe it helps cool them as they can circulate the blood flow more naturally and it prevents sweating which is uncomfortable and can create an unhygienic environment if you wear them too extensively.
After you have given the comfort a good mulling over, you next need to keep in mind the durability which should be ranked in accordance with its price-tag.
It is unrealistic to expect top-quality form a budget product, that being said there are a few sets dressed in premium attire with a surprisingly affordable retail price.
Of course, the more expensive set is going to be comprised of better quality materials in direct comparison to their cheaper alternatives but no matter your budget you should be doing your best to seek a strong set with good construction.
Fortunately, the wires aren't going to be an issue with a pair of wireless TV headphones but there are other weak points to think about.
Swivel mounted ear-cups are a double-edged sword, on the one hand, they provide a freely hung ear cup which is better capable of dealing with natural wear and tear as they are slipped on and off but if they aren't mounted strongly utilizing something durable and well-manufactured they can be cause for concern.
Why Do I Need Wireless TV Headphones?
The simplest answer to this question is for better comfort during a private TV listening session. Wired sets, no matter how generous the cords they come with, limit the listener in terms of movement and the freedom of a wireless set is irrefutable.
There are a number of reasons as to why you might need a set in the first place, many people who work unsociable hours find they prefer to kick back and listen privately. They can be a good solution for traveling to hotels and watching your TV privately.
For the hard of hearing they can be a godsend as subtitles aren't always that well transcribed and they eliminate the need to crank the television above and beyond an acceptable level for a late night.
For those of you living in shared accommodation or less spacious apartments, they can be a great purchase and they also allow you to take the TV with you so long as you don't go too far out of range.
This means a quick dash to the kitchen to pop the kettle on or grab another bag of chips doesn't have to wait until the commercial break.
Conclusion
As today's buyers' guide will have probably highlighted there are a number of reasons to give headphone TV viewing ago, they can actually enhance your listening experience and make you aware of tiny details you probably never would have noticed were there.
They help keep listening private, they give you the convenience of being able to move around pretty freely, they offer an immersive experience, allow for later viewing or all night binges, and also assist with those who struggle to make out quieter dialogues who don't want to read their favorite shows.
We hope some of those we have brought to your attention in this article will prove inspiring and give you a push in the right direction.
Expert Tip
If you can cough up the dough go for a radio frequency set of wireless TV headphones their latency is nominal and they, therefore, provide the savviest solution.
Did you Know
Using headphones at high volume levels creates higher sound pressure levels and the exposure can be damaging, it is important to rest your ears between use.
If you've enjoyed this review by Music Critic, please leave a positive rating:
[vc_separator