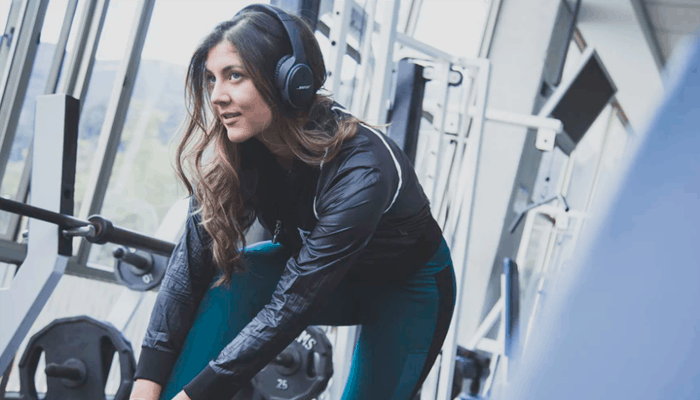 Working out at the gym without music is like going to the beach in a big, oversized coat. It's just not right. Without music to set the pace or to help you zone out or to let you clearly and comfortably listen to your new favorite audiobook, being at the gym can leave us struggling; unmotivated, and not enjoying ourselves.
Music changes everything. However, you're only going to be able to enjoy your music to its fullest if you have the right headphones for the job. Today, we're going to help you find the perfect pair. With our top ten recommendations and our complete buying guide, here's everything you need to know.
One of the most popular pairs of headphones for gym-goers and practically anybody else who's into fitness is the Mpow Flame. These headphones are super affordable and have been rated 4-5 stars by tens of thousands of satisfied customers from around the world, and this many people simply can't be wrong!
Inside each plug, you'll find a powerful 11mm driver that covers the entire frequency response range and delivers rich and deep basslines that help you really get into the zone. Whether you're running outside or in the gym, these waterproof headphones will tick all the boxes.
Technically speaking, these headphones can consistently last between 7-9 hours, and only take two hours to charge. They control your music, they allow you to listen to your calls, and they cancel out the noise around you. What more could you need?
Pros:
+ Waterproof to a nano-technological rating of IPX7
+ Powerful 11mm drivers that provide an amazing quality of sound
+ Come with a satisfying 45-day money-back guarantee if you're not happy
+ Built-in noise cancelation technology to help you get in the zone
Cons:
- Charging cable is a little short at 10-inches
Why We Liked It - Easily the highlight feature of these headphones is the over-ear hold design. This means the headphones will fit incredibly onto your ears, and it doesn't matter how vigorously you're exercising, you won't have to worry about them falling off!
The Senso Bluetooth headphones pride themselves on being on the best-selling headphone pairs in the entire US market and have since grown to make themselves available all over the world. These state-of-the-art headphones contain premium 4.1 Bluetooth technology and an unparalleled acoustic design which means your music sounds great.
One of the best features of these headphones is the impressive battery life. With eight hours on continual use, 240 hours on standby, and a rapid charging time of just 1.5 hours, you can pop these headphones in your bag, and you'll never have to worry about forgetting them!
Just as you'll need with gym headphones, these come with leading noise suppression technology to help you focus on your music, and only your music and the 4.1 Bluetooth means you'll never have to deal with a lost connection. In short, you won't be disappointed with how these headphones look, sound, or operate!
Pros:
+ Ergonomically designed with flex silicone earbuds for the best fit
+ An outstanding battery life lasting up to eight hours
+ State-of-the-art 4.1V Bluetooth connectivity to any Bluetooth device
+ Comes with a one-year warranty to ensure you're covered
Cons:
- Buttons on the headphones are quite small
Why We Liked It - Not convinced whether these are the headphones for you? Don't worry; each purchase is covered by the manufacturer's exclusive one-year warranty. This means any problems or issues, and you're completely covered and won't be left without a pair!
Looking for full control of your music while you're working out? Who doesn't? With the Otium Bluetooth headphones, you'll be able to use the built-in buttons to skip, fast-forward, pause, and play, all without needing access to your phone or music player, ensuring you're able to keep it safely stowed away!
Looking into the specs of this device, you'll be able to enjoy an eight-hour battery life with continued use, and the battery status is even broadcast on your phone screen, so you know exactly when you need to charge!
As with all leading headphones, this one comes loaded with the leading Bluetooth 4.1V technology for flawless connections, and the stereo sound from each bud is outstanding. You'll hear every note perfectly, with such rich basslines you'll be able to work out all day!
Pros:
+ Control your music and phone calls directly from the buttons on the headphones
+ Up to eight hours battery life with status displayed on phone screen
+ Has a built-in microphone for handling calls and phone voice commands
+ Works up to 30ft away thanks to Bluetooth 4.1V technology
Cons:
- Headphones can feel a bit bulky compared with other models
Why We Liked It - Handling calls, business, or family while you're at the gym? Otium has got you covered. There's a built-in microphone with full call control so, once again, you won't need to get your phone out that can distract from your workout. Just press a button and carry on!
Heading back over to the Mpow brand now, this time focusing on their other edition of the Flame workout headphones. While many of the features are the same, this pair of headphones takes pride in the fact that it offers one of the most immersive sound experiences possible.
This is all thanks to the integrated CSR chip and tuned driver that offers incredibly stereo surround sound, and rich bass line you simply don't find with other headphones. Backed by CVC 6.0 noise cancellation technology and the fact you can connect to two Bluetooth devices at once, this is a fantastic experience that you have full control over.
All the controls can be managed from your music player or from the buttons on the headphones themselves, and the IPX7 waterproof rating means you can even venture out of the gym onto the roads, even in rainy weather! With a powerful battery and amazing sound, your gym sessions will never be the same again!
Pros:
+ Comes with a special noise-canceling microphone for the clearest voice during calls
+ Up to seven hours battery life on a single charge
+ Multiple comfort options thanks to the four included pairs of buds
+ Each pair protected by an 18-month warranty
Why We Liked It - The built-in microphone is one of the highest quality microphones you'll find in a pair of lightweight headphones, so when it comes to keeping up with the people in your life or chatting away with a loved one, they'll be able to hear every word while you have the freedom to get on!
LETSCOM is a hugely popular name in the audio industry, renowned for their quality products both in terms of performance and reliability. This model of the headphones is no exception to the rule. Coming in at one of the most affordable prices, it's also safe to say these are great for anyone and everyone!
The sound here is created by the 11mm drivers packed with a universal CSR chip, renowned for their quality and performance capabilities. Backed by the IPX7 waterproof rating, music and call control integrated into the earpiece itself, and a noise-canceling microphone, this is packed with features that keep on giving.
There are plenty of different styles, colors, and designs to choose from here, and with nearly 13,000 positive reviews, this is one pair of headphones you can guarantee is going to be one of the best!
Pros:
+ Can fully charge the battery in just two hours
+ Produced to a waterproof rating of IPX7
+ Available in eight unique designs and styles to suit your personality
+ Contains leading Bluetooth 4.1V technology
Why We Liked It - The two-hour charging time is a stellar feature you're going to love. Planning to head off to the gym for a few hours but forgot to charge your headphones overnight? Don't worry, chuck them on charge for an hour, and you'll have more than enough juice to see you through!
As you should have been able to guess by now, Mpow is one of the best brands you're going to want to be considering when it comes to gym headphones, and another one of their best-selling models you're not going to want to miss is their 059s. Again, adored by thousands of people around the world, these are more a traditional take.
Rather than being in-ear headphones, these sport the classic over-ear design and punch out the sound of their 40mm drivers in outstanding crispness and clarity. In true Mpow fashion, they also include the CSR chip, and plush memory foam covers to remain comfortable at all times!
What's more, with full music and call controls, and handy carry bag to protect your headphones in transit, and even a built-in microphone, Mpow has once again raised the bar of what you can expect.
Pros:
+ Can last up to 20 hours on a single charge
+ Extremely comfortable with memory protein ear pads
+ Incredibly portable thanks to their foldable design
+ Available in eight unique designs and styles
Why We Liked It - The battery life on these larger headphones is insane and can last with continuous use up to 20 hours on a single charge. This is more than you'll ever need, and it's worth noting even a ten-minute charge can give you up to two hours of life!
If you're in the market for a more premium, more high-quality experience, you'll want to draw your attention over to the TREBLAB Z2s. These headphones contain punchy yet lightweight 40mm drivers, made with leading, high-performance neodymium, the audio industry's standard.
The key features you'll want to look out for here include the patented noise-canceling technology that blocks out pretty much all the sound around you, ensuring you're able to completely focus, and the incredible 35-hour battery life, complete with fast charge.
Comfort has not been compromised in any way, shape, or form thanks to the sporty, ultra-soft material fit around each cup, meaning you can keep on pushing yourself as much as you need too!
Pros:
+ World-class 35-hour battery life that keeps going
+ Ultra-comfortable and adjustable in several ways for the perfect fit
+ Comes with a built-in microphone for answering and making phone calls
+ Active noise-canceling technology to help you zero in
Cons:
- Slightly more expensive than other headphone models here
Why We Liked It - Every aspect of these headphones has been made with the sole goal of giving you an experience you're never going to forget. From the moment you take these headphones out, you're guaranteed to fall in love and will want to keep gymming forever!
Newly updated from a previous model, especially for 2021, the Magicbuds is precisely what the name suggests; pure magic. This specific model features the ear-hook design that allows each bud to rest comfortably on each ear and won't get in the way or hold you back.
Surprisingly for a pair of headphones in this price bracket, the advanced APTX technology means you can listen to your music or audiobooks in crystal-clear quality, at practically any volume you want without the risk of interference or distortion of any kind!
Furthermore, the outstanding Bluetooth 5.0 technology is here, meaning you can seamlessly connect to all your favorite devices without any loss in connection, all the way up to 33ft!
Pros:
+ Uses state-of-the-art Bluetooth 5.0 technology
+ Active CVC 6.0 noise reduction technology to help you focus
+ Super comfortable ear-hook design using soft plastic materials
Cons:
- Slightly smaller than other devices (can be fiddley)
Why We Liked It - Sick of pressing buttons to make calls or answer them? Change the game with these headphones since you can use voice commands to control what happens next! Keep on working out while life keeps moving forward!
One of the most common problems with wearing headphones at the gym is wires getting in the way, or your music player suddenly being flung across the room when something catches. The Levin Bluetooth headphones erases this problem completely.
These lightweight headphones sit on your ears with the connection going around the back of your head. This means your arms and the rest of your body are completely free to do whatever you need them to do.
Pros:
+ Can last up to 12 hours of playing music and making calls
+ No wires and sports a comfortable, ergonomic design
+ Lightweight and completely sweatproof
Why We Liked It - All the basics are covered here, including a 12-hour battery life, covered by a 12-month warranty, several adjustable comfort features, and fast Bluetooth 4.1 technology for a stable and reliable connection at all times.
To finish off our list today, we're going to focus on the Letsfit headphones. These are the headphones you'll want to look at if you're looking for something simple yet effective and guarantees to give you great sound for a great price.
These sweatproof headphones (up to a rating of IPX7), can last roughly to the 8-hour mark, which makes them both great for the gym and for outdoor running events and special occasions where you need to keep going!
To cut a long story short, these headphones look great, feel great, and sound great, and you're not going to be disappointed. With plenty of five-star reviews to back this up, you might not need to look further than this!
Pros:
+ Water and sweatproof to a rating of IPX7
+ Can last up to eight hours charge with only two hours of charge time
+ Designed with plenty of unique comfort features
+ Multiple ear tips available so you can guarantee a perfect fit
Cons:
- Can have limited availability
Why We Liked It
- Despite being an
affordable pair of headphones,
they sure do sound great. Priding themselves on their HD stereo sound, it doesn't matter what genre, artist, or playlist you're listening too, you know every note is going to be crystal-clear./vc_column_text]
Gym Headphones Buyers Guide
Now that we're explored our top ten recommendations, it's time for you to choose which headphones are best for you, which can be a tough decision when you consider just how many different types there are.
Fortunately, our complete buying guide below should be able to help.
Battery Life
Since most gym headphones are small and wireless, they typically run on batteries that need to be charged. Whether you're going to be in the gym for a short session or running a marathon for several hours, you'll need to make sure your battery can last.
This will vary from device to brand, but an average charge time will last between six and ten hours. You'll also want to consider the charging time, as you'll want this as fast as possible!
Comfort
If your headphones are not comfortable, you're going to feel irritated when working out, and you're only going to feel distracted and held back, rather than being able to really focus in on what you're doing. Look for special comfort features to ensure this isn't a problem.
For example, many headphones that go over your head will come with some kind of padded cups. If you're using in-ear headphones, make sure your set comes with different sized earbuds, making sure you'll be able to choose the perfect fit for you.
Adjustability
Hand in hand with the consideration above, you need to make sure you can adjust certain aspects of your headphones to guarantee they fit perfectly and stay in while working out. A common area to be adjusted is the headband that allows the headphones to sit nicely on your head.
It's important to make sure you think about any kind of problems you have with wearing headphones that are personal to you, so you can find headphones that address these issues. For example, if you have sensitive ears, always use over-ear headphones instead on in-ear ones.
Call Controls
Modern-day life is fast-paced, and for some of us, being at the gym is no time to stop managing the other things in life. If you've got a family or business to look after, being able to stay connected is so important.
If this sounds like you, always make sure you're looking for headphones that come with easy, built-in call controls. These controls allow you to answer and hang up incoming phone calls, as well as controlling your music without needing access to your phone.
In many cases, if your phone is going to be in your pocket, or not in your hands, you'll want a pair of headphones that come with a built-in microphone to make your experience even easier.
Connectivity
As we spoke about above, one of the biggest drawbacks of traditional headphones is the cable and wires. If you're running and your hand gets caught in the wire, you're going to have to stop your session and sort everyone out. It's not ideal.
However, when buying wireless headphones, you'll need to make sure the connection is going to keep your music at a high quality and ensure the connection won't cut out and remains stable. Minimally, you're going to want headphones using Bluetooth 4.1V technology or above.
Durability
There's no point in treating yourself to a pair of headphones that aren't going to last. There are many aspects of gym life, from running and getting your headphones sweaty, the dirt from the gym, and just general wear and tear if they fall out and sit on machines.
In short, you're going to need a pair of headphones that are durable enough to survive the general usage you're going to give them. Typically, you'll want a pair of headphones that's waterproof to a rating of IPX7 and are made from durable materials that are going to last.
Summary
That's everything you need to know! As you can see, there's an amazing amount of choice out then when it comes to headphones that are best for the gym, so take your time, find what works for you, and get ready to enjoy your gym sessions like never before!
If you've enjoyed this review by Music Critic, please leave a positive rating: