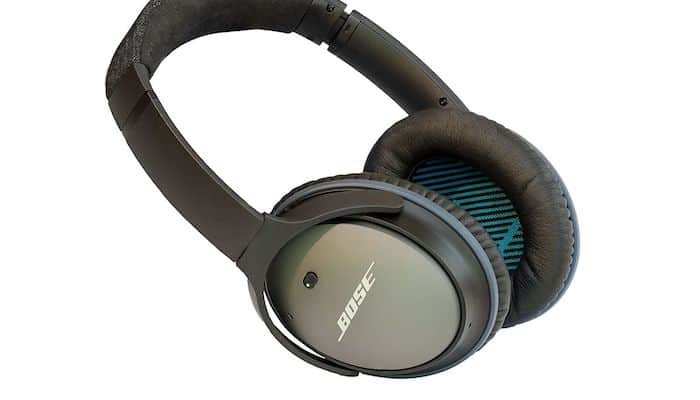 We are back on the lookout for wireless options that provide the clearest communication lines for our busy modern lives, so take a gander at our compilation of the 8 Best noise-canceling Bluetooth headphones in 2020.
We have delved into the world of ANC before but the models are always evolving and recent chip developments are bringing with them products that are constantly raising the bar.
Of course, in an effort to provide solutions for all walks of life we have tried to select a good cross-section in terms of affordability to rustle up realistic headphones for casual use.
We have also gathered up some relative info for our buyers guide to give you a push in the direction and help narrow down the set which suits your life best. There is a tonne of competing models to muddle through but let's review some top candidates together.
At a glance: Our top 3 picks
Your shortcut to our team's top 3 recommendations
View The Best Noise Canceling Bluetooth Headphones Below
Up first, is the second-gen 35 model from the renowned QuietComfort series from Bose engineering.
Like the original set, they offer the companies acclaimed triple-level noise cancelation to provide an optimal listening experience.
They are fitted with a noise rejecting microphone that works dually to keep lines impeccably clear in both directions. Their comfortably cushioned cups and their circumaural design provides a passively canceling seal as well.
The world-class noise reduction tech on-board is unmatched and rated at 20.8 decibels. They have a multi-function button built into the cup for easy access. A direct assistant button gives you instant access to Siri and they are also Alexa-enabled for voice commanding.
The benefit from the companies innovative augmented reality platform that combines the capabilities of their top-notch dynamic drivers with a mobile app. They pair easily and provide 20-30 hours of battery life.
Pros:
+ Triple-level ANC.
+ Instant access assistant.
+ Augmented Audio Reality.
Why We Liked It:
It is a pair of headphones that are literally on another level side by side there are some with similar audio reproduction quality but none that match the ANC as well.
This next set is a best-selling option from the team at Plantronics, the BackBeat model offers plush comfort levels and fully-immersive audio with great ANC capabilities.
The speaker drivers are very well-balanced and serve-up powerful audio with high-resolution. They are beautifully contained in a luxurious set of earcups that are formed with breathable fabrics, in a sophisticated black and tan color theme. They are very well-designed for comfort wit a flexible but strong headband and cups which swivel flat, allowing them to tuck into their travel sleeve.
The ANC does a very effective job of minimizing the environmental ambiance without coloring the audio you are listening to. It is switchable so it won't drain the battery whilst it is inactive.
This allows the high-capacity batteries to deliver up to 24 hours of streaming over a reliable Bluetooth connection. They work from an extended distance and recharge in an acceptable time-frame.
Pros:
+ Luxury cups.
+ Switchable ANC.
+ 24 hour battery
+ Stable connectivity.
Why We Liked It:
They are well-made the audio has great natural mid-tones and is powerfully delivered and the fact that the ANC can be deactivated gives the battery plenty of respite.
This next set is priced in a more affordable every-day realm, Mpow does a good job at producing quality audio electronics with an economic price-tag.
The H5 set is well-manufactured and is again of an over-ear (circumaural) design. The headband has a great deal of elasticity which has been strength tested (10000+ bending test) to a high degree. The flexibility they provide allows them to give a comfortable fit no matter the circumference or shape of your head.
The cups have been recently upgraded on this particular model, they are suitably cushioned and can swivel 90 degrees and even fold completely for convenient storage.
The audio drivers measure 40mm and are pretty capable, the frequency response is broad enough and the opposite ends of the spectrum are well-balanced providing good middle clarity.
They are equipped with a CVC 6.0 chip that aids their microphone in keeping communication clear during calls.
The Bluetooth connectivity is current, widely compatible and stable to stream audio with. The built-in battery provides a generous 30 hours of use even with the active noise canceling running.
Pros:
+ Flexible, low-clamp headband.
+ Fold-away design.
+ Current Bluetooth.
Why We Liked It:
They are a sensible solution for casual users, the audio is good-quality, the streaming is stable and the battery life is more than enough between charges. The ANC isn't comparable to the higher-end models but that wouldn't be fair to look at side by side, given the low-price.
Now for another best-selling model which has also recently been upgraded. They have a comfortable around-ear design with soft protein cushions that passively cancel the outside world. The cups are mounted to swivel 90 degrees which reduces the clamping force and sound pressure levels.
The drivers are a little larger at 45mm, they are made with good-quality components and have a good frequency response with a crisp treble definition.
The microphone has been replaced with a better quality one that is better suited to deal with the active noise canceling. They give a good decibel reduction that compliments the audio reproduction and ensures that your communication lines are audible.
They have an easy to pair Bluetooth connection which streams reliably but can also be used with an optional direct cable. The ANC works in wired and wireless modes. They have a high-capacity battery and can function for up to 30 hours.
Pros:
+ Large-aperture drivers.
+ Upgraded microphone.
+ 30-hour battery life.
Why We Liked It:
The audio is great, the comfort levels are better than ever and whilst the ANC isn't their best feature but it does provide a significant decibel reduction, we like that they can be used with an optional cable.
If the price of the Pro model above is a bit of a stretch for you then you may want to set your sights on the E7 active noise canceling set from COWIN instead.
They are well-made with a comfortable design concept that is constructed with durable materials to withstand the wear and tear of daily use.
The over-ear cups are cushioned with protein pads and are once again free to swivel, providing a comfier fit.
Their onboard ANC provides a good level of noise reduction which like the pair above functions in both wired and wireless modes.
The large-aperture drivers are a little smaller at just 40mm but they still present a sufficient surface area for accurate bass handling. They are dynamically balanced and the audio has a good overall definition.
The built-in microphone is pretty decent and backed by the ANC chip provides clear lines for hands-free calling.
Their 600 mAh battery is capable of dishing out 30 hours of streaming between charges.
Pros:
+ Comfy cups.
+ Wired and wireless functionality.
+ Generous battery.
Why We Liked It:
It is a good, affordable model that has a durable build quality and has a decent microphone to handle the noise rejection elements required by the ANC chip.
6.Mpow 059 Bluetooth Headphones
We have reviewed the ever-popular Mpow 059 headphones on a handful of occasions, they are another circumaural set though we would stress they are on the smaller side and with their 40mm drivers they have more of an on-ear feel in our opinion.
That said, it doesn't affect the use at all, they are still pretty comfortable to wear as they are suitably padded with generous memory protein cushioning and they keep the sound exactly where you want it.
The closed backs and pads create a seal that passively filters the world around you which so whilst they are lacking an onboard noise cancellation chip they do slightly drown out the decibel levels within your environment.
They are well-constructed and have a folding design that makes them convenient to store and far more portable. The headband harbors a durable stainless-steel slider and is softly padded to keep it comfortable to wear.
The drivers serve-up great sound quality and they function in both a wired or wireless manner via their Bluetooth capabilities.
The battery provides 20 hours of use and they benefit from a quick recharge just 10 minutes can top them up for around 2 hours.
Pros:
+ Folding design.
+ Wired/wireless.
+ Quick recharge.
Why We Liked It:
Though it is not an active noise canceling set the passive design elements do a good job of blocking out external sounds. They have multi-functionality, store away easily and we like the quick recharge feature.
7. TaoTronics Active Noise
Another good noise-canceling set with a strong folding concept is this model from TaoTronics which has durable material choices and reinforced mechanical parts. They fold to store safely away in a carry-case which is thoughtfully included in the retail price.
They feature dual large-aperture drivers that have an extended frequency response for better bass efficiency. They provide audio with good overall depth and nice clarity in the treble end.
They feature an ANC switch will means that they won't tax your battery. The ANC runs with a CVC 6.0 noise-canceling chip and a well-manufactured rejection microphone.
It works very effectively to reduce interfering sounds from your environment. This helps to keep calls idyllically clear for better communication.
The battery life is very impressive and can capably provide up-to 45 hours of streaming, thanks to the ANC switching feature.
Pros:
+ Fold-up design.
+ Powerful bass.
+ Impressive battery life.
Why We Liked It:
They are well-designed and executed, the folding mechanics are strong conceptually. The drivers deliver bass-driven audio and the battery life is staggering.
8. Paww WaveSound 3 Bluetooth
Our last set of noise-canceling headphones to consider is the WaveSound 3 model from Paww which is very well equipped to deal with noisy environments. They feature cutting-edge, custom-engineered, dynamic drivers that utilize beryllium for accurate reproduction.
They are finely tuned to deliver high-definition audio. They measure 40mm and have great balance throughout the spectrum.
The drivers are supported by Apt-X technology which provides a codec for better Bluetooth audio streaming. It is very low-latency, ensuring that signals are completely lag-free and keeps lines secure for calls.
The noise cancellation is advanced it has been focused on the low-frequency sound which is better at tackling ambiance. It can distinguish between human conversations which means that call-handling is far more effective as it doesn't try to correct sounds which change frequency rapidly.
The build quality is great, they provide great comfort levels for the user. They are currently one of the lightest sets of over-ear headphones available that offer on-board ANC.
The design allows them to fold, increasing their portability and making them a savvy solution. They have soft protein covered ear-cups and their recent circuitry upgrades bring many convenient features to the table.
They have a sociable Share Me function which allows you to share your playlist without wires to a compatible set of headphones from one source. You can access assistants like Siri or Google and the battery life is ample.
Pros:
+ High definition audio.
+ Beryllium drivers.
+ Advanced ANC.
Why We Liked It:
They are an extremely well-engineered set which has some great features, the audio is hi-def and the ANC is comparable to much more expensive models.
Noise-canceling Bluetooth Headphones Buyers Guide
What To Consider When Buying Noise Canceling Bluetooth Headphones?
There are essentially 2 ways to go when it comes to dealing with a busy environment around you. EAC can be decided upon depending on why you require the cancelation in the first place.
If you are looking to be able to enjoy your playlists on the go in a built-up area you might not need to go to active noise cancellation lengths many passive over-ear headphones provide a decent enough physical barrier between your ears and the outside world but if you need to make a phone call, this could be problematic.
Headphone microphones, unfortunately, tend to pick up on the surroundings. If a microphone is on a wired set they can be better positioned and have a unidirectional polarity to focus on the users' voice. With a smaller pick-up field.
As we are discussing Bluetooth options this is not the case, generally, the microphone will be incorporated into the cups themselves and as those are placed externally they will inevitably need to be omnidirectional and will, therefore, pick-up any sounds within the vicinity.
If you need a clear communication line then active noise-cancellation techniques will need to be employed.
Wireless active noise-canceling headphones will have a microphone which has a larger pick-up field, sometimes it will be a dual-microphone which is built to pick-up you and your environment simultaneously but separately. Some models will have multiple microphones working in unison on the task at hand.
Once they have picked up the signals in your surrounding s and identified them as separate from the desired wave signals they will flip the wave inverting the peaks and troughs. This double signal with dual sets of peaks and troughs cancels itself out producing a low-level sound, similar to what we know as white noise.
Many ANC Bluetooth headphones on the market are installed with almost identical CVC 6.0 chips. How well the ANC works boils down to the capabilities of the drivers and the quality of the microphone combined.
Cheaper models won't typically be as finely tuned to recognize the different frequencies to such a degree of accuracy.
When 2 signals cancel one-another and produce a background sound they can be heard nominally but the brain doesn't register it properly. The less refined the tuning the noisier and more noticeable the sound created is.
This means some cheaper ANC headphone models have a messier feel with less audio clarity whilst the ANC is running. If you appreciate your audio having a set that has an ANC activation switch is probably a good idea, so you can enjoy the audio when you aren't taking a call or surrounded by a cacophony of background sounds.
ANC can be quite demanding of a battery so switch activation is never a bad idea.
If you are going to be dealing with particularly loud environments such as engine noise during a flight you will want a more expensive set with higher resolution audio and a broadened fine-tuned response.
Lastly, with regards to Bluetooth connectivity, you need to look for a current chip so that you have good cross-device compatibility. As wireless signals can be less reliable for an audio stream, you should look for a set that has an electronic codec to help keep them low-latency and efficient at providing a lag-free listening experience.
Conclusion
If you find yourself out and about with your playlists to keep you going then you are going to want a decent noise-canceling headphone set to make sure your calls are unimpeded by the chaos of your surroundings.
Going wireless is the modern way to go, it brings a modicum of convenience with it that can't be surpassed by a plug-in product. Bluetooth has its drawbacks when it comes to streaming clarity and keeping your communication lines clear is imperative to avoid mishearing from either side.
There are many capable models on the current market finding a set that is suitable for your needs boils down to knowing your requirements. No-one knows what will fit around your lifestyle better than you but we hope our guide and comparisons will have helped give you a good idea of where to start looking.
Expert Tip
If you value noise cancellation above all else then it is wise to think about shopping in the higher budget regions for better wave cancellation technology.
Did you Know?
Circumaural headphones are typically much better at providing the idyllic noise-canceling you need as their passively canceling nature compliments their electronic countering making them twice as effective.
If you've enjoyed this review by Music Critic, please leave a positive rating: