Born out of the necessity of the active lifestyle of their creator, avid skater Rick Alden in 2003, Skullcandy brand headphones have a lot to offer and today we are going to take a closer look as we review the 10 best Skullcandy earbuds in 2023.
In little over a decade the company has risen to iconic popularity, becoming what is known as a brand producing some of the most trendy and affordable earbuds on the current market.
What started as a light-bulb moment when he hurriedly pulled out his earbud to answer his mobile soon became a hit, and other companies were quick to follow suit. The brand built slowly over time to develop what are some of the most sought after earbud sets in the industry.
Though they are aimed at active users, they make a wide range of different products and most of them are affordably priced too. With that in mind we have rounded up a few sets that retail for $50 and under, so you can see what is accessibly available to you.
At a glance:

Our top 3 picks
Our team's top 3 recommendations
Best Overall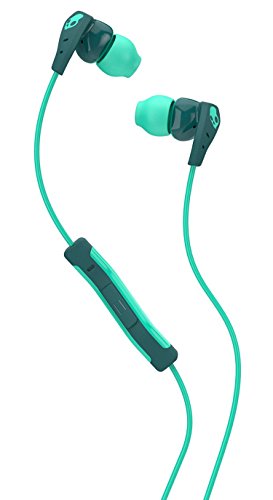 Skullcandy Method In-Ear Sweat

Ergonomic fit within the ear.
Waterproof measures in place.
Premium audio, premium parts.
Premium Quality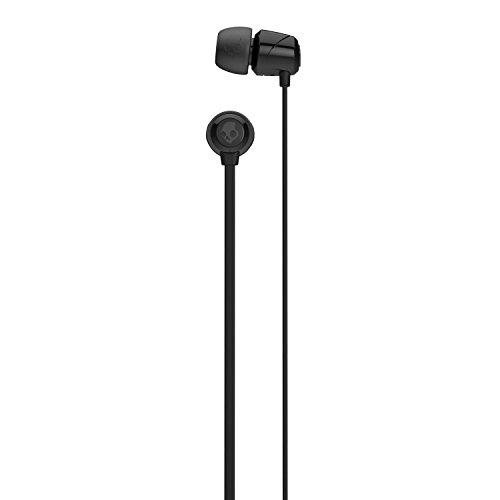 Skullcandy Jib In-Ear Noise-Isolating Earbuds

Ergonomic fit within the ear.
Waterproof measures in place.
Premium audio, premium parts.
Great value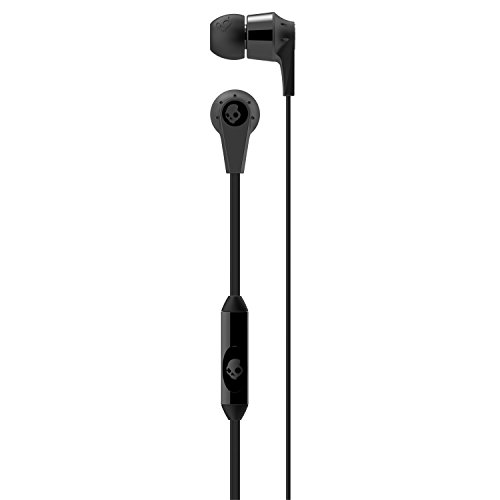 Skullcandy Ink'd 2 Earbud

Ergonomic fit within the ear.
Waterproof measures in place.
Premium audio, premium parts.
View The Best Skullcandy Earbuds Below
1. Skullcandy Method In-Ear Sweat
We are kick-starting our reviews with Skullcandy Method model which are a two-way, inside ear sports model available in two distinct colors. They are well constructed from thoughtfully designed, comfortable, non-slip materials, which not only keep them secure in place but are also watertight rendering them completely sweat free.
The more sensitive electrical components are sealed with wielding to keep them protected and they stay put in prime listening position thanks to their StickyGel and their ergonomic contoured tips. They are an ideal choice for those on the move.
Their proprietary tips also feature their DualLock fit, this ensures they stay in place, regardless of how rigorously they shake around. They are also donned with Supreme Sound Tech for powerful bass, clear vocals, and highs that are accurate and crisp. Together these advanced design implements enhance their overall performance.
Pros:
+ Ergonomic fit within the ear.
+ Waterproof measures in place.
+ Premium audio, premium parts.
Why We Liked It - They are a fab set to start our article with, which provide many of the assets that encompass what the Skullcandy brand is really all about. The Superior sound tech makes their circuitry and abilities a little more advanced than similarly priced earbuds on the market, and the fact that they are welded and sweat-proof makes them a great go-to set for anyone sporty.
Bass Focus - Depending on the genre of music you're tuning into for casual listening, you might want more or less of the bass end of frequencies pounding in your ear. Many of these models are bass-forward, perfect for house, trap, EDM, and other such genres with throbbing basslines. For more well-rounded genres, you'll want less bass focus.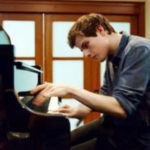 2. Skullcandy Jib In-Ear Noise-Isolating Earbuds
Another affordable set from Skullcandys noise-canceling series are a fantastic wired two-way class Jib model. They feature a standard 3.5mm jack, making them compatible with the majority of devices and entertainment systems.
They are one of Skullcandys more compact products and are built with functionality as their foremost quality. They incorporate the brand's classic style and fit comfortably within the ear canal.
They provide superior quality audio, the dedicated driver array is powered by a zero distortion circuit that utilizes gold for a higher fidelity signal. They isolate audio inputs from any interference and have a good quality, easy to use the integrated mic for voice calls.
The speaker drives are larger than average at 10mm, which means the bass is pretty impeccable and very impressive for an in-ear based model.
Pros:
+ Larger drivers for better bass.
+ Comfortable fit.
+ Simple functionality.
Why We Liked It - They give our audience a good idea of the quality their lower end models can capably provide, the driver arrays outperform most of their competition. Another good option is the new Skullcandy Indy earbuds.
3. Skullcandy Ink'd 2 Earbud
The Ink'd 2 model is a wonderfully upgraded model of Skullcandys Ink'd original. They feature a slim fit design and come with two different sized tips to select from to ensure users have a choice of fit. They are formed from the same silicone gel utilized in their other more premium products.
They come in classic black and provide a low priced sound solution, which is simplistic in design but harbors an awesome array within and handles a wide range of frequencies flawlessly. This delivers a full-range sound, which is well-rounded thanks to the crossover circuitry filtering.
The components are great quality and durable put together, the electronics are well-engineered and the slim-fit tips are formed from high-grade materials.
They have flattened wires to help prevent tangling in transit, these models are 4.5 feet long, and they once again feature a 3.5mm jack connection, making them essentially compatible with everything.
Pros:
+ Premium ear bud tips which stay put.
+ Great audio.
+ Tangle-free wires.
Why We Liked It - They have premium tips which provide a comfier fit and keeps them in place and are genuinely one of the best bare-bones budget options around, the Ink'd series and its other iterations really put Skullcandys products on the map.
Comfort - Though most Skull Candy ear pods are cushioned to varying degrees, some models offer more in-ear comfort than others. Protruding models will wear on the ears after a few hours of uninterrupted listening, while models that fit snugly into your ears will make for an ideal listening session for a full day with little fatigue.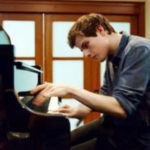 4. Skullcandy Ink'd 2.0 Wired Earbud
Next we have the step up from the last pair reviewed. The Ink'd 2.0 model is in essence the same as far as the build quality and driver capabilities are concerned. The re-design is mainly to the circuitry, which has been engineered to incorporate a top quality microphone, which is controlled by the miniature in-line remote.
This model also boasts their highly effective noise-cancellation technology, which works seamlessly hand-in-hand with their input isolation processing to keep audio and lines in, and out pristine whilst you are in calls. They once again feature the tangle-reducing flat cables to keep used hassle free.
They are only marginally higher in price than the entry-level version, so you get great value for money in terms of their additional capabilities.
Pros:
+ Great step-up from previous gen.
+ Sophisticated isolation processing.
+ Integrated microphone.
Why We Liked It - They deliver full range stereo sound with a powerful low end and are one of Skullcandys lowest priced microphone models with advanced isolation capabilities.
5. Skullcandy Ink'd Bluetooth Wireless
We are sticking with Skullcandys esteemed Ink'd series for a look at one of their wire-free editions. They come flat-wired to a comfortable lightweight neck collar, formed from flexible non-slip materials. The earbuds are ergonomically snug and incredibly low profiled, ensuring they stay in the ear securely directing audio where it is needed. They also come with a replacement set of silicon tips included in the price.
They are once again bestowed with Skullcandy Supreme Sound Tech and advanced signal isolating capabilities. They are competitively priced, comparative with other Bluetooth models. They provide a secure connection with pairing at a maximum distance of 30 feet. They have an eight-hour battery life, which fully recharges in two and a half.
The audio produced is very rich with definition, the dynamics between the high and the low spectrum is well balanced without overshadowing the nuances within. They come in a range of twelve different color choices so you can customize your style, and they are highly portable.
Pros:
+ Superb sound.
+ Ergonomic fit.
+ Premium tips.
+ Bluetooth and NFC connectivity.
+ Voice command.
Why We Liked It - We love their low-profile design, and whilst there are cheaper Bluetooth models on the market, the sound of this Skullcandy set is superb.
6.Skullcandy Superior Sound Merge
If you have no need for Bluetooth or NFC and prefer something 'no-frills' nature, then we recommend the Skullcandy Superior Sound Merge model. It is very aptly named given that it was one of their earliest models to feature both their Superior Sound processing technology and integrated microphone, merging two of their crowning capabilities together.
Along with the Superior Sound, they also benefit from Skullcandy proprietary Mic1 wave isolation, which very effectively hones in on direct inputs and filters any signals, not within close proximity.
They have a nice low price-tag because of their basic functionality but the audio quality is far from cheap. The array works with a rapid response and produces a realistic 2-way class balance thanks to the wave-guides the S.S processing has been engineered with.
They come in bright white with chrome highlights proudly sporting the Skullcandy logo, the wire isn't one of their thoughtful flattened types so you will have to be a little more careful with the care of these guys.
Pros:
+ No frills model.
+ Superior Sound tech.
+ Integrated mic with inline controls.
+ Budget option.
Why We Liked It - They are a maiden model that reset the bar as far as basic ear-buds go and their impressive audio processing and Mic1 tech really kick-started the brands rise to notoriety, as well as inspiring the majority of their premium series lines.
7. Skullcandy Strum Maximum
Another of Skullcandys ear-buds which are worth a good look at is the Maximum from their Strum series. They are designed to provide ultimate levels of in-ear comfort and they were created utilizing 3 proprietary innovations that work ergonomically in conjunction with one another.
Their traditional tips were redesigned to incorporate their popular DualLock fit, but the materials used were then tweaked a little further, this not only secures them in place but means that the tips form to the individual.
Their unique form provides a seal to keep them within the ear-canal regardless of the amount of motion they have to endure, but the seal is flexible enough to keep sound pressure levels safe and be as comfortable as possible.
They once again boast the brands Superior Sound technology so the quality of the audio is great as with the majority of their similarly priced sets. Their cables are flattened, highly durable and tangle-proof.
Pros:
+ Three times as ergonomic as a traditional bud.
+ Premium tips with a unique form.
+ Richer dynamics thanks to the Supreme Sound technology on-board.
+ Tangle proof cables with a generous length.
Why We Liked It - Earbuds aren't typically know for their comfortableness, but this set have clearly been designed with users in mind. 
8. Skullcandy Smokin' Buds
The Smokin' models are a little more focused on style, but without compromising over the quality of the sound the set provides.
They come in a range of cool color combos, and although each is eye-catching, we particularly like the orange set which has a metallic oil-stain quality with many other shades of color catching the light in motion.
Asides from their awesome aesthetics, they offer up the same enhanced audio that consumers have come to associate with the brand.
They are bestowed with their Supreme Sound technology, which processes the electrical signals and successfully delegates the load to the combination of drivers based on a dedicated and thoroughly developed wave signal program, which the circuitry is programmed to recognize. The drivers are very responsive and this provides a seamless blend in the bass/mid/treble mix.
They feature a top-notch microphone operated utilizing a single-button remote, which is incredibly easy to use. It once again isolates the voice signals and filters background interference.
The ear-tips are their compact in-ear buds which are ergonomic and angled for precision sonic capabilities.
Their wires are flattened for better durability and a reduced risk of becoming entangled in your pocket on the go.
Pros:
+ Compact comfy tips.
+ Enhanced audio.
+ Durable flattened wires.
+ Aesthetic appeal.
Why We Liked It - They encompass many merit-worthy qualities, and come in a variety of cool colors, embodying the more fashion conscious elements of the Skullcandy brands mission statement.
9. Skullcandy Method Bluetooth
We started our selection with Skullcandys bar-setting Method model and here before we finish todays reviews with a top TripleLock set we are going to quickly highlight the wireless version.
The Method Bluetooth set, provide a very stable receiver for wireless transmission which pairs with little effort to a wide range of recognized devices. It can connect from 30 feet away and gives athletically inclined users the freedom to move unimpeded by cords, with devices placed suitably out of the way of activity spaces.
They are completely sweat-proof, like their wired counterparts, and all electrical components are welded safely from the effects of any outside elements. This makes them a superior choice for a tough workout.
As a workout headphone set, they benefit from the same StickyGel tips that are designed to be ergonomically comfortable as well as practical, keeping them TripleLocked in place with impact resistance that helps them maintain their position countering the user's motion.
They are tethered to a comfort fit neck collar that they can be suspended from when, not in actual use and are affordably priced.
Pros:
+ Premium tips.
+ Great sound.
+ Sports model.
+ Wireless Bluetooth.
+ Great mic.
Why We Liked It - They are an awesome wireless option which are very well designed for active users.
10. Skullcandy XTplyo In-Ear Sport
The XTplyo are Skullcandys second generation, in-ear sports model, which feature a design concept that trumps their acclaimed DualLock fit with a TripleLock fit that offers a third design implementation to provide a fool-proof solution for those with high octane sports regimes.
They are exceptionally engineered and feature premium ear-tips whose, size, shape, profile, and grip provide one of the most secure in-ear choices possible. The slim-line premium StickyGel tips are bolstered by an ergonomic bar which sits comfortably within the auricle of your ear (outside of the ear canal itself). Each one feature smooth to-the-touch grips which are comfortable and formed from skin-friendly, moisture resistant materials, that render them non-slip and maintain the position of the earbud exceptionally well.
The resistant properties of the tips make them a free from sweat model, and like the sweat-proof pair we perused at the opening of our article, they too have their internal electronic components welded away from harm.
They feature a good quality integrated microphone which can be controlled via the user-friendly in-line controls. It benefits from their innovation isolation technology so that both the performance and clarity are kept impeccable.
Their wires are non-obstructive and thoughtfully include a reflective clip making them safer for users who like to jog late in the evenings.
Pros:
+ Comfort gel tips.
+ TripleLock fit.
+ Free reflective cord clip.
+ Integrated signal-isolation microphone.
+ Great audio.
+ Very stylish set.
Why We Liked It - They offer a premium highly adept active design which as comfortable as it is practical and without a heavy investment.
Bluetooth - If you want wide-ranging functionality for your Skullcandy headphones, consider whether or not you want to prioritize a wireless Bluetooth feature. If you'll be running and frequently on the go with your headphones, you might prefer an option for Bluetooth, but if you'll do most of your listening in the house with your headphones in one place, you might prefer a classic plug-in model.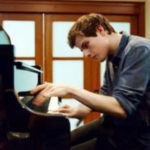 Skullcandy Earbuds Buyers Guide
We spoke briefly of the Skullcandy brands humble origins in our articles introduction, and we are going to advise which set to go for depending on your individual requirements in our informative buyers guide section to follow, but first here a little more background on the brand.
Skullcandy has produced a vast range of models each with characteristics that cater for different needs, but what links them is the companies commitment to providing a great electronic audio solution that supports the reality of modern lifestyles. Their models are ultimately for the average user with a busy day-to-day lifestyle and are designed to be comfortable, durable, and practical.
They have concentrated on the portability and how well they can be worn in transit, above all else, and even specifically tailor their sets towards sporty pursuits and outdoor environments, with their heavier duty models bearing weather and sweat resistance.
The audio is of course still always key and over the years they have developed some pretty sophisticated circuitry, which is well researched, developed, and engineered to enhance the capabilities of their tiny compact tips which house their dinky drivers.
It is fair to say that another important and very apparent quality that the Skullcandy brand brings to the table is appearance. They go the extra mile to provide charming earbud sets with a modern edgy appearance, which are available in a range of color-coordinated designs, that add a touch of personality and promote individuality but without opting for fashion over function.
The company is very keen to affiliate the brand with the things they hold most important and so they regularly promote music, youth culture, art, film, and fashion, making them literally one of the trendiest options on the market in modern times.
From today's reviews, you can clearly see it is not just their looks that have won people over, their first notable product, the Portable Link actually stole hearts for its Hands-free compatibility which was paired with fantastic audio and an edgy but sporty look.
What To Look For When Buying Skullcandy Earbuds?
This is very dependent on your need as an individual and of course limited by your budget.
If your budget allows we would say skip over the low end and straight ahead to the $15 plus products as pretty much all of the models from here on out are equipped with their audio enhancing Superior Sound Tech which really makes an audible difference when compared directly with competing for products that have identically sized drivers.
In this region with quality, audio assured, you next need to decide on whether to go wired or wireless.
Wireless is less likely to get in your way when you work out however many of the wired models still cater to the need of active users.
Unless you are really on a shoe-string budget we suggest you go ahead and take advantage of Skullcandys flattened wire models. They are still very accessibly priced and overall provide much better value for money as the small increase in investment adds much more to the products longevity. Flattened cables are far more durable than a standard rounded wire, which frequently become tangled when they are tucked away into a pocket.
The most common reason for having to replace your earbuds is broken wires which are subject to a heck of a lot of wear and tear on a daily basis.
Conclusion
If you are as enamored with the Skullcandy line as we have been, then you need only consider your intended use to work out exactly what you need.
No matter your requirements as an individual, Skullcandy have you covered, and as today's reviews will have probably made clear, getting your hands on a decent pair won't break the bank.
If you live a pretty active lifestyle and want your audio to accompany you on your journey with you, then investing in a set of trendy Skullcandy earbuds is a sound move.
They have come a long way in such a short amount of time and really cater to their demographic well, providing many innovative solutions for a range of needs.
Once you know what you are looking for in terms of style you are golden. So decide on wired versus wireless, mull-over whether you want a mic, and contemplate the capabilities as some models provide better audio than others.
Of course, the quality of the audio is going to be bound by the budget you have but as divulged in our buyers guide any of the models boasting Skullcandys Superior Sound Tech are going to impress the majority of listeners.
Expert Tip
If you can afford to push the boat out then their truly wireless Push series ear-buds are an exemplary Bluetooth set to go for.
Did You Know?
Skullcandy were one of the first companies to actually produce in-ear models which actually fit within the ear-canal itself rather than being positioned at the opening of the ear canal.
If you've enjoyed this review by Music Critic, please leave a positive rating:
[vc_separator