If you enjoy active pursuits and are after a set of headphones can serve up sublime audio as you sweat then scroll no further as today we are reviewing the 10 best workout headphones in 2023 for a gander at what your money can get you.
Bolstering your workout regiments with the driving bass and up-tempo rhythms of a banging tune can have a dramatic effect on your output. Music is a fantastic motivator and can increase the pace and overall stamina in a long-term situation.
If your routine is particularly high-endurance, you will likely have found many models on the market somewhat disappointing in terms of functionality. Many are prone to slipping and sliding about.
Fortunately there are a number on the market designed with sport in mind. They incorporate waterproofing and innovative support solutions to help keep them in place during the most rigorous of routines. So here for your convenience are a few which make worthy workout candidates, which we are comparatively presenting alongside our complete buyers guide.
At a glance:

Our top 3 picks
Our team's top 3 recommendations
Best Overall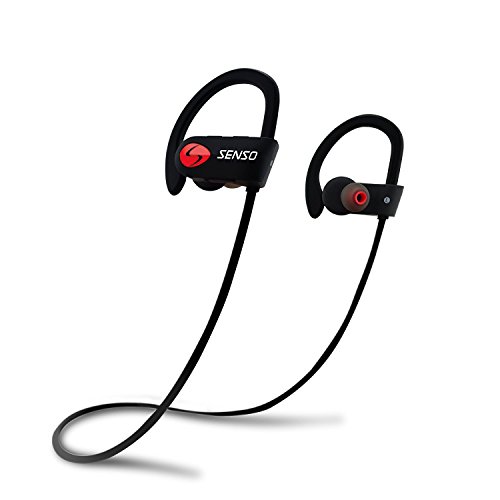 SENSO Bluetooth Headphones, Best Wireless Sports Earphones

Securely kept in place.
High performance drivers.
IPX-7 level waterproofing.
ANC.
Premium Quality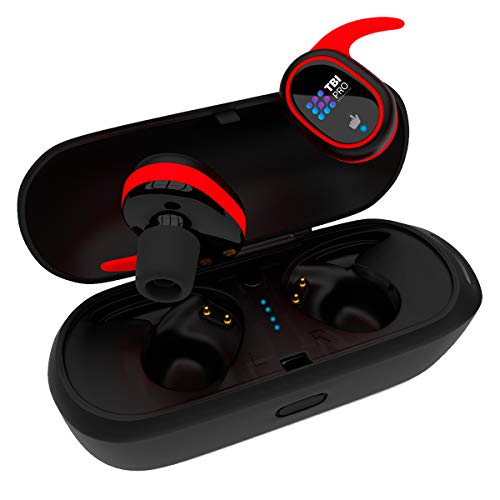 All-New 2023 Bluetooth Headphones w/ 12+ Hours Battery

Securely kept in place.
High performance drivers.
IPX-7 level waterproofing.
ANC.
Great value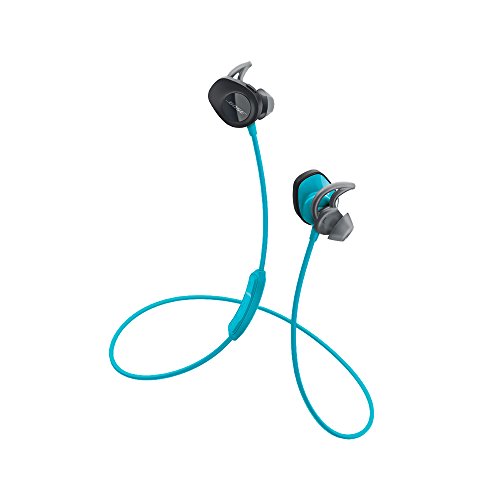 Bose SoundSport Wireless Headphones, Aqua

Securely kept in place.
High performance drivers.
IPX-7 level waterproofing.
ANC.
View The Best Workout Headphones Below
1. SENSO Bluetooth Headphones, Best Wireless Sports Earphones
These SENSO Bluetooth headphones are so well-designed and affordably priced that they have secured themselves a spot in a number of previous articles.
They are effectively adapted for sports with the incorporation of over-ear hooks. They are made from comfortable flexible rubber which is very lightweight so they don't get in the way of a workout. They provide the required stability to keep your earbuds in optimal position no matter how much you move about. The tips are made with an ergonomic anti-slip design that has a skirt-like seal to make them extra secure.
These sports headphones feature high-performance driver arrays, which work incredibly well to create a natural broad spectrum response. They deliver great audio with a fair balance between each end. This provides a sufficient definition.
They hold an IPX-7 certification, so you needn't fret about sweating and can run for around 8 hours between charging despite having pretty sophisticated onboard active noise cancellation.
Pros:
+ Securely kept in place.
+ High performance drivers.
+ IPX-7 level waterproofing.
+ ANC.
Why We Liked It - They feature an idyllic design for sporting activities, are affordably priced, and the over-ear hooks are much comfier than some competitive products.
2. All-New 2023 Bluetooth Headphones w/ 12+ Hours Battery
Another good set which employ over ear hooks for additional stability are this newly upgraded Bluetooth model.
The manufacturers have upped the comfort a few degrees in this re-design upgrading the materials used to provide a more luxurious fit.
They have also been equipped with Apt-X technology which optimizes their signal processing capabilities, accentuating the strengths of their driver performance. Audio is better balanced with finer definition and richer dynamic detail.
They run CVC 6.0 active noise cancellation technology keeping signals immaculate for voice calls. The battery provides up to 12 hours of listening for each full charge. They are moisture resistant, they hold an IPX-7 certification and they come with a carry case for storage.
Pros:
+ Upgraded model.
+ Over ear hooks.
+ AptX technology.
+ IPX-7 certified.
+ Noise canceling.
Why We Liked It - They have received a great upgrade, the circuitry has seen a complete overhaul and they perform at the top of their class.
3. Bose SoundSport Wireless Headphones, Aqua
Next we have another familiar entry from Bose Sound which provide a premium industry leading level of quality.
They are crafted with premium components to provide superior audio. The drivers are an exemplary example of a hard-working array in action.
The processing technology is advanced and runs on a proprietary codec developed exclusively for the SoundSport series. It provides a denser range of recognized frequencies in each spectrum band making them far more accurate than your average set of earbud speakers.
They have a built-in microphone with in-line controls, which functions utilizing the latest noise cancellation technology available.
The in-depth, broad range of stereo audio is channeled to the listener through top-notch earbuds which feature the companies exclusive 'StayHere' tips. The design employs a flexible auricle fin that ensures they stay securely in place no matter how active the wearer becomes.
The earbuds are attached to a cord which keeps them from going astray allowing them to hang from the neck suspended between use.
They are sweat-proof and their batteries provide up to 6 hours listening for every full recharge.
Pros:
+ Premium quality parts.
+ Exceptional quality audio.
+ Ergonomic StayHere tips.
+ Sweat-proof
Why We Liked It - They are the epitome of ear-bud engineering, the level of audio quality probably couldn't get much better given the restrictive dimensions of the drivers. They have been optimized to perfection and the design is comfortable and secure.
4. Otium Bluetooth Headphones, Best Wireless Earbuds
From the high-end, straight back to the low as we know there are often a few shoppers with far less cash to splash.
This Otium budget set are an older model which is not yet quite obsolete, they are a perfectly adequate over-ear hook earbud option, which can help you save a fair few bucks if you are willing to overlook their older Bluetooth (4.1) connectivity. They pair in just one step and the battery capably provides 8 hours between charges.
The over-ear hooks adjust to the wearer, they are made from flexible antiperspirant materials and provide a comfortable stable sports fit along with their ergonomic earbud tips.
They harbor great quality engineering with optimized circuitry and well-manufactured components. They have an extended frequency response to provide broad range audio with better bass. The diaphragms very accurate and have excellent performance.
They are IPX-7 certified making them suitable for outdoor runs helping to counter sweating issues which can become problematic over long periods of exposure.
Pros:
+ Antiperspirant hooks.
+ Enhanced audio.
+ IPX-7.
+ Price reduction
Why We Liked It - The audio quality is fantastic and despite being an older model they still have a lot to offer and could be a frugal choice for those with a much lower budget in mind.
5. ROVKING Running Headphones Wired
Here we have a wired option that features strengthened wire over ear hooks which are ear-shape memorized and flexible enough for comfort and freedom.
These running headphones are very well-made for a set so low-priced and whilst the sound isn't amazing, it certainly gives the majority of its closet priced adversaries a run for their money.
They are far more compact and streamlined than typical over-ear hook models and this makes them better suited to smaller ears.
The tips are formed from a comfortable foam composite. They feature a unique in-ear angle which keeps their placement maintained during motion, and they're sweat-proof with an IPX certification of 7.
They have an integrated mic and in-line control for call handling and voice command of functions.
Pros:
+ Wired option.
+ Comfortable wire incorporated hooks.
+ IPX-7 certification.
+ Cheap choice.
Why We Liked It - They provide an accessibly priced solution, they are well-made and pretty water-tight and a lightweight comfortable set.
6. Waterproof Headphones, HD Stereo Sound Sports Wireless
Next we have a low-priced, high-definition set of waterproof earbuds which provide rich stereo audio and are designed with all the makings of a great sports model.
They are another very sturdily supported over-ear hook set which aims to keep the tips in prime listening position regardless of how roughly they are disturbed during routines.
They are well-made and competitively priced they feature Bluetooth 5.0 and maintain a solid line of transmission.
The driver array functions beautifully and they serve up great sonic balance and fantastically detailed clarity.
They feature a nano-coating to protect them from moisture and other particles. They are decked out with a modern noise-canceling chip and run for an average of 9 hours before needing an energy top-up.
Pros:
+ Sturdy over ear hook design.
+ Bluetooth 5.0.
+ ANC.
+ Waterproof nano-coating.
Why We Liked It - They are another solid contender which have an accessibly low price-tag, they deliver well-defined audio and seem to be well-manufactured. Looking for a water-tight option? Check out these headphones for swimming.
7. Phaiser BHS-730 Bluetooth Headphones Headset
The Phaiser BHS series is pretty impressive we have previously had a nose at the 530 model but the 730 model provides a heck of a set. They feature magnetic earbuds which snap-closed, the design allows the earbuds to store safely around your neck when you aren't listening.
Their more compact nature gives them a better fit and their increased portability makes them a suitable sports model candidate, because let's be honest, not a lot of running or cycling shorts come with any pockets to put your headphones in.
The magnetism is also a good back-up if they should accidentally slip out of your ears for some reason, you can rest assured they safely catch about your person.
They feature Swiss engineered speakers which squeeze the most efficient performance out of their tiny 8mm drivers. They serve up quality audio with surprising bass to drive your workout routines.
They are IPX-7 certified, they provide a stable Bluetooth connection and have on-board CVC 6.0 technology to isolate audio signals. They have a built-in microphone for voice calls which can be controlled via a simple to use the in-line remote.
Pros:
+ Swiss engineering.
+ Enhanced bass.
+ IPX-7 certification.
+ Magnetic design.
Why We Liked It - These bluetooth running headphones are well designed the engineering is top notch, the speaker array outperforms the majority of other 8mm sets available at this price level.
8. Wireless Bluetooth Headphones with Mic by POP Design
Next up a set made for athletes designed by athletes from POP Design. They once again feature over-ear hooks as a concrete concept to keep them in place as you pick up the pace.
They are uniquely angled and the bud is raised above the hooks to provide a more comfortable fit. They are well-manufactured and reasonably priced for a product that ticks all the boxes.
They are IPX-7 certified rendering them perfect for sportier applications and their design also keeps them from slipping when the user starts to really sweat.
They provide a solid 8 hours of listening and benefit from a quick charge function meaning that just 20 minutes provides roughly 2 extra hours of use. They are one of the most lightweight options on the market and come with a range of different sized and colored tips, and a storage case to stash them away in.
Pros:
+ Comfy hooks.
+ Quick charge feature.
+ Waterproof.
+ Ultra lightweight
Why We Liked It - They are a very well designed set the company pride themselves on having achieved a truly fit for function product with a very ergonomic form.
9. Bluephonic Bluetooth Wireless Headphones
This fantastic entry from Bluephonic are another over-ear hook sporting set which give the competition a tough time. They are exceptionally built and the components are high quality inside and out.
They harbor high-performance drivers, but still manage to shave their retail price down to a competitive level. The audio is impressive with a notably enhanced lower end. The overall mix has very refined definition especially when you take into consideration their appealingly low asking price.
These high sound quality earbuds differ very little from the over-ear designs we have seen so far aesthetically and ergonomically speaking but the sound quality is on par with a set twice their value.
They too carry an IPX-7 certification and are blessed with up to date Bluetooth which functions up to 33 feet away from a paired device.
The earbud tips are formed from an expandable foam which compresses ever so slightly upon insertion and then re-expands within the mouth of the ear canal to provide a snug fit tailored to the individual. This is ultimately far comfier than hardened silicon models.
They have active noise cancellation and signal isolation, they work for a cool 8 hours and can quickly charge back to full capacity in just 2 hours.
Pros:
+ Expandable foam tips in a range of sizes.
+ Ultra lightweight.
+ Supportive hooks.
+ ANC.
+ Quick charging.
Why We Liked It - They are a fantastic representation of the best workout headphones within their retail region.
10. Akface Wireless Earbuds
We are leaving you with one last low priced sport option which are equipped with the latest Bluetooth and provide versatile compatibility with their current connectivity.
They are ergonomically designed with a rubbery in-ear hook. The streamlined piece sits comfortably within your inner auricle and when correctly placed allows for a full range of motion without falling out. A selection of auricle hook sizes is provided with different tips to cater to a more individual fit.
Their internal components are all top quality in their class and they feature large voice coils and metal composite diaphragms to provide impressive levels of powerfully balanced audio. The mids have great clarity which is often overlooked on a less expensive model.
They have a generous nano-coating, which help keep the electronics safe from moisture exposure making them idyllic for high-energy workouts.
Each bud is linked to one another utilizing a loose neck cord which stays out of the way during exercise. They also benefit from being magnetically shielded and attracted to each other so they clasp shut around your neck when not in use.
Pros:
+ Inner-ear hook system.
+ great quality components.
+ Bluetooth 5.0.
+ Magnetic necklace design.
+ Waterproof.
Why We Liked It - They are another set which have all the requirements for a perfect workout option. The inner auricle hook sits comfortably within your ear they are not cumbersome in any way the Bluetooth is up-to-date and all in all they provide great value for money.
Workout Headphones Buyers Guide
The defining characteristics of a sports model are namely how well they are supported to stay effectively in place and whilst there are a number of ways manufacturers do this, an in-ear or over-ear hook is a typical go-to feature.
As you will have noticed from our review section the models respectively don't differ too much from one another with the majority of over-ear options being fairly similar in design.
Without a reasonable cash investment, the internal component and signal processing are fairly evenly matched as well. The market is awash with competitive products which can make it tougher to choose the set for you. This week's buyers guide is concise and aims to draw attention to the most vital issues to address before you commit to buying.
What To Look For When Buying Workout Headphones?
Settling on a pair of headphones for working out ultimately comes down to your preferred headphone style and the budget you have allocated for the purchase.
It is the general consensus that an in-ear headphone model is far better suited to sports applications. Over-head/over-ear sets are much larger and therefore more cumbersome for moving around in.
We have adhered to this rule of thumb by selecting earbud options in today's article but there are a few models out there which are attempting to break the mold, enclosing over-ear speakers with larger drivers within headbands for example.
In the past earbud models slipped out of ears especially if you moved about to much. Today's designs are typically better fitting. When it comes to sports models the manufacturers are going out of their way to developing supporting design concepts conducive to energetic endeavors, resulting in a range of clever solutions to keep the buds in place.
Wired Vs Wireless
Wires can get in the way during a workout so many people tend to opt for a wireless set for the additional freedom they provide. Many connect from a decent distance and your mobile device can stay tucked way within your vicinity streaming directly to you as you workout.
The high demand for wireless convenience birthed the modern CSR chip which played a huge role in reducing production costs to an accessible reach.
If you are buying a wireless set of headphones it should be a fairly up-to-date Bluetooth version for the sake of compatibility, 4.1 or higher will provide a more stable connection. If money is tight sometimes downgrading on the Bluetooth on-board can save a little for a short term investment such as an emergency replacement when funds are low.
Other Things To Consider
If you the additional functionality of answering calls mid-routine or speaking to assistants such as Google or Siri you will need a decent integrated mic and active noise cancellation technology to keep your signals clear.
If you are often exercising outdoors or you regularly work up a sweat, a high waterproof certification could be a real asset. Sweat can have a more damaging effect than water on electronic components. The water-resistant materials used will also make them less likely to slip around, facilitating free motion.
What Are The Benefits of Wearing Headphones for Working Out?
Since the dawn of mankind music and movement have been intrinsically intertwined. As stated in our introduction music is incredibly motivating.
You can schedule workouts to your playlists increasing the pace of activities with the BMP of the tracks selected, to take you safely from resting through to high-impact cardio, and back down again.
Having the regularity can help you stick to difficult regimes and even allow you to push yourself a little further over time by adding in an extra tune here or there.
Having the distraction of a well-loved song blasting in your ears can make the time pass more quickly and does wonders for distracting you through those last few reps of a tough drill.
Conclusion
The criteria for a decent set of headphones for working out should be nice and clear to you from the details in our buyer's guide.
Once you have settled on wired or wireless and know your preferred style of support (in-ear or over ear hooks, auricle fins, etc) the market should be less complex to navigate.
We have highlighted some fab products each awarded a place in this week's ranks for a variety of reasons so to summarize;
If you are after a cheap solution we suggest the Otium Audio model as it offers the best value for money.
If you after the best audio possible you should set your sights on the Bose SoundSport model.
If the price is just too rich for you then we would recommend the Bluephonic or Phaiser sets we have showcased.
Functionality is key with headphones for working out, so consider the types of activities you enjoy and just what obstacles they could present, then choose a set which best attempt to address the issues head-on.
Expert Tip
If you are a real stickler for stats and aren't strapped for cash, you might want to check out the latest edition of the Samsung Gear IconX model which has a handy proprietary App that tracks everything from calories burned, to speed and time records.
Did you Know
There are some IPX-8 certified models on the market which are well protected from water.
If you've enjoyed this review by Music Critic, please leave a positive rating:
[vc_separator