In today's article, we are hand selecting a few headphones floating around on the current market for some robust, long life, comfy candidates which make for great contenders for the 10 best travel headphones in 2023.
When it comes to audio on the go you have to consider a few extra factors with portability and comfort at the forefront of it all.
Quite often we opt for in-ear models to travel as their naturally compact nature lends to their portability but they are not always the best for blocking out engine noise on a plane.
Whilst many earbud sets boast active noise cancellation they do very little to passively noise cancel and so, despite their best efforts, don't make the best airplane headphones. They are typically less hardier and the audio somewhat lacking in comparison to their overhead counterpart whom are generally speaking far more capable thanks to the extra space they have available for harboring larger drivers.
Today we have taken a few of the best options to compare which make for good 'pack for the airport' headphones.
At a glance:

Our top 3 picks
Our team's top 3 recommendations
Best Overall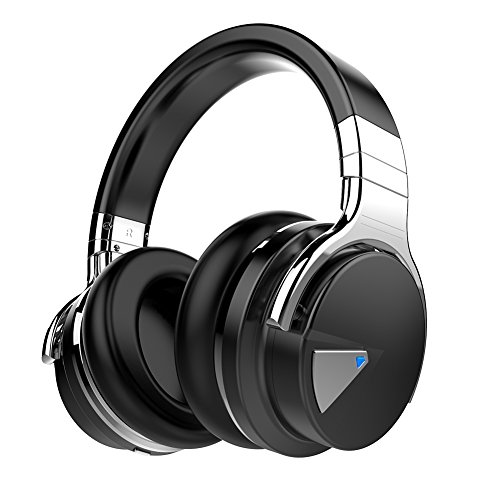 COWIN E7 Active

Optimized bass enhancement.
Active noise cancellation tech.
Affordable pair.
Premium Quality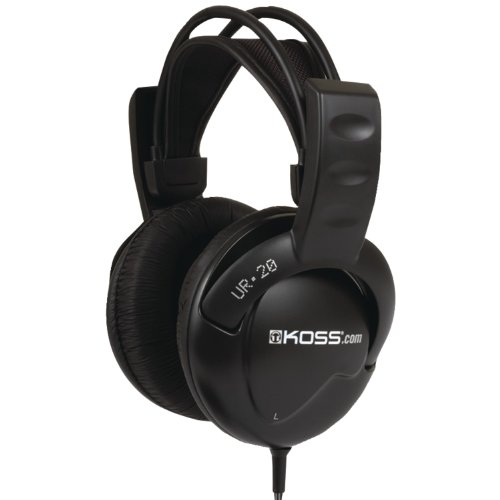 Koss UR-20

Optimized bass enhancement.
Active noise cancellation tech.
Affordable pair.
Great value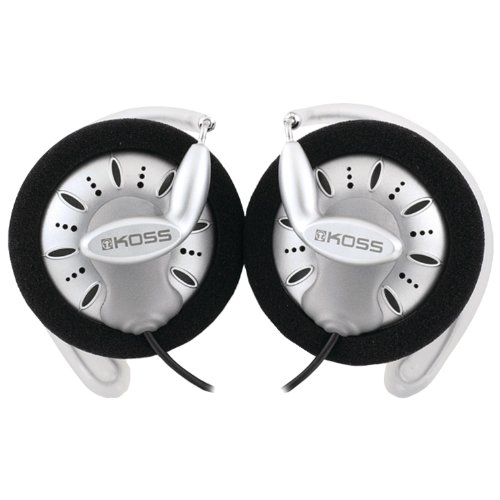 Koss KSC75 Portable

Optimized bass enhancement.
Active noise cancellation tech.
Affordable pair.
View The Best Travel Headphones Below
We open today with the E7 model from COWIN, which are very well designed large-aperture option with an appealing price-tag.
They are closed back, and the cups are once again free to swivel and collapse pretty flat. The cups are comfortably cushioned with a memory protein material making them comfortable to wear for long periods.
They feature bass optimized 45mm diaphragm drivers which work fairly efficiently. The electronics are engineered to respond based on a wave processing algorithm, which makes the noise cancellation tech very effective and the audio production very rich.
The built-in Bluetooth is a little older but not outdated and we have included the newly upgraded model as a product later in today's article.
The integrated microphone is good quality, supported by the ANC, and has user-friendly controls, it makes handling voice calls a breeze.
They can deliver up to 30 hours of listening between charges which is unbelievable and a very valuable asset in a travel option.
Pros:
+ Optimized bass enhancement.
+ Active noise cancellation tech.
+ Affordable pair.
Why We Liked It - Despite being an older model it serves up superb audio and the Bluetooth on-board is not redundant, so some of you on a shoestring can save yourselves a few bucks.
We are going to take a look at two very different Koss models now which have made their way to the top of the market with their rapidly escalating rapport.
The first model is the UR-20 set which is a low budget wireless model that manages to compare quite fairly to our other top ten choices today. Though they are intended as home headphones they provide a cheap overhead option which capably competes with some of the more travel-worthy sets we are highlighting later.
The drivers utilize neodymium magnets and are sufficiently capable with a big workload. They have a decent frequency response and serve up high fidelity audio which outperforms anything with a similarly low price.
These budget headphones are built sturdily and have the all-important cushioning required for longer listening sessions. The headband is very flexible but supported with a frame to keep them durable.
Pros:
+ Cheap choice.
+ Sturdily built.
+ Surprising audio.
Why We Liked It - They serve up superior audio to similarly priced cheaper options and despite not being specifically aimed at travel we think they are worth a mention for those with a more restrictive budget in mind.
The second cheap set from Koss which have caught our attention are the only set of headphones we have included which are not an overhead model.
They are actually an over-ear hook model, as they feature a sports clip that comfortably tucks behind the ear, but they have many large drivers similar to a traditional overhead model so they serve up better audio than an over-ear hook earbud set could ever produce. The drivers are titanium-coated and made with good quality components.
The mini-ear cups can pivot freely providing a self-adjusting fit that keeps them comfortable they have soft synthetic padding.
The concept endows them with a bigger sounding board to produce audio which is delivered far more powerfully. They have an extended frequency response tailored to providing better low-end. The dynamics and richly textured sound blows all typical over-ear options out of the water.
Pros:
+ Versatile concept.
+ Strong drivers.
+ Great bass.
Why We Liked It - TThey provide an interesting option for people who aren't comfortable with an overhead option but want around ear audio instead of in ear audio.
We are no strangers to the QuietComfort series by Bose and neither should you be as we have reviewed models in the past. Model 25 is marketed as a set of airplane headphones and we think it epitomizes everything we love about Bose engineering.
They provide deep resonant high-definition sound and both actively and passively cancel noise, significantly reducing background hustle and bustle, and blocking out the sound of roaring engines.
They are exceptionally crafted feature quality components and are luxuriously cushion-lined to make them comfortable, allowing for a longer length of use.
They feature powerful high-performance drivers, forged with top-quality components and employ over-sized coils for richer audio.
The highs are authentically detailed and beautifully offset against the mid and bass frequencies. They have a very dynamic accurate response and cover a broad range of frequency.
They fold for convenience, making them more portable. They once again come with a storage case, which appears to be pretty durably built. They also generously include a free compatible air-travel connector, making them the perfect plane headphone choice and today's clear front runner. They do, however, unfortunately, have a retail price which reflects the many idyllic properties they offer up as an air travel headphone option.
Pros:
+ Premium audio with great sounding bass.
+ Excellent driver response and performance.
+ ANC and PNC.
+ Fold-away design concept to keep them compact.
+ Air travel connector.
Why We Liked It - Whilst they may not be within the realms of possibility for some with their well over one hundred dollar price-tag, something would certainly be amiss if we missed out on highlighting this airplane ready model fresh off of the factory lines of a truly superb series.
The WaveSound 3 model is a fantastic upgraded wireless overhead headphone model which presents some great features for your convenience.
They weigh less than 7 ounces and can fold compactly, making them easier to store when not in use.
They are comfortable to wear for long periods as they are garnished with ultra-light, soft protein padded ear-cups and a comfort coated headband.
They are fully adjustable and the ear cups can swivel generously making them effortless to slip on and off.
They have 40mm drivers that employ high-end beryllium magnets, which help to excel their performance and hone their accuracy. They deliver stunningly detailed audio, which is natural and high-def.
The electronics are impeccable and have been engineered to respond to customized patterns for optimal audio delegation and production.
They feature current active noise cancellation tech which helps maintain hands-free calls, with zero interference.
They have now equipped with Bluetooth 5.0 connectivity and incorporate the AptX tech that you are probably familiar with from our other headphone reviews. They are very low latency and high resolution making them a step above the rest.
Pros:
+ Beryllium drivers.
+ Bluetooth 5.0.
+ Low latency.
+ Noise canceling.
Why We Liked It - They are made with premium components, which have been cost effectively manufactured to provide an affordable model which serves up superb audio.
This next set are todays highest price pair so we know a few of you may want to scroll on down but before you do just take a look at what they offer to help you set the bar in the budget regions.
These Beats headphones provide premium playback, thanks to their high-end drivers. which are exceptionally engineered and function operating within a wave-assisted algorithm innovatively conceived?
The proprietary Beat Sound tech has won itself awards, so the performance on this pair really is hard to beat. They are fine-tuned to an astonishingly accurate degree, the clarity within each register is maximized, the breadth of the audio created is staggering and fully immersive.
All materials used are top-quality, and all the components housed within are impeccably put together
They harbor an Apple W1 chip which makes them incredibly efficient in terms of energy consumption they can capably provide up-to 40 hours use. They also have a useful FastFuel option that gives a five-minute energy top-up which lasts for around 3 hours.
They are fully adjustable for custom comfort fitting. The cups sport luxurious memory protein pads which cushion your ears exceedingly well. They are aesthetically charming and come in a range of unique shades, such as this sweet rose-gold set.
Pros:
+ Award winning engineering.
+ Accurately fine tuned.
+ Audiophile level sound.
+ Next-level comfort.
+ 40 hours premium playback.
+ FastFuel quick charge function.
Why We Liked It - They are prime example of just what your money can get you and as we are discussing flight headphone options, the price tag of this set may not be as unobtainable for some of our first class frequent fliers.
Next we have the new and improved pro level upgrade of the E7 model we opened with. They are an upgraded which capably provide a stable and secure Bluetooth 5.0 connection and have be redesigned with lusher materials incorporated to serve up better comfort. They are overall far lighter than previous models but more durably built.
They feature hard working dynamic combination drivers which deliver well-balanced audio that has great depth. The middles are well mixed, the crossover provides good dynamics and details as the treble end is especially crisp.
They have a closed back design which directs sound solely to the listener, the cups themselves can rotate freely and are comfortably padded. The microphone has seen a recent upgrade as well and they deliver active noise cancellation so the hands-free voice call functions impeccably clear.
They are available in 5 different colors, are priced accessibly, and can provide a staggering 30 hours of battery life between charges.
Pros:
+ New and improved model.
+ Pro noise canceling.
+ Affordable option.
+ 30 hours battery life.
+ Bluetooth 5.0 connection.
Why We Liked It - They have an exceptionally long battery life and are very comfortable to wear. They provide premium level ANC without a hefty price-tag.
8. TaoTronics Active Noise
We have been impressed with other TaoTronics models in the past, their in-ear models are pretty innovative in terms of design concept solutions and we have been rather surprised by this overhead option as well.
They appear very well-manufactured especially for a reasonably priced set. They can fold away for more compact storage like some of the other sets we have examined with a strong concept, less likely to wear and tear them. they are incredibly lightweight and they do come with a sturdy storage case for traveling about with.
The cups can swivel up-to 90 degrees, and of course, fold inwards when put into storage mode, they are padded and lined with soft cushioning, as is the headband itself to provide a comfortable experience for listeners.
Though they are physically a little smaller than some at 40mm the drivers have a lightning response, outperforming many in their class. They offer up awesome audio with great balance and truthful resolution. The bass is powerful, with great presence but doesn't over-shadow the mids in the mix, providing an equally proportionate stereo blend.
A two-hour charge provides up to 30 hours extensive use which gives them an edge over many competitors.
Pros:
+ Swivel mounted cups.
+ Fold-up design.
+ Sturdy storage.
+ Powerful bass.
+ 30 hours battery.
Why We Liked It - They are very well built we like the fold up cups it means the headband itself is a little more heavy duty than on some models that feature sliding or bending mechanisms.
9. Edifier H840 Audiophile
We are huge fans of Edifiers affordable speakers so it should be no surprise that this competitively priced headphone set has has won itself a spot in this weeks reviews.
They are expertly manufactured with solid construction, which we really can't fault. They feature good quality closed monitor cup and have a sturdy steel-reinforced headband for added durability as well as a high strength cable.
They serve-up professional sound with a wide response. The drivers work 40mm units which are carefully calibrated by engineer Phil Jones from Pure Sound to their proprietary wave-guide to provide epic dynamics with a balanced crossover.
The headband is ergonomically designed and has leather headrests in just the positioning for optimal comfort and the cups are cushioned nicely. They fold up for smaller storage and come with a case to keep them in.
Pros:
+ Carefully calibrated sound.
+ Ergonomic fit.
+ Super-soft leather.
+ Reinforced design.
Why We Liked It - They are excellently engineered and have decent on-board noise cancellation abilities and though they are lacking in-line controls serve up some of the best audio in a headphone for under $50.
10. Active Noise Canceling Headphones
Lastly we have this great set of folding lightweight overhead headphones which serve up some very deep bass and come with a compact carry pouch to store them away in when they are not in use.
They are very competitively priced and provide cutting edge ANC capabilities and are of course conveniently portable making them an excellent travel option.
The drivers onboard have fantastic performance, delivering hi-fi quality stereo sound. The low end is impressive.
They have a gold plated 3.5mm connector for better signals and the built-in microphone is very clear.
They are well-manufactured and feature easy to operate in-line controls. They can capably sustain around 20 hours of power between each full charge and can be used wired as well. Recharging takes around 2 hours until full, which shaves off a little time in comparison to other charging sets we have looked at.
Pros:
+ Great active noise cancellation abilities.
+ Decent battery life between charges.
+ Fold-up option with drawstring storage pouch.
Why We Liked It - They are a fab wired/wireless option, they are pretty comfortable and the folding design is very strong.
Travel Headphones Buyers Guide
There are essentially two schools of thought as briefly mentioned in our introduction and they really do depend on your travel methods.
We have reviewed many options in the past ideal for those traveling on foot or via public transport, which ticks the boxes when it comes to being weather resilient and staying in place during motion.
These are typically the less cumbersome in-earbud models which come in a multitude of forms. They have many great qualities for traveling, for starters their tinier size (especially the true wireless earbud models which are the size of a pair of marbles and charge on the go) but they have many drawbacks.
Today however we have focused on over-ear travel headphones to give our readers some great options for headphones for flying. Overhead options make the best headphones for planes for many different reasons which we will divulge in this weeks what to look for.
What To Look For When Buying Air Travel Headphones?
If you are going to be flying you will probably find that closed ear cups are the only way to go, as you won't want to disturb other passengers around you. You will also need to seek a set with noise canceling properties so you can hear your audio well above the engine racket.
You will definitely want something ergonomically designed and fully adjustable as you won't want something tight on your head as you increase altitude, or the pressure will be far too uncomfortable.
So you should look for headbands which have flexibility and cups which can rotate or swivel to some degree. The cups should be comfortably cushioned and preferably this should be with skin-friendly materials as you don't want your ears to overheat or sweat.
If you want to wear headphones on planes you may find you need a special connector to get stereo sound, the Bose QuietComfort 25 set we reviewed come with one, they also feature top-notch noise cancellation properties making them ideal headphones for airplane movies.
You will also likely want something as compact as possible if you are flying as luggage restrictions can be pretty limiting. You could consider a folding set, but think about the manner in which they fold as some mechanisms are stronger than others providing better longevity.
You also ought to opt for something with a sufficient storage solution which protects as your headphones travel.
If you are opting for a wireless set you will want something with up to date Bluetooth and NFC capabilities and decent battery life, though we would suggest a wired set for flight, so as to keep transmissions completely stutter free.
If you plan to connect your headphones to a mobile device to travel with you will probably want to consider the microphone quality, whether or not you need inline controls and the active noise cancellation properties it can provide to keep conversations free of interference.
Conclusion
As always the decision on what to go for is down to you as an individual, but we are quietly self-assured that we have given you some food for thought.
If you are still unsettled on the overhead versus in-ear argument then why not thumb through some of our previous headphone articles for inspiration.
However, if you are looking for a set to travel with on an airplane then we will have hopefully highlighted the benefits of overhead/over-ear models for you clearly in today's article and informative buyers guide
With an over headset of headphones the biggest choice to make is really just wired or wireless, once this is settled you can set to work sourcing a large-aperture pair which are suitably decked out for wearing for long periods. Comfort is really key when choosing a set of cups to keep your company on the go whether you are flying or not.
Expert Tip
If you want a set of travel headphones and you aren't flying anywhere but are a sportier sort, you might find our 10 best headphones for working out article well worth a quick note, it highlights a range of models which aim to stay in place during energetic endeavors.
Did you Know
Many airline companies sell their own headphones on planes with the previously mentioned special connectors. However if you are in the know then you can come prepared, and luckily the adapters aren't too difficult to get a hold of.
If you've enjoyed this review by Music Critic, please leave a positive rating:
[vc_separator