If you're looking for the best music stands on the market, you've come to the right place. A music stand is an accessory for musicians or readers to hold the sheets or books in a position of reading. These help the individuals to read their scripts hands-free while performing.
There are many music stand options on the market to choose from but remember not to rush your purchase, as you'll pay for it later. This article is dedicated to helping you pick your ideal music stand.
At a glance:

Our top 3 picks
Our team's top 3 recommendations
Best Overall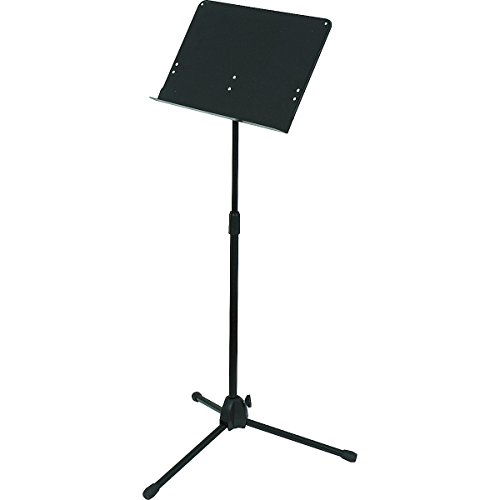 Musician's Gear Heavy-Duty Folding Music Stand

Easy to Fold
Lightweigt for Travelling
Extendable and Adjustable
Premium Quality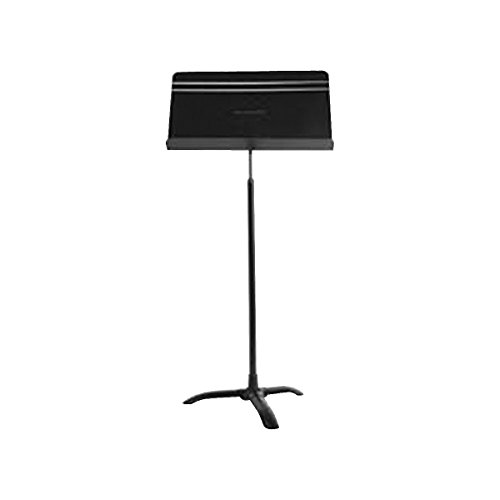 Manhasset Model #48 Sheet Music Stand

Easy to Fold
Lightweigt for Travelling
Extendable and Adjustable
Great value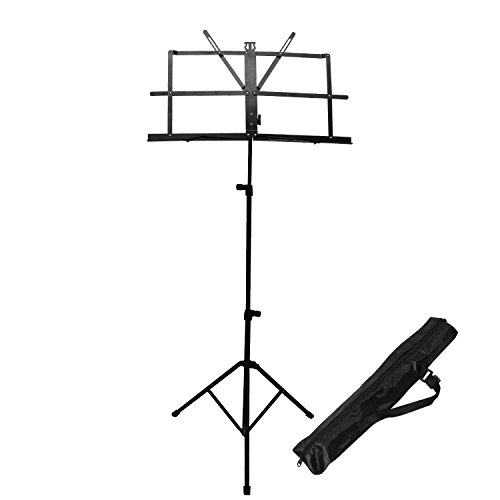 ChromaCast CC-MSTAND Folding Music Stand

Easy to Fold
Lightweigt for Travelling
Extendable and Adjustable
The Best Sheet Music Stands of 2023
1. Musician's Gear Heavy-Duty Folding Music Stand
This folding music stand by Musician's Gear is rated top when compared to others. The product is easy to fold and weighs only 6.1 pounds, which means you can carry it without any fuss. Likewise, it's stable and doesn't slide down; it is extendable to various heights so that most people can use it. The dimensions of the product are 27.1 x 11.7 x 4 inches, making it adjustable in a cramped space.
The music stand face is a full 16 inches wide, big enough to open a music book. The tripod legs are also easy to open and held on with a secure clip that requires no further tightening. It's a simple and heavy-duty product, as titled by the product name, and gives you great value for your money.
Pros:
+ Easy to Fold
+ Lightweigt for Travelling
+ Extendable and Adjustable
Why We Liked It - This stand is foldable and easy to carry. Moreover, the material is good and solid, which definitely gives you the professional feel.
2. Manhasset Model #48 Sheet Music Stand
This model number 48 by Manhasset is definitely on top of its game. With a steel-welded base, this product provides a long lasting durability. It also features a greaseless, heavy-duty, chrome inner shaft with a solid-brass bearing, making it secure at any height, even with a large amount of music.
Are you worried about rusting? This product has got you covered. The powder-coated surface saves its neat black finish from rust. Likewise, it's also easy to assemble, as it only comes with three parts: the telescopic pole, the base, and the desk. It's adjustable, offering up to 60 inches height, satisfying every consumer. The neat black finish is scratch and rust resistance. This, combined with a 20-inch-wide stand face, and many more features, will convince you to give this product a shot.
Pros:
+ Long-lasting Durability
+ Greaseless Heavy Duty Chrome
+ Powder-coated surface
Why We Liked It - With the likes of all-steel welded base, Magic finger clutch to adjust the grip and easy assembly, this product might be the one you are looking for!
3. ChromaCast CC-MSTAND Folding Music Stand
Looking for a music stand with portability and easy storage? Then ChromaCast CC-MSTAND folding stand with a carrying bag might be your top choice. This stand is suitable for both sitting and standing users as it features a two-tier vertical shaft, and a tilting bookplate, making it a comfortable choice for both types of consumers. You can also adjust the height from 28 inches to 58 inches, which means it's a great option for everyone.
This product is also easy to carry as it's lightweight (only 1.9 pounds) and foldable. People who travel a lot may want to pay attention to this stand, in particular.
Pros:
+ Easy Storage
+ Folding
+ Great for both Sitting and Standing Performers
Why We Liked It - It is super easy to carry this stand as it comes with a bag. Users who have to travel a lot, and struggle to carry their music stand, will find that this product could be the one to facilitate them.
4. Crafty Gizmos Black Adjustable Folding Stand
This black, adjustable music stand with a carrying bag by Crafty Gizmos is sturdy and light-weight. It features an angle-adjusting knob, which allows you to place the sheet music at whichever height is most comfortable for you. Likewise, it also has three separate joints for adjusting the height. This stand comes pre-assembled so you don't have to waste your time assembling the parts.
For travelers, this product is beneficial, as its as light as a feather (only 1.7 pounds), compact, and can be easily packed up in the carrying bag. The tripod base has a rubberized cap, so you don't have to worry about the floor. As for the stand height, it can be adjustable up to 42 inches from the ground. This product covers all the requirements of a good stand, making it a fantastic choice.
Pros:
+ Adjustable
+ Lightweight
+ Angle Adjusting Knob
Why We Liked It - If you are one of those people who don't want the hassle of assembling, and want the best quality, then this product might be the one for you.
5. Amazon Basics Sheet Music Stand
This sheet music stand from Amazon Basics comes unassembled with a metal sheet holder, telescopic pole, base, fastening ring, and connector. The tripod base is steel welded, which promises excellent stability and durability. This product has no knobs for height adjustment. In replacement it has an automatic friction slide, which requires only slide up and down pressure, making it easy for you to adjust according to your needs.
The stand face provides its consumers with easy-to-use knobs for adjusting the tilt, maintaining a comfortable viewing angle of their choice. As it's weighed at 5.9 pounds, this product also ensures sturdiness. This sheet music stand is a heavy-duty product, supporting more pieces of sheet music than other stands out there on the market.
Pros:
+ Excellent Stability and Durability
+ Automatic Friction Slide
+ Easy to use Knobs for Adjusting Tilt
Why We Liked It - If you are looking for a heavy-duty stand of a normal weight and gripped hand-pressure height adjustment, then this product might be your answer.
6. Gearlux Collapsible Orchestra Music Stand
Collapsable Orchestra Music stands by Gearlux are built to last. As well as tought and sturdy, this product is also light-weight. It's suitable for standing and sitting musicians, as the height is adjustable from 28 to 48 inches. The music sheet holder is 19 inches wide and 13.5 inches tall, which can hold up to a 3-ring binder.
Similarly, the tray can also adjust up to 180 degrees, making it easy for users to set a comfortable angle. Furthermore, the music sheet holder is magnetic, so you can also use magnets to hold your sheets down. The vertical post is engineered with twist knobs for handling the maximum weight, which lets you adjust the weight type.
Pros:
+ Collapsable
+ Built to Last
+ Magnetic to hold Sheets down
Why We Liked It - This music stand adjusts well. It's easy to carry, sturdy, and provides a music sheet holder that can hold up to a 3-ring binder, making it the stellar choice.
7. Hamilton Foldable Note Stand Chrome
The Foldable Note Stand Chrome 2 by Hamilton features a popular 2 section design, and a fixed angle desk, which can fold to 21.5 inches and extend up to 55 inches. This product is the best for lining up music sheets. It also has a 4-5 inch wire to hold the papers.
This stand is lightweight ( 2.4 pounds) and foldable, which makes it easier to carry than other stands. The material is chrome plated, giving it a quality feel and look. The product is measured at the dimensions of 21.5 x 2 x 2.4 inches, which doesn't take up too much room.
Pros:
+ 2 Section design
+ Fixed Angle
+ Easy to Carry
Why We Liked It - The fact that it's economy price quality with a chrome plated silver color, and easy to carry around, is what helps Hamilton's folding stand reach our good books.
8. On Stage SM7122BB Folding Stand
Stage performers often need a handy music stand which they can line up quickly without time consumption or hassle. The SM7122BB Folding Stand with a carrying bag by On Stage is one of those products that stage performers would benefit from. This product features an adjustable tilting bookplate, which can hold up to three 8.5 x 11-inch sheets, as well as a fold out extension for holding sheets in place.
With 2.5 pounds of weight, it (and its tripod legs) can fold down flat for storage purposes. To adjust the height of the stand, it features a two-section vertical shaft with a cam locking clutch from 26-40 inches. This means it can entertain both standing and sitting positions. The tripod legs are made up of braces and non-slip rubbers for maximum stability. The black chrome finish seals the deal.
Pros:
+ Fold down flat for Storage Purposes
+ Fold out Extension for holding Sheets
+ Two section vertical Shaft with Cam locking Clutch
Similar Read: Reviews of the 10 Best Guitar Stands for the Money
Why We Liked It - This music stand offers a gorgeous looking black chrome finish, durability, and a cam locking clutch for adjusting the height, making it a worthwhile deal.
9. Peak Music Stands SMS-20 Collapsible
The SMS-20 collapsible music stand is a made up of high-quality tubular steel (which is no doubt sturdy), with a mesmerizing black color finish. This product is portable, and easy to assemble and fold up. The SMS-20 height can be adjusted up to 47 inches and, thanks to the quick clamp levers, easier than ever before.
As this product is foldable and collapsible, it comes with a carrying bag, meaning travelers can carry the stand anywhere they want. The music rack is 20 inches wide and 13 inches tall. It holds music in binders with ease; the two attached clips make sure that sheets stay where you want them to. Additionally, the music rack is also foldable. On the whole, the SMS-20 music stand may be worth spending your cash on.
Pros:
+ Collapsable
+ High quality Tubular Steel
+ Portanle and Easy to Assemble
Why We Liked It - This stand is packed with a stylish black finish, quick clamp levers to adjust the height, and a sturdy body, making it one of our top choices.
10. Kruzco Sheet Music Rack With Bag
This stand is tough and sturdy, as Kruzco products are built to last. The product is as transportable as it is lightweight and portable; it also comes with a carrying bag. Both standing and sitting positions are accounted for with the height adjustability, ranging from 28 to 48 inches. The music tray is magnetic - you can attach a magnet to a music sheet, or books, to hold them in place.
Furthermore, there's a metal spring arm extension on the tray for holding sheets or books securely in one place. The music tray can tilt up to 180 degrees, making it easy for every consumer to adjust the angle. For maximum weight handling (like a book or stack of sheets), the vertical pole is engineered with a twist knob you can adjust according to the weight.
Pros:
+ Built to last
+ Transportable and Lightweight
+ Metal Spring arm Extension
Why We Liked It - This stand is tough and sturdy, which means you can even put a book on the music tray. It's also handy and tilts up to 180 degrees, providing the best angle for every user. Features and toughness are all built into one package.
11. Hamilton KB90 Traveler II Portable Stand
Are you a traveler or gig-er? Need a portible yet high-end music stand? Then Hamilton KB90 Traveler II might be the stand you've been looking for! This is a magnetic music stand, which is 20 inches wide and 2.25 inches deep, giving your sheets or book a secure environment.
See Also: 9 Best Stands for Keyboard Pianos in 2023
The vertical stand is foldable and secured in a KB-14 carry bag, for when you are on the go. The knob can adjust vertical height from 26 to 47.5 inches. Moreover, the desk angle and leg position can also be adjusted, giving the user a comfortable experience. The base is coated with durable powdered black finish, providing an aesthetic appearance.
Pros:
+ Portable
+ Magnetic
+ Powder black coated Base
Why We Liked It - This stand provides a secure environment for sheets and books so that they won't fall off. You can easily take it out and about, which makes it the best in its lineup.
Useful Item Guide
Music Stands For Each Musical Purpose
There are loads of music stands with promising features on the market, but before you give them a try, you need to figure out the essentials. It's important to know about the basic factors, as they'll help to outline the pros and cons of the music stand. Let's carry on and find out what characteristics you need to consider when buying one.
A music stand's purpose is to hold down the sheet or book as securely as possible. A wobbly music stand is frustrating. Stability is achieved by elite engineering, metal manufacturing, and a solid back. Try to avoid wireframe stands, as the secure handling of music is not guaranteed there.
Another critical factor is the height range. Various people like practicing music while sat down, but others prefer to be standing. Height adjustment is essential if you're standing, sitting, or using a microphone stand where the height can be changed. A good stand should offer an extensive range of height ranges, suiting all types of customers.
Along with the height range and stability points, the depth of the music stand is also essential. Depth is responsible for how many books you can store at once. For amateurs, this fact might not be foremost, but professional users will find it worth considering.
The music stand's colour depends largely on conext of the situation. For instance, at a traditional concert or in a church, a pink or blue stand will go against the theme, and may look odd. That's why a solid color choice, according to the scenario, is worth giving a thought.
Beginners train in their homes or either a small studio, travelers face difficulties while carrying their music stands. A music stand should be portable enough that you can pack up in minimal time, and re-assemble just as quickly.
Durability and Portability are as equal as each other. You might want to consider this, as portable products are sometimes weak and not that sturdy. A music stand should offer durability with portability.
If you're a beginner, you don't usually require as much material, but as you progress further, you need more pages at once. There comes the point where many kinds of music stands fail to provide their consumers with what they need the most. A wider stand is advantageous. Turning pages can be awkward for many out there, so you must research before getting your hands on to any old music stand.
The reading angle is essential for the artist or the person using the music stand. A music stand must offer a range of angle adjustability for the perfect view, as you can be in a tight space or on uneven ground.
If you have a load of books or sheets on your stand, then you might struggle for the space of your pencil or violin bow. If this situation sounds familiar or likely - then you might need a music stand with built-in shelves. Similarly, you can also add a music stand accessory shelf to cut off the expenses of a new music stand.
As we have given you the basic factors to note down while buying a music stand further, we'll also highlight three things that you should look at before buying. So let's get into it!
1. Value for Money:
We respect your hard-earned bills and want to help you choose the best product for your money. There are many high-end music stands out there that are well-engineered with incomparable features. Unfortunately, these can have a high price. When buying, a person should keep in mind the value for money. In simple words, this means that you get the equivalent, or higher value, for what you pay. Most products out there on the market have the same quality as compared to a lower budget music stand, but their price tags are way higher because of the brand popularity. We'll showcase two products that are the best value for money.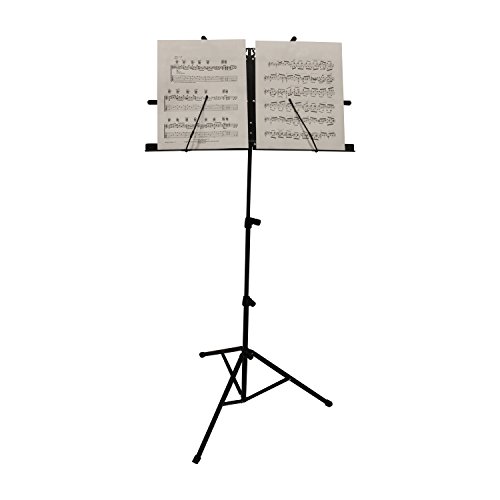 The CC-MSTAND folding music stand with carrying bag by ChromaCast includes stability, durability, portability, and reasonability in one package. It offers an 11.5 x 20 inch music stand, which is adjustable and can hold down thin music sheets or books. It also includes metal spring arm extensions for securely holding music sheets or books in one place. For adjusting the vertical height, according to your needs, this stand consists of a two-tier vertical shaft extending from 28 to 52 inches.
The tripod leg assembly adjusts in cramped spaces, providing stability. Furthermore, the base is protected by the rubberized cap to protect the floor, giving them a neat look. Last but not least, this product also ensures portability, as it is lightweight and foldable. The package includes a carry bag to take this stand anywhere without hassle. With a bunch of facilities, and an affordable price range, this product is undoubtedly a brilliant option and great value for money.
Similar to the above stand, the Folding Chrome 2 by Hamilton comes in at a close second. You are getting affordability, portability, and simplicity with this great product. Design-wise, this stand is finished in chrome, with a popular 2-section design, outputting an elite look for the artists/users. It also features an American-style desk that has a 4-5 inches clamp at each side to securely hold the paper down. The vertical height of the stand can fold up to 21.5 inches and extend up to 55 inches, which means you can practice while sitting or standing without any problem. Thumb latches are built-in for height adjustments. For easy setup the legs spring-operated lever is attached. As it can be folded up, it's excellent for traveling musicians - this product had got your back! With a delicate yet sturdy design in an economical price group, this product does the job for most people out there.
2. Foldable Travel Stand: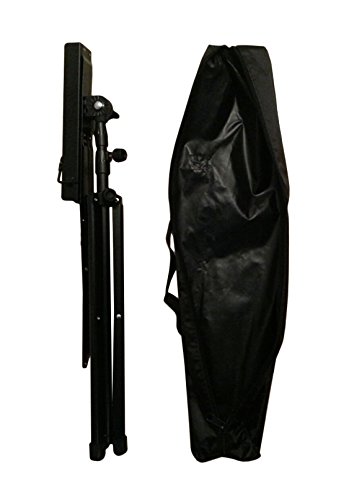 Musicians travel around the globe for concerts, award ceremonies, etc. There are many models of foldable stands in the market that you want to pick up for your next journey, but before you actually buy one, you need to clarify a couple of things.
You need to analyze if they are sturdy, stable, price-efficient, portable, and durable. Most products on the market titled "foldable travel stands" do not give the right amount of portability and sturdiness that you'll want on stage, or practicing. To choose the right foldable travel stand, you need to look up every part in detail. For instance, is the base still stable on rough ground? What might be the range of vertical height? If you're looking for portability, that doesn't mean you should ignore other significant factors. So keep with us, as we'll be looking at two products, which are a fantastic choice for a foldable music stand!
The black adjustable folding music stand with a carrying bag by Crafty Gizmos is known for its sturdiness and portability. Have you got little time and space to carry a huge stand? Well, fold this product and place it in its carrying bag. You're getting all you need in a single pack. You can adjust the music stand angle by the knobs provided.
Additionally, you will find a small spring arm on the 12 x 18 inches music stand, which holds up the paper securely. You can adjust the vertical height on three separate joints, allowing for the perfect height for every consumer. The tripod base ensures adjustability and stability for multi-surface use. The tripod legs are covered with rubberized caps for protecting the floor. The package is already assembled, so you don't need to waste your time assembling and connecting the parts. With a reasonable price tag and fulfilled features, this product meets your traveling needs!
Likewise, the SM7122BB folding music stand with a carrying bag by On stage is the best match for both portability and durability. This stand's deck provides can up to three 8.5 x 11 inch sheets, and can be tilted for angle adjustment. Similarly, the sheets are held up by folded out extensions to securely keep them in one place.
For adjusting the height, this stand provides a friction locking clutch at 26-40 inches. This foldable travel stand provides you with the essentials. The tripod leg base can be adjusted, depending on the ground availability, and can also be folded flat for carrying. Also, the base is accompanied by leg braces to offer even more stability on the ground. With an affordable price, portability, and no compromise on features, this product is definitely worth the deal.
3. Heavy Duty: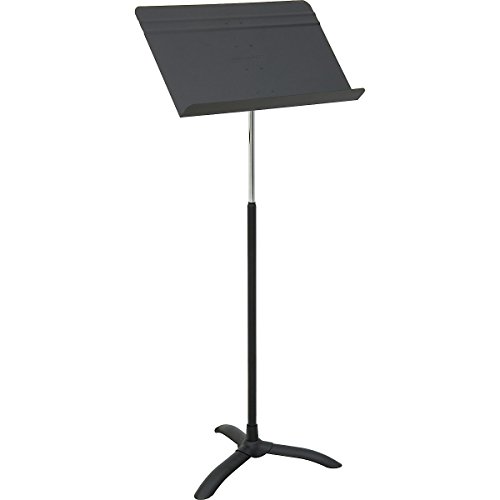 It's safe to say that music stands used in orchestras, studios or concerts need to hold up a lot of sheets and bulky books. If the materials used in the making of this stand aren't good quality, then it can affect the sturdiness and durability of the product. Many companies out there offer cheap stands that guarantee stability and stiffness, but in reality, they don't last for a long time. When buying a stand, make sure you don't compromise on the material it's made from. Heavy-duty music stands are often made with metal, and no plastic at all. Plastic decreases the durability of the stand, and looks cheap. The material affects the sturdiness of the product, but the adjusting knobs are also an important feature to consider. If the knobs are cheaply engineered then there might be a chance of them loosening on a heavy load of music, and breaking. Those two things both contribute to the sturdiness of the stand. We'll suggest a popular product that has won many people over!
The sheet music stand model, no 48 by Manhasset, speaks for itself. The steel product is coated is black in design, which gives the stand an astonishing look. The product is long-lasting and the most durable. The music deck can be tilted easily as the friction-tilt technology provide constant tension at any position. The deck is 20 inches wide and 1.5 inches deep, with a Vertical bar that holds up the base and music deck.
It has solid-brass bearings, a greaseless heavy-duty chrome inner shaft, and the original magic finger clutch that provides one-finger adjustment to the height, from 26 to 48 inches. The heavy-gauge and welded steel base provides a stable feel and requires minimum space when it comes to storage, or working on stage. Even with a heavy load of sheets and books, this stand is secure at any height. The package includes an instruction manual to complete the assembly. What else would a hard-working individual want, when they are getting a heavy-duty music stand for an incomparable price?
Above we suggested you consider three things when buying a music sheet stand, and guided you to a few choices. Another important think to note is not to look at over-expensive companies; be cost-efficient, remember your requirements, and pay for what you want - it's worth it in the long run!
Why do music stands have holes?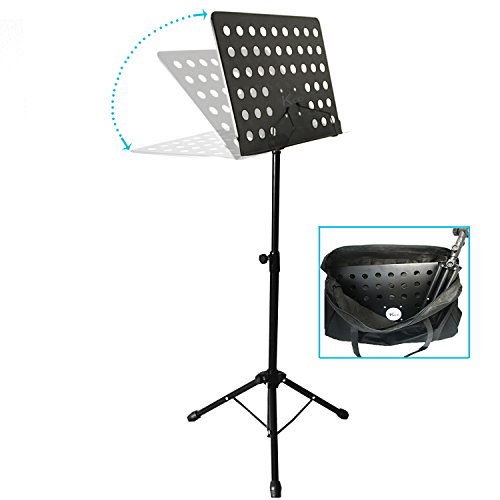 Music stands have holes on the desk. These are also known as vents. The holes decrease the overall weight of the stand, making the top less heavy, creating more stability when adjusting the tilt. You might be wondering why they don't make the top thinner instead. The reason behind this is that a thicker sheet with holes is stiffer to hold music, rather than a thinner sheet with no holes, even though both share the same amount of metal.
What are the advantages of Folding Music Stands?
Folding music stands are light, which is important when have multiple instruments or luggage to carry with you while walking home to school, work, or traveling. They are portable and can slide into the carrying case which comes with them. So, the next time you have limited space while traveling, you'll find these can be stored easily in a corner or fitted into a cramped space. Apart from portability, they fit their role well, and can hold up multiple sheets of music. Lastly, they are cheap, making them usually affordable for any individual.
What are the disadvantages of a Folding Music Stand?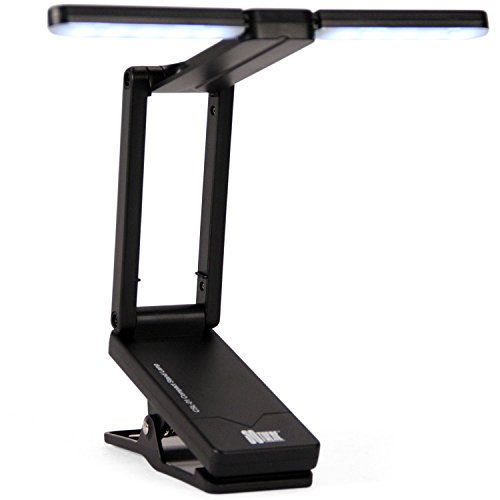 Foldable music stands are portable, yet they can easily end up damaged by load or careless use. They work as stands, but don't expect amazing sturdiness. They can hold a 1.5-inch thick book, but doesn't expect more than that. People with small hands will struggle to adjust to the desk. These stands are not user-friendly, as they don't offer adjustments at your ease. Height ranges are low, and usually, they don't come with desk tilting options. The width of the music stand is short, so you'll find yourself continuously turning the pages. These music stands lack in design, color, and build-quality, which chips away at the customer's experience.
What are the disadvantages of Standard Music Stands?
A standard music stand is heavy to carry around. If you've decided to put them in a static place, then it's okay, but if you have to travel along with them, then it's a no-go situation. Many companies guarantee durable standard music stands, but the reality is different. They are not always so well made, resulting in the dropping down of your music. Also, they can't be folded or stored easily into a corner.
What is the ideal height of the stand?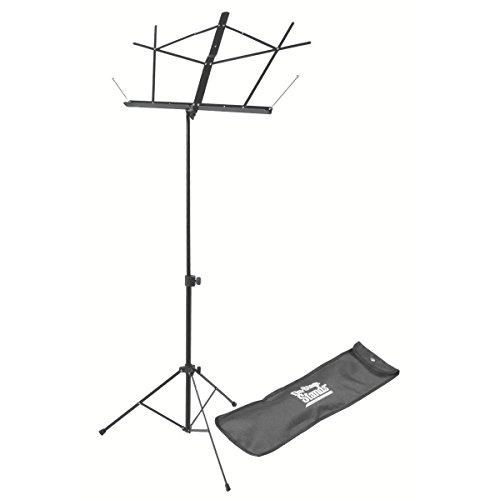 Music stands offer various height ranges but, what do you need? Look for a range that suits your height. For instance, if you are a child, with an average height of 5 foot 2 inches, and like to practice while sitting, then a stand with a 24-40 inch height range will suit you the best. If you are around 6-foot 2-inches in height and like to rock on the stage while standing, then a stand measuring 28-55 inches would be the best option for you. The ideal height for an average customer would be around 25-50 inches.
How to keep a music sheet or book open?
If you're a daily performer, then you might know the struggle of keeping a music sheet or book open. You can use the metal spring extensions on your desk to securely hold the papers down. Similarly, if your desk is made from magnetic material, then you can place magnets down on the sides of your book or sheet to securely hold them down. If your music desk doesn't have these attachments, then you can buy a music clip separately. Just put the clip around the top of the book for holding it flat.
What should I buy? A foldable stand or a heavy-duty stand.
Both types of stands have pros and cons for different situations. If you are one who travels around for practicing and performing, then you should choose a good foldable stand as it is light-weight, easy to carry, and portable. But if you are someone that has loads of sheets and books to practice with, and want a tough stand to handle your accessories as well, then you should aim for buying a heavy-duty stand.
What is the difference between a friction clutch and adjusting knobs? What is the best?
Friction clutches have no knobs, and you can adjust the height or tilt by just pushing down and up or inside and out. Adjusting knobs are used to change the height and angle by revolving and setting the knobs. Knobs can fail if not efficiently engineered for heavy-weights. Friction clutches use friction lock technology for whenever you want to set the height. These are expensive but don't tend to disappoint the user. Likewise, adjustment knobs are not poor and can provide you with a fine service as well.
If you liked the review, please leave your feedback.
[vc_separator