Finding The best Keyboard stands is essential if you own a keyboard, but finding a good quality one for a reasonable price can be an overwhelming task.
These stands come in many varieties of size, price, and capabilities. You can find lots of these online, but there are some important factors to consider during the buying process. Whether you're an amateur or a professional player, you can find the product to suit your needs. This means you'll also need to identify what exactly you're looking for. Here are all the necessary details you should know about keyboard stands:
1. On Stage Classic Single-X Keyboard Stand
This Keyboard stand from On Stage is all about convenience whether it is with its weight or height and width adjustment mechanism. You can virtually fit any keyboard over it as its arms can be adjusted to fit that length. The disk clutch has five positions for adjusting the knob for adjusting height or width. The height can be adjusted between 27 to 38 inches.
It is great for small format keyboards and is sturdy enough to last quite long. The one inch square tubing ensures durability and strength. It is good for both domestic or studio use on account of its quality, affordability and convenience. If you are into simpler things when it comes to your music, then this is ideal for your keyboard.
Why We Liked It - It is an incredibly affordable stand that is stamped with On Stage's high quality guarantee. Even though it is simple, it is made with materials that ensure high quality. Also, it makes your life very easy as it is light and adjustable.
Arrangement - For gigging musicians, this tip is simple but very important. If you use multiple keyboard stands on stage, you must arrange them sensibly so you can reach everything when you need to. Remember, most stages are small on the way up, so make sure to plan your setup around the venue.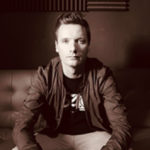 2. RockJam Xfinity Heavy-Duty Piano Stand
RockJam Xfinity Heavy Duty is designed to withstand even the heaviest of the keyboard. Its double-x metal tubes will ensure that no matter how heavy your digital keyboard is, it can be fit on it like a glove. The best thing about this particular stand is that its height range is quite big. Unlike most stands that allow only five adjustments this one can be adjusted between 4-38 inches.
Another factor that contributes to its strength is that it is all welded together to form one structure i.e. there are no parts that require screws for assembly. This does make it a little less portable but it more than makes up for it with strength and stability. This works out great on stage when you are live and need a lot of stability to hold the heavy keyboards in place. Even if you were to give it a little push, it will stay in place thanks to its tubing and non slip rubber caps.
Why We Liked It - This is yet another great product that comes in a great price. Not everyone wants to spend a fortune on a basic keyboard music equipment. You get high quality and durability and get the worth of every penny you spend on this thing.
3. K & M Table-Style Keyboard Stand
This keyboard stand from K&M is a table style that can house almost every kind of keyboard. The height adjustment is pretty decent with a range of 23.62 to 40.15 inches. As for quality, the structure is made from high quality so you have here something that is built to last for years to come.
This makes it all the more suitable for professional use where quality is the number one requirement. The longest width you can get with this one is a little over 37 inches. However, the mounting arms can be adjusted to fit in smaller keyboards.
Why We Liked It - It is one of those stands that are not only top quality but also look great in any room. It is simple, sturdy and therefore highly durable. When you keep it against a wall there will be some space left between the wall and you keyboard. It is a smartly designed stand that is professional in every aspect.
Strength - The most important job of any keyboard stand is to hold your keyboard securely. Beginner keyboards and controllers are light, but stage pianos and synths can be very heavy. Make sure you buy a stand that's suitable for your instrument. Don't let a cheap stand lead to an expensive repair.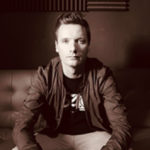 4. On Stage Heavy Duty Mixer or Keyboard Stand
This is a definite looker and is great for everyday use. On Stage's Heavy Duty Mixer or Keyboard stand is designed to withstand the heaviest of the keyboards or mixers. The weight capacity that you get with this one is up to 250 pounds. Its body is made from sturdy materials that are heavy weight resistant yet do not weight a lot by itself. You have 8 height positions with this one ranging from 24 to 33 inches.
As for width, you can fix keyboards and mixers from 29 to 47 inches. This is pretty generous and would allow any kind of keyboard to be housed on this thing. It is welded and bolted and requires zero assembly. It is highly portable too as it can fold to a T shape. If you are looking for something professional for studio or stage use then this is exactly what you need.
Why We Liked It - Not only is it heavy duty, it is highly convenient and portable. Carrying it on stage or off stage should be a breeze. It is therefore perfect for those musicians or bands that are very mobile. All of that you get in a price that is not that heavy on the pocket.
5. K & M Table-style Heavy Duty Keyboard Stand
This table style keyboard is ready to be used with any kind of keyboard. It is truly heavy duty and can withstand a lot of weight. The height adjustment mechanism is quite easy and you can even adjust every single leg. If you are very particular about your keyboards and mixers and worry that using a stand could damage them then worry no more.
In this stand, all the contact points have been supplied with rubber caps to address this very problem. It also has a bit of extensibility as you can introduce a stacker to house more keyboards. And if all this was not enough to convince you into investing in one of these, then consider the fact that it is portable too. You can take it anywhere you like thanks to its folding mechanism which is quite easy.
Why We Liked It - This is one of the strongest keyboard stands we have come across. No matter how heavy keyboard you put on it, it would not move in the slightest. This is what makes it worth every penny even though it is expensive as compared with many other keyboard stands from competitors.
6. Roland KS-18Z Keyboard Stand
This is an interesting one as it looks like two giant Zs stacked parallel. It is an adjustable all purpose stand that can easily house almost any keyboard. The length and width adjustments are quite generous. You can use it seated or standing, in whatever position you feel comfortable in.
It is super easy to assemble and super easy to carry anywhere. It folds quickly and that is what makes it one of the most highly portable stands in this list. It is a creative yet simple stands suitable for both professional and non-professional setups.
Why We Liked It - We love the Z shape of the stand's legs and how perfectly they hold the keyboard in place and give it the support it requires. It is an innovative design that utilizes less parameter and achieves the same stability as regular stands.
7. Quik Lok QL742 2 Tier Keyboard Stand
This is a double tier keyboard stand that is high quality and very convenient to use. The height and width are adjustable for both the tiers. In fact you can even adjust the angle of the above tier. Should you wish to have it as a single tier; you can unscrew the arms of the upper tier and remove them completely.
Alternately, you can just rotate them down and have the lower tier upwards. It does require a little assembly on your part but nothing extraordinary. If you follow the guidelines you will be done in less than 15 minutes. This one is still considered lightweight as most modern stands are now so do not think that if it is double tiered it will be heavier.
Why We Liked It - This one is obviously a good investment as it gives you more use in terms of the number of keyboards you can house on this. It is super light and the upper tier can be adjusted to your requirements. It is designed keep you and your needs in mind.
8. K & M Keyboardstand Spider
K&M is a company dedicated to producing truly high end and innovative stands that address the concerns of the users. This one is an innovative double tiered design with arms coming out of a wide vertical stand with tripod base. The legs can be adjusted and so can be the arms for the keyboards. It is made from high quality aluminum and is durable in every which way.
The upper arms can also be moved at a 15 degrees angle which allows easier access to the keyboard on the lower arms. If you want to extend you can add more arms and attach a third keyboard. In fact, you can even attach microphone booms. It weighs 24 pounds but can withstand a lot of weight of the two keyboards.  If you have a bigger budget and are looking for something unique and multipurpose then investing in this stand would be a smart choice.
Why We Liked It - The innovative design deserves all the applause as it can accommodate two boards without limiting the access of the player. The overall look is quite smart and is suitable for professional use, although anyone can use it.
9. On-Stage 2 Tier Pro Heavy-Duty Folding
On Stage produces all kinds of stands and other music support equipment that is affordable and quality and this double tier stand is no exception. Their single tiers are so good that one can only expect great outcome and high durability from this one. This is foldable and has Z shape legs that look very cool.
Looking for more stands for instruments? Click here for more reviews.
The upper tier is removable which is usually a big concern of buyers when it comes to this type of stand. It can house keyboards from 55 keys to 88 keys which is great. The height adjustments are lined on the legs and can be done to make it usable while seated. The biggest advantage you have with this one is its portability. Although it looks quite big it will fold down to a flat structure that is perfect for storing or carrying. As for weight capacity, the lower is suitable for heavier boards as it has a capacity of 400m pounds and the upper has only 60 pounds.
Why We Liked It - It is truly great value for money as this product is a proof of On Stage's mission to bridge the gap between quality and low pricing. Double tier stands are generally very expensive but this one is relatively cheaper.
10. Standtastic 103KSB 60" Triple-Tier Keyboard Stand
Are you looking for high capacity in terms of number of keyboard? Standtastic's Triple Tier Keyboard stand is the answer for you. It is a 60 inches long stand that can house up to three keyboards.
Similar Read: Top 10 Best Stands for Mic's
The stand is made from quality material and the design is quite simplistic. It is very portable as it can quickly be de-assembled and put in the carry bag that is included with the stand. It will fold down to a very compact size so do not worry about a triple tier keyboard stand not being portable enough. The angles of the tiers are kept at a degree that maximizes access to the keyboards.
Why We Liked It - The standtastic keyboard combines functionality and convenience and gives you a stand that can achieve multiple things for you. It is designed to improve your keyboard playing experience and give you something that is one of a kind.
Multiple Tiers - Multiple tier stands are fantastic, whether it's to play two keyboards at once or to save space in your home studio. Two-tier stands are also great for holding laptops or even small mixers when performing. Even if you don't have two keyboards (yet), you may still have use for a two-tier stand.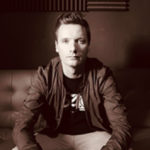 11. On Stage KS7903 3-Tier A-Frame Keyboard Stand
When we are listing three tier stands, it would not be right to not include one from On Stage. So here it is the effort from On Stage to provide you a way to house not one, not two but three keyboards. It looks like a rack but is actually an A frame stand so you can be sure about the stability it will provide no matter how heavy the keyboard are.
The support bars for keyboards can be adjusted for width and angle. You can rotate them to fit the keyboard at whatever angle you wish. As for support, there is a double lock feature to tighten the support even further. It takes very less floor space thanks to the adjustable base. The stand can be stored and carry as it is foldable. If you want a triple tier stand that doesn't burn a hole in your pocket, this is exactly what you need.
Why We Liked It - It is a rather simpler stand despite having so many arms to adjust. When you put all three keyboards on, it would look very clean which makes it easy for you to use. It is packed with features that enhance convenience and portability which is why it is worth your money.
Stands for Pianos and Keyboards
X-Style
This is the most common type of stand that is popular among musicians across the world. The legs of the stand are crossed at an angle resembling the shape X. The fact that it can support any kind of keyboard makes it very ubiquitous. These are usually very sturdy and less expensive too so a lot of people go for this style. These have height adjustments that are quick and easy to select and generally, in most stands, you will find five positions to select from. This gives you enough height to either play standing or sitting if you feel uncomfortable standing for long periods of time.
Some of X-Style stands are suitable only for smaller and lighter keyboards. So when buying this one you have to ensure that the one you buy can support the weight of your keyboard i.e. if you have a big keyboard go for a heavy duty stand.
Mixer Style
These stands are now becoming a popular choice as well but they tend to be a little pricier as compared with x-style stands. Often termed as table style stands, these are suitable for big and heavy keyboards that need a lot of stability and frim support. You can even use them for mixers of course. These classify as heavy duty stands so if you are concerned about getting the maximum weight capacity; a mixer style stand can give you ample weight capacity. A key advantage of buying this stand is that it gives you a lot more leg space underneath. This is great for those who prefer to play the keyboard sitting down.
A-Style
This type of stand has an A frame underneath that usually can be adjusted to provide a height suitable for both standing and sitting positions. These are considered a lot more stable and lighter as A-frames are designed to provide extra support without being too overweight. These are relatively less common as compared with other types but can make a good choice for either small or heavy duty keyboards.
Custom Stands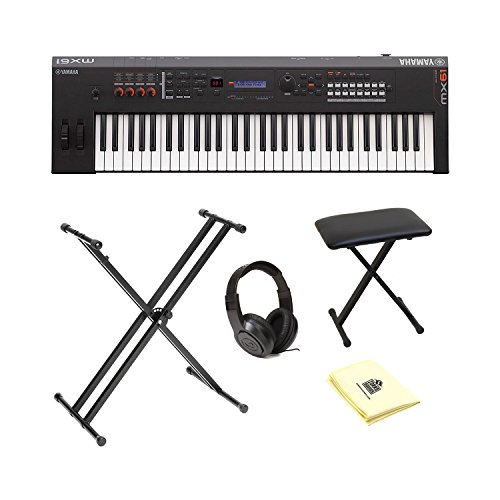 You will also find some stands that are designed for some specific keyboards. These are custom stands that are quite expensive too. For example, the stand from Yamaha L2C is designed for its keyboard series PSRE and NP. Although you cannot really use these with other keyboards, it is usually very high quality and is perfect for the keyboard it is designed for. If you only have one keyboard that is expensive, you might want to go for such an option provided there is a custom-designed stand for it available. It is nonetheless a good investment because it will keep the keyboard locked in and provide the best support.
Z-Style Stands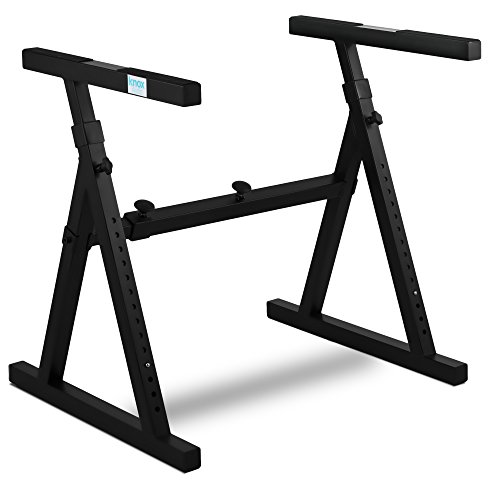 This style has legs that look like Z shape and is very convenient in terms of access as you can play the keyboard from either side. The height is usually adjustable so you can play both seated and standing. Adjusting the height is super easy and the structure provides ample stability without taking a lot of space. These are quickly garnering a lot of popularity as evidenced by this type of stand being produced by the majority of the companies that produce keyboard stands.
Other Styles
Keyboard stands have seen a lot of innovations over the years as manufacturers have worked on the shapes, materials, and sizes to reduce the weight while increasing the stability and weight capacity. There are other styles as well in addition to the above listed. There is a double X-style stand that has two tubes instead of one. These obviously are sturdier and can support heavy keyboards. There is also a column stand which is getting a lot of positive reviews because it takes very less floor space.
At the end of the day, you want something that suits your keyboard. So for choosing which style is best for you, keep in mind the size and weight of your keyboard and also your own routine as to how you like to play it.
Double Tier Stands
Double tier stands basically can house two keyboards at a time. These usually resemble single tier keyboards i.e. they can be any style including X-style, table style, or even Z-style. However, they have additional arms for keeping the second keyboard. These arms can be adjusted in height and width and in addition to that, you can also adjust the angle so that the keyboard under it is accessible.
Recommended 2 Tier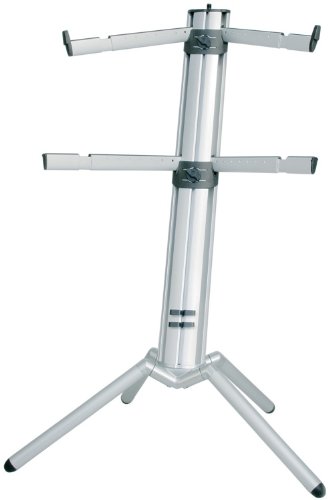 For a 2 Tier keyboard stand, the K & M Spider Stand is the best thing you can find. First off it is light yet super sturdy thanks to its all-aluminum construction. Secondly, the column design with arms spreading out for placing keyboards makes it very space-efficient. You get the same stability as you would with an X-style or A-frame one. However, the best part is that it is highly portable as you can just simply fold it and take it with you. This is why it is best suited for those who are very mobile.
Triple Tier Stands
Triple Tier Stands are designed to hold up to three keyboards and these too come in a variety of styles. However, most commonly you would find these in table style or A-frame. Since they hold three keyboards at a time, they are designed with sturdy materials and are obviously heavier than single or double tier. That does not mean that they are not portable, many of these can be folded and carried anywhere with quite a lot of ease.
Sizes & Weight
The height is adjustable for virtually all of the keyboard stands but the range varies from one to another. You have to ensure that the stand you are buying is commensurate with your height i.e. you should be able to play them standing and sitting. As for weight, the weight of the stand itself should be less because a heavy stand can be difficult to carry or assemble. Its own weight does not really have any effect on its stability and durability.
Heavy Duty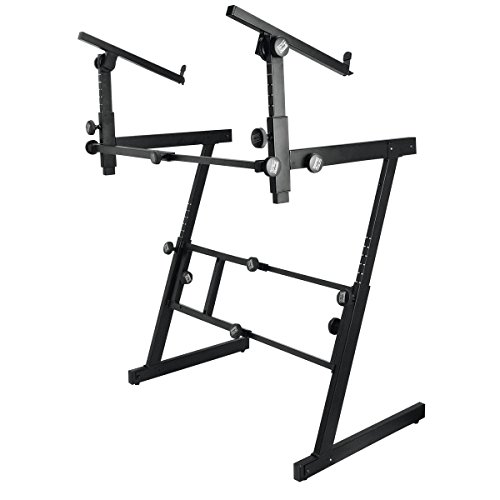 Another very important consideration in terms of weight is the stand's weight capacity. It should have a generous weight limit to accommodate those big and heavy keyboards. The weight limit is usually mentioned in product specifications. If you are looking for something truly heavy duty then go for something like On-Stage 2 Tier Pro Heavy-Duty Folding. It is a sturdy stand for 2 keyboards and has a maximum weight capacity of 400 pounds which should be ample for keeping the heaviest of the keyboards. Moreover, it is also highly portable so you can fold it and carry along on your journeys.
Value for Money
When buying something like a keyboard stand, the pricing can be a big factor affecting your final decision. Most keyboard stands are quite affordable and you can get one under $100 easily. Stands from companies like On Stage are decent quality and very affordable. However, there are higher end ones as well that are innovative in design and utilize premium quality materials. These can be very expensive and usually cost hundreds of dollars.
If you are looking for great value for your money when buying a stand for your keyboard, then consider RockJam Xfinity Heavy Duty Double X Stand. It is super cheap but offers almost all the features of a high quality and expensive stand. It is a foldable, heavy duty, and double tubed X-stand that can house almost any kind or size of keyboards.
What are the different types of keyboard stands?
There are several different types of stands for keyboards that differ in style primarily so we classify them as different styles as all of them virtually are designed for the purpose of keeping a keyboard. Nevertheless, the different styles have different effects on the application in that it determines what keyboard you can fit, what height you can achieve, and what price you would pay.
The different styles of keyboard stands include: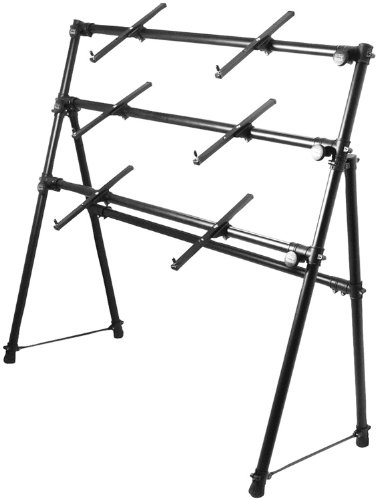 X-Style: This is pretty common and less costly among all the styles. The legs of this stand are like an X and you have several height options (usually up to 5). It takes less floor space and comes in both regular and heavy duty forms. It is designed in such way to provide balance, stability, and lightness.
Z-Style: This is yet another common style that is loved by many. The Z-shaped structure is very easy to fold and carry so those who like their stands to be portable prefer this. Also, it is kind of like a table so still very stable. It can be adjusted for both width and height so you can virtually fit all kinds of keyboards.
A-Frame: The A-frame in stands is known for its light weight and high stability. These stands have A frames on the sides and again resemble a table. This gives you a lot of leg room so such a stand is ideal for those who play piano or keyboard while seated. A lot sturdier than X-style, they are becoming very popular nowadays.
Table Style: this is pretty self-explanatory and this one is very stable as well and provides a lot of leg room. They are often dubbed as mixer style as they are also used for housing mixers. You have four legs just like that in a table that can be adjusted for height.
Column: This is rather new but is getting positive reviews as it is easy to carry and takes minimal floor space. Basically you have a vertical stand with a base like tripod and arms to hold the keyboard. The arms can be folded and it shrinks to a very manageable and portable size.
These are the most common styles of keyboard stands. However, there are more types which are mostly different versions of the above only e.g.  double X-style. In addition to the shape there is another category that distinguishes these stands which is tiers. All of the above are essentially single tier but there are double and triple tier stands as well that can keep two and three keyboards respectively. These are good for those who want more than one keyboard in front of them simultaneously.
Do these require assembly?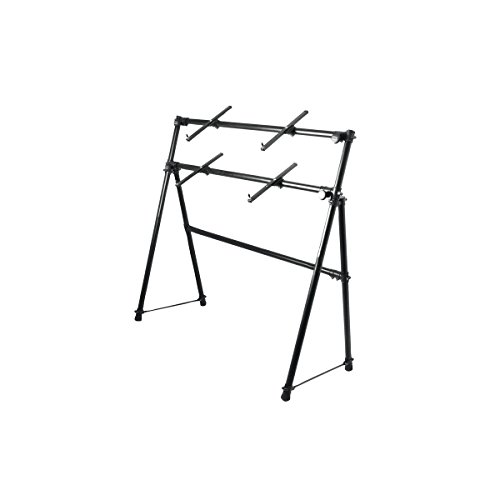 Most keyboard stands do require assembly while others do not. The assembly is never really a rocket science and you should be done in less than 15 minutes. If a stand requires assembly, detailed instructions would be accompanied with it so you just have to follow the directions. You will mostly have to put in screws and fix the legs.
For those that do not require any assembly, you will just have to take them out of the packaging and unfold. These usually have all the parts already welded together so there are no loose parts that need to be assembled by you.
As for the question as to which of these is better, the answer is none has any big advantage over the other. Assembly does not really have to do anything with quality. It boils down to the material and overall construction of the stand when it comes to quality and durability. If the stand itself is low quality, it would not matter whether you assembled it or it came assembled. There is no significant price difference either between these two. However, if you think that assembly would be a hassle or perhaps you would not be able to do it then go for a preassembled one.
What is the difference between an X-style and a double X-style keyboard stand?
The only difference between an X-style and a double X-style is that the latter has two tubes or rods on either side. You can consider it as two X-style legs kept parallel to each other. They are essentially the same in terms of size. The difference that these extra tubes make is that the double x-style is a bit more stable and can withstand a lot more weight of the keyboard.
X-style stands are usually considered best for smaller and lighter keyboards but the double X-style can be used for the heavy ones as well that perhaps may not be suitable for X-style. As for price, double X-style tends to be more costly but nothing extraordinary. You will only have to pay a few more dollars. The double X-style would not wobble even when you place a little heavy keyboard. Make sure to check the weight limit whether you are getting an X or double x style.
If you liked the review, please leave your feedback.
[vc_separator