Whether you play keys in a band or you're a soloist, having the best keyboard amplifier is extremely important for live performances. If you've never bought this type of loudspeaker before, though, it can be difficult to know what one is right for your needs. Fortunately, in this article, we'll provide you with all the key information you'll require to make an informed purchase.
Keyboard amplifiers are not the same as electric guitar or bass amps. The main difference is the frequency response. A keyboard, digital piano, or synthesizer is capable of producing notes that are higher and lower on the sound spectrum than a stringed instrument can achieve. As a result, the loudspeaker needs to be able to reproduce these notes clearly and crisply, and this means a wider frequency range is essential. We'll get onto more of the technical information later when we provide you with our helpful buyer's guide.
It's important to note that this piece of kit isn't just important for gigging. It can also be crucial for recording sessions too. Depending on what you need the amp for, then you'll want to focus on certain features. In our guide, we've provided you with a wide range of products. You'll find everything from high-end amps to budget models, as well as everything in between. You'll certainly come across one that ticks your boxes in terms of price, power, size, and sound quality.
Let's now move onto our reviews of the top ten keyboard amps on the market. After our list, you'll find our buyer's guide, where all your questions will be answered. Let's get going!
At a glance:

Our top 3 picks
Our team's top 3 recommendations
Best Overall
Peavey KB 1

Clear Sound
20W of Power
Portable
Reasonable Price
Ideal for Gigs and Rehearsals
Premium Quality
Donner DKA-20 Keyboard Amplifier

Clear Sound
20W of Power
Portable
Reasonable Price
Ideal for Gigs and Rehearsals
Great value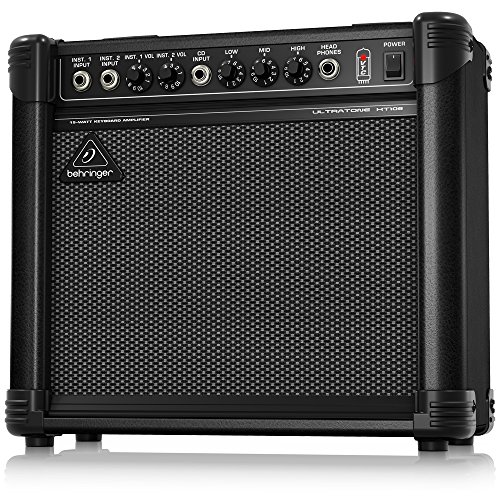 Behringer Ultratone Kt108 Ultra-Compact 15-Watt Keyboard Amplifier With Vtc-Technology

Clear Sound
20W of Power
Portable
Reasonable Price
Ideal for Gigs and Rehearsals
Here is Our Review of the Top 10 Best Keyboard Amps for 2023 :
Many keyboardists have chosen a Peavey for their first amp. Why? Peavey amps have an excellent reputation for being effective at amplifying your keyboard, while also providing you with other features that keyboardists can take advantage of when performing or rehearsing with others.
This Peavey amp is reasonably priced, especially when its quality is taken into consideration. It offers you 20w of power, which is ample for live performances. The sound it delivers is clean, distortion-free, and crisp. It's got two channels, which each have their own two-band EQs.
Portability isn't a problem with this amp either. It's got dimensions of 19.5" by 18" by 13.1", and it weighs 16lbs. The in-built handle allows you to easily carry it to and from rehearsals or gigs.
Pros:
+ Clear Sound
+ 20W of Power
+ Portable
+ Reasonable Price
+ Ideal for Gigs and Rehearsals
Why We Liked It - It's an excellent example of what Peavey does best. This manufacturer's keyboard line of amps has been popular for decades because each amp offers clean, powerful sound, as well as lots of useful extras.
Amp vs Amp - Keyboard amps are not the same as guitar amps, and you should never let the guitarist plug into your keys amp (or vice versa!). Keyboards and guitars output at different signal levels, so they need different types of input and different types of amp. If you're still sharing an amp with another musician, then you need your own keyboard amp today!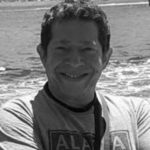 2. Donner DKA-20 Keyboard Amplifier
The KC Series by Roland is very popular with keyboardists. And this amp is a perfect example of just why. It's got four channels and delivers 100w of power. This amp performs particularly well on the low end, offering you deep, clear bass reproduction. You can boost the low end even further by connecting a powered subwoofer to it via the Sub Out port.
Another great feature of the Roland KC-200 is its compactness. It can be easily transported, making it ideal for keyboardists who perform live or want a keyboard amp for rehearsals. But there is nothing flimsy about this lightweight amp. Typically for Roland, the build quality is high level, and this speaker will survive more than its share of bumps without any performance issues. It's simply a functional, effective, and durable little speaker that our team loved!
Pros:
+ Excellent Bass Reproduction
+ Lightweight and Compact
+ Affordable
+ Durable
+ 100W of Power
Why We Liked It - This amp is proof that great things can come in small packages. It can be easily transported to gigs or rehearsals, while it also provides room-filling, 100W of power, and four channels. There's little to fault this great-sounding product.
3.  Behringer Ultratone Kt108 Ultra-Compact 15-Watt Keyboard Amplifier With Vtc-Technology
If you're a beginner or intermediate keyboardist, then this affordable amp from Behringer should be considered. It's got two channels, 15W of power, and an 8" BUGERA speaker, which all combine to create a great-sounding, powerful, and portable amp.
In terms of customizing and shaping your sound, this amp gives you loads of options. It's got VTC technology built into it, which can be used to add some aggression to your tone. There's also a three-band EQ for even more control over your sound.
To provide you with peace of mind, Behringer offers you a three-year warranty with this product. Of course, it's unlikely that this durable, well-designed speaker will break, but having the warranty means that if anything does go wrong, then you're covered.
Pros:
+ Control Over Sound Due to 3-Band EQ
+ AUX Input Allows You to Play Sound Through External Speakers
+ Virtual Tube Circuitry (VTC) Adds a warm tube-like effect to your sound
Why We Liked It - For the price, this product is hard to beat. It's loaded with great features, like VTC technology, two separate channels, and an AUX port. While it might not be the most powerful product on our list, it does sound great, and we think it's perfect as a first keyboard amp for beginners or intermediates.
How Many Inputs? Simple: always go for more than you think you'll need. From the back of the stage (where we're always put!), keyboard players can struggle to hear forward-facing guitar amps. But run a 'line out' to a spare input on your keys amp, and you'll hear them perfectly!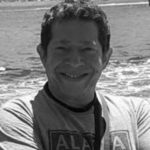 4.  Peavey KB 1 20W Keyboard Amp
Peavey is one of the most famous and well-respected manufacturers of speakers and amps in the world. It's been a leader in its field since it was founded back in 1965. Peavey is always striving to do something fresh, with innovation being closely associated with this company. It has secured more than 180 patents since its inception, which exemplifies just how innovative this brand is.
This amp - which is part of Peavey's KB series - provides a whopping 20W of output. The power is down to the 8", extended-range speaker. The sound quality is gorgeous, in our opinion. Not only is it crisp and clear, but it also has a lot of depth. There's also a two-band EQ so that you can shape the tone to suit your needs. It's got two channels, which allows you to connect two instruments at the same time.
Other key features of this amp are its compact, portable size, as well as its durable construction. You can also plug your headphones into it for a silent practice session.
Pros:
+ 20 Watts of Clean and Powerful Sound
+ 8" Speaker Provides an Extended Frequency Range
+ Two Channels With A Two-Band EQ
+ Headphone Port for Silent Practice
Why We Liked It - The KB 1 by Peavey is a great choice for beginners who are looking for an affordable yet professional amp. With 20 watts of power, a headphone port, and two separate channels, it gives you exactly what you need to get up-and-running.
5.  Roland Mobile Cube Battery-Powered Stereo Amplifier
If you want a battery-powered keyboard amp, then this little Roland product will be just your thing! It might be small, but it is mighty when it comes to power. From drums to electric guitars, this little guy can handle it all!
It's smaller than a briefcase - and almost as light too - so it can be easily carried around. You just need to remember to charge the battery before you head out. There are two high-performance speakers integrated into it that both provide you with a surprising amount of power. If you're looking for an amp to take on the road with you or for impromptu gigs or for busking, then this product is perfect.
Don't think that the small size is limiting, as this amp offers lots of connectivity options. For example, you can connect a microphone, mobile phone, guitar, drums, and just about any other instrument you might want to.
It also offers a surprising amount of options when it comes to shaping your sound. That's because it features Roland's legendary FX engine. You can do everything from adding reverb to sweetening your vocals with this technology. There's also a 'Central Canceling' feature that enables you to almost eliminate the vocals in recorded music so you can use the backing track as accompaniment.
Pros:
+ Lots of Connectivity Options
+ Highly Portable and Is Battery Powered
+ Central Canceling Feature Allows You to Remove Vocals in Recorded Music
+ Built-in Stereo Effects Like Chorus and Reverb
Why We Liked It - It's an affordable keyboard amp that offers a huge range of connectivity options. Other key features include built-in stereo effects and 'Central Canceling'. It's also compact, battery-powered, and simple to transport. For anyone seeking portability above all else, then this is the product for you.
6.  Behringer Ultratone K450fx Keyboard Amplifier With Fx And Fbq Feedback Detection
If you're looking for an amp that offers you power and clarity, then the Ultratone K450FX will be right up your street.
The reason for the quality, full-range sound is down to the 10" BUGERA speakers, which are designed and crafted by hand. These speakers are up there with the very best on the market and are used by professional musicians around the world. Not only does this product sound great, but it's also versatile. There are three channels that you can connect to, with each having separate volume and FX controls. There's also an XLR port that you can use for connecting a mic.
A 24-bit, onboard digital FX processor, gives you the option of adding up to 100 amazing pre-sets to your sound. You won't need to buy an external FX processor because of the wealth of sounds that it gives you.
Feedback is a thing of the past too, thanks to the 'Feedback Elimination' technology that's built into this amp. This is an essential feature for live performances and will ensure that your gigs are ruined by awful-sounding feedback.
Pros:
+ 3-Year Warranty
+ 100 Pre-Sets on the 24-bit Onboard Digital FX Processor
+ Rugged, Durable Construction
+ Powerful, 10" Speakers
Why We Liked It - With exceptional features like 'Feedback Elimination' technology, an onboard digital FX Processor, and a pitch shifter, this amplifier is a superb investment.
7.  Behringer Ultratone K900fx 3-Channel Pa System / Keyboard Amp
It surprises many musicians that Behringer has only been around since 1989. The company established itself as a world leader when it comes to affordable, quality audio equipment only a few years after Uli Behringer founded it.
This amp delivers that famous, Behringer combination of quality and affordability. It includes a world-class, 12" BUGERA speaker, and offers you a whopping 90W of power. As is often the case with Behringer products, it manages to deliver a huge amount of volume without the sound quality being diminished.
It features three channels so you can connect up to three instruments simultaneously. Similarly, an additional XLR mic input lets you connect a microphone, which can be used for vocals during a live performance, or even for a karaoke party.
There are separate controls for FX Return, master volume, and phono. Furthermore, an auxiliary port allows you to connect your mobile phone for streaming music. Another port enables you to connect headphones for practicing privately and quietly.
Integrated FBQ (Feedback Detection System) eliminates all feedback automatically so you can concentrate on playing music. Just in case an accident happens, then this product comes with a comprehensive three-year warranty.
Pros:
+ Multi-Effects and Pitch Shifter
+ Onboard, 24-bit, Digital FX Processor with 100 Pre-Sets
+ CD Input for Playing Your Favorite Tracks
+ 5-Band Dedicated Graphic EQ
Why We Liked It - With more than thirty years of experience, Behringer is a company that you can trust. This amp is a typically high-grade piece of audio equipment. We love the wealth of features that it offers, as well as the very reasonable price tag.
8.  BEHRINGER ULTRATONE KXD12
This is another fantastic product from Behringer. It's a four-channel amp that delivers a whopping 600W of power due to 12" TURBOSOUND speakers.
It provides you with high-resolution sound thanks to the exceptional, powered speakers. There's also a 'true-bi amp mode' that can enhance the sound quality. For accurate signal integrity, Behringer has driven each woofer and tweeter with a separate loudspeaker, which increases the definition and detail of the sound.
Revolutionary Class-D 80 loudspeakers provide enormous power within a lightweight package. These loudspeakers are highly efficient, considering their small size, and they don't have any issues with over-heating.
TURBOSOUND manufactures the speakers, and this company is known for building cutting-edge speakers for more than 30 years. The sound that these speakers deliver is truly flawless. It blew our team away.
This Behringer amp also features 100 world-class pre-sets by KLARK TEKNIK so you can shape your tone and create your dream sound.
Pros:
+ Bi-Amped 600W, 4-Channel Loudspeaker
+ 7-Band Graphic EQ for Lots of Control Over Sound
+ FX Processor with 100+ Effects
+ FBQ Functionality
Why We Liked It - This is an all-round, premium keyboard amplifier that delivers a huge amount of power while also allowing for a lot of control over sound and tone. A crowd-pleaser for keyboardists who want extra power.
9.  Roland KC-110 3-Channel 30-Watt Stereo Mixing Keyboard Amplifier
People who are looking for a battery-powered and compact keyboard amp will be blown away by the KC-110. You don't need to plug it into a power source to enjoy the richness of Roland's signature sound. It's a fully-fledged, stereo, pro-quality amp that runs on batteries.
The KC-110 is made to deliver a true stereo sound experience with a spatial projection that fills the whole of a room. The two 15W speakers blend together to produce a brilliant stereo chorus with a wide mode. Similarly, the stereo reverb adds depth and character to your instrument or vocals.
This amp also offers ample connectivity options. It has three channels with separate volume controls so you can connect up to three instruments simultaneously. There's also an XLR port for plugging in a microphone.
It's a superb, compact keyboard amp that delivers a lot of bang for the buck.
Pros:
+ AUX Port for Connecting a CD or MP3 Player
+ World's First AA Battery Powered Amp
+ Two 6.5" Speakers
+ High-Quality, In-Built, Stereo Effects
Why We Liked It - It's got onboard effects, three independent channels, and it runs on batteries, which all makes this product a safe purchase.
10. Roland KC-350 4-Channel 120-Watt Stereo Mixing Keyboard Amplifier
Whether it's for live performances in medium-sized venues or intense practice sessions in the rehearsal room, the KC-350 by Roland is the perfect keyboard amp. It delivers a whopping 120W of power and features a useful 3-Band EQ and shape switch.
You can connect a range of instruments to it, thanks to the four channels that it offers. It's also got an XLR input for your microphone, which singer-songwriters will adore. An AUX port also allows you to plug in your CD or MP3 player so you can listen to your favorite tunes.
Stereo link capabilities let you connect two amplifiers using a single cable for a true stereo experience. This amp is certainly an all-rounder!
Pros:
+ Stereo Link In/Out for Connecting KC Amplifiers to Provide a Stereo Experience
+ 4 Channels for Connecting Up To 4 Instruments
+ 3-Band EQ for Control Over Tone
+ Output Select Feature
Why We Liked It - With stereo link capabilities, four channels, and a sturdy design, the KC-350 by Roland doesn't compromise where it matters the most.
EQ is Vital! On stage, what you hear from your amp won't be the same at every gig. Amp EQ can help make sure your patches sound "right" to your own ears, so you can just focus on playing your killer solos.Make sure the EQ is "post fade", meaning it will only affect what you hear and not alter any DI signals.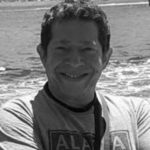 Keyboard Amp Buyers Guide
Top Pick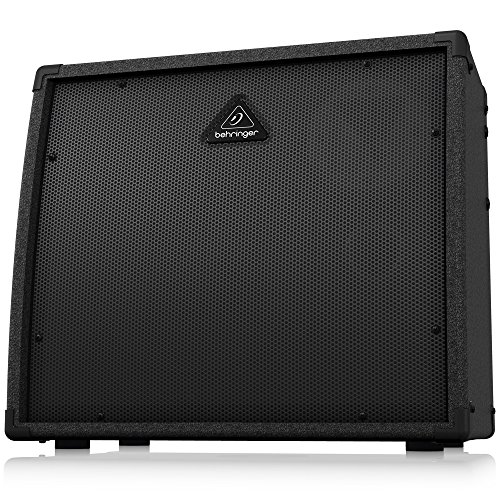 Our Top Pick combines affordability and quality to make it one of the best keyboard amps on the market.
With the motto of "We Hear You", Behringer was founded in 1989 by Uli Behringer. Little Uli first learned how to play the piano at the age of four, and who would have thought that when that four-year-old first tickled the ivories that he'd turn out to have such a major impact on the music industry?
From mixers to loudspeakers, Behringer manufacturers a wide range of audio equipment with innovation central to the company's ethos. At Behringer, every employee is driven by the desire to constantly improve and create products that appeal to everyone from novice musicians to discerning audiophiles.
For the price, this amp ticks the right boxes. It's designed to deliver enough power and quality for a small venue, making it ideal for gigs or rehearsals.
It's also a very durable little amp. Reinforced corners and a metal grille ensure that it can take knocks without resulting in performance problems. It's a rock-solid product that will last you years, which makes it a long-term investment. Weighing only 19kg, it's a very portable product too.
The K900FX is not just an amp but a fully functional PA system too. With 90-watts of power, it's able to amplify keyboards and drum speakers. With three channels and 12" speakers, it's a powerful enough PA system to be used for a party.
You get a rich and accurate output that sounds good for a wide range of musical genres. Features like a studio-grade, Multi-FX Processor and an FBQ detection system allow you to shape the tone so that it suits your style. The powerful BUGERA woofer is a custom-made, 1", high-frequency driver that is responsible for the awesome sound.
You get 3 separate stereo channels. Each one has its own volume and FX controls. You also get one XLR input for connecting a microphone. Similarly, the master section provides separate controls for FX Return, Phono, and Master Volume.
On the connectivity side, this K900FX is loaded with every input port you might need. An AUX input allows you to connect your mobile devices for streaming music through the 12-inch speakers. A separate headphone jack gives you the option to practice privately without disturbing your housemates, family, or neighbors.
Adding effects is a breeze, thanks to the onboard 24-bit digital FX processor. The processor is loaded with 100 effects like reverb, chorus, delay, and many more.
Feedback can destroy the whole tempo of a live performance. For more than 10 years Behringer has designed the most successful feedback elimination processors. Now with the K900FX, you can enjoy the same technology. It is highly effective and reliable, meaning that gigs ruined by feedback are a thing of the past.
With a 3-year warranty, FBQ technology, and 100 amazing pre-sets, Behringer's K900FX is an awesome keyboard amp that our team can highly recommend.
Out of the 10 reviews above, we have also identified one product as our premium choice. Read on for more details.
Premium Choice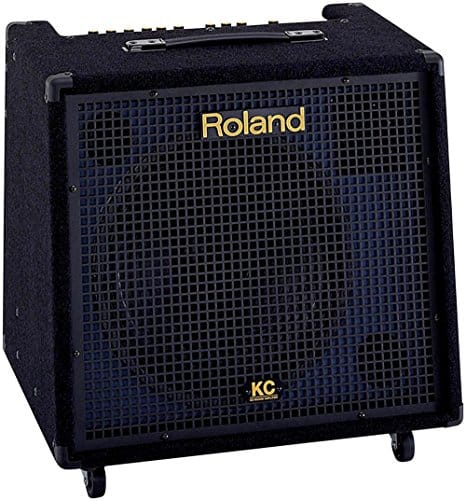 Roland Corporation is a leading manufacturer of audio equipment. Despite being around for more than four decades, Roland continues to set high standards for itself, aiming to achieve what other manufacturers might think is impossible.
It always strives to push boundaries, exploring new technologies rather than resting on its laurels. Its equipment is adored by serious musicians because of Roland's willingness to offer equipment that sounds truly unique.
The KC-550 is built with hard-working musicians in mind. This model features four stereo inputs along with a microphone input. Similarly, users also get an AUX port for connecting CD players or mobile phones. Four stereo input ports mean that you can connect four instruments at a time and control them separately.
Have you ever heard of connecting two amplifiers? Well, with Roland's KC-550 you can do exactly that. The stereo link feature allows you to connect two amplifiers in a chain. Using a single cable, you can create a true, stereo experience.
This amp features a 3-band EQ that lets you control low, middle, and high frequencies for shaping your tone. It's very simple to use too.
180 watts of power, a 15-inch woofer, and a 2-inch tweeter packed into one amp deliver a monstrous sound. It doesn't just need to be used as a keyboard amp; it can also be used as a powerful PA System.
If you're looking for a big bass boost, then the KC-550 by Roland has also got you covered. You can easily add a subwoofer to this amp by the sub output port.
This amp is built for rugged use. Heavy carpeting, protective edges, and an all-metal grille gives this keyboard amp durability that will stand up to all types of wear-and-tear. The KC-550 is also equipped with a handle and caster so you can easily carry it to gigs or rehearsals without needing a roadie.
The KC-550 by Roland has got everything that you'd want from a professional keyboard amp. With sturdy casing, an option for connecting another amp, and four stereo input ports, there is little to fault this versatile product.
Out of our reviews above, we have identified the following product as offering the best value-for-money.
Great Value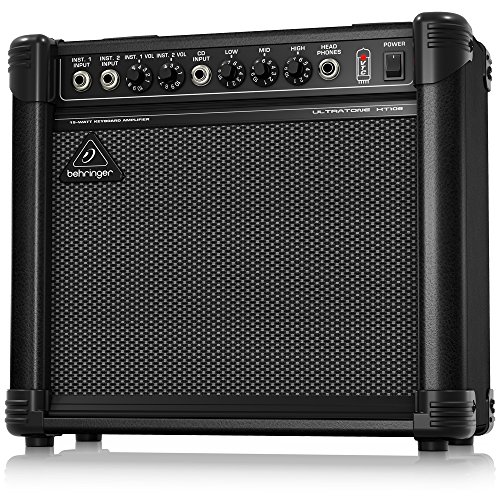 Beginners are often keen to purchase a great value-for-money product, as they will want quality, usability, and effectiveness without needing to shell out lots of money.
The Ultratone KT108 by Behringer is undoubtedly the best value-for-money product currently available, in our opinion. It won't satisfy professional-level keyboardists but it is perfect for beginners.
Keyboardists looking for great, classic tube-like sound won't find an amp that can compete with the Ultratone KT108. The Virtual Tube Circuitry emulates the preamp and power amp stages of those classic rigs, providing a truly tube-like sound. Separate three-band onboard controls help you tune highs, mids, and lows to cultivate your sound and tone.
The 8-inch, 20-watt, BUGERA speakers are enriched with bass and distortion-less sound that's just perfect for a live performance.
The KT108 is equipped with an auxiliary port to connect your mobile phone or MP3 player, so you can use the powerful speakers for playing your favorite music. You get a headphone port for practicing at home without bothering your family, neighbors, or roommates.
VTC technology, a 3-band EQ, and an auxiliary port for connecting mobile are just some of the great features that this budget-friendly amp offers. With 15W of power and lots of useful features, this keyboard amp will surely elevate your performance to a whole new level.
Buying Guide
It can always be a bit difficult when choosing a piece of equipment for the first time. How do you know what features to look out for? How do you know how much to spend? These are just a few of the questions you might be asking yourself now. We're going to now provide you with all the key information you'll need to make a wise and informed purchase.
Amplifier
An amplifier will usually feature a preamp, a megaphone, a horn, and a speaker. Its purpose is to amplify your keyboard's output so that it is much louder. You'll need a keyboard amp to be designed specifically for your instrument. That's because a keyboard can produce notes that fall into a broad frequency range. You want it to be able to cover the deep bass notes, all the way to high-pitched piccolos.
A keyboard amp is designed with a keyboard's sonic range in mind, which is why it's given this name. But it is also well-suited to other instruments. And if it has several channels, it will often be able to double up as a PA system. This is ideal for singer-songwriters who want to be able to play keys simultaneously as singing.
Other Sound Magnifier vs Keyboard Amplifier
So, what's the difference between other musical instrument amplifiers and a keyboard amp?
Well, a keyboard amplifier is engineered with this instrument in mind. It means that it will offer low-frequency output to complement the low notes you play on your keyboard. It will deliver crisp highs too.
A keyboard amp needs to provide more range than many other instrument amplifiers because of the range of sound that a keyboard can produce. A keyboard amp will also deliver low distortion and flat frequency. You don't want that high gain, overdrive from a keyboard amp as you would for a guitar. Clarity is the most important aspect of this product.
Now let's move onto connectivity. Guitar or microphone amplifiers are meant for one guitar or microphone at a time. This isn't the case with a keyboard amplifier, which is equipped with a mixer and two or three inputs so multiple instruments can be connected at once. Each channel will have its own preamp so that different volume levels can be achieved.
Types of Keyboard Amplifier
Generally, keyboard amps will fall into two categories, which will be defined by how much they cost.
Most low-price keyboard amplifiers are meant to provide equalization controls for the overall output like adding bass, deducting treble, etc.
State-of-the-art amps are high-powered. They provide separate equalization controls for each channel.
Channels
Speaking about the design, a typical amp features three- or four-channel mixers so that users can plug different instruments into one amplifier. This allows you to amplify several instruments simultaneously through one speaker, cutting down on the amount of equipment you need.
If you perform with several instruments as part of a band, then having a keyboard amp is important. Not only can you plug in your electric piano or keyboard, but you can also connect several synthesizers at the same time. It means that for a gig, you will only need to use one amp, even though you might use a few different instruments.
PA System vs Keyboard Amp
A keyboard amp can also be used as a PA system. As technology has improved, many manufacturers have merged a keyboard amp and a PA system into one product. This has become increasingly common since 2010.
Some keyboard amplifiers have an XLR cable port for a microphone to plug into, and a microphone preamp that allows users to connect a mic and use the keyboard amp as a PA system. In theory, a keyboard amp that includes an XLR mic input, preamp, and a multi-channel mixer could be used inside a small venue.
Limitations
Using a keyboard amp as a PA system is fine in some cases, but you might be limited in some scenarios.
Firstly, it is not an easy task to elevate a keyboard amp like a PA system. PA systems come with a speaker stand and pole into which you can easily mount the speakers. A keyboard amp doesn't offer this advantage.
Secondly, elevating the PA system helps ensure that the output is dispersed equally among the audience while it's different with keyboard amps. Placing a keyboard amp on a table or raising it a little will only allow the first column of an audience to hear clearly, while the whole venue will not be able to have a good listening experience.
Next, PA systems often have a much higher power rating, while digital piano amps usually offer less than 50 watts of power.
Using a piano amp as an alternative to a PA system is okay in certain scenarios but note that you might run into difficulties in some circumstances.
Connecting Subwoofers
We strive to make our reviews as comprehensive as possible. As a result, we're going to explain how to connect a keyboard amp to several instruments. Read on, as this isn't the sort of information that you'd find in other review articles.
Many amps have a sub-out jack that allows users to connect an external powered subwoofer for adding extra bass. Note that subwoofers only provide deep bass frequencies, so a user should add full-range speakers for a more balanced sound that isn't so heavy on the low end.
We've now explained everything you might want to know about keyboard amps in our reviews and buyer's guide. If you read this article thoroughly, then you'll be in a great position to pick the best keyboard amp for your needs.
FAQ's
What is a keyboard amp?
It's quite simply an amplifier that can be used for a keyboard.
Don't get distracted by the title 'keyboard amp', though, as it isn't just for keyboards. They can be used for several instruments thanks to multiple channels and connectivity options. Keyboard amps will also have an XLR input so that you can hook up a microphone and sing while you're playing the keys.
What are keyboard amps used for?
Keyboard amps are used for reproducing the broad frequency range of electronic instruments.
So, what's the difference between a guitar amp and a keyboard amp?
A guitar amp is only meant for amplifying the signals within the range that a guitar is capable of playing. In contrast, keyboard amps provide a broader spectrum of frequencies - as keyboard signals are higher and lower than guitar signals - which is entirely out of a guitar amp's range.
Many keyboard amps can be used for drums, acoustic guitars, and many other instruments, thanks to the wide frequency range that they can reproduce.
These amps are also used as an alternative for PA systems. Some high-end keyboard amps with powerful speakers that include AUX and microphone inputs can also be used as speakers for a DJ or a karaoke party.
There are, however, some drawbacks to keyboard amps, which is why they're sometimes not well-suited to other uses. Keyboard amps are heavy. This makes them hard to carry, so they're not ideal for traveling musicians. Similarly, PA systems can be easily hooked up to a mounting stand, while you can't usually elevate a keyboard amp above a typical chair height.
Although many consumers use a piano amp as an alternative to a PA system, it is not meant for public addressing.
The bottom line states that a keyboard amp amplifies electronic instruments' signals into a broader stage of the sonic spectrum.
What is the average cost of a keyboard amp?
The amount that you'll spend on a keyboard amplifier will depend upon your budget.
Generally, you'll find that keyboard amps will fall into three different price ranges. You'll have budget keyboard amps, mid-priced keyboard amps, and premium keyboard amps.
The budget category includes amps that cost no more than a few hundred bucks. These amps are designed for beginners. They're ideal for learning, but they do have limitations. The best budget keyboard amps will allow you to perform in very small venues, but they won't deliver enough power or quality for a larger venue.
Mid-priced amps are suited to intermediate keyboardists who might have just started branching out into live performances. They range in price from a few hundred bucks to close to a grand. These amps are ideal for keyboardists who want to grow on their instrument, as well as rehearse and perform with a band. They will feature lots of connectivity options so you can sing along while playing your instrument.
Premium keyboard amps are the most powerful, as well as the best sounding. That comes at a cost, though. They'll set you back more than a thousand bucks. They're designed for advanced keyboardists who perform on stage regularly. They're also built to last. But, remember, when an amp is as powerful and as advanced as it will be in this category, it will weigh a lot more.
How do I choose a keyboard amp?
Read this guide. Research what's available. And then you should be in a better position to know what amp to choose. You should also make sure to focus on the following key elements:
Build Quality and Portability
A sturdy, rugged design is essential. You should also ensure that you check reviews of an amp before buying it. Why? Manufacturers often make bold claims about their amplifiers' robustness, but these claims are usually found to be invalid when a keyboardist subjects the amp to regular usage. You want to look out for what materials the amp's enclosure is made from, as well as check for added extras, such as reinforced corners.
Portability is also an important thing to note while picking your new amp. You want it to be lightweight enough to carry around. And having reinforced handles or wheels can also make transporting your amp even easier. This is an essential feature if you're going to be taking it on the road.
Here, most people recommend that one look for a highly rated speaker size and power, but that's not how it works. The user should analyze his needs and then look for the speaker size and power according to it.
For instance, a beginner doesn't need 180-watts of power with 15-inch speakers. 50-watts of power and an 8-inch speaker would be enough for basic practice.
Choose an amp that suits your needs rather than getting carried away by big numbers.
I/O
Most keyboard amps include more than two channels for connecting multiple instruments at a time and separate controls. Moreover, some also include AUX, microphone, and headphone ports.
If a user wants to connect more than two instruments, then he/she should look for an amp with more than two channels. Similarly, if one needs to connect a smartphone or laptop for external streaming, he should look for an AUX port on the piano board.
Effects and Other Features
Keyboard amps are not designed to provide effects, but some high-end products include effects like chorus, reverb, and more.
These effects don't just apply to your keyboard. If the amp doubles up as a PA system, you can use them for your vocals too.
If you liked this review by Music Critic, please leave a positive rating:
[vc_separator