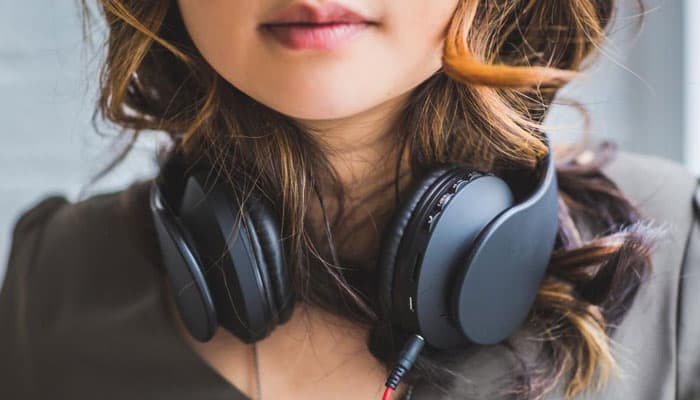 Let's first talk about what closed back headphones are before we review our list of the best closed back headphones on the market. Closed back headphones are easily identified by the physical structure of the closed outer ear cup and over the ear cushion design. Thanks to this design, the best closed back headphones have the distinct potential of isolating noise.
The market offers a wide variety of closed back headphones. Although it's easy enough to pick any one of them out of the bunch, choosing the best headphones for your needs can be a bit tricky. Every product has its own pros and cons so to make things a little easier on you and simplify the buying process, we've distilled the information into this handy guide.
1. AKG Pro Audio K92 ClosedBack Headphones
For over 65 years, AKG has been helping musicians innovate. From professional build and quality to style, the Pro Audio K92 by AKG is creating some serious buzz among musicians. The K92 promises extended low frequency response so that your kick drums and bass guitars are clear and clean sounding.
Mastering, tracking, or mixing needs focus! These closed-back wired headphones eliminate all the burps and chirps of the outside world so you can focus on every detail, and experience the joys of precise editing.
Getting the perfect starter can take hours, which means you can't compromise on comfort. AKG has a uniquely designed headband for maximum comfort, no matter who is wearing it. Breathable, lightweight ear pads encircle your ears, barring any outside noise distractions when you're mastering your tunes. This comfortable design makes these some of the best closed-back headphones.
Pros:
+ 40mm professional drivers for a versatile range of frequency response. (16Hz – 20kHz)
+ The closed-back design ensures the maximum amount of isolation.
+ Precisely balanced response furnishes reference monitor accuracy.
Why We Liked It - This product merges all the important building blocks of a closed back headphone into a single premium product. With the likes of 40mm drivers, a wide range of frequency response, and gold plated connections, these headphones are an excellent choice for any musician or producer.
2. Ultrasone Edition 5 Unlimited S-Logic EX Surround Sound Closed Back Headphones
S-Logic EX introduces a whole new concept in the audio industry. It allows a greater distance in between the sound transducer and the ear, permitting a predefined spatial localization effect.
Aesthetically, this headphone is on point with its precious metal ruthenium and brown metallic coating. Comfort is backed up the elegant aluminum headband, which molds perfectly to your head so you can carry on and on for hours. The ear pads are carved from long-haired sheep leather, taking the comfort to the next level.
Pros:
+ Wide range of frequency response, ranging from 5 Hz to 46 kHz.
+ S-Logic EX technology for pre-defined sound quality.
+ Mylar/Titan 40mm drivers ensuring a massive yet controlled sound.
Why We Liked It - Features like S-Logic EX technology, 40mm drivers, ULE technology, and 32 Ohm Impedance made sure that this closed-back headphone snagged a spot on our list.
3. Philips SHL3060BK DJ Style Headphones
Have a low budget but still need good headphones? Then these Philips ones might be just the pair for you. There are many things to love about these headphones, including the 32mm drivers, which give off powerful and great sound, creating an excellent listening experience. Got a noisy house? Don't worry about it. These headphones boast closed acoustics, which provides perfect sound isolation. The build quality is also excellent; 32mm drivers see to that. This means you can immerse yourself in music, a great audiobook, or a podcast when you're out and about, without worrying about distractions - or poor audio quality.
Philips have always prided themselves on comfort, and that's no different with these headphones. The ear cups are gentle and breathable, so you can listen to music all day long. Also, you can adjust the headband to your head, giving you a perfect and comfortable fit when listening to your music.
Pros:
+ Closed acoustics provide sound isolation for a great price.
+ 32mm drivers for amazing audio.
+ Gentle ear pads for comfortable fit.
Why We Liked It - If you have to suffer through a noisy commute and need a good pair of over-the-ear headphones to brave the battle, purchase these. Rest assured that they will give you a great listening experience and comfortable fit at a reasonable price.
4. Sennheiser HD 202 II Professional Headphones
Do you like to listen to powerful music without disturbing anyone around you? The HD 202 II headphones by Sennheiser should be your go-to headphones.
These Sennheiser HD closed-back headphones provide dynamic hi-fi stereo sound, good sound isolation against ambient noise, and deep bass response, making them the best closed back headphones for DJs.
Thanks to the specially designed lightweight turbine diaphragms, you're looking at totally clear, crisp sounds.
Even at high levels, you get the best sound quality because of the powerful neodymium magnets and lightweight diaphragms. Lightweight engineering and leatherette ear cushions promise longer wearing periods without hurting your ears.
Pros:
+ Closed, dynamic, semi-circumaural stereo design.
+ Ear cushions can be removed and exchanged for maximum comfort.
+ Damping material ensuring a powerful bass response.
+ Neodymium magnets and lightweight diaphragms.
Why We Liked It - The HD 202 II by Sennheiser is for DJs who want noise isolation and punchy bass in one product. Promising bass, neodymium magnets, and dynamic design are the reasons behind HD 202 II's high-end profile and major desirability. These are some of the best closed-backed headphones you can get your hands on. Pick yourself up a pair!
5. LyxPro HAS-30 Closed Back Over-Ear Headphones
LyxPro is another excellent brand to go for if you need high quality, studio headphones. These ones, in particular, are an excellent choice for people who spend their time in a recording studio. These headphones boast noise isolation, which is a fantastic feature for professional recording headphones. This is a feature all the best closed back headphones should boast. It means that noise won't escape, and the microphone won't pick it up. This makes this pair of studio headphones a great choice for a musician, or even a YouTuber looking to make videos. Furthermore, the sound is crystal clear and the frequency response is great, which means you'll be able to hear every single noise you need to, making for the best listening experience.
The comfortable ear cups ensure you won't experience ear fatigue, regardless of how long those recording sessions need to last. These ear cups are also replaceable. So if an ear cup wears away on one headphone, you can swap it without needing to replace your whole pair of headphones, ensuring an excellent investment. This is just another feature that makes these some of the best closed back headphones you can buy, whether want a quality pair for in the studio or out and about.
Pros:
+ Professional closedback headphones for mixing and recording
+ Comes with a straight and coiled cable
+ Replaceable and comfortable ear cups for durability and a comfortable feel
+ Excellent noise isolation
+ Studio headphones
Why We Liked It - We love that this pair of studio headphones are marketed especially for professionals who work in the studio. It's hard to find a pair of closed-back headphones that are such great quality for such a low price. They also feel great - just another reason why we like these studio headphones.
6. Shure SRH145m+ Portable Collapsible Headphones
Are you an Apple user deciding on a new set of headphones? Look no further than the SRH145m+. These closed-back headphones have it all, from in-line controls to rich sound. The SRH145m+ by Shure are portable, quality headphones with a mic, rich bass, and full in-line controls for Apple devices. Also, the closed-back design ensures external sound isolation. The collapsible yet lightweight design keeps things comfortable for you, even in long-lasting sessions. These are some of the best closed-back headphones for someone who would like to listen to audio on the go.
Pros:
+ Remote and mic with in-line controls for Apple devices.
+ Good external sound cancellation.
+ The ultra-lightweight and collapsible design makes it comfortable and easy to carry.
+ Two-year warranty by Shure that covers free replacement or repair.
Why We Liked It - Shure is known for manufacturing high-end headphones. The SRH145m+ closed-back headphones proves they do an outstanding job of it. With rich deep bass, full range audio, a collapsible design, and also a light form, these headphones are some of the best Apple-compatible headphones out there.
7. Status Audio CB-1 Closed Back Studio Monitor Headphones
Meet the source of the new hype in the pro headphones market, the CB-1 Status Audio. It redefines the monitoring experience with a variety of features. 50mm drivers reproduce audio without additive bass, mid-range or highs, so you get that neutral sound signature for professional monitoring. Also, ergonomic earpads support the area behind the ears to eradicate inward pressure.
It comes with a two cable choice, coiled and extended length straight cable for multiple recording studios and other uses. Also, both cables get easily detached by a keyed locking mechanism.
Pros:
+ 50mm drivers produce a neutral signature sound.
+ Detachable wires.
+ Ergonomic ear-pads for providing the comfortable feel even in long sessions.
+ Foldable.
Why We Liked It - The Status Audio CB-1 truly re-writes the definition of a happy customer. With 50 mm drivers, comfortable ear pads, and its easy to fold factor, these headphones have all the features a professional musician looks for.
8. Audio-Technica ATH-ANC7B QuietPoint Active Noise-Cancelling Closed Back Headphones
Do we even need a company intro here? For over 50 years, Audio-Technica has been an iconic company for the highest level audio gear.
These wireless headphones, available from Audio Technica, are outperforming many competitors in the closed back headphone world. It has an integrated battery-operated point active noise-cancellation feature that reduces the background noises by 90 percent, meaning you can concentrate on your music in any environment. Also, the headphones work in a passive mode when this feature is turned off. And since this is Audio Technica we're talking about, the sound quality is unparalleled.
These headphones are ideal for any use. They deliver clear, high-resolution sound with serious bass and a detailed midrange. It also promises a sound that comes to life via a 40mm neodymium magnet system and a high 109dB sensitivity.
Pros:
+ Includes two modes, Quietpoint active noise-cancellation and passive mode.
+ Quitepoint Noise cancellation mode cuts off 90% of background noise
+ Flat-fold design with a lightweight form factor.
Why We Liked It - The ATH-ANC7B provides the best noise cancellation in the business, so your professionalism never gets compromised. With a supreme noise-cancellation circuit, 40mm large drivers and the name of one of the industry giants behind them, these headphones are worth spending a little extra money.
9. Sennheiser HD 598 Cs Closed Back Headphone
Sennheiser has been shaping the future of audio for some years now, thanks to its innovation and consistency. The HD 598 provides sound quality and effective noise cancellation like you've never experienced before. Engineered by the experts, the closed back design delivers natural and detailed sound without disturbing others. Also, an in-line one-button control allows you to pick up and answer calls via a built-in microphone on the cable. And naturally, this baby is comfortable, made for long studio sessions.
Pros:
+ Aluminum voice coils deliver high-efficiency, absolute dynamics, and low distortion.
+ Luxurious ear covered cushions for extreme comfort.
+ Ergonomic acoustic refinement technology channels audio directly into the ears.
+ In the box, you get two detachable cables, one with 6.3mm-jack and the other with 3.5mm jack.
+ 2 years warranty
Why We Liked It - With the HD 598 closed-back headphones, you can really feel the music. With a great build quality, comfortable pads and made by a major company with over 70 years' worth of experience in this game, these headphones are setting a high bar for headphone quality standards.
10. Ultrasone Edition 8 Julia S-Logic Surround Sound Professional closed back Headphones
The Edition 8 Julia by Ultrasone is handmade in Germany. Edition 8s are the first in the line-up to introduce trendy colors. Each pair of closed-back headphones is given a unique serial number and crafted with loving attention to detail.
On the outside, Edition 8 Julia is printed with elegant fuchsia-colored leather ear pads and headband. The earpads are made from Ethiopian long-haired sheep, which is the most precious leather available worldwide. This makes these the best closed-back headphones for those who like listening in style.
Inside, the 40mm tri-bass-tube drivers are titanium plated, which ensures rich sound in every situation. These headphones also feature S-Logic Plus technology for providing a neutral sound impression, along with a vivid perception of voices and instruments. Edition 8 Julia is equipped with ULE technology that reduces magnetic field emission up to 98 percent. The frequency response is excellent. They're a worthwhile investment as far as we're concerned, making them some of the best closed-back headphones!
Pros:
+ 40mm Tri-Bass-Tube titanium-plated Mylar drivers.
+ A vast range of frequency response, from 6Hz to 42,000 Hz.
+ Includes both ULE and S-Logic technologies.
+ In-line remote with microphone.
Why We Liked It - Ultrasone is known for modeling superior ear over headphones. With ULE technology, S-logic technology, and tri-bass-tube titanium-plated drivers, it's time to fasten your seatbelts for a mesmerizing sound experience coming from the best closed-back headphones you can get.
Closed Back Headphone Buyers' Guide
When it comes to headphones, over ear is a great choice. We've listed our top 10 nominees for the best closed back headphones currently available. From the affordable, all the way up to the ultra deluxe options, every headphone set we've featured has earned its place on our list.
The market is populated with many closed-back headphones, but before whipping out your credit card, let's first talk about the essentials.
What's the main purpose of a closed-back headphone? Simply, they're responsible for cutting off unwanted sound from the environment and preventing sound leakage, unlike open back headphones. The best closed-back headphones have a closed outer earcup design that blocks out surrounding noise while you're listening to music or mixing your album. The over the ear pad model stops audio from leaking out of the headphones.
Noise can be stopped by two methods: passive noise isolation or active noise cancellation. Passive noise isolation depends on the body of the headphone. It relies on the ear and closed outer cup design for blocking out the sound. As well as closed-back headphones options, the in-ear canal headphones also provide excellent passive isolation.
On the flip side, open back headphones only provide some passive isolation as the outer ear cups are opened. A typical closed-back headphone blocks 8 to 12 dB, while in-ear blocks 10 to 15 dB. Some of the best closed-back headphones are specially designed to reduce noise by around 25 dB, so that you can concentrate when it matters most. You won't get this with open back headphones.
Closed-back headphones or even a pair of open back headphones equipped with active noise cancellation use a microphone, amplifier, and a speaker to pick up, amplify, and play ambient noise in a reversed pattern. This means the noise gets canceled out without affecting the sound source. This feature requires a battery to drive out their circuit. Active sound cancellation can cut off around 20 dB sound, but note that it mostly applies to constant and low-frequency sounds.
You can get a wired pair of closed-back headphones or even wireless headphones. Wireless headphones are great when you don't want to be restrained by the wires. A wired headphone can sometimes be restricting, but it all depends on what you need them for. If you're sat down when you're working, then you won't need to get wireless headphones. You won't need wireless headphones as much as you would when moving around.
Now we've covered the basics of the best closed-back headphones. You can easily choose from the selection of the closed-back headphones available based on your needs. Want great value with a great price? Premium choice? Our hands-down top-pick? Stay tuned, here are our three best closed-back headphones.
Music Critic's Top Pick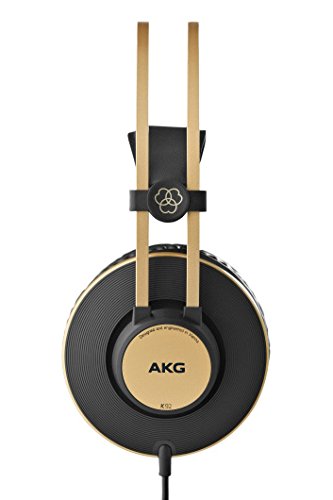 Our top pick product ensures that you get the best closed-back headphones without breaking the bank. The K92 headphones by AKG Pro Audio has fulfilled every requirement, winning the top pick on the list. This company is easily one of the best in the music industry.
AKG gear is known for perfection, and the same standards are set for the K92 headphones. From monitoring to casual listening, these headphones have you covered. The professional 40mm drivers give a detailed yet balanced high-frequency response. The drivers are packed with a wide range of frequency responses and high sensitivity, so you experience a powerful output.
The closed-back design of this headphone promises an exceptional level of sound isolation, thanks to the new acoustic chamber, which sits between the ear cup and the hinge.
A self-adjusting headband and breathable, lightweight earpads on each headphone mean optimal comfort. Golden accents and a matte black finish make the K92 is stylish as well as high-quality. Gold plated connections, and 80,000 cable bend cycles ensure that the cable won't underperform or break.
With 40mm drivers, a wide frequency range and many other features, who says that you can't have it all?
Premium Choice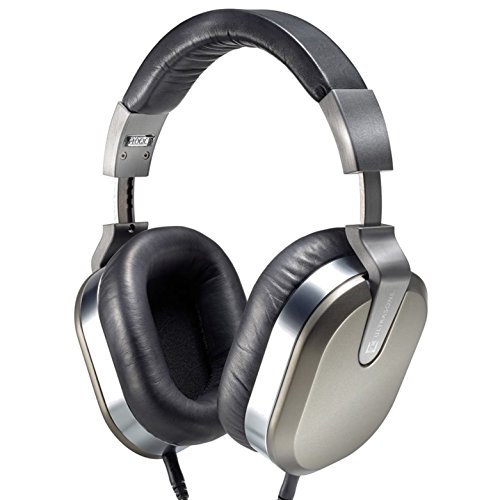 Many headphones out there carry a high price tag but not all of them are worth the money you spend. Then there's Ultrasone. When it comes to a premium pair of headphones, they're at the top of the game. Edition 5 by Ultrasone is the answer to music developers' prayers all over the world. This pair of headphones is one of a kind in design. Get yourself a pair if you want something unique!
On the outside, the ear cups are coated with the precious metal ruthenium. Quality and durability are second to none with this pair of headphones, thanks to the opulent ruthenium coating. The earpads and headband pad are made from Ethiopian long-haired sheep leather so that optimum comfort is achieved over long sessions.
S-Logic EX feature in this headphone allows a greater distance between the driver and the ear, which enables a spatial localization effect. You get three detachable cables, a 3.5mm Neutrik jack and cable (1.5m long), 6.3mm Neutrik jack (4m long) and a 3.5mm (1.2m long). With ULE technology, S-Logic EX technology, and 40mm drivers, this is one of the best quality pair of headphones you could hope to invest in, whether you're commuting, at home, or in the studio.
Great Value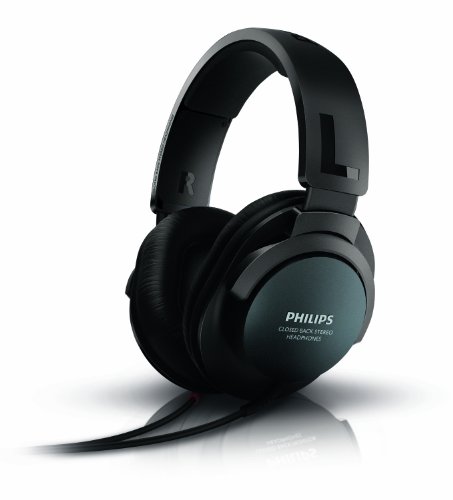 Our Great for Value category is all about finding the best for less. Finding decent yet affordable headphones may seem difficult, but guess what? We've done the legwork for you!
The SHP2600/27 headphones by Philips may look humble, but don't judge these headphones by their cover. They're equipped with 32mm neodymium drivers, which deliver an incredibly authentic yet deep sound. The fully adjustable headband means anyone can use these comfy yet powerful headphones. A 1.8m cable allows you to be mobile (within reason!). With 32mm drivers, adjustable headband, and more, the SHP2600/27 rises to the top of the great values list without question. These headphones are so much more than a low price tag.
FAQ's
What are Closed Back Headphones?
Basically, there are two types of headphones: closed back and open back. You can easily identify closed back headphones by looking at the ear cups. If ear cups are closed from the outer side, it means you've hit the jackpot. Closed back headphones are made to maximize the amount of total sound isolation possible. This is done by a closed outer ear cup design and over the ear cushion of the headphones. Similarly, the closed outer earcup design also prevents the music from leaking out in the surroundings. Although open back headphones have become trendy, closed back headphones are still the favorites time after time, especially for musicians who want that studio quality noise isolation.
What's the Difference Between Closed Back and Open Back Headphones?
Closed back headphones have over the ear cushions and closed outer ear cups so that no sound leaks out from or come into your ears. This type of headphone is known for isolating sound. The physical design of the headphones eliminates the interference factor so that the user can hear even the slightest details. In some high-end closed back headphones, isolation is carried out via active noise cancellation. This is an integrated circuit that is built into the ear cups, which cuts off a great amount of the noise. They're great for working in a studio.
Open back headphones have on-ear cushions and opened outer ear cups so the listener can stay connected to what's going around him while listening to his favorite album. This type of headphone is geared towards giving the user a good listening experience while staying conscious of his environment. Also, the open ear cup design lets air in and out so that the user stays aware of his surroundings while enjoying his music. This type of headphone is less useful if you're hitting the studio, but is still apt if you want great listening quality.
Either can be wired or wireless headphones. Wireless headphones may be better for a commute, whereas you may want a wired option for studio sessions.
How do I Choose the Best Closed Back Headphones?
So many people want to know the answer to this question. We all have different needs for our headphones. Some people are into mixing and editing, while others want to use their headphones for casually listening to music. Pick a closed back headphone according to what you want, and keep in mind a realistic price you can afford.
The CB-1 by Status Audio headphones are perfect for our dedicated casual users. Whether you're monitoring, or doing some casual, or even hard listening, these headphones have your back. From high-end specs to portability, this bad boy has it all. Powerful 50mm drivers tend to deliver neutral yet deep sound. Also, ergonomic earpads mean ultimate comfort. These headphones can be folded up, so you don't have to make extra space while carrying them around, making them great if you need to commute—a real winner.
The ATH-ANC7B by Audio Technica is made for all you folks who want an extra push towards the noise cancelling element. These headphones include the QuietPoint Active Noise Cancellation feature, reducing environmental noise up to 90 percent. They're also equipped with 40mm drivers, along with a neodymium magnet system, and a high 109dB sensitivity for major sound. Over the ear cushion padding and ear cups feel great and promise to enhance comfort. With battery-powered active noise cancelling and a neodymium magnet system, these headphones are a must-have for professionals.
What are the Benefits of Closed Back Headphones?
Closed back headphones provide noise cancellation from the surroundings and prevent sound leaks. Compared to open back headphones, or even counting standalone advantages of closed back headphones, we have a lot to cover.
First, these headphones are best for the situations when you're carefully monitoring or doing detailed editing. They're also perfect if you want to enjoy that bass without disturbing the stranger beside you on the bus. One of the benefits of closed back headphones is the noise cancelling ability, which has many practical applications.
What are the Best Closed Back Headphones on a Budget?
HAS-30 by LyxPro was crafted keeping in mind affordability, reliability, and comfort. HAS-30 is perfect for recording and mixing as well as for listening to everyday music. It's jam-packed with features. The headphones' drivers provide clean and honest audio impressions, and the noise cancelling ability is excellent.
The magnet system in the headphones takes care of instant dynamic response for crisp sounding vocals. It has a leather headband and ear pads for total comfort so you can peace out and enjoy your tunes. On the monitoring side, the HAS-30 provides 180 degrees rotatable ear cups so that the professionals can also experience single-ear headphone listening in the studio.
Also, with a wide range of frequency (15Hz – 26kHz), 50mm drivers, and just 10.5 ounces of total weight, these headphones are perfect for people who are on a tight budget but want a professional experience. These are a great quality pair of headphones.
With a wide range of frequency (15Hz – 26kHz), 50mm neodymium magnet drivers and just 10.5 ounces of total weight, the HAS-10 is perfect for anyone on a tight budget - click to view our guide on cheaper earbuds. For more reviews on headphones, check out our guides here.
If you liked this review, please leave a positive rating: