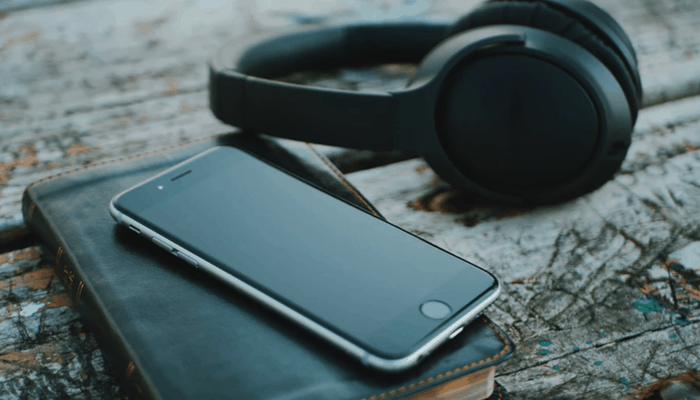 Do you want to know what the best wireless over-ear headphones in 2020 are? Whether you use your headphones to listen to music or for watching movies, you want to be certain that you'll get clear, perfect sound quality.
There are so many brilliant headphones on the market, that you can find the perfect pair to suit your needs. In 2020, lots of wireless headphones come with some great extras too. But it isn't just about sound quality or noise cancellation, your new headphones must be comfortable to wear.
If you're investing in a new pair of headphones, you want to be sure that you're making the right choice. These are the ten best wireless over-ear headphones in 2020.
View The Best Wireless Over-ear Headphones Below
Featuring Cowin's Professional Active Noise Cancellation Technology, these headphones offer excellent sound quality, and the 40mm large-aperture drivers produce deep, precise bass. They can be worn for a staggering thirty hours without needing to be charged. And they have a high-quality, in-built microphone, which makes hands-free calls a breeze.
You can be assured of comfort too, as they are not only lightweight, but they have swiveling earcups that adapt to your ears. Frequent fliers will love these headphones for their ability to last long and to completely silence the roar of the airplane. They are excellent headphones.
Pros:
+ 30-hour battery life
+ Powerful, clear sound quality
+ Wireless connection range of fifty feet
+ First-rate noise cancellation
+ Comfy to wear
Why We Liked It - Combining high-quality sound, with effective noise cancellation, while remaining comfortable and including useful extras like the in-built microphone, the Cowin E7 Active Noise is a safe investment.
The E7 Pro headphones by Cowin offer many of the same, great features as the E7 Active Noise. There are some important differences, though, as the E7 Pro model is an upgrade on the E7 Active Noise. These headphones come with 45mm large-aperture drivers, which means that even the subtlest sounds are picked up.
Music fans will love how their favorite songs sound on these headphones. Another improvement with these headphones on our previous model is the decibel level that the Active Noise Cancellation Technology will work at. These will silence any sound up to 30db.
Pros:
+ Incredible sound quality
+ Lightweight and comfortable to wear
+ Thirty hours of playtime
+ High-level noise cancellation
+ Bluetooth 4.0 technology
Why We Liked It - Cowin's E7 Pro headphones have everything you could desire, but music fans will especially love listening to the incomparable sound quality that they offer.
3. Bose SoundLink around-ear
Bose are renowned for creating some of the best audio equipment on the market. These SoundLink around-ear headphones provide such good sound quality that it's easy to immerse yourself in the music. It isn't just what you hear which is good with these headphones.
The dual microphone system works so well that you could be outside on a windy day talking to someone and they'd never know. The battery life is a respectable 15 hours after a full charge. But a quick 15-minute charge will also get you 2 hours of playtime. They're light and comfy to wear too.
Pros:
+ Dual microphone system means clear phone calls
+ Immersive sound
+ Option to use a cable for non-wireless hardware
+ Very light
+ Latest Bluetooth technology
Why We Liked It - Every piece of equipment made by Bose comes with a guarantee of deep, rich sound, but these headphones also include a microphone that is just as good as the speakers.
If you're looking for a more affordable pair of wireless headphones, then the Mpow 059 might be for you. Without having to break the bank, you can get 20 hours of wireless playtime, a built-in microphone for hands-free calls, and a balanced, robust sound that comes from dual aperture 40mm drivers.
They sit snugly over your ears too, as they feature soft, memory-protein earpads. They use Bluetooth 4.1 technology, so they'll hook up to pretty much all of your devices. They're also foldable. So, when you're not using them, you can easily store them until you fancy getting them back out to listen to some tunes.
Pros:
+ Great value-for-money
+ Foldable and portable
+ Balanced sound
+ Built-in microphone
+ Memory-protein earpads for comfort
Why We Liked It - The combination of price and quality make the Mpow 059 serious contenders to become your next pair of headphones.
5. Plantronics BackBeat PRO 2
Plantronics are currently designing and selling some of the best headphones ever produced. Before we consider the sound quality for this pair, let's look at the battery life. A single charge will give you 24-hours of playtime. And they offer incredible freedom, allowing you to go 330 feet from the class 1 Bluetooth device you're connected to and still be in range.
They have Plantronics' signature audio system, which means deep bass, crisp highs, and very natural middle tones. If you choose to use the active noise cancellation technology, then you'll find yourself completely lost and immersed in the music.
Pros:
+ 24-hour playtime
+ Brilliant for bass-heads
+ A range of 330 feet
+ Smart sensor controls for ease-of-use
+ Active noise cancellation technology
Why We Liked It - If music is important to you, especially songs with thudding bass, then the Plantronics BackBeat PRO 2 headphones won't disappoint you. And the battery life is in a league of its own.
These headphones feature some of the best active noise cancellation technology that's on the market. You only need to press a button and all external noise will be completely silenced. You are even able to adjust the noise cancellation to suit your surroundings. And, as these headphones are made by Bose, then you get superb, well-balanced, rich sound.
The dual-microphone system offers disturbance-free phone calls. It doesn't matter where you are, the sound of your voice will sound clear to the other person. They are also enabled for Siri and Alexa. You pay more for Bose, but you're never disappointed with their products.
Pros:
+ World-class, adjustable noise cancellation technology
+ Dual-microphone system for clear phone calls
+ Rich, immersive sound
+ 20 hours of wireless playtime
+ Earcups made from premium materials for great comfort
Why We Liked It - Many headphones offer noise cancellation technology these days, but Bose do it better than anyone else. These versatile headphones are some of the best on the market.
7. Mpow H5 Bluetooth Headphones
Mpow have received criticism in the past for the quality and durability of the headbands on their headphones. They have now corrected this issue, and the Mpow H5 Bluetooth headphones feature a headband that has passed the 10,000+ bending test. They are sturdy for the price.
They also include effective noise cancellation technology that should allow you to immerse yourself in the music regardless of where you are. They promise 30 hours of playtime when they're fully charged. They also have 40mm large-aperture drivers. You'll be impressed by the superior bass that these drivers produce.
Pros:
+ Durable headband
+ Active noise cancellation technology
+ Very affordable
+ A CVC 6.0 noise-canceling microphone
+ Balanced sound
Why We Liked It - They offer good quality active noise cancellation without the hefty price tag that headphones with this feature often come with.
Sometimes you don't need to spend a lot to get a decent pair of durable headphones. These ones, made by iJoy, have an extendable headband so that they can be adjusted for comfort. The memory-protein earcups are also very soft. There is always a worry that budget headphones will be uncomfortable to wear, but it's not the case with these.
The sound is good too. The bass is deep and powerful. They have all the extra features you might want, such as an in-built microphone, and controls on the headphones themselves. They also have a radio receiver built into them.
Pros:
+ Comfy, soft memory-protein earcups
+ Very cheap
+ Adjustable headband with snug pad
+ Ergonomically designed
+ In-built microphone
Why We Liked It - The number one reason why we like these headphones from iJoy is their price tag. They are very affordable, but they aren't flimsy like the other headphones in this price range.
9. Skullcandy Crusher Bluetooth
Since 2003, Skullcandy have been producing innovative and high-quality products. These headphones feature more bass control than the other headphones on our list. They use a dual-channel bass system, which is adjustable, so that if you want to not just hear bass, but feel it too, then you can.
And you can feel it for a long time, as once they are fully charged, you'll get 40 hours of wireless playtime out of them. As with all Skullcandy products, they are stylish without being showy. If the bass is more than a sound, but a way of life, then these are your ideal headphones.
Pros:
+ Haptic bass slider for bass control
+ Powerful bass that you can feel
+ 40 hours of wireless playtime
+ Cool and understated looking
+ Memory foam pads for noise cancellation
Why We Liked It - you feel as if you are stood next to the speaker at a club. The bass is that heavy.
Over-ear headphones can often be heavy and a drag to wear. The Avantree ANC032, however, are anything but heavy. They only weigh 180 grams. They are anything but flimsy. The lightweight material is still durable. The active noise cancellation technology is particularly effective at silencing low-frequency noises, such as engine sounds.
The 40mm stereo drivers give out dynamic, rich sound. If you plan on using your headphones to watch movies, then you might want to consider these, as they pride themselves on providing no audio delay, when used in conjunction with a recommended transmitter.
Pros:
+ No audio delay
+ Light as a feather
+ Hi-fidelity sound quality
+ Foldable and portable design
+ Noise cancellation technology that quells low-frequency noises
Why We Liked It - They are so light and comfortable to wear that you can easily forget they're on your head. The combination of comfort, sound quality, and an affordable price make them a great investment.
Wireless Over-ear Headphones Buyers Guide
What to Look for When Buying Over-ear Headphones
If you're looking to buy a new pair of over-ear headphones, then you might be overwhelmed by the vast number of them that are on the market. Each pair will give you a different experience. There are a number of things that you should look out for when you come to make your choice. Here are the most important of them:
Noise Cancellation Technology
Some over-ear headphones will come without any noise cancellation technology at all. These tend to be more budget headphones. Then again, it isn't a guarantee that more expensive headphones will come with this technology either. To be able to completely immerse yourself in your listening experience, then canceling out external noise is imperative.
There are two types of noise cancellation technology. The first is passive noise cancellation. This type of noise cancellation is created through the shape and material of the earcups. Some headphones that use this technology will block out a lot of background noise, but others won't. The second type of noise cancellation technology is far more effective.
Active noise cancellation relies upon an electric device that is fitted in the headphone, which has a microphone that analyses the external sounds and then cancels these noises by generating a waveform that opposes them. There is some criticism that this process comes at a price, as it can harm sound quality. Then again, the roar of a car or an airplane engine damages any enjoyment of the sound too.
In-built Microphone
If you plan to use your headphones to make calls or for video games, then you're going to need an in-built microphone. Not every over-ear pair of headphones come with this component. There is also a range of microphones that you'll find in certain headphones. Some will be basic, and the quality of your calls will suffer.
But some manufacturers use a dual-microphone system that isolates your voice and manages to block out external noises, such as wind, which can be very useful if you make calls while on the go.
Wireless Battery Playtime
The amount of playtime that you will get from your headphones will depend upon the features that you are using. For example, with the active noise cancellation function turned on, you will notice that the battery drains much quicker than when it is off. If you like to travel, you will probably want to consider choosing headphones that have a playtime of thirty hours or more.
Besides just the length of playtime, you should also check how long the headphones must charge to create this playtime. Some headphones can get two hours of playtime from a quick, ten- or fifteen-minute charge.
Comfort
There are three main elements to your headphones that will affect comfort. The first is weight. It is a matter of taste as to how heavy you like your headphones. If you prefer to not be conscious that you are wearing the headphones, though, then you should make sure you go for a pair made from lightweight plastic. Your comfort will also be affected by the material of the earcups.
You preferably want a material that will adapt to your ears, such as a memory-protein. The earcups themselves should swivel too so that you can move more freely. The final important element to comfort is the material and quality of the headband. For more comfort, you should seek a headband that is cushioned or padded.
Sound Quality
Of course, the whole point of wearing headphones is to listen to something, and whether it's music, an audiobook, or a movie you're listening to, you will want high-quality sound. To check what sort of sound quality that your headphones will offer, then check what its frequency range is. The larger the range, the more you will hear. A good pair of over-ear wireless headphones will offer a range of between 20 Hz to 25,000 Hz.
Wireless Range
If you plan to hook up your headphones to your device while you walk around the house, then you'll have to check what the wireless range is that they offer. This is also important if you are connected to your television or console but sit a distance away. Some headphones will allow you to get fifty feet or further away from the device while continuing to offer a good connection. Others won't offer anywhere near this range.
What is the difference between close-backed and open-backed headphones?
Close-backed headphones have a sealed back. This means that external noises are blocked out and the sound is also sealed into the headphones. Open-backed headphones have gaps in the back of the cups that will allow air to pass through.
This means that you get a better sound and that your ears won't get overheated, but it comes at a cost, as external sounds will also easily pass into your ears, and, of course, sounds will leak out too. Unless you're using your headphones at home or in a quiet environment, then you'll want to get close-backed headphones, even if the sound isn't as good.
Can I use my headphones to control Siri or Alexa?
It depends on the headphones. But there are a lot of over-ear wireless headphones available in 2020 with this option. If they have an in-built microphone, you might want to check whether this function is available too.
How much should I be looking to spend on over-ear headphones?
When it comes to sound equipment, you tend to get what you pay for. If you're looking for some simple headphones, without active noise cancellation technology or an in-built microphone, then you don't have to pay a lot, and you'll still get good sound quality. If you're looking for headphones that offer more than great sound, then you're going to have to pay a lot more, and preferably choose a brand that is renowned for quality.
Did you know?
Active noise cancelation technology was created because Dr. Amar Bose, the founder of Bose, was on a flight back to his home in Switzerland and wanted to watch a film on the new 'in-flight' entertainment system. But all he could hear was the roar of the engine. So, he got out his notebook and started designing a way to cancel out the annoying noise.
Expert Tip
When you are choosing a pair of over-ear headphones, the playtime that the manufacturer boasts about on their product description will be how long the battery lasts when using the headphones wirelessly, but with features like active noise cancelation turned off.
Conclusion
In 2020, you won't struggle to find an excellent pair of wireless over-ear headphones. Even the cheapest headphones will offer you great sound quality. But you have to decide whether that's all that matters to you. If external noises are constantly leaking into your listening experience, then you can't appreciate the sound quality at all.
Spending the extra money to purchase over-ear headphones with either passive or active noise cancellation technology is really worth it. For convenience, it also makes sense to go for headphones that have a wireless playtime of at least thirty hours. You should never compromise on comfort either.
A pair of lightweight headphones that have earcups that will adapt to your ears made from a breathable material is a must. You only need to think of how long you might be wearing them for at a time and you'll realize that comfort should be a key consideration when making your choice.
If you've enjoyed this review by Music Critic, please leave a positive rating: