We have been hard at work bargain-hunting this week to dig-out the 10 best budget headphones in 2023 to see just what is available.
With demand so high, and so many manufacturers with their fingers in the same pie, the headphone market has become a highly competitive one.
Competing companies are constantly having to raise the bar with their models which has a beneficial effect for consumers with less cash to splash as the products at the bottom of the ladder become increasingly better.
We have sifted through the specs to find the best of the bunch and provided a handy buyers guide to give you some factors to consider before you buy.
At a glance:

Our top 3 picks
Our team's top 3 recommendations
Best Overall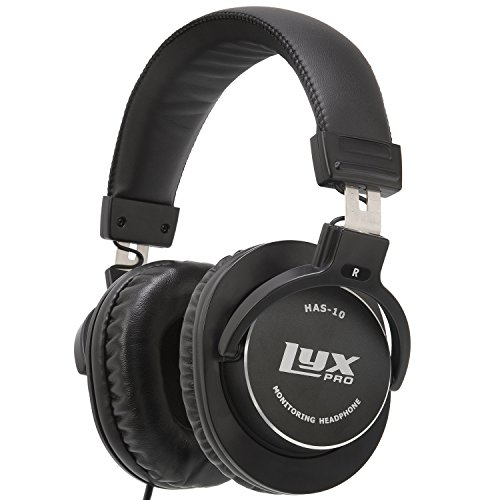 LyxPro HAS-10 Closed Back Over-Ear

Monitoring headphones.
Robust swivel mounts.
Quality components
Premium Quality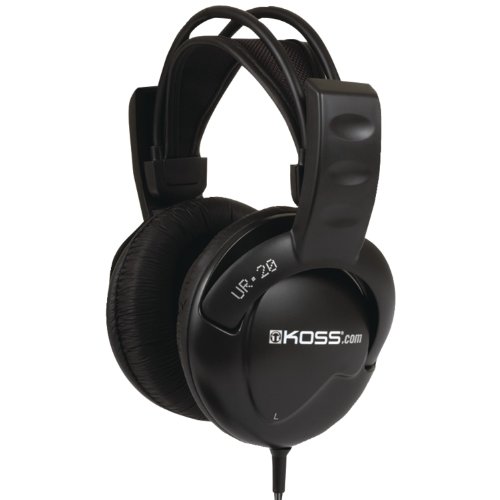 Koss UR-20 Home Headphones

Monitoring headphones.
Robust swivel mounts.
Quality components
Great value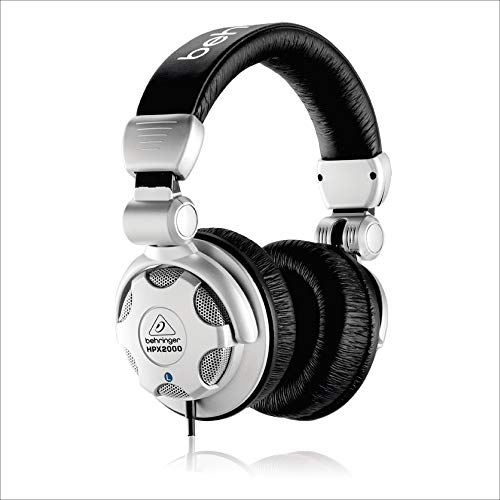 Behringer HPX2000 Headphones High-Definition

Monitoring headphones.
Robust swivel mounts.
Quality components
View The Best Budget Headphones Below
1. LyxPro HAS-10 Closed Back Over-Ear
Kick-starting our reviews are this affordably priced Pro-grade closed-back headphone option from LyxPro. They are an entry-level live monitoring set which has a wide dynamic response. Their pro-performance is thanks to their neodymium-ferrite magnets which are truly powerful.
The component within the driver construction are very good quality and have been meticulously tuned to match the performance of higher-end sets.
They are very durably built, they feature telescoping stainless steel arms which support their swiveling ear-cups. They can freely rotate up-to 180 degrees which along with their flexible headband provides adequate natural adjustment, keeping them comfortable for long mixing sessions.
The headband and padding are coated with leather which again keeps them comfortable. They deliver fine nuances and are capable of isolating even the softest of audio.
Pros:
+ Monitoring headphones.
+ Robust swivel mounts.
+ Quality components
2. Koss UR-20 Home Headphones
The UR-20 model from Koss is a low budget home headphone model that really represent the average affordable over-head set of headphones.
They have adequately capable drivers which utilize neodymium magnets and they capably reproduce the signals processed but their circuity. They have a standard frequency response and deliver well-balanced audio with good fidelity and dynamics, outperforming the majority of similarly priced pairs.
They feature a sturdy exterior build based on a solid design concept. The ear-cups are cushioned sufficiently which makes them comfortable to wear for longer. The headband has a strong supportive frame but is made with a good deal of flexibility to keep them comfy and allow them to naturally adjust.
Pros:
+ Strong build.
+ Good audio.
+ Good home-listening set.
Why We Liked It - They serve up surprising audio, they are suitably comfortably and seem pretty durable to boot.
3. Behringer HPX2000 Headphones High-Definition
Next-up a high-definition, bass-optimized set aimed at disk jockeys. They feature a rugged headband and rotating reversible ear-cups and are durably manufactured.
The comfortable ear-cups harbor cobalt capsule and highly-efficient large-aperture drivers which grant them higher-resolution.
Their response is also extensive, for a wider range of dynamics. They are sensitive, detecting even the smallest of nuances in the audio and reproducing them very authentically.
They employ a single-sided cord making them less prone to tangling and it contains oxygen-free copper wires for better clarity and longevity. The cable has a standard sized, gold-plated 3.5mm TRS connector and a 6.3mm adapter for versatility.
Pros:
+ Heavy-duty construction.
+ High-resolution sound.
+ Wide dynamics.
+ Detailed audio.
Why We Liked It - They are a sensibly priced, well-defined set. They are well-built and ideal for live-monitoring and mixing.
4. Koss KPH7 Lightweight Portable Headphone, Black
If the price of the Koss set above is still a little high for you, then you might want to consider this KPH7 model instead. It is actually today's cheapest stand-alone single buy selection.
Now given the low price tag, they are quite going to measure up to some of our higher priced pairs but they still serve up decent stereo audio and make for a bargain replacement set.
They have soft foam cushions which keep them reasonably comfortable as they sit on your ear rather than cupping around it.
They are very lightweight and much more streamlined than a typical over-ear option. They are equipped with surprisingly decent drivers, have a good frequency response and the bass is respectable.
They feature a single-sided wire with a 3.5mm TRS (jack) connector and the headband can adjust.
Pros:
+ Lightweight and streamlined.
+ On-ear option.
+ Soft foam.
+ Low-price.
Why We Liked It - They provide adequate audio, they are suitably soft to sit on your ears and provide pretty unbeatable value for money.
5. AILIHEN C8 Headphones with Microphone
We have previously reviewed the C8 model from AILIHEN as it is one of the few lower priced pairs out there which have survived rigorous testing during the developmental stages and therefore provide a very durable design.
The collapsible hinges of its fold-away design were compressed and stretched more than 20,000 times with a large amount of weight and managed to persevere.
They are a closed-back immersive set of headphones. With comfortably cushioned ear cups. They feature a leatherette covering which keeps the foam supports from overheating and becoming sweaty.
Their drivers measure 40mm and have a great frequency response. They serve-up full-range balanced audio. They are a newer edition which now features a newly integrated mic operated via in-line controls.
They have a braided cord which is less prone to tangling up on you and it has a standard 3.5mm jack connection.
Pros:
+ Durable moving parts.
+ Well-cushioned.
+ Extra strength cord.
Why We Liked It - They feature a strong folding design concept to make them more compact, the cord is braided and the audio is perfectly adequate.
6. Egghead Stereo School Headphone
Next we have a very different option, in that it is, in fact, a bulk-buy option. Some of you may be shopping in the budget regions because you need to purchase a large number of headphones.
This entry may be your answer. This appealing package from Egghead provide 20 pairs of wired stereo on-ear headphones for well below $200.
They are fabricated with a good degree of quality control. They have an adjustable ABS headband which allows you to lengthen it and has a good degree of flexibility for width. The ear-cups are comfortably cushioned and covered in a leatherette fabric.
They have an ample single-sided cord with a 3.5mm TRS (jack) connection for a range of applications. They are marketed towards schools to kit out libraries or computer rooms.
They aren't specifically optimized to provide personal audio listening but they perform very well, and keep the sound private and directed to the user. The mids and trebles are detailed which mean they are ideal for listening to spoken word and informational videos etc.
Pros:
+ Large bulk-buy option.
+ Adjustable headbands.
+ Comfy leatherette cushions.
+ Great value for money.
Why We Liked It - They provide a very sensible solution, They are very well made and a greater quality than your average school headphone set.
7. RockPapa Over-Ear Stereo Headphones
This next pair could also bee a good student option as they are once again on-ear, which is fine for adults but can make for a good option for little heads as over-ear models can sometimes be too big for them.
They are one of our lowest priced stand-alone sets in today's article. They are well-made they have simple functionality and allow for a reasonable amount of adjustment.
The headband seems sturdy, it sports two padded ear-cup which have a slightly smaller dimension than a circumaural set. The cushions are a foam/rubber composite and the fabric features perforations to help keep ears from over-heating.
They deliver strong, well-balanced stereo audio. They have a generous length of the cable and are available in a range of trendy colors to choose from.
Pros:
+ On-ear set.
+ Adjustable.
+ Breathable ear-pads.
+ Cheap choice.
Why We Liked It - They are a reasonably well made cheap set of headphones, the audio has decent performance they have a fair amount of power the bass is present but not too heavy in the mix.
8. Classroom Stereo Budget Headphones
Now for another classroom bulk-buy option which provides 10 bargain sets of headphones for under fifty bucks.
They are of course pretty basic as you would expect witch and exceptionally low-price but the manufacturers have tried their best to offer better comfort than competitively priced sets.
They have a strong plastic headband, typically on a cheap pair, we might expect a rather flimsy aluminum slider-band. It is somewhat adjustable and comfortable enough for periodic classroom use.
The ear-cups are well-cushioned, with thick padding covered with a synthetic leather-look material. They have a single-sided cord with a standard 3.5mm jack output.
Pros:
+ Strong headband.
+ Sufficient cushioning.
+ Very low priced bulk option.
Why We Liked It - It is an appealing package for learning centers, they work out as under $5 per pair which presents a good deal.
9. Edifier H650 Headphones - Hi-Fi On-Ear
We are moving back away from the bulk buys for a look at 2 stand-alone sets from the engineers at Edifier that each present an affordable, quality option.
First, we have the H650 model which are an on-ear set of wired headphones. They feature 40mm drivers which serve-up a more professional level of audio with far better dynamics than a smaller pair.
They are housed within very comfortably-cushioned, soft leather ear-cups, which are mounted to a sturdy adjustable headband.
The headband is reinforced with a stainless steel skeleton and can be adjusted easily.
The Tri-Fold design allows for them to folded away, reducing them to half their original size. They are lightweight and highly portable. They feature a strong single-sided cord and come in a variety of color selections.
Pros:
+ Durable construction.
+ Tri-Fold system.
+ Comfortable to wear.
10. Edifier H840 Audiophile Over-The-Ear Headphones
We are ending our top ten list with a firm favorite in the low end from the folks at Edifier which have a little more to offer than the set above. The H840 is their self-confessed audiophile model and whilst it doesn't compare to high-end audiophile sets, we have to agree that the sound is far superior to its low budget competition.
The design is very well thought-out and the engineering has a little more attention to detail on this set comparatively as Edifier has enlisted the expertise of Phil Jones.
The master engineer has tuned the driver units to respond to an exclusively developed Wave-guide algorithm. The resulting performance is much more accurate and very impressive given their retail price. They are once again a closed-back headphone option, providing immersive audio with a rich definition.
The strong headband relies on reinforced steel, it has an ergonomic design for complete comfort and employs a cushioned leather headrest, to help take some of the pressure off. Their cable is strengthened and can fold-up compactly and they come with a case for storage.
Pros:
+ Ergonomic fit.
+ Great engineering.
+ Reinforced folding design.
+ Strengthened cable.
Why We Liked It - They are durably built and have idyllic functionality, the engineering is a little more developed, wiping the floor with their direct competitors and providing better value for money.
Budget Headphones Buyers Guide
When shopping on a lower budget it is often best to do your research and window shop for a while, otherwise you may find yourself with a poorly-made set which won't last very long. Having to then scrape together more cash for a replacement set.
Some manufacturers advertise their products in a very misleading fashion so it is wise to know what you are looking for before you shop so you can filter through the filler for the facts.
You should keep your expectations realistic, budget audio-electronics will always be exactly that, however, there are many models lurking in the lower priced regions which outshine the rest.
If you haven't got audiophile ears and are willing to compromise perfection for practicality you will find there are a number of models out there which will pleasantly surprise.
What to Look for when buying Budget Headphones?
With a cheap set of headphones quality really is everything so first let's discuss the materials.
Quite often the quickest and easiest way to lower the retail price for the customer is by slashing the production costs.
Cheaper materials in the lower-priced regions are therefore sometimes unavoidable but with so many competitive products a keen-eye can pick the better sets out.
Comfort is a key concern with cheaper models, a general rule of thumb is the bigger the headphones the better the cushioning should be. Idyllically employing fabrics which are breathable or skin-friendly.
Ears can become very hot with an over-ear headphone option especially if it is closed back and they can sometimes start to sweat as well. On-ear sets can be less intense.
They should have a good range of adjustment, headbands need to be sturdy but also flexible and once again they are comfier if they are suitably padded. Some of the cheaper plastic sets won't be very comfortable for too long.
If they are ill-fitting or too hard on your head, they can cause cranial pressure quickly leading to headaches during use.
Typically you are going to see a lot of plastic utilized in exterior parts and you may have to settle for that if you don't want the internal components sacrificed which are of course far more important considering their prime functionality is the audio they provide.
All headphone speakers work in the same manner and the simple transducer hasn't really changed all that much since its early days.
How good the audio quality actually boils down to the driver performance. The quality of the components used and the way in which they are put together is crucial to how well they respond to the electrical input signal they are given.
With budget models, you will typically expect a neodymium driven speaker and you will have probably noticed the materials don't differ too heavily from one another.
The data processing aspects of the circuity and how well they are engineered can improve speakers functionality. The response is generally somewhere between 20 and 20, 000 Hz but how accurately they recognize the frequency and to what degree is dictated by their chips.
Matching sized diaphragms built from the same composites can sound completely different playing the same audio because they interpret the signals differently depending on how finely tuned their response is.
Some headphones have an extended frequency response and their circuitry has been optimized to provide better bass frequency recognition and handling. If you enjoy bass-heavy genres of music this is going to be much more crucial to your requirements.
Without this low-frequency attention, you may find you get a lot of distortion as bass frequencies disrupt the magnetic field quite heavily and require a lot of air with a very energetic motion to push out an accurately low sound wave.
When shopping on a very low budget you should keep in mind that, the electrical signals are less true to input if they are sent wirelessly and because of this, you need to spend little more on a wireless set for decent sound.
With this in mind, we have opted for wired models today. Utilizing a direct signal through a cable sends a cleaner more accurate signal which means that better audio can be reproduced.
Wired models can seem a little retro or restrictive to some and they do have a tendency to tangle up. They can also typically be an easy breaking point, as they are tugged and pulled around during use.
You essentially have 3 options when it comes to the wires. Y leads are said to tangle less but they are connected to each driver which then present double the amount of weak spots.
A single-sided cord is joined to one active speaker which helps to reduce the potential, but they are more likely to become tangled. A detachable cord provides a stronger connection point but can also tangle-up on you.
Some manufacturers counter the weakness with a reinforced entry point or a plug-in rotating connection point.
There are ways to try to make wires tangle proof, this usually involves an outer covering. This can be done with woven/braided textiles or plastics.
Are Budget Headphones Any Good?
Whilst you are certainly more likely to get a better-manufactured product if you spend a little more if you haven't got a lot of options you will find yourself fairly satisfied with some of the over-ear sets under $100 we have selected.
We highly recommend the Edifier Audiophile set or the Behringer HPX2000 as they have superior drivers to the majority of their competitors. They also feature custom-engineering, which enhances the way the components delegate the workload, recognize frequencies and reproduce them, for ultimately better audio.
The headphone market is essentially overstocked and the rampant competition means that we see some very capable products available at an attainable price. You aren't going to find mind-blowing audio from a bargain set and they probably aren't going to last you a lifetime but you should expect more than adequately balanced full-range stereo sound with good dynamic reproduction.
Conclusion
If you are shopping on a shoe-string keep quality as your key factor. Think long-term and you can save yourself some extra cash in the long-run.
Of course, the audio itself is important and if you can stretch to it, buy the best your dollars can get. Keep your expectations realistic and read between the lines of the specs to find a set which ticks all the right boxes.
If you are on the lookout for a low priced pair so that buying a dozen doesn't set you back, then hopefully today's inclusion of two, very appealing bulk buy options along with a few very low-priced standalone options will have helped you find exactly what you want.
As ever we hope our buyer's guide has given you all the info you need to make an informed purchase and we wish you happy shopping for your next good quality, budget set of headphones.
Expert Tip:
Sometimes, it is wise to go with a reputable brand when you are shopping with a very restrictive budget in mind. Quite often, their larger-set-ups allow for cheaper production costs without sacrificing too much of the brand's integrity. This means you can often get yourself a good deal.
Did You Know?
We have a range of articles highlighting affordable headphones with budgetary limitations. You might want to head on over to our best headphones under $30 or best Bluetooth headphones under $50 articles.
If you've enjoyed this review by Music Critic, please leave a positive rating:
[vc_separator