In this article, we're going to be reviewing the ten best audio interfaces under $200. Nowadays, you can create an excellent home studio for a very small outlay. That's down to a combination of reduced manufacturing costs and technological advancements.
We've found some awesome, affordable products for you that will help to turn your home recording dream into reality.
The majority of products on our list are plug-and-play, USB-friendly devices. They'll allow you to connect your instruments to your DAW. Of course, if you're wanting to create a professional setup, then you'll need a more advanced AI. But for most amateurs or beginners, you'll likely find an interface on our list that will meet your needs.
Not only have we provided you with a list of awesome audio interfaces that cost below $200. We've also created a very handy buyer's guide too. You'll find all the important questions answered in this guide. Armed with the knowledge in this article, you'll be ready to buy the best audio interface for your home studio.
Let's begin with the all-important reviews!
At a glance:

Our top 3 picks
Our team's top 3 recommendations
Best Overall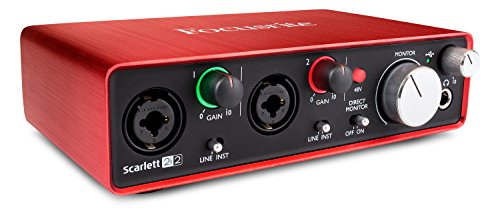 Focusrite Scarlett 2i2

2 x combo inputs.
Compatible with all major DAWs.
Software included.
Premium Quality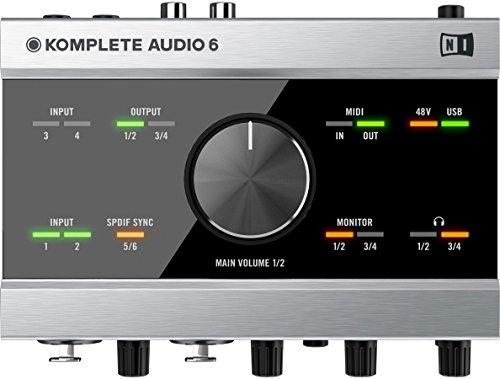 Native Instruments Komplete Audio 6

2 x combo inputs.
Compatible with all major DAWs.
Software included.
Great value
PreSonus AudioBox

2 x combo inputs.
Compatible with all major DAWs.
Software included.
View The Best Audio Interface Under $200
1. Focusrite Scarlett 2i2
The Scarlett series has made a big impact in the home recording studio market, especially the second-generation models. And it is a second-gen version that we've put at the top of our list.
The Focusrite Scarlett 2i2

 is a USB connection AI. It features two combo inputs, which consist of two XLR Microphone pre-amps with phantom power and two instrument inputs. It has two line-outs and headphone monitoring, as well.
It has unrivaled low latency. This enables you to better handle your workflow inside your DAW. There's no delay when you're working with a headset. It provides the same professional level signal conversion as Scarlett's higher-end models, which are used by many pro producers in the recording industry.
The Focusrite Scarlett 2i2

 comes with a driver and a load of other goodies. You get an exclusive copy of Pro Tools, Ableton Live, some premade samples, and additional software plugins to boot.
Pros:
+ 2 x combo inputs.
+ Compatible with all major DAWs.
+ Software included.
Why We Liked It - The Focusrite Scarlett 2i2

 is the number one bestselling home studio in a box for a reasonable price. It is easy to set up and use from the get go. It offers unbeatable audio quality. The plugins and add-ons are always a welcome bonus too. Quite simply, it delivers great quality for a very reasonable price.
Audio Interface Needs - Especially if you're only planning to record your own music, don't worry about investing in a super expensive audio interface. These options work perfectly well for your purposes and will carry you far. If you're looking for a crisper sound but you're limited to your budget, you could purchase a pre-amp in addition to one of these interfaces.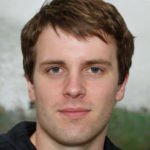 2. Native Instruments Komplete Audio 6
This is one hell of an AI from Native Instruments. It is USB-powered and offers low latency, which makes using virtual instruments a breeze. There's MIDI connectivity for a master controller or keys and synth additions. It's got a digital stereo input and output (S/PDIF RCA) and four analog inputs (XLR and TRS combos).
This USB audio interface is constructed from top-quality materials, which translates into excellent components. It's got high-end pre-amps and cirrus logic converters, for example. It makes a good upgrade on some of the lower-budget AIs that are available.
You get a copy of Cubase LE6, Traktor LE 2, and Komplete Elements. This product delivers professional recording ability right out of the box.
Pros:
+ High build quality.
+ Output connections make it suitable for DJing.
+ MIDI-enabled.
Why We Liked It - This well-built, high-quality USB audio interface offers you a good range of outputs for professional recordings. It's at the top end of our price bracket but, we think, it's well worth paying the extra bucks for. A superb product and a safe investment, in our opinion.
This entry-level product is the first product that PreSonus put out in its AudioBox series. It's an appropriate name for the compact device. There are two front-facing combo inputs, which are typical for interfaces in this price range.
Let's have a look at a few of its other specifications.
It offers USB connectivity, has MIDI abilities, and phantom power for condenser mics.
This USB audio interface has a 24-bit resolution (44.1,48,88.2) and 96kHz sampling rates. 
It presents five dedicated dials, two for line-in gain control modules, one for monitor level, one for the DJ mixer, and one for mains.
It's compatible with most DAWs (Mac and PC) and it comes with Studio One workstation software, as well as 6+GB of additional third-party storage to top it all off.
Pros:
+ MIDI in/out.
+ Suitable for most DAWs.
+ Comes with Studio One.
Why We Liked It - This budget USB audio interface is the oldest in the AudioBox line as well as the cheapest. It's an effective, functional product that will be ideal for many home producers, we think. The fact that it comes with Studio One software is another big plus. For a reliable, low-price audio interface, this is a good choice.
Portable Workstation - Another use case for these audio interfaces is giving you the flexibility of mobility. These compact interfaces can easily travel with you without holding you down like other heavier, more expensive interfaces. Whether you're conducting a remote session or simply want to create music on the go, these are a great addition to your collection.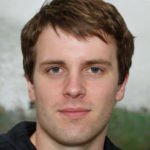 Steinberg is responsible for some of the best audio production gear around. The UR242 is a great example of what this company does so well. It's a stunning, entry-level interface that costs just below $200. Still, despite the low price, it offers the same capabilities as many premium products.
It's bus-powered with USB connectivity and has in-built DSP effects. There are four analog ins and two outs. It also features Yamaha's awesome Class A, D-Pre mic pre-amps, which are sure to add clarity to your mix. They've also got a REV-X reverb algorithm built into them. So, you have the choice between Hall, Room, and Plate simulations.
Other features include MIDI In/out and phantom power. It is compatible with all DAW software for Mac and PC, as well as being compatible with iPads. It comes with a copy of Steinberg Cubase LE, which works seamlessly with the interface.
If you want to capture a musician's expressiveness, then this product is ideal. The signals are pristine, allowing you to pick up all the dynamics and nuances of a recording. The D-Pre mic pre-amps do not over amplify and can handle great levels.
Pros:
+ Four analog ins.
+ iPad compatible.
+ Built to last.
Why We Liked It - A combination of on-board DSP effects, a durable built, and quality pre-amps, make this product a cut above the rest in this price range. You can typically pay twice for an interface with similar pre-amps and abilities. Steinberg has packed a lot into this little guy.
5. Focusrite Scarlett 2i4
This recording interface is the next model up from the 2i2 that topped our list. It features the same excellent user interface as that model too.
It has class-leading conversion and functions at the same rate as the Steinberg and a little better than the PreSonus AudioBox. It provides the trusted low latency that we have come to expect from Focusrite.
There are two analog inputs for separate or simultaneous recording. The combo is composed of an XLR and a TRS. This product also features Focusrite's proprietary pre-amps, as well as 48v of phantom power.
So, is it worth the extra outlay compared to the 2i2?
If you're willing to spend a small amount extra, then you'll get two more outs, which is ideal if you're a DJ. It also offers an additional MIDI in and out. Quite simply, it will depend if you need these extra components or not.
This product comes as part of a great bundle. It includes Pro Tools, Their Red2, and 3 Suite. You also get other valuable resources like the Novation Bass Station VST, as well as an AU plug-in synth.
Pros:
+ Two Inputs and Four Outputs
+ MIDI I/O.
+ Lots of software included.
Why We Liked It - It's a slight improvement on the AI that topped our list. We can recommend it to anyone willing to pay those extra bucks. We're also big fans of the wealth of extras that you get with it, which makes it ideal for newbie producers.
It is fair to say that this USB-powered audio interface is more of a bare-bones model compared to the products we've already looked at. This Mackie

 interface comes in at the 100 dollar mark, which makes it an affordable choice.
It has one premium-quality, onyx pre-amp, a jack, and a three-pin XLR input with phantom power to cover condenser mic requirements. The Mackie Onyx Artist

 boasts zero-latency analog monitoring for real-time functionality. It also has two dedicated outputs for home studio monitors.
This USB audio interface is compatible with all major DAW software apps. It comes with Tracktion Music production software and an essential collection of plug-ins.
Some users report a small amount of white noise whilst using the low latency monitoring mode. We think that this is probably due to cables so be sure to get a good set.
We're very impressed by the durability of this product, with the manufacturers stating that it's built like a tank. We don't disagree. It's certainly going to be able to withstand a few bumps without any issues.
This is Mackie's cheapest model and as an entry-level AI, then we can highly recommend it, especially when the low price is taken into account.
Pros:
+ Easy to use and bare bones AI.
+ Bargain.
+ Software included.
Why We Liked It - This USB audio interface provides a good level of audio quality. It is also half the price of models that offer extra input/output ports. If you only need the basics, then this is a good choice, especially because of how cheap it is.
7. Focusrite Scarlett 18ii8
This is another AI that's at the top end of our price bracket. It might be pricier, but we think it's well worth those extra bucks. The Scarlett 18i8 offers the same superb sound quality as the previous Scarlett products on our list. But this one has much more flexible I/O options.
It is a second-gen model that has been upgraded to 192kHz to match industry levels. The pre-amp design has also had a complete overhaul. Its user-friendly layout is faithful to its original design. There are four combined XLR/TRS inputs for mics, as well as four line-in level inputs. Each input has a dedicated gain control knob. Phantom power is available in pairs. The monitor dial controls the output instrument level for the rear outputs.
You will also find an additional four line-level inputs, which are S/PDIF I/O. There's an optical input that can carry eight additional channels of digital input (4 if they are functioning at higher sample rates).
This awesome product comes with a range of unbelievable software goodies too. You get Pro Tools, First Focusrite Creative Pack, Ableton Live Lite, Softube Time, Tone Bundle, Focusrite's Red Plug-in Suite, and 2GB of Loopmasters samples. Now you can see why it's worth paying a bit more for.
Pros:
+ 8 inputs.
+ 2 headphone monitoring outputs.
+ MIDI I/O.
+ 4 line levels
+ Dedicated gain control knob
Why We Liked It - It is only marginally more expensive than the more basic models and yet it delivers a lot more quality. That's because of the extra I/O options, which also make it suitable for big rigs or more demanding tasks. If you're serious about recording the best quality music, then we can recommend the extra outlay on this one.
This AI from PreSonus offers some improved and more advanced functions than the AudioBox model we've previously looked at. There are two additional, balanced line-outs. It's also got a cue mix A/B button, which is a superb feature for DJs. The converters are on a par with many other leading models in this price range.
Let's have a look at some other specifications. It's got two combined inputs, which are an XLR and a jack. The jacks are switchable from high to normal impedance. This is done through the line/instrument switch, which is a feature that Focusrite pioneered. It's capable of supporting a condenser mic with 47v phantom power as standard. There's also a MIDI in and out at the rear of the unit.
It's got a low-latency headphone jack for monitoring in real-time. We found it to have an impressive range when it comes to decibel gain. It's a solidly built unit too, which is certain to last a while. It comes with a copy of Studio One Artist, but it's also compatible with all Mac and PC digital audio workstations.
Pros:
+ 4 in, 4 out.
+ Low latency headphone jack
+ Onboard direct monitoring.
+ MIDI I/O.
Why We Liked It - It's a thoughtfully designed product that's got loads of great features. We think that it's perfectly suited to DJs because of these extra features.
The M-Audio M-Track 2x2 is another user-friendly, no-frills studio in a box. It's available for a very reasonable, low price. Despite its affordability, it still offers two ins, two line-outs, and one XLR/TRS combo input. It offers 48v phantom power, and it runs at a 24-bit/192kHz audio resolution.
It's a very durable unit that's got a sleek and stylish design. The looks are reminiscent of a more traditional mixing desk. It's got dedicated dials that are top-mounted. You can monitor in real-time with zero latency with headphones too. It features all-new, professional-grade, crystal pre-amps that ensure there's low to no noise.
This product also comes with an edition of Pro Tools, Elevenlite, Xpand!, and plug-ins. It also comes with two gigs worth of sample content from touch loops.
Pros:
+ 2 in 2 out bare bone essentials.
+ Zero latency.
+ Additional software package.
Why We Liked It - It's a solid unit that delivers pristine signals. We were very impressed by its ability to catch the subtleties of a performance. Overall, it's an excellent AI that we can highly recommend.
10. Behringer U-Phoria UMC404HD
Also coming in for under $100 is this amazing USB 4 track audio interface from Behringer one of the biggest names in audio. Each of the XLR/TRS combo inputs has it own set of dedicated control knobs.
Last up on our list is another low price audio interface that delivers a huge amount of quality. It's a USB, four-track interface that's made by Behringer, which is a very respected brand.
Each of the XLR/TRS combo inputs has its own set of dedicated control knobs. It also features world-class MIDAS pre-amps, which have been featured in some of the most admired audio equipment for more than three decades. The reputation is down to their ability to offer pure, noiseless signals.
It's also got a MIDI in/out, level controls for musical instruments, and several outputs, including ¼" TRS, RCA, and XLR. DJs will also love the monitor A/B source selection.
This budget USB audio interface comes with Tracktion software, which is a popular DAW software app with a vast library.
Pros:
+ MIDAS pre-amps.
+ Mixed outputs.
+ Under $100.
Why We Liked It - It's a stunning little device that offers the same features as a model that would be twice, if not three times the price. Behringer always manages to offer superb value for money, and this AI is certainly no exception. A great investment, in our opinion.
Consider Adapters - Be sure to pick up any necessary adapters especially if you have an Apple Computer. Also, if you ever need to replace your power cord, keep in mind that many audio interfaces use proprietary cables, so you'll need to order them directly from the brand itself for your equipment to work. In the event that you need a replacement.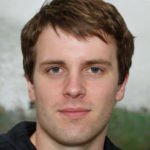 Audio Interface Buyer's Guide
What Is An Audio Interface?
An audio interface is an incredibly useful device for computer-based audio production. If you want your computer to be able to capture professional-level quality from an instrument or mic, then it's essential. This is even more true when you need to have more than one input going in at the same time.
Podcasters could just about get by with a high-end USB microphone, but for producing music, you'll definitely want to be able to route multiple inputs through one port.
Let's move onto our all-important buyer's guide!
What Does An Audio Interface Do?
An audio interface does several tasks. First, it provides the necessary connections for recording vocals and musical instruments. Anyone who is a home producer, either of music or podcasts, will certainly need this device for better recordings.
Second, it also acts as your computer's sound card when it's plugged in. That means that you get better sonic capabilities. Also, an AI provides you with a better digital clock and superior circuitry when compared to a stock computer sound card.
An AI allows you to connect to your computer via different ports. A lot tend to offer a USB 1 or 2 connection these days. Some connect through FireWire or even PCMCIA/ Express card slots. Generally speaking, this is dependent on how many inputs your device can manage. If you're going to use two microphones, for example, a USB 1 should do the trick. The bigger the demands of the AI the higher the bandwidth of the recording interface.
They convert analog signals into digital audio information and send it to your computer they also simultaneously receive the digital information from our computer and reconvert and send the signal back into analog.
I/O Configuration
The inputs you require on your recording Interface is subject to what you intend to get out of it. If you plan to play electric guitar/acoustic guitar/bass guitar and sing you will need 1 XLR and 1 TS or Jack. A lot of modern models combine the two as one connection and XLR for three pins and a TRS in the middle for your jack (combo input). If you want to get recording vocals and electric guitar or acoustic guitars separately in individual takes 1 input would be sufficient however if you want to play or record the two together you will obviously need 2 inputs minimum.
Additionally, If you plan to use MIDI instruments you will need MIDI connectivity ports. MIDI capabilities are awesome because they run on a series of computer-based commands they allow you to have a remote control way of controlling the MIDI instruments that your DAW may or may not have. If you hook up a MIDI synth and play it into your computer the signal is literally information so you can change it completely from the computer side afterward.
You will also want to consider your outputs typically they have one set of stereo line outs on board as well as a monitor out, if you were looking to DJ you might look for one with a double stereo line out so you can use one set for the house and one privately. So as you can see your input/output configuration is a key factor to be conscious of before you buy.
Lastly, if your microphone requires phantom power to work you will want an audio interface that offers this feature. Many of the AIs on our list include phantom power, so make sure to check if the one you purchase has it, as well as what power capabilities it offers.
What Is The Best Cheap Audio Interface?
There are lots of great audio interfaces around that you can get for a low price.
In our opinion, the best cheap audio interfaces available are the Focusrite Scarlett 2i4, the Steinberg UR242, and the Behringer U-Phoria. Each of these products delivers a huge amount of quality for a very affordable price tag.
Check them all out to see which one offers the features you need.
Are Budget Audio Interfaces Good?
In a nutshell, yes. You can find some excellent audio interfaces for a budget price. As you can see from our list, low-price AIs offer the same functions and features as more expensive models.
Let's have a look at some of the key areas and how they perform.
Key Areas to Look Out For
First, we have sound quality. In our opinion, budget AIs can offer you competent sound that will be more than suitable for home recording or broadcasting. If you're an amateur or budding producer or podcaster, then purchasing an AI in this price range will be a good investment. You won't likely need the added features that much more expensive products will offer you. So, a cheap AI should do the job while you're finding your feet. You'll also notice a marked improvement compared to the quality your computer offers.
Second, a low-price AI will include a good digital clock and decent sync devices. These features will provide you another improvement on your computer's stock sound card. Yes, if you pay a few hundred bucks more, you will be able to get a device with better components. But the question, again, is do you need these advanced features at this stage in your career?
Durability is another feature to consider with low-price audio interfaces. It is here that you may find the unit wanting. Manufacturers tend to keep costs down by putting less money into the building process, as well as the materials of the chassis. As long as you look after the AI, though, then it shouldn't break easily.
To ensure that you buy the best product, we recommend that you choose a respected and well-renowned brand. You'll have noticed that most of the products on our list have been made by some of the most famous manufacturers around. This is not an accident. When you purchase from a respected brand then you'll simply get a better product.
Also, we can highly recommend any of the products on our list. If you decide to buy a budget AI that isn't on our list, then we cannot vouch for its quality. So, take that risk yourself. But be aware that you may regret the purchase.
Conclusion
Over the last ten years or so, we have observed the immense developments that have occurred with audio interfaces. Not only do they become better, but they become cheaper too. That's down to technological advancements during this time, as well as manufacturers being able to build them more cheaply. Another reason for the price being so low is that more manufacturers are making them, and the competition in the overcrowded marketplace has driven prices down.
It's consumers who benefit from the low prices. And as you'll have seen on our list, there are some awesome products around nowadays. To make sure you buy a good one - and not a dud - then keep an eye out for the following.
You need to know what your I/O requirements are. You should also check the specifications of each device closely. Remember, if you'll be needing phantom power, then check the device offers it.
You should also ensure that the device is durably built, as this will make it last longer. Although, we do think this is the least important feature of budget audio interfaces. If you take care of it, then it shouldn't break.
Make sure to look out for what extras you get too. Many of the products on our list come with a range of DAWs, as well as plug-ins and samples. Remember, you also need the device to be compatible with the DAW you use.
Now you're in a good position to make a purchase. We hope that our article has introduced you to your next audio interface. And we also hope that you've found the information in this article valuable. Good luck with your recordings and broadcasts. You'll notice a big improvement with an AI!
Expert Tip
If you want to use dedicated plugins without placing the load on your computer you can look for an audio interface with DSP capabilities. The Steinberg UR242 that we've reviewed is a good example.
Did You Know?
The Focusrite Scarlett series traces its lineage back to the Focusrite Forté. That was an incredible device that's still regarded as one of the best of all time. The problem was that it took four years to develop and nearly bankrupt the company. As a result, it wasn't mass-manufactured, and only two are currently known to be in existence!
If you've enjoyed this review by Music Critic, please leave a positive rating:
[vc_separator