Acoustic electric guitars have become increasingly popular over the years, and there are plenty of musicians looking to invest in a new guitar every day. The problem arises when you realize how many options there really are out there, and choosing an Ibanez or a Yamaha can be difficult since both brands are equally respected. Since we know how frustrating it can get for customers trying to find an acoustic electric guitar to put in their basket, we compiled a list of the best acoustic electric guitars under 300 dollars that are provided on the market today. Want to spend less? Try an acoustic electric guitar for less than $200.
We also decided to include a section of answered questions and a small buying guide to help you know what to look for when buying an acoustic electric guitar! It can be confusing to know which features are important and which aren't, and that's why we hope this article will guide you through your journey of picking the top acoustic electric guitar for you or your relatives!
Check out our review of the top acoustic electric guitars under $1000. Alternatively, try picking a guitar from the top acoustic electrics under $700.
At a glance:

Our top 3 picks
Our team's top 3 recommendations
Best Overall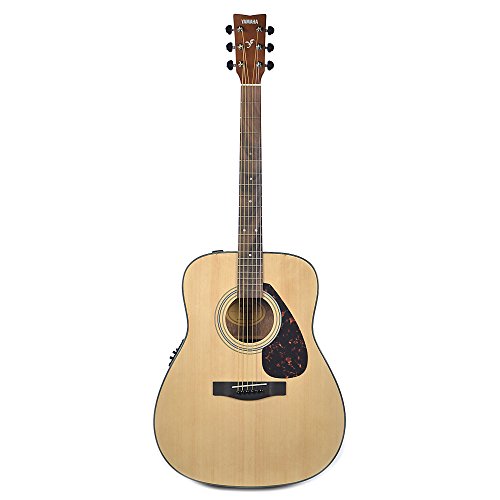 Yamaha FX325A

Comes in gig bag bundle
Great beginner acoustic electric guitar
Solid, dreadnaught designclear, projecting sound
Premium Quality

Fender CD-60CE

Comes in gig bag bundle
Great beginner acoustic electric guitar
Solid, dreadnaught designclear, projecting sound
Great value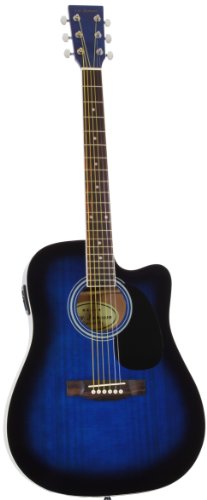 Jameson Blue Thinline

Comes in gig bag bundle
Great beginner acoustic electric guitar
Solid, dreadnaught designclear, projecting sound
The Best Acoustic Electric Guitars Under $300, Below
Yamaha is one of the most respected brands in the industry today and they are known for having fantastic choices when it comes to acoustic electric guitars, and this is one of these fantastic options. There are two designs to choose from when buying this guitar, the natural, simple, classic guitar design and the tobacco sunburst design. There are also two bundles that you can choose between when you purchase this guitar, you can either buy the single guitar without any accessories, or you can get a gigmaker package where you get the following: a soft case, plectrums, strap, learning CD's and a guitar tuner.
If you are a beginner this is the best bundle you could ask for, it includes all of the accessories that beginners usually get discouraged looking for, since there are as many plectrum and tuner options as there are guitar options! Regardless, this guitar is made in the dreadnought body style and has a spruce top with metal guitar strings (the product also comes with an extra set of guitar strings, just in case some accidents happen!). With this quality product from Yamaha you won't have any buzz or rattle within the body, when playing this guitar you will have a clear, rich, projected sound.
Pros:
+ Comes in gig bag bundle
+ Great beginner acoustic electric guitar
+ Solid, dreadnaught design
+clear, projecting sound
Why We Liked It - This acoustic electric guitar from Yamaha is perfect for anyone that is looking for a well-built guitar that has a complete, well-organized bundle of accessories that come with the initial product. If you are a beginner and you are not sure what things you need to buy to accompany a guitar, Yamaha already chose these products for you to make your journey a little bit easier!
Prioritize features - At the budget end of the price scale, you aren't going to get everything you want. You might need to sacrifice better tonewoods to get better pickups or vice versa. When choosing your guitar, prioritize the areas that are most important to you so you can sacrifice in other areas.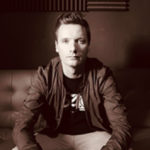 This acoustic electric guitar from Fender is another great product, it comes in three attractive colors: the simple, sandy color, a mahogany, wood pattern combo and a simple, black finish. No matter what your preferences are, there is no doubt you will be able to find a design for yourself from this set of colors and that's what makes Fender stand out among other brands: the options. There are four guitar body designs you can choose from too, there is a dreadnought body, dreadnought cutaway, folk and folk cutaway. No matter what body design you feel most confident with, you will be happy to know you can choose whichever is your favorite and order it right away with Fender!
Many people praise this guitar for having great tones and sounding bright and deep. There is a tuner within the guitar that will also help you quickly tune your guitar within seconds when you plug it into the amp! Fender is known for improving their products each time they release them, and this acoustic electric guitar has been significantly improved from its predecessor. There are many features included with this guitar that are usually only included with much more expensive products, and that's what makes it stand out among so many other products. There is a new, improved pickguard and a compensated bridge design.
Pros:
+ 3 design choices
+ Comes with hardshell case
+ Inside tuner
Why We Liked It - This Fender guitar is a great piece of gear that any aspiring guitarist will surely enjoy.The guitar comes with a hardshell and all the default acoustic electric guitar features like the preamp system, tuner, volume and tone control options are included right here and work great! If you need a new guitar that has everything a guitarist could ask for, this is definitely the best option.
This Blue Thinline acoustic electric guitar from Jameson is one of the best products on the market if you are looking for a low-budget guitar. The blue design that covers this guitar is original and fresh and fades into the black edges almost seamlessly. This guitar is on the list of Amazon's Choices too, and it's easy to see why, there are over 500 reviews most of which are 5-starred. The guitar sounds as good plugged in as it does raw, and that's what marks a good electric acoustic guitar.
You will get a free guitar case which is perfect for traveling and keeping the guitar safe in your home and you also get free guitar picks! Many beginners tend to buy guitars and forget that they also need a pick if they don't want to only play fingerstyle. This guitar has been a top-seller for years and is a customer favorite not only because of the attractive price but because of the features included with this product. The thinline body makes this guitar perfect for guitar players of all ages, be it for adults, pros or children. The sound is deep and rich and the quality of the workmanship is one of a king.
Pros:
+ Comes with guitar case
+ Includes free picks
+ Original blue finish
Why We Liked It - This Jameson guitar is ideal for anyone that is looking for a solid product that can perform at high quality. If you need an acoustic electric guitar to start learning on or if you need a quality replacement for your old guitar, this is definitely one of the best products you can go for! It sounds just as good live as it does within a studio and makes for a perfect tour companion.
Build quality - Under $300, you will never match the build quality of a high-end electro-acoustic guitar. It's highly likely that you'll be looking at a laminated wood guitar, but it doesn't mean you should accept shoddy craftsmanship. From the bindings to the tuning heads, everything should be robust and reliable.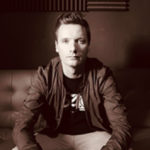 Yamaha is once again quick to impress, the FGX800C is the ideal guitar for anyone that is looking for a sea of options. This product comes in a stunning amount of 12 colors that go from blue, to orange, to red and much more! If you are one of the fussy kinds and you find it hard to find a guitar that matches to your studio, amp or rest of the band, you will glad to know that all of these color choices offered by Yamaha are available to choose from before each and every purchase. This makes for a fantastic, independent and personalized experience where you will be able to feel like the guitar has been tailor-made just for you!
There are also 6 kit options to choose from, and they are all vastly different. There is a bundle with just the acoustic electric guitar, a value pack bundle that comes with a stand, hard case and small learning guide, a bundle with a 12-string alternative guitar, a bundle that contains the left-handed design of the guitar and last but not least, an accessories bundle that comes with an extra set of strings, a tuner and a small learning guide. If you are looking for versatility, Yamaha is no doubt the brand to turn to!
Pros:
+ 12 color options
+ 6 bundle options
+ 10 body style wood choices
Why We Liked It - Everyone knows that you cannot beat Yamaha when it comes to versatile products that can suit even the fussiest guitar player in the crowd. They know how important it is to keep customers happy, and what better way is there than giving an option for the customer to have a say in almost any feature that the guitar has! This is definitely one of the top products simply because the mix and match choices you can make here are endless.
5. Ibanez AW54CEOPN Artwood
If you are tired looking at all of the simple, classic guitar designs that all the other guitar brands offer, Ibanez's product is definitely a feast for the eyes. They offer you a solid, heavy-duty laminate mahogany top that is covered in a very unique and attractive, darkly tinted wood pattern. The rosewood bridge and fret board are solid and will not break easily. The main body is in the style of a dreadnought body but with a cutaway, this design is perfect for anyone that has trouble reaching the higher guitar strings when playing with a full body guitar.If you are looking for a guitar that will accompany you as you try and hone and improve your skill, this Ibanez is perfect for the job thanks to its pure tone
The laminate mahogany construction of the guitar will allow you to have clear sounds that will catch just about anyone's attention, and the guitar itself projects its sound very loudly and clearly thanks to the open pour that many other guitars don't seem to have. The matte finish helps this guitar take on the appearance and appeal of real, polished mahogany bark which makes for a fantastic atmosphere no matter where you end up placing your new, trust companion. Regardless, if you decide to invest, we can promise that you will not be disappointed with the sound and craftsmanship of this beautiful instrument!
Pros:
+ Clear, loud projection
+ Solid, mahogany body
+ Attractive, matte finish
Why We Liked It - It's hard to find such a fantastic electric acoustic guitars in this price, and that's why many customers remain surprised as to how well this guitar performs. Its build is solid and speaks an unspoken promise of being able to go through a lot of heavy-duty tours without losing its original sound!
With over 50 reviews under its belt and most of those being 5-stars, Yamaha has once again provided the market with a reliable and well-crafted product. The APX50III is one of the best electric acoustic guitars on the market, and it looks extremely attractive as well. It comes in five different colors: black, dusk sun red, classic and blue. Once again Yamaha proves to be the top competitor when it comes to providing versatility and choices.
There are also three bundles to choose from: the laminate spruce top bundle, the digital learner bundle and the accessories bundle. The digital learner bundle allows you to start learning guitar digitally with Fender's guitar masterminds, and the accessories bundle comes with an extra pair of guitar strings, a tuner and a small learning guide.Also, not only do you get bundles to choose from, but you get a lifetime warranty on the top, body and neck, sides and back of the guitar too. Every guitarist knows how easy it is to have an accident with your guitar, so having a warranty is essential for anyone that wants to be serious about their profession. Many customers also praise this guitar for the thinline body that allows for great guitar control and comfort while playing.
Pros:
+ Comes with lifetime warranty
+ 3 bundles to choose from
+ 5 color choices
Why We Liked It - This guitar is ideal for anyone that is looking for a well-rounded beginners bundle that is filled with accessories that any guitarist needs. Since Yamaha manages to cover all the needs of their customers with these essentials, we think that this product is definitely one of their best! They offer all the best features together with a fantastic price that can appeal to anyone.
This Ibanez electric acoustic guitar comes in two different colors: the simple all black finish and a rich, playful orange. The well-made mahogany necks helps ensure that you can quickly move your finger up and down the fretboard without having the feeling that the neck is stiff, fragile or easily breakable. The heavy-duty wood used to make this guitar make it one of Ibanez's best creation yet.
The truss rod is easily adjustable and the action isn't high at all; many people readily praise this guitar for being fantastic for fingerpicking. The sound is great and clear and sounds just as good regardless if you use an amp or not. The tone is great and the built-in tuner helps the guitarist keep track of their strings and their tuning. If you notice something is off, you can quickly adjust the strings thanks to the built-in tuner and you're good to go! If you like having extra security, you will be glad to know that this guitar also has buttons for a guitar strap; if you like playing when standing up or when you're on tour, this is the perfect solution to help you feel secure with your guitar.
Pros:
+ Sturdy mahogany fretboard and mahogany neck
+ Guitar strap buttons
+ Wonderful electronic pickup systems
Why We Liked It - Ibanez has once again supplied the market with a fantastic electric guitar that can do more than you could ever imagine. The semi acoustic pickup systems are great and the sounds and tones are very well harmonized no matter what type of music you like to play. With or without an amp, this guitar is certainly something to look out for if you want to hone your skills!
This Yamaha electric acoustic guitar is perfect for anyone that is looking for a simple, affordable guitar that has all the bare necessities that a guitarist would need. You won't find any extravagant designs here, but you will find a new companion that will help you take your skill level to new heights. The A.R.T 1-way Pickup System that has been introduced here significantly enhances the sound of the guitar and makes it sound more appealing than ever before.
The back and sides of this guitar are made of rosewood, which naturally means that they are exceptionally durable. You will be able to choose from three body types when buying this guitar, mainly: mahogany, nato and rosewood, which are the most popular kinds of wood used for the guitar body. Each of these will make the guitar have a different sound, and that's why it's vital to see, test and compare the bodies to see which suits you and your style best. There are also three sizes to choose from when purchasing this guitar: dreadnought, concert and jumbo. No matter how big or small you are, you can be sure that Yamaha will have the perfect product for you.
Pros:
+ 3 body style options
+ 3 size options
+ Solid spruce top
Why We Liked It - Yamaha always provides their customers with a versatile choice of options before purchasing the final product, this ensures a customized experience that helps each customer feel like their needs are being met, and that's exactly how it is with the FGX730SC. This is a fantastic guitar that has an amazing range of sound that projects clearly and loudly!
This Epiphone looks impressive from the get-go and can easily catch anyone's attention thanks to the original color scheme and design. This electric acoustic comes in three colors, one of which is the distinct, rich vintage sunburst that fades into black near the edges, the pickguard having a very unique dandelion pattern. The other color options include the classic light sandy color and a dark black. The maple body ensure that you will only get the warmest sounds from this guitar no matter where and what you play!
The laminate spruce top is solid and firm and looks like it can take a lot of beating, which is great if you are often on tour and don't have time to deal with fragile guitars that break easily. When you try out this guitar you will immediately be mesmerized by the crisp and clear sound that fill and surround the room. There are not many guitars out there that can represent your skill as well as this Epiphone. Whether you will be using an amplifier or not, this guitar sounds just as good no matter if it's plugged in or not and will not infiltrate your playing with any kinds of buzzing noises!
Pros:
+ Great, vintage look
+ Solid spruce top
+ Crisp and clear sound
Why We Liked It - If you like having attractive instruments surrounding your home, the vintage sunburstEJ-200SCE is definitely a must have. Not only does it look phenomenal, but it sounds great too. No matter if you will be using an amplifier or not, this guitar will represent your guitar skills in the best light whether you will be playing in a studio, jamming with friends or playing live!
10. Ibanez PF Series PF15ECE
This Ibanez electric acoustic is known for having a great tone variety and fantastic craftsmanship. This guitar comes in three colors: gloss black, natural and blue sunburst. If you have a hard time tuning your guitar, you should be able to eliminate that problem with the Ibanez PF15ECE. This guitar offers you an onboard tuner that will allow you to tune your guitar quickly and effortlessly without any trouble. If you find that your strings can quickly become out of tune when playing, this small yet valuable addition can be a real life saver, especially if you are on the road and don't have a separate tuner with you at hand.
The Sonicore pickup system works great and gives a distinct, warm feeling to the sounds made by the guitar. The spruce top is solid and will allow you to confidently move around the fretboard without worrying about the guitar being fragile. The neck has the perfect thickness for smooth playing and will allow you to quickly recognize where the frets are. The mahogany back and sides allow you to have confidence that this is a sturdy product made from quality wood that helps enhance the sound the guitar projects.
Pros:
+ Solid mahogany body
+ Onboard tuner
+ SST preamp
+ Great choice for a beginner acoustic electric
Why We Liked It - This Ibanez guitar is a fantastic choice for any beginner or professional that is looking for a guitar that can faithfully represent and project their skill level. It's easy to say that the craftsmanship here is one of the best and the onboard tuner is a great addition that will help you sound your best no matter where you are!
Body shape - Acoustic-electric guitars come in various body shapes to suit different styles and players. The most popular shape is the Dreadnought body, with others like Jumbo and Auditorium not far behind. As a beginner, it's even more important to choose the right body shape. It could be the difference between progressing well and giving up.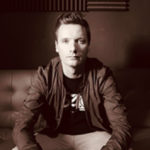 Beginner Electric Acoustic Guitar for Under $300 Buyers Guide
What to Look for When Buying an Acoustic Electric Guitar?
Buying an electric acoustic guitar can be a very exciting process, but it can also be a source of frustration since there are so many good products out there produced by leading industry guitar brands! This can be extremely overwhelming even for professionals, and beginners usually find themselves lost in a whirlpool of endless choices and get intimidated by all the options.
The key to buying a good acoustic-electric guitar is to, first of all, know what it is made out of and what parts make a guitar, a guitar. Luckily we managed to assemble a short guide of what you need to look for when purchasing an acoustic electric guitar and we hope that by the end of this article you will have a better idea of what features make the product a good and reliable instrument!
Budget and Uses
The first thing you will need to ask yourself is what you are going to be using the guitar for! Meaning what genre of music you will be playing on it and how often you will be doing that. Are you looking for a guitar that will need to endure daily practice that will last 10 hours or are you looking for an occasional companion that you can play from time to time? Answering these questions so early in the buying stage will allow you to quickly decide what budget you are looking at.
Guitars below 300$ are perfect as hobby and beginner guitars, guitars above 600$ are ideal for intermediate guitar players and anything above 1000$ is considered professional quality. Whether you are a record label artist, an excited beginner or an enthusiastic intermediate, choosing your budget is extremely important since that will significantly limit the pool of options you are looking at and in turn, make choosing easier.
Guitar Body Styles
This is probably the second most important guitar feature! If you have been browsing through guitars before stumbling on this article you have probably seen a few confusing names, like a dreadnought, jumbo, parlor, auditorium, etc. These are types of bodies that the guitars have. Guitar body styles refer to the shape of the main bulk of wood of the guitar, basically the biggest and main portion of the instrument where the pickguard is located.
These bodies determine how your guitar sounds (along with the wood they are made out of!) and each one has a different sound and is used for different purposes. Their sizes also vary, and that is why it is recommended for you try a few of the styles out in real life before you commit to an online purchase. Once you go to the store and try out the styles, you will have a good idea which one is too small, too big, etc. and you will be able to buy a new guitar online with confidence!
The body styles and their features are as follows:
Dreadnought- dreadnought is by far the most famous body style and can be recognized with ease by everyone as the default looking guitar. It is famous for its full pear shape and has no cutaways anywhere.
This is the go-to style for many musicians because the sound is so versatile; you can play anything on this type of guitar! From jazz to indie, to rock to punk, the dreadnought body style will allow you to be as diverse with your music choices as you desire
Parlour- the parlour body style is renowned for its small body shape, and to be fair it is possibly the smallest type of guitar you can get if you are not taking into consideration guitars made for children.
The parlour design is used predominantly by folk and indie musicians because of the low-key sound it gives out. Another thing that is worth mentioning is that this style usually allows the guitar only to have 12 frets!
Jumbo- the jumbo body style is the go-to style for musicians that perform live. Artists like Bob Dylan have regularly stated this to be their guitar of choice.
The jumbo body style is famous in the music world because of its wonderful projection abilities. As the name suggests, this guitar is significantly bigger than its brothers, and that allows it to have a bold, brash, loud sound thanks to all the extra wood.
Auditorium- last but not least, the auditorium body style can be described as a combination of both the dreadnought and parlour guitars! The classic pear shapes allow this guitar to sit comfortably on your knee and is the perfect size for an average guitar player. The auditorium is most popular with indie and folk musicians and is ideal for anyone who likes to fingerpick, even Eric Clapton had this guitar sitting on his lap at one point!
Wood Types
Last but not least, the other important thing to look for when buying a new guitar is to check what kind of wood it is made out of and if it suits your playing style. The most common woods are spruce, solid cedar top, and rosewood. Now let us take a closer and see why they are so different from each other!
Spruce- by far spruce wood is the most common type of wood used for guitar tops. It is not only durable but light-weight too, which makes for the perfect contestant. No matter about the thin neck, you can rest assured that it will not break thanks to its strong qualities. You can get a beautiful sound out of this type of wood and many people praise it for being very resonant. No matter how hard you pluck or hit, the spruce wood will make sure to keep projecting your music clearly without losing responsiveness.
Cedar- the solid cedar wood is usually darker in color than the other woods and can sometimes go into a deep rich red. This type of wood is perfect for those kinds of guitar players that like to play lightly and tenderly since the solid cedar top responds extremely well to light finderpicking.
However, the guitar player should be cautious if they want to play hard since this can cause the sound to compress and the solid cedar top loses some of its originality when plucked hard.
Rosewood- this is by far the most popular type of wood, when you buy a new guitar it is very common to see either the neck or body to be made of rosewood or even both!
Rosewood allows the player to achieve deep, warm and rich sounds and is put on a pedestal both by manufacturers and players alike thanks to its distinct darkcolored wood.
What Budget Acoustic Electric Guitars Can You Get?
Some of the best budget guitars include the Ibanez PF Series PF15ECE and the Glen Burton GA204BCO-BK. The Ibanez is made out of mahogany and has a sturdy, beautifully crafted rosewood neck that contrasts greatly with the dark black finish of the main body of the guitar. The Glen Burton is made of maple wood and is perfect for anyone that likes to have bright, dry tones with defined high-end tones. If you are looking for quality budget options, these two guitars are definitely some of the best!
Can Cheap Acoustic Electric Guitars Still Sound Good?
Of course! Every leading brand like Fender or Yamaha has budget guitar options that can be accessible by everyone. They are the perfect option for a beginner that is looking to discover just how much they like the world of guitar playing. As long as you test out the product in question or have one of the local staff members of Guitar Center play it for you, you should be rid of any doubts!
What Are the Cheapest Acoustic Electric Guitar Brands?
Both Yamaha and Epiphone have a wide range of cheap acoustic guitars that can be afforded and used by anyone with a passion and drive to play them! They sound great and have a lot of options when it comes to color, wood, body style and bundles.
Top Choice
Our Top Choice electric acoustic guitar has to be Yamaha's FX325A! It's simply a fantastic guitar all around and the two design options look very appealing. If you like to have the classic Yamaha look, you can purchase the simple, sandy design with a pickguard that has a fire crackle design, and if you like more rich colors, you can always pick the sunburst option where the deep, saturated orange front fades into black around the edges. No matter which design you end up choosing, both of them are as stylish as the other!
If you are tired of looking for all of the guitar accessories that you need to steadily develop as a leading artist, Yamaha offers you a gigmaker bundle option where they supply you with a strap where you can attach your guitar and throw it around your shoulder so that you can stand and play, they give you a tuner, 3 picks and guitar learning guide with a CD!
Yamaha's electric acoustic guitar is our Top Choice simply because they offer all of the necessary accessories that both a beginner and seasoned player would need. If you are looking for a bundle that you can buy when you are on a tight budget, this is definitely the best option to go for!
Premium Choice
Our Premium Choice electric acoustic guitar has to be one of Fender's! The CD-60CE is a wonderful choice for anyone that likes clear, consistent sound combined with great craftsmanship. There are two design options to choose from when purchasing this product: the basic, sandy design with a black pickguard, the black finish with a black pickguard and last but not least, a mahogany design with also a pickguard. Not only that, but you also get to choose from four different body types: dreadnought, dreadnought cutaway, folk and folk cutaway. If you're one of those people that has trouble reaching the higher frets with the full body top of the guitar being in your way, the cutaway design option is a blessing!
This guitar has a bright and cheerful tone and will suit anyone that wants to take a step forward and improve their guitar performance. The guitar strings are perfectly set-up straight out of the box and usually, no immediate tuning is needed, which shows just how great the craftsmanship of this guitar is.
Our Premium choice goes to Fender's guitar because it's a great product that will fit just about anyone's needs! The build is solid and the sound is fantastic, if you are looking to improve your guitar playing skills, this is the best guitar to go for!
Great Value
Our Great Value product has to be one from Jameson, and that's the blue thinline electric acoustic guitar! If you are tired of looking at all of the same, default sandy guitars, Jameson has decided to go a step further and provided their customers with a deep, rich blue colored guitar with fading black edges and a black pickguard. This guitar sounds just as good unplugged as it does when it's plugged in and that's a fantastic feature when you are looking at this budget guitar. Usually, cheaper guitars ask you to sacrifice quality for guitars in this price, but not here. Jameson has made sure that you will get both quality sound and performance from this solid, blue electric acoustic. It also comes with a free gig bag that you can use for storing your guitar and taking on tours.
It's extremely rare to get all of these features with a product that is priced so well, and that's why our Great Value choice has to be Jameson's blue thinline guitar. It has all the features a good acoustic electric guitar should have and thanks to its fantastic price, Jameson gives everyone the chance to own this great bundle!
Conclusion
Choosing a good electric acoustic guitar under 300$ can be tough since it's hard to tell which products are made of quality materials and which aren't. We hope we helped you make a decision with our well-researched list of products, and if not we hope that you at least got some useful information from our Buyer's Guide that you will be able to use when purchasing your next electric acoustic guitar! Regardless, it's always best to hear the samples of the instruments or even try them near your local Guitar Center if you are having trouble deciding, you can always order online after you make your decision! Use this study for more help.
Wondering how a guitar actually works? Click here to find out.
If you've enjoyed this review by Music Critic, please leave a positive rating:
[vc_separator