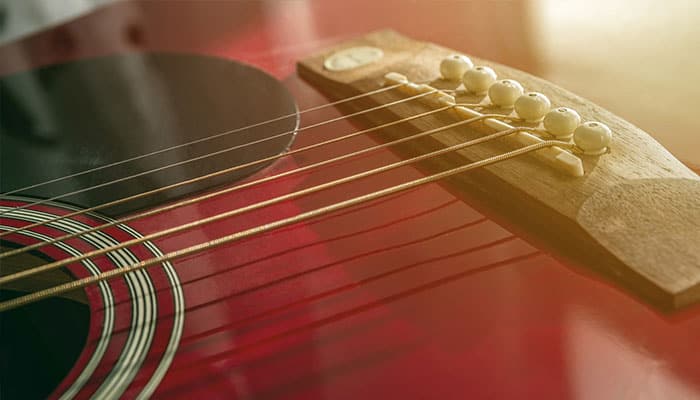 When it comes to guitars and that smooth, crisp sound nothing can beat the acoustic guitar or acoustic electric. It's easy to learn and master these. In this article however, we are more concerned about the strings of acoustic guitars. Undoubtedly one of the chief components of a guitar, strings can make or break the deal for any guitar player. For Ukulele players, see our review on the top ukulele strings.
In this article we have covered almost everything related to acoustic guitar strings. From listing down the top 10 guitar strings to techniques on how to keep them in good shape - we have included all the information you could ever ask for. It's a go to guide for anyone looking to buy strings for their acoustic guitar. If you have an interest in other guitars such as ukuleles, they will require different strings.
Let's start the show - here are the top 10 Acoustic Guitar Strings for 2020 :
1. D'Addario EJ17-3D Acoustic Guitar Strings
Who would have thought that a family-owned business would be counted amongst the largest string manufacturers in the world? D'Addario not only manufacture guitar strings but provide other audio accessories as well.
From the small Italian town of salle to providing guitar strings to the whole wide world, D'Addario is now hands down amongst the best string producer. It is the love and passion for string making that has made them the most popular.
EJ17-3D was originated by D'Addario in 1947 to provide bright, warm and balanced tones. Since then these acoustic strings are the most popular for the acoustic guitar as they deliver what professionals like the most (click here to see our full review on acoustic guitars).
All that good isn't that easy to achieve. For providing long lasting and bright sounding tone with ultimate intonation D'Addario has carefully drawn corrosion resistant phosphor bronze onto a hexagonal shaped high carbon steel core.
Along with precision wounding the strings are constructed with round wounding that results in D'Addario's comfortable and familiar feel that players love.
From Jazz to Pop these guitar strings are versatile enough for all music genres. Now just buy these guitar strings and you are ready to sound all right round.
Made in the USA for high quality and performance, EJ17-3D Acoustic guitar strings have that shine to sound and look bright! For classical guitar players, please see the top 10 classical guitar strings here.
Pros:
- Support pretty much every music genre.
- Provide warm, bright and balanced tones.
- Most popular choice of D'Addarios.
Why We Liked It - Buy these acoustic guitar strings and you are all ready to create to history. With supreme versatility, precision wounding and round wound construction these guitar strings promises a lot of potentials.
2. Elixir Strings 80/20 Acoustic Guitar Strings
We are not talking about the elixir that you earn in clash of clans! However, similar in importance with the game's elixir, this company was born in 1995 with an experiment of coating guitar strings with PTFE. Although the experiment wasn't successful, the determination took them to a whole new level.
For musicians, this company is something unique, thanks to their never-ending support to the music world and creating outstanding musical products. Renowned by the professionals, this company has taken the game to a whole new platform.
With the aim of providing premium acoustic guitar strings and quality play time, this company has introduced 80/20 acoustic guitar strings. Put them on your guitar and forget about replacing them for years.
Debris and dirt may exploit the appearance but they can do much more than that. With these guitar strings, you are getting world-class protection over any other element that can ruin your jamming experience.
Polyweb coating was a phenomenon that provides quality tone but something was missing. Players who wanted to keep a traditional feel were mushing all around. To make everyone feel like home these strings featured nanoweb coating that allows brighter and crispier sound while keeping that same traditional feel.
Coating the outer surface is ideal, but what about the insides that your naked eye can't even see? These strings are coated all around for not only protecting the outside but the gaps between the windings where junk built up to make your experience worst.
Elixir 80//20 handle it all for making your experience on point.
Pros:
- Nanoweb coating provides same goods of a polyweb coating with that traditional feel.
- Strings are coated all around.
- Best protection for eliminating dust, dirt and even air.
Why We Liked It - These strings give users what they actually deserve. With nanoweb coating, anti-rust plating and full coating these guitar strings have set a new challenge for other manufacturers.
3. Ernie Ball 2146 Earthwood Acoustic Guitar String Set
Since 1962 Ernie ball is amongst the leading manufacturers of strings and accessories making ideas comes to life. From Keith Richards to jimmy page all have used Ernie ball strings to make history.
Combining the latest technology, state of the art materials and passion Ernie ball is here to enhance your jamming experience.
Earthwood series is perfectly wounded to match any genre giving you the experience of your life. 2146 hardwood guitar strings mark the same identity with a price range that anyone can easily afford.
92% copper, 7.7% tin and 0.3% phosphorus mixture is wrapped around tin plated hex shaped steel core wire to output 2145 earthwood acoustic guitar strings. To feature a professional yet old-school look, they have a light orange and gold color.
From Warm rich tone, superb clarity to mellow ringing sound all the greatness is achieved by the one and only 2146 earthwood acoustic guitar strings. Don't forget that all above is due to the finest and freshest materials that Ernie ball has used to craft out these strings.
No one likes the slippage and breaking of strings. This all plain guitar string set features a lock twist mechanism for securing the wire around the ball end that results in null slippage and only long-lasting guitar strings.
To kick up the durability game, the core of this guitar string set is made up of brass plated high carbon steel hex wire so that you don't have to worry while playing wildly.
Professionals believe in Ernie ball, do you?
Pros:
- Rich expensive sound with ultimate clarity.
- Element shield plating for ensuring long-lasting, best strings life.
- Trusted by the best.
Why We Liked It - Giving you the best in less is what Ernie ball's 2146 earthwood strings excel in. With rich sound, lock twist mechanism and brass plated high carbon steel core wire these guitar strings have set in up a perfect example.
4. DR Strings VTA-13 Acoustic Guitar Strings
DR Strings believe that no one can beat the handmade craftsmanship. They believe the old fashioned way delivers what isn't really possible with machines. Using most advanced materials and practices DR Strings make the impossible.
Here at DR Strings skill, passion and consistency towards music combine to outperform all other contenders.
Veritas series by DR Strings was a completely new range of long-lasting Guitar String Set that was manufactured to last 4 X longer than any other string. According to many professionals, they can use only one pack of verita guitar strings to rock up many concerts.
VTA-13 is the new type of phosphor bronze acoustic guitar strings in the series that are aimed for every musician out there. At the heart of strings, the Accurate core technology is used to reinforce the core wire and fill in imperfections along the whole core. That results in supreme stability and improved pitch retention making you the king of the ring.
Speaking more about the core wire, it is the sole reason behind accurate tones, durability, and premium feel.
Just install the guitar string set and you'll get amazed by the robust and resonant tone that also provides extreme sustain and stability along with your jamming journey. Happy professional jamming!
No coat or treatment on the outer surface makes this guitar string set an absolute piece of innovation.
Pros:
- Last up to 4 times longer than any other acoustic strings.
- Robust tones with best sustains.
- Accurate Core technology.
Why We Liked It - This handmade guitar string set crashes the jamming scene. With 4 times long-lasting promise, accurate core technology, and resonant tones these strings are something out of this world.
5. Martin MSP6100 SP Acoustic Guitar Strings
Here at Martin, the music begins to grasp its soul. Dedicated co-workers with the fire of innovating something new in their hearts have made a difference in the music industry.
This family-owned company manufactures pretty much everything related to guitars with its fine quality materials and advanced machines.
Keeping up the tradition and providing state of the art products, Martin has taken the game to a whole new level.
People who believe that rich tone should last long as long as inspiration does, MSP6100 SP by Martin is the perfect match for them. With years of trust and experience, this acoustic guitar string set makes sure that you are accompanied by the best (see our best microphones for acoustic guitars here).
Environmental elements ruin the guitar string set in both sound and appearance. Well, that is not the case with MSP6100 SP acoustic strings as they repel dirt and grit for providing a quality long-life jamming experience. Adding more, the dust repelling coating is so thin that you won't even feel that it's there.
From Cody Simpson to Avett brothers many professionals believe this guitar string set provides something unmatchable. Bright and vibrant tones are all that these strings excel in allowing you to innovate more and more.
MSP6100 SP is designed to last longer so you can play on without any tension of replacing acoustic guitar strings again and again.
Pros:
- Cleartone proprietary technology for a useful, longer lifespan.
- Bright and vibrant tone.
- Trusted by many professional out there.
Why We Liked It - It all starts with MSP6100 SP acoustic strings by Martin. With bright tones, cleartone proprietary technology and dirt repulsion this guitar string set is hands down amongst the best options you can choose from.
6. Vibe Strings Acoustic Guitar String Set
Here at vibe strings, every co-worker is passionate about manufacturing the best ever acoustic guitar strings. This company uses American steel to manufacture every pack of strings that make it trustable.
To provide the freshest guitar string set possible this company manufacture in small batches so you get a great experience right out of the box. Since years, vibe strings is amongst the unbeaten rulers of best guitar string manufacturers.
When you install guitar strings by this company your guitar gets remastered for providing balanced tones. All that is achieved by the revolutionary step for choosing round wound phosphor bronze over a steel core. And guess what? Plated stainless steel head backs you up from environmental elements.
To keep things in perspective, the package is vacuum packed so that the strings arrive in fresh quality. Similarly, when you put on the strings you get comfortable and familiar feel along with complete, bight and perfect sound.
No one likes to waste time tuning the new strings. Thanks to this acoustic guitar string set by vibe strings, they settle in quickly with just a few minor re-tunings. Similarly, you get a clear and bright tone with a warmth that everyone loves to play.
These guitar strings are perfect if you are looking for something professional to get started with your career.
Pros:
- Dynamic range and easy playability.
- Clear and bright tone with a warm, wonderful feel.
- Round wood phosphor bronze core.
Why We Liked It - With easy tuning, dynamic range and clear tone these strings can take you to the level where you belong.
7. Martin M140 Bronze Acoustic Guitar Strings
Aiming towards innovating best quality strings, Martin has positioned itself amongst the best string manufacturers. Compensating you with state of the art strings under an affordable price range, Martin is here to make history.
People who are looking forward to playing clear, brilliant and long sounds must check out this affordable 3-pack acoustic guitar strings of Martin's quality light acoustic guitar strings. M140's 80/20 composition makes it possible to bring all that lies within these strings.
Most strings feature a steel core to wrap things around but that is not the case with M140's.
This acoustic guitar string set is made by bronze winding alloy that gives deep, rich basses and clear, bright trebles. Similarly, you get brilliant tones and longer string life.
Daily or professional use whatever pressure you put on these strings to, they only deliver the greatest. This is all because of the high-quality materials that are used by Martin to manufacture these guitar strings.
With these strings, you get studio-quality performance in a price range that other manufacturers can't even think of.
Pros:
- Bronze winding alloy over steel.
- Brilliant tones and a longer life.
- Renowned by the masses.
Why We Liked It - These strings give you more for less. With studio quality performance, bronze alloy and brilliant tones these strings are the perfect partners for every musician out there.
8. D'Addario EJ16-3D Acoustic Guitar String Set
Brighten up your guitaring experience with D'Addario strings. Bringing innovation, quality, and state of the art technology to the music industry D'Addario is here to give you some unmatchable strings.
EJ16-3D acoustic guitar string set by D'Addario was introduced in 1947 with phosphorus bronze built material to excel the game of jamming. In present these acoustic guitar strings is trusted by many professionals to sound legendary.
Musicians who want crispier, warm, bright and balanced acoustic tones believe in EJ16-3D guitar string set.
To bring in long-lasting, bright sounding tone with excellent intonation, the company has done something different with these strings. Precision wounding with corrosion resistant phosphor bronze is carefully drawn onto hexagonal shaped high carbon steel core that make wonders possible.
Players miss that traditional feel and comfort with new pack of strings. EJ16-3D acoustic guitar string set features a round wound construction that delivers the same old traditional feel and comfort players love.
This acoustic guitar string set covers every genre in a professional style.
Pros:
- Warm, bright and balanced tones.
- Versatile enough for every genre.
- Made with highest quality, best material and craftsmanship.
9. Martin MSP4100 SP Acoustic Guitar Strings
Martin design the guitar string set for providing maximum performance, easy playability and excellent tones. Here at Martin, the workers know that you deserve something more than just a pack of strings.
No matter where and what you perform, MSP4100 SP acoustic guitar strings by Martin has got your back for crowning the title that you deserve.
Gig after gig, performance after performance, acoustic guitar strings must hold up to their quality all along the path. Keeping durability and quality in mind MSP4100 were manufactured so that you experience the same quality as if they have just arrived.
These guitar string sets are made up of high tensile strength core wire with the highest quality wrap wire so that you can perform and practice with consistent true tone. Song after song you'll experience that same quality.
With an affordable price, you are getting a studio quality performance to rock the stage. These guitar strings are simply amazing, the best option available in the market under an affordable price range.
Pros:
- Best price.
- Long life and brilliance achieved by bronze alloy.
- Clarity, warm and sweet tones.
Why We Liked It - So does your string pack offer such features under an affordable price range? With clear tones, bronze alloy and studio performance these strings prove every penny spent on it.
10. Martin SP 7100 Coated Acoustic Strings
Martin uses SP 7100 coated acoustic guitar strings on majority high-end martin guitars to give users a professional experience. To give every musician a taste of legendary tones, SP 7100 is also available separately.
SP 7100 features clear tone proprietary technology that provides full rich tones along with long-lasting strings. Similarly, tensile strength and response are delivered by ultra-pure steel SP core wire.
To enhance and protect the core wire this guitar string set has bronze electroplating and wraps that also result in rich tones that players love to play. To handle perfect gauge and tension Martin uses their state of the art wrapping technique making you play the strings without any extra care.
Most companies coat the wrap winding that results in bad tones. Martin coats the SP 7100 just from the outside so that you hear natural vibration patterns.
Buy these guitar strings, set them up and you are ready to create magical music.
Pros:
- Light strings make it easy for beginners to play.
- Cleartone proprietary technology.
- Designed to repel dirt and oil.
- Great value for money.
Why We Liked It - With bright sound, clear tone proprietary technology and lightweight factor these strings are perfect for anyone who is looking to make history.
Acoustic Guitar String Buyers Guide
This brings us to an important part of our review. This is where we talk in further details about our favorite products from the list - what makes them so special and some other aspects as well. We call it the buyer's guide, which is made keeping in view the different requirements of users. Do you know that string of a guitar, whether it is an acoustic-electric guitar or a simple one, have major a major impact on the sound it produces (click here for our full review of the best electric guitar strings). Having said that, even many professional guitarists find it hard to choose the ideal string for their instrument. You may have a hollow body or semi-hollow guitar, in which case you may not know which strings to go for. The whole idea of this article is to solve this problem.
Below we have picked three of our most favorite products...
Our best pick is the D'Addario EJ17-3D Acoustic Guitar Strings and there are some solid reasons behind it.
These acoustic guitar strings provide a perfect solution to your complex needs like producing a tone which is warm, well balanced and bright. The made quality is really something to be proud of - it is made in the USA keeping in view the minutest attention to detail so that the musicians can concentrate where it matters the most.
Talking about the durability, it is hard to find a product that can match D'Addario EJ17-3D Acoustic Guitar Strings long-lasting attitude. Once you have them on your guitar you don't have to worry about replacing them - unless of course, you break them on purpose.
The company introduced these strings back in the early 70s and since then it has continued the production as the demand has only gone up. These strings are now a symbol of the greatest sound which is balanced and pleasing to the ears in every aspect. D'Addario EJ17-3D Acoustic Guitar Strings are carefully made from corrosion-free phosphor bronze which is elegantly coated with stainless steel. All these high-end manufacturing ensures years of use.
These strings have a round wound construction, which is ideal for almost every musician. This build has been in the business for years and most musicians feel comfortable with it. It ensures long hours of hardcore guitar playing without any pain or stress to the fingers.
These beautiful guitar strings are compatible with most acoustic guitars - you might have to cut the strings yourself once assembled. The longer length of the strings makes sure that they adjust with every guitar type.
Premium Choice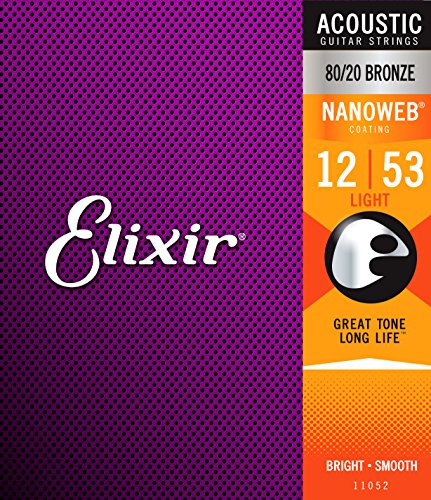 AS our premium choice we present another masterpiece - the Elixir String 80/20 Acoustic Guitar Strings. Elixir is a company known to innovate and try out different things. The company has been n business since 1995 and has continued to impress the music lovers with its groundbreaking products.
Everything about this product is perfect and thus musicians all around the world favors it. The 80/20 acoustic guitar strings are pretty durable - just put them and you don't have to worry about anything else. This product also offers the best value for money. These strings are considered a little pricey to some but when compared with the benefits, functionality, built quality and durability - they are worth every penny you spend.
The polyweb coating on these great guitar strings makes sure that they are not exposed to quick wear and tear. They are dust resistant and easy on the fingers as well. The Elixir Strings 80/20 Acoustic Guitar Strings are modern in looks but give you the same crisp and deep traditional sound of an acoustic guitar.
What makes these strings our premium choice is the fact that they are not only coated from the outside but from the inside as well. By inside we mean those minute gaps between windings that are prone to catching dust and other particles. If you have these unwanted particles between the windings, they can bring down the quality of sound considerably. With Elixir Strings 80/20 Acoustic Guitar cords, you don't have to worry about that and there is hardly any cleaning required.
So, just put them on and start creating magical tunes!
Selecting a great value product is the toughest job for us. We define a best value product that is just perfect for the money you spent on it. It might not be the best in the world for that matter but when it comes to justifying the price tag, nothing can beat it.
From the list of best acoustic guitar cords we have one such impressive product as well, you'll need a great quality acoustic guitar amp to accompany this set. It is none other than the Ernie Ball 2146 Earthwood Acoustic Guitar String Set. It is close to impossible to find such a best value for money product anywhere in the market today. From best looks to produce the sound as per your requirements - these guitar strings cover it all.
The company has been in operation of producing the most desirable, affordable musical accessories since 1962. The proof of their success in the music world is the fact that many famous musicians like Jimmy Page and Keith Richards have been regularly using their products. Every product from Ernie Ball is a beautiful mix of technology, high-end materials, and superb engineering - and the result you get is perfection.
Ernie Ball has lived up to the expectation with the Ernie Ball 2146 Earthwood Guitar String Set as well. With 92% copper, these strings shine like anything. Also, the addition of tin and phosphorus helps give that magical sound and also prevent the strings from corrosion. The light orange and gold color of the strings make them look extremely neat and quite prominent as well.
Slippage for beginners and breage for professional players are the most common problems. With years of experience through innovation, Ernie Ball delivers just the right solution. Wth Ernie Ball 2146 Earthwood Acoustic Guitar String Set - you don't have to worry about the slippages and breakages, thanks to its durable material, lock twist mechanism and excellent design.
All these amazing features in a price that is unbelievable - are you still waiting?
FAQs
After reading everything until now, we are sure that some of you might still have some questions. There is no need to worry as in this section we will answer some of the most commonly asked questions by those curious customers
How do you choose the best acoustic guitar strings?
To start with your search, we would say that your knowledge about the product you are about to buy will play a big part in making the right purchase. When it comes to buying the right type of guitar strings some research and knowledge about strings can help a great deal. For this, the Internet is the perfect resource. You can read blogs, or join an online community with similar interest to increase your knowledge on the subject. Many industry experts and companies have their own YouTube channels, keeping an eye on them can help you keep up with the latest in the industry.
Similarly, when choosing the right acoustic guitar strings for your needs, you should also be definitive of your needs. We are talking about the needs like what type of music you will be producing, the length of the performance, the audience, etc. Once you have the actual needs in mind, buying the guitar strings would be an easy job.
The next greatest thing you should keep in mind while choosing your acoustic guitar strings is your budget. The market is really saturated, which can only make you more confused. Narrowing your search down according to your budget can help you quicken up the process as well. Those on a budget may be interested in these acoustic guitars under 500 bucks.
The level of your sills should also be kept in mind when deciding. Beginner musicians might be okay with an ordinary guitar string which doesn't cost a lot. However, if you are a professional and making good music is your bread and butter then you might have to invest in some high-end type of strings, which of course might be a little pricey.
So, all in all, it comes down to your individual preferences and needs when making the right acoustic guitar strings purchase.
How do you care for your acoustic guitar strings?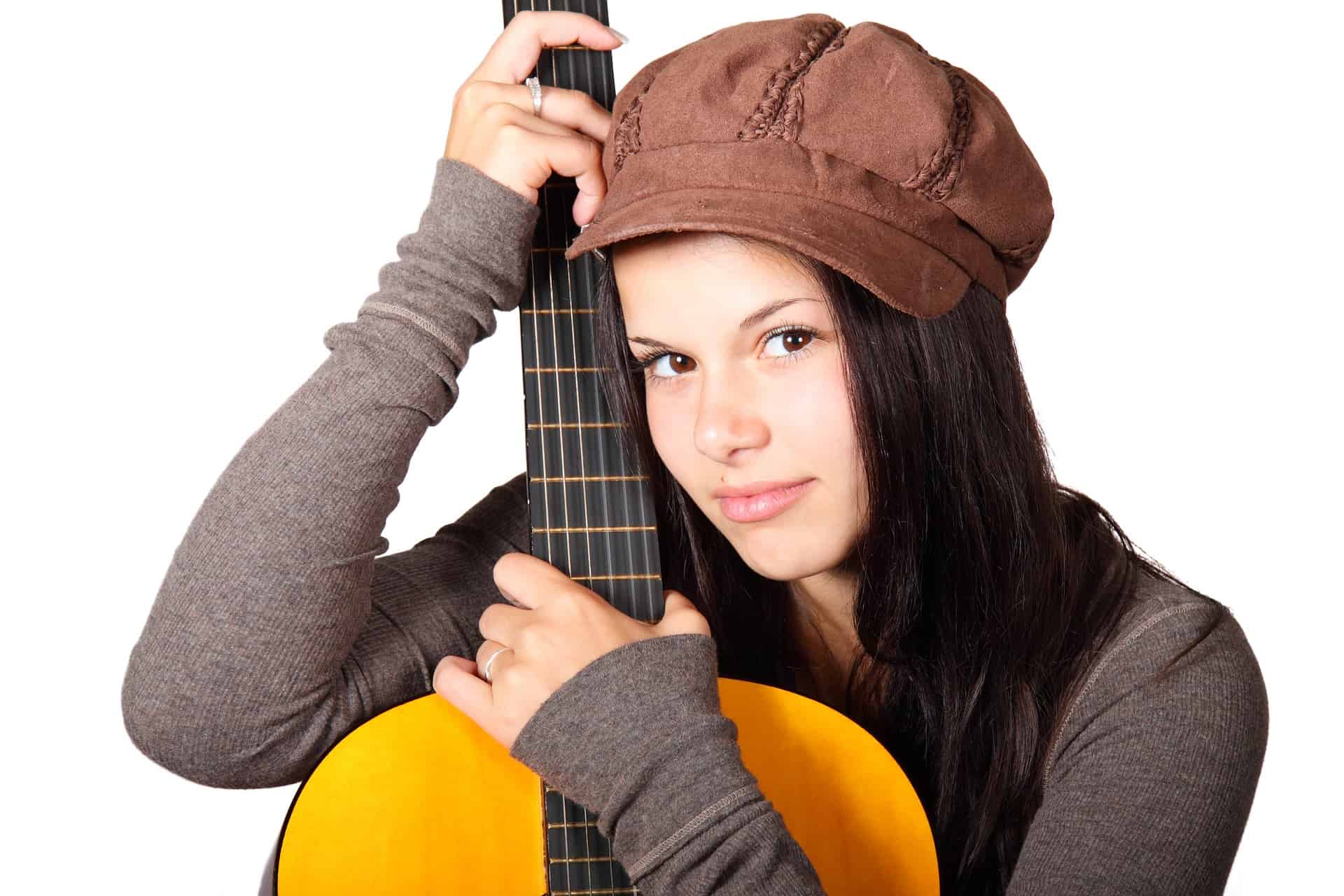 Whether you are a professional or simply an enthusiast who loves to create random tunes in his free time - taking the best care of your guitar is one aspect that you can't ignore. Just like any other instrument, gadget or your car - your guitar needs some love too. There are two parts of actually cleaning your guitar and keeping it in the best shape. Number 1 - you should always try to take care of and preserve the natural built of your instrument. This means that it should always be prevented from physical damage and wear and tear. Number 2 - you should always keep your instrument in the best possible playing condition. In this question, however, we will list down some suggestions on how to keep the acoustic guitar strings in perfect playing condition.
Do you know humidity is very bad for the strings? Always store your guitar in a dry place. If you don't plan on using it anytime soon, it is best to buy a capsule and put it inside your guitars' case to prevent the strings from catching rust.
It is also highly recommended that you keep your guitar well tuned. Check and tighten all screws tuning machines and strap pins.
Make it a habit to clean your guitar strings regularly. This can be done with any metal cleaning fluid. Most materials used in the making of these strings are highly sensitive to rust. So, keeping them clean should be your number one priority unless you are thinking to change them every month. This cleaning will also keep the strings free from unwanted materials, ensuring that the sound remains crisp whenever you play. Cleaning your strings will also keep your guitar physically healthy and visually attractive. This might not have a direct impact on the quality of the output but helps in creating that ideal environment.
Certain accessories like an acoustic guitar string can help prevent damage to strings. We have seen at so many occasions that musicians tend to put their guitars against the wall and if it falls like this, various parts of the body including acoustic guitar strings may get damaged. Also, while not playing, it is best to keep the guitar on the stand on not let it hanging around your neck. The buckles of the belt can damage the strings as well as the back of your guitar.
No matter how good a caretaker you are - it is always a good idea to take your guitar to the local guitar shops and check it for any faults and repairs. These people are usually master repairers and might be able to look for faults which are not visible to your eyes. This practice should ideally be carried out once in every 6 months.
Never expose your instrument to direct sunlight or extreme temperature for a longer period of time. Sunlight or exposure extreme temperature not only damages the strings but also the body of your guitar. Your instrument needs a cool and a dry environment, so anything slightly above room temperature is considered an ideal setting for the guitars.
Sweat, dirt, and oil are all very notorious and can hurt the strings. They can also accumulate faster than you think. So, it is best to daily clean your strings with a fresh, dry cloth.
Last but not least, it is important to PLAY your guitar regularly. If you keep it stored all the time, it is bound to hurt the strings and other parts of your guitar. And, there is no point "not using" it if you are into music really. So, in a nutshell - play your guitar daly, take best care of it and your guitar will create magic itself!
How often should the acoustic guitar strings be changed?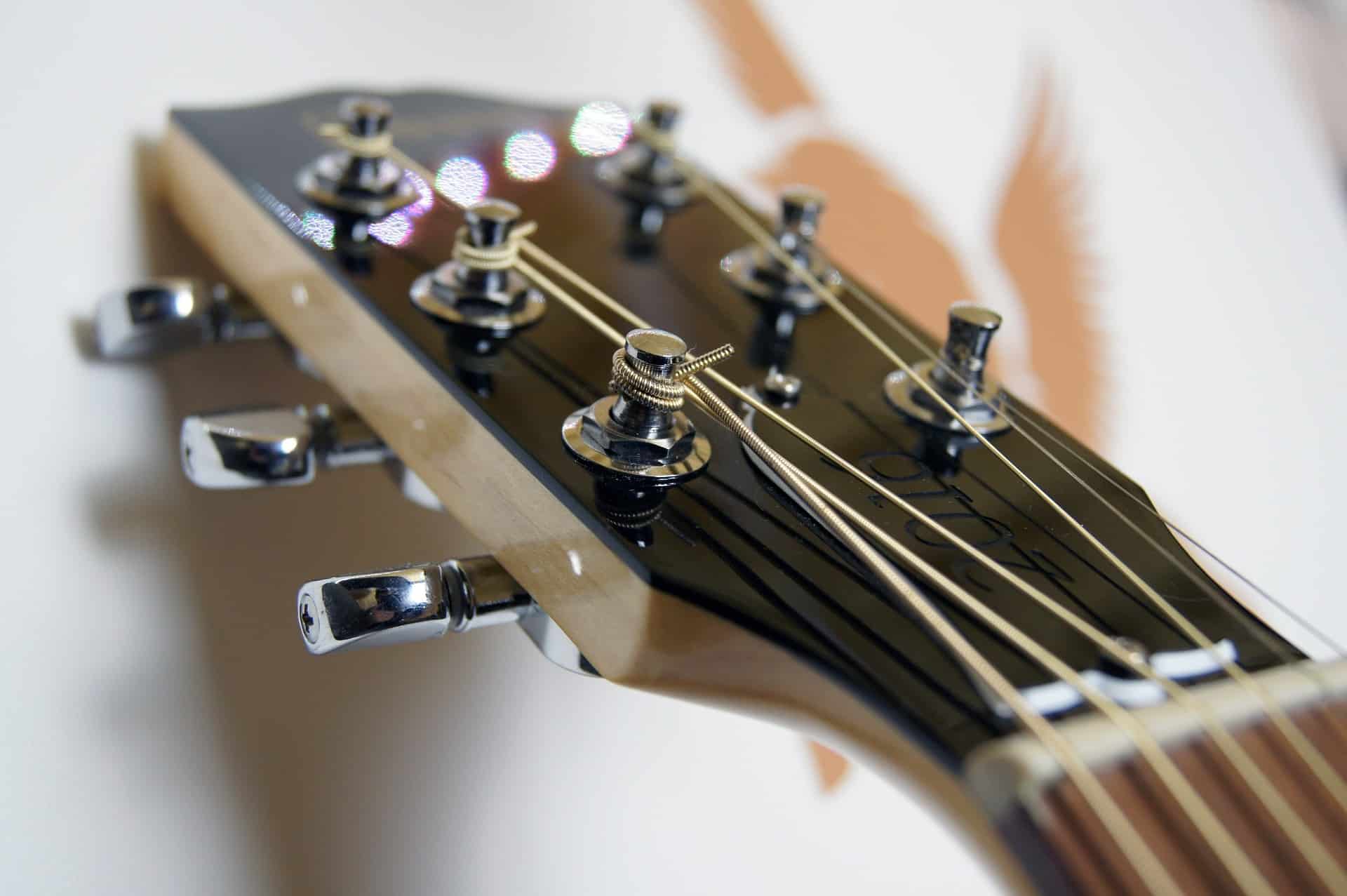 If you have invested in some good guitar strings, the chances are they will accompany you for years. Having said that, there are some factors that may lead to changing of the strings.
If you are playing guitars for a longer period of time and daily - this might result in some wear and tear and eventually might have an impact on the quality of the sound. In this case, you may want to consider replacing the strings every 6 months.
Similarly, if you are just entering the game and learning how to play guitars - you might mess up with the strings too often. This is not bad or something to worry about as you are still learning. However, in this case, we recommend changing the guitar strings as soon as you notice a change in the sound quality.
Professionals usually have more than one guitars. Although they are playing regularly and for a longer period of times but the usage is usually divided between various instruments. This is the reason why acoustic guitar strings last for years for professionals.
To sum it up, it is always a good idea to change the strings or have your guitar checked up by a professional as soon as it begins to misbehave.
Happy Playing!
If you liked this review by Music Critic, please leave a positive rating: