The best 12-string guitar is just a click away! These instruments have churned out some of the great tunes over the years. Ranging from David Bowie's Space Oddity to James Butler's Ocean all these songs have shown how a 12-string guitar can be put to good use. Some people, used to a 6-string guitar might think they know it all but this article will seek to show them that they have barely scratched the surface.
Although there are similarities between a 6-string and 12-string guitar, there is a deeper experience that only a 12-string guitar player can know. We also intend to give you some great recommendations to help you land your dream 12-string guitar.
Keep playing your 12-string in time with the help of a metronome - click here for top 10.
At a glance:

Our top 3 picks
Our team's top 3 recommendations
Best Overall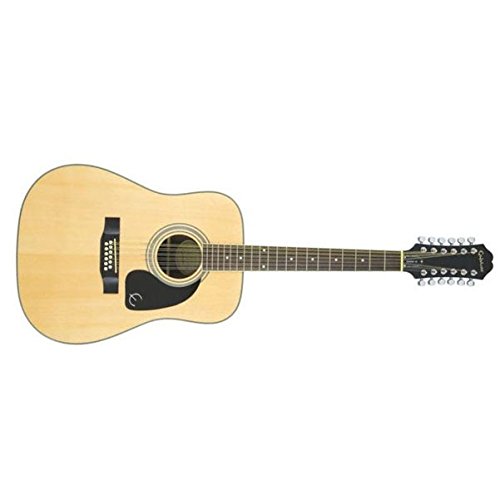 Epiphone DR-212 Dreadnought 12-String Guitar

Go-to for Rock, Folk, Blues & Country
Spruce Top for Breathability
Mahogany Body
Premium Quality

Takamine GJ72CE-12NAT 12-String Acoustic Guitar

Go-to for Rock, Folk, Blues & Country
Spruce Top for Breathability
Mahogany Body
Great value

 Yamaha FG820-12-String Acoustic Guitar

Go-to for Rock, Folk, Blues & Country
Spruce Top for Breathability
Mahogany Body
Best 12 String Guitars Electric & Acoustic of 2023
1. Epiphone DR-212 Dreadnought 12-String Guitar
The DR-212 is a genuinely well-made guitar as you might expect of any other Epiphone product. The DR-212 is not just any other dreadnought guitar that comes with 6 strings.It has an excellent construction that supports the increased tension of 12 strings. The DR-212 also has a right balance, cutting, and attention that gives you the kind of tone that you expect from a 12 string guitar.
Now wonder, the DR-212 is widely thought of as the ultimate go-to guitar for rock, folk, blues and country and everything in between. The select spruce top helps it to breathe. What is more? It gets better with age, and the more you play it. The mahogany-made body has enough size to adequately support and handle the extra tension of the 12 strings so that the guitar stays in tune.
Most people have grown accustomed to an ok sound out of fear that trying out something new like a 12-string may tarnish their guitar experiences. But the DR-212 is unrestrained by such concerns becomes it is unglued and has a distinctive tone that only a 12-string acoustic guitar can give you.
Most 12 string guitars go out of tune quickly because of the extra force put between nut and bridge and rosewood, but this one doesn't have any of these problems. The DR-212 holds on very well and stays in tune. If you have always wanted to have a 12 string then grab a DR-212; you won't find a better deal at such a price.
Pros:
+ Go-to for Rock, Folk, Blues & Country
+ Spruce Top for Breathability
+ Mahogany Body
Why We Liked It - A great 12 stringed guitar at such a price is an incredible bargain. We loved its quality and playability. It has a beautiful tone and bright sound. Besides, it has a great look suitable for one that should go for a much higher price.
2. Takamine GJ72CE-12NAT 12-String Acoustic Guitar
The GJ72CE-12 string guitar is made for the big occasions. It is a powerful guitar that boasts of a slim mahogany neck and the rosewood fingerboard that makes it easy to play. The guitar is the most sensitive to touch that you can even use bare fingers to strum it and get some great music. The GJ72CE-12 has flame maple back and a solid spruce top that gives it a great feel.
The maple sides give this guitar a great tone and projection. It is the ultimate go-to guitar for those who love a sound that cuts through the noise of all other instruments. What's more? Those who find the sound too bright can make adjustments to get their taste. Tone and playability are the most important aspects when looking for a good guitar and the GJ72CE-12 string guitar ticks all those boxes.
A good physical impression is also an issue for some people. This is a charming guitar because of the attractive gloss finish that you just want to pick up and take photos to show off to your friends. The blond neck and gold tuners make this an excellent guitar not just to play but to look at as well.
Those who may have had issues playing a 6-string guitar will be pleasantly surprised by the GJ72CE-12 because it is so easy on the fingers and amazingly easy to play. There is an inbuilt tuner that makes it well-tuned, fantastic for a 12 string guitar considering all the tension that comes such some great guitar strings.
Pros:
+ Rosewood Fingerboard
+ Solid Spruce Top
+ Great tone from Maple Sides
Why We Liked It -We liked the fact that it is well-built to perform with a solid body, beautiful and bright tone. It is clearly a top notch guitar. The price is fantastic for such a high-quality guitar. You don't need to break the bank to acquire it because it is within a reachable price range.
3. Yamaha FG820-12-String Acoustic Guitar

Yamaha made a significant statement when it introduced the FG guitar to the market in 1966. It proved that a real guitar doesn't have to cost you an arm and a leg. The FG180 was acclaimed for its excellent musical tone, incredible playability, and well-built quality. 50 years on the new range FG acoustic guitars has the same great playability; best tone on FG guitar and admirable quality that has made it the choice of millions of guitar lovers.
The FG180 is a great companion to have on your musical journey, and you can't get off on the wrong foot. The FG180 is an outstanding quality guitar that is made with pure traditional looks but without overpricing it to keep it out of reach of many guitar lovers. The new scalloped bracing design ensures that the sound is well balanced and robust.
Besides, the mahogany back and sides give a warmer and stronger sound that is smoother and mellower. The FG820 is the best for beginners because it is much easier to fingerpick and isolate the notes.
You can't get it wrong with a Yamaha because of their long and well-crafted reputation of super quality products. Where else can you get a guitar that has great sound plugged or unplugged on a budget like the FG180? It is also a breath-taking guitar to have, and it is made to be a lifelong partner in your musical journey.
Pros:
+ Great Value
+ Pure Traditional looks
+ Scalloped Bracing design for well balanced sound
Why We Liked It - We like it because it is solid and well-made that allows you to slide up and down the neck without any trouble.It is also much easier to play especially for beginners because it is easy to finger pick and isolate the notes. Lastly, it is a bargain to acquire such a fine tuned guitar at a low cost. Trust me; you will be hard-pressed to get a better one in the $300-$500 price range.
4. Danelectro 12SDC 12-string Electric Guitar
The 12-string Danelectro is a very real electric guitar that brings back the jangly sound of the 60s. Danelectro 12SDC is as good as any Danelectro guitar with all the desirable traits; lipstick pickups, light build, right neck minus the ugly (cheesy bridge).
It is an improvement of the famous 59dc used by Jimmy Page. The Danelectro 12SDC is a well thought out piece of art that has a long headstock to accommodate extra strings. The bridge has been well designed to anchor the extra string load that comes with 12 strings.
The flawless rosewood fretboard has a nice feel about it. Particularly around the neck where it has no rough edges. No wonder, many people love it for its beauty as well. That is the reason why you don't want to put it down.
The wide neck makes it very playable even for beginners. The saddle and the bridge are very much adjustable. What's more? It stays in tune, which is not easy for any 12 string guitar. The setup is pretty good, and there is no need to mess with the wires because they play just fine out of the box. The sound is great, but it is even better when unplugged.
For those who find the neck heavy; there is a traditional acoustic strap that you can tie around the nut to solve that problem. Besides, the nut adds a unique tone to the guitar. The Danno 12SDC is exactly what you expect from a 12 strings guitar, and it is worth every penny.
Pros:
+ Longer headstock for extra strings
+ Wide neck for easier playability
+ Unique tone
Why We Liked It - We like it because it is easy and fun to play, solid makeup, good feel, great sound, powerful tone and easy pickup. Few guitars can be considered real keepers and this is certainly one of them. It would be hard to get a better deal at such a price.
[vc_separator