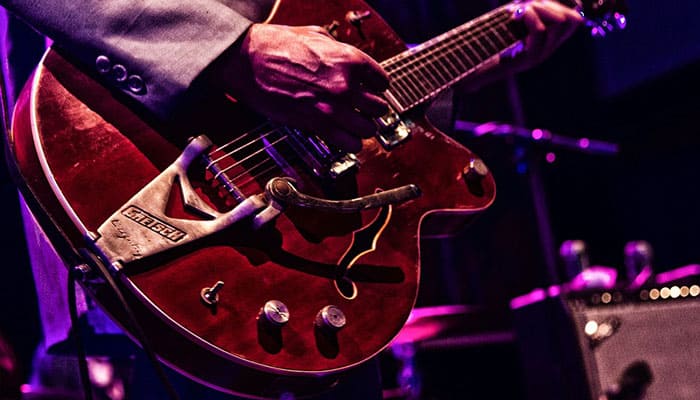 Our guide will help you find the best hollow and semi-hollow guitars for your needs. They were pumping up the game of music in the 1930s when artist wanted that beefy sound. Without any additional amplification, these guitars performed big on stage which made them appealing to many players. If you're looking for Electric Acoustic guitars on a budget - click here. Looking to take the full plunge into all-electric? See our review on the top electric guitars below $1000 here.
Although many guitarist love to play these heavy duty guitars, a few actually know how to pick the best. The market is tough and competitive with a variety of unfilled/half-hollow guitars to choose from so what's the good in it for newbies?
When buying a guitar for the first time, there are a few bits of equiptment you may wish to invest in, to help. One of these is the mighty Metronome! You can learn to keep in perfect time with the help of a Metronome (click for full review here).
Relax and take a deep breath as for fanatics like you, we have designed an unfilled/semi-hollow guitar cookbook. With 11 best guitars to choose from we doubt that anyone can gather such gold at one place. Now... Shall we begin?
Our Top 10 Semi-Hollow and Hollow Body Guitars under $1000:
1. Ibanez AS53TRF Semi-Hollow Electric Guitar
Scratching back to the year 1945 a Japanese named Hoshino began distributing a Spanish Guitar named Ibanez. After 15 years in mid-1960's Hoshino purchased the rights of Ibanez name and started shipping funky looking guitars to the departmental stores of US. And that is how this company got its name.
From half electric guitars to accessories Ibanez produce everything for musicians in an affordable manner so one can unleash the potential and learn the tricks of the game quickly.
AS53TRF by Ibanez carries that same tradition of experience. AS53TRF was designed to handle every genre possible so no matter what you are throwing at it, this guitar makes sure that everything is covered - best for versatility.
So you are performing well but the guitar starts off engaging feedback. Well, that is not the case with AS53TRF by Ibanez as its pickups are mounted into a sustain block for feedback elimination and increased sustain. Similarly, ACH pickups output a warm tone and quick response experience.
No matter who you are, a beginner or a pro, reachability factor always threatens for accessing higher notes. In this string guitar, 17th fret joints allow you to access higher notes at the best comfort possible.
Pros:
+ ACH pickups for a warmer tone and quick response.
+ Slim and comfortable Artcore set-in neck 17th fret joint to provide comfortable access to higher notes.
+ Sure Grip II knob support.
Why We Liked It - AS53TRF by Ibanez showcases every ingredient needed to be the best. With ACH pickups, Sure Grip II and comfortable access to higher notes this guitar has a lot to show when it comes to competing with the rivals.
2. Gretsch G6136T White Falcon Hollow Body Electric Guitar
Gretsch is an American music group that manufactures best electric guitars, bass guitars, and drums. The roots of this company were founded in 1883 by a twenty-seven-year-old German immigrant.
Excelling the game of semi-hollow's since ages G6136T by Gretsch promises another level of performance. From producing classic to deep complex sound this guitar is the best option for elevating your string game.
When you hold G6136T in your bare hands it means that you are ready to do something out of this world. Two high sensitive Filter'Tron humbucking pickups are uncompromising when it comes to picking up the sound. From pristine high end to balanced harmonics, these pickups promise some serious sound.
The body weight holds a key role while you are performing as heavy guitars may tear your tempo. With only 24 pounds of weight, G6136T makes sure that you don't feel fatigued while rocking the stage.
Semi electro-acoustic sound is achieved by the innovative ML bracing along with comfortable 2.25" body. For maximizing tuning stability the Bigsby B6GP vibrato tailpiece and pinned rocking bar bridge combine with the GraphTech Tusq XL nuts so you can concentrate where it matters the most.
Pros:
+ Laminated Maple body back and sides.
+ High-Sensitive Filter'Tron pickups.
+ Neo-Classic thumbnail inlays.
Why We Liked It - One cannot challenge the features of G6136T by Gretsch. With U shaped profile for easy playing, Two high sensitive Filter'Tron pickups and that worldly falcon shape make this string instrument on the best of its league.
3. Epiphone Riviera Custom P93 Semi Hollow Body Electric Guitar
Polishing the art of making guitars since 1873, Epiphone is one of America's oldest and best value semi-hollow body guitar makers for every style of music. This brand ignites both history and the spirit of innovating to differentiate its product from other contenders in town.
After the success of Epiphone's most enduring classic, the Riviera, this company thought of raising the levels a little more. As Rivera was known for producing the best tones without any pickup variation the new boss in the town known as Custom P93 gave same vintage features but with a new sound and distinctive look.
Inside, Custom P93 has loaded with 3 Epiphone "Dogear" Alnico-V P-90 pickups that dust's aside from other old single pickups. Matching it up with the ES-style body, a Bigsby B70 tremolo plus a premium wine red finish the Riviera Custom P93 evolves into a complete musical beast.
Speaking more about the pickups, the three Epiphone "Dogear" classic P-90 pickups with alnico magnets have controls for three individual volume pots and one master tone so you have the utmost control.
This semi-hollow body best comes in with a stunning wine red finish that includes gold hardware extending to a 14:1 ratio Wilkinson machine heads. Furthermore, these heads promise a whole new level of superior tuning stability and accuracy - they are arguably the best on the market.
Pros:
+ Warm and clear output makes it the best solution for jazz, blue and country.
+ 3 Epiphone "Dogear" Alnico-V P-90 pickups.
+ Wilkinson machines heads provide superior tuning stability and accuracy.
Why We Liked It - Trusted by the professionals, Riviera Custom P93 semi-acoustic electric guitar gives you the taste of heavens. With 3 "Dogear" Alnico-V P90 pickups, gold hardware and warm yet clear output one can blindly trust this semi-hollow body.
4. Epiphone ES-339 Semi Hollow Body Electric Guitar
Since 1873 Epiphone guitars are winning the hearts of many players that want to innovate something out of this world. No matter what you pick, the elite quality result is guaranteed.
The king of classic shape semi-hollow body, ES-339 PRO by Epiphone was released to take musicians back to the era of the classic when Epiphone was producing rock's most legendary guitars.
Reduced size, ES-style body, and alnico classic pro pickups make the ES-339 a complete package so users can enjoy that vintage touch with advanced style and sound.
The ES series was based on Les Paul solid body guitars to encounter the era of the rock classic. The first semi-hollow body in the series ES-335 gained a lot of audiences but its bulky weight wasn't preferred by many guitarists on stage. The Epiphone thought of tweaking this hurdle with ES-339 by shrinking the body size while still providing bell-like tone that players loved to play.
Pickups are the heart of any semi-hollow body, ES-339 by Epiphone features alnico classic pro humbucker pickups in neck and bridge positions. Similarly, the three-way pickup selector provides a huge variety of tones and also features a push/pull coil tap.
Since 1873 Epiphone guitars are winning the hearts of many players that want to innovate something out of this world. No matter what you pick, the elite quality result is guaranteed.
The king of classic shape semi-hollow body, ES-339 PRO by Epiphone was released to take musicians back to the era of the classic when Epiphone was producing rock's most legendary instruments.
Reduced size, ES-style body, and alnico classic pro pickups make the ES-339 a complete package so users can enjoy that vintage touch with advanced style and sound.
The ES series was based on Les Paul solid body guitars to encounter the era of the rock classic. The first semi-hollow body in the series ES-335 gained a lot of audiences but its bulky weight wasn't preferred by many guitarists on stage. The Epiphone thought of tweaking this hurdle with ES-339 by shrinking the body size while still providing bell like tone that players loved to play.
Pickups are the heart of any semi-hollow, ES-339 by Epiphone features alnico classic pro humbucker pickups in neck and bridge positions. Similarly, the three-way pickup selector provides a huge variety of tones and also features a push/pull coil tap.
Pros:
+ Smaller body dimensions but with some bell like tone.
+ All nickel plated hardware promises durability.
+ All new Epiphone ProBucker Humbucker pickups.
Why We Liked It - Joy is playing bell like tone without those bulky guitars and that is where ES-399 excels in. With Humbucker pickups, push/pull coil tapping and smaller body design (click here for the even smaller Ukulele!) even the beginners can touch skies.
5. Ibanez Artcore AS53 Semi-Hollow Electric Guitar
Are there any musicians that hate Ibanez? We have spent hours researching but found no one criticizing this company. From distributing funky looking guitars to US stores and opening a one and only Ibanez company the employees has some serious passion for semi-hollow body instruments.
Ibanez was the only company that released affordable yet feature-full guitars so even your kid next door can get his hands dirty with some high-end options.
Apart from electric guitars, Ibanez has also put something for their customers who like semi-hollow body guitars. Artcore was released in 2002 by Ibanez to hit the half-filled category and who would have known that it will become the choice of musicians for the last 10 years.
Artcore combines affordability and quality that have attracted many musicians from versatile genres like blues, country, rock, and jazz. Artcore works on how you want to play it, whether you are playing a soothing sound or rocking up them stage this semi-hollow body supports all.
This semi-hollow body guitar is known for its tone, sustain and the way it holds the tuning is simply outstanding. Artcore is here to compete and push the boundaries of music.
Infinity R pickups featured in AS53 are not just another pickups. These pickups feature warm, balanced articulation and best response for various genres making this semi-hollow body unique from others.
Pros:
+ Top, back, and sides are made up of Sapele wood.
+ Master volume and Master tone control knobs.
+ Infinity R pickups.
Why We Liked It - It wouldn't be wrong to comment that Ibanez is setting a tough competition for well-known semi-hollow guitar manufacturing brands. We have searched a lot in this price range but still, the best rock and jazz semi-hollow guitar is none other than AS53 by Ibanez.
6. Ibanez AG75BS Artcore Hollowbody Electric Guitar
From copying expensive guitars to innovating completely new designs Ibanez has gone through every period. The history of Ibanez speaks for itself as the Japanese owner struggled really hard to actually open a company named Ibanez.
With over four decades of experience, Ibanez tends out to be amongst the eldest semi-hollow body manufacturing company.
The Artcore series of Ibanez was first introduced in 2002 and who would have predicted that this semi-acoustic semi-hollow body would rock the nation. Artcore series combine elite quality hardware under an affordable price range which makes players all around the world go bonkers over this masterpiece.
Diverse genres like blues, country rock and jazz are all held up by the AG75BS Artcore. From an old-style jazz box to a hybrid, semi-filled rocker players can find numerous tone styles.
Prime grade tone, extreme sustain, and fine-tuning ability make up AG75BS by Ibanez. On the pickup side, this guitar is equipped with classic elite pickups that offer a rich yet nuanced tone with fat low-end. Thanks to the ART-1 bridge you get improved sustain and tuning stability.
Controls are often crafted with poor quality material but in this instrument, The Sure Grip III knob is designed for precise control along with a non-slip functionality so you can tune in the best match.
Pros:
+ Mahogany material and large frets.
+ Classic elite pickups that offer rich yet nuanced tone with flat low-end.
+ Best for genres like blue, country, jazz, and rock.
Why We Liked It - It doesn't get any better else than AG75BS Artcore by Ibanez. .With elite pickups for providing rich sound, large frets, and bound rosewood fingerboard this semi hollow body touch every musician's heart.
7. Gretsch G2420 Streamliner Hollowbody
With same passion like in 1883, Gretsch is here to innovate and set a new circle who for those who are here to do. This company does not only manufacture semi hollow bodied guitars but give every single equipment with a soul of its own.
From a small Brooklyn workshop to headquarters in Savannah this company has proven many competitors wrong.
Bigger, bolder and more soundly is the G2420 Streamliner semi electric semi-acoustic semi-hollow instrument by Gretsch. With the aim of breaking norms, this guitar is for the players who tend to go out of what is written in the books. G2420 streamliner is a commanding guitar for players who like to play it versatile. Modern Sonics, updated electronics, and that elegant style pack up to output that iconic great Gretsch sound - which is arguably the best.
One would think that how come this semi-hollow body guitar is able to produce pristine highs, throaty midrange and dynamic lows, right? Well, the secret lies right here, Gretsch Broad Tron humbucking pickups are designed by experts to output such capabilities.
For tweaking up the sonic sound with full control the semi-hollow body instrument is featured with traditional control layout. Neck and bridge pickup volume controls, a master tone control, master volume control and three-way picking switching make sure that you have the full control.
Pros:
+ Broad'Tron humbucking pickups.
+ Three-way pickup switching with separate volume and tone controls.
+ Chromatic II tailpiece ensures that you enjoy rock-solid tuning stability.
Why We Liked It - G2420 streamliner by Gretsch is counted amongst the best unfilled-body guitars. With broad iron humbucking pickups, three-way pickup switching and chromatic II tailpiece this semi hollow body had enough to get you going for years.
8. Cort YORKTOWN TAB Hollow Body Single Cutaway Electric Guitar
Delivering the best music instruments isn't easy, you have to be passionate about sound and ready to explore boundaries. Cort has it all, 50 years of experience, detailed know-how and desire of refining make this company the talk of the town.
Engineers, designers and every single person working for Cort focus on providing instruments that will last generations. Use of best components experienced labors, and the best service takes instruments by Cort to a whole new level.
Yorktown Tab by Cort carries those same high-level fundamentals with the vintage style to attract professionals. Single cutaway semi-hollow body acoustic design outputs that hotshot look that guitarists love to play with.
The top is made up of spruce and back/sides are crafted with maple to output the impression of professionality. Rosewood material is used to made fretboard with the best rectangular white pearl inlay.
Classic rocker-II pickups are the heart of this semi-hollow body instrument. The Hot, vintage and fat sound is all that is produced by these state of the art pickups - they have been said to be the best.
One can truly rock the stage with Yorktown tab semi-acoustic single cutaway guitar by Cort.
Pros:
+ Single cutaway semi-acousticdesign.
+ T.O.M bridge and C-Harp tail design.
+ Classic Rocker II pickups.
Why We Liked It - With classic rocker II pickups, single cutaway semi-hollow electric design and separate volume/tone control this string instrument give you the best for your investment.
9. Ibanez Artcore AF Series AF75T Hollow Electric Guitar
Artcore series was born in 2002 with the aim of rocking genres like blue, country, rock and jazz. From that old-school jazz box tune to heavy metal output this series has got it all to give your music a soul.
AF75T semi-acoustic electric guitar features a select grade maple top, back and sides to output that typical Artcore series look. Speaking about the fretboard, it is made up of bound rosewood material and contrasted by brilliant acrylic block inlays to output a warm feel.
The neck is made up of mahogany material that is proving its reliability throughout the years. Country and rockabilly nuances to the rich tones are provided by old school vintage vibrato. Similarly, 21st-century roller saddles eliminate that old school tuning problems that players faced while performing.
The big, full-toned and well-balanced output is achieved by Ibanez Classic elite pickups that promise guitarists to touch the limits of music.
Pros:
+ Mahogany set-in neck ensures reliability.
+ VBF70 vintage vibrato provides country and rockabilly nuances to rich tones.
+ Top, back, and sides are made up of maple.
Why We Liked It - AF75T semi-acoustic electric guitar by Ibanez is pushing the boundaries of music level. With mahogany set-in neck, chrome hardware and two classic elite pickups you get to experience some serious guitaring feel.
10. Guild Starfire II ST Hollow Body Electric Guitar
Continuing the old-world craftsmanship, modern design and innovative thinking Guild Guitars are here to outfield competitors. Guild Guitars are made for the players who are ready to take on stage with full power.
From acoustic to semi-hollow body guitars every manufactured product in this company shines out bright compelling players to innovate every day.
Starfire II ST by Guild guitars was created keeping in mind the trust of years. semi-hollow body acoustic design with a Florentine cutaway and extra thin mahogany body make this semi-hollow body instrument a world-class choice.
This string instrument is equipped with dual LB-1 little bucker pickups which hold same quality like original smaller size humbucking pickups. With these pickups, you hear that unique guild sound.
For increased stability and sustain Starfire II features Tune-O-Matic bridge and stop bar tailpiece so you get that typical Guild sound.
Pros:
+ 2 neck pickup volume and tone controls.
+ Three-way toggle.
+ Tune-O-Matic Bridge.
Why We Liked It - Getting such feature-full guitar in this price group is somehow impossible. With two LB-1 Little Bucker pickups, three-way toggle and Tune-O-Matic Bridge this guitar outputs some promising sound.
Hollow Body Guitar / Semi Hollow Guitar Buyers Guide
You have read the reviews of our best semi-hollow bodied electric / semi-acoustic guitars above. Now you have an idea which guitar brands are producing what and some idea of what you should go for. However, you're still not ready to make the right choice as market is completely saturated there. In this section of our article, we will explain different parts, the type of sounds guitar makes plur our three exclusive picks.
For any music producer, especially the young and inspiring ones, it is important to first have an idea of what he or she predominantly would be playing. The young musicians have to be sure of what type of music they would be producing like jazz, rock, pop, blues, country or rock. It is important to understand that semi-hollow body and solid guitars each produce different sounds suited for a particular type of genre.
So, to start things off, we would begin with explaining in more detail the hollow and hollow body guitars - plus a few words on solid guitars as well.
Semi Acoustic Guitars
As clear by the name, semi-hollow body acoustic guitars produce the most acoustic-oriented sound. The sound produced is crisp, clear and natural. Of course, all these features come with little limitations - you can never be really good at semi-acoustic guitars if you are performing at mid or high-level volumes. This is the reason why you hardly see musicians performing with a hollow guitar at live concerts or during other demanding performances. Well, this is probably the only downside of this semi-hollow body. The sound quality has no parallel, which is why it is still favored by music enthusiasts from all around the world. You just can't picture a personal jamming session without these instruments. Hollow-bodies have the best response to bass and nothing really can beat the true round tone of the semi-acoustic guitars (click to view a study). These guitars have a niche following and it is also the best choice for anyone who doesn't know how to play but wants to buy a guitar and learn the traits himself.
Semi-Hollow Bodies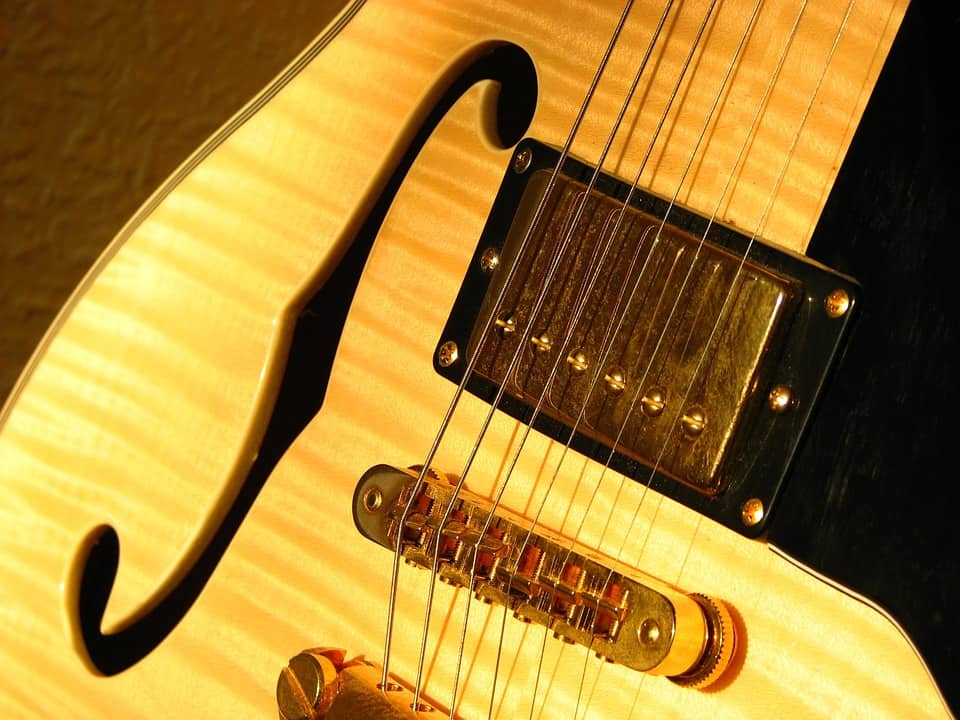 When you want a warmer tone from your semi-hollow body instrument, nothing can deliver better than semi filled bodies. These guitars are the best at producing pleasing, woody and resonant sound. Semi unfilled are just full of harmonic richness. The best thing about these guitars is the fact that they can almost produce a sound similar to unfilled bodies - all you need is the right setting (amp settings) to get the best out of it. The only downside with these guitars is the unwanted feedback but the use of humbuckers has addressed to this issue as well. semi hollow body guitars are lighter in weight, which makes them easier to carry around on stage and in the studios. Some music players are also of the opinion that these guitars offer the best versatility as compared to the other three types in the discussion. Semi-hollow guitars are best suited for environments where there is a lot of noise - thanks to its low pitch acoustic sound (when not amplified). If you're into jazz music, you are simply going to love these guitars - they are best for jazzy riffs. Also, players who are inclined more towards early rock and vintage should best go for these ones as well.
Solidbodies
Solidbodies should be your go-to guitar if you are looking for sustainability. When compared with their counterparts, these guitars perform like a charm at high amplification. When you are holding these in your hands, you don't have to worry a single bit about the body resonance. Due to this fact, solid guitars are available in a wide variety of shapes and design. These guitars usually work in the absence of any resonating chambers, they entirely depend on amplification and due to this, they are best suited for the use of effects. Any musician who is into hard rock, punk, metal or similar kind of rock genre should have at least one solid body guitar in his arsenal.
Now that you know what different kinds of guitars are suited for, it is also important to understand the fact that the use of amplification and different effects can sometimes eliminate that difference between them. However, when it comes to the basics and learning music, the difference between the guitars will always imply. In the end, it usually comes down to these three factors when it comes to choosing a guitar - the feel, the sound, and individual preferences.
To make your search easier, we have decided to pick the best three guitars - please check below.
1- Top Pick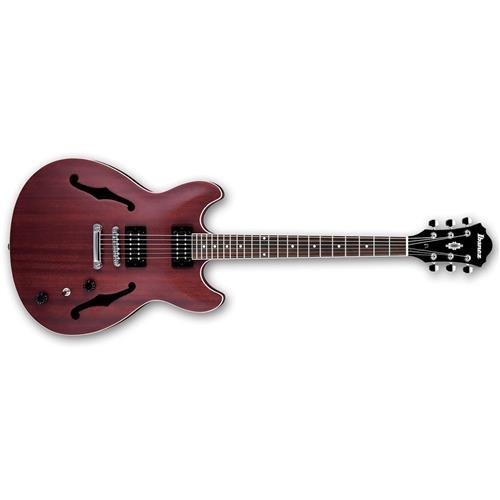 Our best pick from the list above is Fender Modern Player Starcaster. The selection was never easy as our list above was already well thought about. But when talking about this guitar, there is something special about it. The looks on this guitar are simply amazing. It has an offset semi-acoustic, cool stripes and a distinctive headstock, which makes this semi-hollow one of our favorites. Whether you're a professional guitar player or someone who is new to the game, this guitar has something to offer to everyone.
2- Premium Choice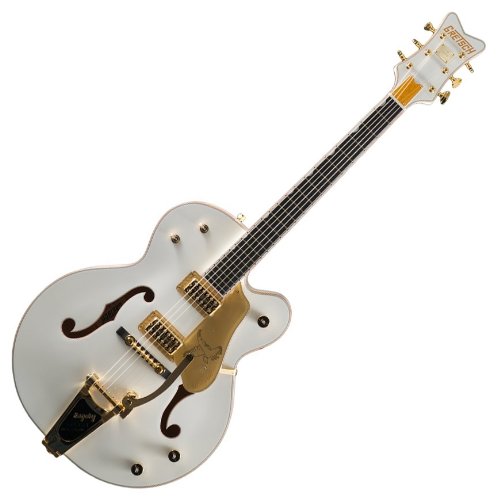 When you have a handful of needs and you're looking for a single solution then look no further as Gretch White Falcon semi-hollow body Electric Guitar is here to amaze you. This guitar is a classic, especially when we talk about the design. It looks like a violin from some angles. The sound quality is the best and other specifications like weight, angles, and shape just make it our premium choice. The material used in the making of this masterpiece is top-notch. We have talked to many music players owning his guitar and they are of the opinion that it feels the best in hands. And as you know, it all starts with the right feeling when producing the best kinds of music.
3- Great Value


No matter the skills and the requirements, some of the buyers are always looking for a product that gives them the best value for their money. It is not easy to find such a product but guess what - it's your lucky day. We have made your hunt easy - Epiphone Riviera Custom is the product you have been looking for. It is easy on the pocket but serious when it comes to producing the best sound. With its laminated wood design and double cut way design, the Riviera Custom is a cute little guitar. With this guitar in your hand, you are bound to produce the best music and catch instant attention. Just about everything about this guitar is perfect.
FAQ's
1- What is a hollow and half-hollow guitar?
Unfilled and semi guitars might resemble in shape and name but there is a huge difference between these two inventions.
Hollow/Semi-Acoustic Guitar
Semi-Acoustic Hollow Body guitars were invented late back in the 1930s sharing the roots with electric guitars.
In the era of 1930s, players were facing difficulties while performing with guitars as the overall volume wasn't even close to other instruments. This was making the situation tough to perform with guitars and other instruments in large orchestras. In 1936 Gibson was first to try a series of design that focused on amplifying the signals through a loudspeaker.
ES-150s by Gibson stepped in the market and that was it, guitarists went bonkers over the clear sound that this guitar featured. ES-150s were based on standard product archtop with f-holes embedded on the face of the guitar's sound box resembling a traditional jazz guitar that was counted amongst hot shots at that specific time period. This guitar was electrically amplified by a Charlie Christian pickup that was a magnetic single-coil pickup. This pickup converted vibrations into electrical signals.
Until ES-150s, the pickup came as an attachment but the new models ES-175 and ES-5 released by Gibson in 1949 came with standard built-in electric pickups making them first two fully-fledged semi-hollow body guitars.
After the success of ES series Gibson went a step further for musicians who wanted that same 1930s to look but with the same versatility and comfort of new solid guitars.
ES-350T was released by Gibson to accommodate the growing call.
After the reign of ES-350T, ES-175, ES-5, and ES-150s Gibson started to innovate a bit. Other companies and Gibson invested in an entirely new type of guitar that featured a solid wood between the front and back sections of the guitars cutaway. This specific type of guitar functioned in both ways, acoustically and electrically - the best compromise for all.
Competitors were also fired up, a company named Rickenbacker started designing semi electric guitars in 1958 after the ownership change in 1954. A German guitar crafter, Roger Rossmeisl was hired to develop semi-hollow guitars that didn't feature any f-hole mechanism, this series was titled as 300. Instead of f-hole, Roger used a sleeker dash hole on one side of the guitar and other side featured a large pickguard. In past nobody would have thought that the underdogs (Rickenbacker) will compete with Gibson should to shoulder.
So you might be thinking that what actually differs a semi-acoustic guitar from others, right? Basically, semi-electric and hollow body guitars were religiously followed for their clean and warm tones that further made them the best choice for jazz communities. As new innovations came in, these guitars gathered a popular circle of pop, folk, and blues player.
On the other side of the story, some guitarists who played in large halls avoided these guitars as they sometimes produced feedback when played at loud volumes. But that wasn't the end of the story as when rock became more experimental in the '60s and 70's people creatively used that feedback factor to make these guitars the best choice for every player.
Semi-Hollowbody Guitar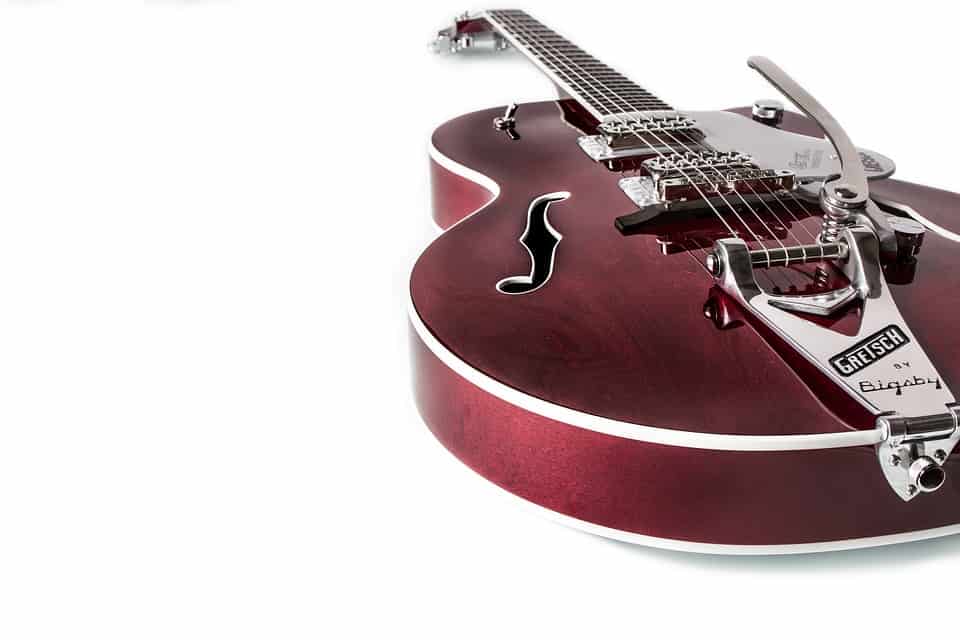 When you combine sound, capabilities, and style of semi-acoustic, hollow body and solid guitars, as a result, you get a semi guitar. Since 1950s half-filled guitars are a game changer as it offers a wide variety of tones with that same typical look.
Back in the 1930s, the popularity of acoustic guitars (see the physics here) lead to the need for a more powerful output that could be heard alongside other instruments. In reply to the demand, companies generated amplified guitars known as hollow body guitars, to sum up, the matter.
Gibson, Rickenbacker and other companies innovated unfilled-body guitars one after another but something was pinching players to use it. While amplifying signals to a lot of volume guitarists noted that a howling feedback sound was ruining the whole tempo.
In solving that feedback problem Gibson introduced its first semi-hollow body guitar known as Les Paul - click to view the different types. Les Paul was a solid guitar made by attaching a guitar neck to a simple 4" x 4" slab of pine that had a pickup mounted on its top. This guitar worked like a charm and eliminated that annoying feedback factor. But it wasn't long until the creator ideas were put on hold as Les Paul outputted a bizarre appearance.
Log's (The creator) idea was brought into the act with an electrified archtop by Les. In 1942 Les Paul took an Epiphone Broadway archtop and added a steel bar to brace the body while replacing the pickups with his own hand-wound pups. The invention was titled as "The Clunker" that promises stability and feedback resistance.
What is the Sound of a Semi-hollow body guitar?
Semi-hollow body guitars are all about that warm dynamics with the best sustains, exciting overtones, and carved mid-tones. While eliminating feedback and giving you a wide variety of tone experiments this guitar has some serious game.
One cannot measure the versatility provided by a half-hollow guitar. Entertaining almost every genre with its rich tonality, players count on this guitar to take their experience on a completely new platform.
Size and Shape Matters!
The hybrid design of semi-hollow body guitars makes them fit every puzzle. Hollow wings make these guitars lighter than the hollow-body guitar. An unlimited amplification potential allows them to have a thinner yet more user-friendly shape. Such capabilities enable them to be comfortable while rocking the stage.
Mastering the art of both sides, a half-hollow guitar rules every genre and type of use. Combining the warm and rich tone of a hollow-body guitar along with feedback resistance, this guitar will surely unlock the doors of success for you.
2- What makes up the anatomy of an electric guitar?
A variety of elements compile with each other to make up an electric guitar. We'll discuss some of the important ones.
Pickups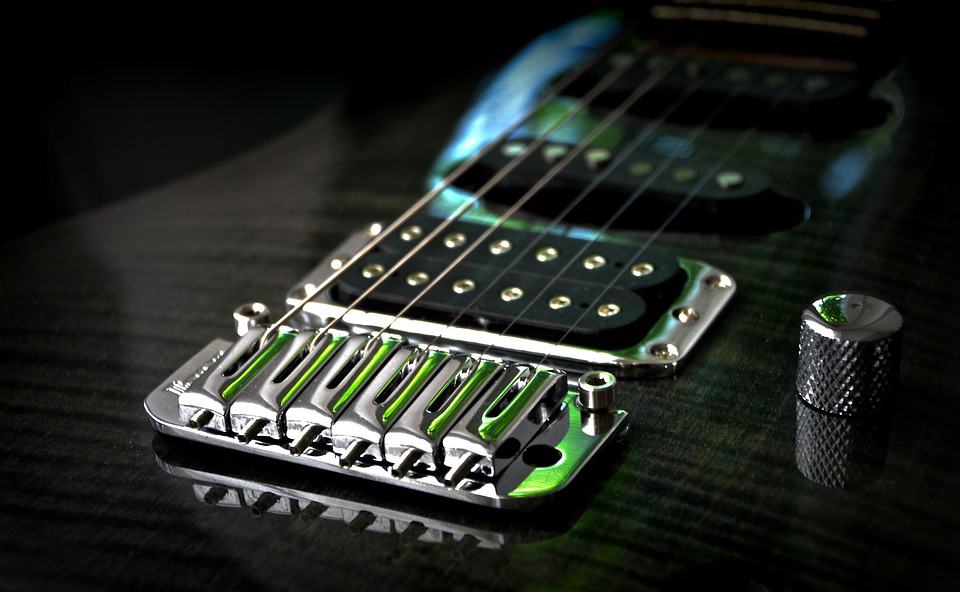 A magnet packed inside a coil of copper wire is called pickup. Basically, when a string is plucked the vibrations causes a magnetic flux in the pickup which converts the input in electrical signals.
Passive single coils are the standard pickups for Fender Stratocaster. This pickup output a bright yet clean sound but have a less output result which results in a thinner sound.
Another successor, the P90 pickup is much larger than a typical single coil which results in a more warmer result.
The humming effect created in the background often disturbs the tempo that is why Humbucker pickups were introduced. Humbuckers use two magnetic coils operating in the opposite direction that cancels out the humming associated with single coil pickups. This pickup outputs a warm and fat sound that is associated with blues and rock genre.
Pots
Potentiometer also known as pots respectively controls the volume and tone. Guitars that have more than two pots separately assign volume and tone to different pickups.
3- What are the most common tonewoods?
Mahogany
It is a highly dense, heavy wood with large pores and open grains. On the tonal side, it provides good low frequencies, smooth highs, and best mid-range. Speaking more, the output is a mixture of mellow, soft and warm tone with a full and thick quality.
High density is responsible for excellent sustain levels and it also makes guitar less vulnerable to scratches and dents.
Rosewood
This type of wood is usually used to craft back and sides of guitars along with the fingerboards. Rosewood possesses extreme density that makes it an acoustically reflective tonewood.
Mostly, Rosewood is dark brown in color and have reddish, orangish or purplish stripes running through it.
4- What is a pickup and how can it influence the sound of your guitar?
Basically, a pickup converts the signals of the guitar strings acoustic or other, to an electrical output so that it can be played through a speaker. Inside a pickup, there is a magnet wrapped around in a coil of copper wire.
Pickup is all about picking up the signals generated by strings. Different types of pickup output separate electrical signals depending upon the efficiency. For instance, humbucker pickups cancel out the humming sound in the background providing a cleaner output.
5- Do different guitar necks have a significance in the sound that is created?
Before getting into the question let us first discuss that what actually a neck is.
A neck can be a single piece of wood or several pieces glued together for carving a single shape. Necks can be glued together or bolted on to each other. Mostly, necks are made up of wood but some passionate companies used carbon fiber for taking the game to a whole new level.
Now let us move on the question and converse about types of neck and how they affect the sound.
Bolt-on neck
The neck is attached to the main body via bolts which are further held by a mounting plate for increasing the stability level. Mounting plate makes it harder to access higher notes that is why some companies use a hidden plate for tweaking this scenario.
Set neck
The set neck is attached to the body using a sticky substance. Set necks are mostly found in acoustic guitars as electric guitars have to be built at a high standard and once glued the neck cannot be adjusted.
This neck provide warmer tones, easy access to higher frets and more sustain making it the best ever match for electric or acoustic guitars (click here to see the guide).
Thru-body neck
The thru-body neck extends through the entire length of the body making strings, fretboard, pickup, and bridge lie on the same ground. Similarly, the bolts are attached to the central stick via gluing.
Having the quality of extreme sustain and easy access to higher frets, thru-body neck isn't favored by the mass manufacturers but liked by almost every professional.
So yes! Different type of guitar necks is responsible for providing you with rare outputs.
6- What should you look for in an electric guitar?
Body types of an electric guitar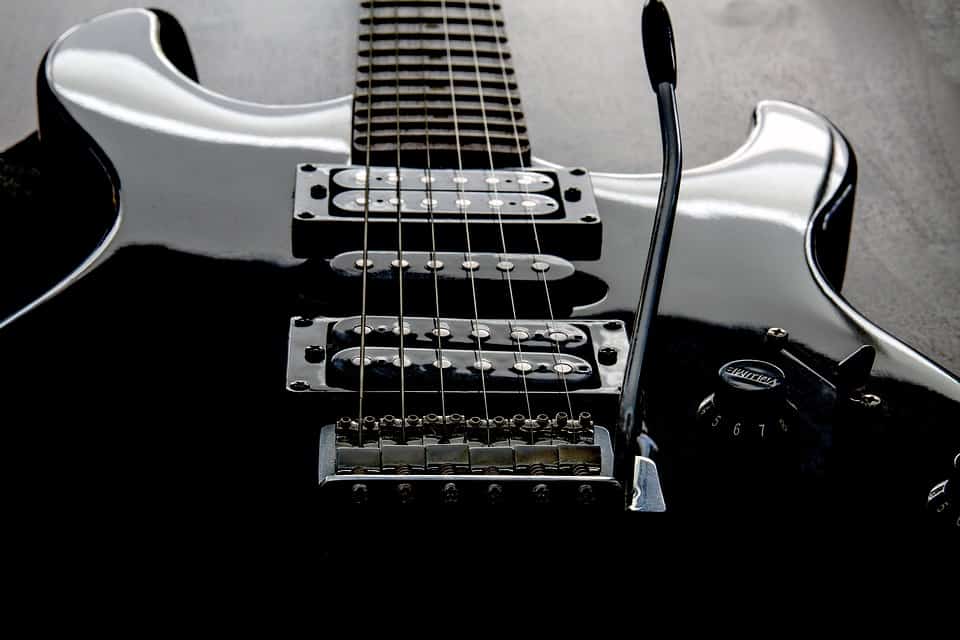 Before stepping further into the debate one should be able to identify different body types of an electric guitar as each holds its own exclusive abilities.
Solid body electric guitars are made from a solid slab of wood. With a range of styles, types of pick-up and decoration, a solid body guitar doesn't produce as much as deep quality sounds like that of a half acoustic-electric guitar.
As suggested by the name, half acoustic guitars have bodies that are hollow making them produce a deeper quality output. This type of guitar features an archtop but all half acoustic guitars are vulnerable to feedback. Known for providing full yet rich tones with deep bass response, guitarists who are indulged into jazz find hollow body guitars much appealing.
Younger yet more sensible brother of half acoustic guitar known as semi-hollow body guitar features every single quality of its precedent with the ability to eliminate feedback. Along with the feedback elimination, half-hollow body guitars adds stability and sustain, all praises to a solid center wood block. From blues to jazz this guitar can handle all tortures you throw at it.
Pickups
After examining the body type one must look at pickups as they have the best effect on the way guitar sounds.
The first pickup was composed of a single magnet with fine wire wrapped around it known as Single-coil pickup. When strings are played this pickup capture the vibrations and convert them into an electrical signal. The output is bright and crispy but prone to producing hum and can be interfered by strong magnetic signals.
To eliminate the background hum and refining the output humbucker pickups were designed. Two opposite charged magnets are arranged in series to cancel out the hum. Likewise, they have a thicker, louder and more powerful tone when compared to single-coil pickups.
Now look for a guitar that has humbucker pickups so you don't have to pay for it later.
Know your budget
At last, know your limits and stay aligned to your pocket. Burdening your budget with a super-high tech guitar or buying a super cheap guitar isn't the option, stay reasonable and pick according to your needs to get the best option for you.
If you liked this review by Music Critic, please leave a positive rating: