We love guitars, they are definitely one of the best instruments of all time. What we don't love is spending crazy amounts of money. We decided to find out what the best electric guitar under 1000 dollars is. Most often when it comes to musical instruments, you can't expect budget beginners' instruments to be as good as the best ones that cost ten times as much, but that doesn't mean that there aren't bargains to be found. For any skill levels looking for new acoustic guitars click here. If you want the best of both worlds, consider looking at our review of the top acoustic electric guitars.
Blind test videos have become popular, where you can listen to expensive instruments and cheap electric guitars and see if you're able to guess which is which. Sometimes you can really hear a difference, but other times it's hard to tell, and the price difference doesn't match the sound difference. Watching these videos made us curious.
We wanted to find electric guitars that sound as good as possible and in a blind test would make anyone hesitant. We must advice you to not only take our word for it, though. When buying a new guitar you should always try it out and compare it to other guitars. Even if it on paper might look like a guitar must be the best one for you, that might not be the case when you actually try it out. The sound might be great, the brand famous and the price ok, but you need to be able to feel like the guitar is an extension of you, and the only way to make sure of that is to try before you buy.
This doesn't mean that our reviews are of no use to you, because there are so many electric guitars out there, and if you know what to look for when you get to the music shop and have a few models in mind, then that makes it a lot easier. And of course, if you don't have a music shop nearby and need to order one online it's always good to do your research. It's a good thing we've already done that for you, then!
If you are in the market for an electric instrument, and want to try something new - look at our guide on the top electric violins of 2023!
At a glance:

Our top 3 picks
Our team's top 3 recommendations
Best Overall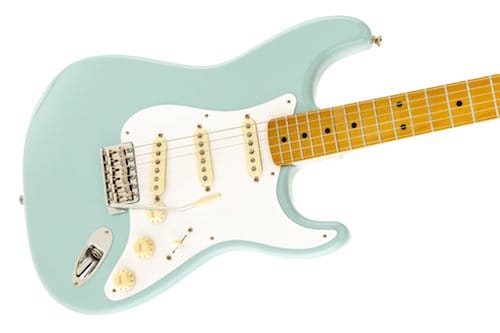 Fender Classic Series '50s Stratocaster

Vintage-looking, classic electric guitar
Available in Surf Green, Daphne Blue and Fiesta Red
Nice sound
Premium Quality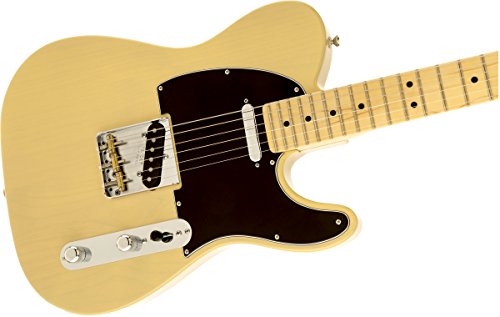 Fender American Special Telecaster

Vintage-looking, classic electric guitar
Available in Surf Green, Daphne Blue and Fiesta Red
Nice sound
Great value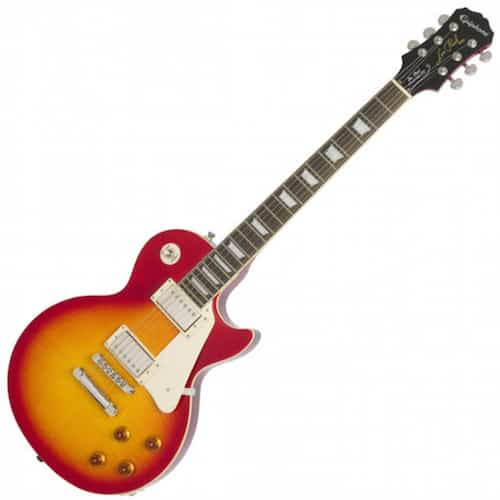 Epiphone Les Paul Cherry Sunburst

Vintage-looking, classic electric guitar
Available in Surf Green, Daphne Blue and Fiesta Red
Nice sound
What is the Leading Electronic Guitar in 2023?
1. Fender Classic Series '50s Stratocaster
Let's start off with a real classic for a classic player! This Fenders vintage modified style Strat hss has captured the happy way of the 50's, available in Surf Green, Daphne Blue and Fiesta Red and it's a guitar that just makes your life a litter bit more worth living. The design is very much like the 1950's electric guitars, from the soft V-shaped neck, maple fretboard and 8-hole pickguard down to the smaller things, like the knobs and the switch tip- everything just brings us back!
This is one of the best guitars according to many guitarists and there are many reasons for that! It has a nice weight, not too heavy, not too light, and it's comfortable to play. If you want to find a good guitar but don't really know what to look for this is a safe choice, you will most likely love this guitar, especially if you like vintage-looking things! Go wireless on stage with this guitar, with one of these awesome wireless guitar systems.
Pros:
+ Vintage-looking, classic electric guitar
+ Available in Surf Green, Daphne Blue and Fiesta Red
+ Nice sound
Why We Liked It - Unless you're looking for an electric guitar to play genres like heavy metal, chances are you would love this guitar. It just makes us happy and it's hard to put it down. Fender is a good brand and they offer guitars of very high build quality. It's available in green, blue and red, so you can really get a guitar that matches your personality and music.
Versatility or specialist - More expensive guitars sometimes lean heavily towards a particular genre. When you are spending a lot of money, it's essential to make sure the guitar you choose fits your playing style. Don't buy a guitar with a distinct death metal tone if you're a session player in need of an all-rounder.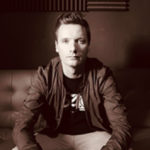 2. Fender American Special Telecaster
Next up is another electric guitar from Fender Standard, namely the American Special Telecaster. This one has two Texas Special Tele pickups and it's perfect for great American genres like country, rock and blues. This American Special Telecaster blues guitar has a lovely alder body and the neck is maple. Just like number one on our list, the 50's Stratocaster, it's vintage-looking, but the Vintage Blonde model we're reviewing looks vintage in a cooler, less sentimental way.
The sound of this guitar is probably the best among all guitars we've tried, at least if you want to play music that requires a traditional electric guitar sound. It also works well for pop, so the only kind of music that it's not super good for are the heavier genres.
We like the feel of this guitar, it's of course a very personal experience, but it's easy to connect with this guitar and feel like it's your own.
Pros:
+ Perfect for country, rock and blues
+ Vintage-looking
+ Wonderful to play
Why We Liked It - This is a guitar that must be experienced. The guitar looks nice, it feels nice and most importantly, it sounds nice! It's amazing that you can get a guitar like this for just under $1000, because it has a really exclusive, expensive aura around it, that makes us want to continue playing all day long!
3. Epiphone Les Paul Cherry Sunburst
The next guitar is a real beauty with its rosewood fretboard materials and mahogany body. This model is similar to the Les' 1952 original and it really looks like the real deal. The maple top is lighter and slimmer than many other, which is good because who needs that extra weight anyway?
The guitar has two Alnico V Humbucker pickup configurations and you can adjust the tone and volume on both. It also features a LockTone Tune-o-matic bridge and a StopBar tailpiece.
Epihone have been making instruments since 1873 and it's easy to tell, you can feel from this guitar that they know what they're doing! Even if this is a good guitar in every way it's slightly cheaper than the previous ones we've looked at, so if you want to find an electric guitar that doesn't break the bank, this is one of the best ones.
Pros:
+ Made from mahogany and rosewood
+ Copy of Les' 1952 original
+ Affordable
Why We Liked It - We're thrilled that there are bargains like this to be found! It's a really good guitar that sounds just as good as the other guitars on this list and it looks and feels like it would be much more expensive than it is. It's light as well, so that you can play as long as you like standing up! We're in love with this guitar!
Tone matters - Tone always matters, but it's especially true when you go beyond the budget price range. You should expect a cut above entry-level through a combination of things like the tonewoods, pickups, and other components. If you can't hear a significant step up from a budget guitar, look elsewhere.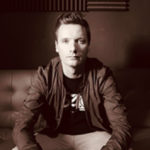 If you feel like finding a guitar that is slightly unique, then this might be it!
This is not just a well sounding guitar, but the first thing that strikes us is the appearance. Ok, we know it's wrong to judge a book by its cover, but we just can't help ourselves!
The reason why we love this guitar so much is that the top is made from koa wood. What is koa? It's a Hawaiian wood that has a very special look to it, with an unusual grain pattern. When you have a guitar top made from koa like this, it just looks very organic and natural, so if you don't like the plastic-fantastic style, then this is the best way to go!
The question is, does koa do anything for the sound, or is it just for the esthetics? The material in instruments always affects the tone, and koa makes the tone brighter while still being deep and satisfying. Sound is always hard to describe in words, because we experience sound differently, but if you're curious about what it sounds like, just check it out on YouTube.
Pros:
+ Lifetime warranty
+ Beautiful koa top
+ High-quality
+ Versatile
Why We Liked It - This is a beautiful guitar that sounds amazing, the tone is bright thanks to the Hawaiian koa top and this tone is wonderful for both cheery pop, moody jazz and pretty rock. If you want a guitar that will constantly make people give you compliments, this is the best one for the job.
5. Fender Deluxe Nashville Telecaster
Next up is this beautiful standard Telecaster from Fender. All the words in the name are words that appeal to us. Fender is a well-renowned brand that most guitarists consider a safe option that delivers great guitars. The next word, 'Deluxe', suggests that this particular guitar is a little bit better than all the rest, and then we have Nashville, which makes all country enthusiasts curious.
But is the Fender Deluxe really as good as the name suggests? We certainly think it is! Even though it would be easy to just write it off as an electric guitar for country music, it's actually really versatile and can be used for any other genre as far as we're concerned. This is thanks to two vintage noiseless pickup configurations, one on the neck and one on the bridge, and a strat pickup in the middle.
We're also happy that this Fender Deluxe guitar has locking tuners, that make it easier to change the electric guitar strings and also make the guitar stay better in tune.
But what about the 'Deluxe' bit? What's so deluxe about it? Well, for example a deluxe gig bag is included, which we really like!
Pros:
+ 2 vintage noiseless pickups, 1 strat pickup
+ 12" radius fingerboard
+ Versatile
+ Deluxe gig bag included
Why We Liked It - Whether you want to find an electric guitar to play sweet country tunes or something completely different, this is a great guitar! It's extremely versatile and is therefore one of the best ones we've tried for beginners so far. That doesn't mean it can suit more advanced musicians and many other skill levels as well, but especially for beginners, versatility is key.
6. Schecter Synyster Gates
Everybody who are into punk, metal and hard rock in general should take a look at this beauty! If you have been longing for the Synyster Gates Custom but just can't afford it, this is a more affordable option that still has the most important features and looks pretty much the same as the Avenged Sevenfold guitarist's guitar.
There are just a few minor differences. For example it has a bolt-on mahogany neck instead of a set neck, and the fretboard is made of rosewood rather than expensive ebony. We don't really care about that, since rosewood actually is really good for fretboard since it's naturally oily. You don't want a super dry fretboard. It's good for the sound too, since it captures some extra overtones that make your tone fuller, nothing goes to waste!
We love the glossy all black finish with the characteristic silver pinstripes. Some things that are included in this model as well as the original are "SYN" and DeathBat inlays and a Floyd Rose tremolo (grab a tremolo pedal).
This is the coolest electric guitar ever! And if you needed another reason, it comes with a really nice electric guitar case included as well.
Pros:
+ Black with silver pinstripes
+ Great for metal, punk and hard rock
+ Rosewood fretboard
+ Case included
+ Floyd Rose tremolo
Why We Liked It - If you're at all familiar with this guitar's big brother we don't really have to tell you how great it is. This is the best guitar to go for if you want something really cool to match your heavy music. Both the design and the sound are awesome, and a high-quality case is included.
7. Yamaha RevStar RS820CR
Some of us don't want to spend our money on a guitar that is seemingly just like every other guitar you've ever seen. We want it to be something special, there's got to be a thought behind it. If this is the case with you, the Yamaha RevStar might be what you're looking for!
London and Tokyo's vintage street-racing motorbikes have inspired the designers, and the guitars from the Revstar collection look and sound accordingly. The idea is to have a diverse range of guitars so that you can be sure to find one that suits you perfectly. They even claim that this guitar is so good that you will consider it to be your other half (maybe even your better half).
If a guitar is going to be our other half it has got to be comfortable to play. Does that fit in on this one? It sure does! It would be easy to assume that if they have spent so much time making it look good they probably didn't have time to make it ergonomic, but that's exactly what they've done! The guitar has a deep belly cut, a hidden forearm contour and a neck joint that makes it easy to play high up on the fretboard.
This guitar is a pleasure to play, both because it sounds amazing and because it's super comfortable!
Pros:
+ Design inspired by street-racing motorbikes
+ Very comfortable to play
+ Amazing sound
+ Dry switch
Why We Liked It - Wow, we really like this electric guitar! It feels really unique to play, since they've really designed it to be played for hours, and it's sound is perfectly balanced and versatile. But the best thing is probably the way it looks, it's just so beautiful! This is the best guitar to go for if you want something unique!
8. Godin 5th Avenue CW Kingpin II
If you want a classic looking (and sounding!) cutaway electric guitar, this Godin 5th Avenue CW might be it! This guitar brings us all the way back to the 50's and makes us truly nostalgic, even though we weren't even born then! It's made in North America, which we guess means Canada, since it also has a Canadian silver leaf maple neck.
Even though this guitar replicates the old-school 50's guitars, the sound is slightly different in the sense that it has better projection and volume in the lows and mids, so that the highs don't stand out like crazy, making this guitar suitable both for solos and accompaniment.
This electric guitar features two Godin Kingpin P90 singlecoil pickups that will give you that lovely vintage tone in a slightly upgraded way.
This guitar is best suited for genres like jazz, blues and rock.
A nice hollow bodied guitar suitable case is included, which makes this guitar a real bargain, actually!
Pros:
+ Cutaway electric guitar
+ 1950's vintage tone
+ The best guitar for jazz and blues
+ Hollow Body
+ Single coil pickup configurations
Why We Liked It - This is a really nice guitar that both sounds and looks vintage, but it's much nicer to play. It's perfect for genres like jazz, blues and rock and since it's got a hollow body, you get a really nice, organic tone. If you like music from the 1950's, look no further, this is likely the best guitar for you!
9. Epiphone Les Paul CLASSIC-T
We've saved a couple of amazingly good guitars for the end of our list so you won't fall asleep so close to the end. This Epiphone Les Paul Standard is one of them. We have a hard time understanding how anybody who tries this guitar can even look at another one!
The sound this guitar is able to produce is very versatile, and the tone and volume knobs together with the wonderful Epiphone Ceramic PRO mod pickups make it possible to get a very wide range of tone qualities without the use of pedals.
Another great thing about this guitar is the Min-ETune system that offers 16 tuning presets. This not only makes it super quick to tune your guitar for everyday use, it's also great if you need to tune your guitar up or down. It saves you a lot of work and time! It's also a feature that makes these electric guitars for beginners who don't know how to tune their guitar, and even if they of course can use a tuner this is still a faster option.
Pros:
+ Min-ETune system for automatic tuning
+ Very versatile
+ Affordable
+ Good beginner electric guitar
Why We Liked It - It's hard not to like this guitar. The music making opportunities are endless and it feels great to play. It's good-looking and high-quality and the automatic tuning is a wonderful feature as icing on the cake. This is an instrument that is very affordable considering how good it is!
10. Schecter Hellraiser C1
Our first impression of this guitar was that something must be wrong. Surely this guitar is way more expensive than we thought? We doublechecked and the truth is that it's just incredible value for money. Both the design and the sound are wonderfully good and we understand why Schecter describe their Schecter Hellraiser guitars as having "raised the bar on sight, sound, quality and affordability"- we totally agree!
This Hellraiser C1 guitar features a mahogany body and a quilted maple top and abalone gothic cross inlays. It looks and feels fantastic! A couple of things that make it sound even better are the locking tuners, that keep it in tune, and the EMG noise-cancelling scheme that makes sure that the only sound the guitar makes is the music you're playing.
Pros:
+ Quilted maple top
+ Mahogany body
+ Versatile
+ Affordable
+ Good-looking
Why We Liked It - Even if this isn't the cheapest guitar on our list, we think the Schecter Hellraiser is the best bargain! To get this much guitar for so little money is almost incomprehensible and we feel like a million bucks when we play it! It not only looks good, it sounds fantastic, and you can be sure to impress everyone who hears you play with this wonderful instrument!
Build quality - The step up in quality should extend to the build quality, too. The obvious upgrades would be more expensive woods and robust hardware. But, you'll know it when you feel it; from the wood to the tuners, to the paint, it should look and feel high-end.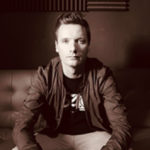 Electric Guitar Buyers Guide
1. Top Pick - Fender Classic Series '50s Stratocaster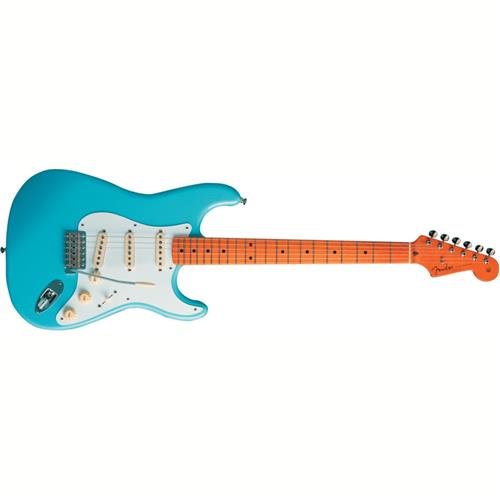 The time has come for us to take a look at our Top Pick, Premium Choice and Great Value. For our Top Pick we wanted to find an electric guitar that pretty much any guitarist would be happy with. We wanted one with a very classic guitar sound that reminds us of the good old days, but still functional for modern music.
The guitar we decided to go with is Fender's Classic Series '50s Standard Stratocaster.
This guitar is perfect no matter if you're a beginner or have been playing for many years. The design is vintage at its best, with a lovely soft V-shaped neck and great colors, namely Surf Green, Daphne Blue and Fiesta Red. This guitar has a very traditional look that most people like. True, some people would feel that it's a little bit too mainstream, but others would reason that hey, if it's good enough for everybody else, it's good enough for me!
We selected this guitar as our Top Pick because it's an instrument that could suit anybody. It has everything you need from your electric guitar and it's easy to play. A good classic that will stay with you for many years to come. It suits both beginners and guitarists who have been playing for a while. True, a professional guitarist would buy something pricier, but if you're not super picky this guitar will do perfectly well!
2. Premium Choice - Fender American Special Telecaster

Choosing a guitar for our Premium Choice isn't that easy when they're all pretty much in the same price range. What did we take into consideration when we picked Fender's American Special Telecaster as the guitar that stands out from all the rest?
We believe a Premium Choice isn't just about how much you've spent on a product, it has to offer extraordinary build quality and a luxury feeling in order to belong in this category.
Our very first impression of the American Special Telecaster was that it's such a good guitar. There is just something about it that feels remarkable. It's hard to point to one particular thing, what does it is the combination of design, sound and feeling. We love the alder body and the maple neck that makes your music sound great, and the Texas Special pickups make everything we play on this guitar sound amazing.
The vintage-looking design is stunning and truly something we would love to hang on the wall to show off to guests! Be prepared to get plenty of compliments!
The feeling you get every time you play this guitar is what makes it a Premium Choice. And the wonderful tone too, of course!
This is the perfect guitar for people who want to treat themselves to an amazing guitar without having to eat porridge and drink water for three months. If you buy this guitar you will have an awesome instrument and money left to buy food! It doesn't get much better than that!
3. Great Value - Epiphone Les Paul custom Cherry Sunburst

If you want to spend as little as possible but still get a really good guitar there's always Epiphone's Les Paul custom pro Cherry Sunburst! Bargain alert!
We've been really picky when selecting all the guitars for our list, we've only included guitars that sound and look fantastic, and this guitar is no exception!
We love the color of this Les Paul Custom Pro guitar, it makes us feel like rock stars and it feels almost wrong to play this guitar without wearing sunglasses.
The guitar has a rosewood fingerboard, which is a good material since it's so oily, meaning that your fingers can slide all they want without any unnecessary friction.
The solid body is made from mahogany and the top from maple, and it's light and slim, so that you don't get easily tired if you're playing for a long period of time. The design is very similar to their 1952 original guitar, but it still manages to feel fresh and fun, even though it looks like it's over 60 years old.
This electric guitar is wonderful when it comes to the sound as well, the two Alnico V Humbucker pickup configurations do a great job picking up your tone and you can also adjust the tone and volume.
This guitar has everything you need as a beginner, but the best thing about it must be the price!
Budget Electric Guitar Buying Guide
What to look for in an Electric Guitar for Beginners?
Are you looking for your very first electric guitar? There are a few things to keep in mind and we'll give you a few tips to remember when you're hunting for the best guitar for you!
When consulting our buying guide, the first thing you need to think about is your budget. How much can you afford to spend? Generally speaking, musical instruments tend to get better the more expensive they get, although this is of course not always the case. And even if you would buy a really expensive guitar you might not be experienced enough to notice how good it is.
We would recommend that you, for your first guitar, spend between $500-$1000. This price range is good, because you know that you will be getting a guitar that is made for some serious music making (which the cheapest ones out there just aren't). Of course, you don't want to spend this much money on something you're not even sure you will be using a year from now, so if you aren't that serious about learning to play the guitar it might be a good idea to go for an even cheaper option.
On the other hand, if you know that you have spent a decent amount of money on something, you're more likely to keep using it, so that you didn't pay that much in vain. Getting a proper guitar from the start also means that you don't have to get another one as soon as you get a little bit better and start to notice that maybe your $50 guitar wasn't that amazing after all.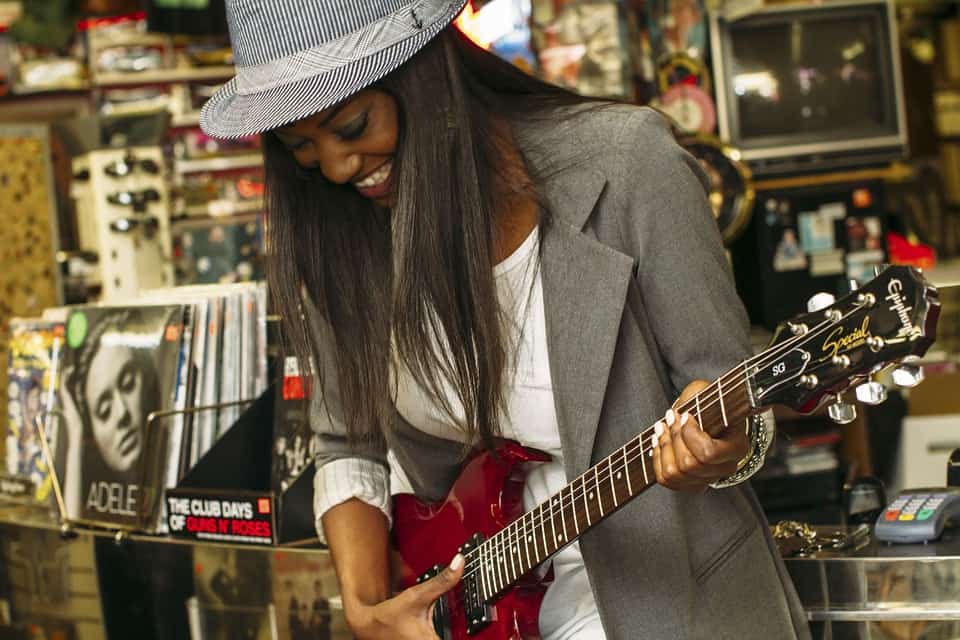 Another thing you might want to remember when getting your very first electric guitar is that you will need some other equipment to go with it. You might need a music stand, an amplifier, a mic for the guitar amp (click for a full guide), different pedals, and so on. While these things are normally not included with your guitar purchase, you might at least get a nice case to keep and carry your guitar in.
Cases are not always included, however, but if you want to save some money on that, it might be a good idea to find a guitar that comes with a case.
One of the most important things when choosing your guitar is, of course, the sound - read the study on electric guitar sounds. It's best if you're able to try different guitars out in a music shop, and the staff there will most likely be happy to present you with different options that are good for beginners. There you will also have the chance to see how the different guitars feel to play and have the opportunity to ask the staff if you have any questions or need any advice.
If you're a beginner you might not feel like you know enough to be able to test play different guitars, but play whatever you know and see if you notice any difference. If you only know a few chords or even "Smoke on the Water", then play that, it's better than nothing! Don't care about the staff hearing you play, they're used to it and are probably just happy to have a potential customer.
What if you don't have a music shop nearby and need to order a guitar online? Our recommendation is that when you have read through our list of the best guitars, select a few that you're interested in, and look them up on YouTube. There you can watch (and listen to!) great reviews where you can hear the guitar be played and get someone else's opinion on it. Try listening to the different guitars directly after each other so you can determine which one sounds the best.
Which genre you are going to play should also determine which kind of electric guitar you go for, they have very different tones and looks.
If you are buying a guitar for a kid, it might be good to know that there are smaller electric guitars, especially for children. If it's a small child, it might be really difficult to reach on a full-size guitar. The best way of determining what size you need is to try different sizes in a music shop or ask the guitar teacher what he or she recommends. If your kid grows quickly and you can't be bothered or can't afford to get a new guitar every year there is always the option of renting a guitar until your kid is big enough to play on a full-size guitar.
What is the most versatile Electric Guitar under 1000?
One of the most versatile electric guitars we encountered when putting together our list is ESP's LTD EC-1000 KOA. Koa is a Hawaiian wood that the top of this guitar is made from, and it has very special sound qualities. It makes the tone very bright, crisp and clear, but at the same time, it's full of life and depth. We immediately thought that the sound reminded us of a ukulele or some other happy little stringed instrument, and the sound can easily bring us back to summer evenings around a campfire.
But it would be a mistake to think that this guitar is only suitable for Jason Mraz strumming and happy songs because it's just as good for heavy metal! That sweet little tone can easily be transferred to heavy music, or why not pop jazz or blues? In other words, this guitar is extremely versatile and is the best option for musicians who play many different types of music and want a guitar that works well for pretty much everything.
What are the Top Electric Guitar Brands?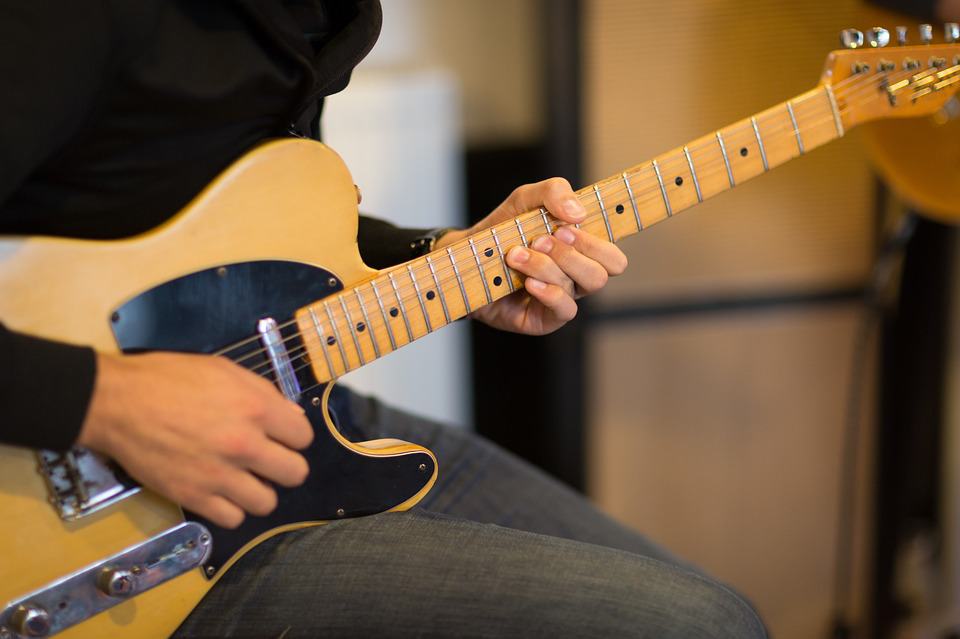 There are many good brands that make electric guitars, so we've selected a few brands that we think you should learn a little bit more about!
Choosing a famous brand is most often a guarantee that you will get a good electric bass or guitar.
We'll start with Gibson USA, more notably the Gibson Les Paul Custom Pro. Gibson USA is an American brand that many are familiar with. Some of their famous guitars are the Les Paul, Flying V, and Firebird. Their guitars are amazing and beloved throughout the world, so much so that there has been a big demand for cheaper, but still good, copies.
That leads us to Epiphone, who used to be a big competitor to Gibson USA but nowadays are owned by them. Epiphone guitars are great possibilities to get more affordable versions of some of the best guitars in the world. Epiphone is one of the best brands for beginners.
Another good brand is ESP, who mostly make guitars that suit tougher rock genres. They too offer cheaper alternatives in their ESP LTD range.
One of the most famous brands is Fender. Their guitars are true classics that most people are somewhat familiar with. The American Special Stratocaster and Telecaster, have you possibly heard those words before? Probably!
Enough with the American brands, haven't the rest of the world got something to offer? Well, Japan has come up with a few! Ibanez, for example, offer amazing guitars, and when they first started out the original idea was actually to offer good copies of American electric guitars! Today they have moved on to doing their own thing, and produce excellent guitars.
Another Japanese brand is Yamaha. They started making pianos and organs in 1887 and since then they have made all sorts of things. Do you know Yamaha motorcycles? Yep, same brand. But even though they seem to have a hard time deciding what kind of a brand they are they manage to make pretty decent musical instruments, often for affordable prices, so if you want to find a cheap but good guitar they probably have something that could work.
One of the best guitar brands is Schecter, especially if you like heavy metal. Even though they are extremely good they are most often pretty affordable and very good value for money. They don't only sound good, their design is usually to die for!
Can cheap Electric Guitars still sound good?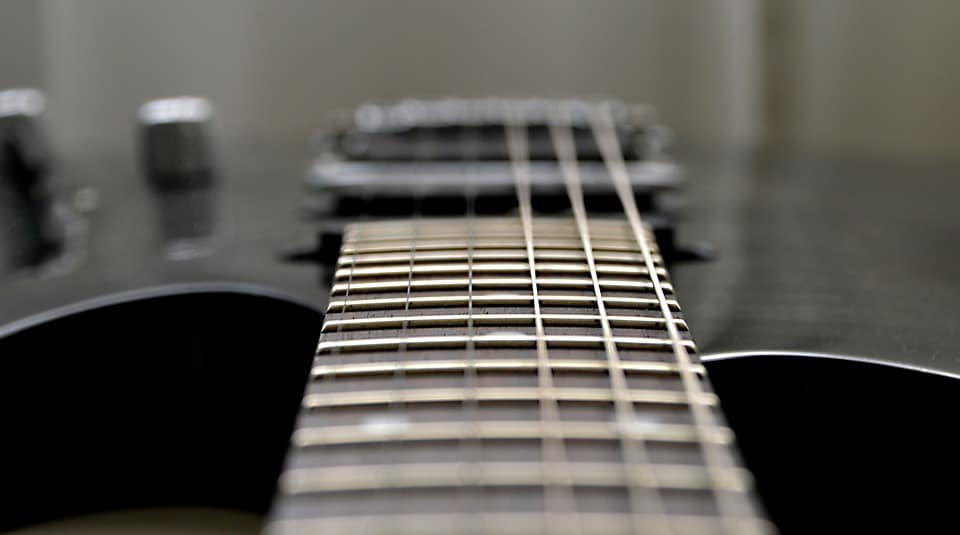 This is a really good question and the short answer is yes. There are of course cheap guitars that sound awful and then there are cheap guitars that are pretty decent.
It does, however, take a lot of work to find a cheap guitar that is good, therefore it's better to pay a little bit more and know for sure that you're getting something good.
It's perfectly possible to find a guitar that sounds good for around $500-$1000, as our list shows. If that is cheap or not is of course debatable.
We would suggest that you don't check price tags too much when choosing your guitar. If you try a few out in a music shop you can ask them to suggest a few different guitars within your price range and then try them out only thinking about sound, looks and feeling. This way you won't be fooled by a cheap price tag to think that a guitar can't be any good, or the opposite, be tricked into thinking that just because a guitar is expensive it has got to be the best.
It's quite interesting to look into the psychology behind our behavior when it comes to how much we pay for things in connection with how good we think they are. In one experiment, restaurant guests got served the same dish. Some of them paid a high price for their dish and some a normal lunch price. Did the guests think that their food tasted differently? Yes, they did. The guests who paid the high price thought that their food was much better than the people who got it for cheap.
What can we learn from these restaurant guests? The lesson is that we are very easily tricked into liking things we pay more for, even though they might not be that good after all. We get a particular feeling from thinking that we're treating ourselves to something luxurious. If we, on the other hand, haven't spent very much, we usually assume that it can't be a good product.
This is a good thing to keep in mind no matter what we're shopping for, since it means that looking at the price tag can stop us from making a good decision.
Where to get an Affordable Electric Guitar?
There are a few ways to save some money on your electric guitar (click for modal analysis). One way is to order online, for example from Amazon, which is usually cheaper than buying from a physical shop. Make sure that you know what the usual price for the guitar you want is, so that you can compare different sites, and in the best of worlds, use a discount code or wait until there's a sale.
The downside to buying online is that you can't really test the guitar before you buy it, so make sure that you can send it back in case you aren't satisfied. You could, of course, try the guitar in a music shop and then go home and order online, however we feel that that isn't really fair to the shopkeeper.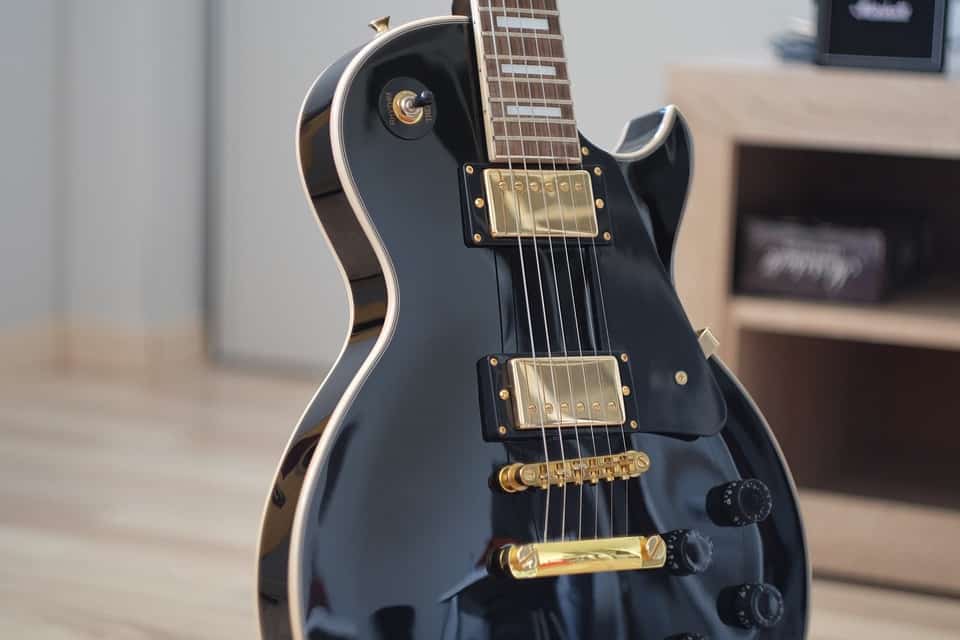 Another alternative is to buy a used guitar in good condition. This way you can get a really good guitar from a well-renowned brand for much less. Look for guitars online through sites like eBay or shpock.
This method might take some time, but is usually worth it, because there is real money to be saved.
Buying used is also good for the environment and chances are that you might get all the other equipment you need as well if the owner has stopped playing.
If you buy a used guitar, make sure that you get to try it before you commit to buying, alternatively, if it's online, ask the seller if they can send a little video of it being played so that you know that everything is alright.
We hope you found our buying guide for electric guitars under 1000 dollars useful!
If you've enjoyed this review by Music Critic, please leave a positive rating:
[vc_separator