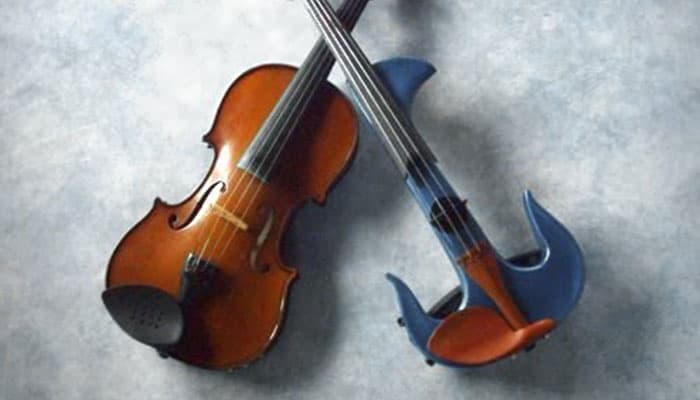 For novices and professionals alike, it's important when choosing a new instrument that it ticks all the key boxes. There's no point in purchasing a sub-standard instrument. So, if you're wanting to buy the best electric violin, then it's important to do some research. In this article, we'll show you ten of the best that we've found, which will appeal to violinists of all levels and for all budgets.
Even if a violin is electric, the sound can vary as much as a non-electric version, and therefore we encourage you to watch the YouTube videos we have linked beneath the reviews so that you can make comparisons and choose one that suits your style.
We've also provided a buyer's guide and answered the most commonly asked questions about this beautiful instrument so that you can be in the perfect position to make a wise investment.
Let's take a look at the ten electric violins. When you read through our reviews, try to narrow down your choice by selecting three or four of our recommendations that meet your requirements. Then you can make a list of pros and cons, compare the prices, and watch the YouTube videos for a better idea of how they sound. This will make the process of choosing your new instrument as smooth as possible!
At a glance: Our top 3 picks
Your shortcut to our team's top 3 recommendations
View The Best Electric Violin for Silent Practice Below
Equipment - Unlike acoustic violins, electric violins will require a fair number of supplemental accessories in order to get a sound out of the instrument. If you want everything you need along with your purchase, check to see if your favorite model comes with an amp, a pair of headphones, a cable, and a battery.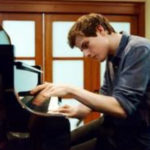 1. Bunnel EDGE Electric Violin Outfit
The Bunnel EDGE Electric Violin Outfit is great for violinists who want to get everything they need in one package. There are lots of handy accessories included with your purchase, and the sound quality is very impressive too!
Here is a video of a violinist playing it so that you can hear what it sounds like:
Kashmir - Bunnel EDGE Electric Violin | KV
Appearance:
It's available in blue, black and red. The violin is handcrafted with a solid maple body and ebony fittings. Overall, it is understated, not unnecessarily flashy, and a crowd-pleaser that places performance above looks.
Includes:
• Mini amp
• Headphones
• Instrument cable
• Case
• Brazilwood Bow
• Rosin
• D'Addario Prelude violin strings
• Polishing cloth
Pros:
+ Lots of equipment included
+ Understated appearance
+ Lifetime warranty
+ Excellent sound quality
Why We Liked It - This violin is great for beginners as well as intermediate and advanced violinists. It delivers excellent sound quality, and it comes with all the essential accessories you need to get started. It even comes with a lifetime warranty and a 45-day money-back guarantee.
This violin is also ideal for violinists who want to be able to practice silently without worrying about disturbing their neighbors. All you need to do is to plug in your headphones and you can get lost in the music without anyone else hearing it.
Considering the multitude of accessories it comes with, as well as the superb sound quality that it delivers, we think that this instrument delivers exceptional value-for-money.
2. Yamaha SV130SBL Concert
Next up is an electric violin that delivers such good quality that it can easily be used for concerts and recordings. Yamaha makes good musical instruments. That's something we all know. And this instrument isn't an exception. Yamaha electric violins perform very well for the price, and they also look great too. You can't go wrong with this instrument, in our opinion.
It has in-built reverb that you can adjust on the back of the violin, where there is also a volume control knob.
Here is a video review of the Yamaha SV130, so that you can hear what a violin teacher thinks about it and also listen to it being played. She also shows how silent it is when it's turned off.
Yamaha SV130 Silent Violin Review
Appearance
This spruce top violin is an eye-catcher that can truly make a statement. It works aesthetically for any genre because it is understated enough for a classical setting while being cool enough for use with a rock band. It's available in black, blue, red or brown. The body is made from spruce, the neck is maple, and the fingerboard and pegs are made from ebony.
Includes:
• Case
• Rosin
• Shoulder rest
• Earphones
• Cable
• 2 AA batteries
• Spruce top
Pros:
+ Excellent sound quality
+ Adjustable reverb
+ Good-looking
Why We Liked It - We liked this instrument a lot. It's hard to find anything to complain about. It does exactly what it says on the box. One of the most impressive elements about it is the reverb feature. Everything you need to play it is included except for a bow, which can be purchases seperately for an affordable price.
3. ViolinSmart EV20 Electric Violin
If you're searching for a bargain above all else, then this might be the perfect instrument for you. It is a no-frills, budget-priced violin that might not deliver the same quality as the previous violins on our list, but that doesn't mean it doesn't offer great value, especially when that low price is taken into consideration.
We recommend this violin to anyone who wants to experiment with a low-price instrument before spending more money on something of higher quality. If your child has been bugging you for an electric violin and you're unsure if they will stick with it, then this is a good choice. It's also ideal if you're a complete novice and are unsure if this is the right instrument for you.
Appearance:
This electric violin is perfect for somebody who likes to make a statement. It is bright red and has a fun eight shape. It's mostly made of plastic, which is why it is so reasonably priced.
Includes:
• Case
• Bow
• Headphones
• Rosin
Pros:
+ Affordable
+ Ideal Violin for Students
Why We Liked It - It's a very low-priced, eye-catching instrument that is a low-risk choice for novices or parents of budding violinists. It's not designed to be used on stage or for serious play, but it's ideal if you want to get an idea if this is the right instrument for you.
Design - Since they're such a modern innovation, electric violins come in a wide variety of shapes, sizes, and materials. Though some models look particularly cool, they might be fairly uncomfortable to play, especially for experienced violinists who are used to the feel of their instrument. It is worth trying out various models in person to confirm what you want.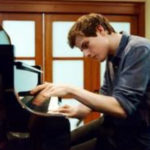 4. Bunnel NEXT Silent Violin
The next violin on this list is the Bunnel NEXT. It looks gorgeous and delivers an equally special sound. It's best suited to hard rock, in our opinion, as the sound has a metallic quality to it. It's certainly a unique instrument that also offers excellent value-for-money. If you were to hear it being played and didn't know how much it cost, then you'd easily mistake it for an electric violin that was worth twice or three times the price.
Appearance
We're big fans of the way this violin looks. It appears similar to a regular violin but without the characteristic f-holes, which gives a sense of solidity. It's available in three different colors, which are a pale, birchlike solid wood color, a fiery violin red, and a dark brown. These colors make it well-suited to classical music, and they make it a good choice for violinists who prefer more understated colors than some of the more extravagant colored violins on our list.
The body is handcrafted from solid maple, and the fittings are made from ebony.
Includes:
• Mini amp
• Headphones
• Instrument cable
• Case
• Brazilwood bow
• Rosin
• D'addario Prelude violin strings
• Polishing cloth
Pros:
+ Unique design
+ Affordable
+ Lots of accessories included
+ High-quality violin strings
+ Great sound quality
+ Violin comes with a lifetime warranty
+ 45-day money-back guarantee
Why We Liked It - It's affordable, and it looks and sounds great. One big advantage of it is that it comes with a lifetime warranty, which is rare, and the manufacturer also offers a 45-day money-back guarantee in case you should change your mind.
This Bunnell NEXT electric violin comes with high-quality violin strings from D'Addario and a mini-amp, among other things, so you'll have everything you need to get started. The bow that it comes with might not be the best, but it will certainly suit a beginner. Overall, this is a superb product that is reasonably priced and an excellent investment, in our opinion.
5. Wood Violin Stingray SV Series Electric Violin Metallic Black
If you're looking for an awesome-looking electric violin that's perfect for hard rock, metal, and other similar genres, then we think this might be the product for you. There aren't many other violins around that look as cool as this one. It doesn't just look good, though. It sounds incredible too. Check out this video so you can hear exactly what it sounds like.
MARK WOOD - "BACH DOUBLE" on the Stingray SV4
Appearance
This violin is called Stingray for a reason, as the design is clearly influenced by a stingray. It's available in red and black. There are two versions available, either a four-stringer or a five-stringer.
Includes:
• Case
Pros:
+ Cool design
+ 4-string and 5-string version
+ Ergonomic
+ Lightweight
Why We Liked It - This is the perfect electric violin for rockers and metalheads. It looks and sounds great! You can choose whether you want four strings or five strings, with the latter allowing you to play lower notes. It's an eye-catcher, so be prepared for lots of comments and admiring glances when you're playing this beauty.
The only downside is that the only accessory that it comes with is a black case, so you will need to buy a bow separately. Other than that, we can't find anything to fault this gorgeous instrument.
Next up is an eye-catching electric violin from DZ Strad. It's a crowd-pleaser that does exactly what you want it to without any unwanted frills which would only push up the price. The sound is good too, and it's also been manufactured to a high level, so you can expect it to perform for a long time without any issues.
It is available with either four or five strings. For violinists who want to be able to experiment with lower notes and explore new tonal possibilities, then a five-stringer is an excellent choice, in our opinion.
Appearance
It is dark blue and looks like a regular electric violin, with a standard outline. It has a carbon fiber tailpiece and ebony pegs and ebony fingerboard.
Includes:
• A case
• Brazilwood bow
• Mini rosin
• Instrument cable
• Earbuds
• 9-volt battery
• Carbon Fiber tailpiece
• Ebony fingerboard and pegs
Pros:
+ Four- or five-stringed versions
+ Everything you need is included
+ Looks awesome
+ Great sound
Why We Liked It - This is a high-quality violin that both looks and sounds great. Everything you need to get started is included. The only downside to this violin is that it's only available in blue, which isn't a big disadvantage, as we think the blue perfectly suits this instrument.
The ability to choose between either four or five strings is handy too, we think, as experimenting with a five-stringer is a good option for intermediate to advanced violinists. If you have oftentimes found yourself improvising and have wanted to play a note below G, then a five-stringer is ideal as it will unlock new possibilities for your playing.
When we started researching this Yamaha YEV105NT electric violin we came across a great little video, with a Japanese violinist who plays a sweet jazz tune. We encourage you to listen to his performance, and if it doesn't make you want to purchase this instrument, then we would be very surprised!
"It Could Happen To You" Sotaro Kitatoko YEV-105 Loop Performance
Yamaha describes this violin as "beautiful, light, easy, and fun to play at an affordable price point", and we agree! Yamaha goes on to say that the designers wanted to make an instrument that not only looks good but also has a simple, clean sound that will appeal to a huge range of violinists.
It's also very easy to use. You just plug it into an amplifier and you can start playing.
Appearance
This Yamaha YEV105NT 5-string violin looks amazing, and you will get compliments from anyone who sees it, we think. It's made from six solid kinds of wood that not only look great but also improve the sound quality too. It has five strings, which allows you to play lower notes than you can with four strings.
Includes:
• Only the violin is included. You can fit this violin in any 4/4 violin case
Pros:
+ 5 string violin
+ Six different solid wood types
+ Amazing design
+ Wonderful sound
Why We Liked It - This is a gorgeous instrument that is well worth paying the extra bucks for. It has a timeless design that you'll never grow tired of, and it sounds incredible. We think you'll be very satisfied with this instrument if you purchase it.
Number 8 on our list is a cool electric violin that is perfectfor novices. Its body is made from maple, which means that it's not completely silent when it's not plugged in, but it's still quiet enough that it won't wake up your neighbors during a late-night practice session.
It feels sturdy to hold, and the sound is incredible for the price. It doesn't feel like a cheap instrument. Here is a video review that we think will be very useful. It's in Russian, but with English subtitles, so don't let that stop you from watching it. It's got lots of useful information and you can listen to some lovely tunes too.
STAGG EVN X-4/4 доступная электроскрипка. The Cranberries-Zombie Violin cover
Appearance
This electric violin has the classic violin shape but it is hollow. It's available in white, brown, blue, and red, but we must say we like the white one best, which we think looks more sophisticated. The body is made from maple.
Includes:
• Case
• Bow
• Rosin
• Headphones
• 9V battery
Pros:
+ Looks cool
+ Sounds very good
+ Maple body
Why We Liked It - Just watching the previously mentioned video will be enough for many to buy it without hesitation. It sounds really good, and it looks the part too. On the back you can change the tone and volume, which is handy, and when you play without an amp it's like playing the violin on mute, which is good if you want to be able to practice silently without disturbing other people.
Now, you might recognize this violin. Isn't it just the same as number 7? What's the difference? The difference is that this violin only has four strings, while the YEV105 has five. How do you know if you need four or five strings? Well, as you might know, a regular violin has four strings, so any music that is originally written for a standard violin will not require you to play lower than a low G. But if you like to improvise and experiment or wish that you could play music written for the viola, then five strings is the way to go.
Are you curious about what you can do with this violin? Perhaps you're thinking about using it with a couple of effects pedals, just like you would with an electric guitar? This is an excellent way of making the most of your silent electric violin and can enhance your compositions and improvisations. Check out this video where a Yamaha employee demonstrates how you can create superb music with this violin and a loop pedal, an octave pedal (see top 10), a distortion pedal, and a wah-wah pedal (click for full guide).
Yamaha YEV-104 Series Electric Violin
Appearance
This violin is unique and is made from six different kinds of wood. The design is not only beautiful but also practical. It's available in natural or black.
Includes:
• Only the violin is included. You can fit this violin in any 4/4 violin case
Pros:
+ Six different types of wood
+ Amazing design
+ Wonderful, high-quality sound
Why We Liked It - It ticked all our boxes, as it delivers quality across the board. It's also useful having five strings as it opens up new options in terms of compositions. As it is a Yamaha product, then you're assured long-lasting quality. And, we must say, it sounds beautiful too.
10. Cecilio CEVN2BK Electric Violin
Let's finish off with a bargain. It's not the most advanced electric violin on the market, but it does what it says on the box and is a joy to play. It's best suited for a beginner who wants to try out an electric violin and doesn't want to invest lots of money on something they are not sure if is right for them yet. The price is very hard to argue with, and we think that it's a great choice for anyone who loves to get value-for-money.
Here is a little infomercial where you can learn more about this instrument.
Cecilio CEVN Electric Violin Product Demo
Appearance
The CEVN2BK electric violin looks beautiful, and it is available in black, blue, white, mahogany, and yellow. It has a maple body and ebony fingerboard, pegs, chin rest, and tailpiece. The tailpiece also features a mother of pearl inlay, which is quite pretty, in our opinion.
Includes:
• Lightweight, hard case
• Quality ebony fittings (ebony fingerboard, pegs, chin rest, and tailpiece)
• Brazilwood Bow
• Rosin
• Bridge
• Aux cable
• Headphones
• Available in colored solid wood
Pros:
+ Budget price
+ 1-year warranty against manufacturer's defects
+ Looks great
Why We Liked It - This is a great silent violin that is very reasonably priced, which makes it a superb choice for beginners. It has a 1-year warranty against manufacturer's defects, which is useful, just in case something should be wrong with it.
Budget - If you're a violinist just looking to try out a new way of enjoying your instrument, you could probably do just fine with a lower end electric violin model. If you're going to be touring or gigging with your electric violin, you might want to invest in a higher end model that will hold up over time.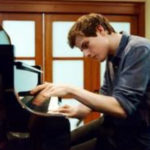 Silent Electric Violin Buyers Guide
What to Look for When Buying a Silent Electric Violin
The sound is the most important thing when it comes to buying any instrument, silent electric violins included. You will need to find one that you like the sound of, and you should also think about whether you want a violin that is completely silent when plugged in or one that can be played without electricity. Read the full electric violin buying guide, right here.
The second most important thing is build quality. You want an instrument that will last and can be used for many years to come. Generally speaking, you get what you pay for, so investing a little bit extra money is always a good idea when it comes to musical instruments.
The Greatest Electric Violin Under $500
If you want to buy a great silent violin but don't want to spend more than $500, then we would recommend number 1 and 4 on our list, which is the Bunnel EDGE and the Bunnel NEXT. But if you're willing to spend just $100 more then you'll be able to buy the Yamaha YEV104, which is so much better, in our opinion. If you know that you will use your instrument a lot over many years to come then it's definitely worth spending a little extra, you'll thank yourself every single time you play it, we can assure you!
What's the Top Electric Violin for The Money?
We're not going to lie, we're in love with Yamaha YEV104 silent violin! While some of the other products we tested feel more like a toy, this violin is a unique treasure that you will want to play as often as possible. It looks amazing, sounds amazing, feels amazing… It's just simply amazing!
What Is A Great Electric Violin Amp?
You don't have to use an amplifier that is specifically designed for violins, so any guitar amp will also work. Fender makes great amps, as well as Marshall. It all comes down to how much you're willing to spend. Try buying a new electric violin with an amp included, if you want to experiment with the instrument before deciding what type of amp best suits your needs.
What Electric Violin for Beginners?
Number ten on our list, Cecilio CEVN is ideal for beginners, and it is also very affordable.
Different Types of Violins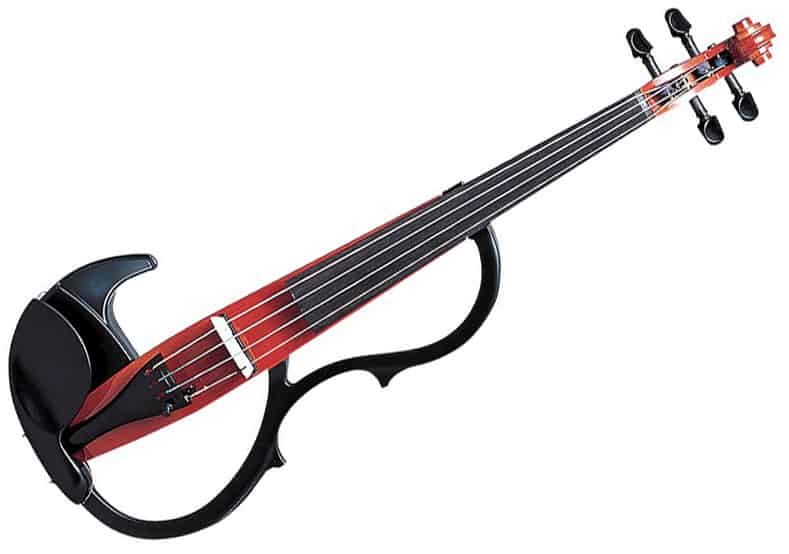 Not all electric violins are the same. There are a wide range available that will suit violinists of different styles and levels.
The design and materials will actually affect your tone as well as your playing experience.
If you want a completely silent violin that can only be heard when it's turned on, then you will want to buy a violin made of plastic or metal, while a solid-wood electric silent violin will resonate more and allow you to play even though the violin isn't plugged in.
Expert Tip:
Many electric violins don't come with a bow, so if you don't already have one, you will need to buy one separately. And frankly, if a bow is included, it might not be of the highest quality, as manufacturers often provide a low-quality bow knowing that it will appeal to beginners who simply want to have a complete package without wanting to buy any extra accessories.
Did you know…
Some electric violins have more than four or even five strings! Read about the digital acquisition of electric violins in this study.
If you've enjoyed this review by Music Critic, please leave a positive rating: