To help you along with your search for the best pop filter, we compiled a list of the best filters and answers to questions!
Bought a microphone and realized you need a pop filter right after the fact? Don't worry, you're not alone! In this digital day and age more and more professions require you to have good recording equipment, and even though a simple microphone will do, a pop filter will make a world's difference. First of all, what is a pop filter? It's a shield of material that protects the microphone from the fast traveling air that comes out of your mouth when you speak, thus causing popping sounds upon impact. If you're also looking for a Ribbon Mic - click here.
Should you really invest in one? The answer most often given is: yes. It reduces popping sounds such as "p" and "b" and helps eliminate bass or breathing sensations when talking into the microphone. This is definitely a plus, since it can get beyond frustrating when you are trying to focus on your presenter's voice and all you hear is unpleasant noises hitting the mic.
At a glance:

Our top 3 picks
Our team's top 3 recommendations
Best Overall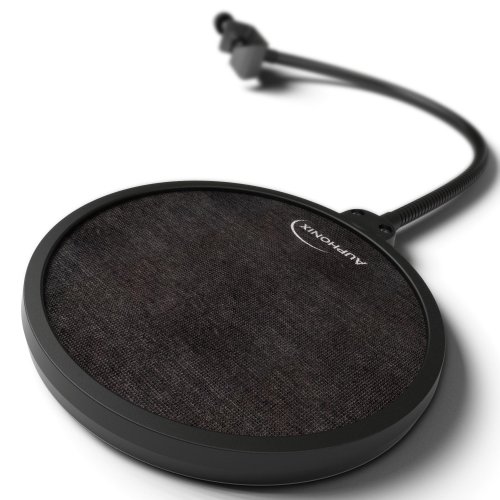 Auphonix Diameter

comes with a free e-book on recording tips and tricks
a double mesh-screen
sturdy gooseneck
Premium Quality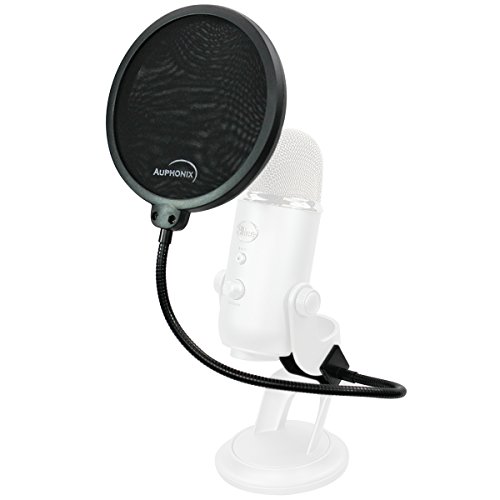 Auphonix Premium

comes with a free e-book on recording tips and tricks
a double mesh-screen
sturdy gooseneck
Great value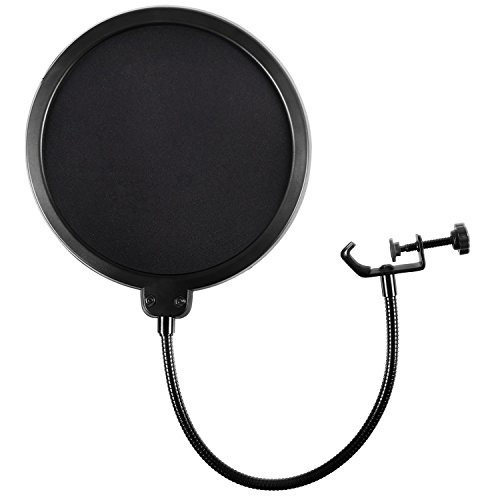 Earamble Studio

comes with a free e-book on recording tips and tricks
a double mesh-screen
sturdy gooseneck
What is the highest rated Pop Microphone Filter for Vocalists?
Auphonix's product is a pop filter of 6" in diameter and has a mesh screen from both the front and the back. When buying this product you will also get an e-book on recording tips and tricks! If you are just starting out in the entertainment world, this is a bundle that will benefit you greatly. You will get insight into making the best recordings and how you can improve. The double layer of mesh ensures that you will not get any sort of distortion as you talk or sing!
The gooseneck is flexible and allows you to twist and bend the device to suit whichever position you are in. It is also sturdy, so you don't have to be afraid of it breaking in two after one or two recording sessions or drooping down slowly when you are trying to record a serious passage! There is a 12-month money back guarantee, but it's doubtful you will need it since the tightly woven fabric and durable design of this product should last you a long time!
Pros:
+ comes with a free e-book on recording tips and tricks
+ a double mesh-screen
+ sturdy gooseneck
Why We Liked It - If you are serious about your new hobby or upcoming career, Auphonix's product is a great investment and should provide you with hours of clear and smooth sounds with no rustles, pops or any of the alike! The free e-book is also a great addition and should aid you with your sound engineering and recording endeavors!
Clean Vocal Takes - Pop filters are designed to cut out harsh constants from a vocal take, but nothing can substitute for getting a clean recording. While these accessories are very helpful, always opt to re record if you get a less than favorable take. You may end up spending less time overall since it can take a lot of post processing to remove constants baked into a track.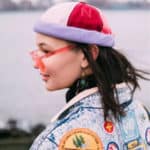 Here we have another one of Auphonix's filters that is held in high-regard and is followed by a line of 5-star reviews. Although this pop filter is specifically designed for the Blue Yeti microphone, it's not its only use. You can attach it to your desk (click here for the guide) so that it hovers any other microphone of your choice! The best product for reducing any unwanted noises in your recordings or podcasts.
With Auphonix's signature double-mesh feature, you can be sure this product won't give you any distortions or rustles either. It clamps easily to square or rectangular surfaces, which is definitely a plus since most pop filters in the industry are designed to fit a tubular design. With Auphonix's clamp, you can attach the pop filter to any angular surface, whether you are on the go are at home (click for mics for home recording), you can be sure you can take the product right along with you! The gooseneck supports its own weight and doesn't move around, you can focus solely on recording with this pop filter.
Pros:
+ clamp that suits rectangular surfaces
+ double-mesh feature
+ strong and sturdy
Why We Liked It - Auphonix has proven to be a strong and quality brand that only produces equipment worthy of your time. You won't have to fiddle with a drooping pop filter or worry about popping sounds, with this product you will only have to clamp the pop filter onto the microphone and start recording with the best quality equipment!
With Earamble's pop filter being the best-selling pop filter on the market, we won't have to do much convincing. It has a good size and the gooseneck doesn't move around when you are trying to hit your high-notes! It's one of the most affordable and durable options on the market today; if you are still wondering if the recording career or hobby is for you, Earamble will help you test out your theories! With its high-quality performance, you will be sure to fall in love with the world of entertainment even more.
Thanks to the double-layered mesh pop filter your new piece of equipment won't be gathering dust anytime soon. With this pop filter you will eliminate any disturbances without changing the pitch or frequency of your voice, and without dulling it down either. It's a product worthy of its price, and definitely offers a lot more than other filters on the market with the same price.
Pros:
+ double-layered mesh
+ sturdy gooseneck
+ 18-months warranty
Why We Liked It - With Earamble's pop filter being the best-selling product on Amazon, it's easy to see why. It's affordable, has a durable gooseneck and a double-layered mesh that prevents any pop sounds, dust or rustles coming through. If you are just starting out and need to test the waters with one of the best filters out there, the Earamble pop filter is the choice for you!
Clamp Type -One of the most important things to factor into consideration when picking out a pop filter is the clamp type. Certain pop filters may be more suited for a traditional microphone stand vs. a USB microphone stand that sits on your desk.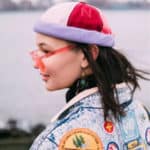 If you are looking for a pop filter that can banish the much-dreaded plosive sounds or any hissing alternatives, Neewer's pop filter will be the go-to product. It's a very inexpensive piece of equipment that will serve any beginner just starting out their recording career. Whether you will be speaking or singing, Neewer will make sure that any sounds you make will come through crisp and clear. The gooseneck adjusts easily and doesn't budge once you set it up.
With its professional looking design, you can be sure this pop filter will look at its best next to any vocal microphone - view our top choices. Any popping, hissing or heavy breathing will be eliminated with the quality mesh material. The product does exactly what it is advertised to do and will not leave you disappointed when you start your recording sessions! The pop filter is easy to install and you can twist and flex it in any way you will need to suit your needs.
Pros:
+ easy to install
+ quality mesh material
+ flexible gooseneck
Why We Liked It - Not only is it one of the most affordable filters on the market, but it performs as well as a pop filter should. If you are starting out on your recording journey and need to test out a quality product before committing to something bigger, Neewer's pop filter is the best choice!
Another best quality product at an affordable price! Mudder's pop filter will sit with you during your long podcast or recording sessions and allow you to block out any unwanted noises effortlessly. The gooseneck can twist around up to 360 degrees and will accompany you wherever you decide to twist and turn. The arm doesn't budge and makes for a sturdy and reliable companion during recording times.
This pop filter also doesn't bind you to your home, it's portable and you can take it wherever you decide to travel with no fuss. You can also tighten the clamp so that you are sure it stays in place as you stay focused on the recording aspect of the session. One thing is sure, you won't be fussing around trying to make Mudder's pop filter work. It's an affordable and durable pop filter that will perform at its best, no matter what microphone you attach it to!
Pros:
+ portable
+ flexible gooseneck
+ double-filter
Why We Liked It - If you have just spent all of your cash on an expensive microphone and need a cheap and affordable pop filter that will do its job, Mudder Studio can offer you just that. With their pop filter, they will make sure to only give you quality recording sessions that will mute any kinds of annoying noises that could disturb the audience!
InnoGear's pop filter is another of the best filters that you can get at a low-price. That said, you can be sure that it will give you only the best of performances! The best feature of this pop filter is the universal compatibility that it offers; the adjustable clamp can be attached to all types of microphones . To add to that, it also has a scratch-proof gripper, which will make sure that your equipment keeps its shine for as long as possible!
With a swivel mount, you don't have to worry about any complications during the installation. Armed with two pop filters, the first layer blocks all of the frustrating plosives and breathing noises, while the second additional layer blocks and disperses any air that could have remained present. It's easy to adjust the angle of the gooseneck and the distance between the pop filter and the microphone for optimal performance. After all, you don't want to have the whole pop filter covering your face!
Pros:
+ double-layered filter
+ adjustable gooseneck
+ swivel mount
Why We Liked It - You cannot go wrong with this affordable and quality pop filter. If you are looking for an affordable option that will ensure you only get the best experience from your recording sessions, InnoGear will supply you with exactly that and more! The double-layer pop filter will block out any unneeded noises and awe your audience with the clear sound!
Looking for a professional pop filter? Aokeo is an industry standard and has many quality pieces of equipment on the market! With this product, you can be sure you will only get the best treatment. Also armed with two filters,they will eliminate any disturbances as your voice travels through both of them and emerges again with crisp and smooth sounds.
While many other filters may have problems when it comes to clamps and end up slouching over the microphone in the long-run, Aokeo's pop filter is not one of them. The sturdy clamp and arm will hold up the pop filter in place and let you allow to focus on your recording only. With its flexibility, you will be able to place the pop filter in any position comfortable and suitable for your recording session.
With its universally compatible gooseneck, you will not have any trouble installing this pop filter onto any microphone you buy!
Pros:
+ compatible with most microphones
+ sturdy and durable gooseneck
+ professional, quality performance
Why We Liked It - If you are looking for a professional product that will give you the best protection from plosives and hisses, Aokeo will supply you with such. It's a universally compatible pop filter that will end up serving you through years of recording sessions. If you want a pop shield that will do its job at a professional level, this is the pop mask for you!
EMOTech's filters definitely attract the eye by their unique and appealing design. To counter all the circular pop filters on the market nowadays, EMOTech decided to go with a half curved cylinder for a better range of catching the nasty hisses and plosives common during recording sessions. Instead of only having two mesh layers, this pop filter prides itself on having three. There is a foam layer, a metal layer and a etamine layer; combining all of these reduces any crackles or pops to a bare minimum.
It's easy to install and take off of the microphone, with it's a special design you can be sure that the pop filter will be very firmly attached and won't be bobbing around when you are trying to do your job. The metal mesh prevents any damage coming to the microphone, like dust or moisture that could come through and damage the equipment.
Pros:
+ three layers for ultimate clarity
+ unique design
+ easy and firm set-up
Why We Liked It - EMOTech will provide you with a top-quality pop filter that will absolutely make sure no unwanted noises bypass through the three layers that lay between you and your microphone. Thanks to the unique design the pop filter can be mounted onto the microphone firmly yet without damaging the equipment. If you want a professional pop shield that won't give you any headaches, EMOTech's pop filter is just for you!
Dragonpad's pop filter is another professional pop shield that will ensure your recordings only have the best quality sound. It's known for having a stiff wire that won't be drooping anywhere after you set it to rest in one place. A fantastic feature if you are tired of the cheaper pop filters falling and slouching around the microphone not giving you any real time to record without fiddling!
Thanks to the size of the pop filter, you won't have any trouble when it comes to covering all of the microphones and giving protection against the frustrating popping and breathing sounds. With the 360 swivel mount, you will be able to secure the pop filter in any position you deem fit without any troubles.
The simple yet appealing design rivals all the other professional pop filters out there and will not only give you a high-quality performance but will look professional too!
Pros:
+ stiff and sturdy gooseneck
+ pop filter that covers the whole microphone
+ professional quality
Why We Liked It - Dragonpad doesn't only provide you with a professional pop filter that will do its job and block out any unwanted or unneeded sounds, but it will also make sure to not give you any headaches. The sturdy gooseneck will stay in place wherever you place it and the pop filter will cover all of your microphone to make sure no nasty noises get by from any side!
Nady produces some of the best rated pop filters on the market today, and this pop filter encompasses all the best features that Nady has to offer in their pop filters.This pop filter has an exceptionally long gooseneck which is fantastic if you prefer to sit a bit further away from the screen or prefer altogether to stand-up during your recordings. There will be no problem in positioning it either, it comes with a clamp that will attach itself with no problem and let you twist and flex it in whatever way you desire. The clamp will fit any pole or stand that has a diameter up to 1", which makes it very versatile.
Nady's pop filter is one of the best choices for professionals when it concerns shielding their mics from unwanted noises. That also means that its made from only high-quality materials, the pop filter is equipped with nylon layers from both sides and the neck is as sturdy and firm as it can be.
Pros:
+ long gooseneck
+ best-quality pop filter
+ professional sound
Why We Liked It - Nady is well known to supply professional microphones with high-quality pop filters, and this is no exception. If you end up going for this pop filter, you will not be disappointed. You can be sure that you will be able to give out only the best quality recordings at an affordable price!
Recording Distance - A properly placed pop filter should sit close to your microphone, but not touching the microphone itself with about a 1-inch distance between the two items. You'll want to sing a couple inches away from the pop filter, anywhere from about 2 to 6-inches.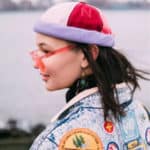 Pop Filters Buyers Guide
Whats the difference between a Pop Filter and a Mic Screen?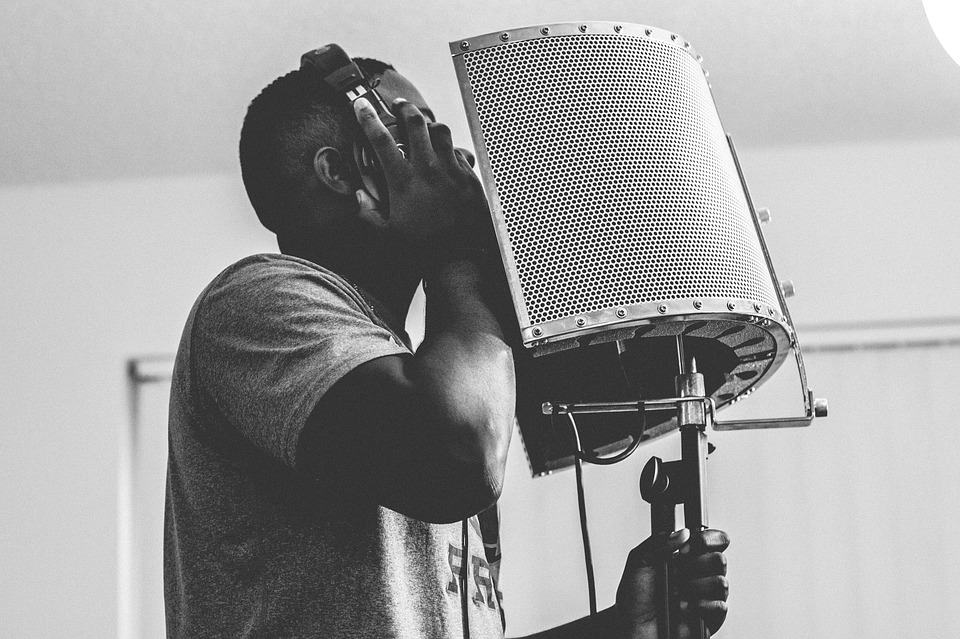 Both pop filters and mic screens are used for shielding the microphone and preventing any sorts of popping, breathing and crackling sounds coming through in the recording later on. It is vital to own this sort of equipment if you are looking to produce quality recordings and move up on your career ladder.
Mic Screens
Microphone screens, also commonly known as windscreens, differ slightly from the common pop filter. They are usually used for outdoor or live performances and consist of a light foamy material that fits snugly over the microphone as a glove might. It makes sure that the wind that moves around outdoors doesn't hit the mic and make unnecessary crackling noises that are common in amateur recording videos. Due to this, a mic screen can slightly dampen higher notes since it is used to reduce high frequency sounds the wind may make when performing live.
Pop Filter
Pop filters are usually used in a studio environment; they have a thin layer of transparent foam and usually need to be directed to be in front of the microphone. The mesh then shields the microphone from absorbing any unneeded crackling or popping sounds that are common when talking or singing directly into the mic without protection. They also have a long gooseneck and clamp, contrary to the mic screen which fits directly over the microphone. This ensures the pop filter can be redirected in any direction the artist finds suitable.
What is the difference in a nutshell?
Mic screens are used for outdoor performances to reduce the impact of wind hitting against the bare microphone, and pop filters are used in studio settings to provide you with clear and high-quality recordings prevalent in professional environments.
Are Pop Filters Necessary And Do They Affect Vocal Quality?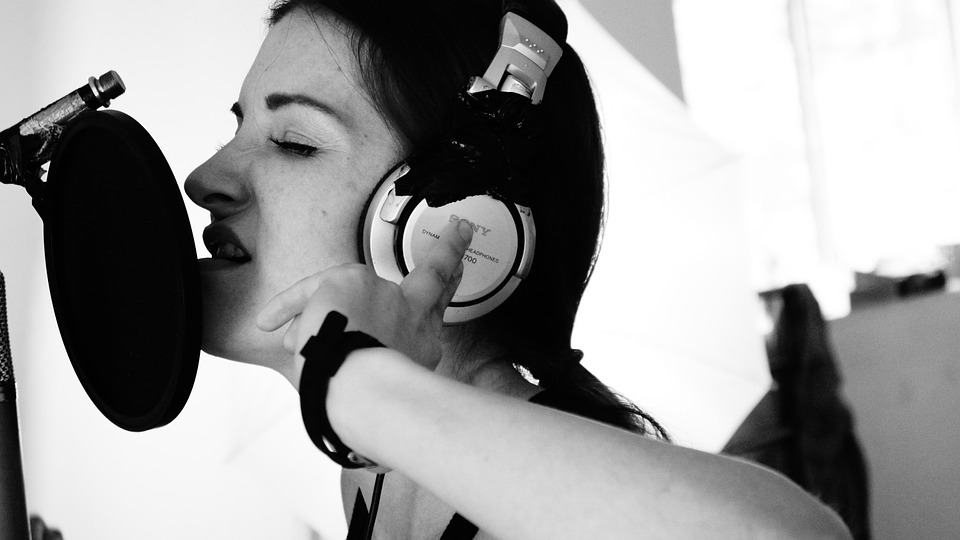 If you have ever had the chance to go and visit any professional studio or see musicians and artists setting up or using their gear backstage, you could probably notice that each microphone has a pop filter. That poses the following question, are they really so widely used and so useful?
The common pop filter may look like a simple and seemingly useless piece of equipment, but you shouldn't be fooled by this simple material circle armed with quality foam materials. It seems to be the most overlooked pop filter when you see people buying their first microphones, and all in all, isn't expensive at all to purchase. It makes a world of a difference between an amateur and a professional since if you end up not using a simple pop filter, your recordings will be teeming with nasty plosives, heavy breathing and hissing sounds.
The truth is if you want to be a professional you absolutely need to purchase a pop filter to eliminate all the remaining noises that echo after pronouncing certain letters and words. Letters such as "b" and "p" produce additional bursts of air when we pronounce them which disturbs a microphone that is not covered by a pop filter. It's much like small bursts of wind hitting against the microphone; would you record in a windy backyard without any protection over your equipment to subdue the sounds?
If you want to avoid any sorts of distortion in your recordings, it's essential to invest in this small but powerful piece of equipment and develop a good habit. Another reason as to why it's necessary to own a pop filter is that they end up giving your microphone sufficient protection from all of the moisture you may expose it to while singing or podcasting. The material on the pop filter disperses the molecules made by you and significantly reduce the impact they could have on your microphone.
Pop filters of the best quality shouldn't affect your recording sessions in a negative way, they will only help you reduce any sounds that could make your recordings sound amateur and help you and your career level-up!
What should you consider when choosing a Pop Filter?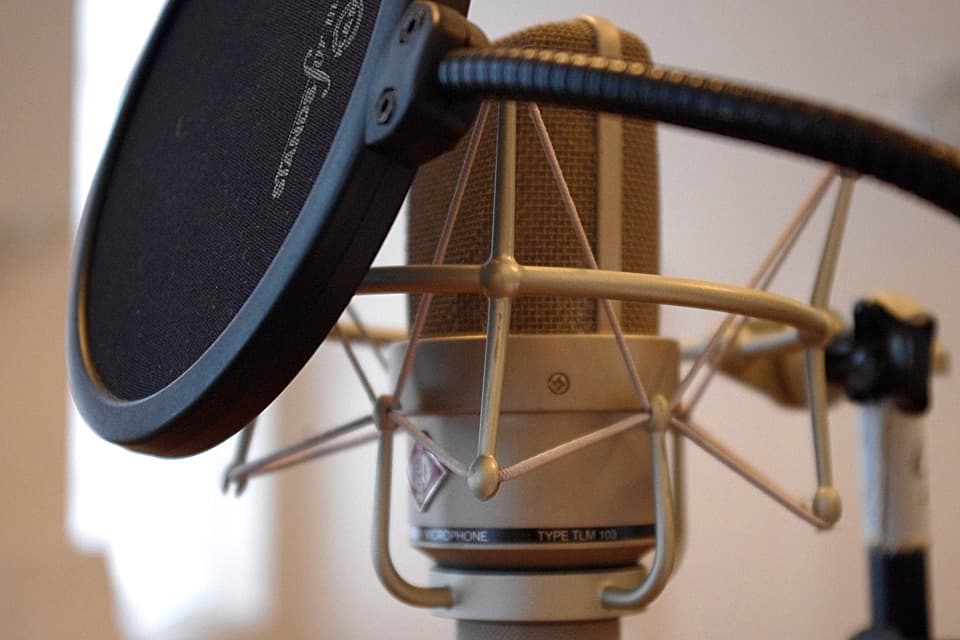 When you are first starting out on your new hobby or budding career, it can be hard and confusing to choose a good quality pop filter that won't be overpriced but will still perform well.
When choosing a pop filter, it is essential to read the description first and make sure that it is suitable for your specific microphone. You can see many people giving one star reviews to pop filters because they did not read the description carefully and ended up with a pop filter that wouldn't fit their microphone. Usually, you can find this information in the title or underneath the pop filter where the measurements are listed.
Some pop filters are designed specifically for microphones of the same brand, but can also be clamped to desks or other surfaces if needed. If it is a versatile pop filter, you will usually be able to to see it within the bullet points under the pop filter under the tag "universally compatible." Also, it's best to make sure to check if the pop filter will fit the microphone stand. The stands are usually either tubular or rectangular, and it will make a world of a difference if you accidentally choose the wrong attachment and won't be able to install it!
Make sure to pay attention when choosing a pop filter, and check all of the bullet-points and descriptions before settling for your final purchase, or you might end up with a wrong fit!
Top Choice - Auphonix Diameter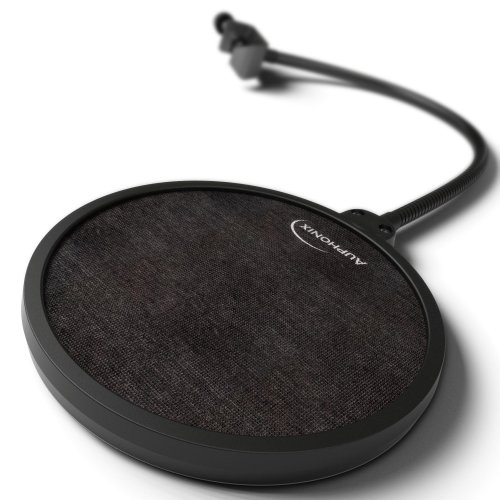 It will come to no surprise that our best Choice is Auphonix's pop filter. Although almost twice as expensive as the other pop filters on our list, it's easy to see why. This pop filter prides itself with mostly 5-star reviews and happy customers and the best craftsmanship The fact that Auphonix went up and beyond just providing you with a pop filter, but they included and e-book with tips and tricks on how to use the pop filter to its full capacity and get the best out of your recording session. That small addition makes a big difference, and it shows.
Together with a 12-month money-back guarantee, you can purchase this pop filter without worrying about any possible malfunctions for the upcoming year. The double-layer of a mesh is best for blocking out those annoying sounds every recording artists hates and gives you only the best performance! If you are looking for a professional pop filter that will accompany you for years to come, Auphonix will provide you with such.
Premium Choice - Auphonix Premium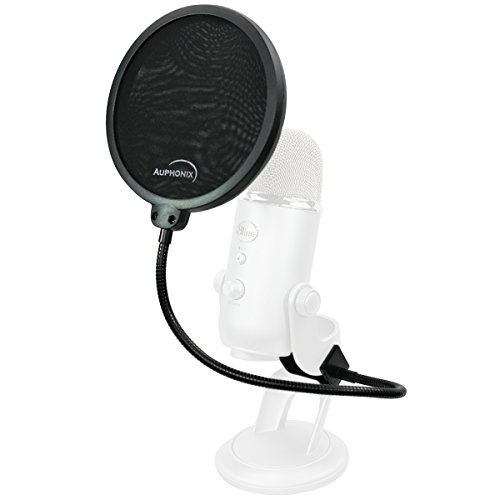 Our Premium Choice has to be another one of Auphonix's pop filters that is of as high-quality as its previously listed brother. The additional features include that it is universally compatible and can be attached to any desk or rectangular top, no matter where you are. The gooseneck is strong and sturdy but remains to be easily flexible so that it can be adjusted to your preferred recording needs. The clamp is simple and will be sure to not damage any surfaces or microphone equipment.
The double-sided mesh will give you the best recording environment which will be free of any crackles, popping sounds or distortions. Auphonix is known for having quality to filter equipment, and this pop filter is one of them. Any background noise will be significantly reduced too, a useful feature when working in mildly noisy studios. All in all, this 6" pop filter will provide you with hours of the best recordings that all of your audience will be sure to enjoy!
Great Value - Earamble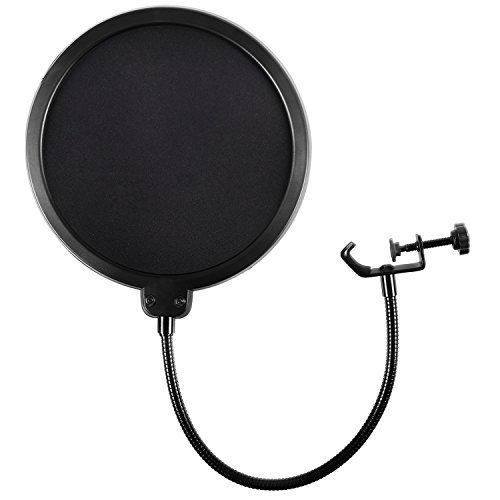 The best Value spot has to go to no other than the best-selling pop filter on the market. Earamble's pop filter has everything one could ask for. It comes at a very affordable price and meanwhile doesn't sacrifice the quality, like many other brands with cheap alternative tend to do. The stable clamp will ensure you can move and twist the pop filter to perfectly hangover or in front of the microphone so that you get the best set-up possible. The seamless body prevents dust from gathering anywhere and ensures a pop filter that will be working as its highest potential for a long time.
The double-screen mesh design will eliminate any crackles, pops or hisses that may come from you as you get into the recording spirit. It's no secret that Earamble's pop filter will serve you for a long time and you will hardly notice it's there doing all the hard-work for you as you sing and talk away to your heart's content!
If you liked this review by Music Critic, please leave a positive rating:
[vc_separator