Are you in the process of setting up a home studio for recording or producing? Perhaps you've got the perfect studio chair, musical instruments, cables, monitors, and keyboards. But you're still lacking one essential piece of equipment. Well, you've come to the right place. We're looking at the ten best studio desks for home recording in this article. Once you've finished reading it, then you'll be ready to purchase the last piece of furniture to complete your studio.
A desk for home recording is often overlooked or dismissed as being unimportant. It can be overshadowed by the musical gear you need to record or produce. A desk, however, is a crucial piece of equipment. It needs to be large enough for all your gear. The right height so you can be comfortable. And it can also be useful to have drawers or other features that
We've found ten awesome desks that are just perfect for home recording. There's something for everyone on our list. Regardless of the size of your studio or your budget, you'll find a product to suit your needs. We'll also explain why it is we rate each desk so highly.
It's always important to be armed with all the essential information when making such a crucial purchase. That's why we've provided you with a buyer's guide at the end of the article. You'll find all the key info about what to look out for. And we'll also answer the frequently asked questions that prospective buyers often ask. Let's begin with the reviews!
At a glance:

Our top 3 picks
Our team's top 3 recommendations
Best Overall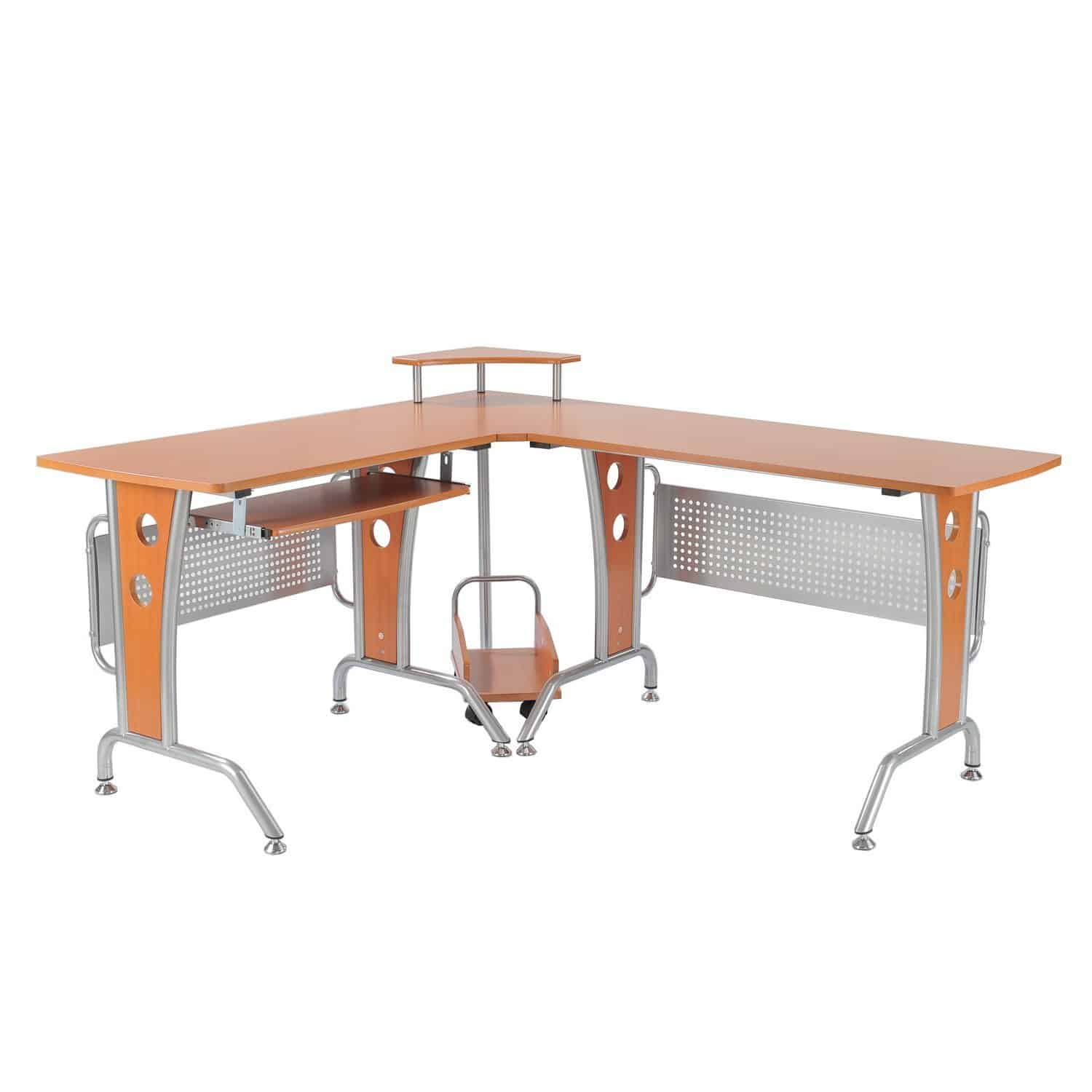 HomCom 61 in. Modern L-Shaped Office Workstation Studio Desk

Modern look
Sleek and minimal
Lightweight yet sturdy
Premium Quality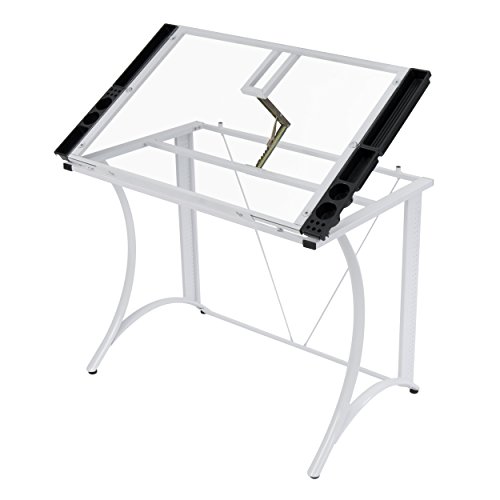 Studio RTA Producer Station Maple Studio Desk

Modern look
Sleek and minimal
Lightweight yet sturdy
Great value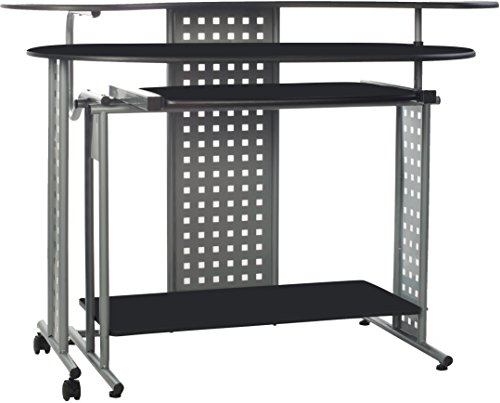 OneSpace 50-100705 Regallo Expandable Home Recording Desk

Modern look
Sleek and minimal
Lightweight yet sturdy
Best Studio Desks for Home Recording
1. HomCom 61 in. Modern L-Shaped Office Workstation Studio Desk
For anyone who likes modern and minimalist design, then we think you'll adore this home studio desk. It's a no-frills unit that doesn't have any shelves or drawers. HomCom has excelled itself with this 61-inch desk, in our opinion.
This desk was designed with maximum space in mind. The large, L-shaped desk provides the maximum amount of surface area to place all of your equipment. And there certainly is a large amount of surface for you to use. The fact that it can be placed in the corner of a room also helps to save space.
It is very lightweight because of its no-frills design. Yet, it is still sturdy due to the thick MDF boards it features, as well as the steel frame that holds the boards in place. There's also a keyboard tray built-in, along with a spot for your computer.
Overall, the price is a steal for this quality.
Pros:
+ Modern look
+ Sleek and minimal
+ Lightweight yet sturdy
Why We Liked It - This HomCom home studio desk delivers a huge amount of quality for a budget price. If you're interested in a modern, sleek desk without any drawers or shelves but with a lot of surface area, then this product should suit your needs. We think that it offers superb value for money.
2. Studio RTA Producer Station Maple Studio Desk
Next up, we have a premium desk made by Studio RTA. It offers excellent value for money despite having a high price tag, in our opinion.
We think that it's ideal for more complex setups inside home studios. It's got two enclosures, one on either side of the monitor shelf. There's one that's got a rack and CD holder. On the other side, you'll find a pull-out shelf. A pull-out drawer for your keyboard can also be found under the desk.
Elsewhere, the desk is completely open, which gives it a sleek look, in our opinion. There's also a low shelf beneath the desk where you can put your computer tower. We think that the desk offers ample surface area for you to place lots of equipment and musical gear. There's also a top shelf that's designed to hold multiple studio monitors.
Pros:
+ Great value at the higher end of the price range
+ Multiple compartments for organization
+ Able to hold a variety of equipment
Why We Liked It - If you're considering purchasing a desk at the higher end of the price spectrum, then you can't go wrong with this quality product. There are multiple compartments that ensure all of your equipment is well organized, and the surface area on each level is more than enough to hold all your equipment.
3. OneSpace 50-100705 Regallo Expandable Home Recording Desk
This desk by OneSpace offers a lot of quality for a very reasonable price tag. Indeed, you'll be hard-pressed to find comparable quality and versatility for a cheaper price. For anyone on a budget, then you should check this product out.
In particular, this OneSpace desk is an example of an intuitive, versatile design. There are two large work surfaces on this desk. You can also set it up in two different ways. You can either choose to have each of the surfaces stacked on top of one another, or you can slide out one of the surfaces and turn this desk L-shaped.
When stacked together, the result is a smaller-sized desk, ideal for cramped workshops with limited space, or for times when you don't need much space. However, if you are in a bigger room, or need to use more equipment at once, just simply slide out one of the surfaces, and now you have a large L-desk at your disposal.
Read Also: Top Headphones for Studio Recording this Year
Pros:
+ Amazing value for the product
+ Intuitive design
+ Versatile options
Why We Liked It - With an intuitive design allowing for versatile options, this OneSpace product is a very budget-friendly, studio desk with much to offer. Choose between a smaller set up with a two tier surface, or slide out one surface for a wider L-shaped desk. Ideal for anyone who wants options.
4. Omnirax Presto 4 Studio Desk
This premium home studio desk is at the high end of the price range, but it's worth spending extra on, in our opinion. It's got gorgeous looks, with deep brown wood that's complemented by a sturdy metal frame and minimalist layout. For anyone seeking a desk that looks good above all else, then this one is a good choice. It doesn't come with unnecessary bells and whistles but is simply a functional, effective desk.
The surface area on this desk is big enough to hold any electronics you may need to place on it. Besides this large surface, the Omnirax also has 4 rack spaces set within 2 bays. This should provide enough space to tuck away various gear, while at the same time having them within arm's reach. There is also an upper shelf intended to hold monitors (click here for studio monitor stands). Finally, there is a lower shelf to hold your computer tower.
Pros:
+ Stunning, classy look
+ No-nonsense layout
+ Have all your equipment within reach
Why We Liked It - This Omnirax studio desk is perfect for those willing to shell out a few more bucks to get a classic design with beautiful looks.
5. Arch Tower Studio Desk With Slide-out Keyboard
Available for a very affordable, budget price, The Arch Tower studio desk is ideal for those looking to save a bit of cash while at the same time needing a good amount of storage space.
It offers you ample storage across the whole unit. In particular, the tower - made from cherry wood and metal - gives you a lot of vertical storage room, so if you are a bit short on horizontal space, consider using this product.
This desk unit features a 47-inch by 25-inch main work surface. This is the widest part of the desk, so it will be all the room you need to fit this thing in your office. Slightly above the main surface are two elevated speaker stands on each side. Above this, you will find two more small surfaces elevated higher up, while below the main surface you find a slide-out keyboard and mouse surface, as well as a base to hold your tower.
Pros:
+ Affordable price
+ Great vertical storage unit
+ Compact
Why We Liked It - This Arch Tower home studio setup is great for those looking for a compact desk able to hold a decent amount of equipment, and who don't want to dent their bank account too much.
6. Z-Line Designs Cyrus Workstation
This home studio desk from Z-Line Designs is also a very affordable option. It also comes with all you need to store your equipment.
it has a lovely cherry finish along with black outlines which give it a modern look. The monitor surface is located a bit on the high side, so be sure you like your monitor high if you plan on purchasing this desk. It also has a pull-out tray for a keyboard and mouse.
The standout feature of this desk is the clear-tempered, safety glass that's on the main surface. It's a feature that you won't find on other budget desks. If you like the transparent look, then this is for you. It allows you to see through the main surface where you'll find your keyboard, mouse, and computer tower. The glass doesn't just benefit the aesthetics of this product. It also offers you a smoothness that wood doesn't offer.
Pros:
+ Contemporary cherry and black finish
+ Compact design
+ Tempered glass surface
Why We Liked It - This desk has a lot going for it. The clear glass surface is gorgeous and aids functionality. We also love the modern, cherry and black design. The price is extremely reasonable too. Overall, it's an awesome desk for anyone on a buget.
7. Calico Designs 55123 Study Corner Desk
Next up, we've got a desk from Calico Designs that's been created with space management in mind. Not only is it a compact desk that won't take up much room, but it's also designed for the corner of your studio. That frees up even more room. You can simply tuck it into a corner. It's the perfect desk for anyone without too much equipment and who wants a desk that will maximize your space.
This desk comes in a wide range of colors, including silver, maple, blue, purple, and even pink. It's on the small side, as we've already mentioned, with the main work surface measuring 46-inches by 24-inches. There's a large shelf on the bottom for a computer tower and other equipment. That allows you to keep this gear out of sight. There are two elevated surfaces. The main one, as just mentioned, and another, slightly smaller one above that's intended to hold a monitor or small speakers.
Pros:
+ Compact Design
+ Corner Desk
+ Wide array of colors
Why We Liked It - We highly recommend this desk to anyone looking to save some space while still having enough storage room for your gear. The price is reasonable too, and we like that it comes in a range of colors.
8. Pyle Height Adjustable Sit & Stand Desk
If you're looking for a budget-priced desk that gives you the option to stand or sit while using it, then this is the perfect product for you. It's a modern-looking desk that comes in all black, meaning it should blend in with the rest of your studio. The installation is a breeze, as there's no assembly required. It's also a sturdy, durable desk that can hold up to 140lbs without any issues.
The best feature of this desk, though, is the option to either sit or stand. Ever feel cramped sitting at your desk all day? Want to enjoy the freedom of doing work while standing? This is the desk for you. You simply adjust the computer stand lower for sitting or higher for standing. It is that easy. In a matter of seconds, you can make the switch by way of the pump-assisted lift.
Pros:
+ Option to sit or stand
+ Change back and forth quickly and easily
+ Instant installation
Why We Liked It - It's becoming increasingly common for people to stand while working long hours at a desk. Why? It's simply better for your back and means that you're not completely stationary. If you want to have this option while you're working on tunes, then this is the ideal desk.
.
9. Studio Trends 30" Desk
As a low-to-mid-priced home studio desk, this is another safe investment. It's ideal for anyone looking to save space, as it's a compact unit. If you're planning on turning your bedroom into a studio, for example, then it should be suitable. It's also perfect for anyone who doesn't have a lot of gear to store on the desk.
Plus, if you are already using other studio furniture (click for our full review), you can incorporate those pieces with this desk, as the heights on the casters on this product can be easily adjusted.
It comes with one rack, four casters that can lock, an upper shelf for a monitor and speakers, a metal frame, and wheels on the bottom for easy mobility. While the frame is black, you have a choice of cherry or maple for the surface.
Pros:
+ Very compact
+ Good mobility
+ Adjustable height
Why We Liked It - As a compact, budget-priced desk, this product ticks the right boxes. It's also very mobile and can be integrated seamlessly into your current setup. We're big fans of how this little desk looks too.
10. Omnirax Presto Studio Desk
This desk is priced at the higher end of the budget category. It's intended for anyone willing to pay a bit extra for a quality product. The desk is very sturdy, which makes it an investment for the long term. It's unlikely to buckle or break anytime soon, in our opinion.
It's got a simple installation process that shouldn't take you more than twenty minutes. The surface area of the desk is ample. It can comfortably handle a keyboard and mixers. There's also a monitor shelf that's slightly raised.
You can find four rack spaces to store your equipment within the two bays. Underneath, you'll find another shelf to hold your computer tower. There is also the option of including a sliding keyboard shelf if you so desire. This beauty also comes in gray, mahogany or maple, so that you can be sure to match the color of your room.
Pros:
+ High-end budget desk
+ Large surface area
+ Good amount of bays and racks
Why We Liked It - If you want to get a low of quality for a reasonable price then this desk is for you. It offers a large surface area, a durable build, and an easy installation. It's simply a great overall desk that's perfect for any home or professional studio.
Best Studio Desk Buyers Guide
Choosing the Best Studio Desk
When buying a home studio desk, there are several aspects that you will want to be sure to consider beforehand to make sure that the desk that you purchase will meet all of your needs.
Above all else, you are going to want to narrow down the purpose of the desk, so that you can purchase one that suits your needs.
There are various aspects to think about here. The ones that we will consider in detail are the ease of assembly, the importance of ergonomics, suitability for recording, and the option of customizing your desk.
Once you have a good grasp on these concepts, and how they relate to your needs, you will be in a better place to make an informed purchase.
Ease of Assembly
In this article, we have listed the top ten pre-made desks for home studios. What we have not considered is the option of making your own desk, also known as a DIY desk. Now, this is indeed a possible option that you can consider. If you choose to go this route you will need to follow three basic steps.
First, you need to measure the space that you want to use for your desk. You might also want to keep your desk centered in your room to keep the acoustics even.
Second, you need to buy lumber. Here you need to consider the different surface areas you require. In general, you should have an area for your monitor and speakers, as well as an area for your keyboard and computer tower.
Third, you need to be able to cut the wood down to size and protect the wood with a type of laminate.
Now, if all of this sounds like a piece of cake, then, by all means, go for it. On the plus side, you will save money going the DIY route.
However, this route just isn't feasible for most. The time and skill required may not be worth the small savings that you'll make. Indeed, when making your own desk there are several different problems that could crop up that you might not foresee.
In our opinion, a safe choice would be to buy a pre-made desk. But if you like home DIY projects, then try your hand at building your own desk.
The Importance of Ergonomics
While many of us spend several hours a day sitting at our desks, we may not have even taken time to consider how the ergonomics of the desk are affecting our overall well-being.
It has been proven that the layout of your desk - including the height and type of panels used - can greatly affect our health. That's because of the amount of time that we spend working at the desk.
For example, sitting at a poorly designed desk can give us shoulder pains, neck pains, back pains, and even carpal tunnel syndrome. That's why an ergonomic design is crucial. You should always keep this in mind before making a purchase.
The ideal setup would be the following:
The middle of the monitor should be at the same height as your eye level, and about two to three feet away from your eyes.
You should sit (click for the extensive seating guide) with your back straight with your elbows close to your body.
Also, you do not want to be moving your joints too much but should aim for minimal bends of the wrist, elbow, and shoulder.
Considering these factors when buying your desk can benefit your overall health in the long run.
What are the Best Studio Desks for Recording, Producing, and Mixing?
In our list of the best home studio setups, we did not specify what desks are the best for certain purposes. We gave an overview of the various desks available. However, we now want to consider what the best desks are if you plan on recording, producing, and/or mixing.
Here we will consider three topics: the price range, the desk size, and how much equipment you need to store. Considering these topics will help to narrow down the best desk for recording, producing, and mixing.
We went through the whole range of budget desks in our above list – from the low-end through the middle to the high-end. Now, considering how much you want to spend will be the first step in narrowing down what desk is for you.
The next thing you need to consider is the size of the desk you need.
If you plan on recording, producing, and mixing, how much surface area do you need?
Do you need two different levels?
Would you prefer a corner desk?
Answering these questions will further narrow down your options.
Finally, you should think about how much equipment you need to store. Recording, producing, and mixing will require a lot of equipment, so a desk that has not only a large surface area but also many compartments and trays will most likely be a good fit here.
Customizing your Studio Desk
If you weren't able to find an ideal product on our list of the best budget home desks, then don't worry. You still have other options.
As mentioned above, you have the option of a DIY desk or building your own desk. This, of course, requires a lot of work and skill, and this might not be for everyone.
But if you have a vision for your desk, and yet do not have the time or desire to build it yourself, you may want to consider purchasing a custom-made desk.
You can find many craftsmen online who will provide this service for you. All you need to do is to enter in your desired size, layout, and other features, and the company will build it for you. Of course, the biggest downside to having a company bring your vision to life is that it will cost you a pretty penny. If you've got the cash, however, then check out some of the companies that offer this service.
What are the Best Studio Desks Available?
In our list, we presented what we consider to be the best home studio desks. We offered a selection from all of the budget price ranges.
Now that it's time for you to pull the trigger, you might want further information about what desks will appeal to certain needs.
We'll now have a look at our favorite desks in various categories. You'll learn a bit more about what they're good for and who they will suit. Let's have a look at our top choices now.
Top Pick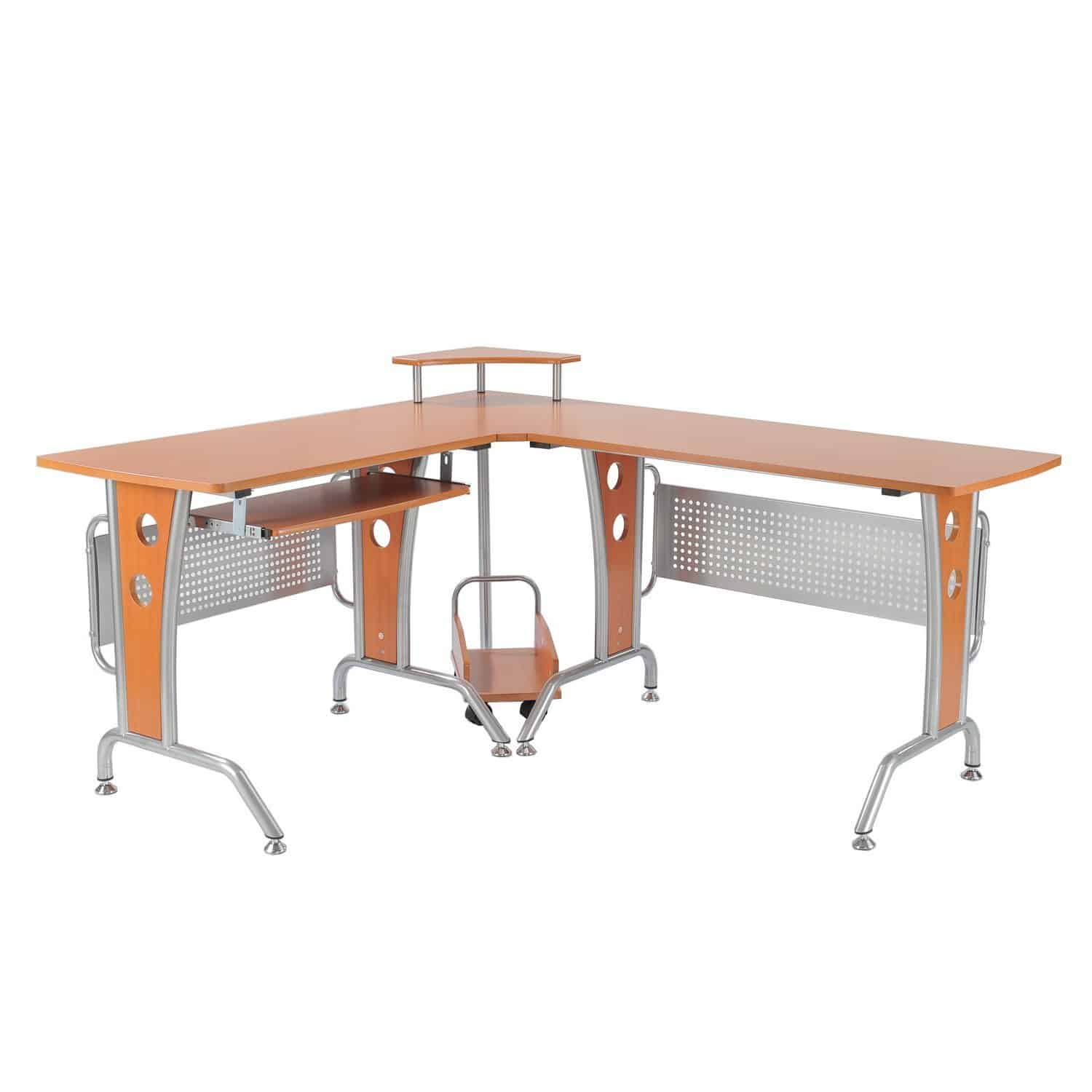 Our Top Pick is the HomCom 61-inch studio desk that delivers premium quality for a budget price tag. It's got modern, sleek aesthetics that make it a solid pick for anyone who is a fan of minimalist design. This means that it doesn't have shelves or drawers, but the large L-shape provides ample surface area for all your gear, we think.
One of our favorite features is the built-in keyboard tray, as well as the spot for your computer. If you will be using these – as most people will be – the HomCom has you covered here.
Also while the desk is rather lightweight, don't let this fool you, for the sturdy steel frame ensures that this desk is sturdy and solid.
Overall, the combination of a durable build, a huge amount of surface area, and a very low price tag, all make this a very safe choice, in our opinion.

Premium Choice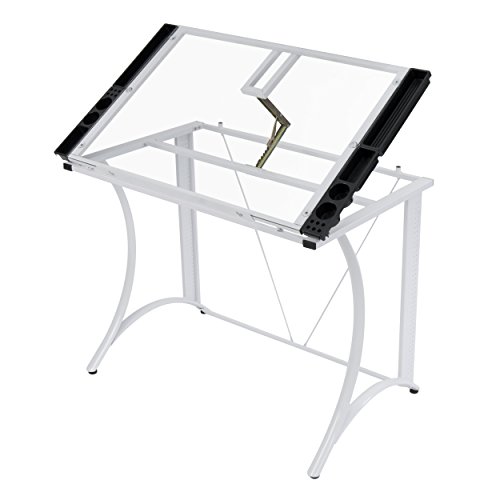 For those looking for a higher-end desk, the Studio RTA station offers premium quality for a reasonable price.
If you have a somewhat complicated setup, the Studio RTA should be able to take care of your needs. Built with a central monitor shelf, and two enclosures on either side, you have enough space to hold all your equipment.
This desk also includes two pull-out drawers – including one for your keyboard – as well as a lower shelf underneath the desk to house your computer tower.
This studio desk offers ample space to place multiple pieces of equipment. For example, the top shelf is intended to hold multiple monitors, so you will not be limited to just one monitor. That makes it easier to have several programs from your DAW working on two monitors at the same time.
Overall, the high quality and intuitive design make this our Premium Choice.
Great Value – B005EFO0GQ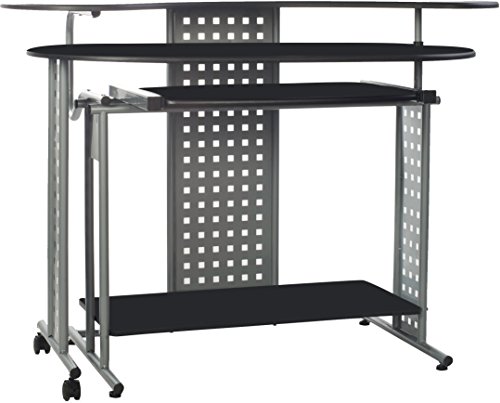 Offering versatility and affordability, this OneSpace desk is a wonderful product. You can choose to set up your desk in two distinct manners, all for a very low price.
There are two medium-sized surface areas that can be switched and altered so that you can set it up in the most effective or space-saving manner. If you don't need much surface space, simply stack the two surface areas on top of one another and you will be looking at a well-designed desk small enough to fit into a crowded room. Otherwise, simply slide one of the surface areas out, and now you have an L-shaped desk. You can place it in the corner of your room, and it will be large enough to handle even the most complicated task.
For a budget desk to offer so many versatile options is a big plus, in our opinion. If you're a producer who wants choices, then we can highly recommend our Great Value choice.
Conclusion
A desk is often a piece of furniture that home studio enthusiasts overlook. For many, energy and time is focused purely on the music gear, as well as the technology, such as computers and monitors. Of course, this is understandable, as this equipment is what you'll use for recording. But you should never discount the importance of a home studio desk.
A good desk can keep you more organized, guard against ailments like back or neck ache, and it can help you make the most of the space inside your recording studio. All these features can help to benefit the quality of music that you'll record.
In our article, you'll have found a wide range of studio desks that tick different boxes. We've looked at compact, space-saving desks, as well as large, L-shaped versions. We've offered you choices in different price ranges too.
We've also explained all the important things you need to consider before you make a purchase. We can't stress how crucial ergonomics are. It's so important to think about your posture when you'll be spending hours sat behind the desk.
You've also had the lowdown on custom-built and DIY desks. Unless you've got a lot of money or you're particularly skilled as a carpenter, we recommend a pre-made desk, such as the products you'll find on our list.
We hope that you're now in a good position to make a solid investment. Good luck with your new studio desk, and we wish you lots of luck with your recordings.
If you liked this review, please leave a positive rating:
[vc_separator